Project:
HEQ5 as portable mount
---
Contents:
Related projects:
Note:
I take no responsibility or liability for what are written here, you use the information on your own risk!
---
9: Power consumption
The big goal was to reduce weight with the HEQ5 mount and the Raspberry computer. Here I do a very simple comparison with the earlier setup with a EQ6 mount and a Windows mini pc. Lower power consumption means I can have a smaller battery and save a lot of weight.
---
The new equipment: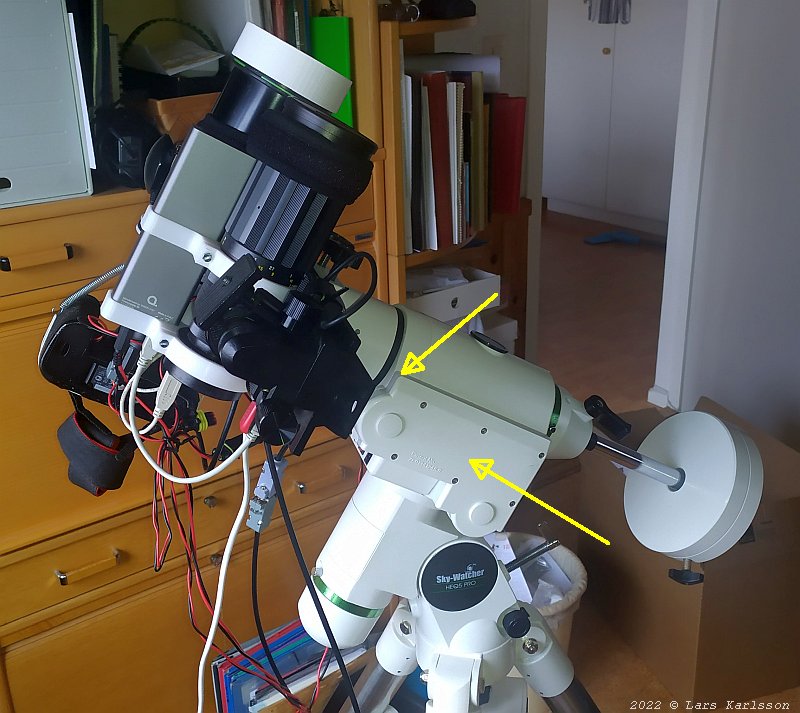 With the new small Raspberry I can have everything but the battery mounted on the dovetail. There is only one cable down from the mount to the power source.
---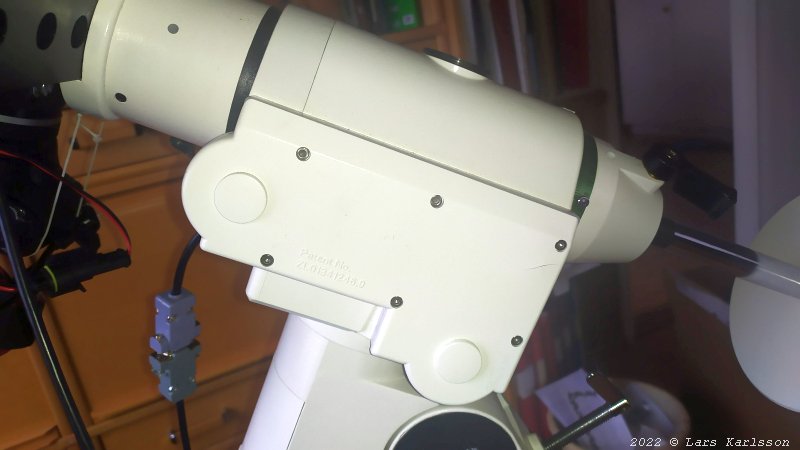 Close to the power source I have the fuse terminal with its Volt meter and Ampere meter. The built in Ampere meter make it easy to check the Ampere it takes or power.
Compare the table below with the one from the older setup, which was effective even that one: EQ6 mount and Mini PC. All currents measured at 13.7 Volt.
Ampere
Raspberry
rest
Raspberry
process
Mount
rest
Mount
track
Mount
fast
move
USB
Hub
Guide
cam
looping
Guide
cam
guide
Focus
rest
Focus
move
2x Dew heat
USB
0
0.3
X
X
0.6
X
X
X
X
X
0.9
X
X
X
X
X
1.2
X
X
X
X
X
1.5
X
X
X
X
X
X
1.5
X
X
X
X
X
X
1.6
X
X
X
X
X
X
The average load it takes is about 1.5 Ampere, compare that with earlier setup when it took about 2.8 Ampere. The new dew heaters takes much less power also.
---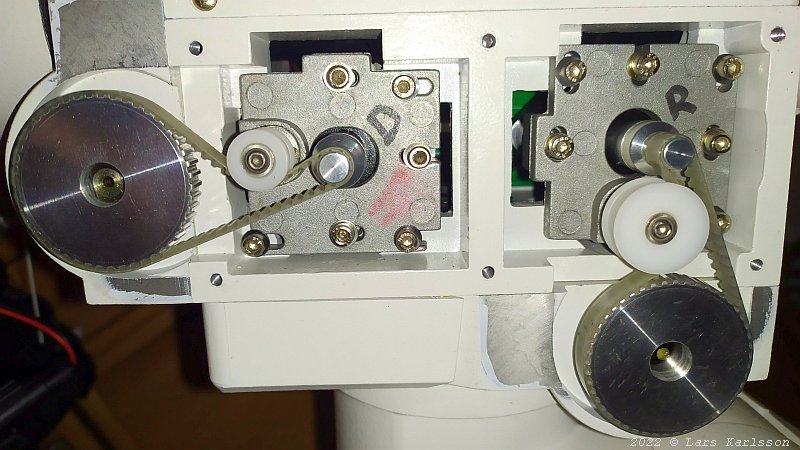 The Raspberry takes 1 Ampere less current and the dew heaters 0.3 Ampere less current. Not much difference between the mounts power consumption.
Say that I want the battery to last 10 hours. Earlier it needed 28 Ah and now 15Ah, in cool weather, take twice that capacity at least. My even earlier setup needed about 3.4 Ampere.
I have two lead car batteries, one 45 Ah that weights 12 kg, the other 74 Ah weights 17 kg. I have saved from earliest to the earlier 5 kg, and from the earlier to the latest another 6 kg if I buy a LiPo battery. The HEQ5 mount saved 5 kg relative the EQ6 mount, maybe even more if I can built a lighter tripod, a smaller counter balance weight is also possible. If I can get this new system work with an Android pad instead of the old laptop I save a lot of kilograms, because the lap top needs a lot of power. The guide lens can also be skipped if I built an off-axis guider, the future will tell were it ends.
---