3D Printing:
My first 3D printer, assembling and setup
---
Contents:
Note:
I take no responsibility or liability for what are written here, you use the information at your own risk!
---
14, Tweaks:
Now I have used the 3D-printer a couple of mounts, it print very well according to me. But as usual there are always something that can be done better. I googled on tweaking delta printers and found a lot of things to do. I have already checked the frame. At one page I found that they used rods with a magnetic coupler at the end. Something I don't have, but I also found one example where they put springs at the end of the rods to get rid of the backlash. I have heard the ticking noise when the printer head moves, something I must try.
Delta 3D printer tweaks:
There are a lot of information how to get 3D-printers to perform better.
---
Adding springs to the end of the rods: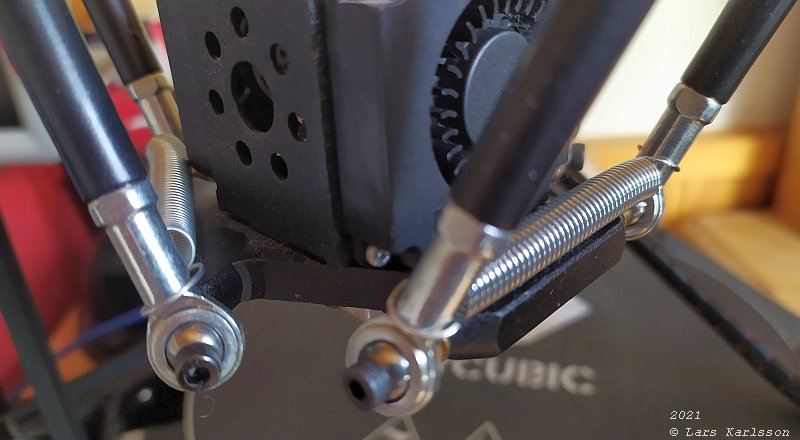 I bought a box with lot of different springs, I choose three of them and attached at the lower end of the rods. Very easy fix, and after that the noise from the 3D-printer was reduced. Later I will se if it also print with a better quality.
I have now used the 3D-prinder with these springs. I noticed that the printer is quieter and maybe little bit smoother surfaces.
---