My astronomy project:
Repair and adjusting focus friction
and
Develop a more advanced heavy load focuser
---
Content:
Repair the friction coupling:

Ideas about 3D-print rack and pinion gears:

Implement of external push pull screws:
Note:
I take no responsibility or liability for what are written here, you use the information on your own risk!
---
4: Assembling focuser together
After have fixed the problem, I hope, I can assembling it together again.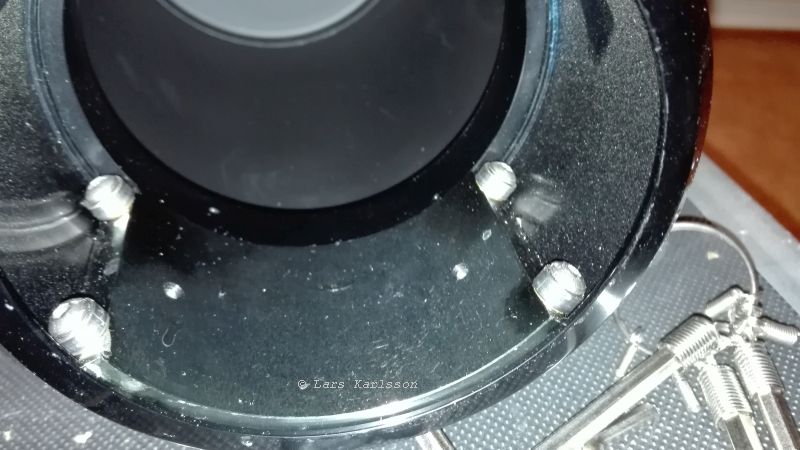 A look inside the part of the focuser that is connected to the telescope you see the roller bearing to the draw tube. It's a bit dirty inside here so have to clean it up.
---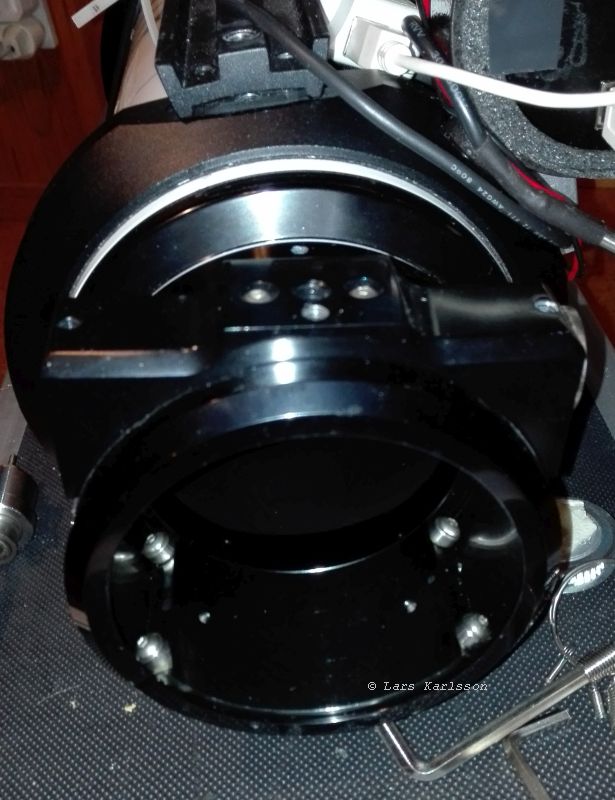 I start with the assembling of the focuser chassis together with the outer chassis. There are six hex screw that hold them together. Important to not tight them until all six screws are on place.
---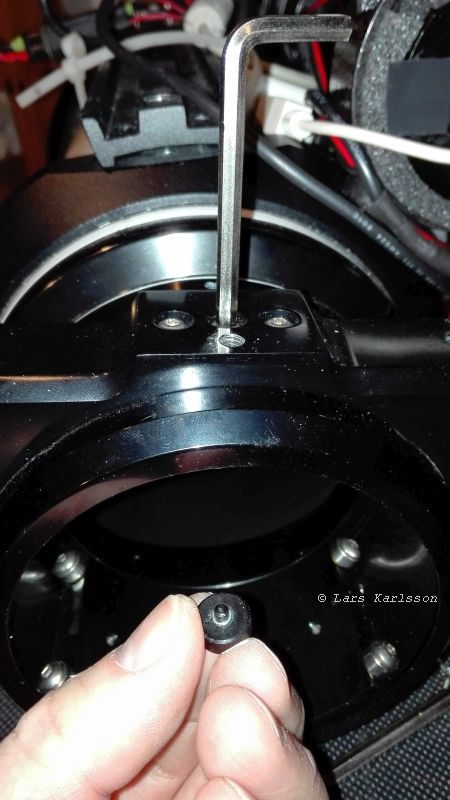 Then I screw in the force setting screw, hold the press bearing in place from inside. Turn the screw until you feel it touch the press bearing but not lift it away from the chassis.
---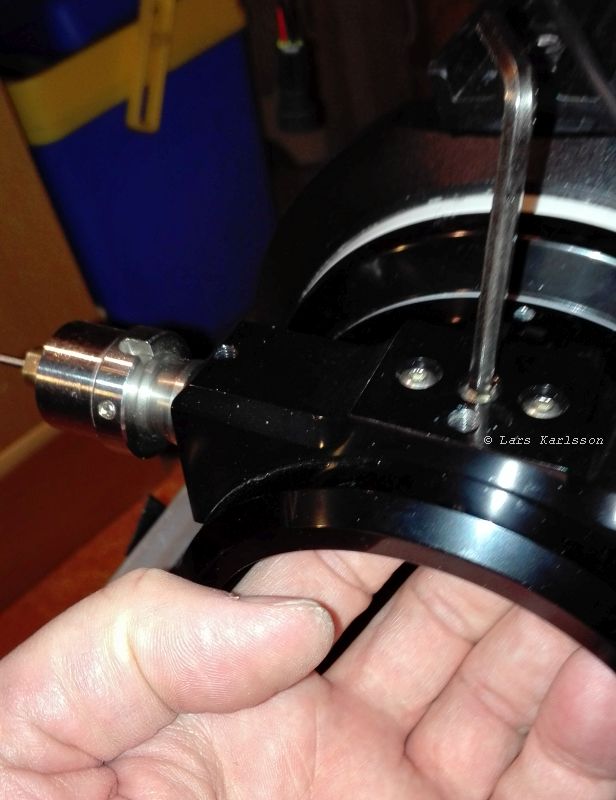 Now the tricky part, insert the axis after the right roller bearing has been taken out. When the axis is in correct position, reinstall the roller bearing on the right side.
---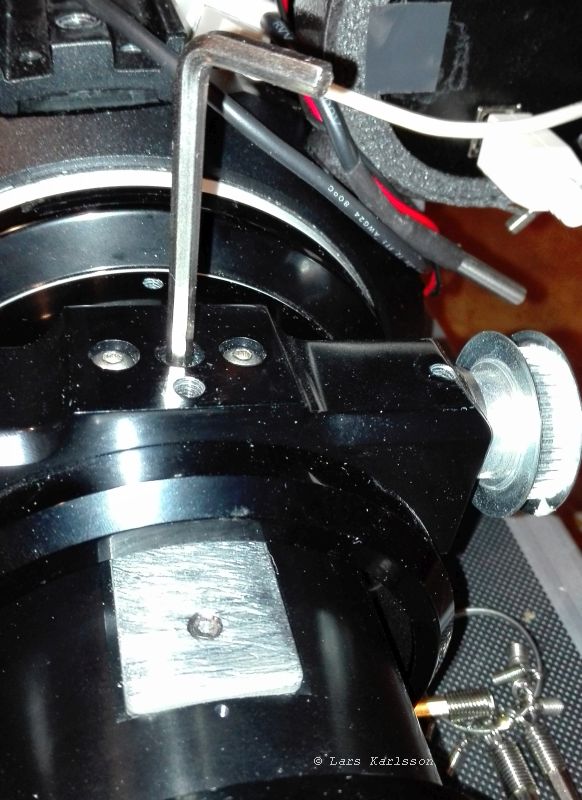 Gently press in the draw tube, one must be careful, even if the force screw is in it's out position the axis press on the draw tube's steel plate. Then reinstall the pulley. Screw in the right screw that sett force on the roller bearing. Then I adjust the force screw in the middle until I feel I had enough friction against the draw tube. The friction is now better, but will it be enough? I have some doubt about this.
---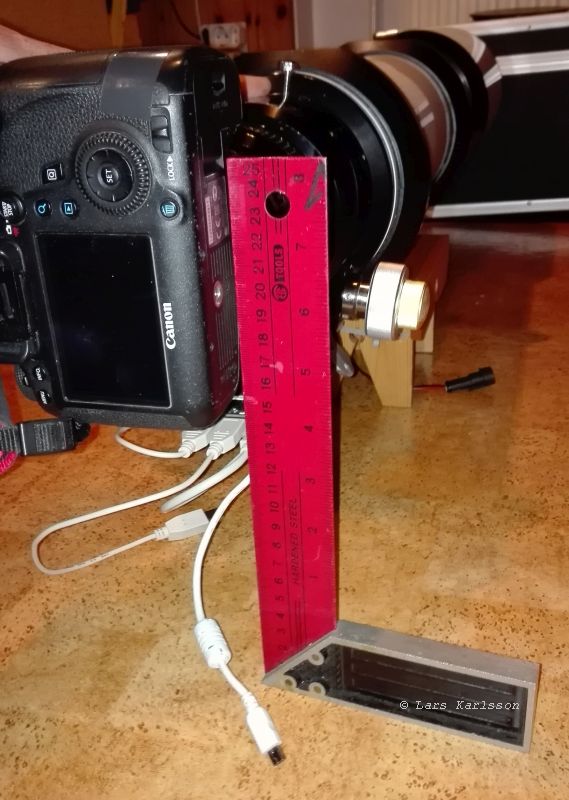 Last thing, check and adjust the main camera and guide camera angle relative the RA axle.
You can read more about how I adjust the camera angle here:
When I test drive the focus motor it works as it should, but indoors it did it even before. Just waiting to next clear sky so I can take it out doors and do a test on it. My stomach tells me that this problem is not resolved yet.
Are there any rebuild kit out there, from friction to rack and pinion?
---