My travels in Sweden:
By car through Blekinge, Skåne and Småland, 2019
---
(or maybe the travel should be called the Stone Age Travel)
Content:
I have added links with deeper information, most of them are Wikipedia links. I have chosen the Swedish link, but in some cases you can shift to English. If there is no English version you can use Google translator or similar service. There are more information in the Swedish language.
---
3, Third day, from Ronneby to Everöd:
1st map of today's travel, third day, from Ronneby to Sölvesborg:
First part of our driving today, the distance is about 120 km.
---
Ronneby: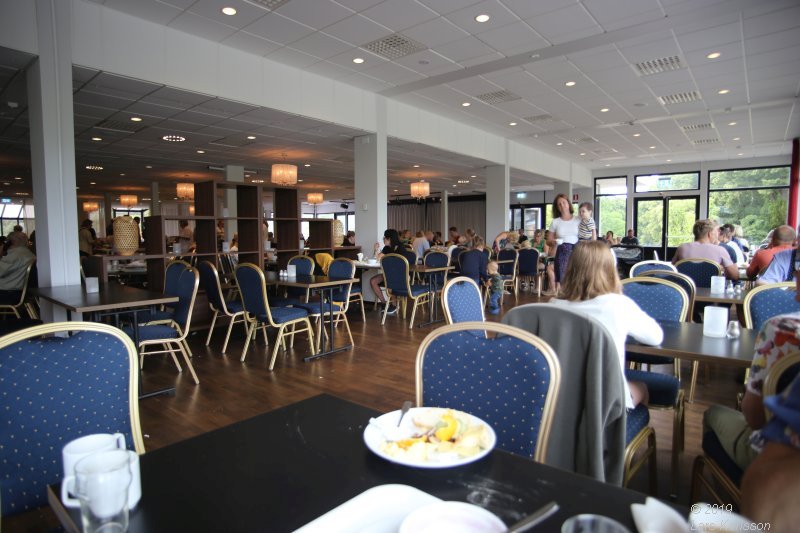 After a lot of hours sleep we go for breakfast. It's in the other end of the building, we walk and we walk. When we came to the restaurant we found it a bit chaotic at the buffet, lot of people. We are more used to be alone with the host. After a while people start to leave the restaurant and we got peace and quiet, really good breakfast.
The evening before we had champagne and chocolates, good third day of a vacation.
---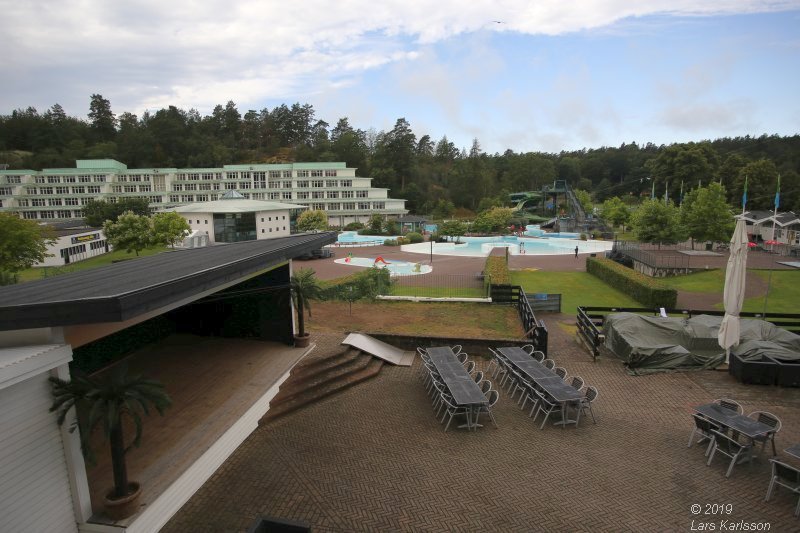 Ronneby Brunn is a Spa resort, perfect place for children also with all the baths.
---
Vieryd: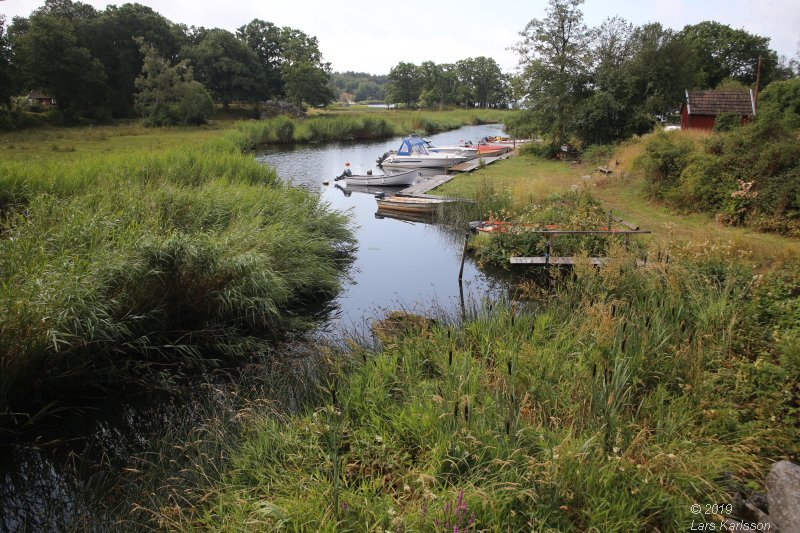 First stop, we have seen an arc stone bridge, they are exiting and we want to have a closer look.
---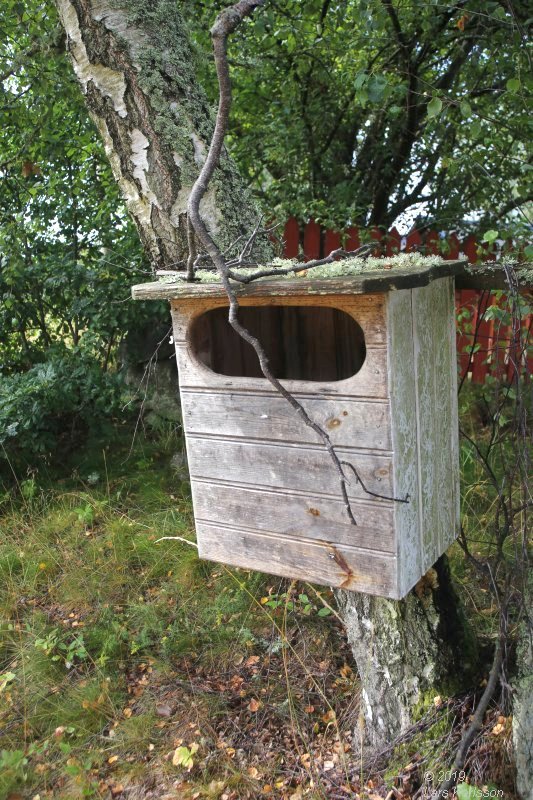 ---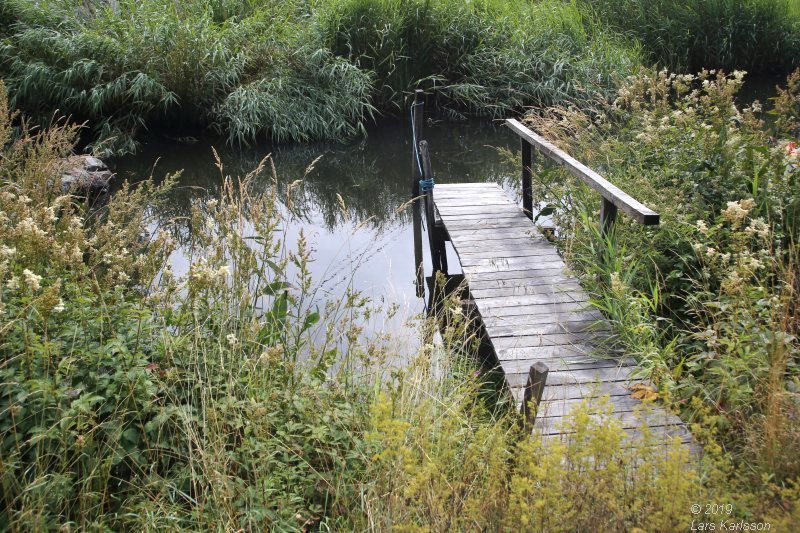 ---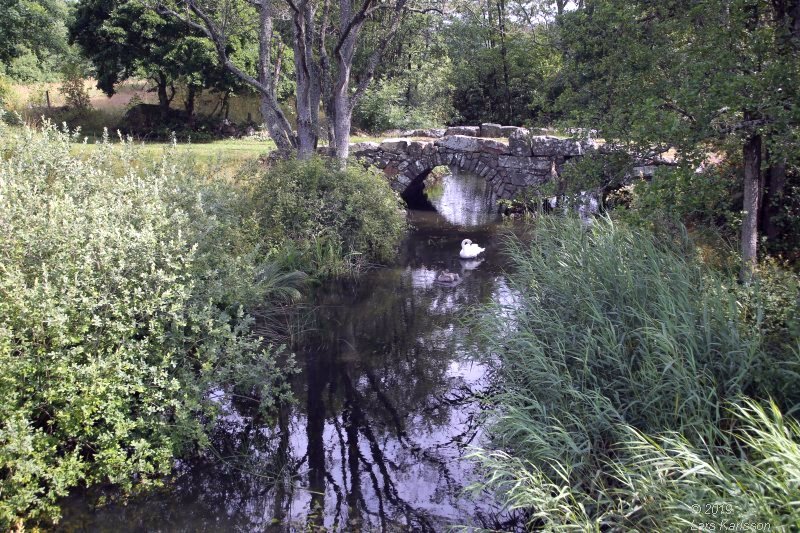 It's a double arc stone bridge.
---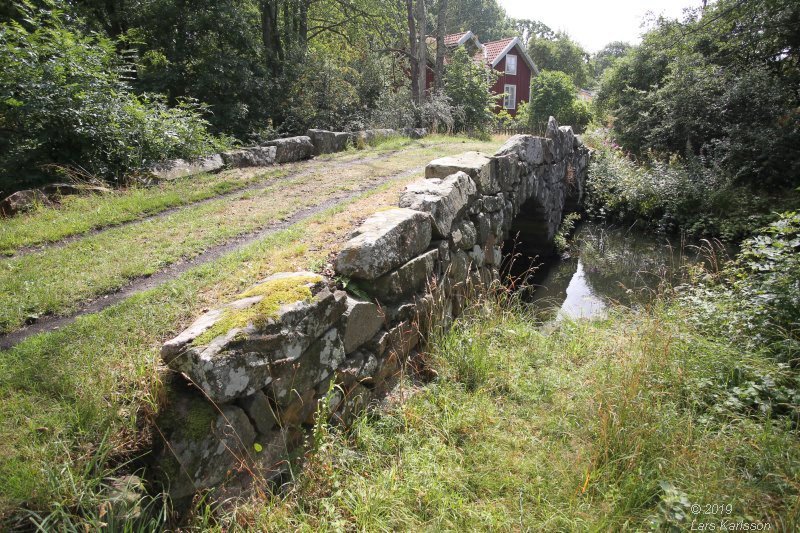 According to some information this bridge is built 1861, in that time there were no cars.
---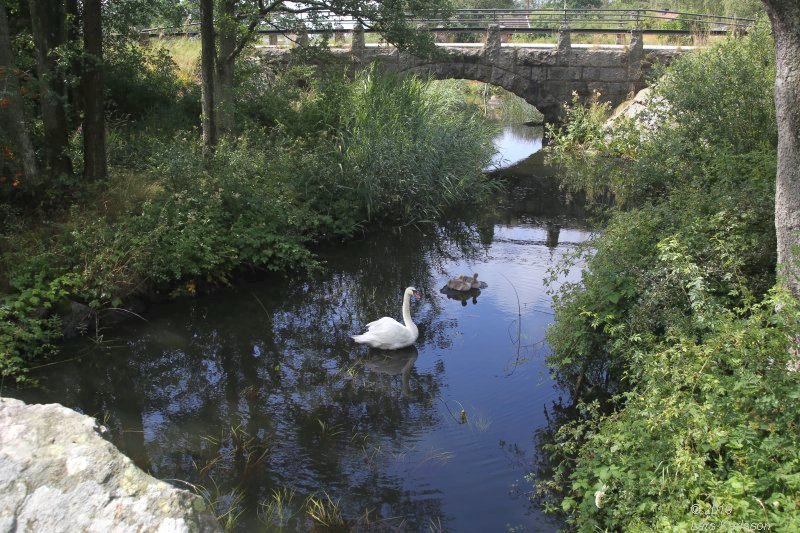 There are two bridges, in front of us the new which the cars drive at, maybe built around 1930, just a guess.
I have more written about arc stone bridges here (in Swedish).
---
Matvik: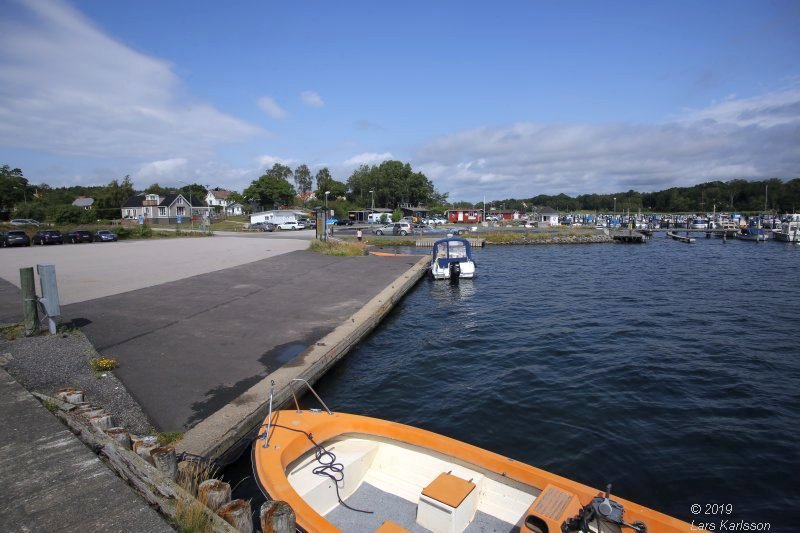 We didn't drive very far after the stone bridge stop until we stopped once again, this time it's the harbor in Matvik.
---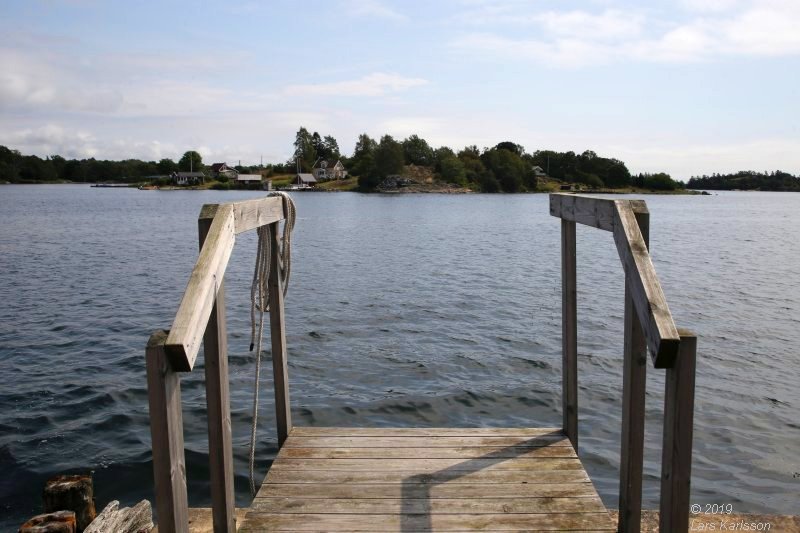 ---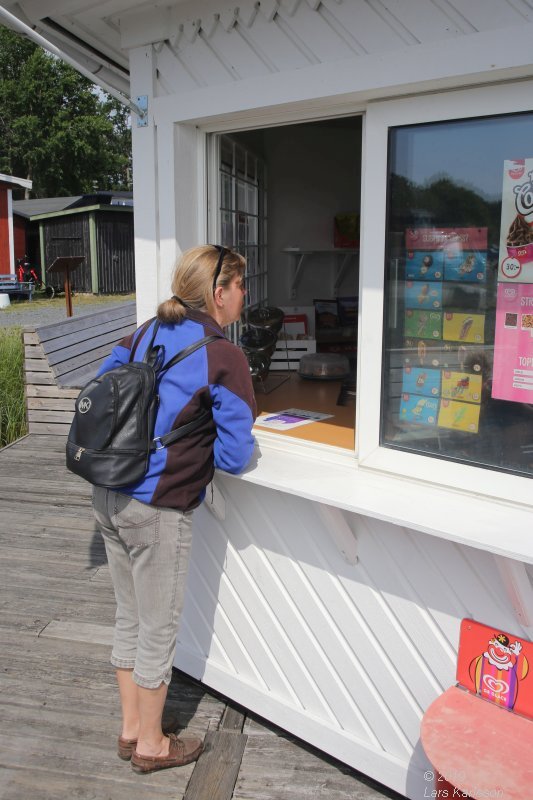 An ice cream shop that we couldn't resist. We sat in the sofa in the background with a view over the sea when we eating our ice creams. Great life!
More to read about Matvik at Wikipedia:
---
Karlshamn: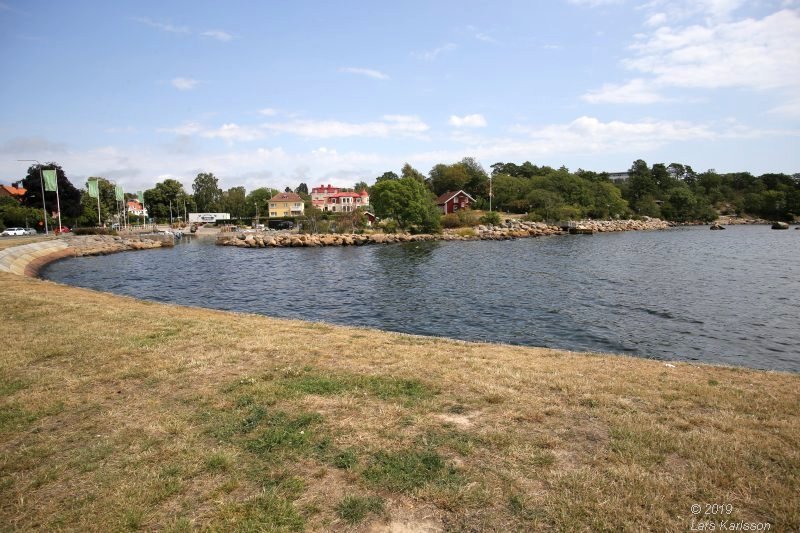 Karlshamn is a famous city from the Swedish book Utvandrarna (the Emigrants).
---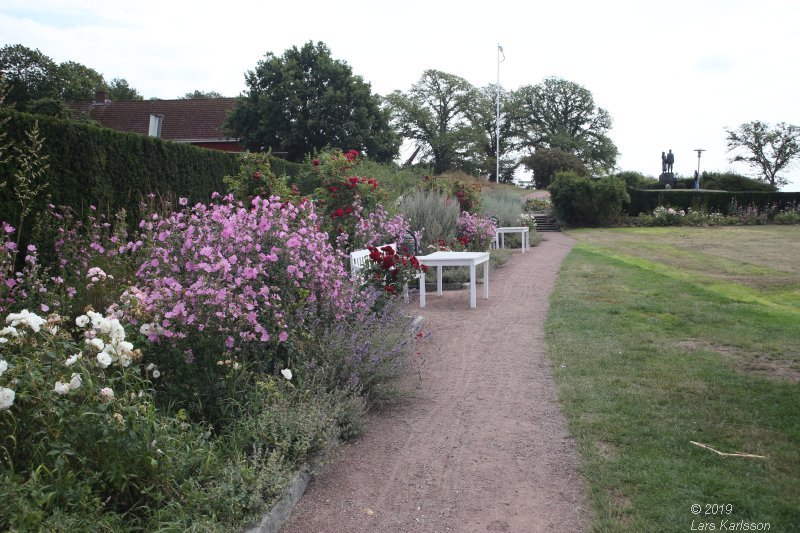 In the 19th century Sweden was a poor country and people starving. As many as one fifth of the Swedish population emigrated, mostly to USA from 1850 to 1930. They who lived in Småland and Blekinge maybe took a ship from this harbor. In the background you see the monument over these people.
---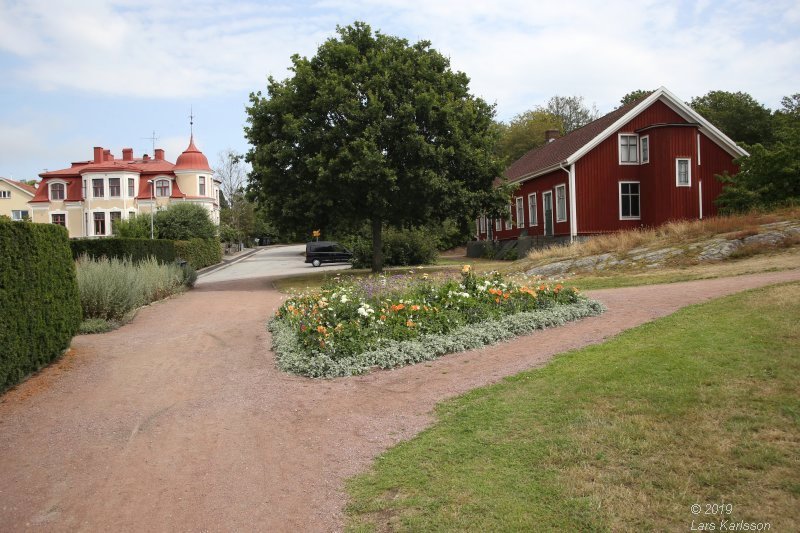 In 2000 more Swedish related people lived in Chicago then in Sweden, 12 million vs 9 million.
More to read about the books Utvandrarna (the Emigrants) at Wikipedia:
---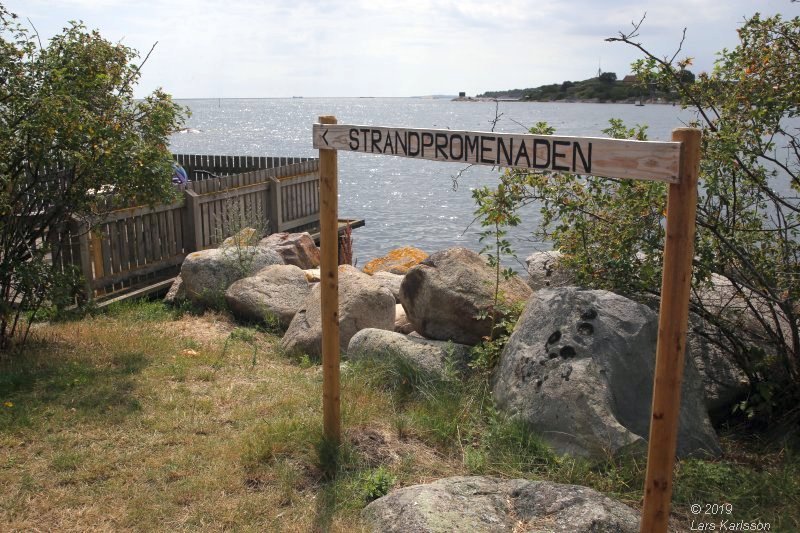 Beach walk.
---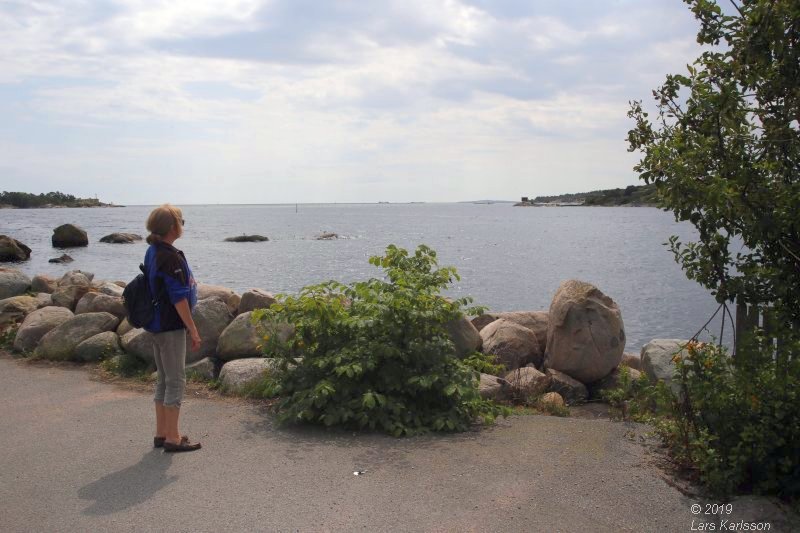 Maybe Gunilla thinks she wants to cross the ocean too?
More to read about Karlshamn at Wikipedia:
---
Norje: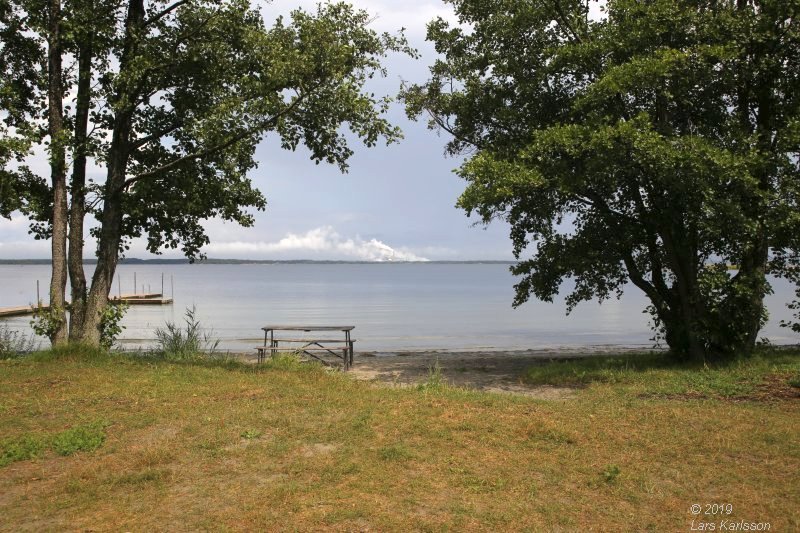 We see a sign about the village Norje, about the same spelling as our neighbor country Norge (Norwegian). But I could read that there are no connections between the names.
---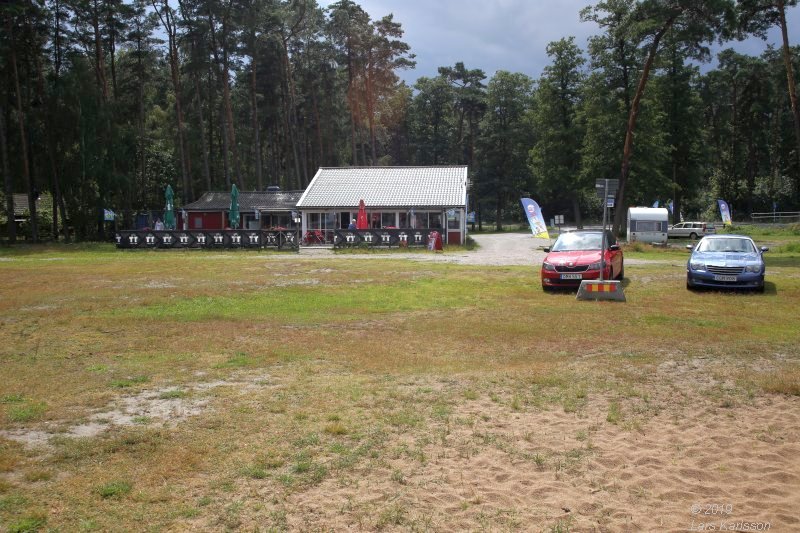 It started rain very heavy when we was here, good time to find something to eat. Toasts, a soda and a cup of coffee. When raining the land where I parked the car at translated to mud, carefully drive the car away to not get stuck. It's not a four wheel truck.
More to read about Norje at Wikipedia:
---
Krokås: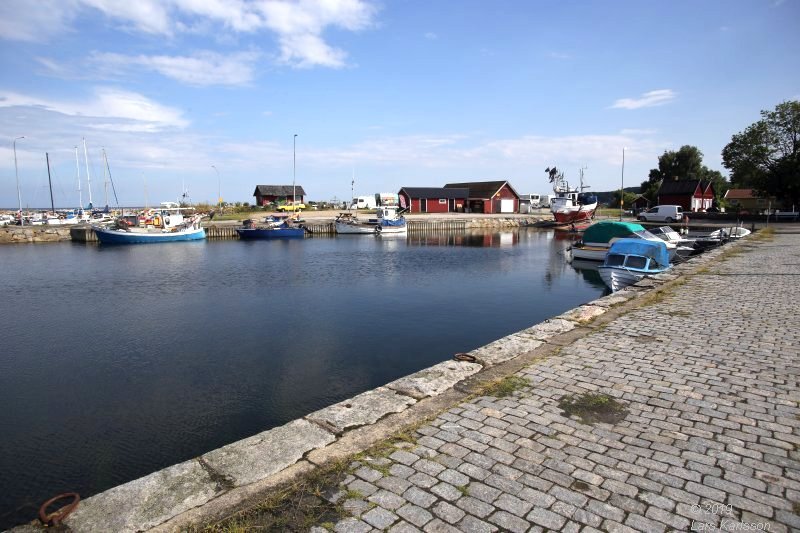 After Norje we are on the roads that take us to Sölvesborg, on the way we find another nice harbor to visit, Krokås. A short stop and then to the next harbor, Nogersund.
---
Sölvesborg: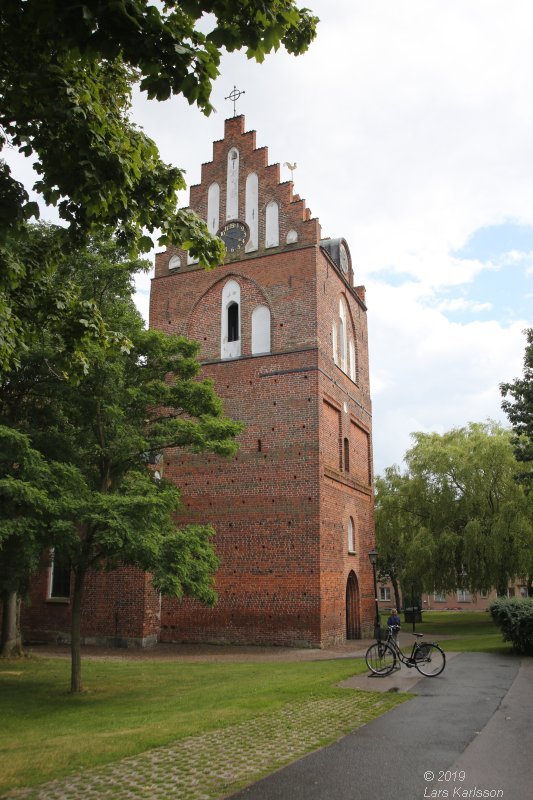 Now we had come to the church Saint Nicolai in Sölvesborg, Gunilla had read that there are two runestones at this church. One outside and one inside the church. The church is closed but we can study the runestone that is outside. Gunilla has already find it, in front of the door to the church.
---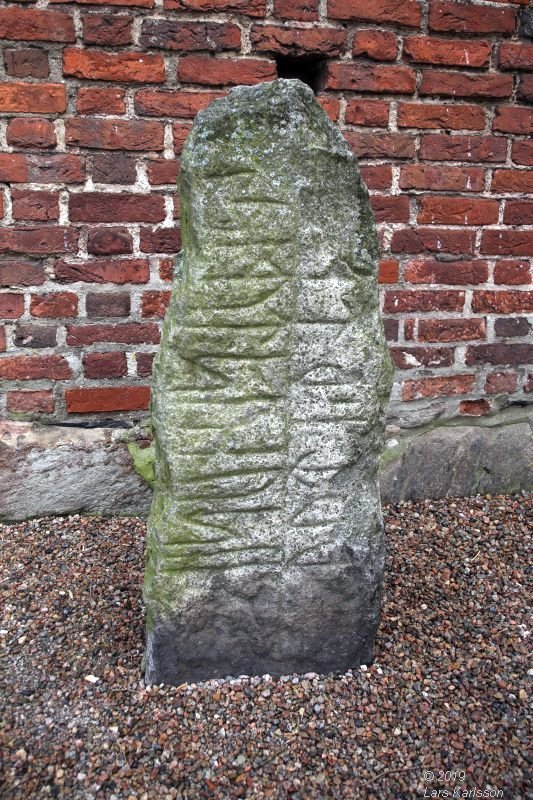 Very different from others runestones we have seen. Very big rune carvings without the borders. Gunilla thinks it's from the early Viking era, about 750 to 900 a.d. It says "vade gjorde ... efter sin son asmund" or in English "Vade did ... after his son Asmund". It has the inventory number DR 356.
---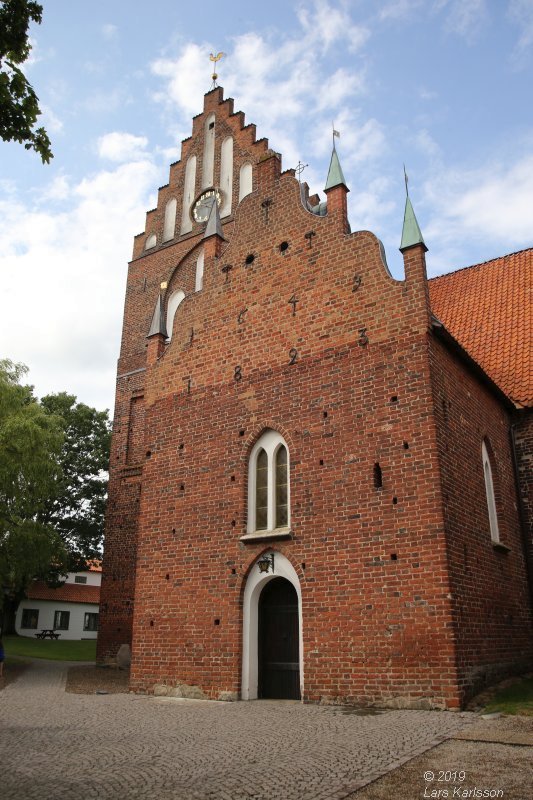 ---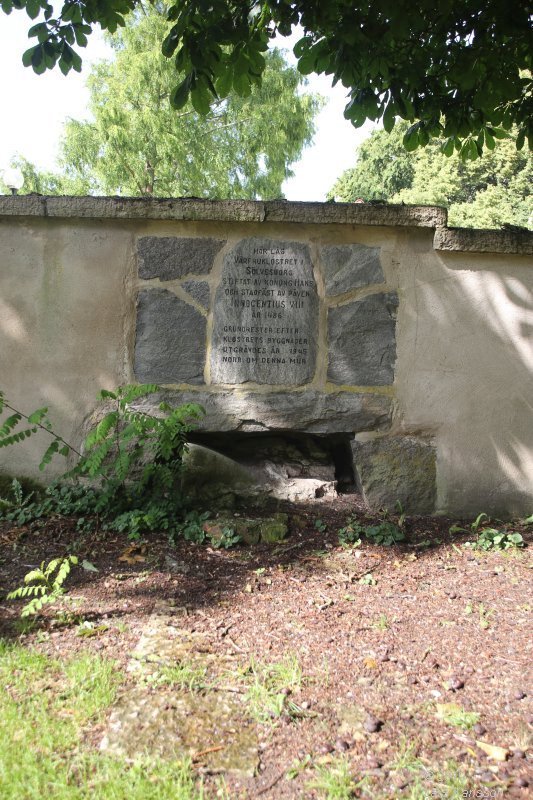 This church has earlier a monastery built together with it. Here you can see the base of the wall that they found when they excavated the garden outside the church.
More to read about Sankt Nicolai church at Wikipedia:
---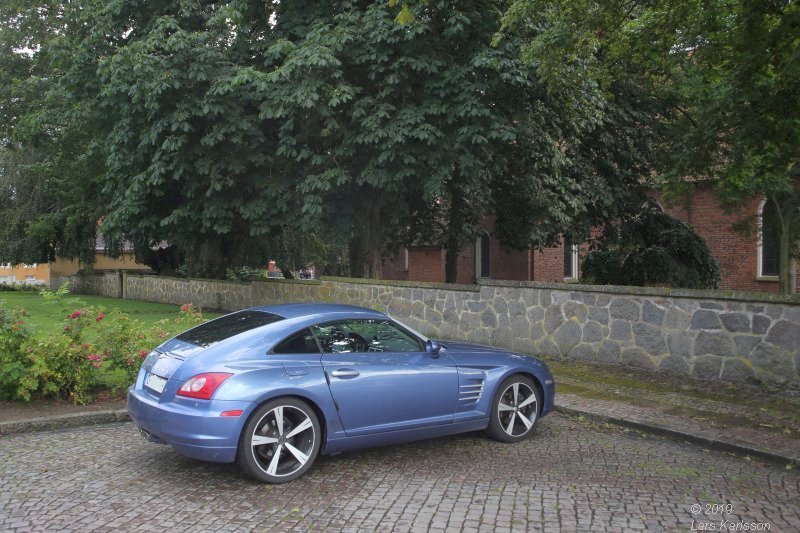 My Crossfire still working okay, no trouble at all.
---
2nd map of today's travels, third day, from Sölvesborg to Everöd:
Second part of todays driving, distance is about 70 km.
---
Next to the church there is an ancient ruin of a fort or castle.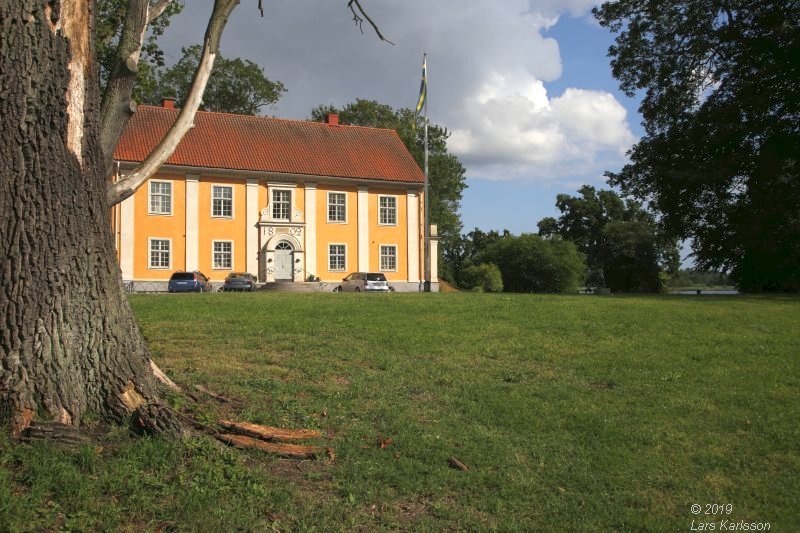 One of the buildings on the land where the Sölvesborg's castle ruin are placed.
---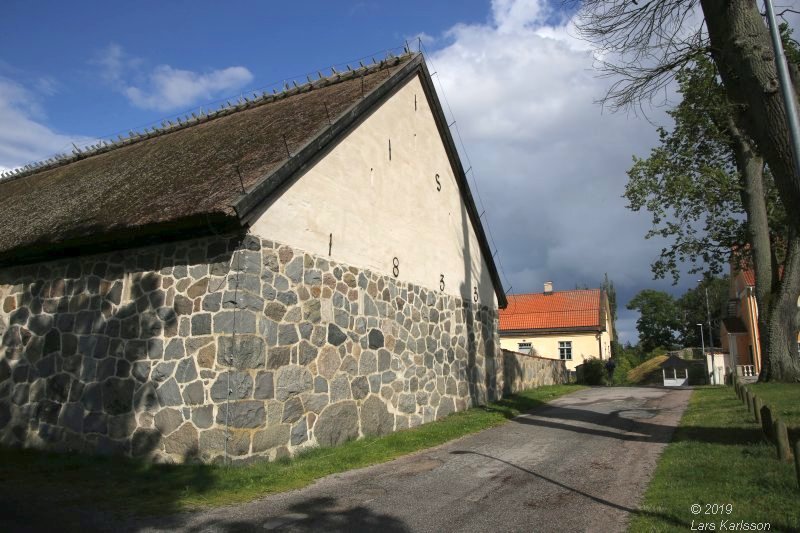 We walk the street to the end where we see a hill.
---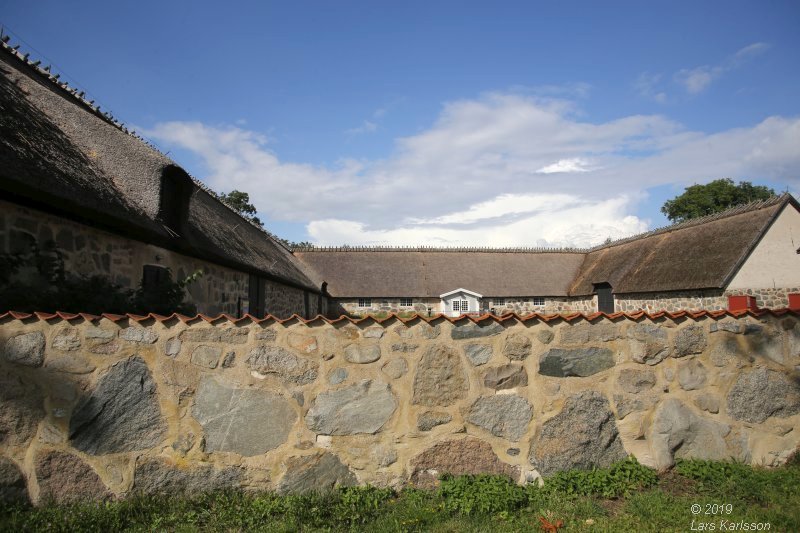 Even the "new" buildings are old, this is built 1835.
---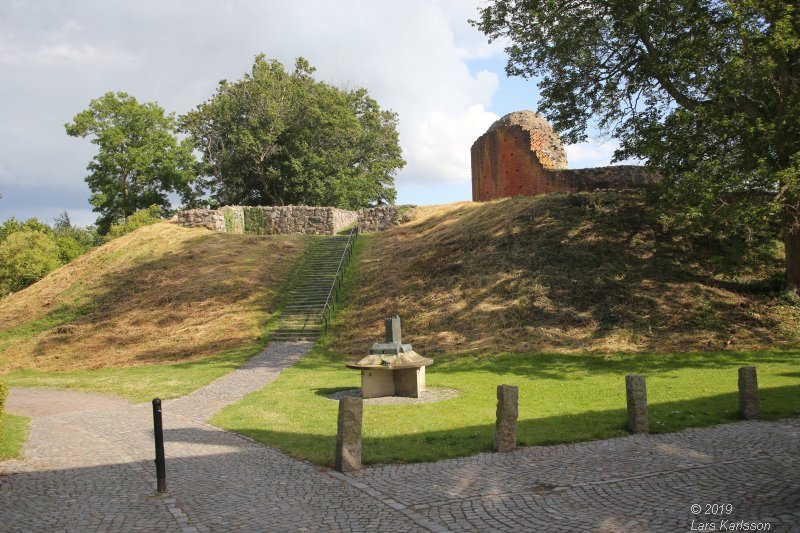 Now we can see the castle, or maybe more a fort. There is also a model of the fort in front of the hill.
---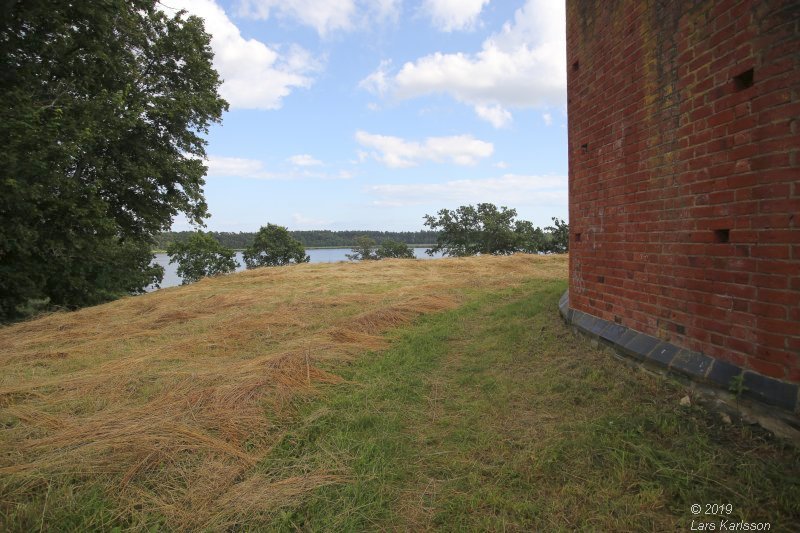 When we had climbed up to the top of the hill we see the bay, around this hill and tower was earlier a moat.
---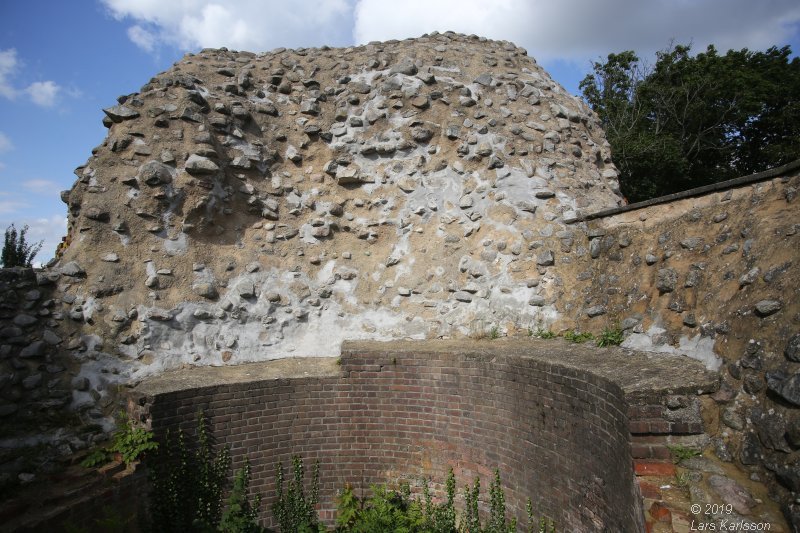 Inside the tower, this wall is reconstructed or maybe everything because the local people used it as an masonry in earlier days.
---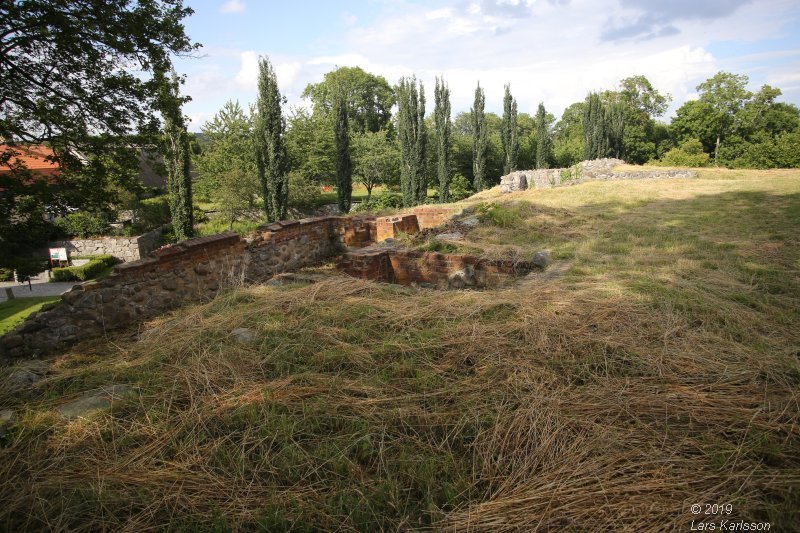 Part of the old defense walls are still there.
More to read about Sölvesborg's castle at Wikipedia:
---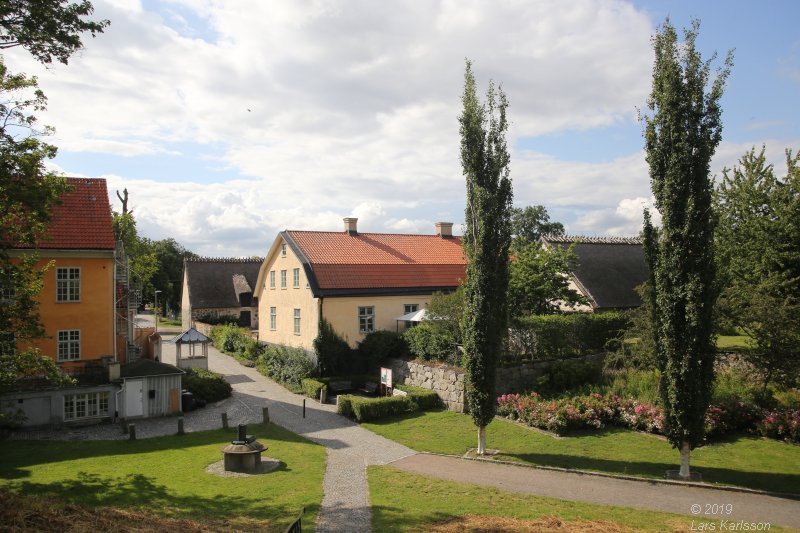 More to read about Sölvesborg at Wikipedia:
---
Grödby: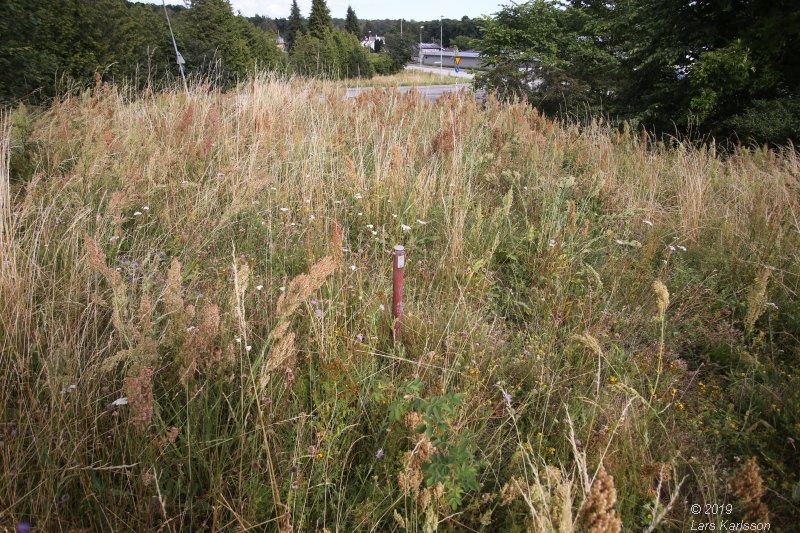 After we booked a new room in Everöd we start the car and leave Sölvesborg. On the way we pass by Grödby, beside the road we see a sign about something ancient. We have to stop and investigate it. We park the car end enter the hill, was this all to see? Just a lot of grass, a sign tell us that this is Vidrik's grave. It hold eight graves with big stones that makes a frame around it. These stones are hard to see today, or did we look at the wrong place?
---
Trolle Ljungby: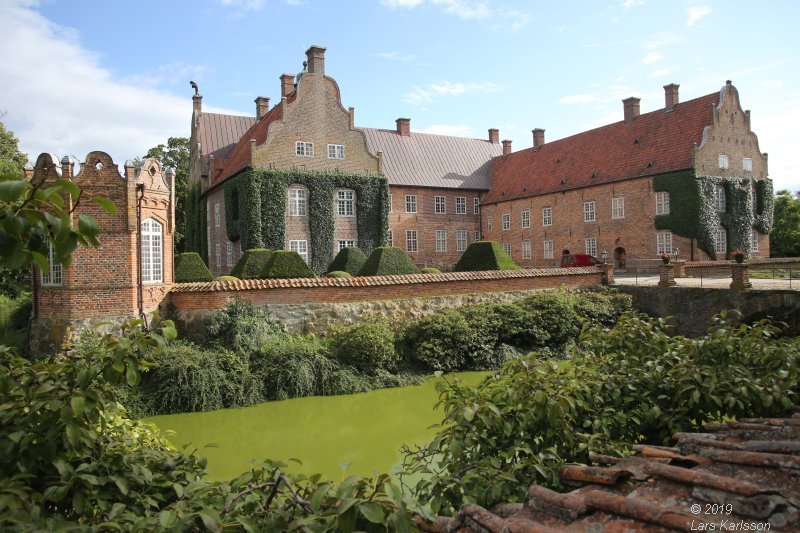 After the disappointment of the last stop with the non viewable graves we head for Åhus where we want to have a dinner. Suddenly we got this view through the windshield, it it an old big castle or what?
---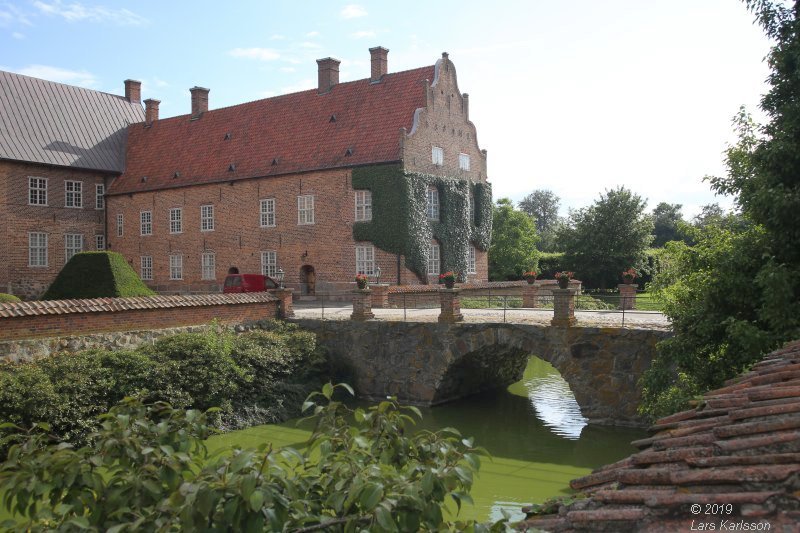 It even has a moat around the castle.
---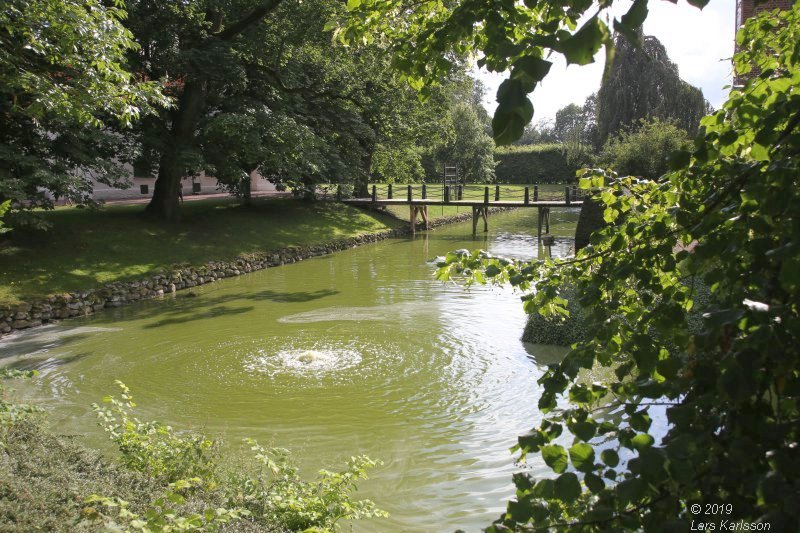 After a while we found a sign that told us that this is Trolle Ljungby Castle, built 1629 on top of the basement where once the Sören Norby fort stod.
---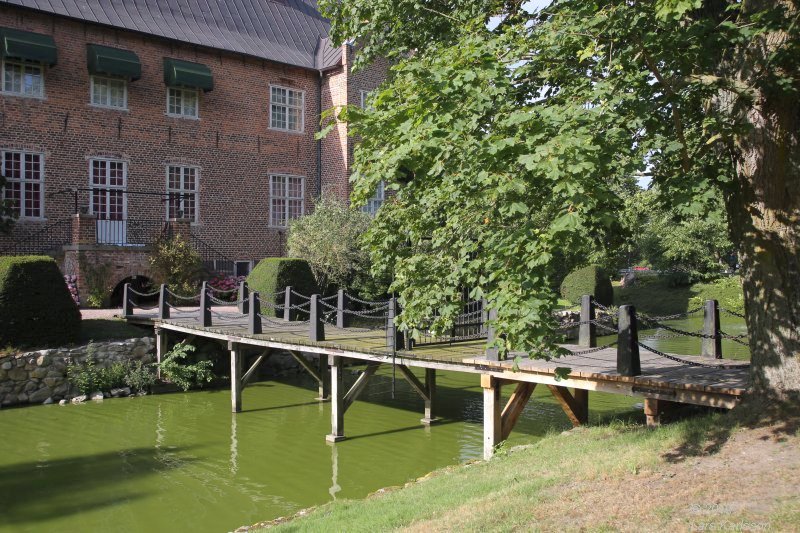 More to read about Trolle Ljungby castle at Wikipedia:
---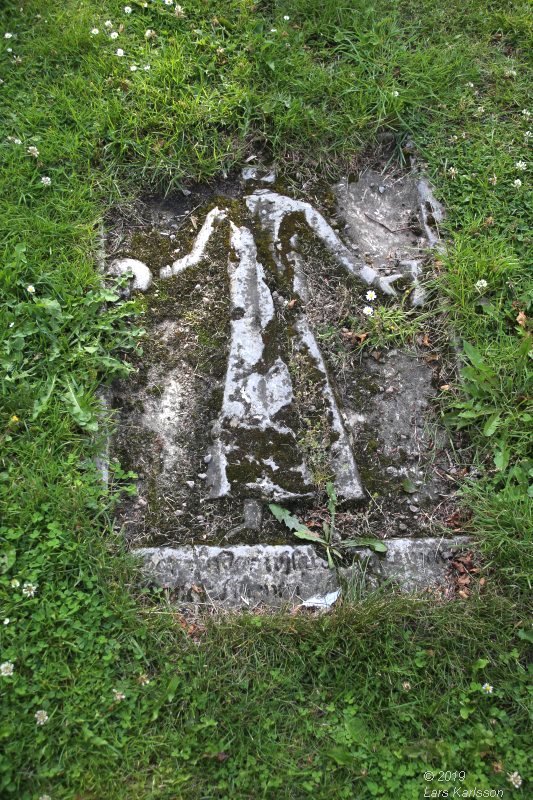 The neighbour building is a church, Trolle Ljungby kyrka.
---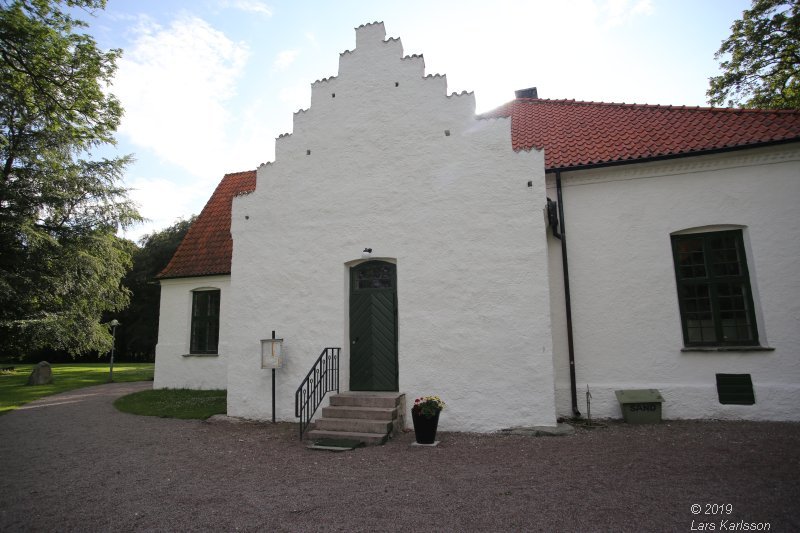 We knocked on the door, after a moment a lady open and told us to go to the door on the backside.
---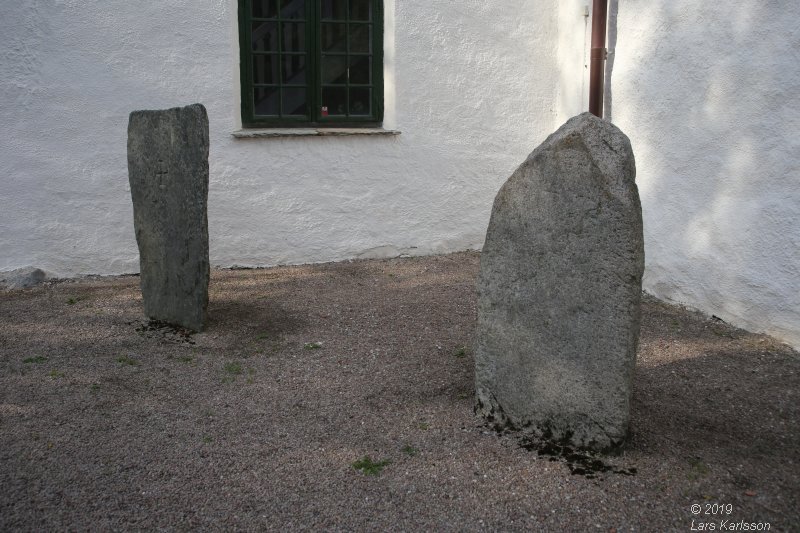 Two runestones? No, just ordinary tombstones.
---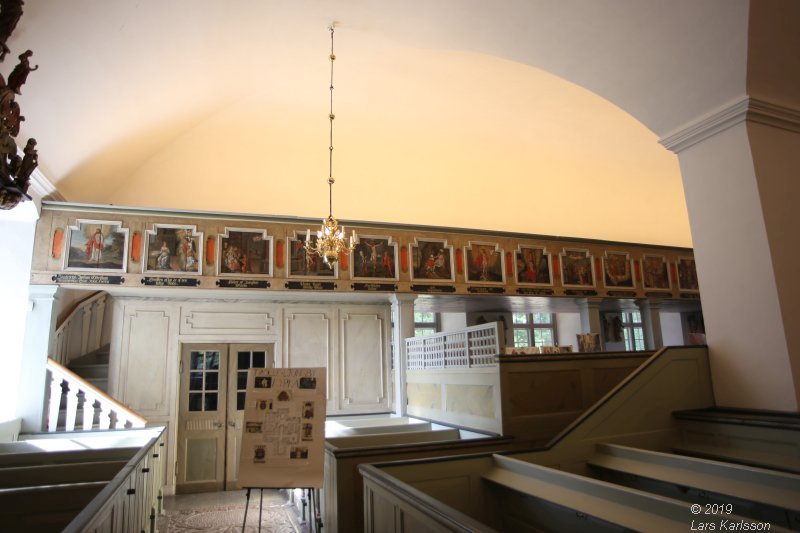 The oldest part of the church is from the 13th century. We find a note about that they looking for a musician, but I can't sing.
More to read about Trolle Ljungby church at Wikipedia:
---
Åhus: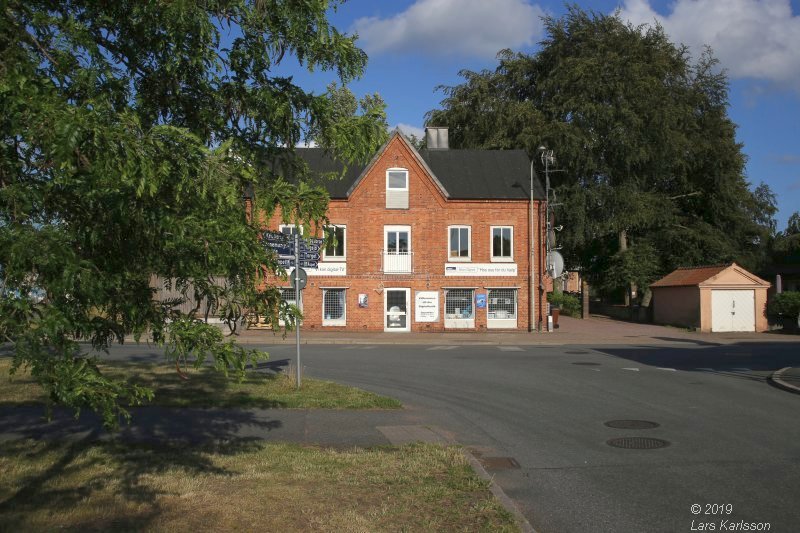 We enter Åhus and park the car to have a walk in this village and find somewhere to eat.
---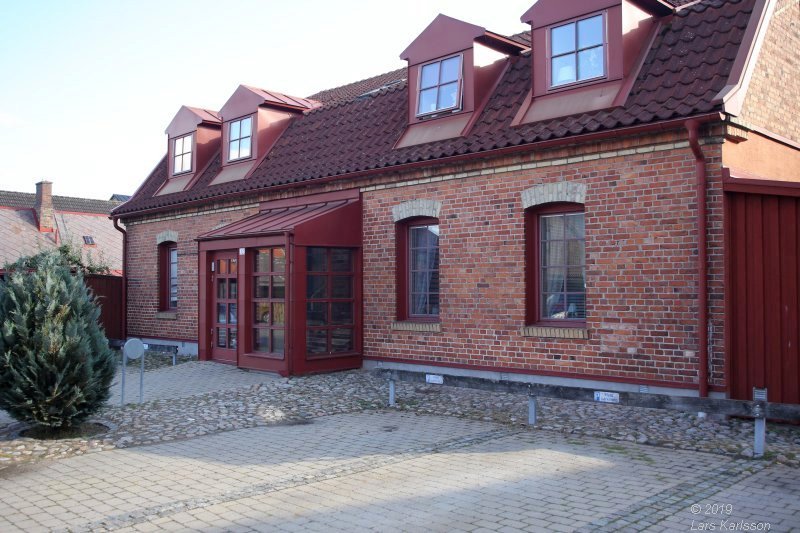 I know from earlier that there are a lot of restaurants along the river, we take a shortcut through the alleys down to the river.
---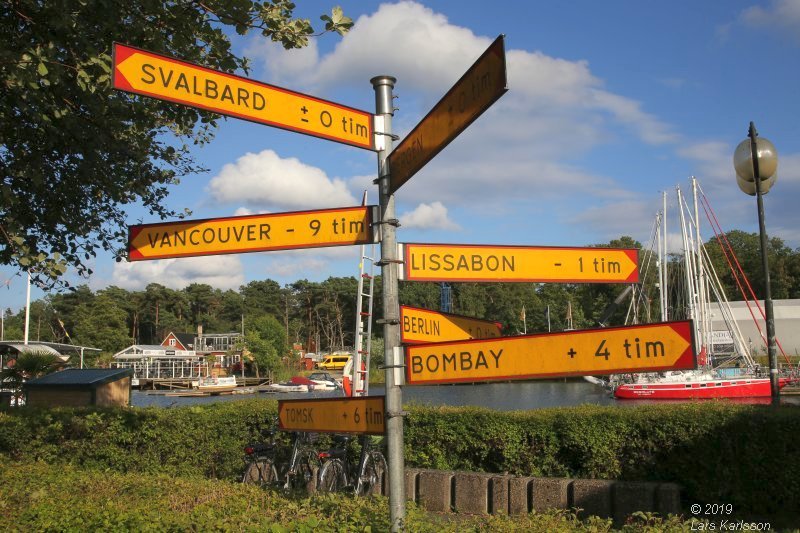 Good to know what time they have in Bombay.
---
Ice cream boat, very tasty but we need food also. The river's name is Helge Å.
---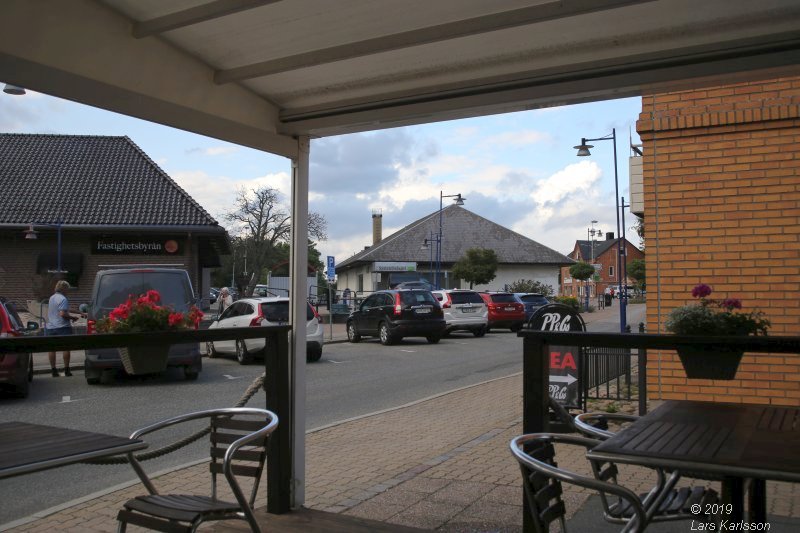 Didn't find any restaurant in our taste at the river, we walk back to the square and took the dinner at a restaurant at that place.
More to read about Åhus at Wikipedia:
---
When we eating we had a look in the brochure about what to find here, there is a fort very close to us.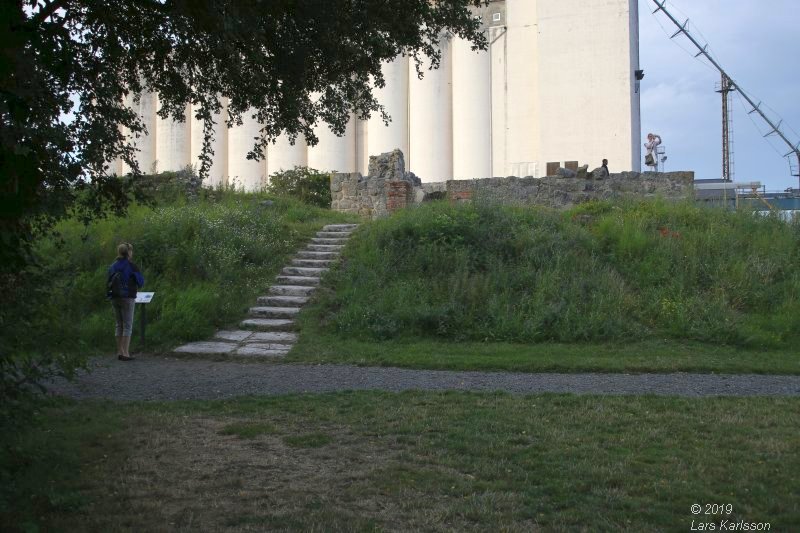 Only two hundred meters walk away.
---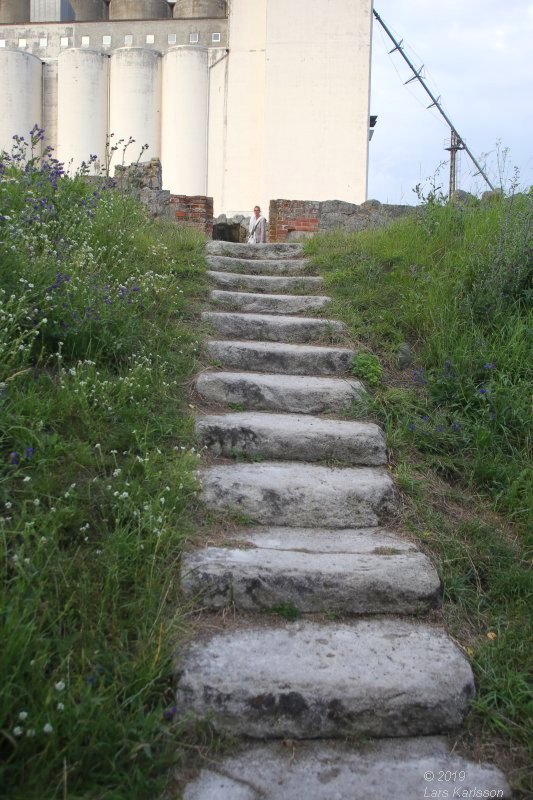 It's placed where the Helge river has its outflow to the sea.
---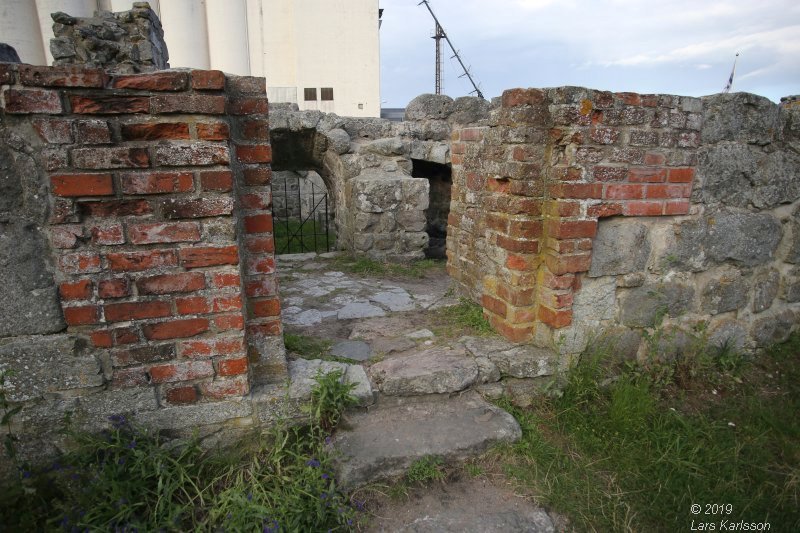 Already when bishop Eskil got the land Åhus 1149 this fort was in place.
---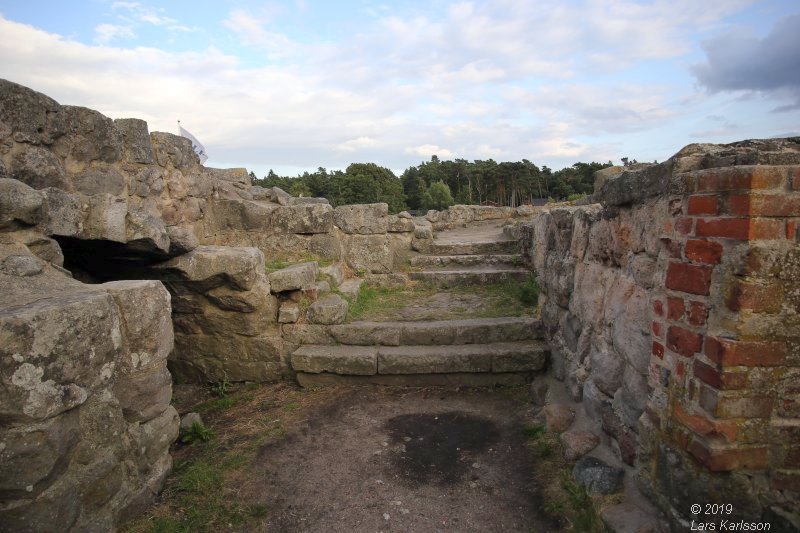 ---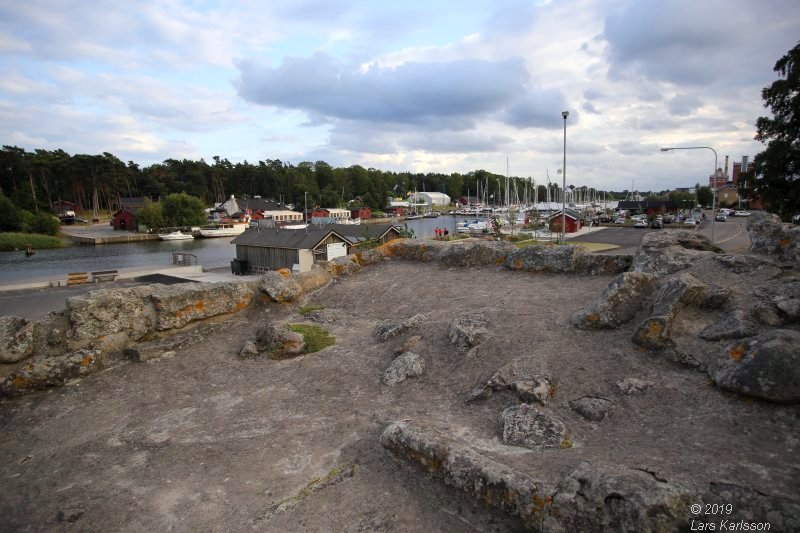 From the top the defenders had a great view over the sea and river.
---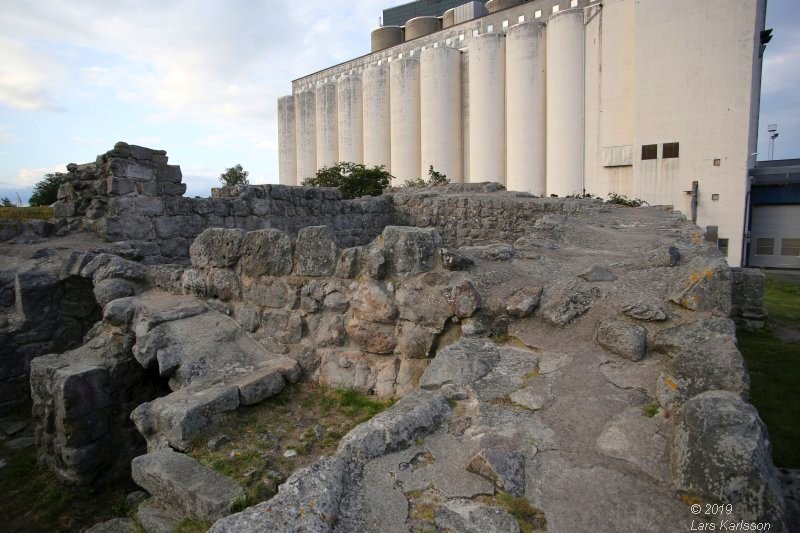 The big white building in the background is a silo where the farmers store their grains.
---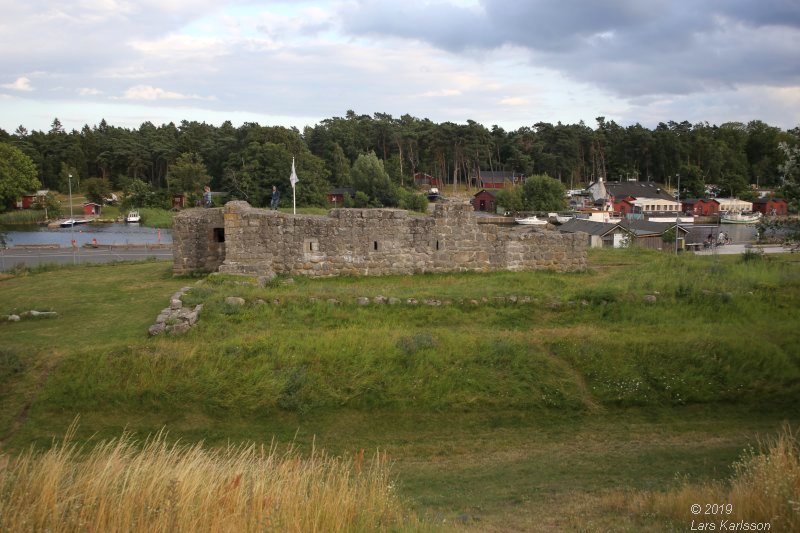 On the Northern side there is a hill that I climb up to and got this view over the fort.
More to read about Åhus fort at Wikipedia:
---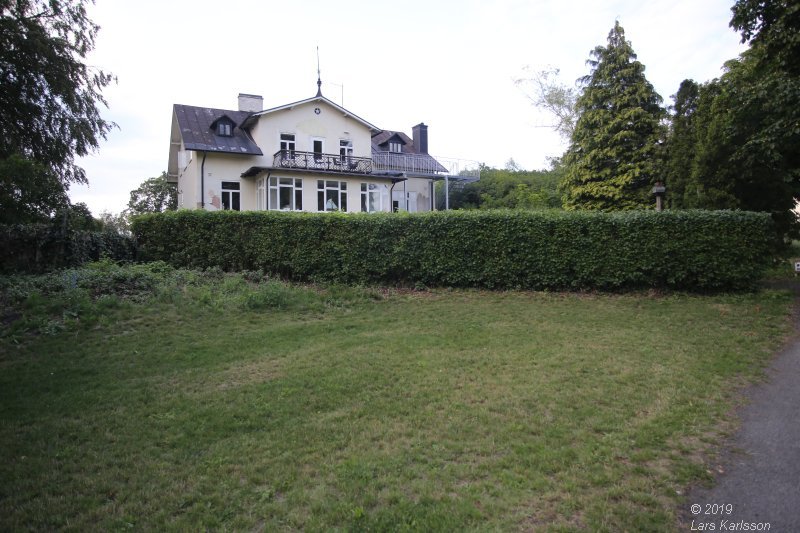 Time to go back to the car, we see two B&B stays on the way.
---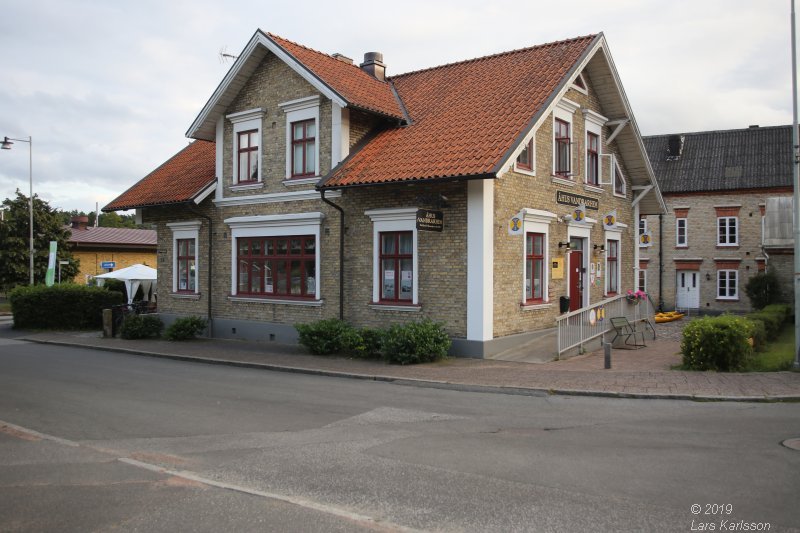 ---
Everöd: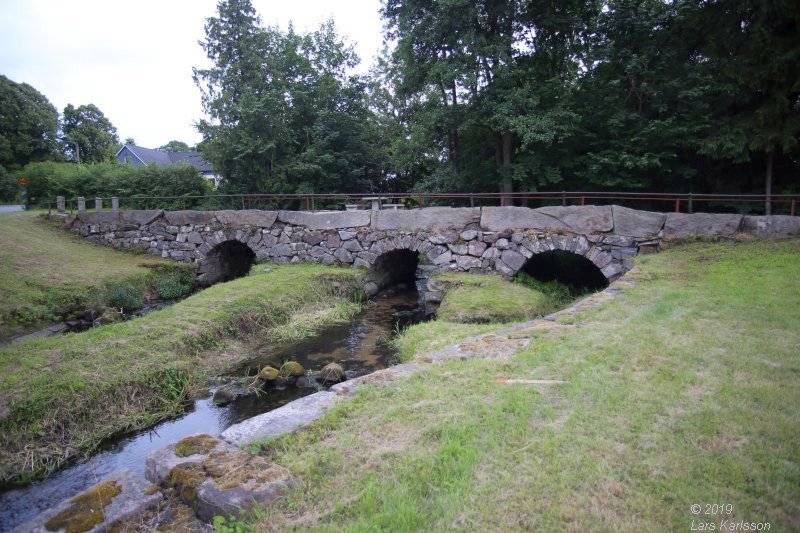 When there is only one km left to our stay in Everöd we find a new arc stone bridge, this one has three arcs.
---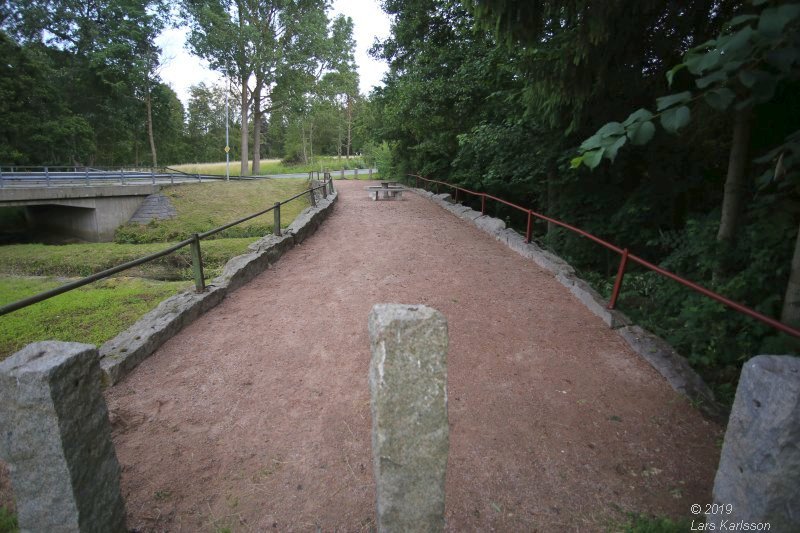 ---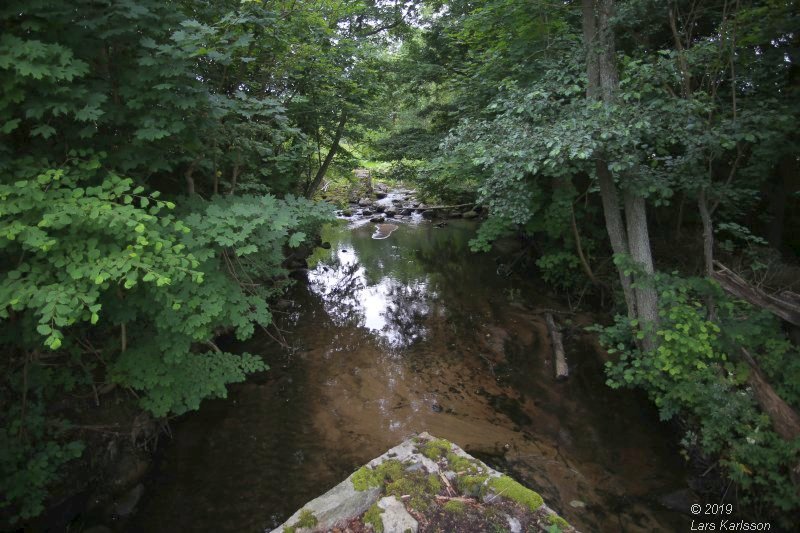 Up here there is a ruin after a mill I could read on the sign.
---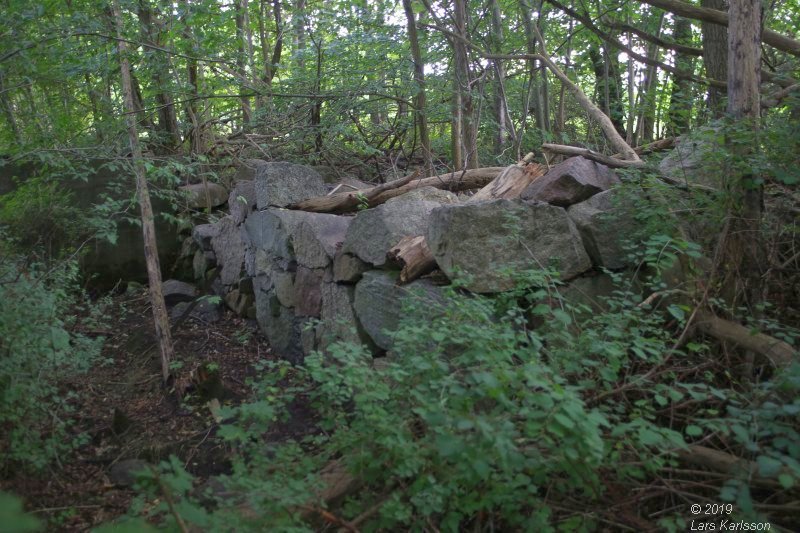 I must go into the bush and have a look. I found it but shouldn't have done that, I got two ticks on my right leg after that. Hard to reach and Gunilla helped me to get rid of them, ticks are nasty.
More to read about Everöd at Wikipedia:
---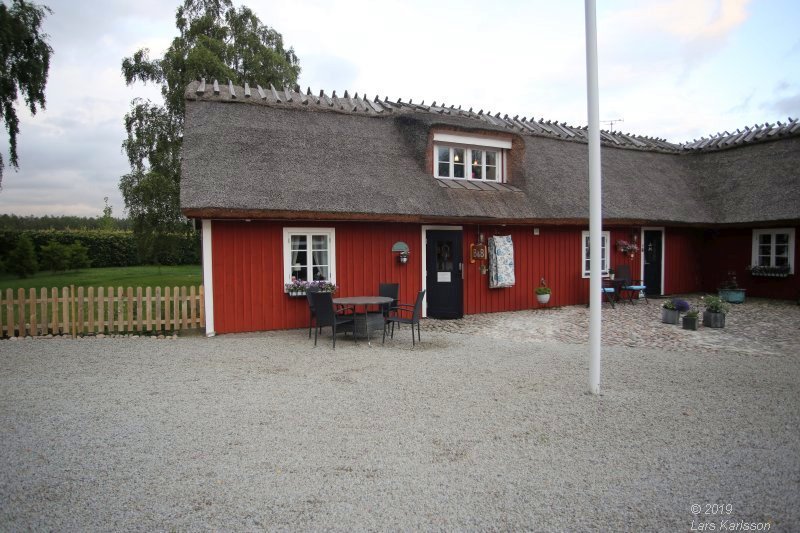 Our stay, it's Sandala B&B, the host Anders instruct us which room to stay in and the facilities.
---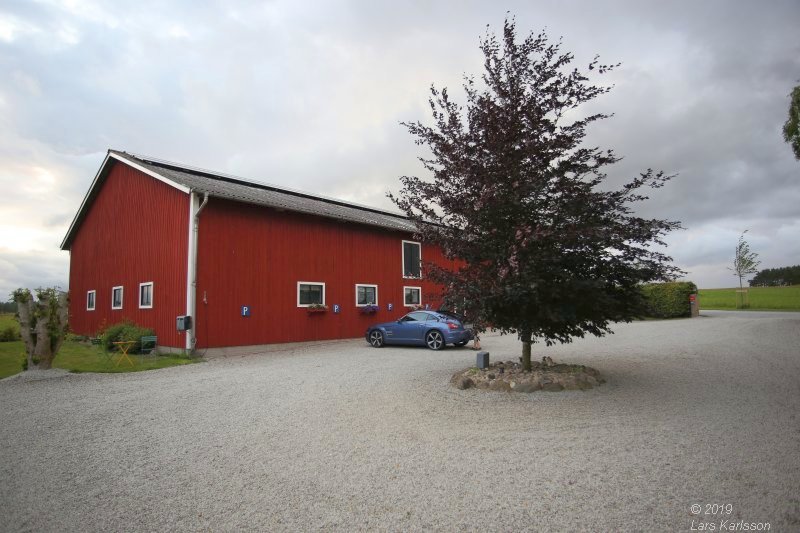 The gravel is so well scratched that I hardly dare to drive in the car, well organized with parking signs.
---