My travels in Sweden:
A visit to the island Gotland, 2022
---
Content:
---
Introduction, from Stockholm to Gotland
This year we decided to visit the island Gotland during the summer. Gotland is very popular to visit. First we planned to go in June, but it was impossible to find both ferry tickets and a free room at the same time. We hade to wait until middle of July. We booked a five night stay at a Hotel in the middle of Gotland in Roma. One important task for my girlfriend this time was to find some traces of her far away ancestors.
More information about Gotland:
---
Day 1, Stockholm, Visby, Klintehamn and Roma:
Map over the first day travel. We brought the car with us to have access to all areas of the island.
---
Early morning drive: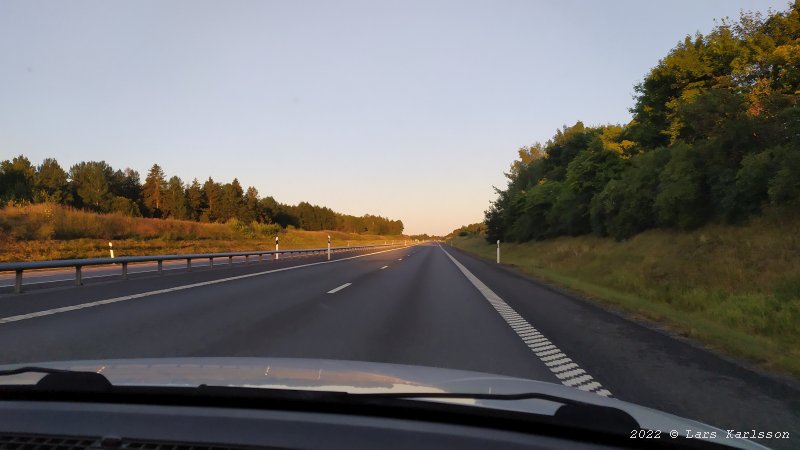 To get ferry tickets that match up with hotel we booked we had to take the early morning ferry, waked up at 3 am. The travel started good with fine weather and we could watch the sun rise.
---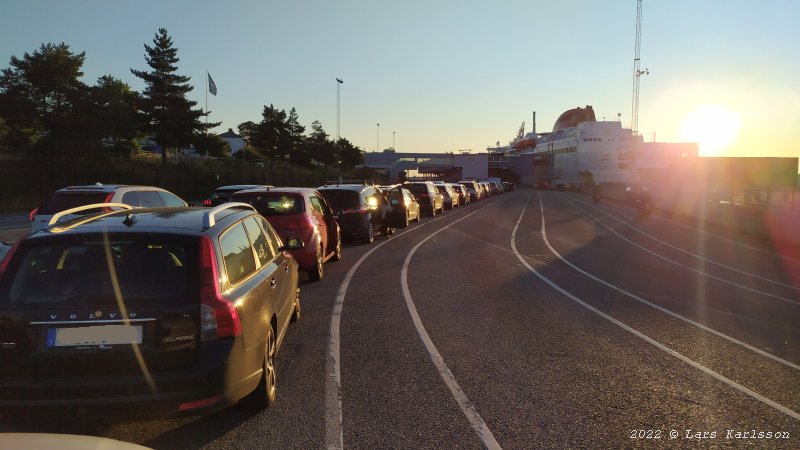 At the harbor at 5 am, one hour before departure. There were already a lot of cars waiting to get onboard the ferry. We will not get alone at Gotland.
---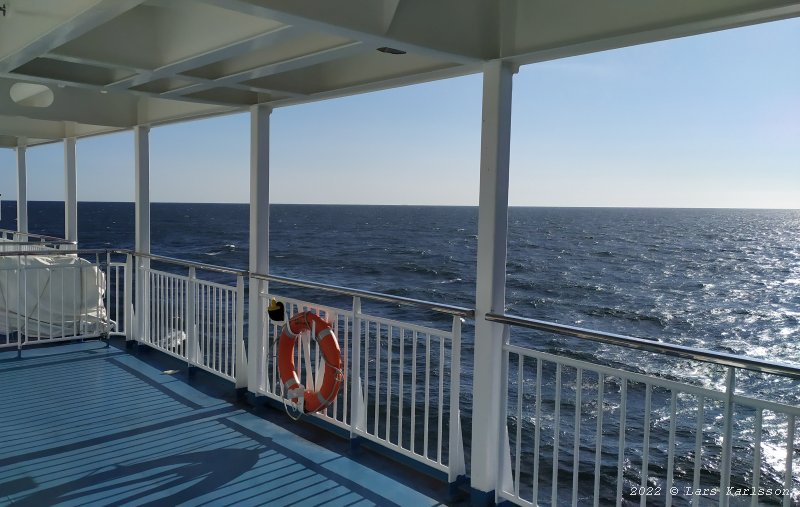 The weather forecast said heavy wind, but we didn't experienced that bad winds, we could sit (sleep) on the deck and enjoy the travel.
---
Västerhejde: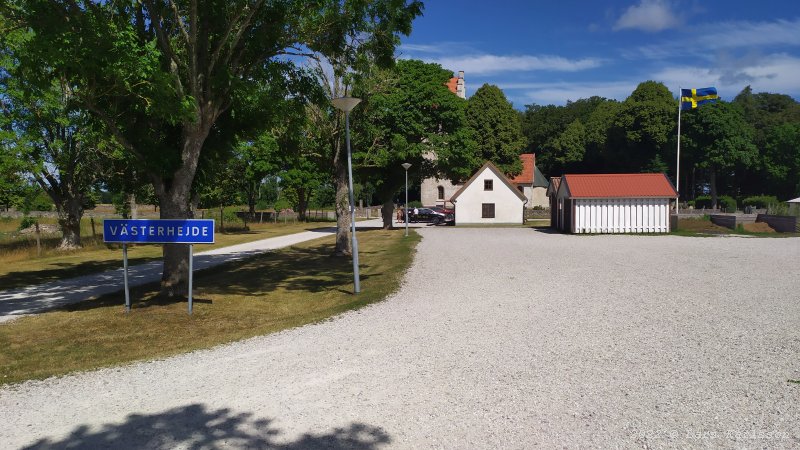 We arrived at Visby at 9:30 am, and couldn't get our room until 3 pm. We had to do something while waiting. We stopped at a church at Västerhejde South of Visby to have a look at a rune stone. But also to have some breakfast and sleep.
---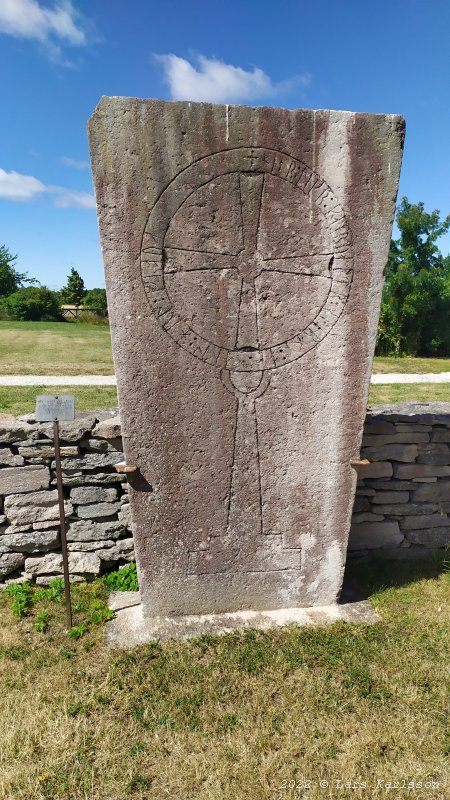 The rune stone is younger than the Viking era but the rune letters is the same as they used.
---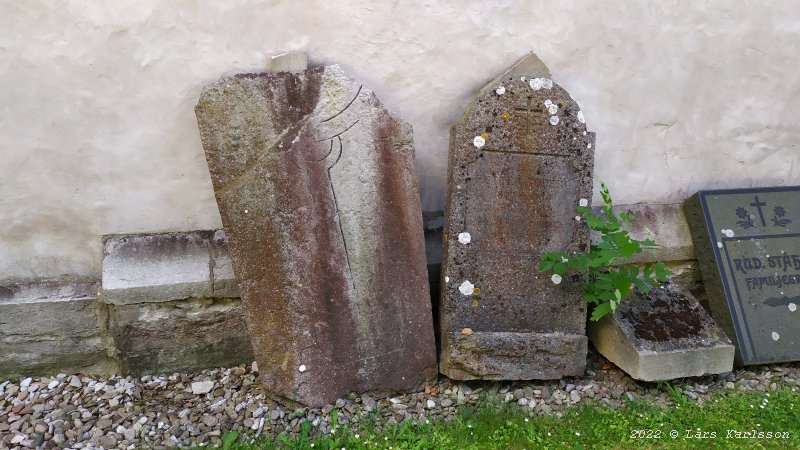 At the backside of the church it was one more rune stone. The one to the left has the same style as the one we just looked at, but this one is missing some parts.
---
Gnisvärd: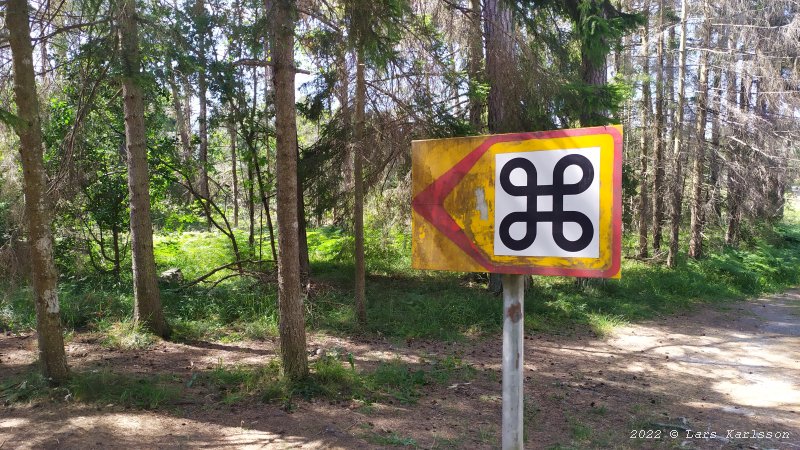 We read about some ancient place at Gnisvärd and drove our car to that place. A lot of tourist came by a bus at the same time, but we started to investigate the ancient stones at the opposite side of the road.
---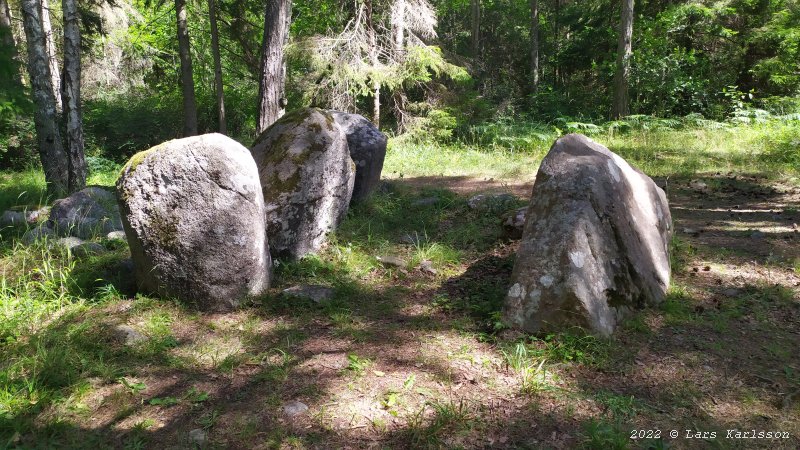 It looks like a Dös as we call these old graves for. Maybe 3000 to 4000 years old. There is normally a stone roof placed on top of the graves.
More information about graves of Dös (Dolmen) type:
---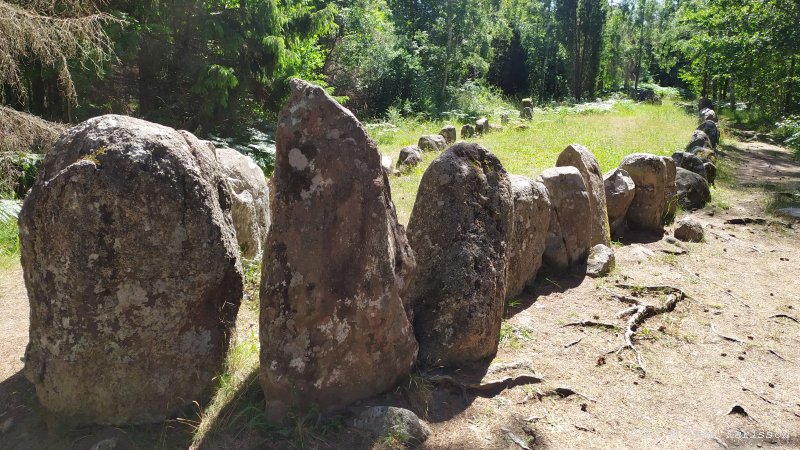 When the tourists had disappeared we walk over to the main side. Here we have two really beautiful ship graves.
---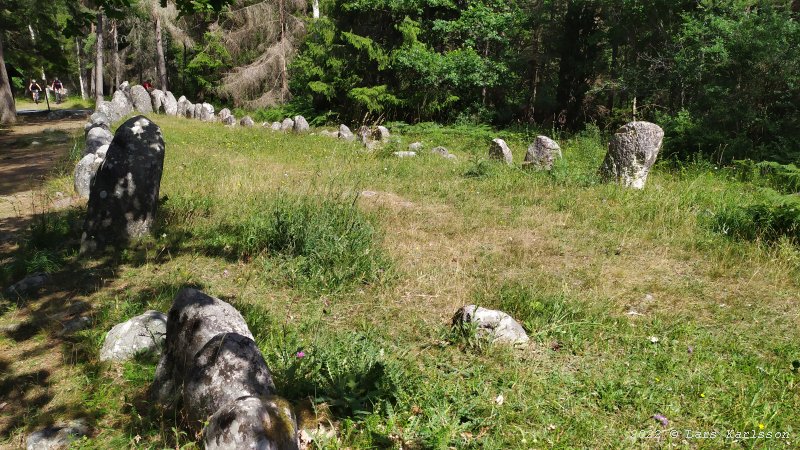 In the middle there are two bigger stones, never seen that before and don't know the purpose of these. In the center a stone that marks the place for the mast.
---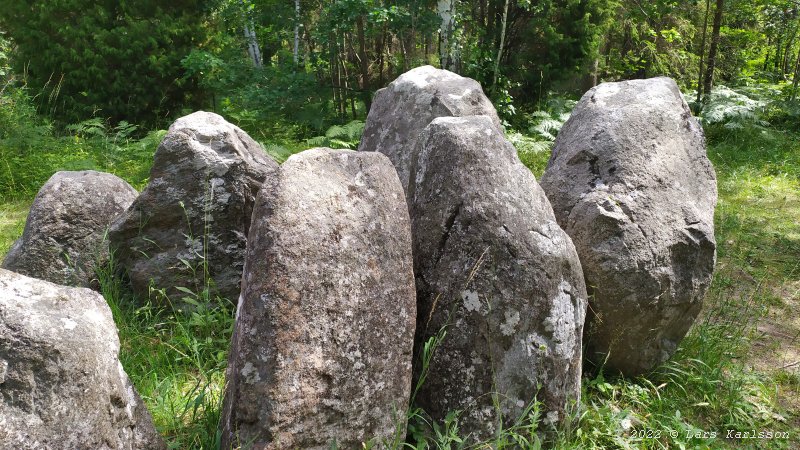 The bow of the ship, the ship grave is 45 meter long. The tallest stones are almost one meter in heigth.
---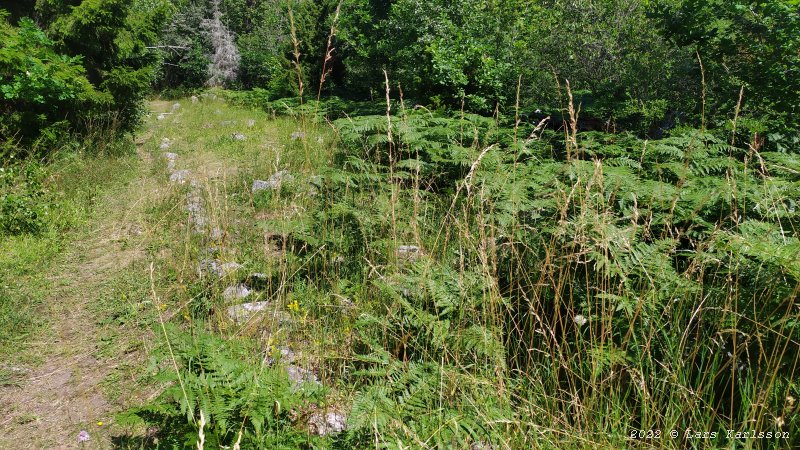 Behind there is another stone ship, almost as long as the first one but built of smaller stones. The small stones are almost buried in the grass.
---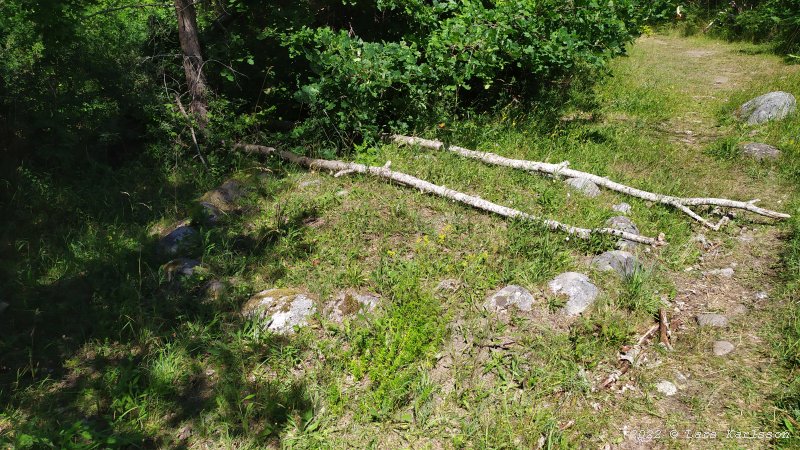 When we walk back to the car we find one more stone grave, this one is a circular one.
More information about Gnisvärds skeppssättningar (sorry, no English):
---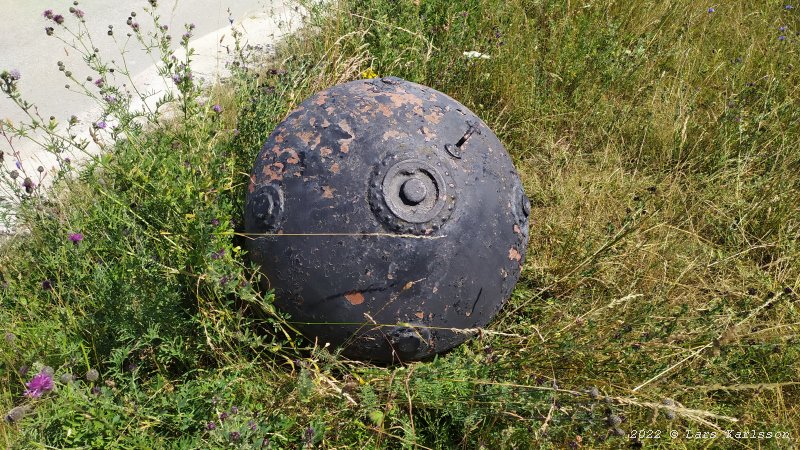 We now drove the car to the coast, just after a couple of hundred meters drive we found this, a mine, maybe from WW II. Big enough to sank a big ship, I didn't touch it !
---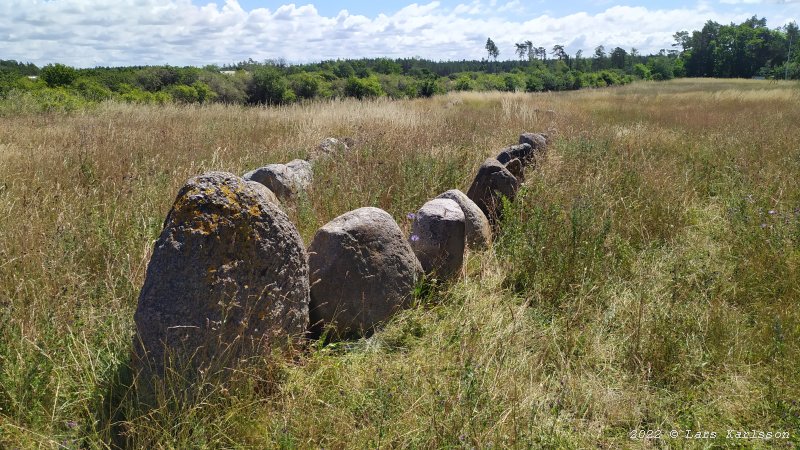 Behind the mine we found this, they call it the new ship grave. Not sure what the mean with that. It looks ancient to me, maybe they mean it was found recently.
---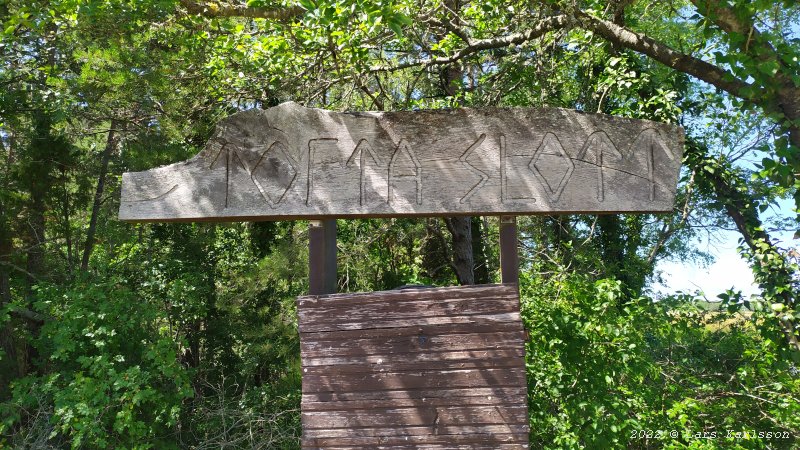 Tofta Castle. No sign of a castle here.
---
---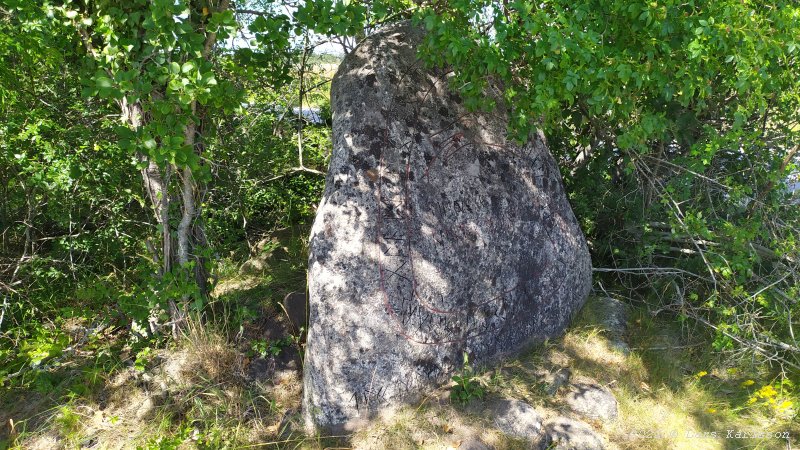 This is for sure a new rune stone made in the 20th century. But what does it say, welcome, or ?
---
The Gnisvärd beach: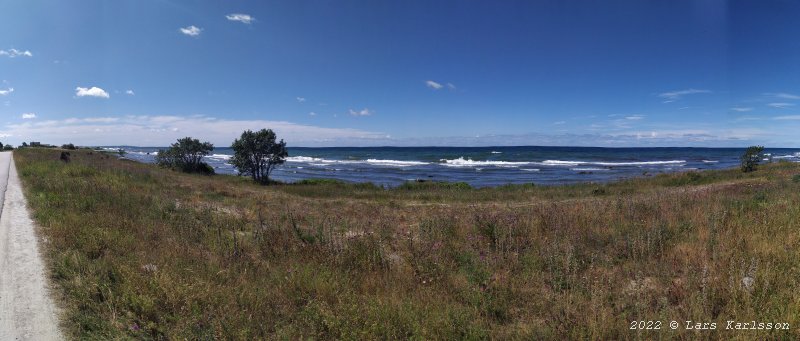 No distances are long on this island. We reach the beach and notice the waves are a bit bigger now. The temperature has now increased to 28 C degrees which is hot to be in Sweden.
More information about Gnisvärds ship graves:
---
Second hand store: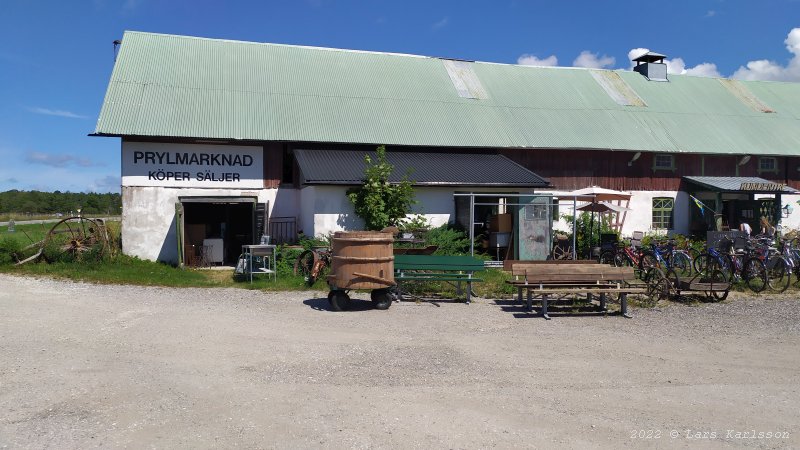 When driving along the road we saw this second hand store and we made a stop. Maybe we can find some cheap treasures ?
---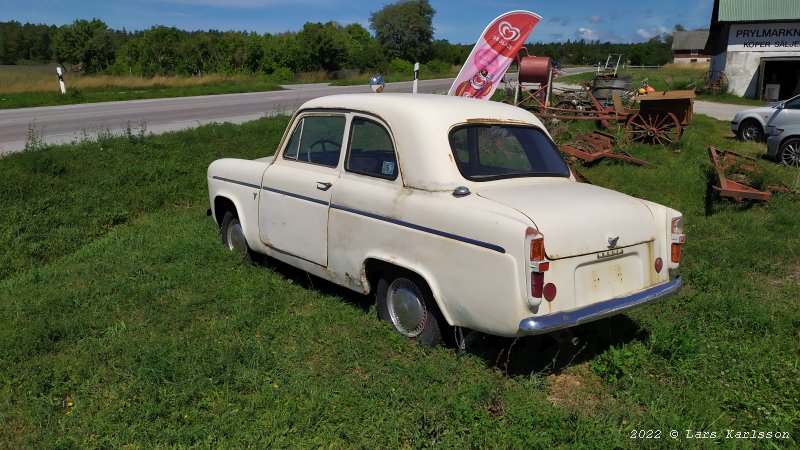 This was interesting, an old Ford Anglia from the 1950s, and there was one more at another place. My friend just sold his old Ford Anglia.
---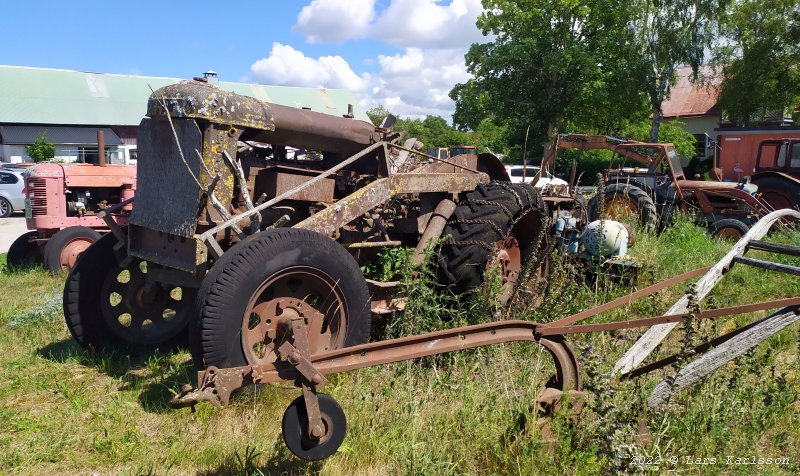 One brutal tractor was behind, it looks amazing !
---
Klintehamn: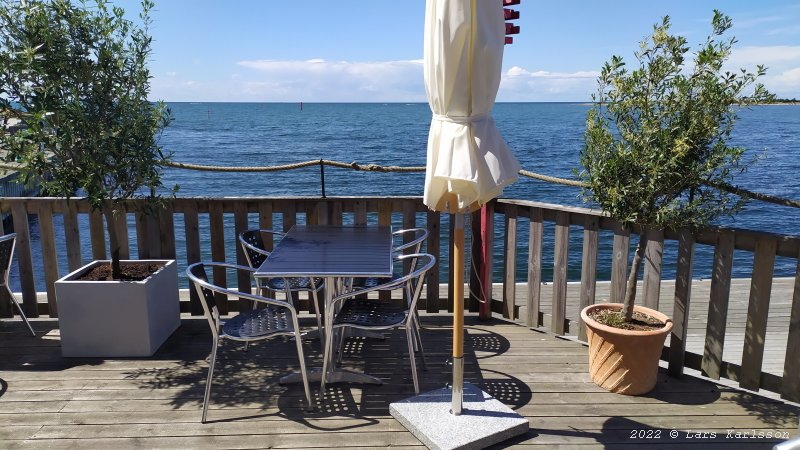 We continue our driving in the Southern direction along the coast. Made a stop at the harbor in Klintehamn. We were a bit hungry and Gunilla has talked a lot about Gotland's pan cakes. Luckily we found a restaurant here and what a gorgeous view we got.
---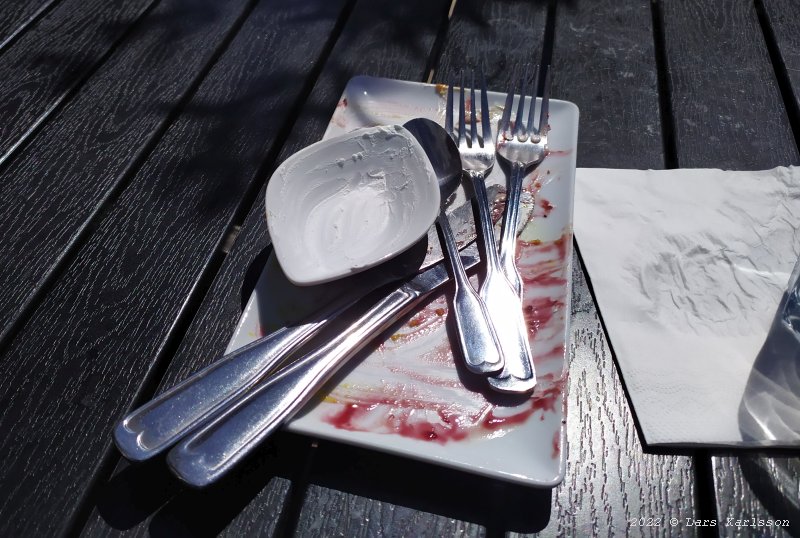 We ordered one pan cake, in a few minutes it disappeared before I was ready with the camera.
More information about Klintehamn:
It's from this harbor you can take a ferry to the islands Lilla Karlsö or Stora Karlsö.
More information about Stora Karlsö:
---
Norrbys: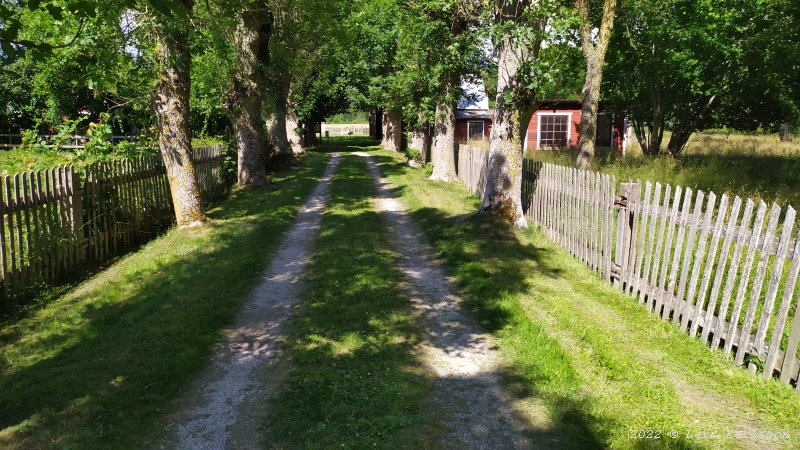 We made another stop at Norrbys, an old farm, just looking through the fence.
---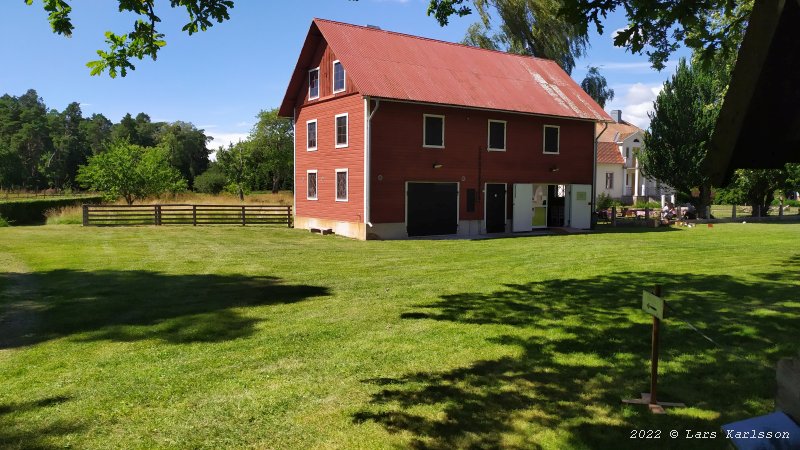 A farmer's large old barn.
---
Follingbo church: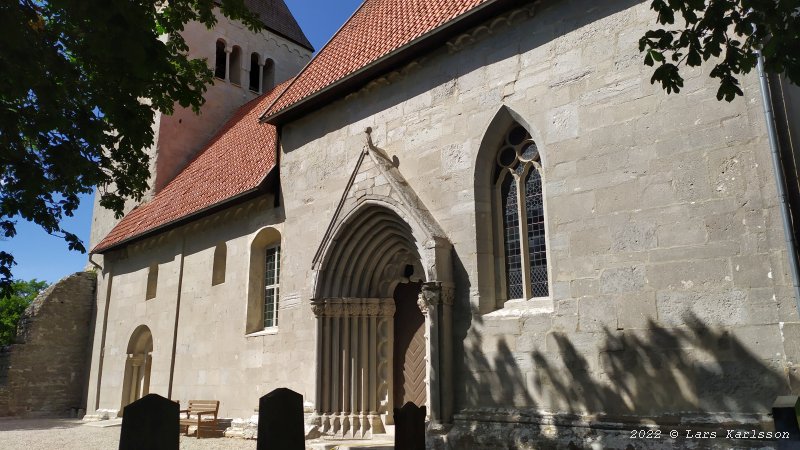 We have now came to the church in Follingbo. A few kilometers North to where we stay in Roma.
---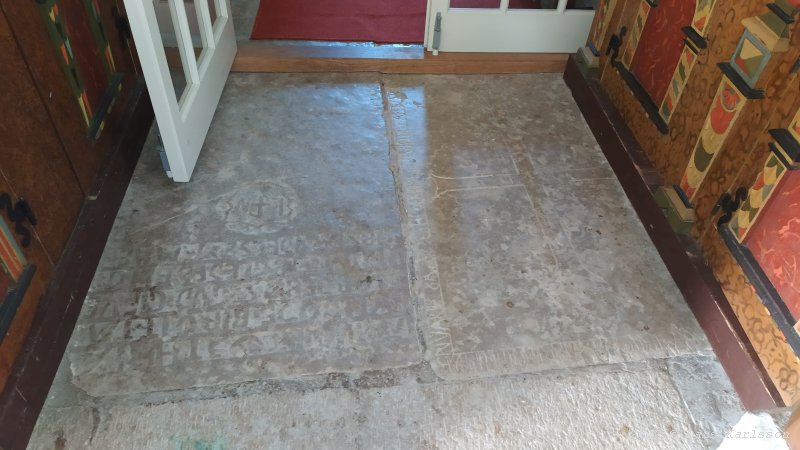 Gunilla looking at the graves at the floor, could it be her ancestors ? Many people have walked over these unprotected stones. Very hard to read the letters on the stones and what it says.
---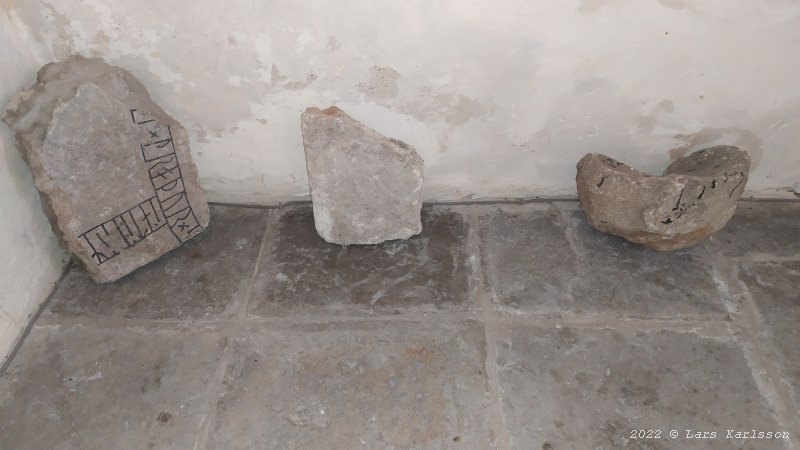 At least we found some fragments of rune stones inside the church.
---
This organ was renovated by my friend Christoffer's father 1994. He and his family were at Gotland when we arrived, they mostly do bathing, we didn't even bring our bath clothes. I think he had hard to believe that.
More information about Follingbo Church:
Gotland is the isle of the hundred churches.
---
Roma:
At last, the clock is 3 pm and we could check into our hotel, Roma Brukshotell, and get our room. We install our stuff and go for an one hour sleep.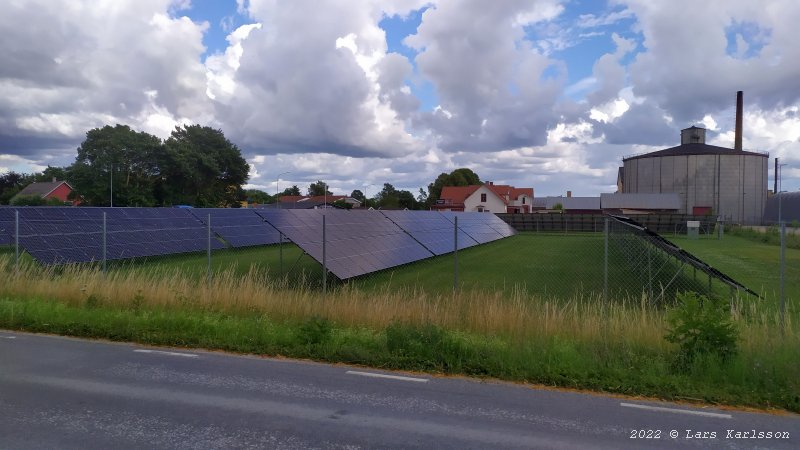 We stay at Roma Brukshotell, once it belongs to the sugar factory across the street. Now there are solar panels there. And more, there is a Whiskey distillery in the old factory !
---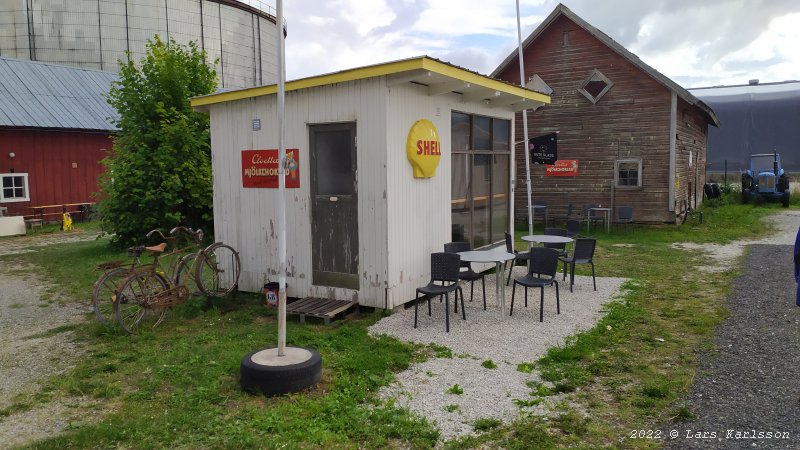 We walk around in the village Roma and found this old Shell gas station. Behind is a Second hand store but it's closed now at the evening.
---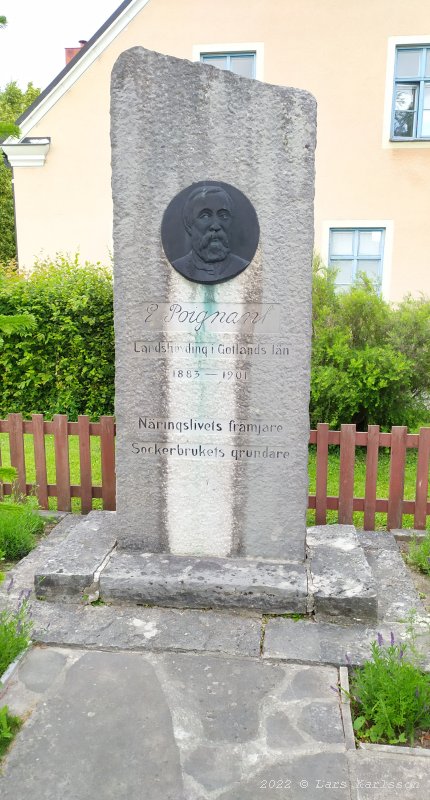 E. Poignant 1883 - 1901, founder of the sugar factory in Roma.
More information about Emil Poignant (sorry, only Swedish):
---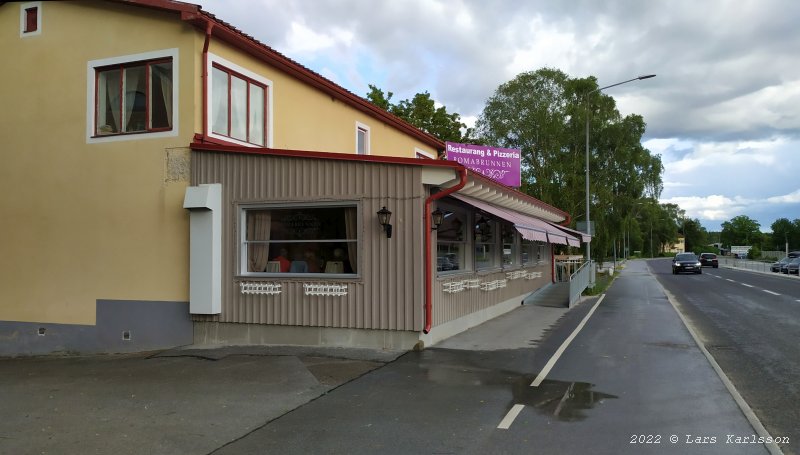 Later at the evening we visited the restaurant Romabrunnen in Roma and got a good tasting Taco mix plate dinner. A ten minutes walk from where we stay.
---
Narrow track railroad in Roma: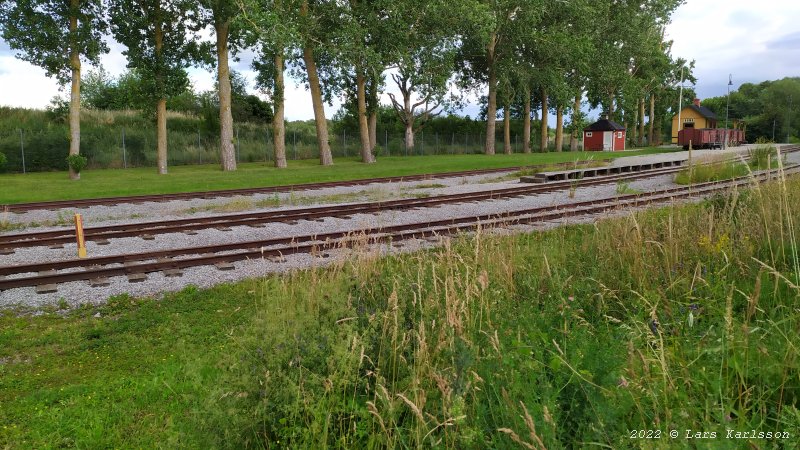 At the isle of Gotland was once many private railroads. Mostly for the big industries here, Roma sugar factory and Slite lime stone mine and others. Close to where we stay was one of them. This railroad was closed already in the 1950s and the railway was removed. In the 1970s enthusiasts spend 4 years to built new railways and now they have this exiting running railway museum for the tourists.
More information about Gotland's railway:
---
Roma King's house: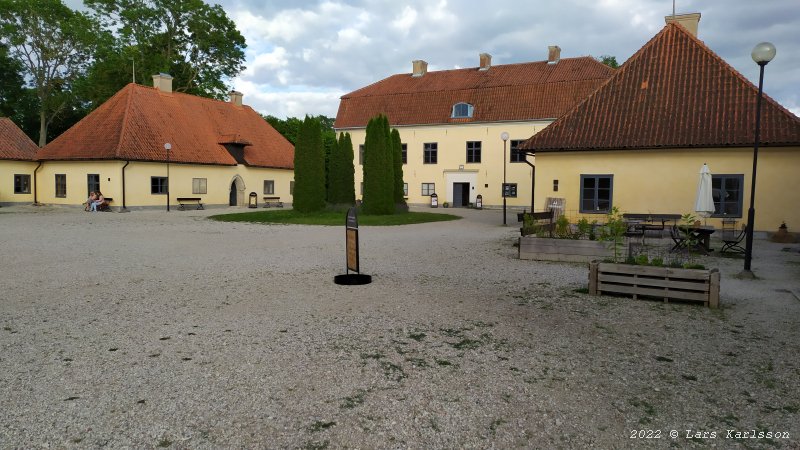 The last thing we did this first evening was to visit the King's house and the ruin Roma Abbey.
---
Roma Abbey: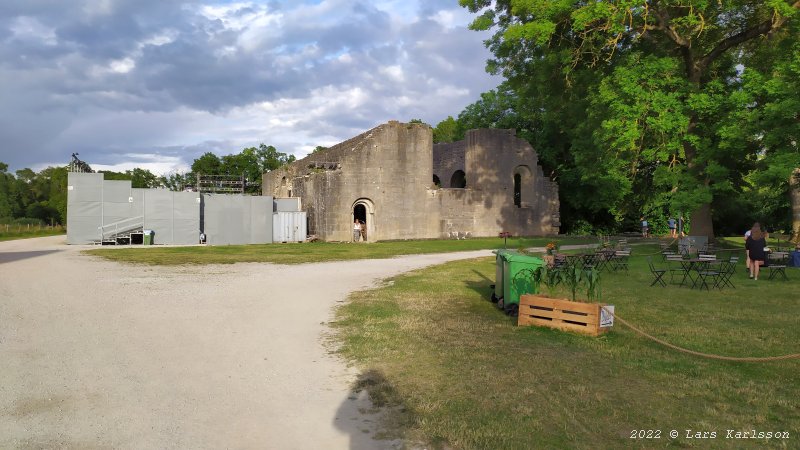 The Abbey is 900 hundred years old and a ruin the last 400 hundred years. This evening they prepare for the theatre to have a play.
---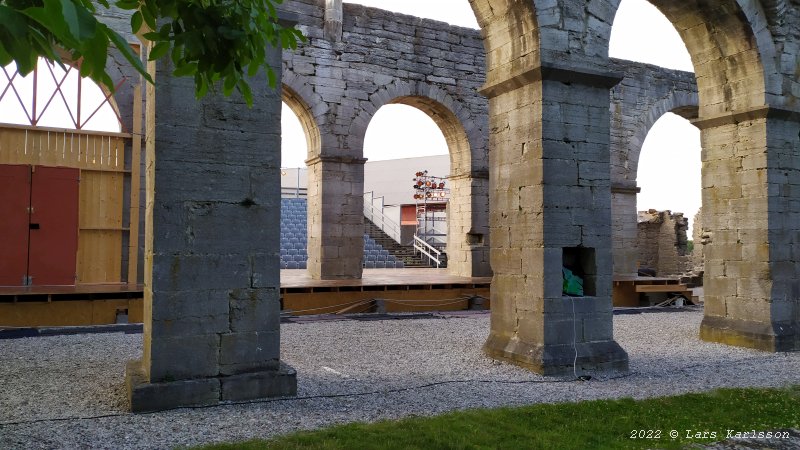 Behind the stage.
---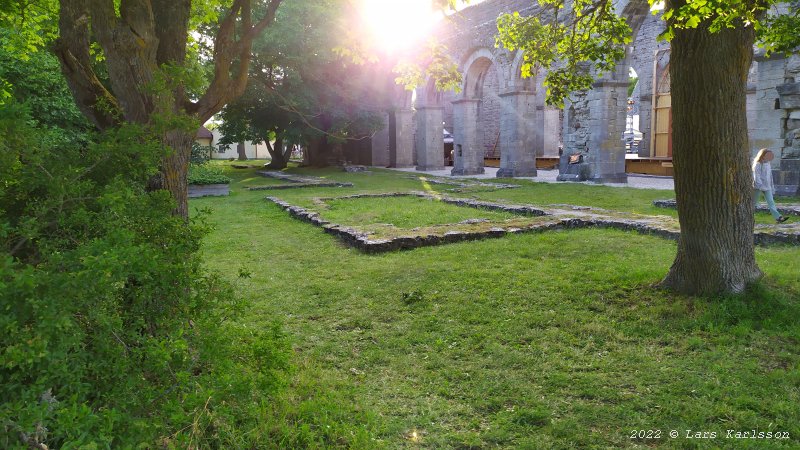 The evening light gives an exiting scenery.
More information about King's house and Roma Abbey:
---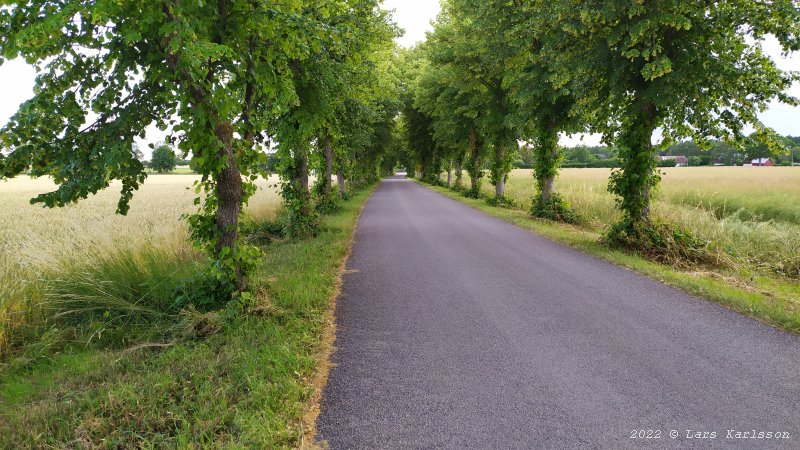 We walk along the avenue back to our hotel.
---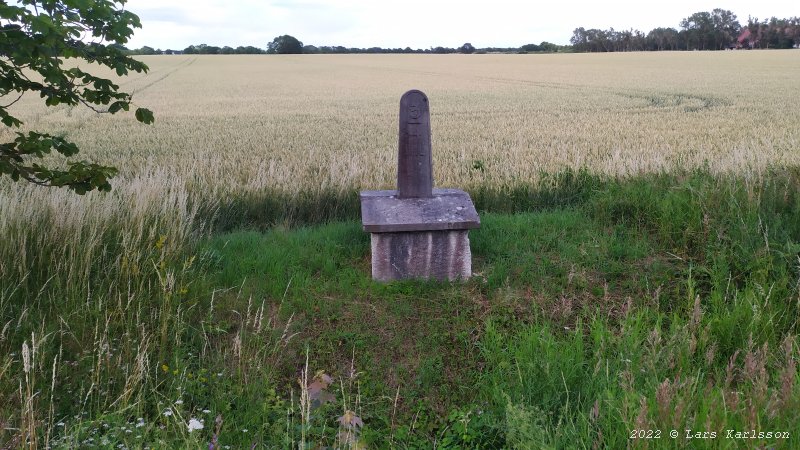 It was longer than we expected, here we pass by the mile stone, still long way left to the hotel.
More information about Roma:
---