My travels in Sweden:
A visit to the island Gotland, 2022
---
Content:
---
Day 3, Roma, Ljugarn, Lau, Rone, Holm, Björke:
Map over the third day travel. This day we investigated the South of Gotland.
---
Ardre Church near Ljugarn: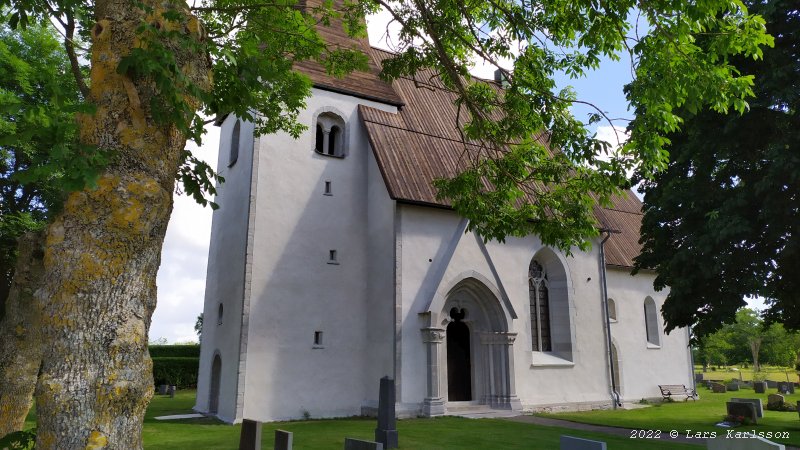 As usual we start with a church, this time it's the Ardre Church on the way to Ljugarn. But we are not looking for ancestors, now we want to find a rune stone with carvings.
More information about Ardre Church:
---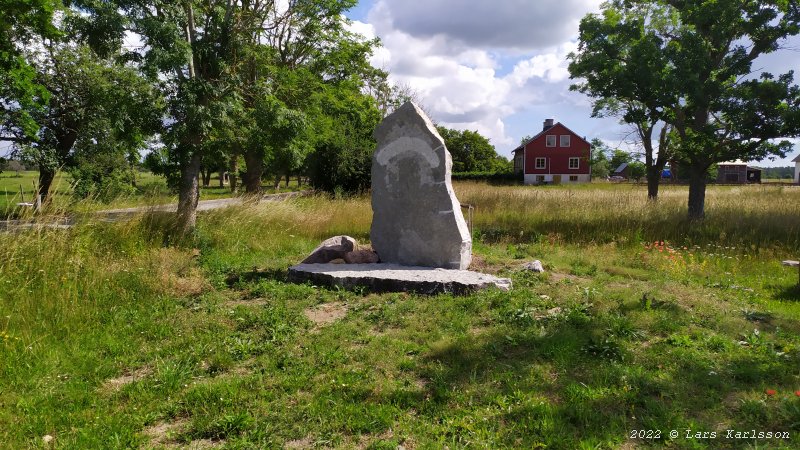 False alarm, this is a new stone, not interesting for us.
---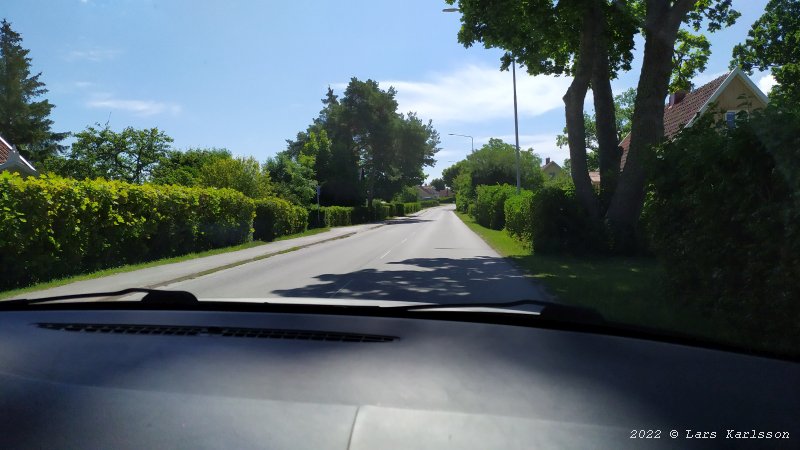 We continue on the roads to the fishing village Ljugarn. About 30 km South of Roma where we stay.
---
Ljugarn: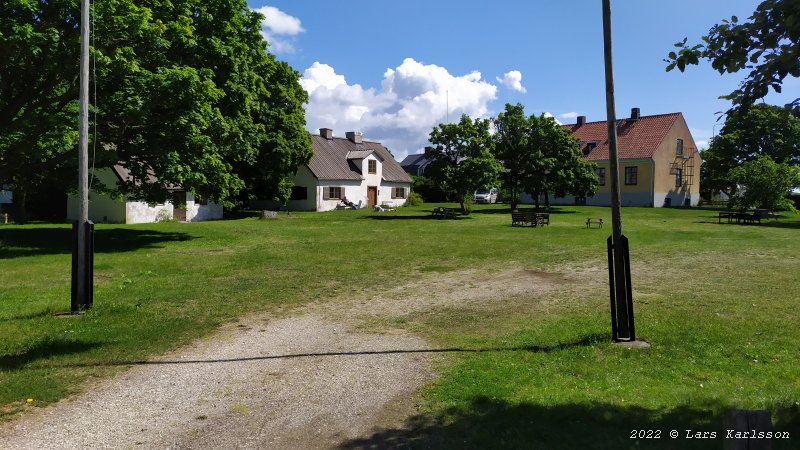 Arriving at the harbor and find this amazing place, it's the Strandbygdsmuseet.
---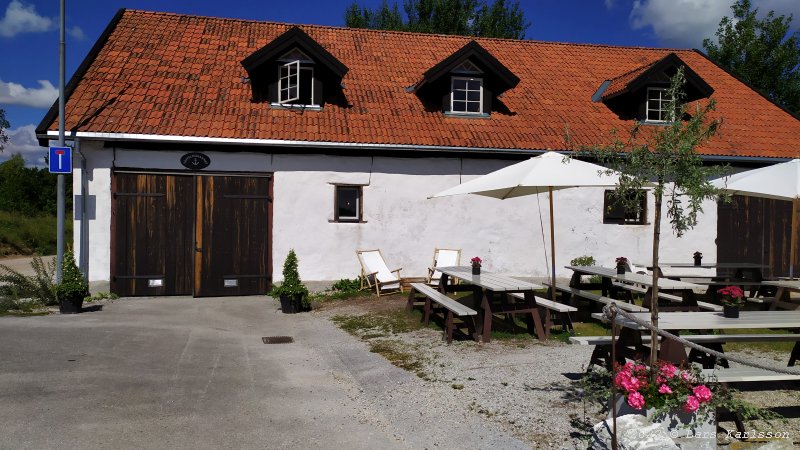 Even more interesting is this house, Våffelmagasinet, sort of pan cake house. It was closed when we arrived but opened in a few minutes.
---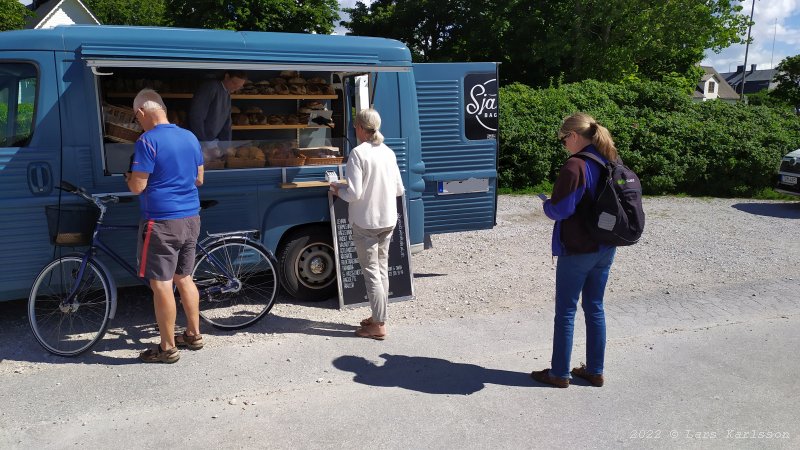 When we waiting a van arrived and Gunilla rushed to it.
---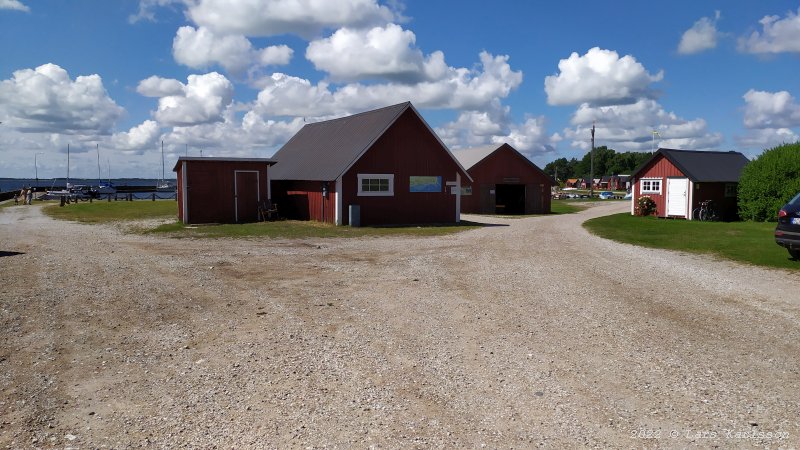 We walk down to the harbor to see what there is to look at.
---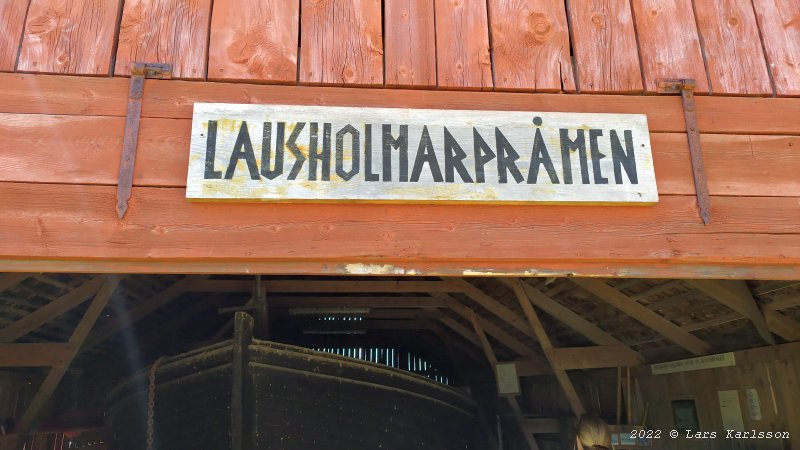 Here they store an old ship, Lausholmarpråmen. The farmers bought three islands and to get there they used this boat to transport the cows and other animals to the islands. They also rented out places for other farmers.
---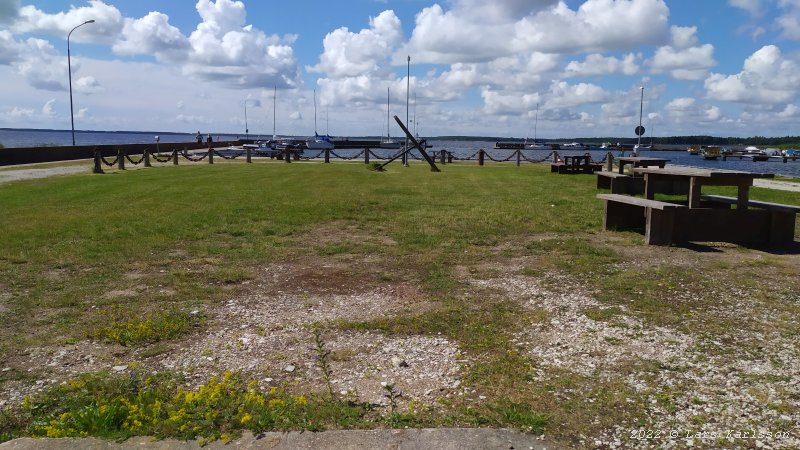 It's a big protected harbor, but for some unknown reason no tourists with boats has anchored here.
---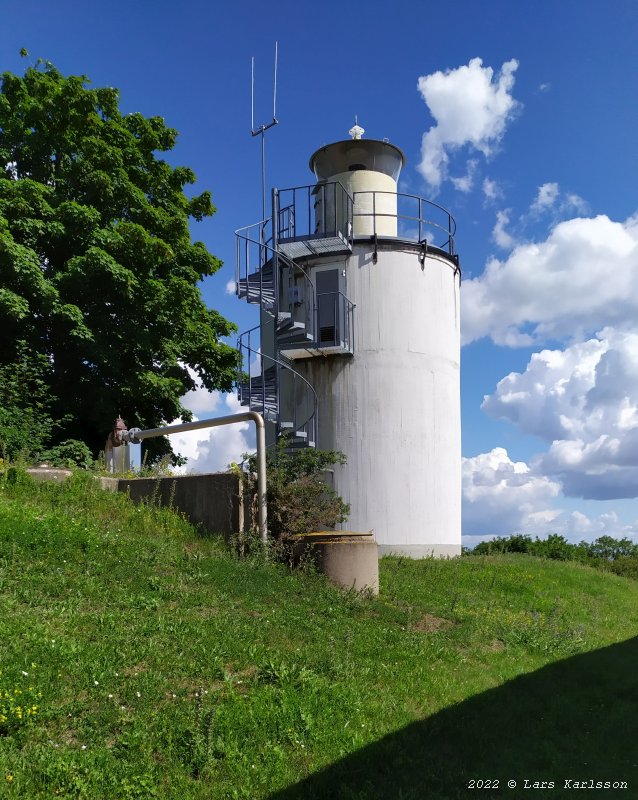 What we expected to be interesting was to have a look at the Lighting House, but this was too small for us to be interesting.
More information about Ljugarn:
---
Folhammar: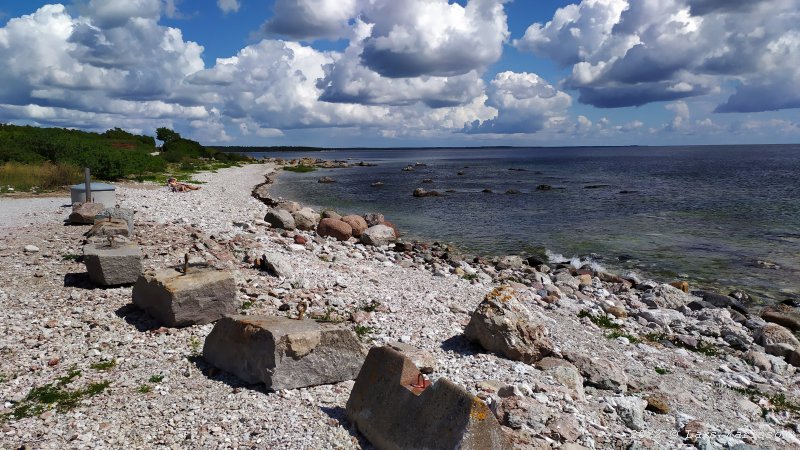 From Ljugarn there is only 2 km in the Northeast direction to a field of rocks, Rauks as they call the limestones.
---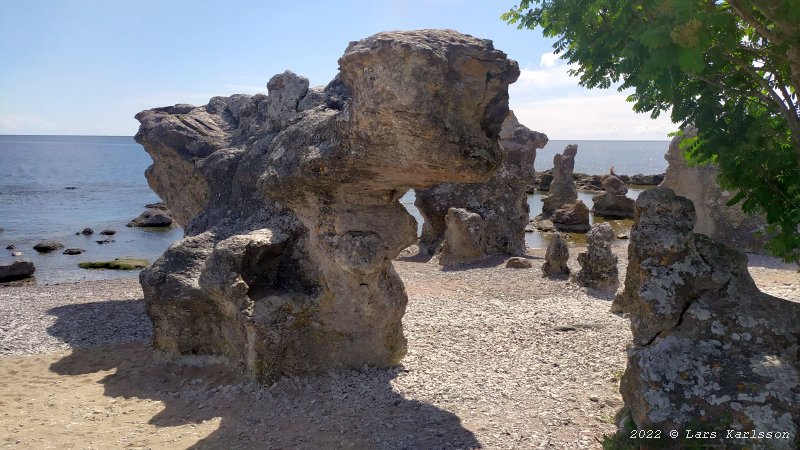 These lime stones are formed with strange shapes.
---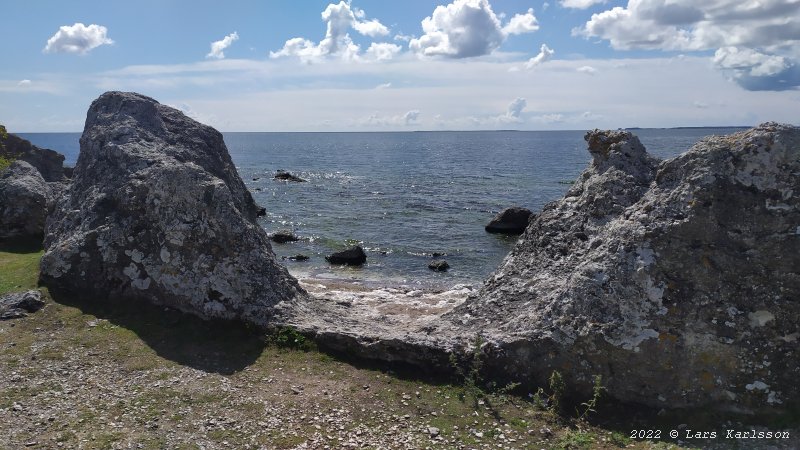 Even this day we could enjoy a terrific weather and enjoyed walking among the Rauks. Sometimes we found groups of tourists behind the rocks.
More information about Rauks:
The lime stones were not created here, the island Gotlands has moved around the Earth millions of years. These lime stones were created when it was placed near the equator. The mainland of Sweden hasn't done this trip.
---
Gålrum's grave field: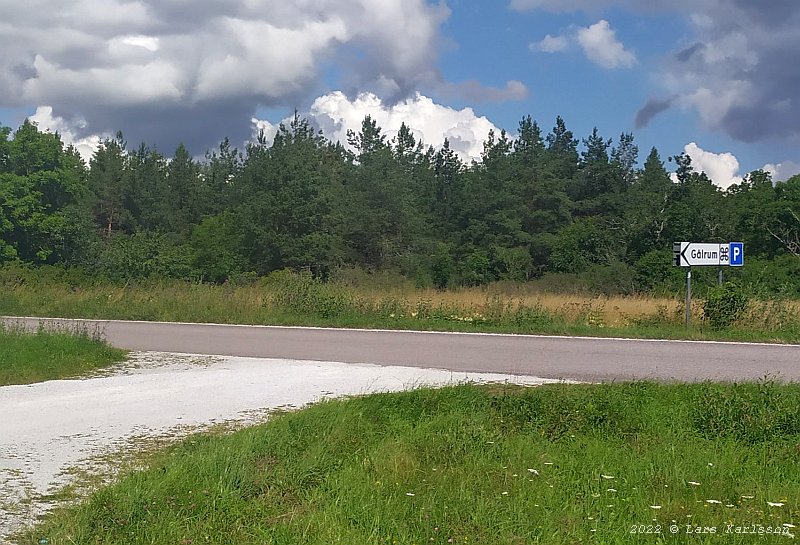 I have memories from last time I visited Gotland 15 years ago that I found some exciting grave fields in South nearby Ljugarn. I couldn't remember the name or exact locations. After driving along the road that I expected to find them we found the place, the name was Gålrum.
---

There are stone formations all over the field, some from Viking era and some much older.
---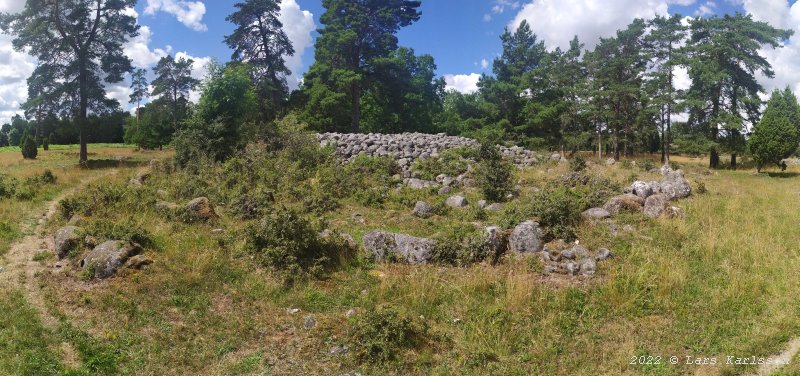 This is a typical Young Bronze Age grave, about 1200 to 500 years bc.
---
---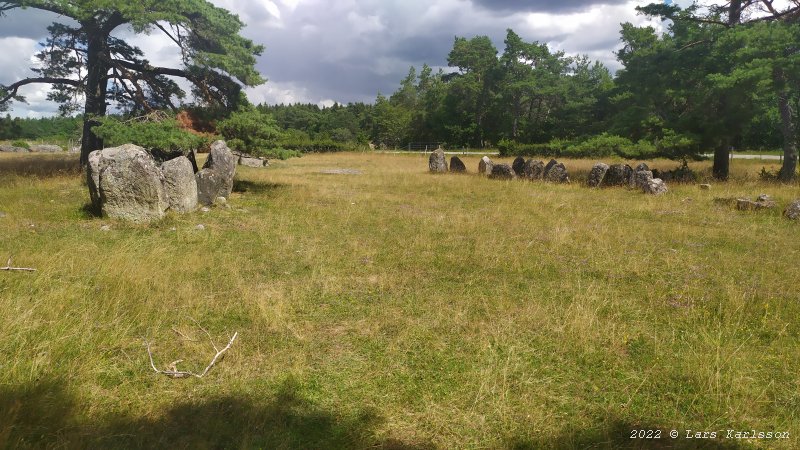 Stone ships or ship graves, more typical for our Vikings, about 800 to1500 years ago. Two of them are made of two ships connected to each other, like that one are towing the other.
---

We walked over to the other side of the road to have a look at the big grave, a Young Bronze Age grave. One problem, Gunilla mention that the land rise about 5 meters every thousand of years, was it really dry land here during the Young Bronze Age ?
More information about Gålrums gravfält (sorry, no English):
---
Lau Church: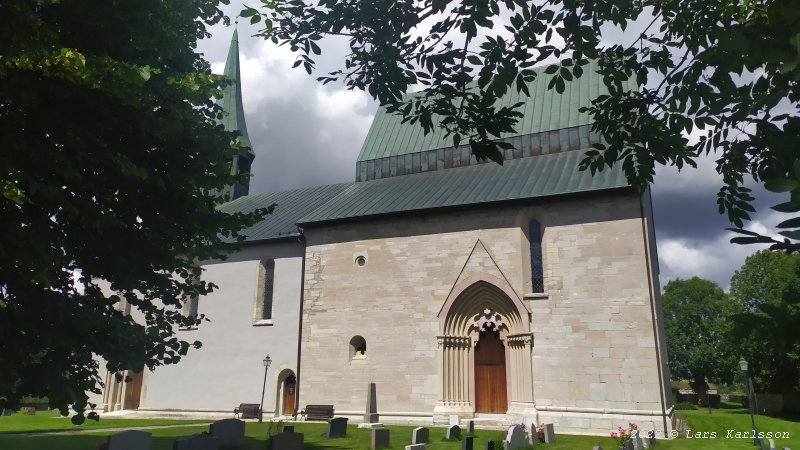 My friend Christoffer recommended us to look at the Lau Church, very beautiful wall paintings inside.
---

A panoramic view of the inside of the church. The painting on the left wall is amazing. many hundred years old.
---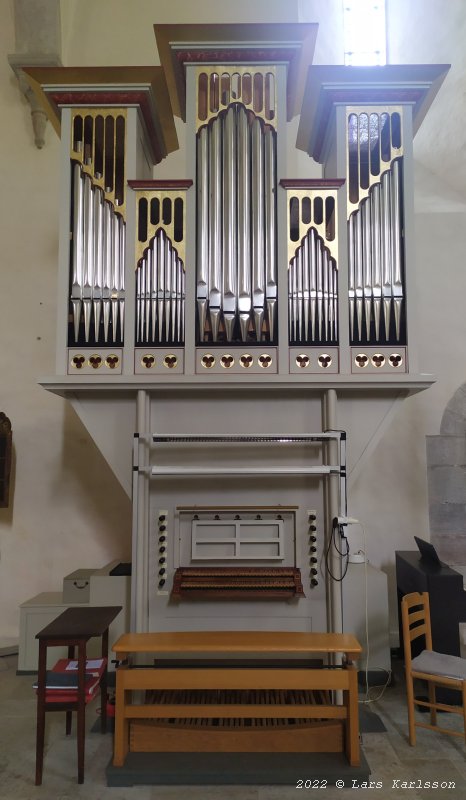 The organ was built by Christoffer's father 2012.
The family Svenske has a homepage about the organs they have built:
---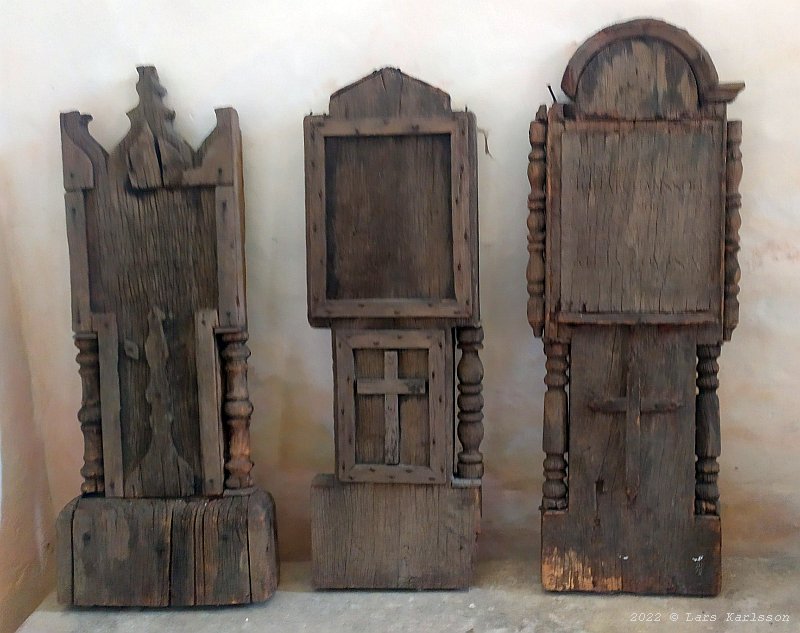 I found these three wooden sculptures in one corner of the church, I'm not sure what they are and I didn't find any information.
More information about Lau Church:
---
Lau Prästgårdsruin: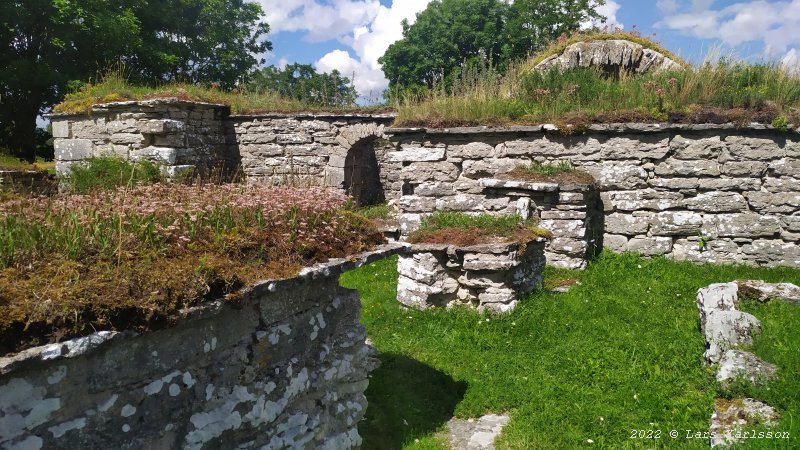 Behind the church is a ruin. It's the priest's house. Part of it is from the 13th century.
---
Bandeläins Täppu: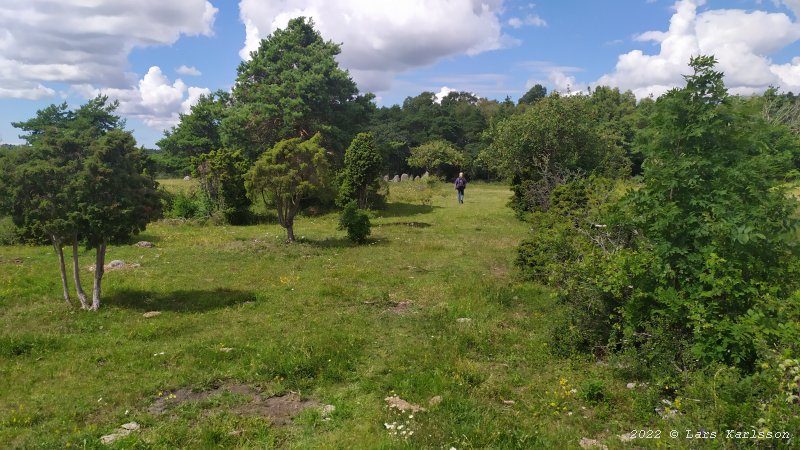 More ship graves to look at, a short walk over the field, looking carefully after angry cows.
---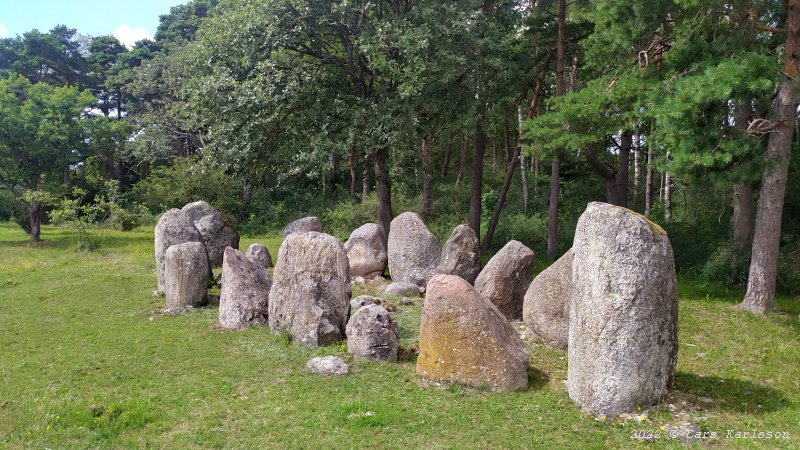 On a sign I could read there are more than twenty of them along an old road here which continue behind in the forest. These are the more impressive.
---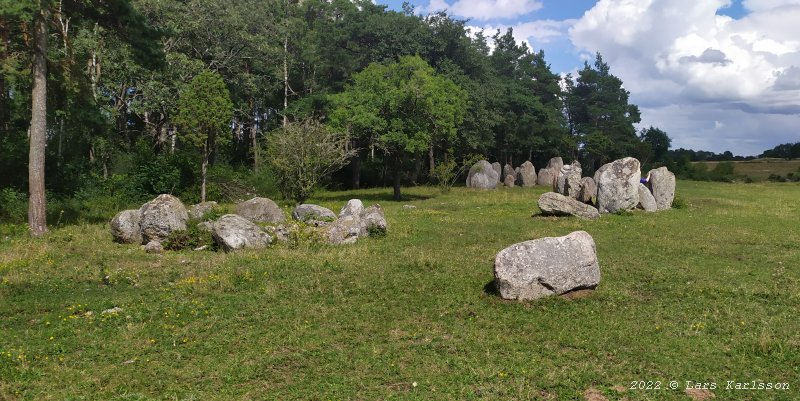 Two ship graves and one circular, the same as we saw at the first day. Maybe some meaning behind this configuration that we don't understand today. They are about 1100 years old and built by Vikings at the end of their era.
More information about Bandeläins täppu:
---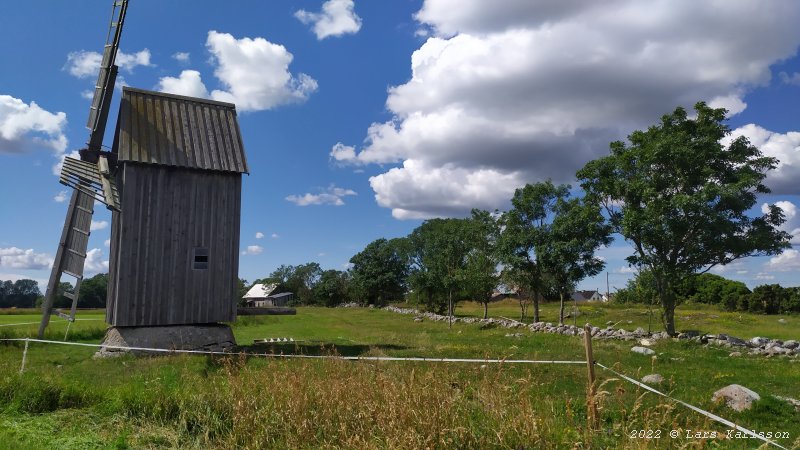 Here are we looking for a picture stone, but never found it. On the other side of the fence were angry cows, we stayed on this side for safety. Since a couple of years we have respect of the cows, we were hunted by 30 wild cows in a field when we were looking at ancient graves. Sure they were just curious and only wanted to play with us, but they are heavy and you don't want them to step on your feet.
---
Ronehamn: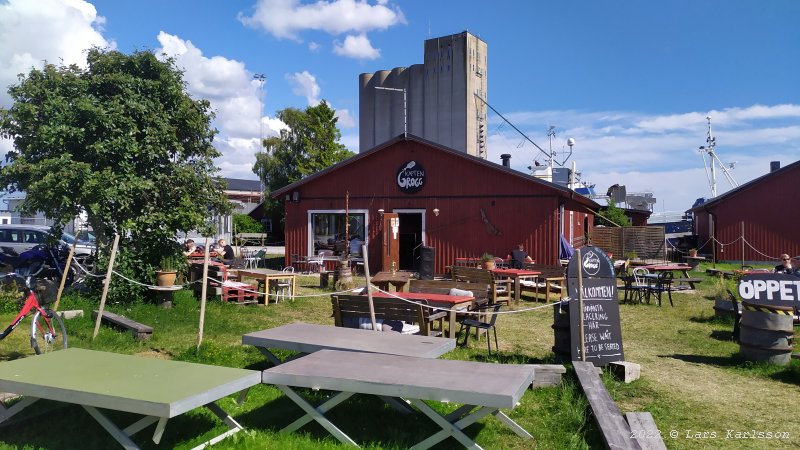 After all these stops we feel some hunger, at Rome Harbor we found the coffee place Grogg. It was not only coffee they served, they also had hamburgers and we shared one of the bigger ones.
---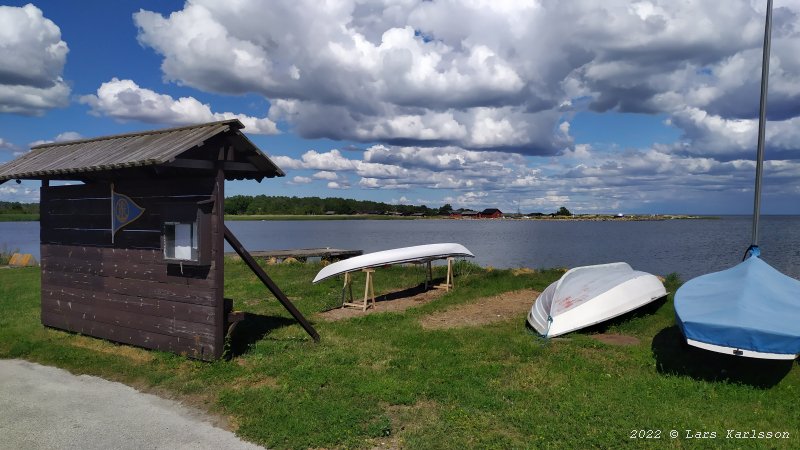 After we had eaten we walked to the boats and looking out over the sea. In the water we found jellyfishes swimming around, they are small on Sweden's Eastern coast, about 20 cm.
More information about Ronehamn:
---
Uggarde rojr: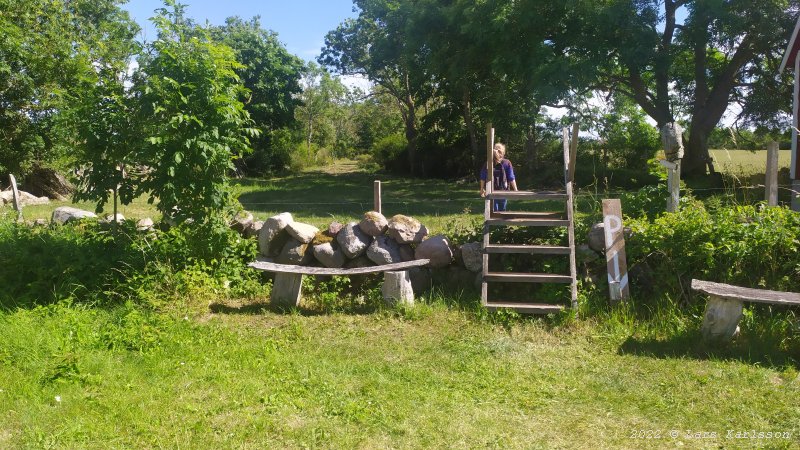 When we were eating at Grogg we read about a place marked on the map. It says that we can find Gotland's biggest grave here. What can we do other than visit it ?
---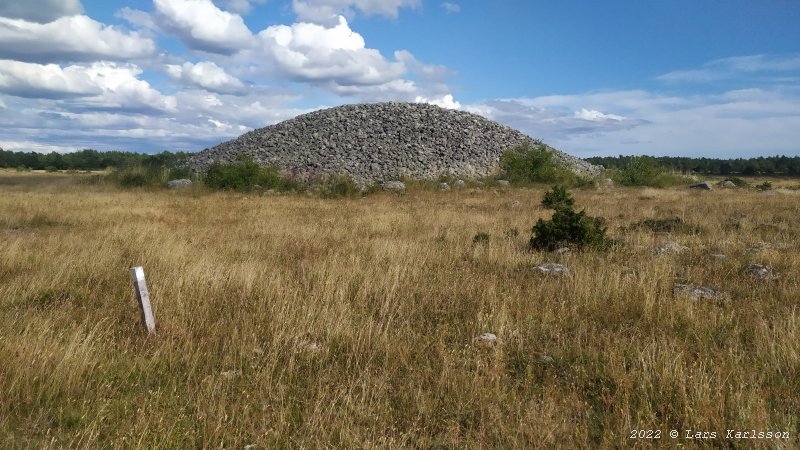 After a long walk and passing by many smaller graves we came to this, the biggest of the graves here. It has a diameter of 50 meter and is 7 meter high. It's from the Older Bronze Age, 1500 to 1000 years bc.
---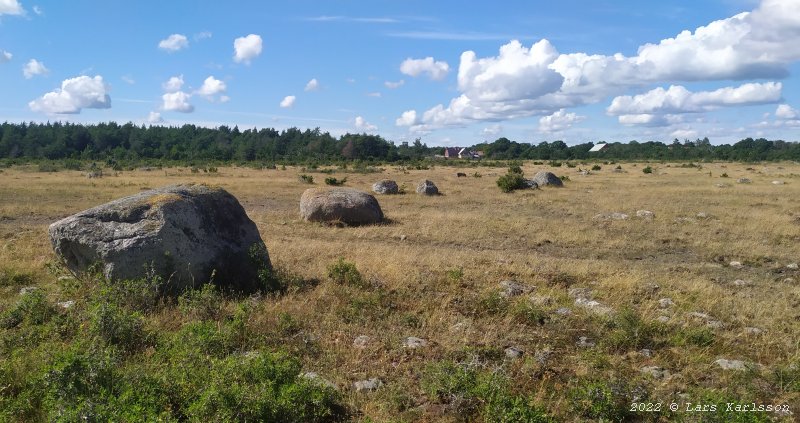 A row of stones mark some sort of ceremonial road. At some of the rocks we found small pits, they are not sure what they are used for. But one theory says that they filled them with oil and let them burn. We see them all over Sweden.
---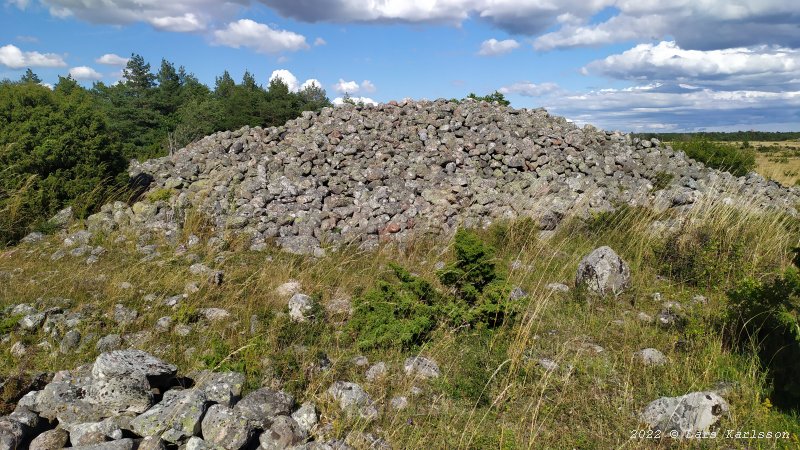 On the way back we passed by one more grave. There were five bigger graves out on this field and an old road.
More information about Uggarde rojr:
---
Holmhällar: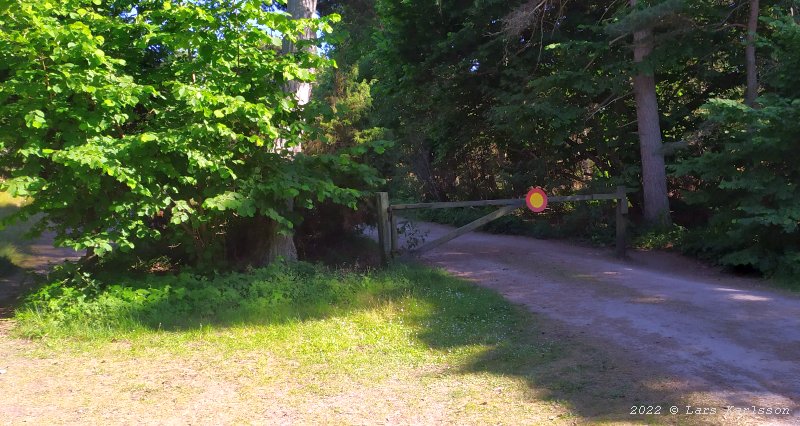 Are there anymore to look at Gotland ? Of course, at Holmhällar there are more Rauks to see. We park the car and walk towards the beach.
---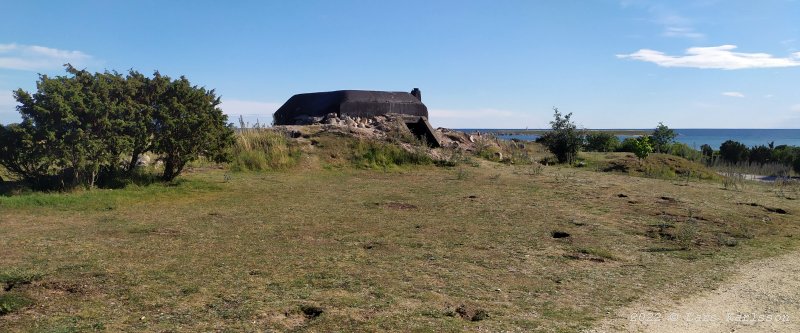 First we found this fortress, it must be from the WW II.
---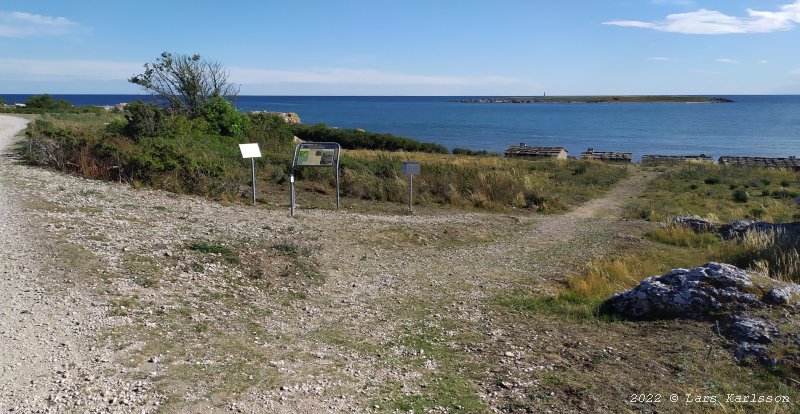 At the beach, at the coast line we see some small buildings.
---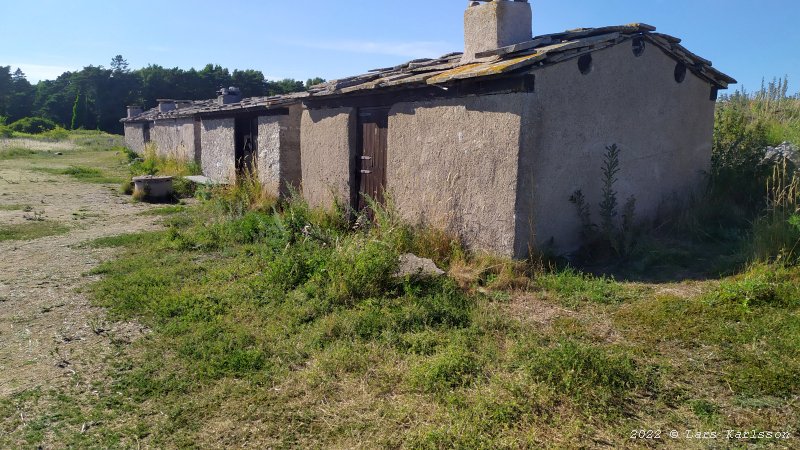 A closer look and we know they are not for living, more a store for fishing.
---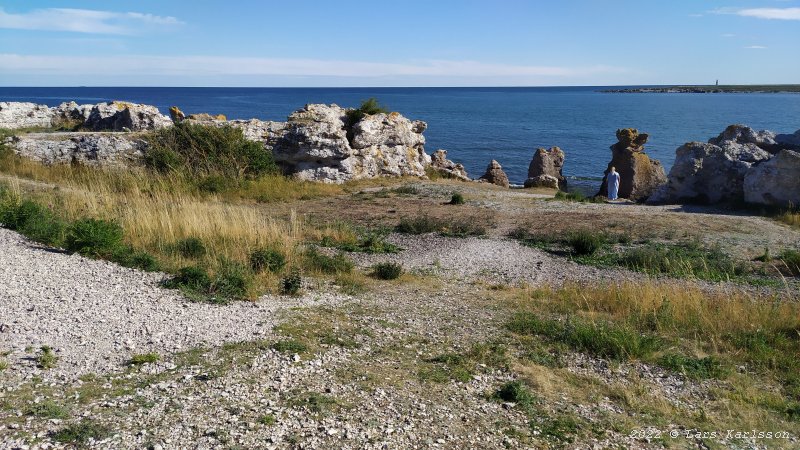 Out on the field with all the Rauks.
---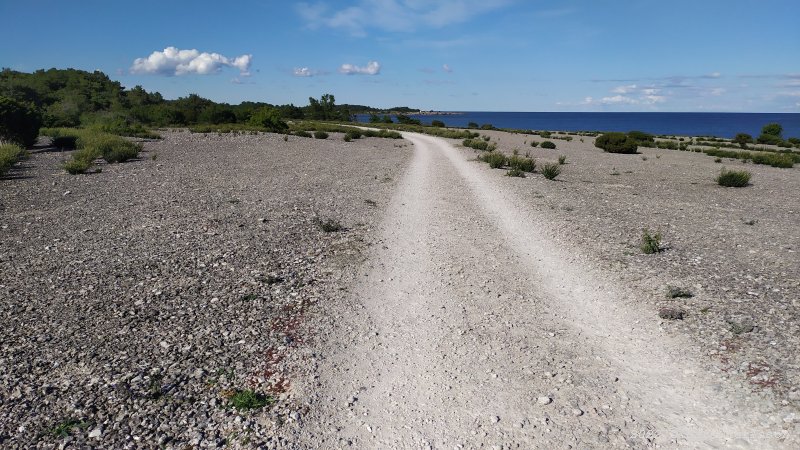 To get back to the car we took a shortcut, first along the beach and then deep into the forest. We had to ask some people if we were on the right path. Everywhere we looked we could see rabbits, the whole land is full of pits where they has dug out their nest.
More information about Holmhällar:
---
Husrygg nature reservation: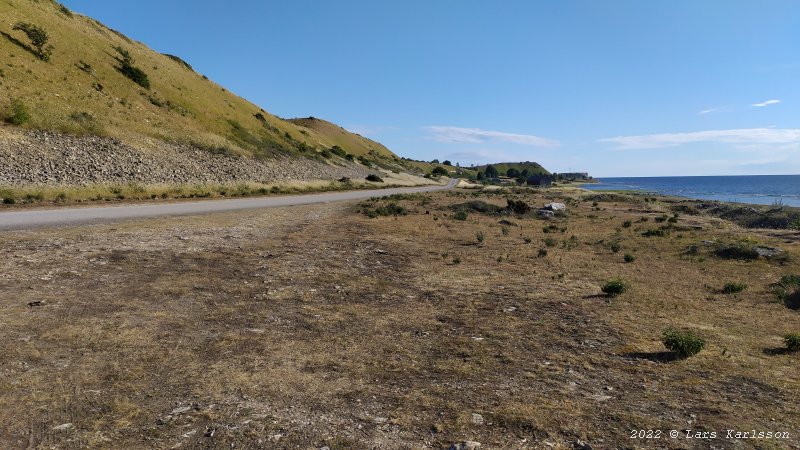 Now we had changed from the Eastern coast to the Western coast. Driving along the coast and enjoy the views we get.
---
Kettelvik's stone museum: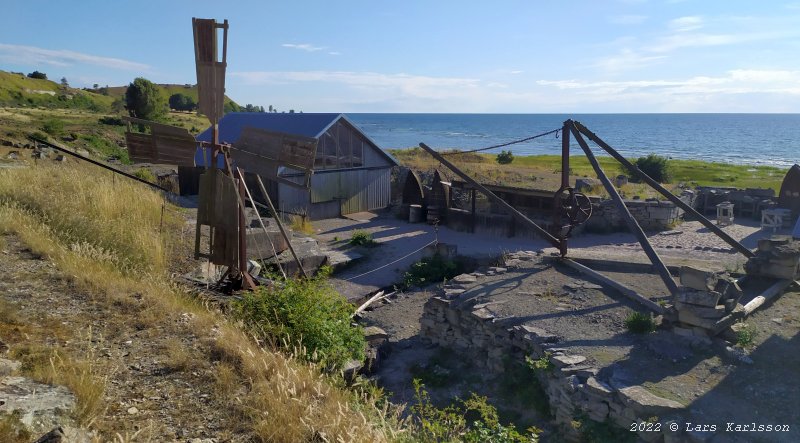 We made a stop when we saw these buildings. Reading on the signs and got to know this is a stone mine.
---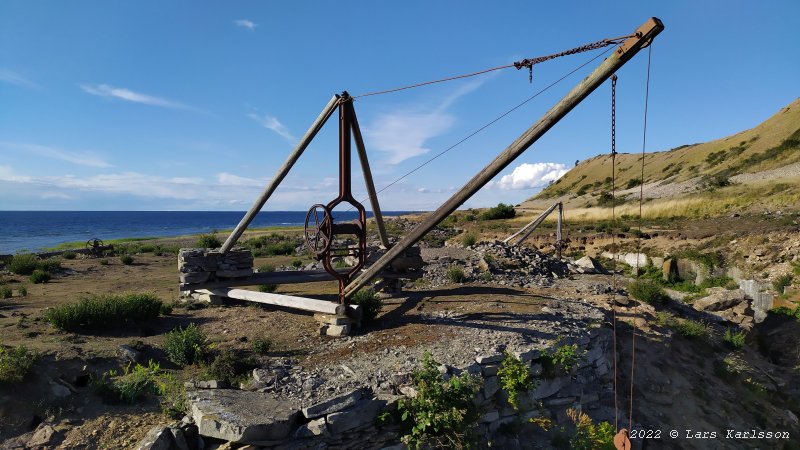 An old crane remind us about the hard work here. No assists by motors, only the muscles to use to lift the heavy stones.
More information about Kettelvik Stenmuseum (sorry, only Swedish):
---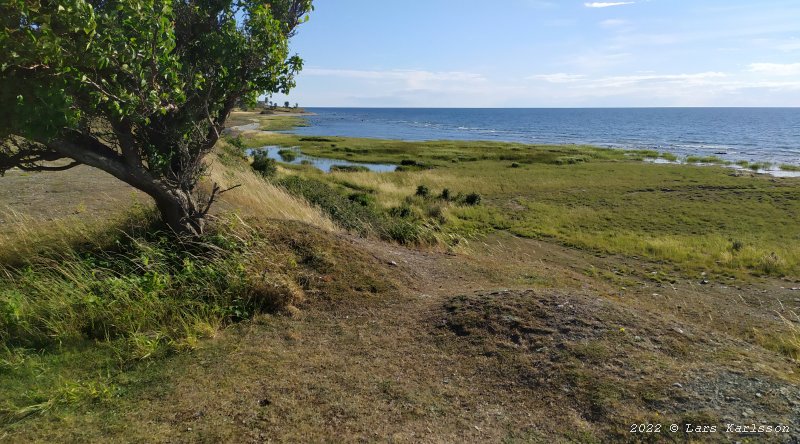 Next visit for us until we return to North is to visit Hoburg.
---
Hoburg: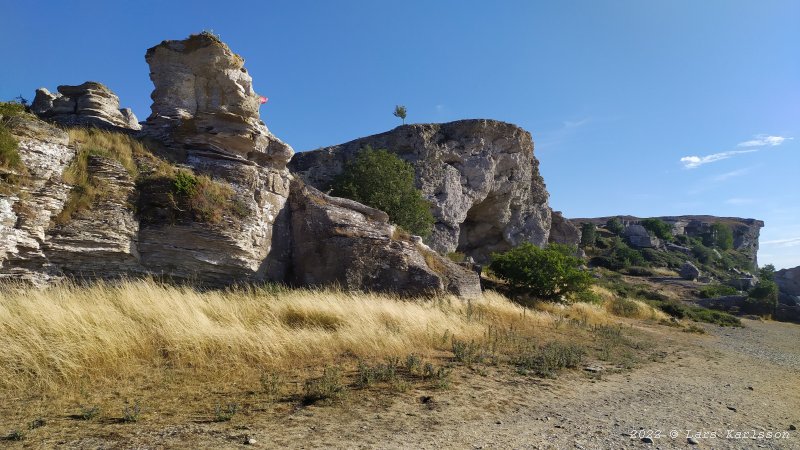 Do you see the red nose of the stone man ? This was the last for us to see of the Southern Gotland.
More information about Hoburgen:
---
Björke Church: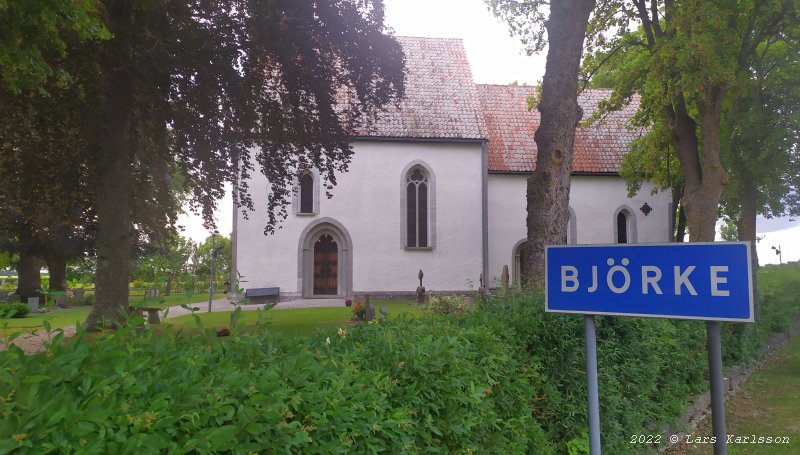 Björke Church has almost the same family name as Gunilla. Can we find something interesting here ?
---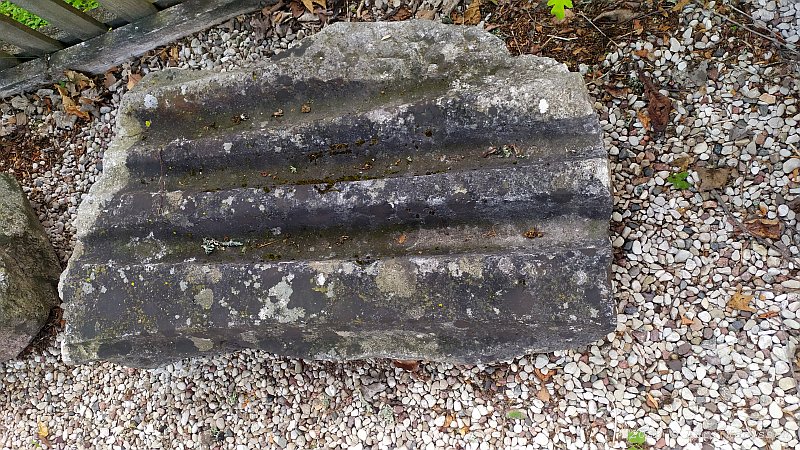 This stone was really exiting. We have looked for this kind of stones all days here at Gotland. There are a lot of theories what use there was of this kind of stones. Most common is that they use them to sharpening the swords. One other theory is that the tracks point out interesting stars or the Moon at special times. These carvings are normally made direct in the rock and can't be moved. Maybe this stone has some other background. One more theory is that they are from a breaking system for wind mills.
Different theories of grinding marks in stones:
The last link's place we tried to visit, but needed a 4WD car for that and better clothes.
---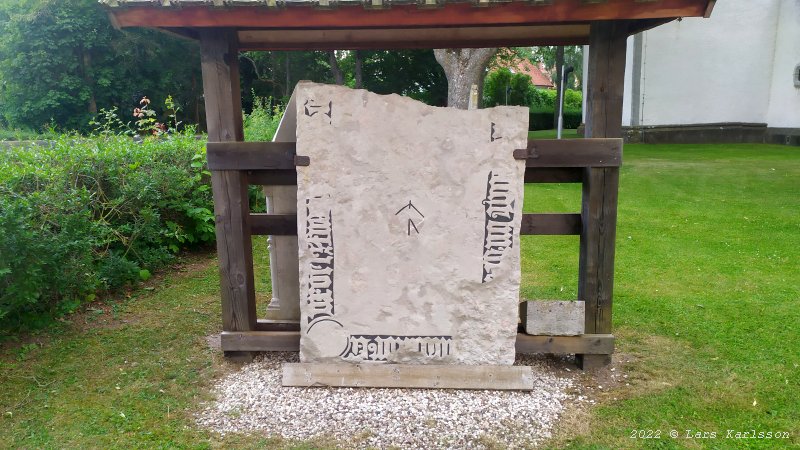 One more picture stone, but even this one was very worn and hard to read the inscriptions on.
More information about Björke Church:
---