My travels in Sweden:
A visit to the island Gotland, 2022
---
Content:
---
Day 2, Roma, Katthammarsvik, Herrvik, Galgberget:
Map over the second day travel. We stayed to the middle area of Gotland this day.
---
Roma Brukshotel's breakfast: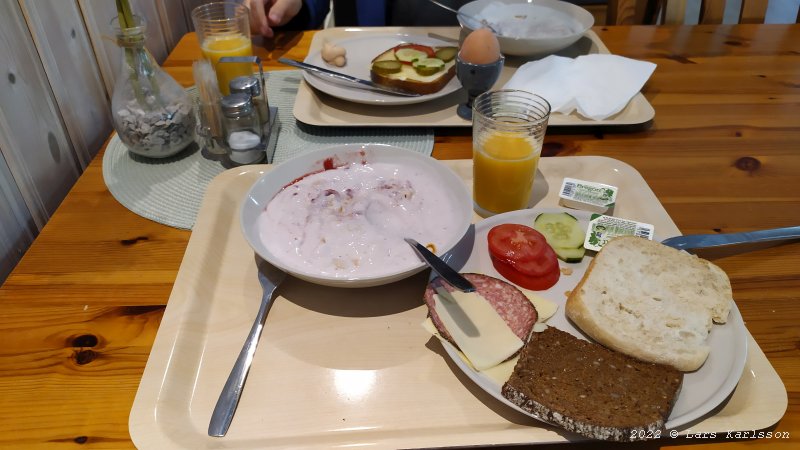 Every morning started with a big breakfast which was included. Something that we appreciated very much.
More information about Roma Hotel:
---
Roma Church: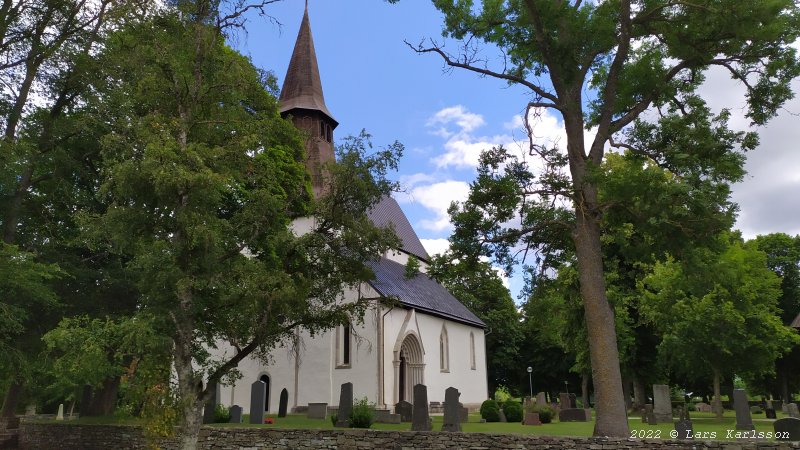 Today we search for Gunilla's ancestor at the Roma Church, never give up.
---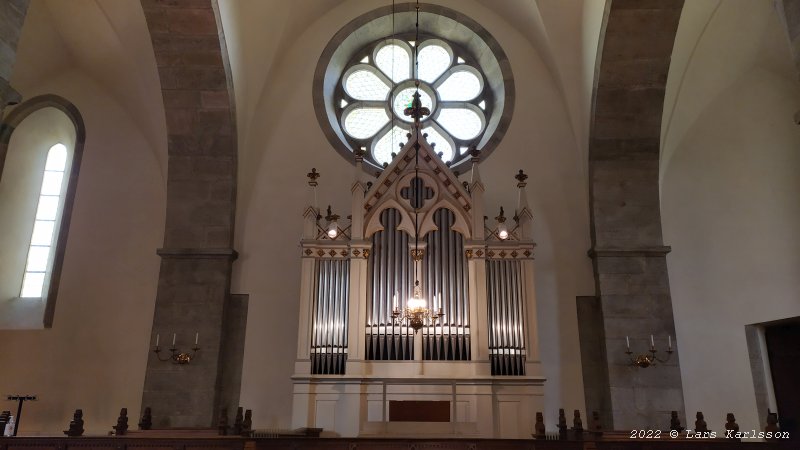 Another organ renovated by Christoffer's father.
---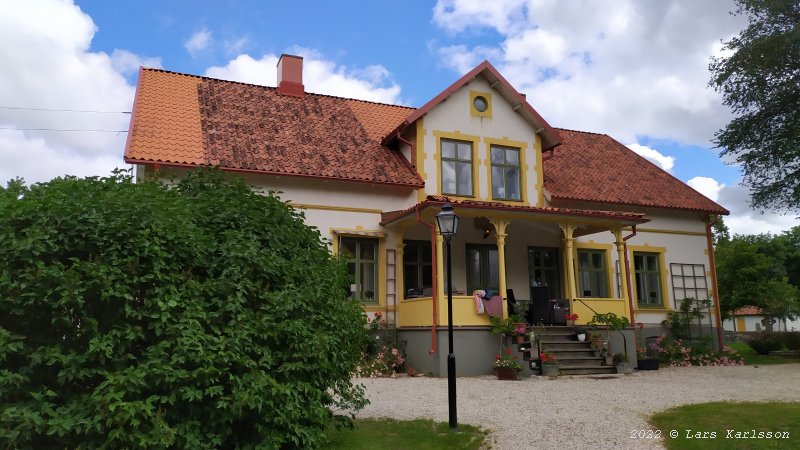 We meet a priest here and he tried to help us. We looked at the notes he had over the grave numbers to find one with a relative to Gunilla. The problem was, the ancestors already died in the 19th century and those graves are already removed. Gunilla also know that her relative lived in a house connected to the priest's house. It could not be far away from this house, but is it still here ?
More information about Roma Church:
---
Ancestor farm: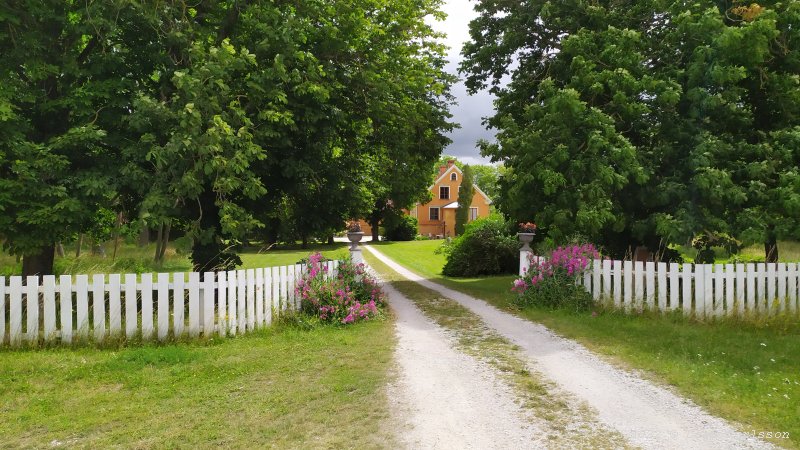 We stopped at a farm that once belonged to Gunilla's ancestor, maybe 200 hundred years ago.
---
Anga Church: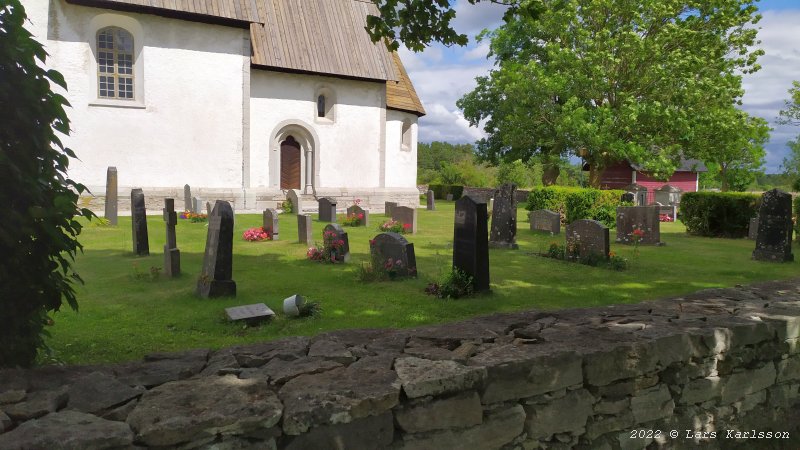 One more church where we searched for relatives.
---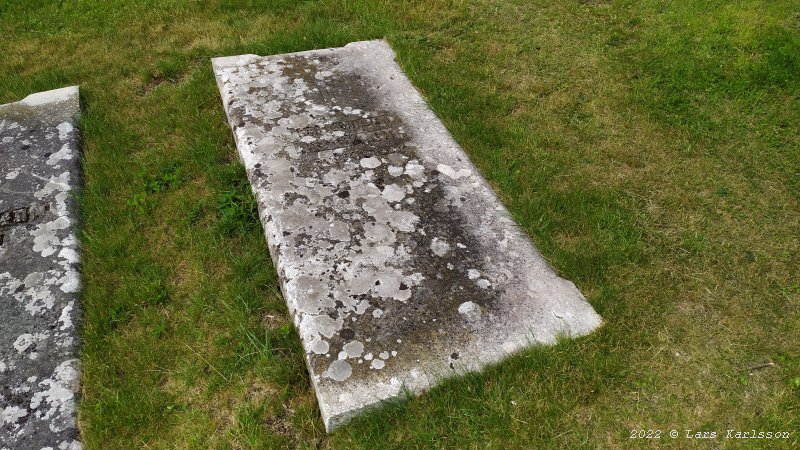 We didn't find anything here connected to Gunilla but other interesting things. This grave stone has rune letters at the edge at the right edge but impossible to read.
---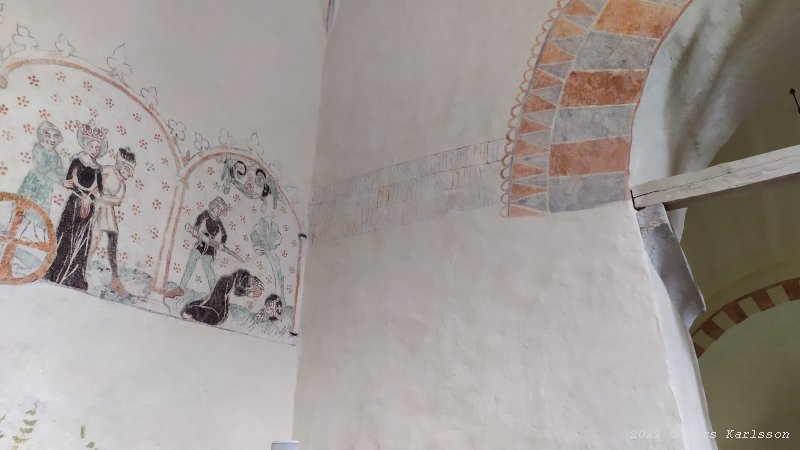 Inside the church there is also rune letters, 4 meters up on the wall. We also found rune letters on another wall and on a wooden box.
More information about Anga Church:
We will come back to this place later to look at the nearby ancient picture stones.
---
Torburgen: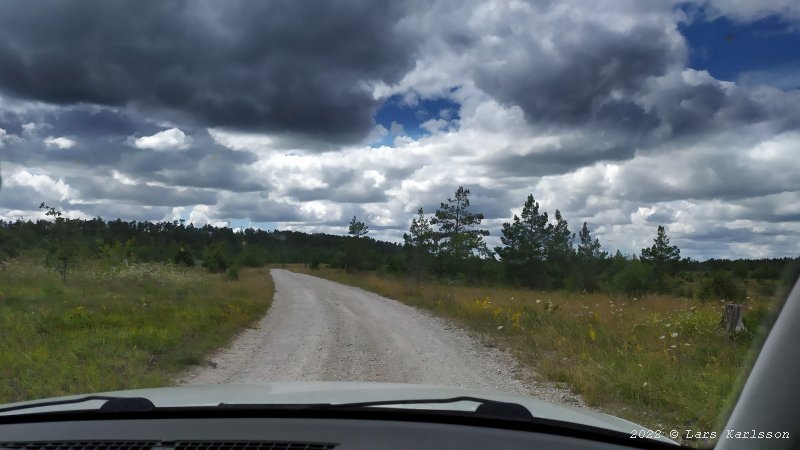 We saw this fortress on the map and read about it, very big, 2 km long. That's something we must see in real life.
---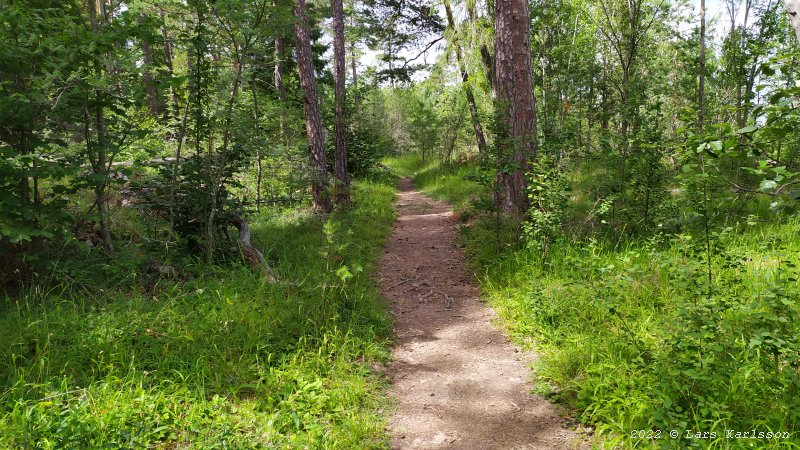 We followed the walk path in the forest. We wasn't alone, very popular place with lot of people walking around here.
---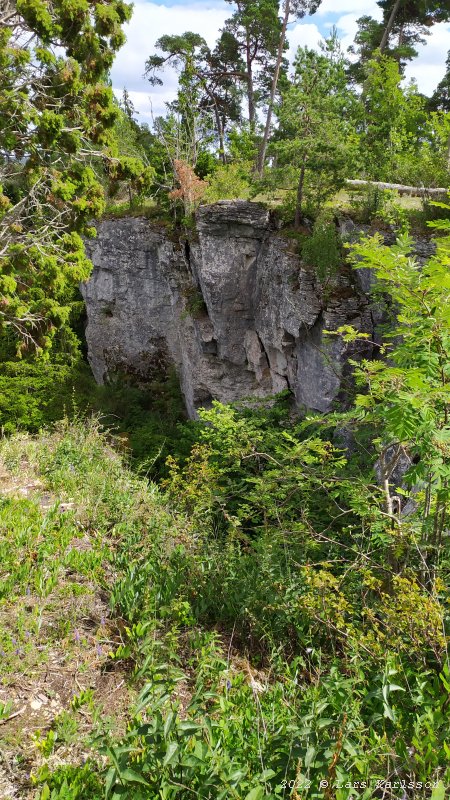 After we had climbed up along an opening in the wall we came up to this dramatic cliff. A part of the defense wall.
---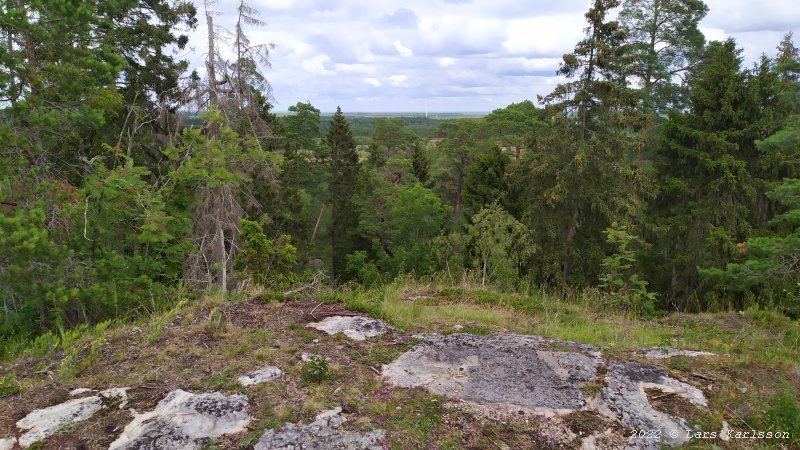 Up from here we have a free view over Baltic sea in the Eastern direction, towards Baltic countries.
---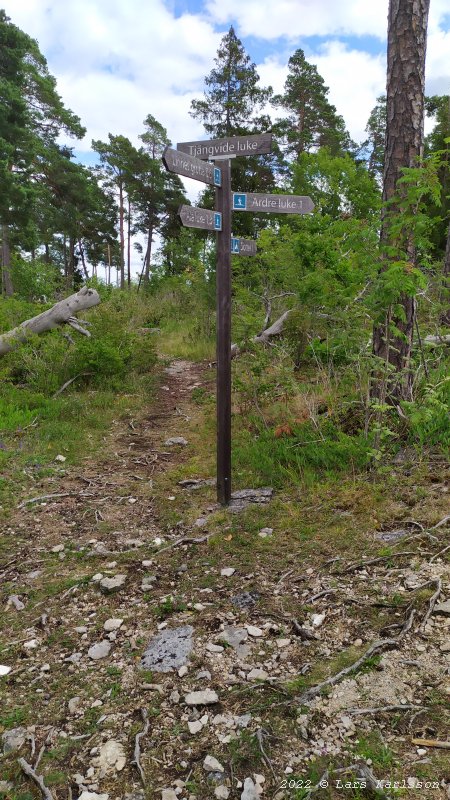 On top of the fortress there are many walk paths to different places, all of them looks to be inside the fortress, it's really big !
---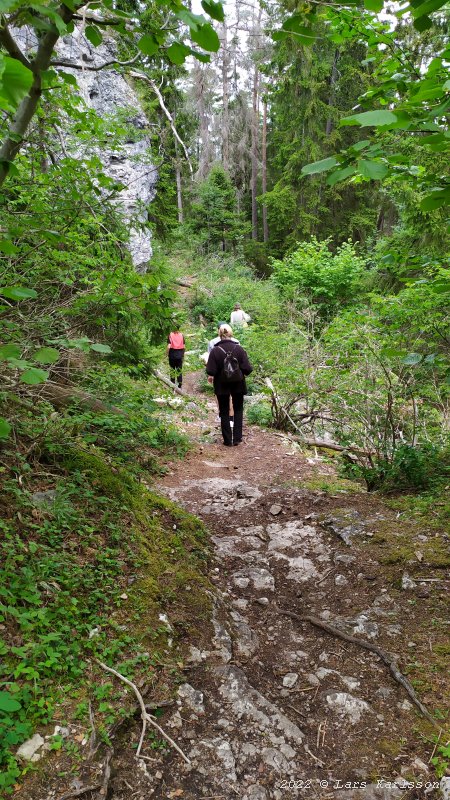 But we have many things to do this day along the Eastern coast. Climbing down, stop for a while to let the other people go down first.
---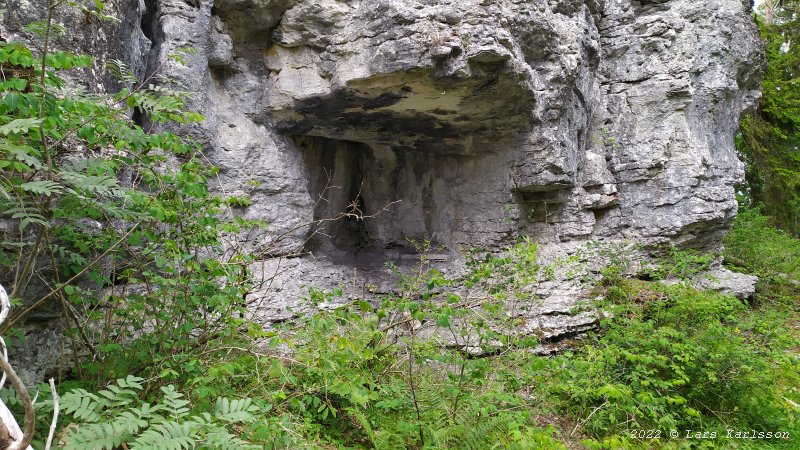 Almost a cave in the rock. We meet a girl on bicycle here, she told us that she was used to camping in the nature, without a tent, tough girl !
More information about Torsburgen:
---
Katthammarsvik: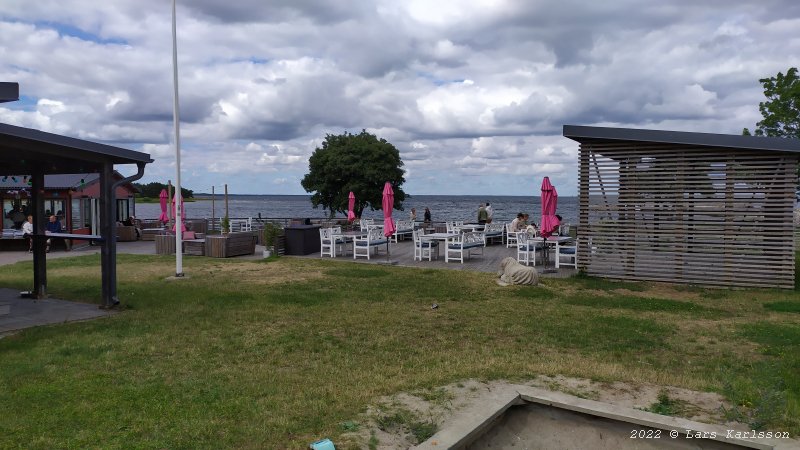 Gunilla has been at Katthammarsvik before with her mother. One big reason for that, they serve herring here ! Today there was a long line of tourists waiting at the restaurant so we moved on.
---
---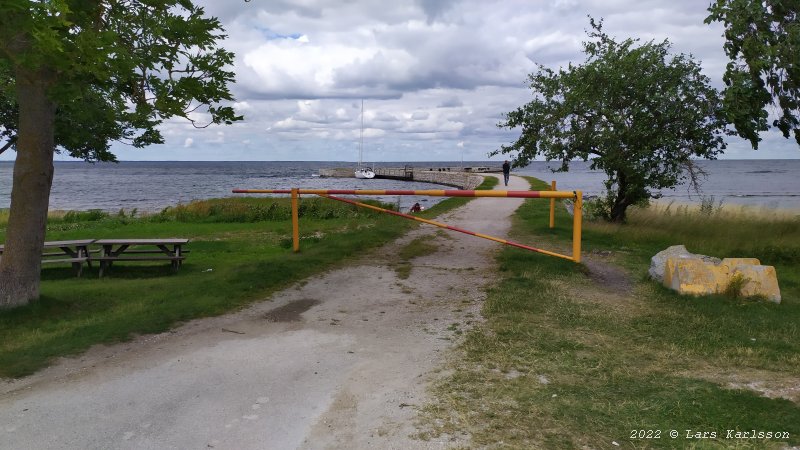 The harbor, only one small sailing boat. I thought it should be many of them here, especially in July which is the high season for tourists.
---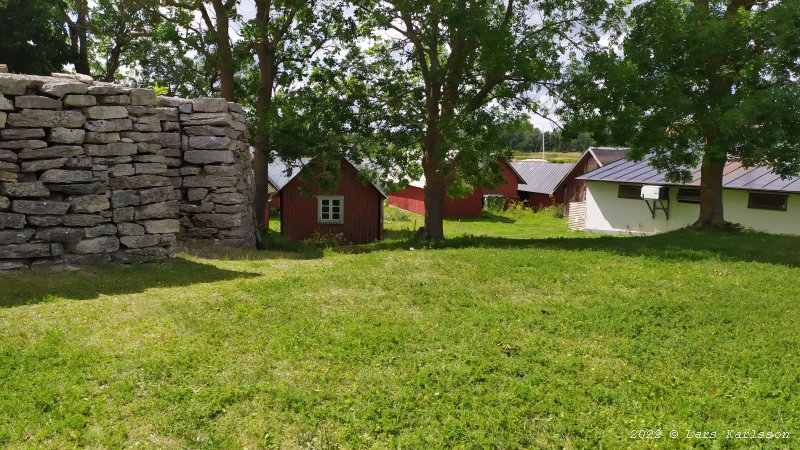 Small red fishing houses. The stones to the left, we don't know if it's a fortress or a fundament for a wind mill. It had an opening but no traces of what it had been used for.
---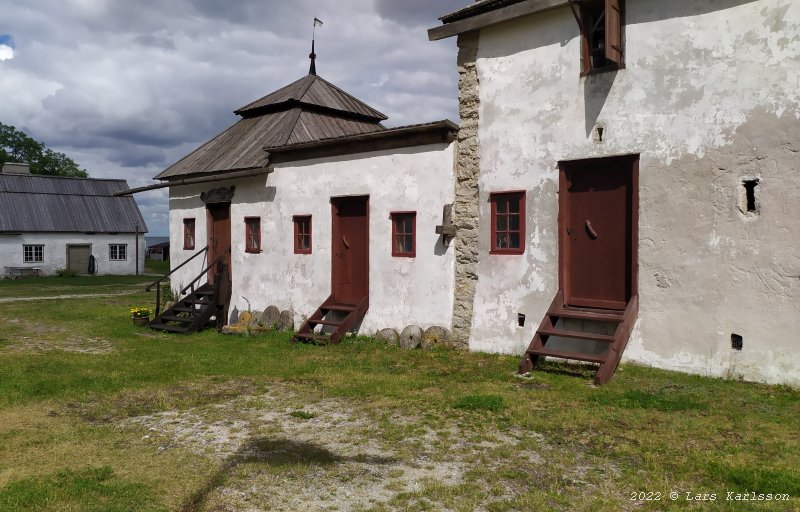 We walked towards some old houses, we think this is the backside of a hotel. Looks very nice to stay here, maybe we do it another time.
---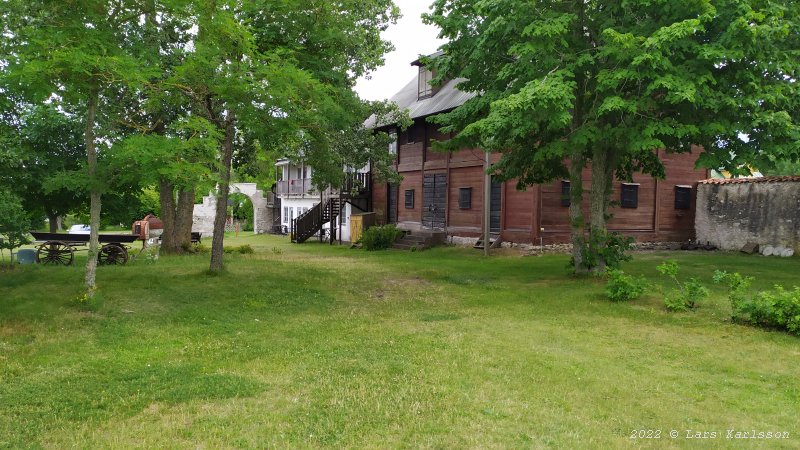 More small guest houses. On the grass field they have morning preaches.
---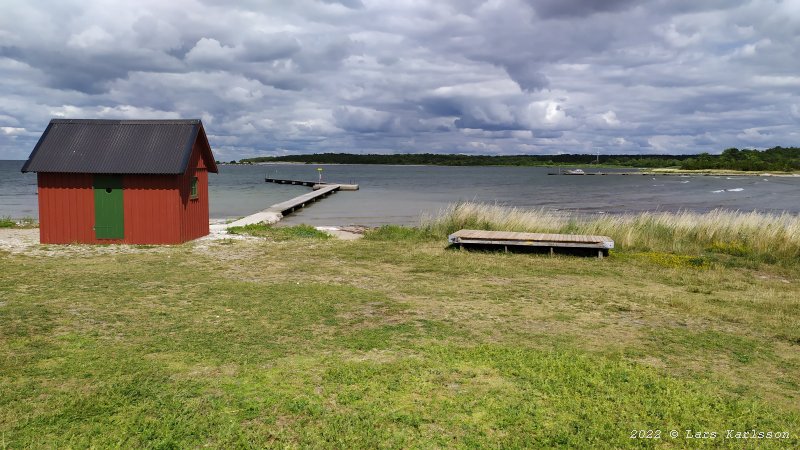 The nearby beach, less than 200 meters away. Sunny weather but where are all the bathing people ?
More information about Katthammarsvik:
---
Grogarnsberget: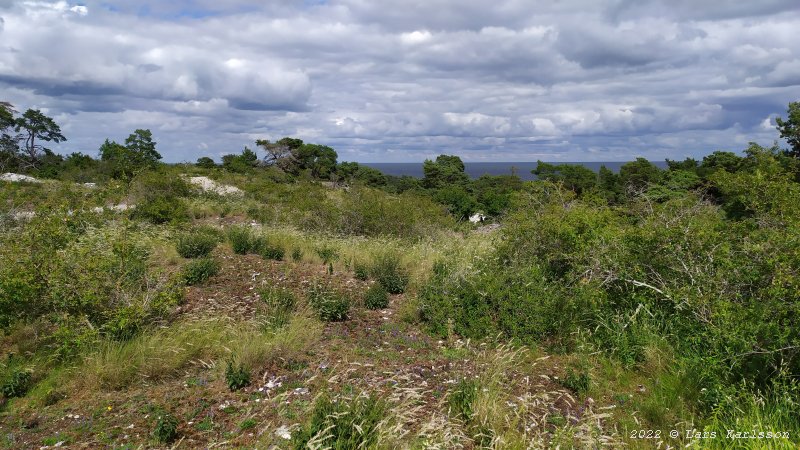 We proceed driving Eastwards, after a while we came to the nature reserve Grogarnsberget, also this has been an ancient fortress, the second biggest on Gotland.
---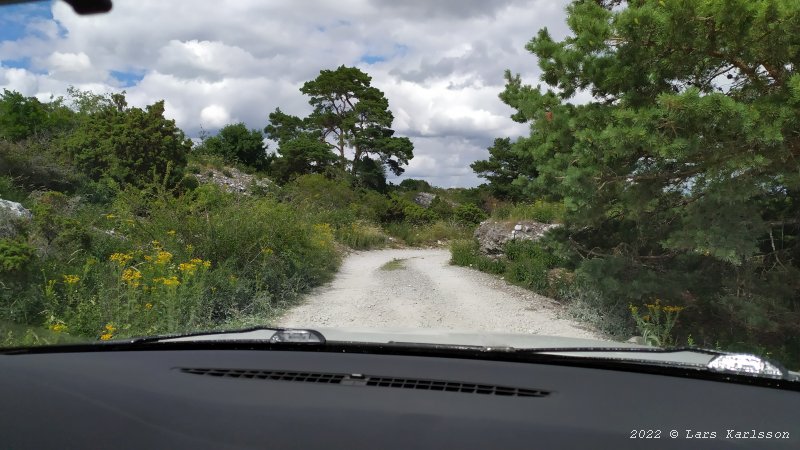 We found that we could proceed on a small road and continue following the coast. It was very narrow and it had been better with a four wheel drive car.
More information about Grogarnsberget:
---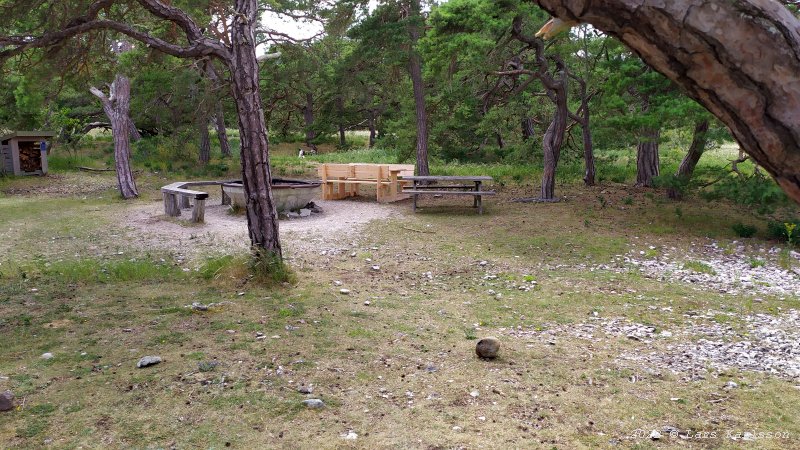 Back to the coast and we made a new stop and brought some water to drink.
---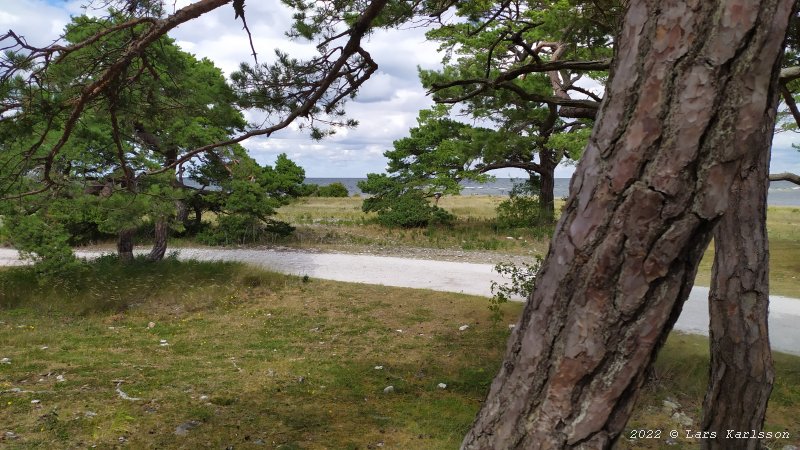 Sitting here and looking out over the sea. Suddenly it came heavy cold winds, we jumped into the car quickly. Now we plan to go to a coast village, Herrvik, can we find a nice place for a lunch at that place ?
---
Herrvik: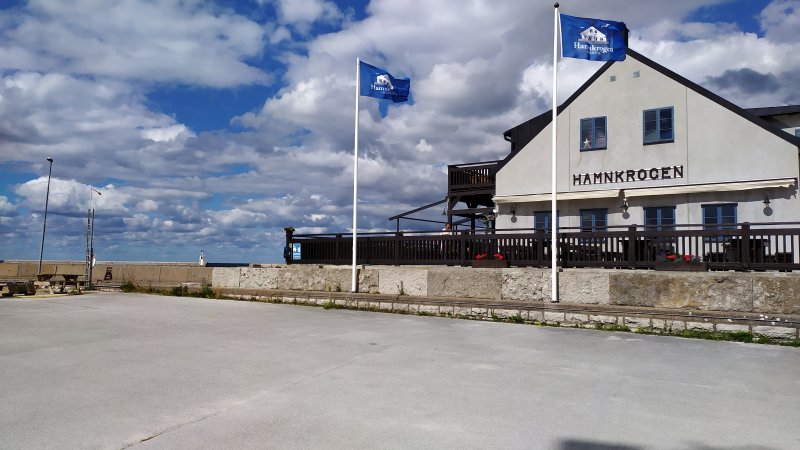 Next stop was at the coast village Herrvik as we planned. Direct we see one big restaurant, Hamnkrogen, but it didn't appeal to us, we didn't want a big dinner now, it's too early.
---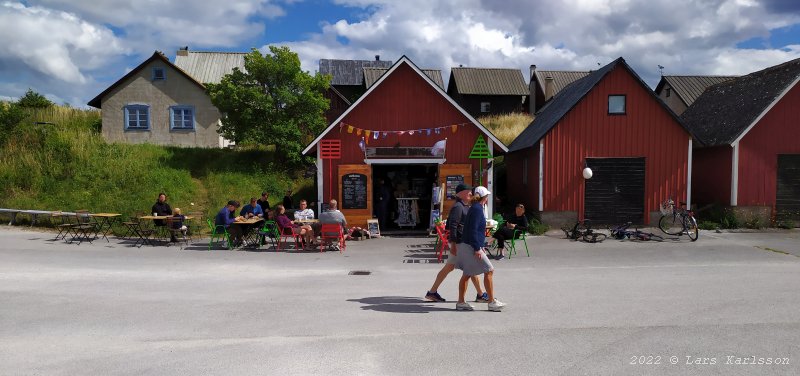 Gunilla took a small plate with herring to eat with a cup of coffee to drink and I took an tasty ice cream.
More information about Herrvik:
---
Ardre: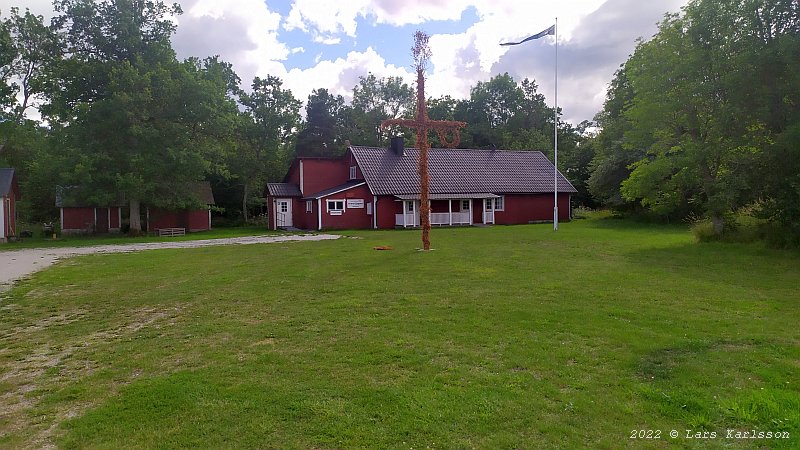 Now we have the most South we want to go today and turned back to North. We stopped at Ardre homestead farm, why ? Because they have a very interesting stone here !
---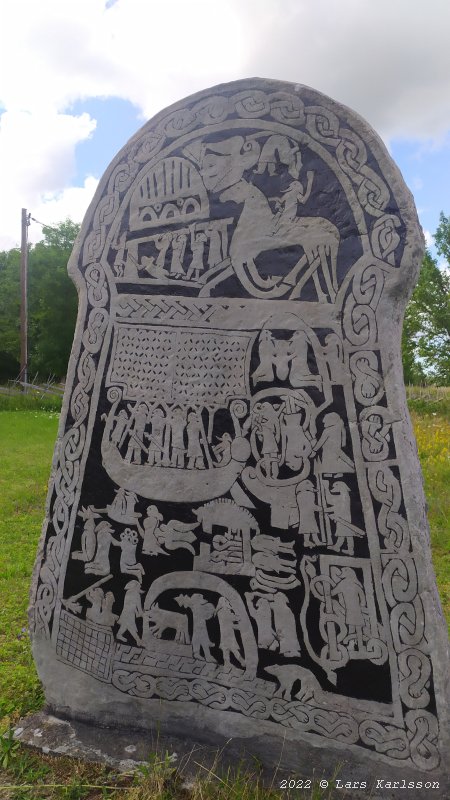 It's a Gotland style rune stone, a picture stone, like a rune stone but with images. At Gotland the rune stones are made of limestone and much easier to carve, but they don't last as long as the granite stones used at the mainland.
More information about picture stones:
This stone is an replica, not very common they are preserved as well as this one. The original is stored at a museum.
---
Galgbacken: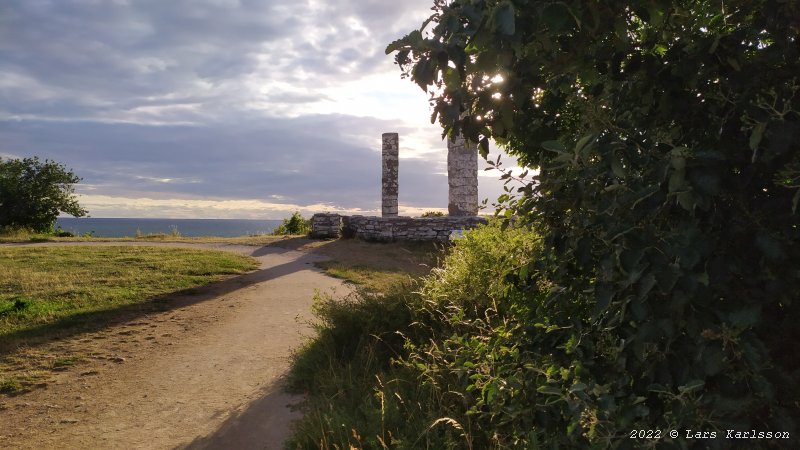 Our favorite place, a gallows hill. They are all placed at high hills and have great views, this one too. This place is just North of Visby along the coast.
---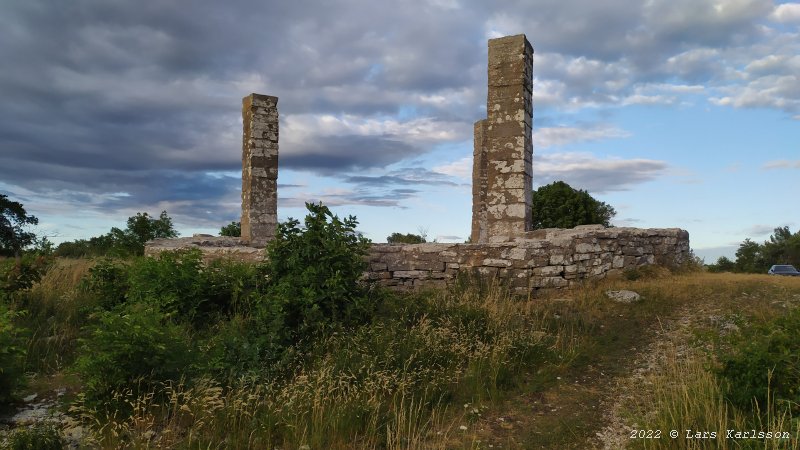 In Stockholm where we live at least two of the gallows hills had constructions like this according to old drawings. This is the only gallows hill preserved in Northern Europe.
---

To the left, the old city Visby. This is the Western coast and on the other side of the sea is the mainland. A two or three hours ferry cruise, to Oskarshamn or Nynäshamn.
More information about Galgberget at Visby:
---
Valdemar Atterdag's memory stone: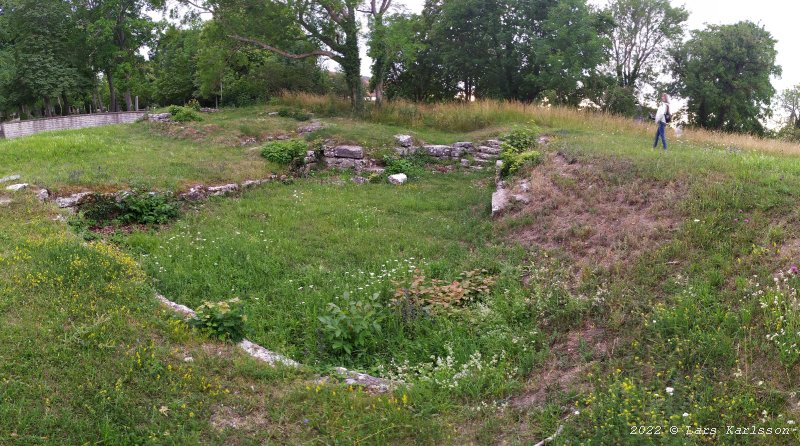 When looking for the Atterdag's memory stone we first found this ruin of an Abbey.
---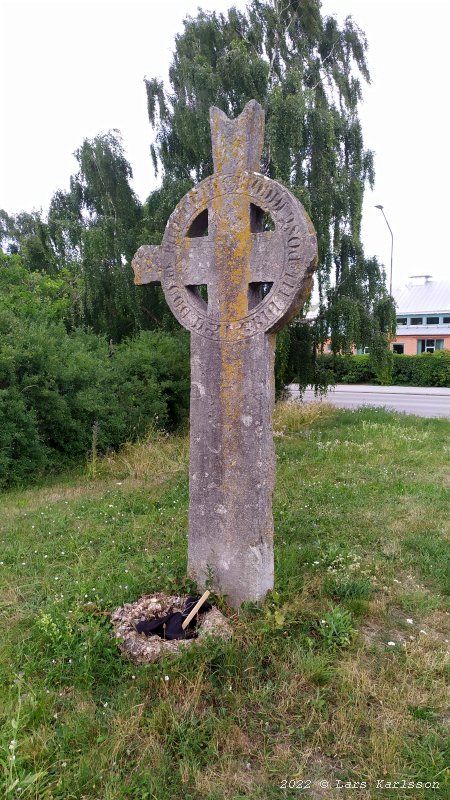 100 meters North of the ruin we found the memory stone. The Danish king Valdemar IV of Denmark, or Valdemar Atterdag attacked Visby 1361. A lot of Gotlandic farmers were killed during this battle.
More information about Battle of Visby:
When I visited Gotland 1970 together with my mother we passed this stone every morning, we walked towards Visby from the place where we stayed. It was a private villa we rented a room in.
---