My travels in Sweden:
By car through Blekinge, Skåne and Småland, 2019
---
(or maybe the travel should be called the Stone Age Travel)
Content:
I have added links with deeper information, most of them are Wikipedia links. I have chosen the Swedish link, but in some cases you can shift to English. If there is no English version you can use Google translator or similar service. There are more information in the Swedish language.
---
7, Seventh day, from Boaryd to Stockholm:
Map of today's travels, seventh day, from Boaryd to Stockholm:
Our driving today, the distance is about 450 km. We almost only take the small rods, not the big roads as the map shows.
---
Boaryd, Hult:
Already the day before we felt that it was to complicated to find places where we could stay. We decided to go home and come back later when there is not a peak season.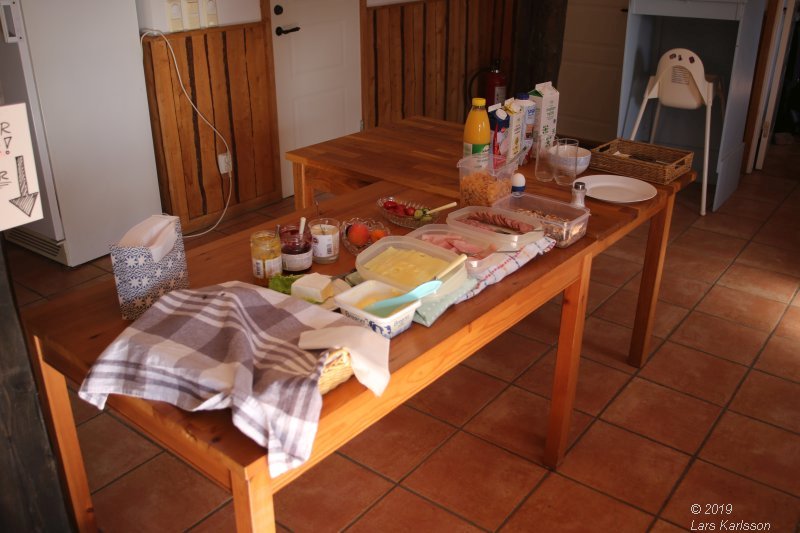 It's always exiting when we wakes up in the morning and see what breakfast we get, because we always live in new places.
---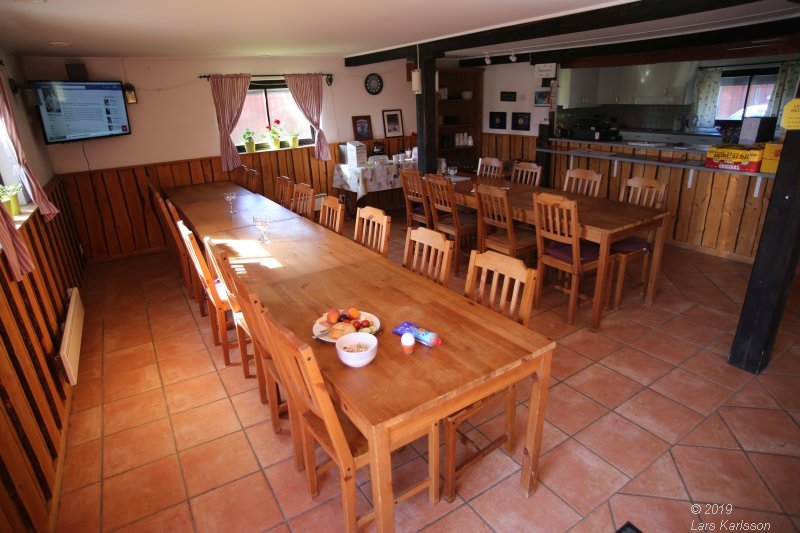 Everything we need for breakfast. Now we draw the plan of how to be rich. The plan is to visit a goldmine today, Kleva gruva.
---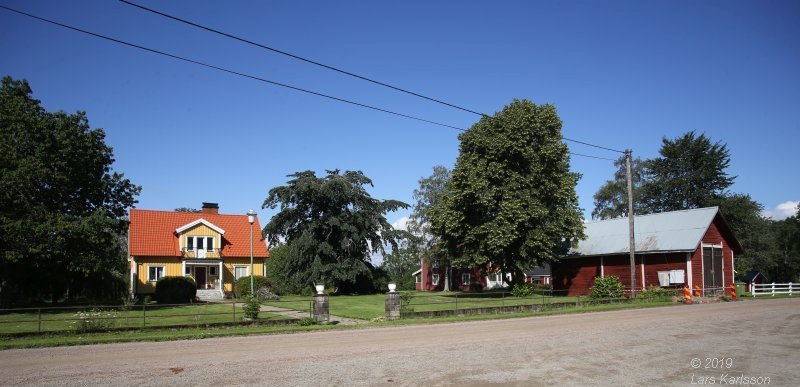 We leave Boaryd at 10 am. We have to drive back a bit, about 40 km in Southern direction.
---
Kleva Gruva: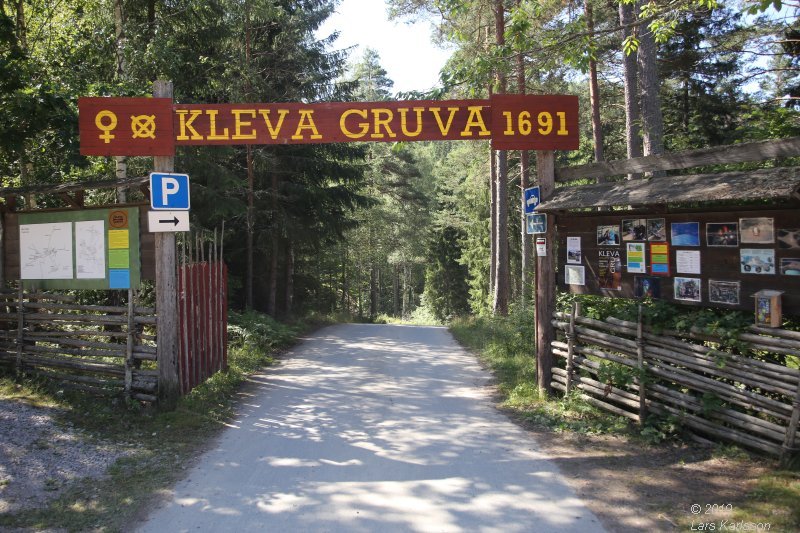 We visited this place by random about 8 years ago, it was very exiting and we also noticed that it was possibly to search for gold here. An opportunity to be rich, or?
---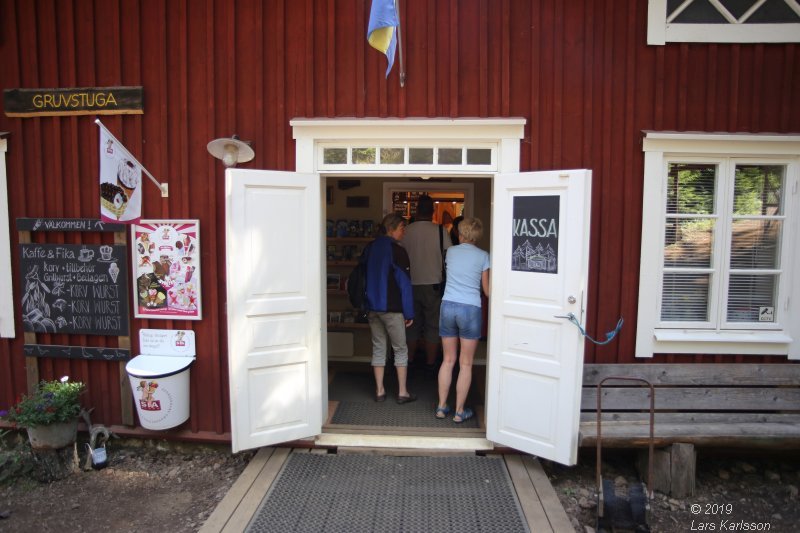 We paid the tickets which was a birthday gift to me. Got the needed tools and equipment.
More to read about Kleva Gruva (Kleva mine) at Wikipedia:
---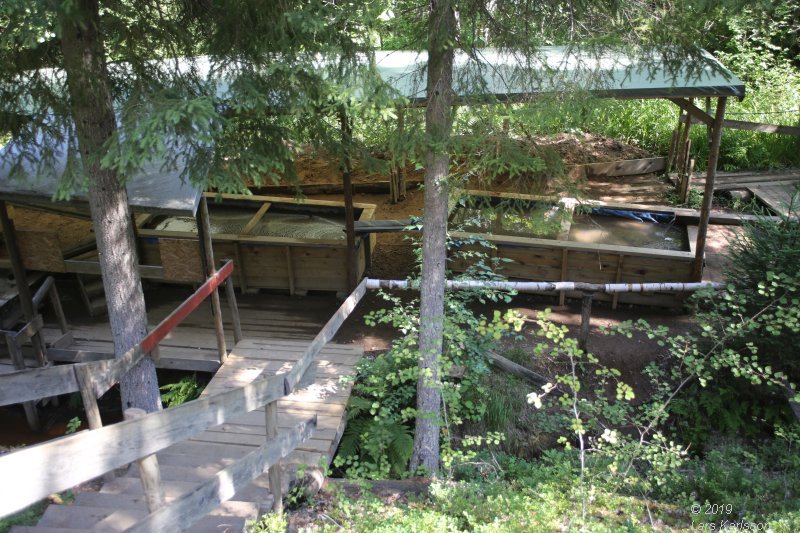 Just behind the building is a staircase which lead us down to the gold panning area. There are much more to do here but we want to find gold!
---
Here follow a shot course how to be rich: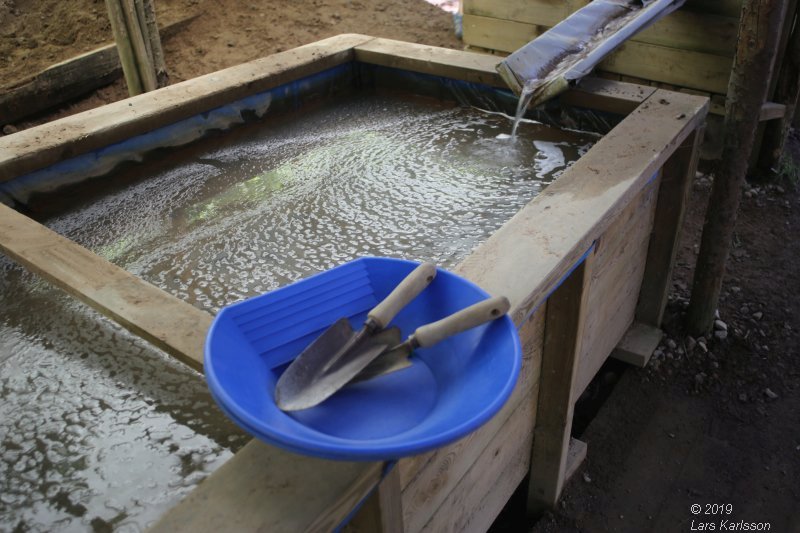 There are small reservoir with water to use when panning for gold. First we must fill the pan with sand that contain gold, very small pieces which you hardly can see.
---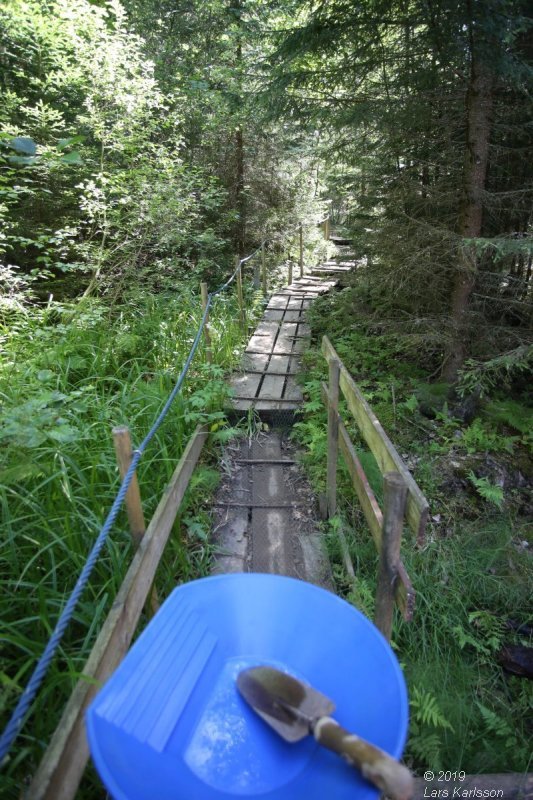 Kleva gruva has the river Emån nearby. Just walk a couple of hundred meter into the forest to find the remains of a side river to it.
---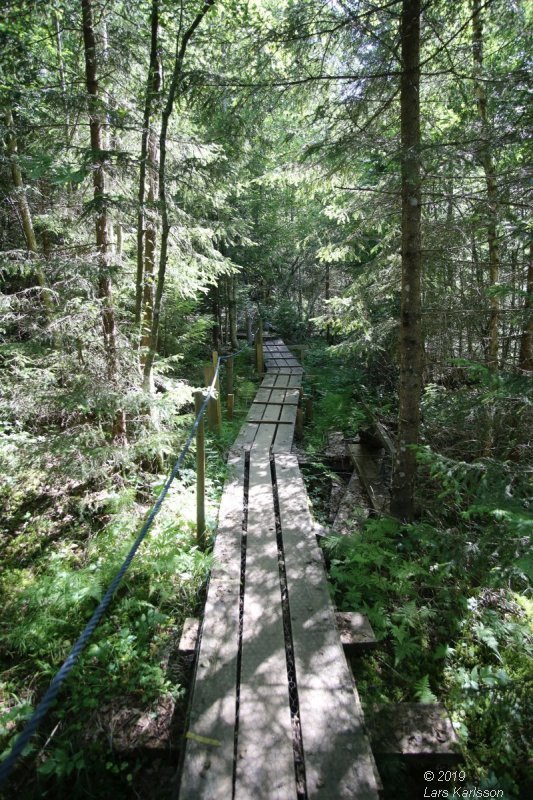 Follow the wooden walk path upwards.
---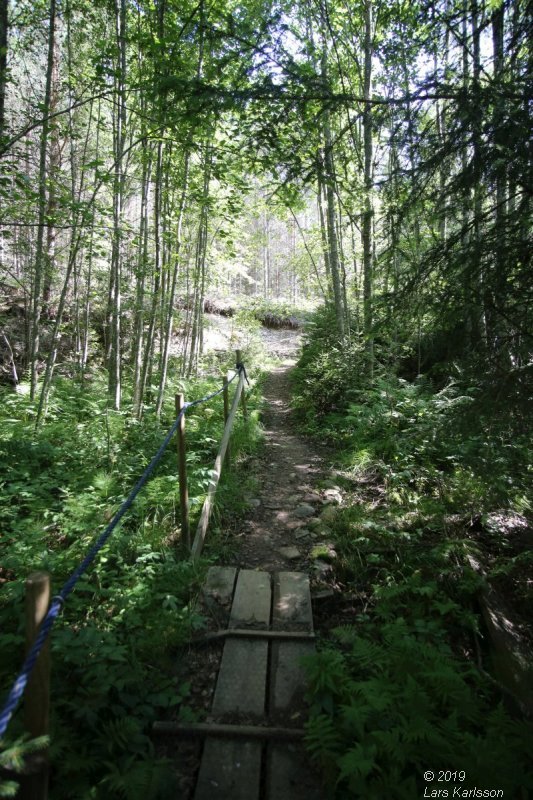 Where it ends you have an open place.
---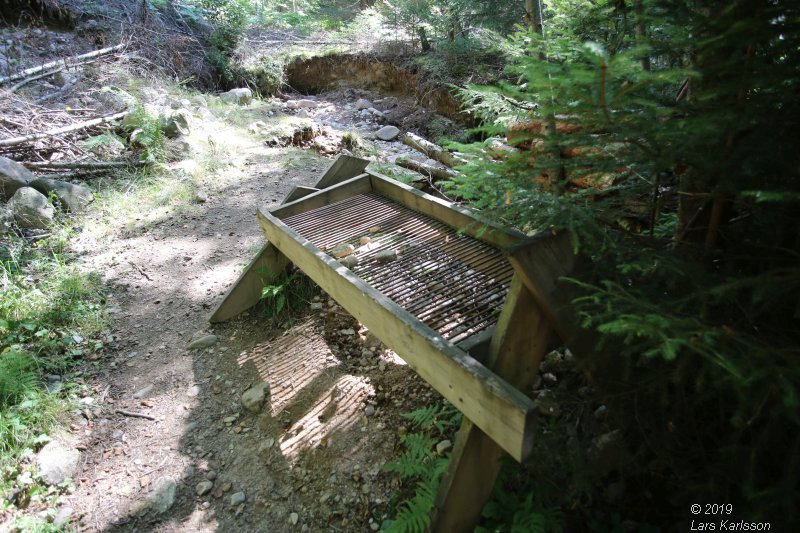 The nature has already done the heavy work for us and eroded the rock to sand.
---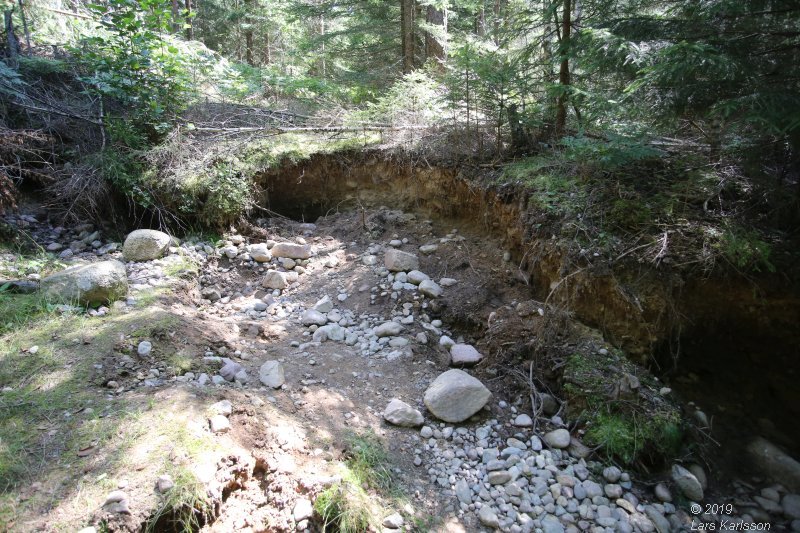 You must decide which sand to collect, some has gold and others not.
---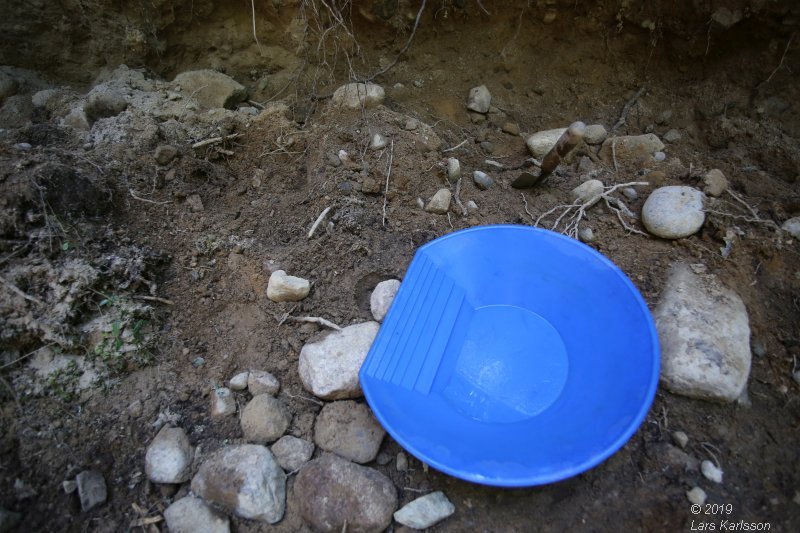 After three test I and Gunilla found a very promising place to take the sand from. When it's good you find 5 to 8 grains of gold for each pan of sand, when bad nothing.
---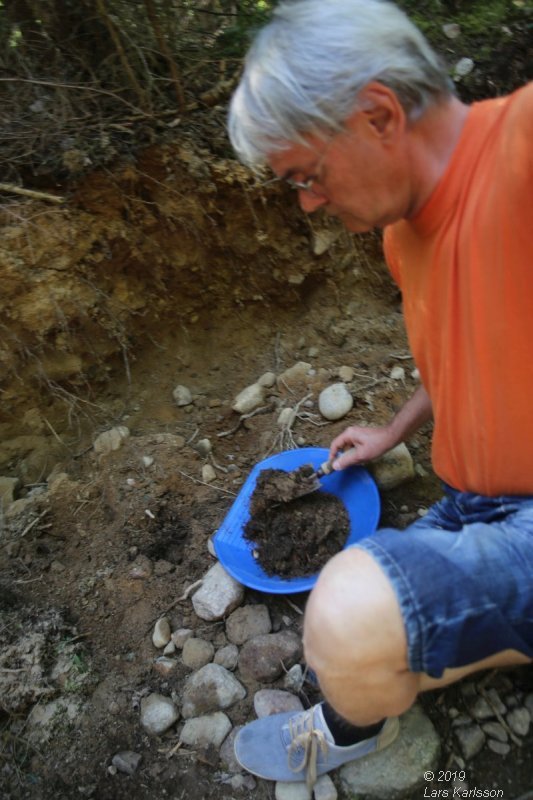 Fill the pan with sand, small stones and mud.
---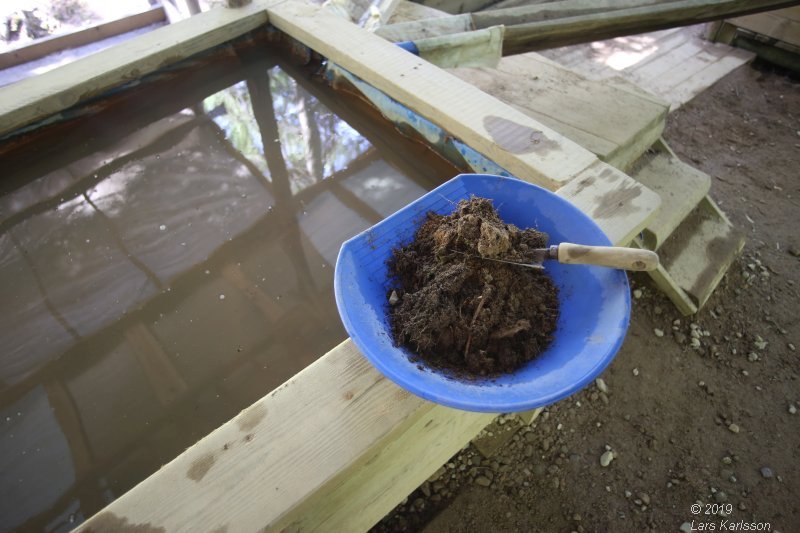 Go back to the water container.
---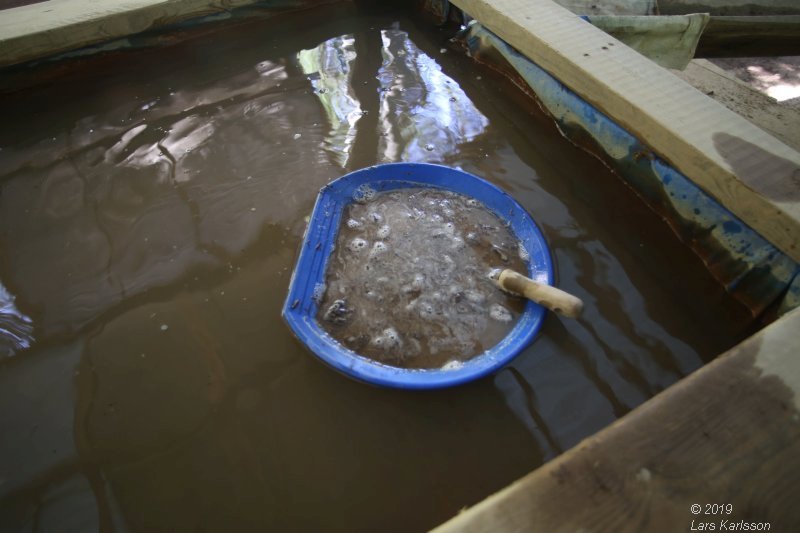 Fill it with water and start washing the big stones and heavier particles out. Start with a heavy shaking of the pan.
---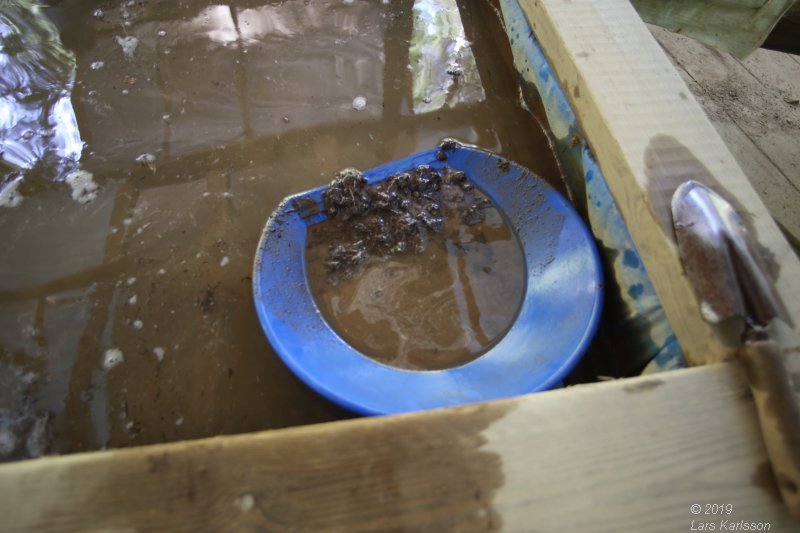 Tilt the pan and move it back and fort.
---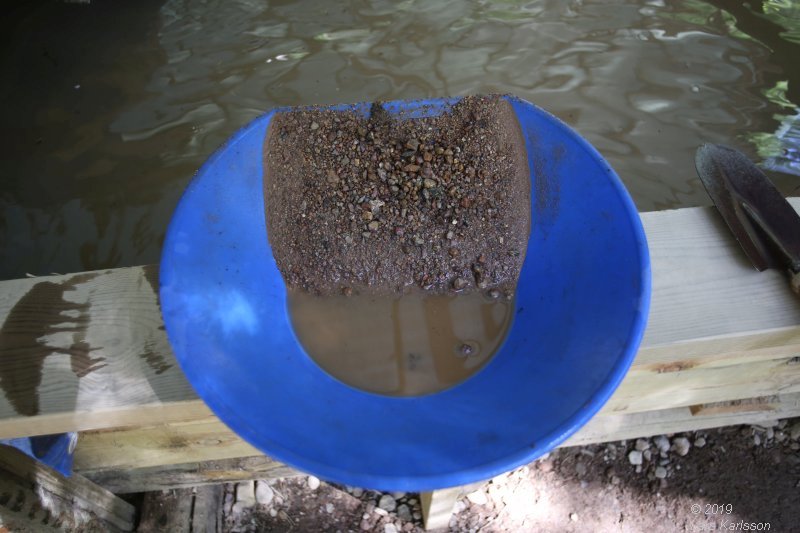 After a while it will look like this.
---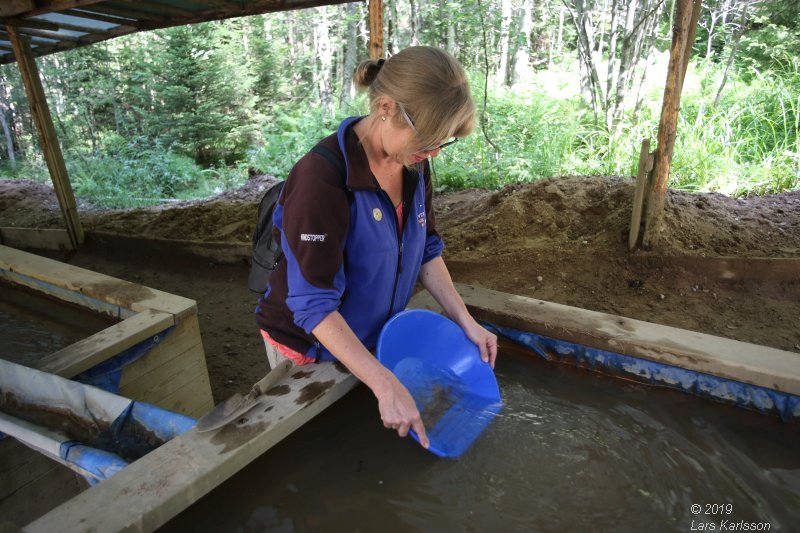 Gunilla shows how to proceed. Be more carefully now to not wash the fine grains out of the pan.
---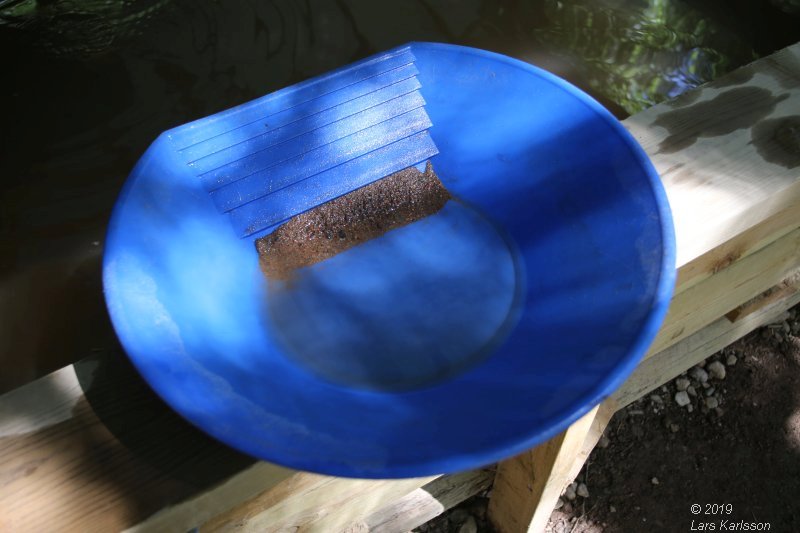 When coming to this stage the fine panning starts. Fill it with 3 cm of water, then hold it with an angle of 30 degrees and create a wave of water. The big grains will move downwards towards you and at the upper part you will soon see a black powder, that's the iron which has higher density then the sand. When the black powder starts to move downwards, look carefully above, that's where you find the gold. Tiny tiny particles, gold has the highest density and stay in place upwards.
---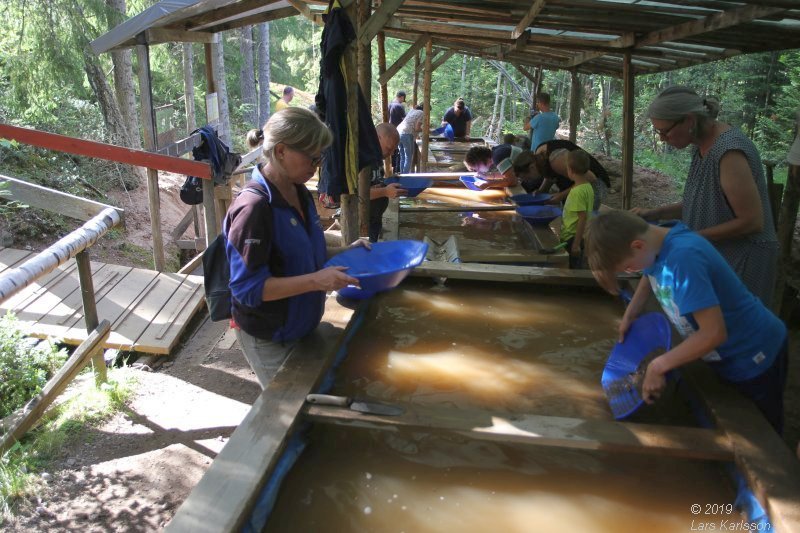 It was a very high activity here, many German people who try their luck.
More to read about vaskning (gold panning) at Wikipedia:
Are we rich now ? Maybe we have to continue a couple of years to fill the car's tank with gasoline.
---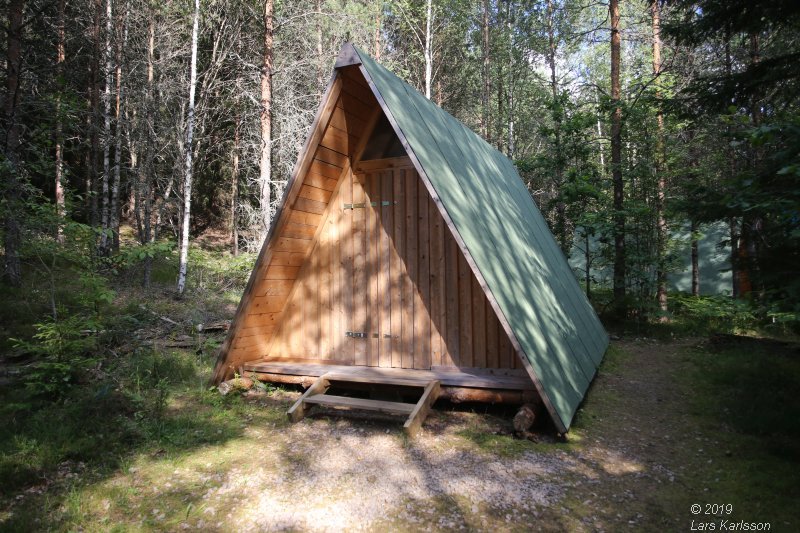 Maybe this was the house we saw in the pricelist that could be rented.
---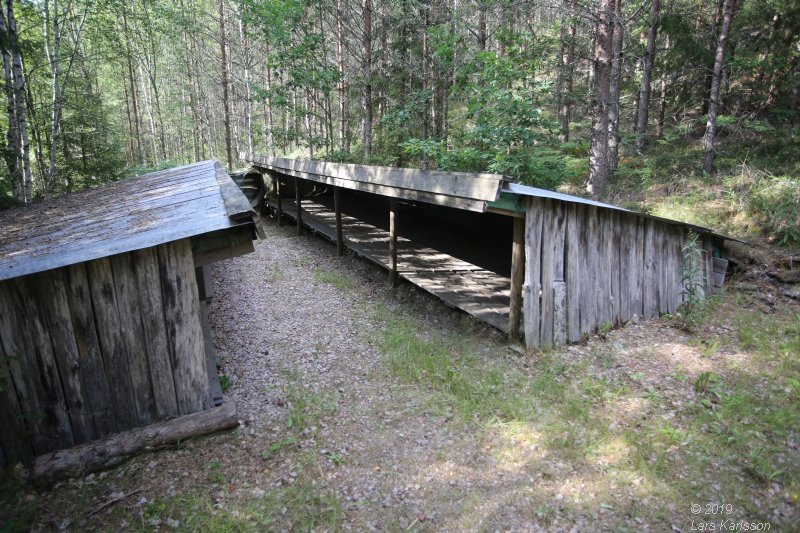 And if you want to sleep under open sky maybe this is the place. You can also visit and go inside the old mine. Looks to be both exiting and beautiful, but very cold inside the mine.
---
Mellby: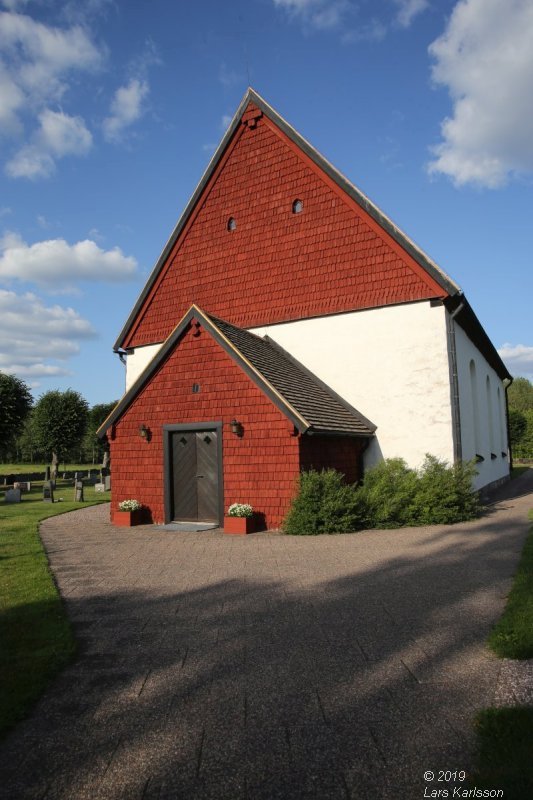 After this exiting gold panning we return to our search for runestones. A church in Mellby has a big runestone and we visited it.
---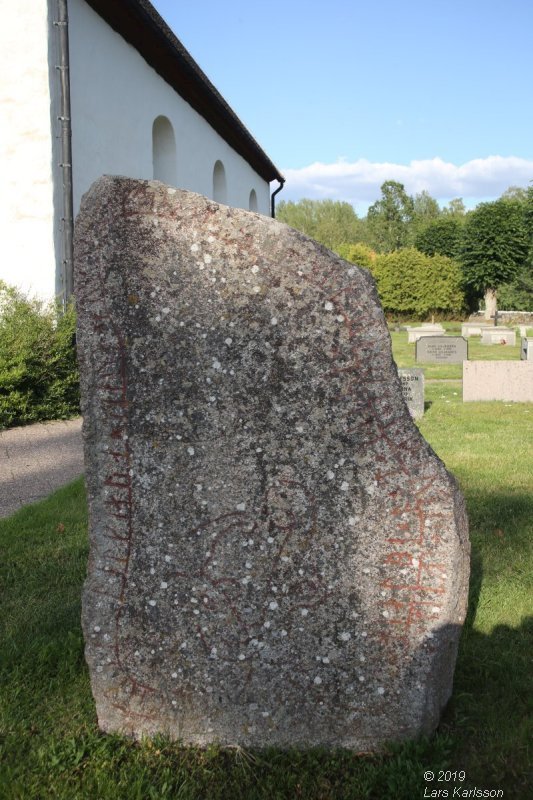 A beautiful runestone with its message carved 1000 years ago.
---
A Sun dial, but it must be in wrong direction, it miss by several hours!
---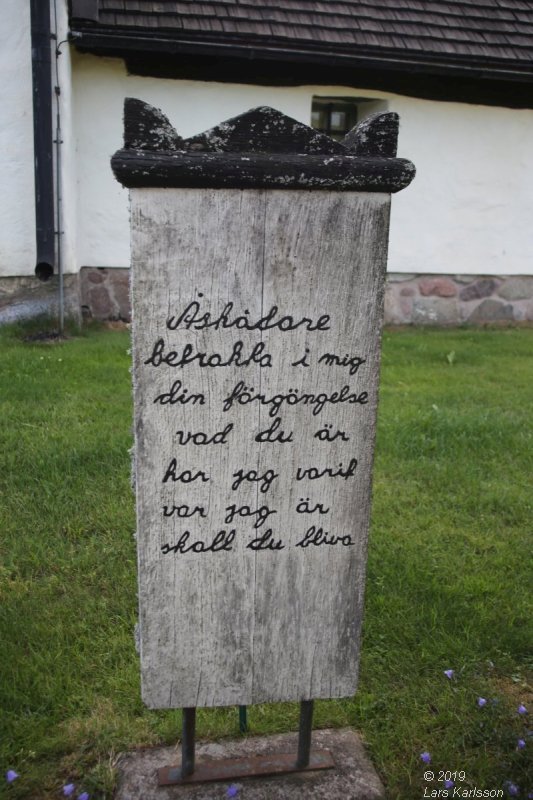 ---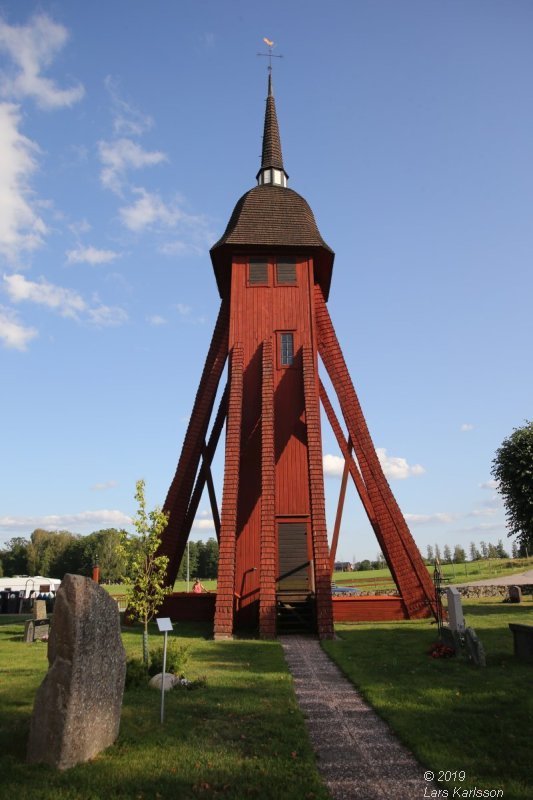 Bell tower in red painted wood.
More to read about Mellby socken at Wikipedia:
---
Stalpet: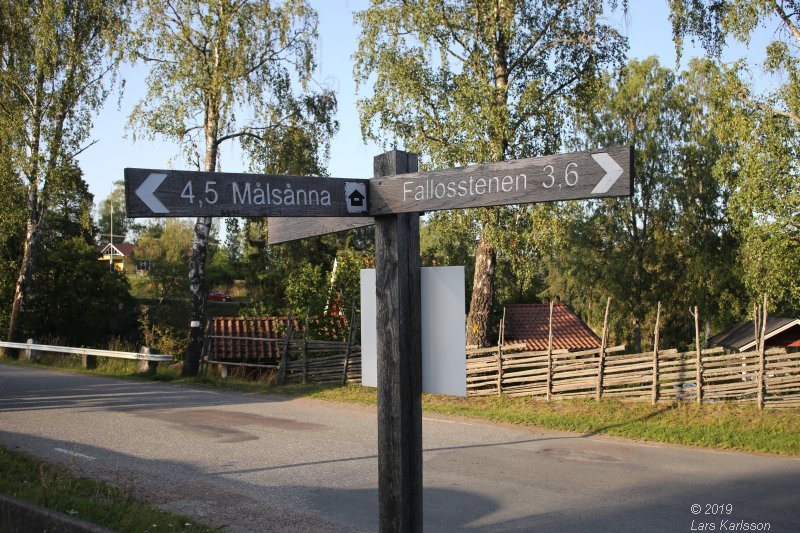 Now the clock is half past seven pm, we felt a bit hungry. We had read about a nearby waterfall, Stalpet. We want to visit it and maybe we can find a place there where we could eat. When we arrived to the waterfall we saw a cafe but it looked to be closed at first.
---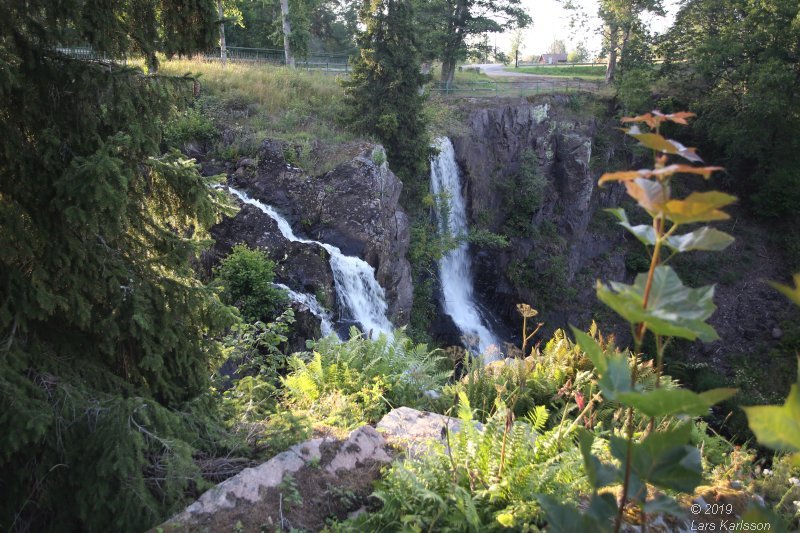 When we walked down to the waterfall we se that one part of the cafe was open, we got food ! We sitting and eat close to the waterfall, its height is 20 meters.
---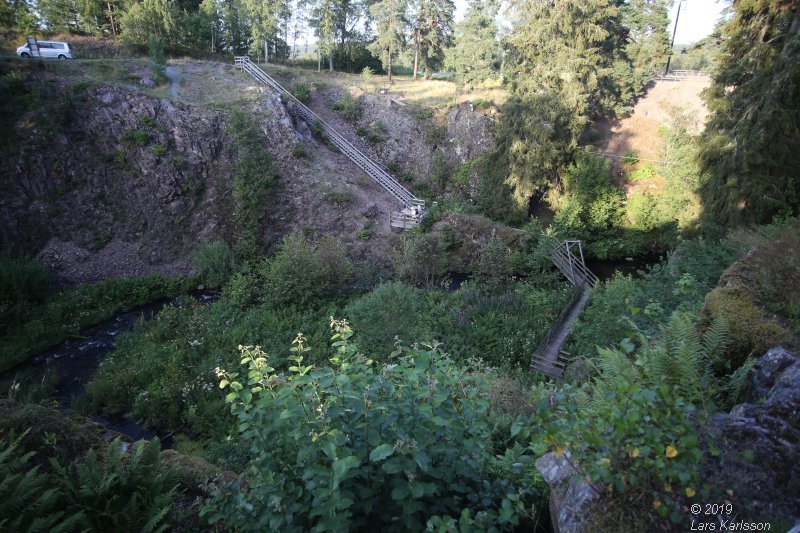 After the waterfall there is a ravine, long staircases lead down to the bottom.
---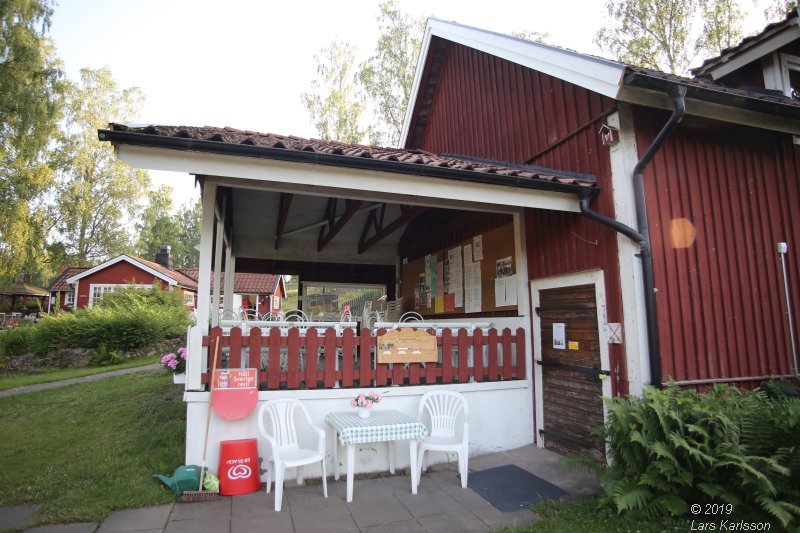 ---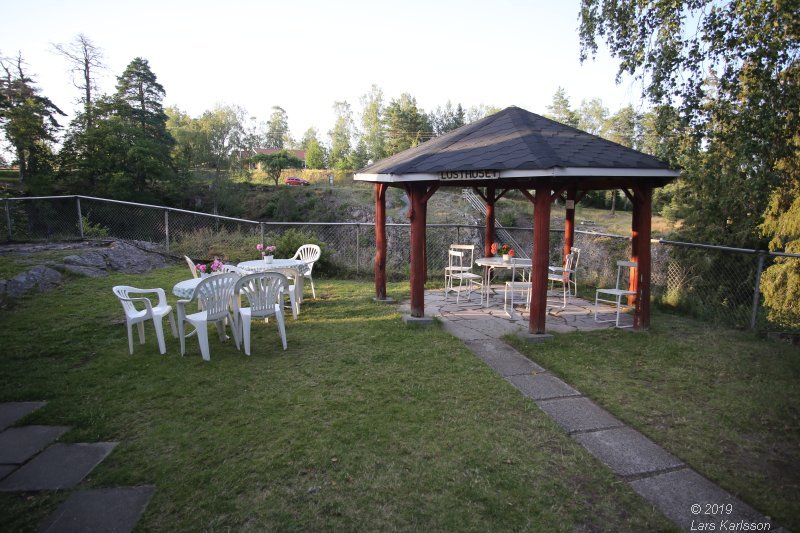 The place where we sat and eat our food.
---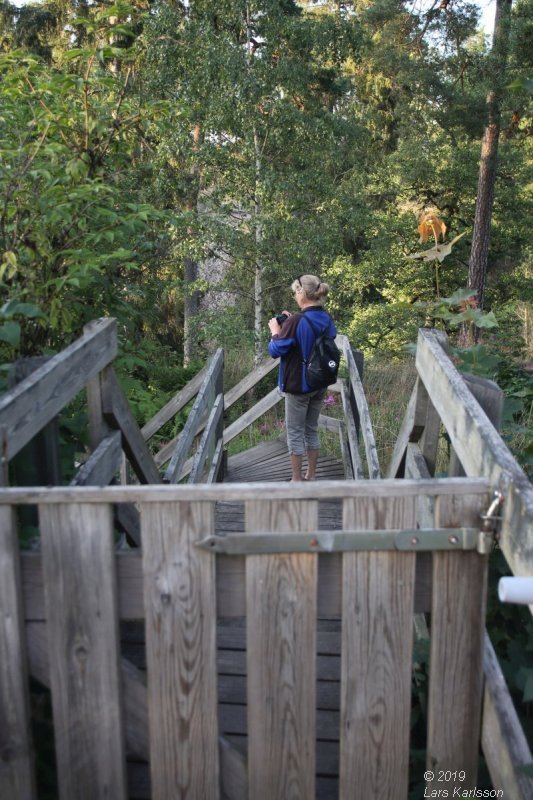 After eating we took the staircase down to the bottom of the ravine.
---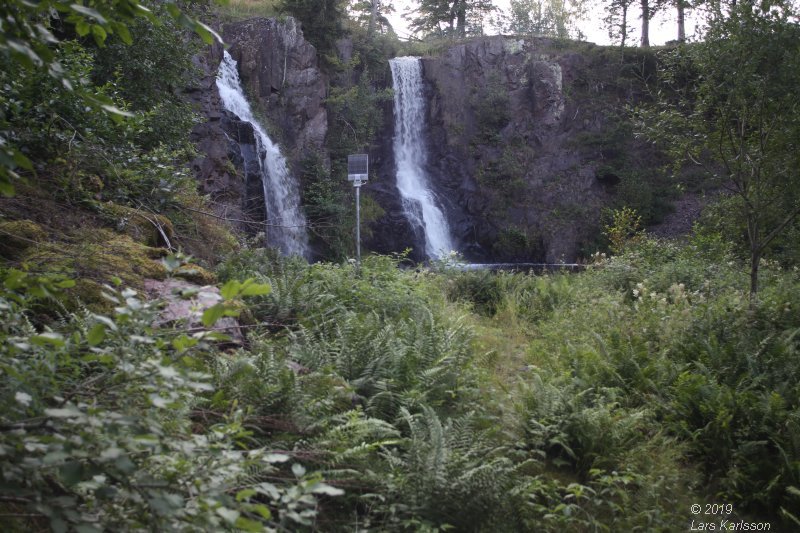 A beautiful view towards the waterfalls.
---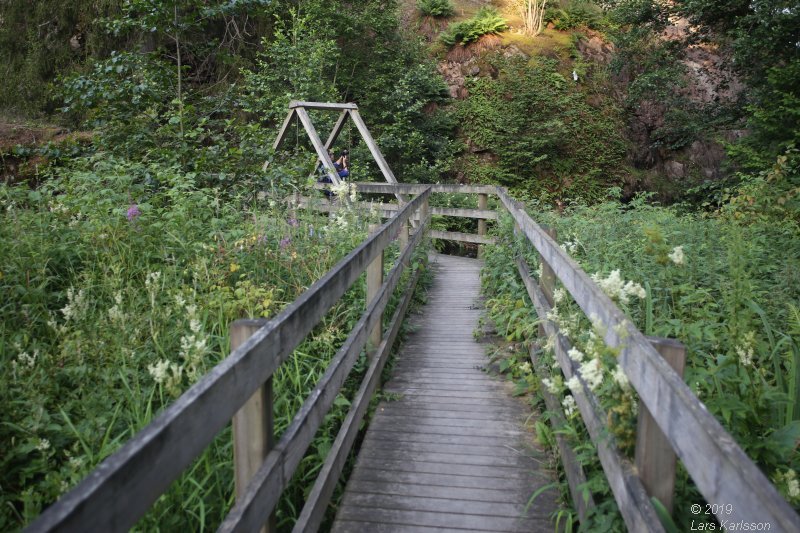 ---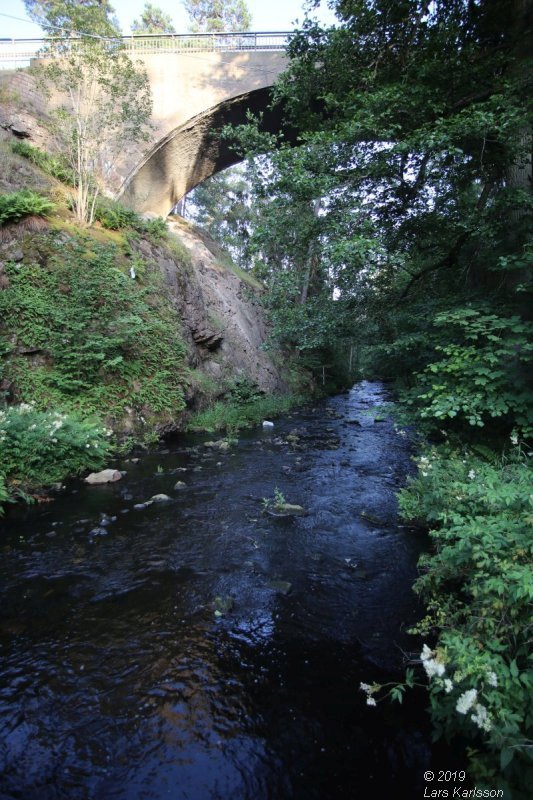 ---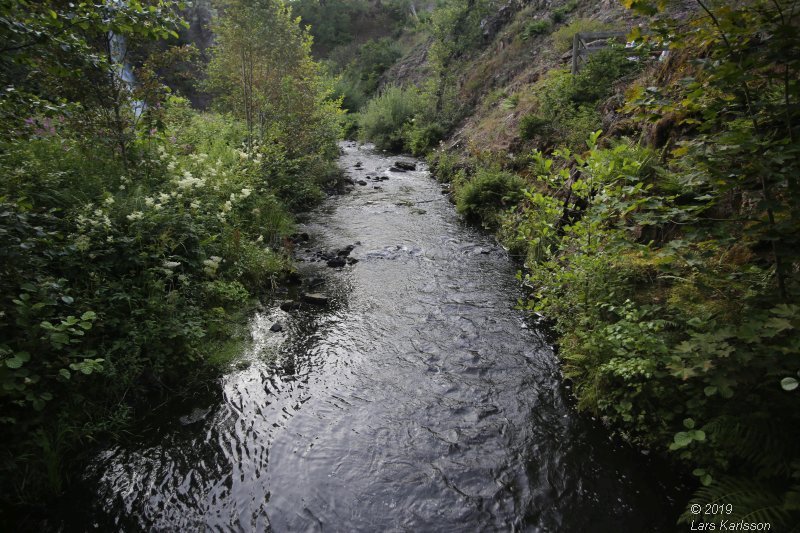 ---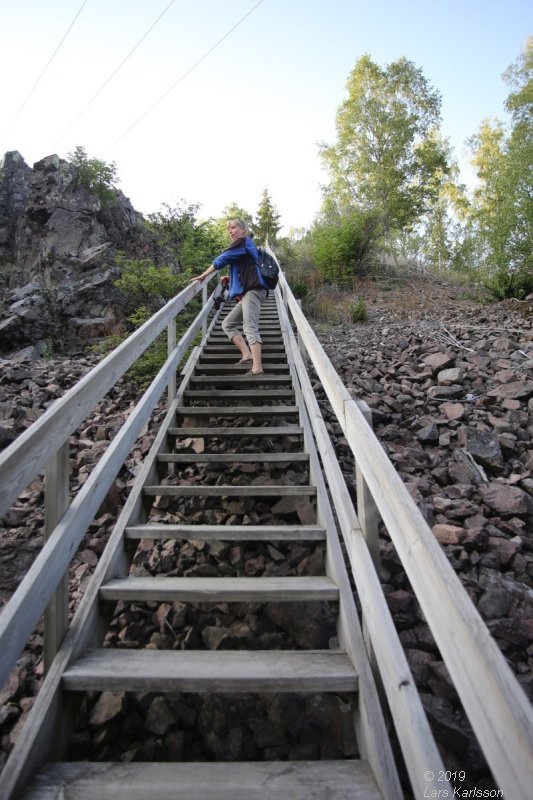 After the long staircase down you must take the other upwards, long.
---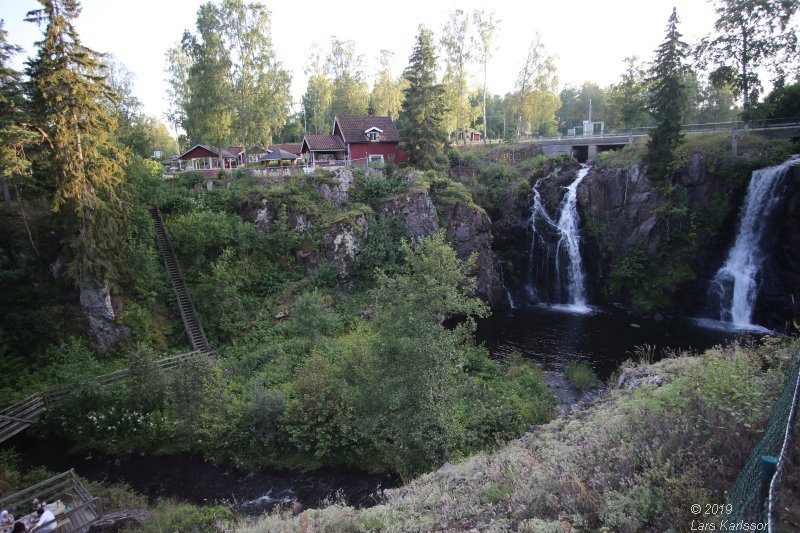 Once it was a water mill here.
---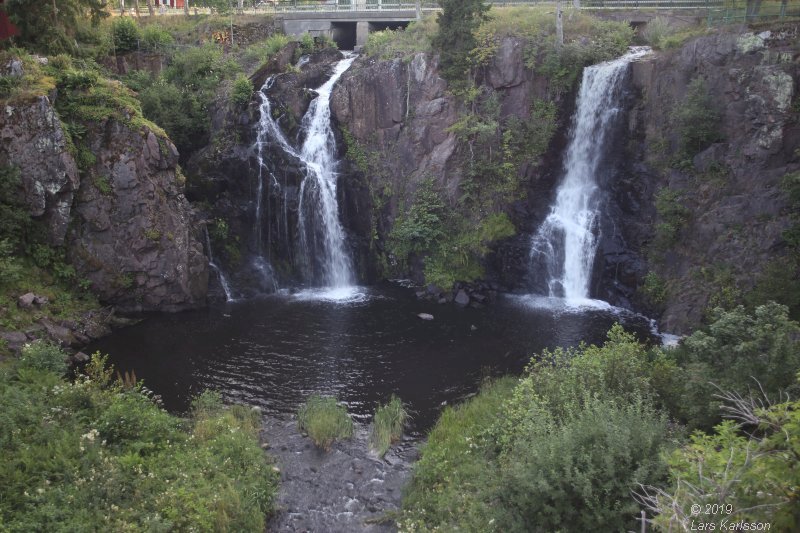 ---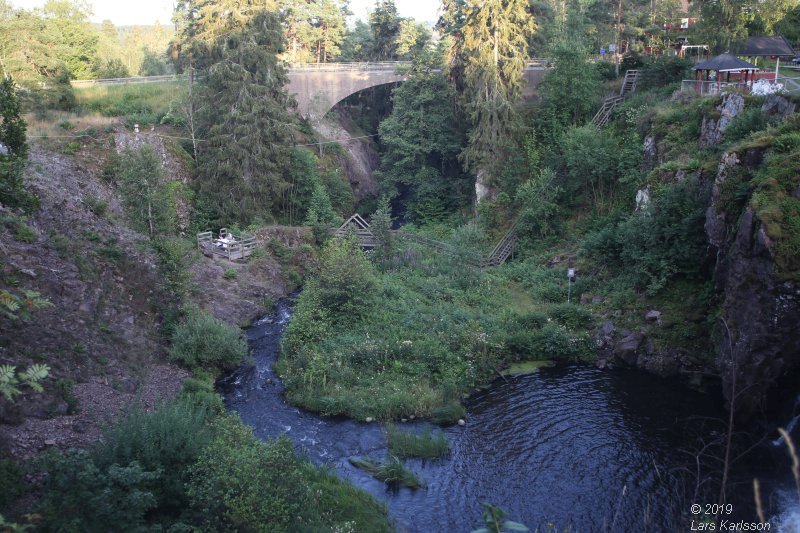 The platform you see down there, it's a popular place to celebrate marriages.
---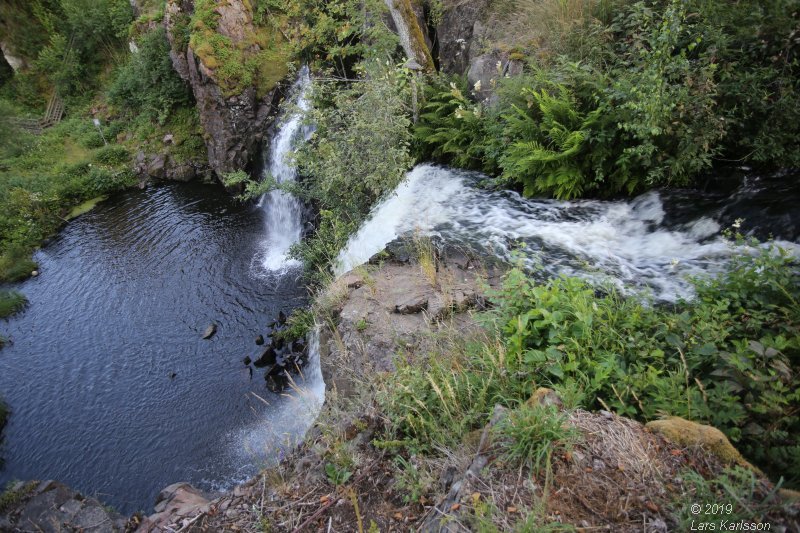 A bit of hypnotic view to see the water fall down. But in Sweden the real waterfalls are in the Northern part of the country.
---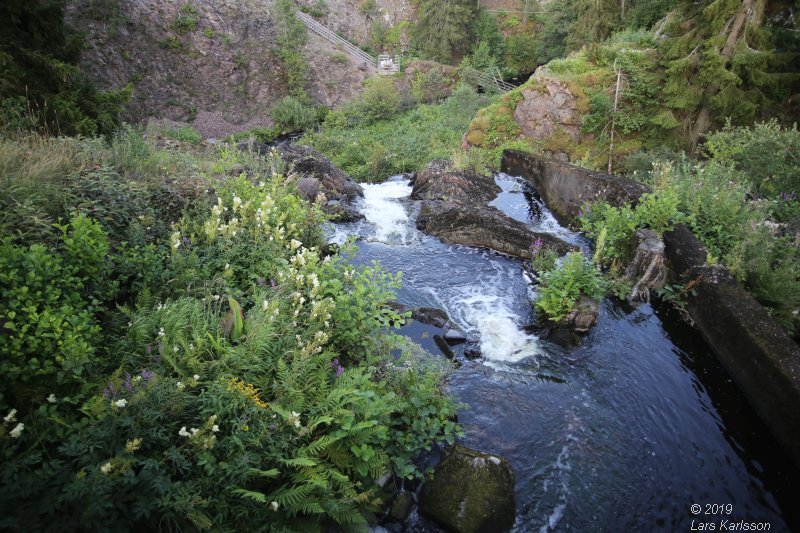 ---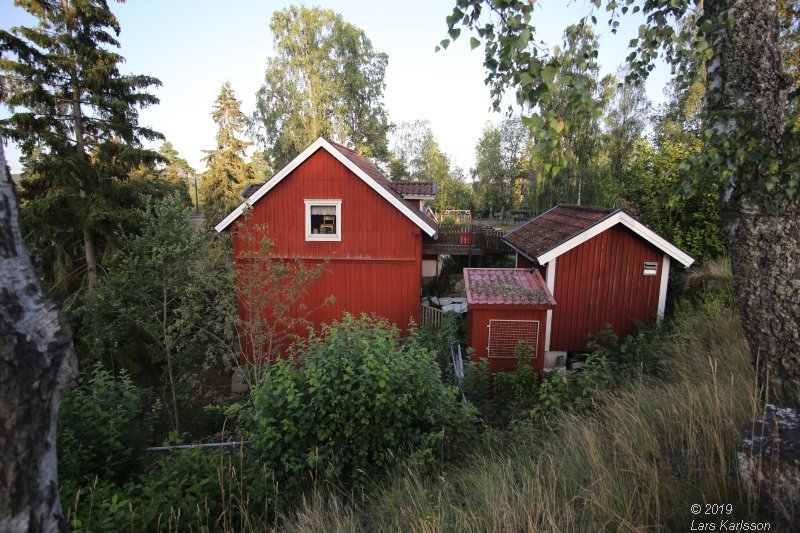 More to read about Stalpet at Wikipedia:
---
Lake Sommen: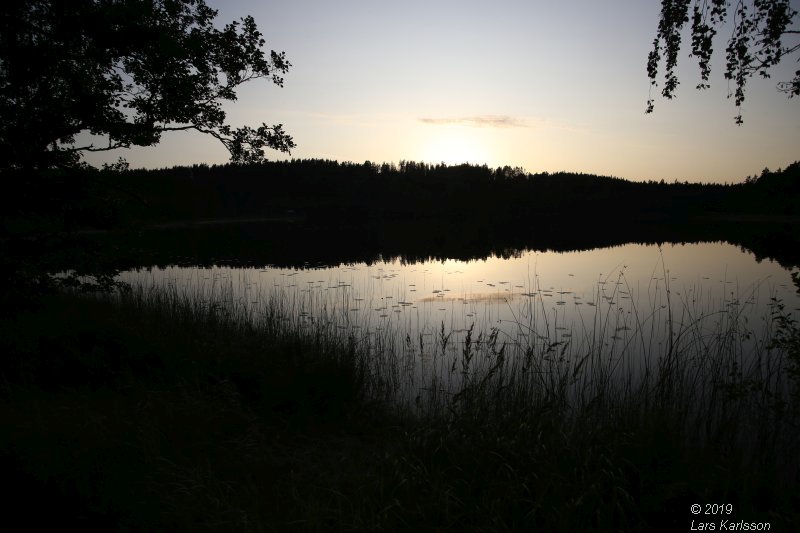 Now the Sun goes down and we have a long way back home, this is the lake Sommen, one of the bigger lakes of Sweden.
More to read about Sommen at Wikipedia:
---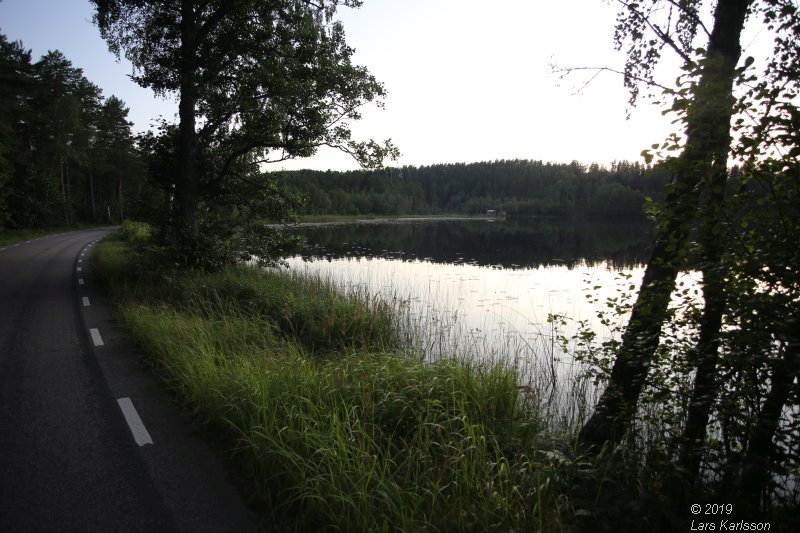 We leave the lake Sommen and now have five hours left of driving in the darkness. We saw three foxes along the roads but no one killed.
The END
---