My travels in Sweden:
By car through Blekinge, Skåne and Småland, 2019
---
(or maybe the travel should be called the Stone Age Travel)
Content:
I have added links with deeper information, most of them are Wikipedia links. I have chosen the Swedish link, but in some cases you can shift to English. If there is no English version you can use Google translator or similar service. There are more information in the Swedish language.
---
A travel in Southern Sweden, 2019
Southern of Sweden have many nice places to visit. It's about 600 km from Stockholm where we live. I have been there in the 1960s and 2006, now 2019 it's time for a new visit. We took my small sport car, light package and plan to stay from 7 to 10 days.
---
1, First day, from Stockholm to Kristianopel:
Map of travel first day, from Stockholm to Kristianopel:
Traveling distance of the first day, 460 km. This is not an exact map of our travel, we didn't take the big roads after Kalmar, but can't make it more accurate than this.
---
Stegeborg:
We took as usual when travel in Southern direction take the road through the island Mörkö and the ferry to cross Skanssundet (not correct in the map above).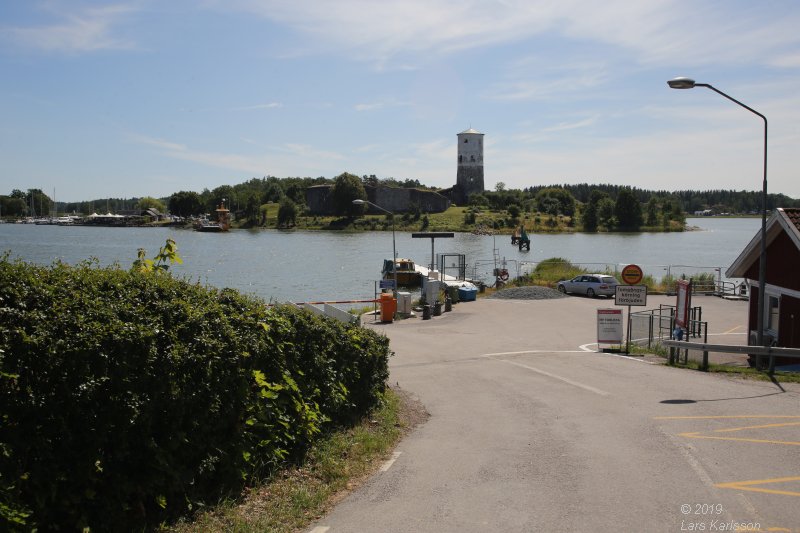 Then we follow the old main road to Jönåker and then towards the ferry that cross the bay Bråviken at Skenäs. Here we had come to the third ferry and have the old fort Stegeborg in front of us. Normally we take a break at this place, but today our plan is to reach a place somewhere South of the city Kalmar. Just driving through.
More to read about Stegeborg at Wikipedia:
This is a very nice place, take a break here if you have the opportunity.
---
Stensjö by: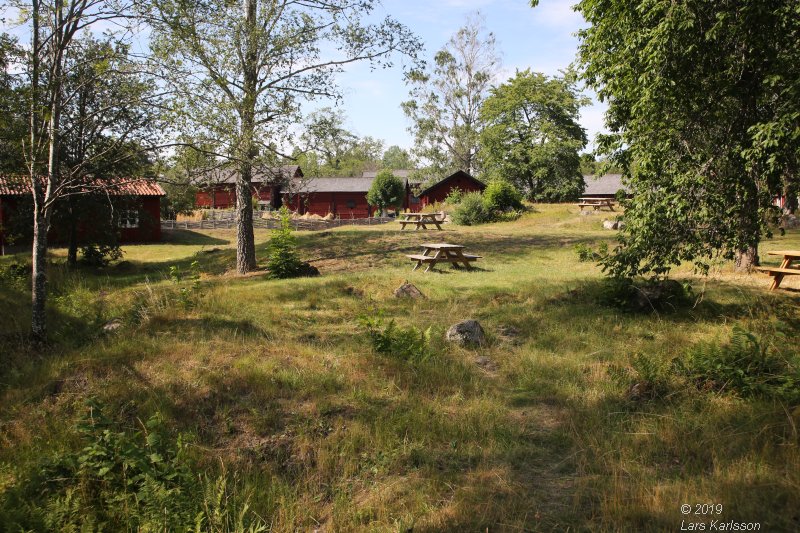 Stensjö old village, we have visit it once earlier, nice little village. We took a break and eat some fruit we had brought with us, no walks around this time.
---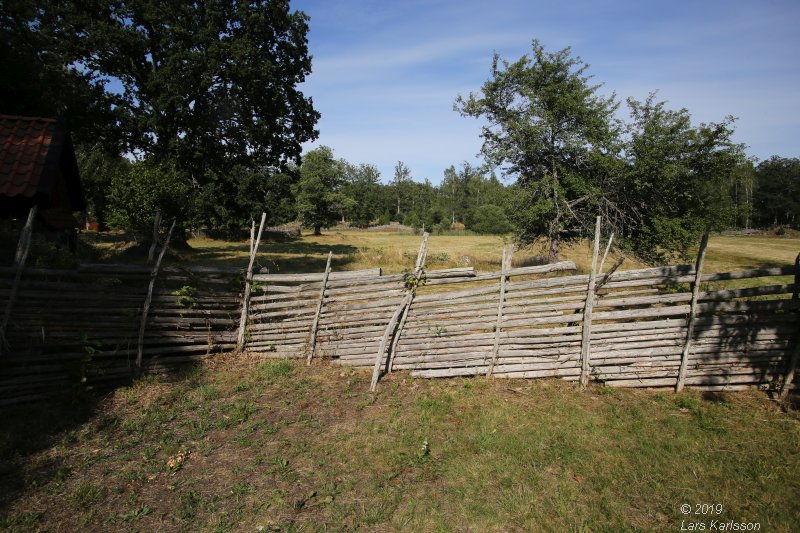 If you are close to Stensjö, take a break and stop here, it's a very relaxing environment.
More to read about Stensjö by at Wikipedia:
---
Hagby Kyrka:
After 400 km of driving we had passed the city Kalmar and could start slowing down.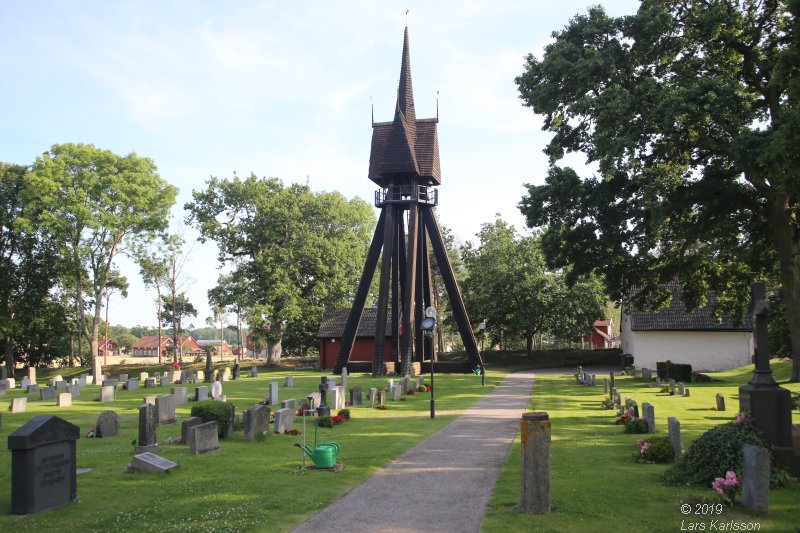 You will find a lot of churches in this travel report. We are not religious but at those old churches we maybe find runestones and that is something we find interesting. The runestones were made by our Vikings about one thousand years ago. They have inscriptions and tell us something about their life.
---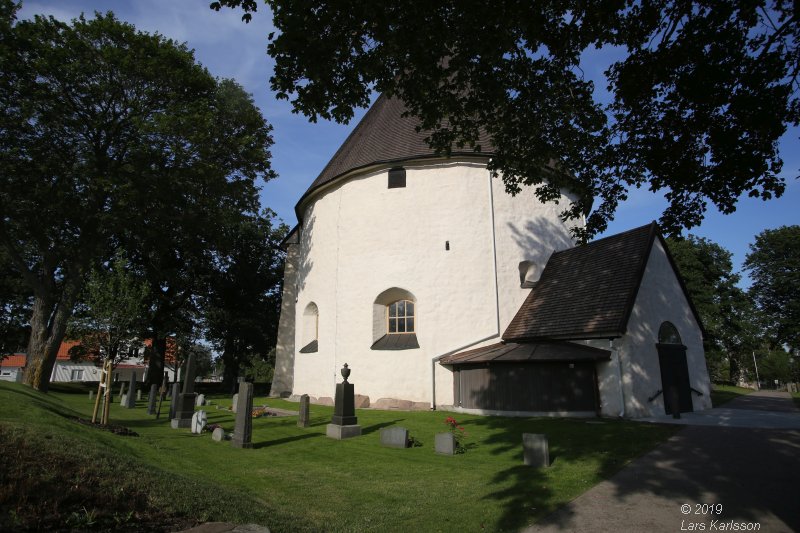 In this case we didn't find any runestone, but the church was a bit special with it's circular shaped building. I don't think I have seen any church like this earlier.
More to read about Hagby Kyrka at Wikipedia:
---
Böke: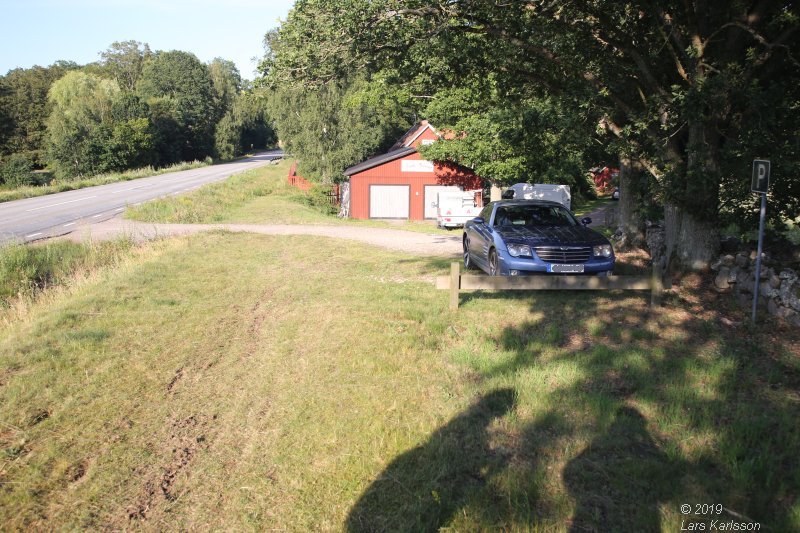 When we reach Böke we saw a sign about some ancient remains. We stopped to see what it was, not often you find a fine parking lot like this when stopping at ancient places.
---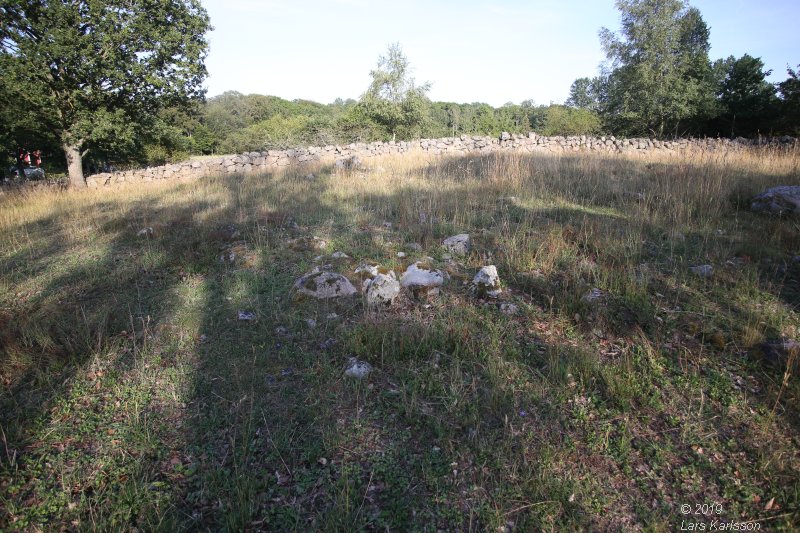 It's a field of ancient graves.
---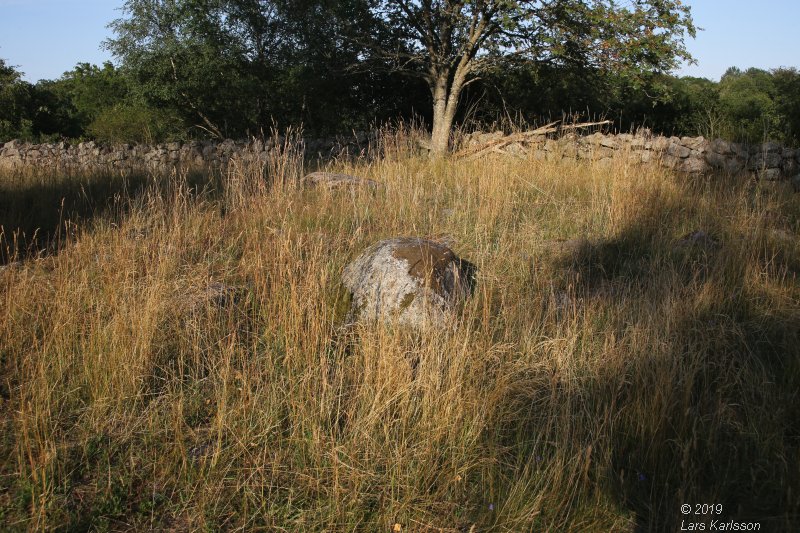 It's is from the early Iron Age before the Vikings, about 2000 years ago.
---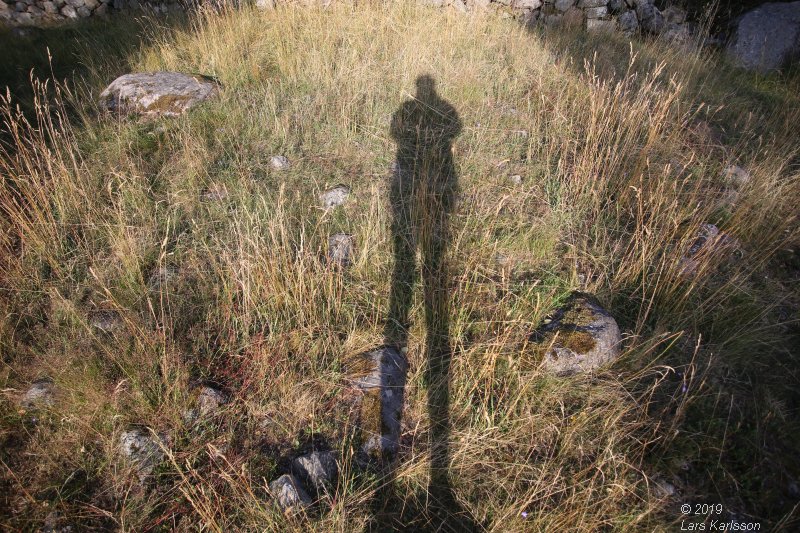 It's not so easy to see the graves when the grass is high as it's now. Better to visit and see them in the early spring.
---
Bergkvara, Victoriakajen: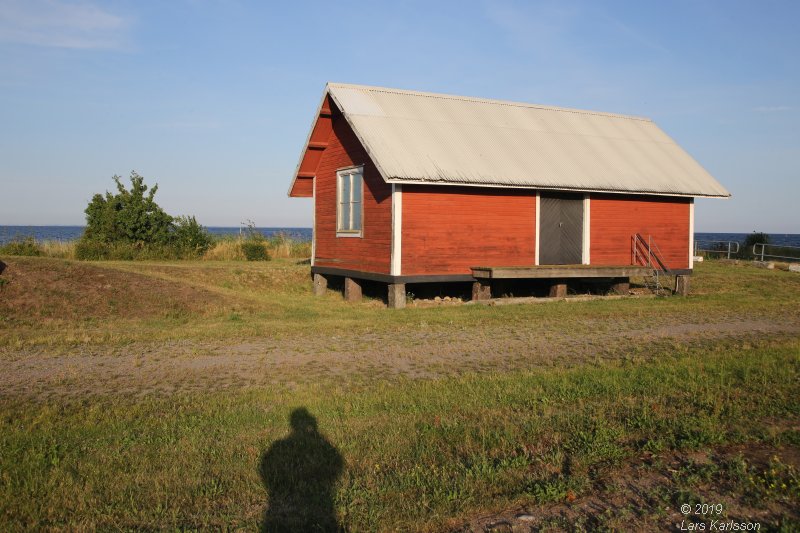 To find something to eat is not always so easy, but in Bergkvara we saw more than one restaurant. Now when we know there are restaurants here we first want to see the harbor. We find some old houses at the harbor and it's very beautiful in the evening light.
---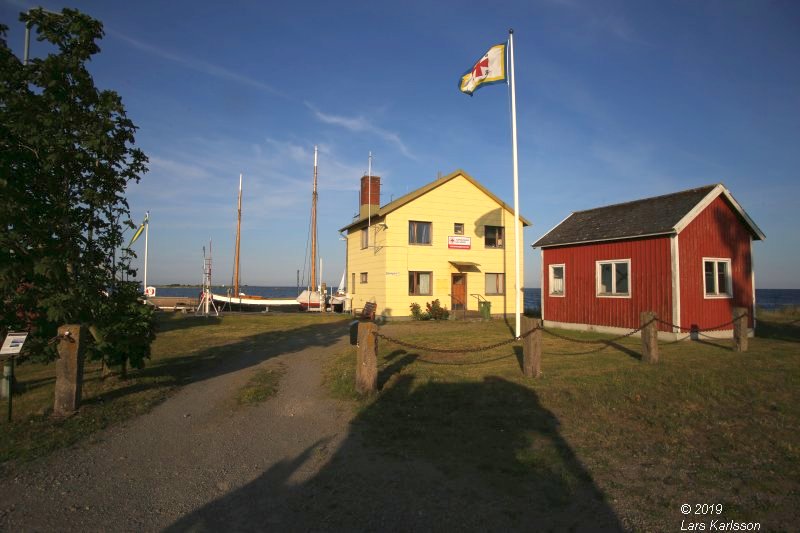 There is also a rescue station here for the seafarer.
---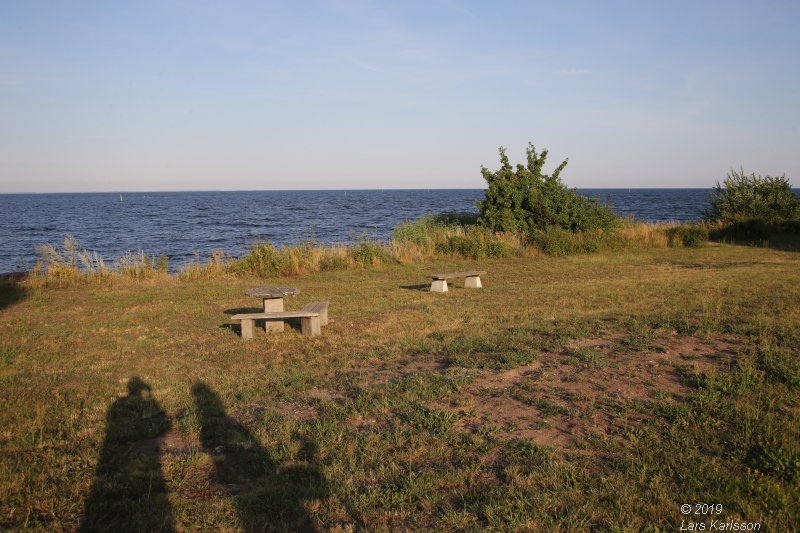 It was a railway station to this harbor once. A big and important harbor in Sweden.
---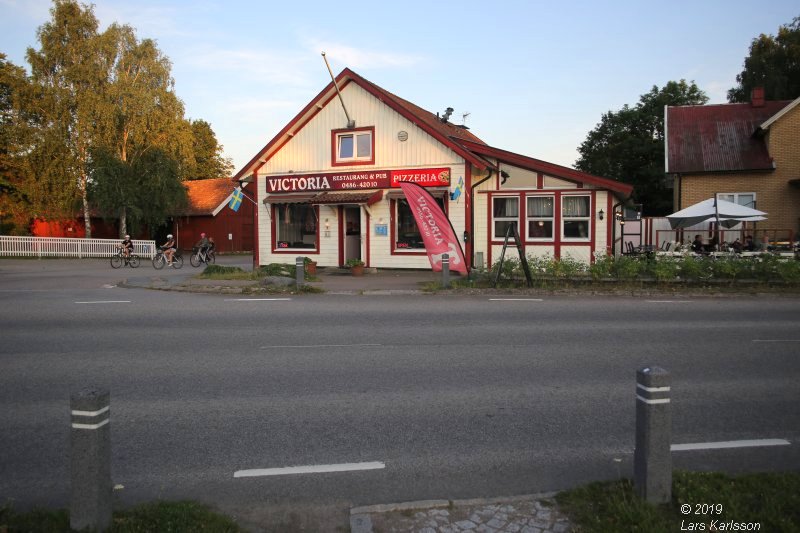 Back to the village Bergkvara. Today we eat pizza, a Calzone for me and a Capricciosa to Gunilla.
More to read about Bergkvara at Wikipedia:
---
Fredsstenen, Brömsebro: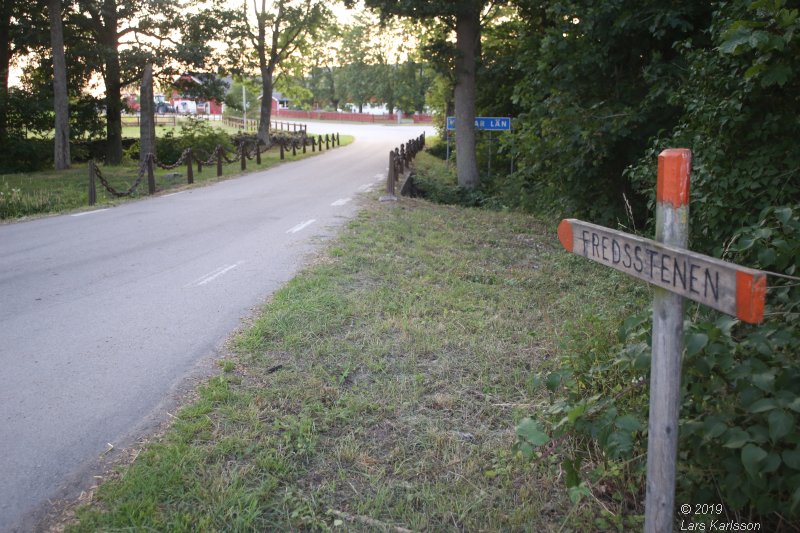 We haven't draw any exact plans we must follow, but still a list with interesting things to see. Fredsstenen (peace stone) is one of them. At this place in Brömsebro an agreement between Denmark and Sweden was signed about peace, the year was 1645. Southern of Sweden belonged to Denmark at this time.
---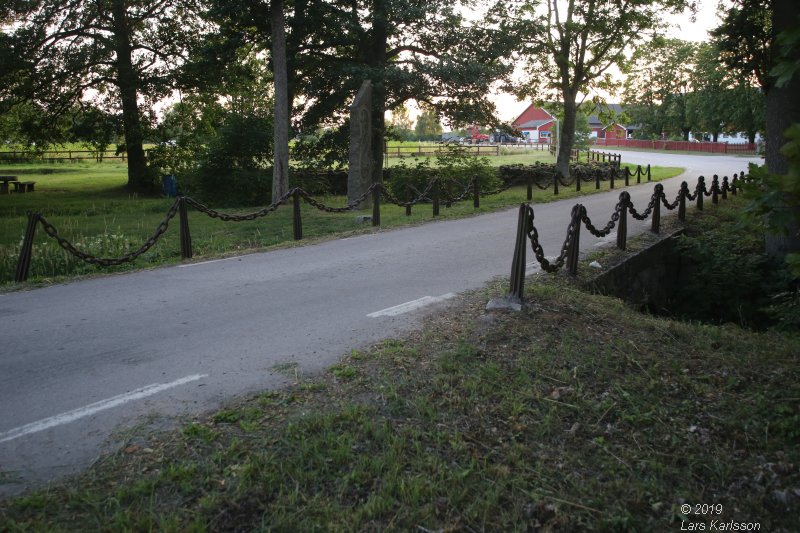 The border between Denmark and Sweden was along this river.
---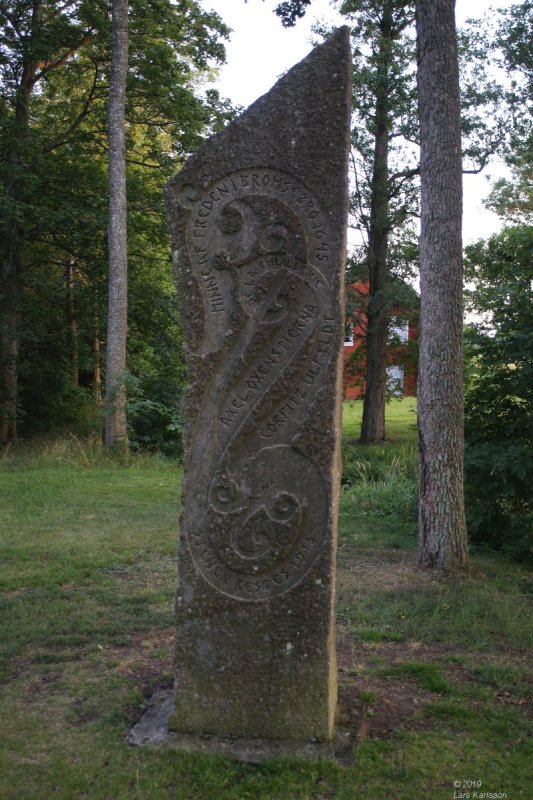 This stone is a reminder about this, raised 1915.
More to read about Fredsstenen at Wikipedia:
---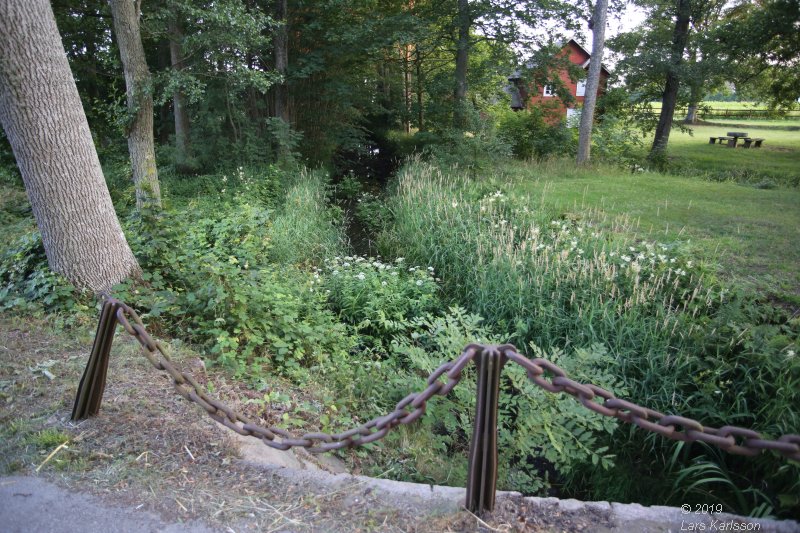 A more important agreement was in 1658, Freden i Roskilde. Then Sweden took the control over the municipalities Skåne, Halland, Blekinge, Bohuslän and Bornholm. Important areas along the coast for Sweden's defense of the country.
More to read about Freden i Roskilde at Wikipedia:
---
Kristianopel: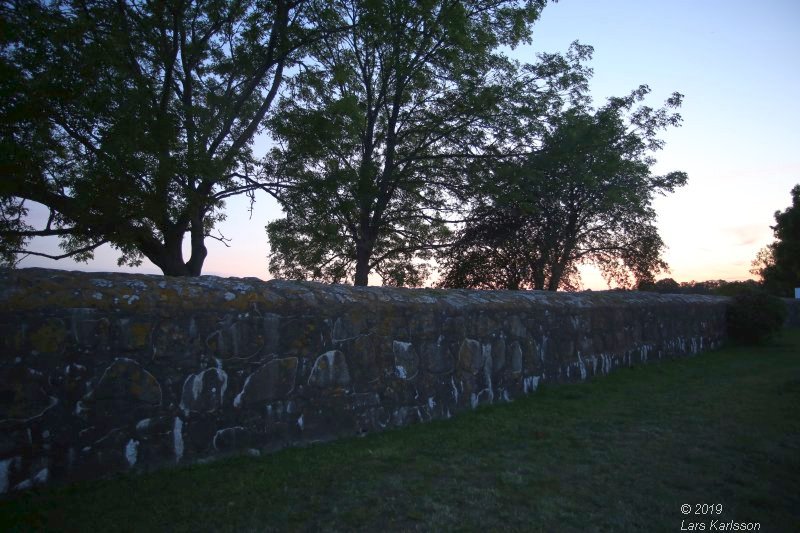 The sun sets and we start to looking for somewhere to stay. Already at the restaurant they helped us with some tips where to stay. One was at the camp at the old town Kristianopel, the town's name after a Danish king.
---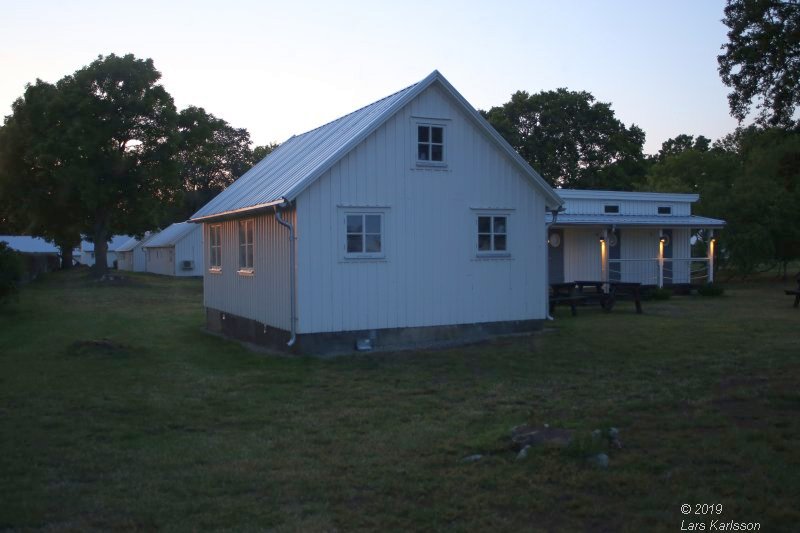 We arrived about 9:30 pm, the office was closed but the key was left over to the nearby restaurant. Normally we don't stay at camps, but we really want to stay at Kristianopel and this camp was placed inside the old city wall. The house we stayed at was this little white building. There where no breakfast included but a nearby restaurant had breakfast for us at the following morning.
---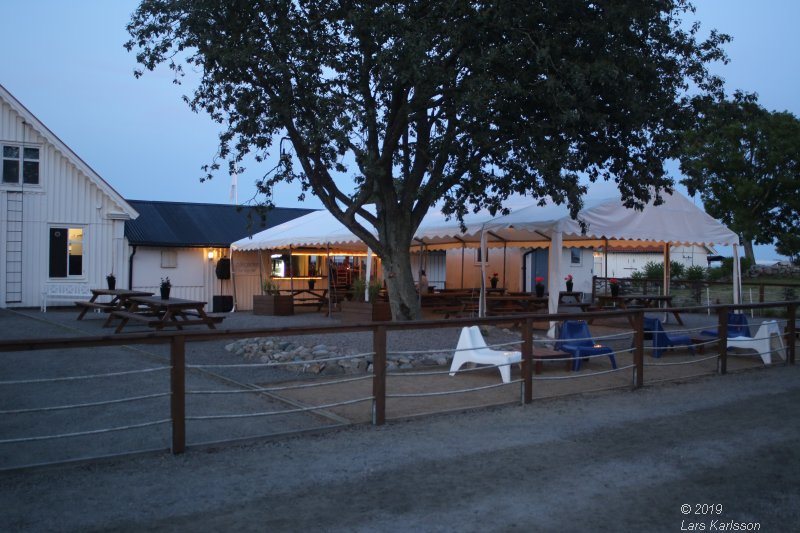 This is the restaurant at the camp, this evening it was a troubadour that played and singed for us. It was a lot of people here and I think we got the last free cabin.
---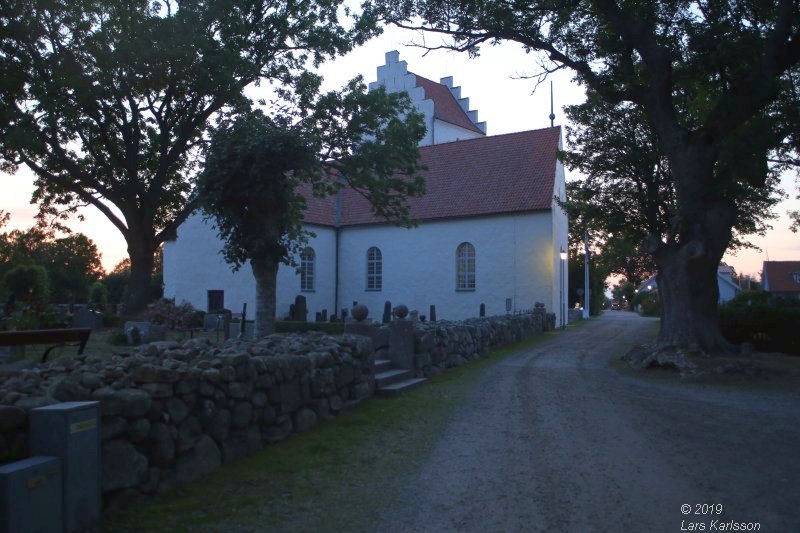 Before we go to bed we wanted to take a walk around the old town. This is the church and it must be old because we could recognize it on an old model of the town.
---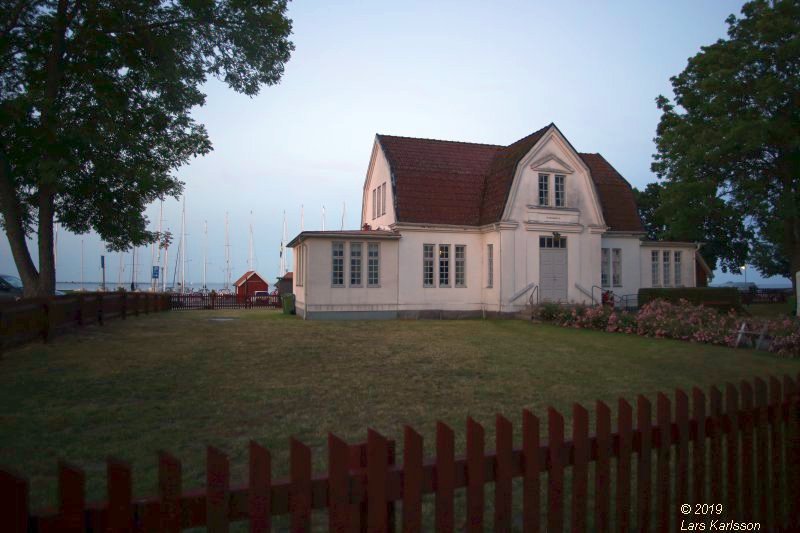 Sockenhus (City hall), built 1913.
---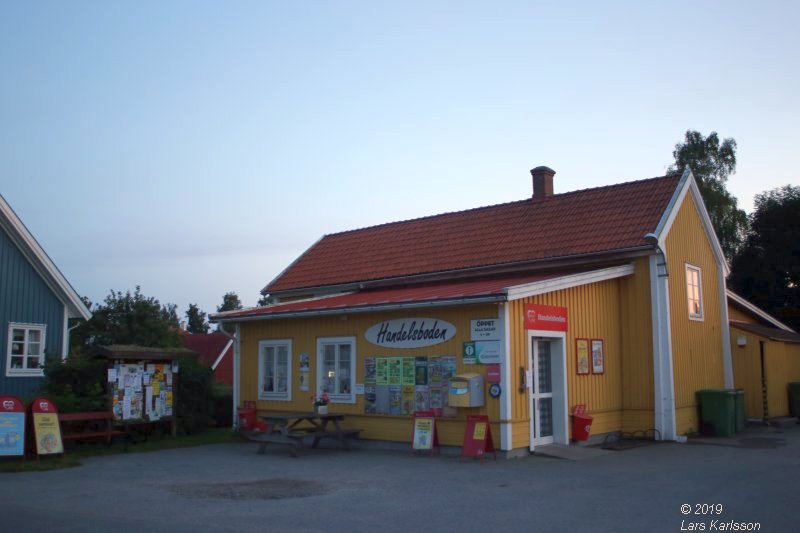 Handelsboden, a store where you can buy food, magazines and other needed things when you are on travel.
---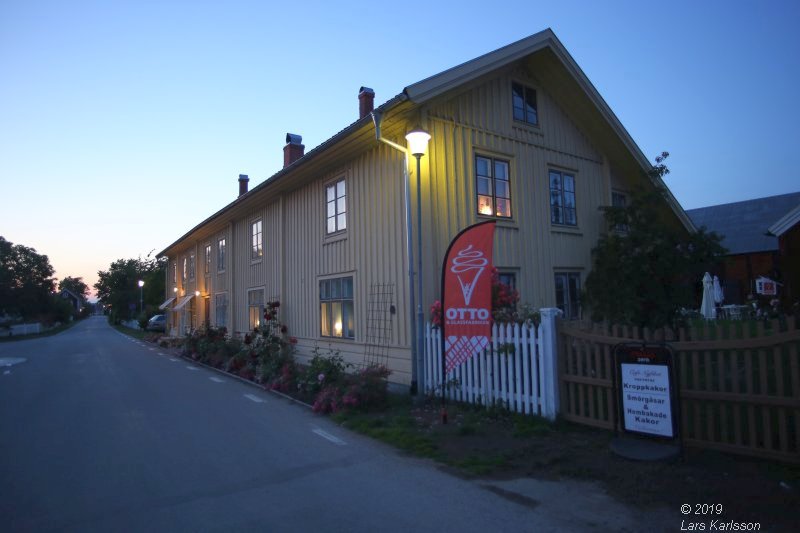 A restaurant where you can eat kroppkakor (dumplings), it was closed to Gunilla's disappointment.
---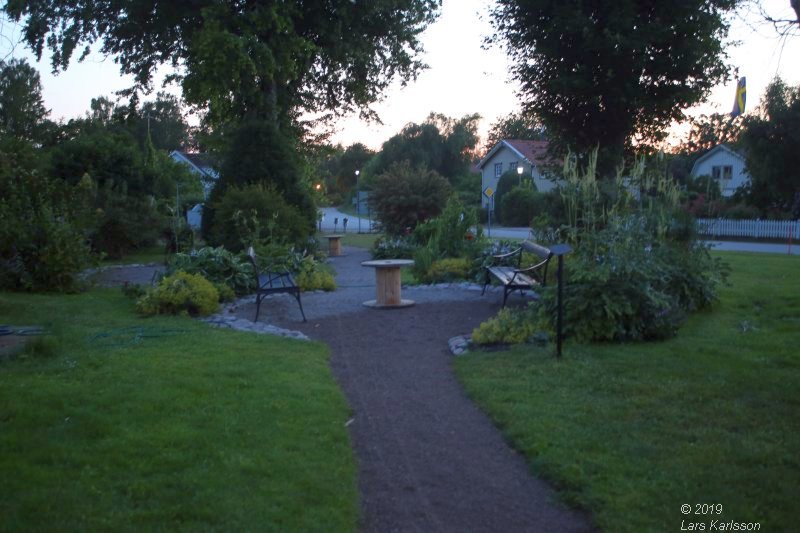 ---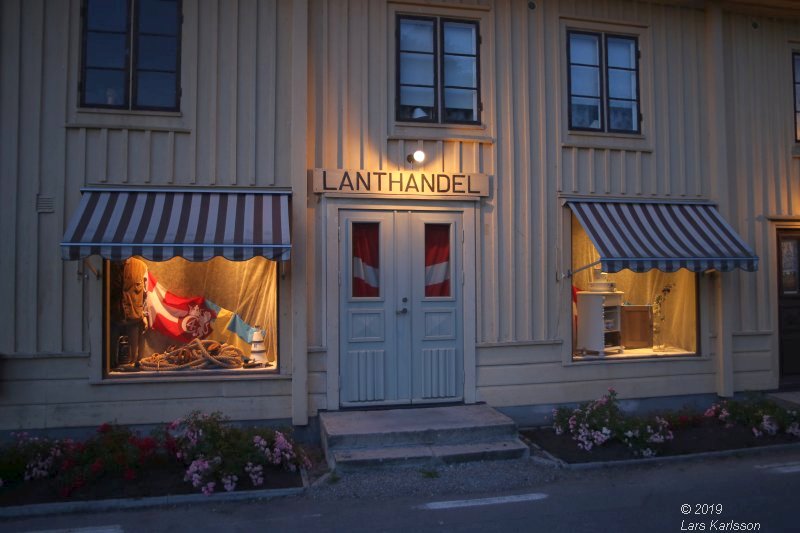 Another store.
---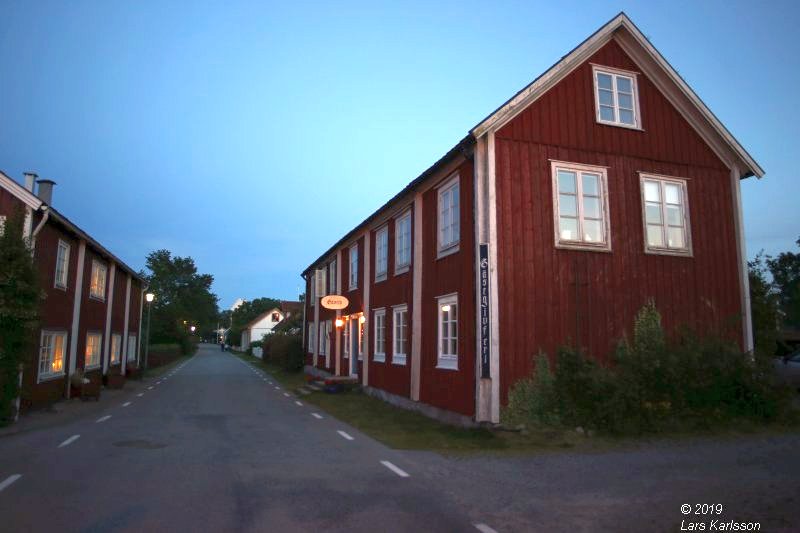 A hotel or guesthouse, no vacations.
---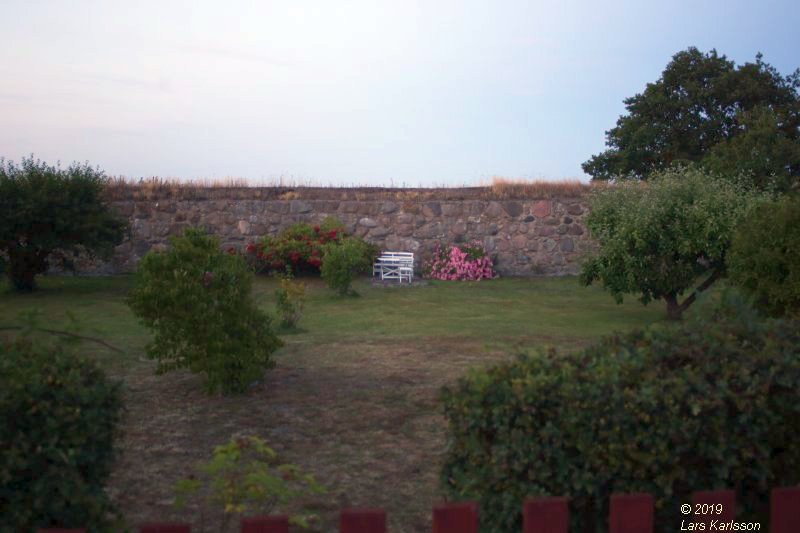 The city defense wall. It's a bit like our famous city Visby a the island Gotland.
---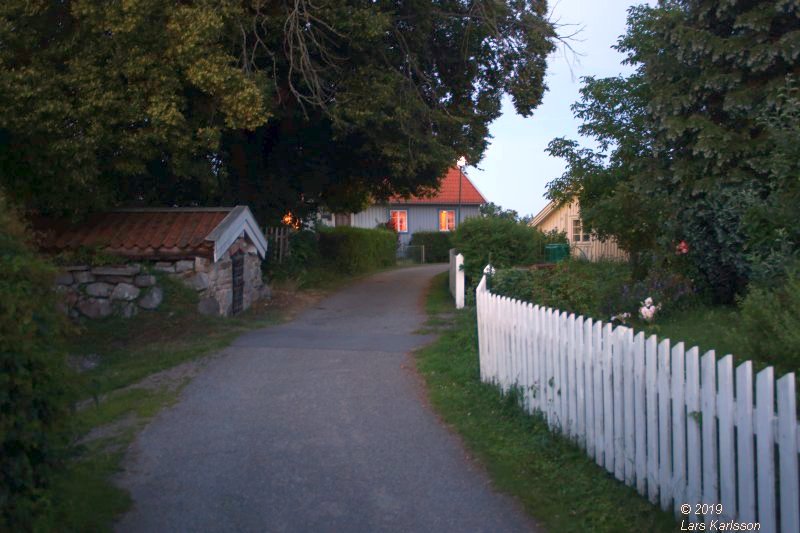 This street leads us to the harbor.
---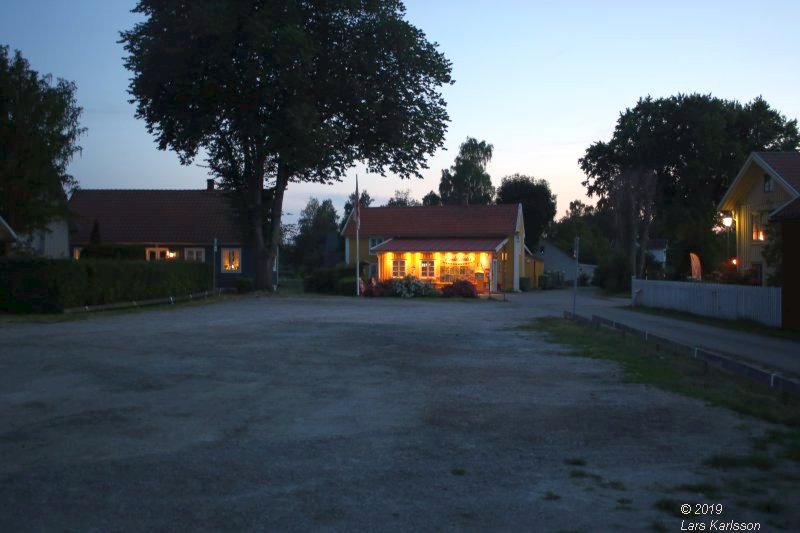 The square with parking places, behind us is the harbor.
---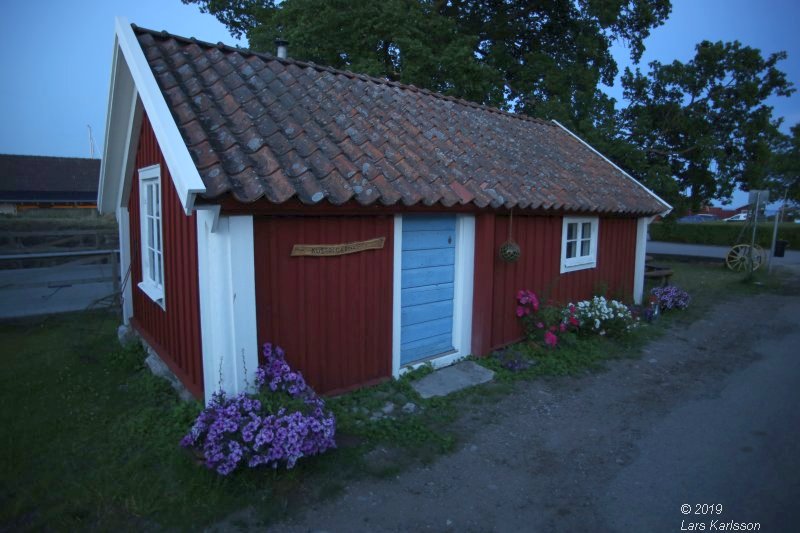 ---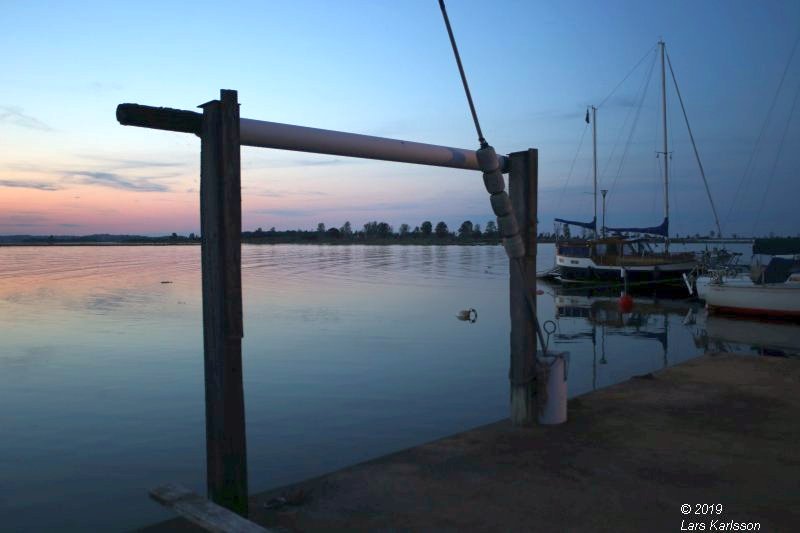 Great view in the evening light.
---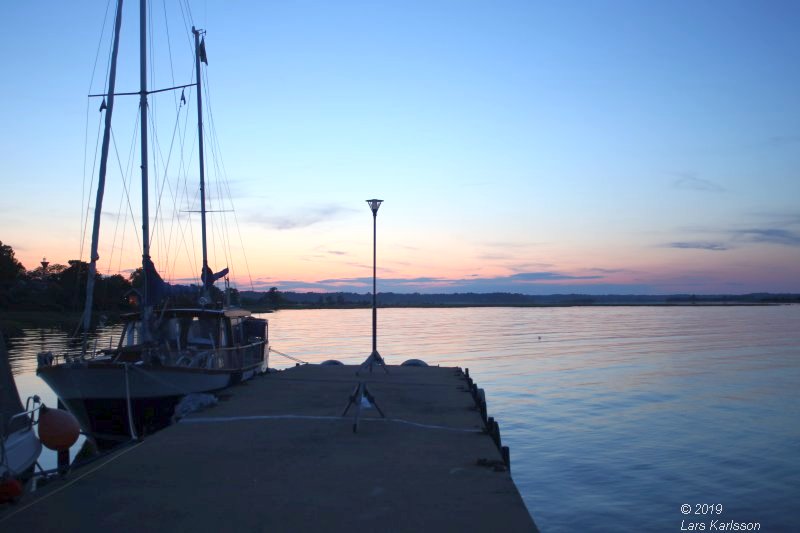 I think this is a guest harbor where you can anchor your boat if you came by sea.
---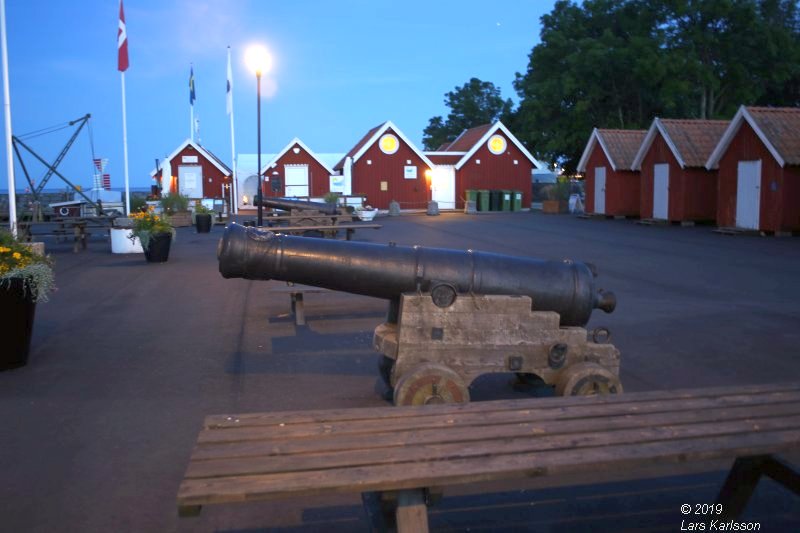 Small shops in the harbor, next day there were full of activity here.
---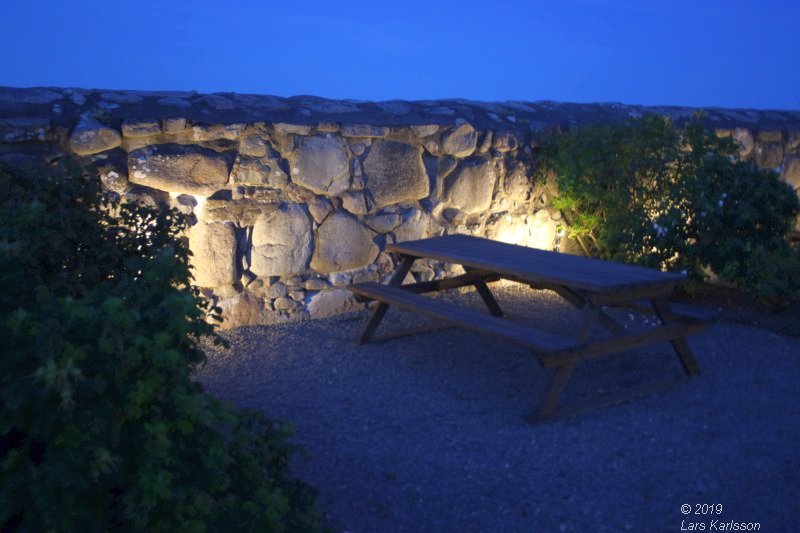 We sat at this table and took a beer to drink before we got to bed. Nice feeling to sit outdoors at the night without the winter clothes on.
---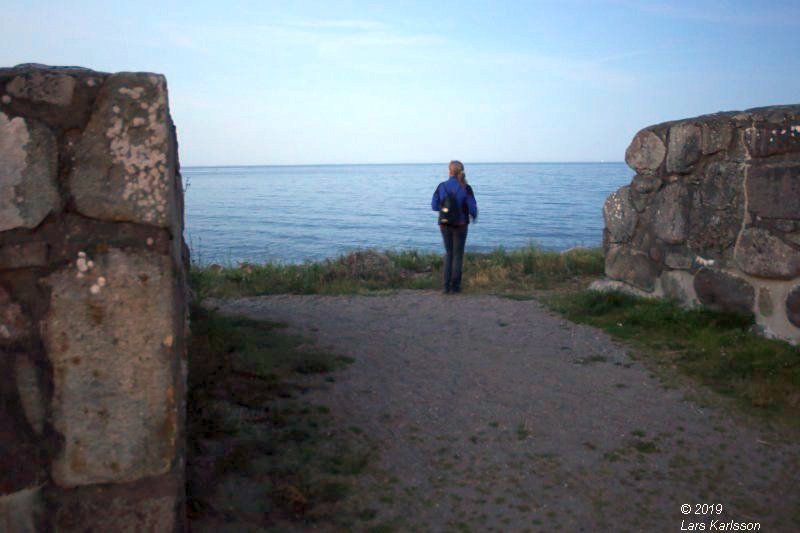 Gunilla getting a last evening view over the ocean, Baltic sea.
More to read about Kristianopel at Wikipedia:
---