My travels in Sweden:
By car through Blekinge, Skåne and Småland, 2019
---
(or maybe the travel should be called the Stone Age Travel)
Content:
I have added links with deeper information, most of them are Wikipedia links. I have chosen the Swedish link, but in some cases you can shift to English. If there is no English version you can use Google translator or similar service. There are more information in the Swedish language.
---
4, Fourth day, from Everöd to Ringsjö:
1st map of today's travels, fourth day, from Everöd to Ängakåsen:
First part of our driving today, the distance is about 80 km.
---
Everöd: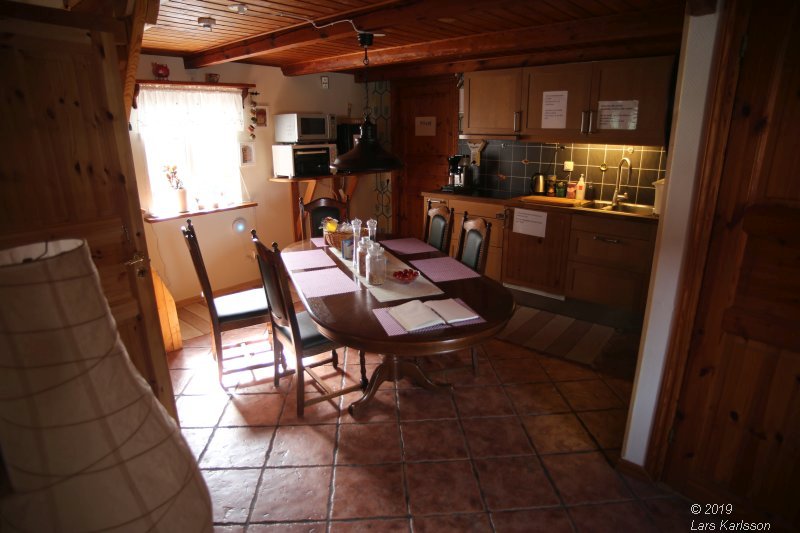 This morning we wake up at nine a clock. Breakfast is included and it's self service, practical, no time to hold.
---
Everödsvägen: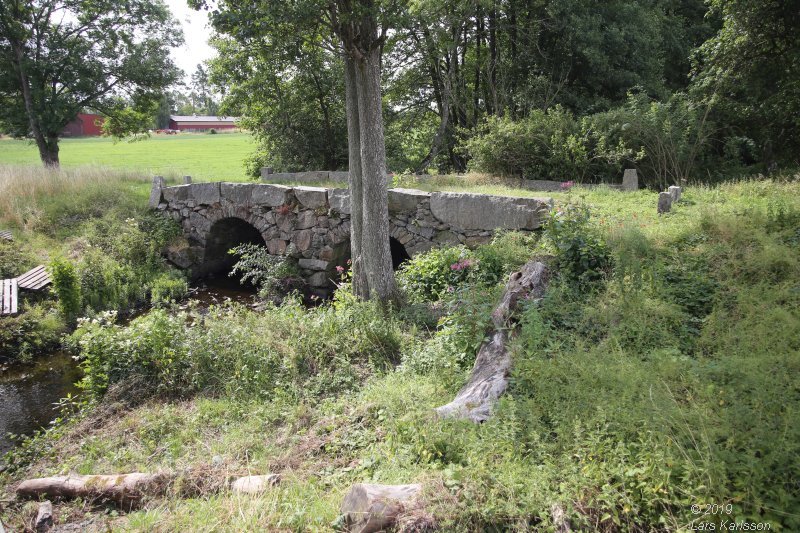 A new arc stone bridge, we have seen many now and because of all the rivers there are many in Southern Sweden. We are still close to Everöd.
---
Kung Borres väg: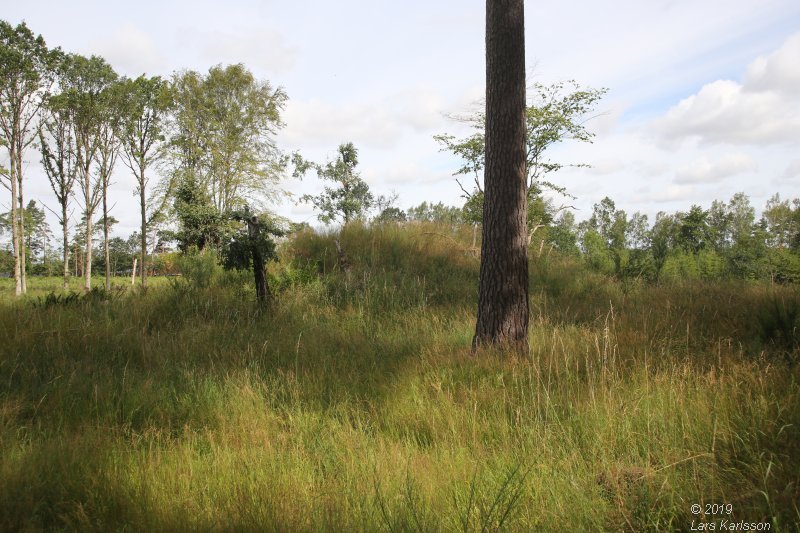 We was looking for the King Borre's grave. We could see it from the big road but we didn't find any local road that could take us closer to it. Instead we found this hill which we think is a grave. There are many of them in this area.
---
Vittskövle: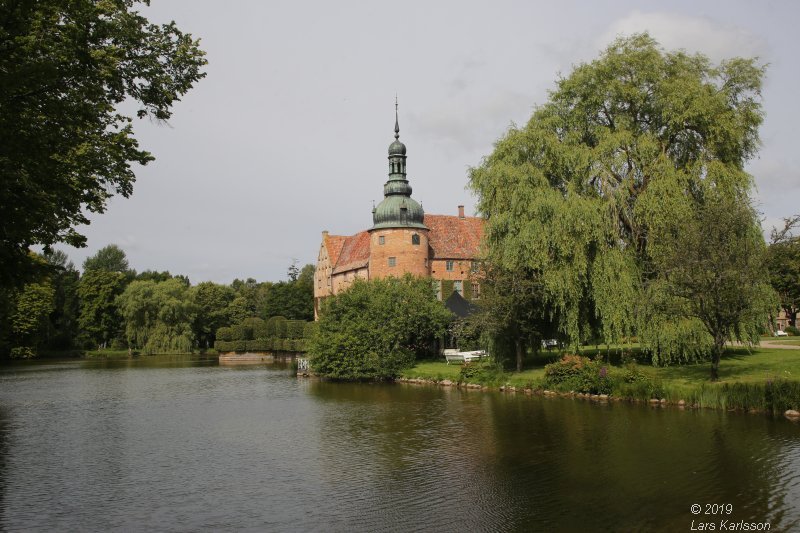 Along the road Vittskövlevägen that we are driving we suddenly see this. It looks like the castle we saw at Trolle Ljungby yesterday, but it's not. This is Vittskövle Castle.
---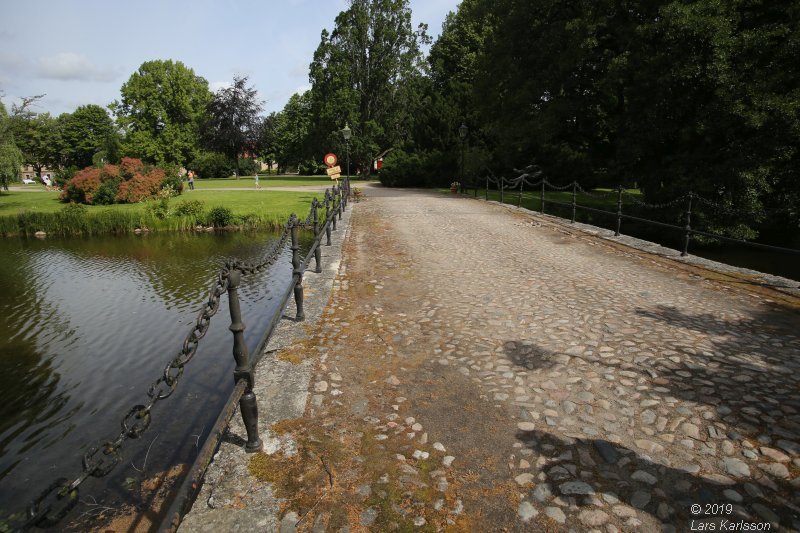 Even this castle has a moat.
---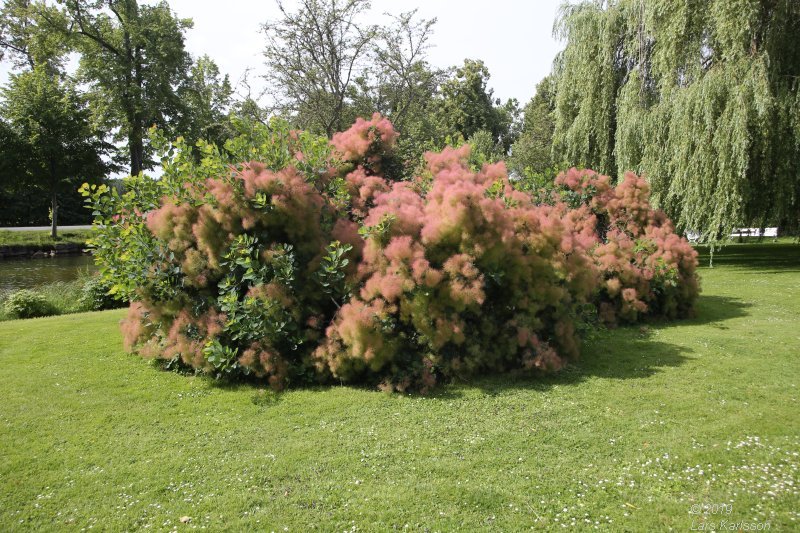 ---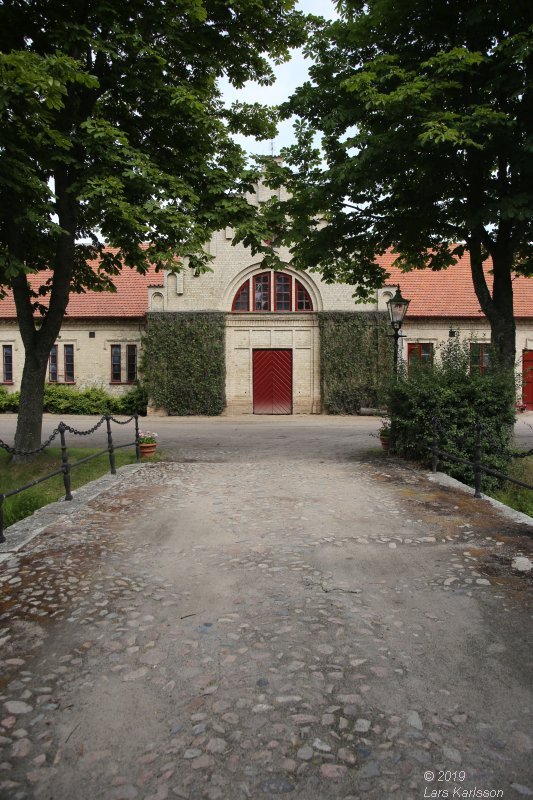 The stables I think, looks better than the worker's building.
---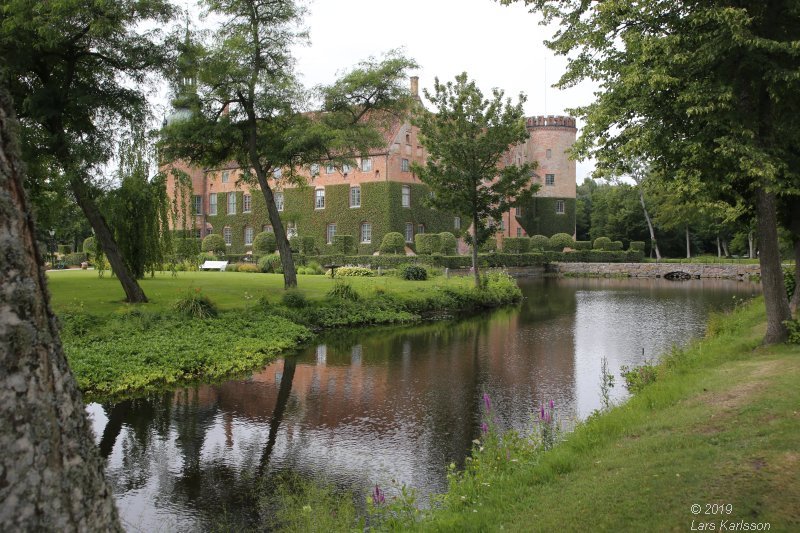 This castle is very well preserved. We are free to walk in the surroundings but there is no exhibition inside the castle.
More to read about Vittskövle castle at Wikipedia:
This was not a plnned stop, what we want to see is the waterfalls at Forsaka, in the car and out on the road agaian.
---
Forsakar: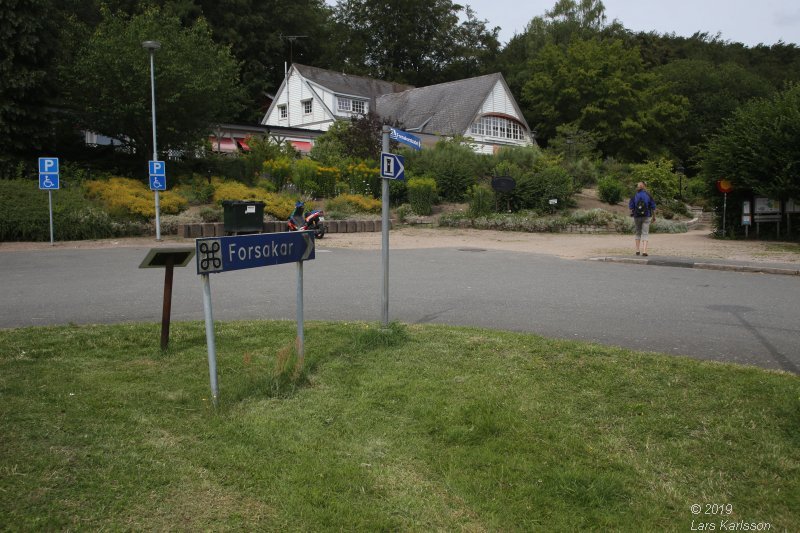 At last we have come to the waterfall Forsakar. We didn't take the shortest roads, not to expect anything else.
---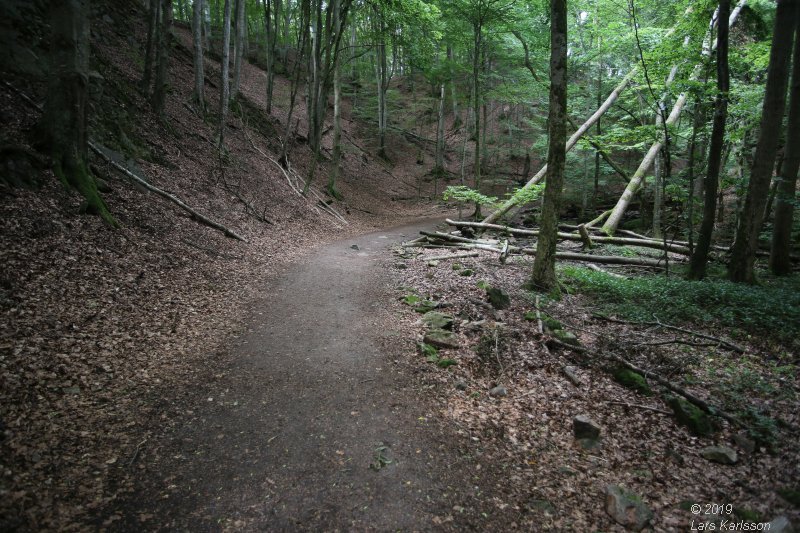 Already at the parking lot we could read that our Swedish botanist Carl von Linné did a travel to this place 1749.
More to read about Carl von Linné at Wikipedia:
---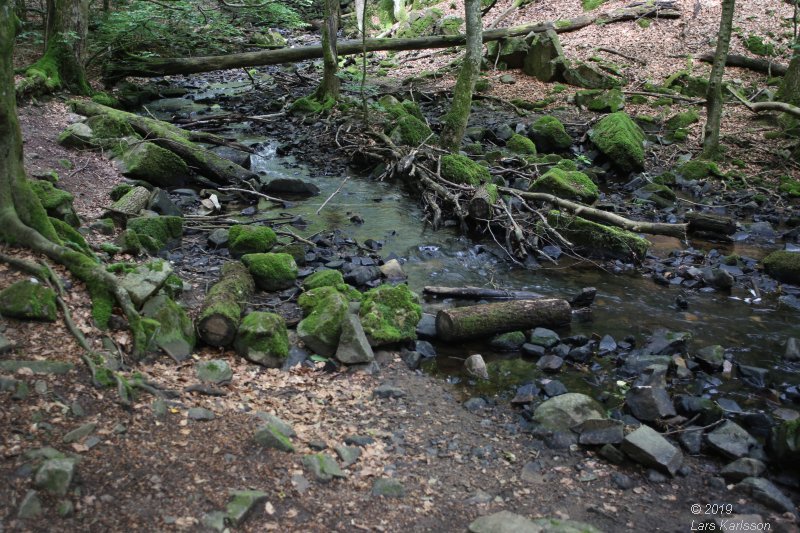 We walk along the ravine, it's about 40 meters deep with very steep side walls.
---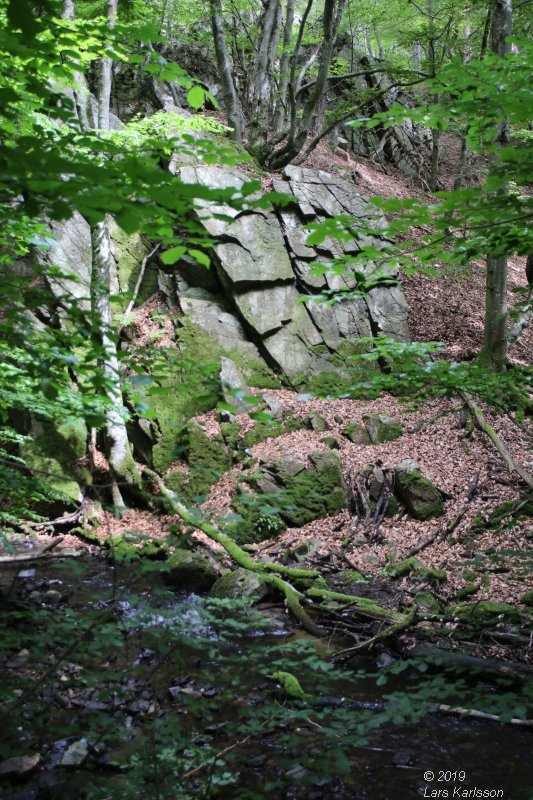 There is a very strange feeling when walking here, it's like having wide angle glasses on, you see so much everywhere!
---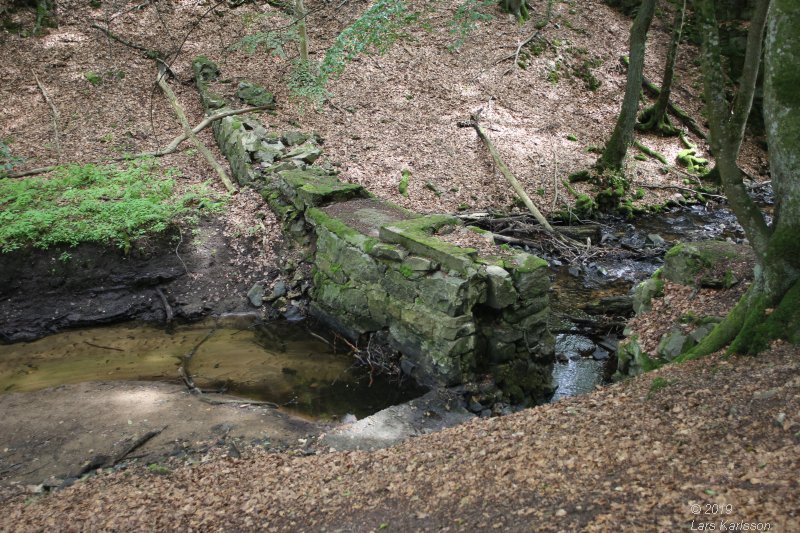 Once a dam, maybe some farmer used it as a mill. We can also read that it has been a hydro power plant nearby.
---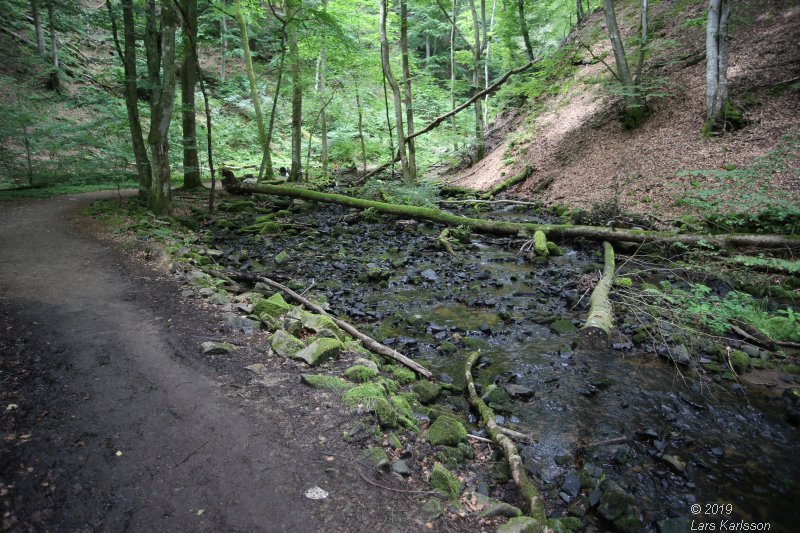 The trees are very green and the river very dark.
---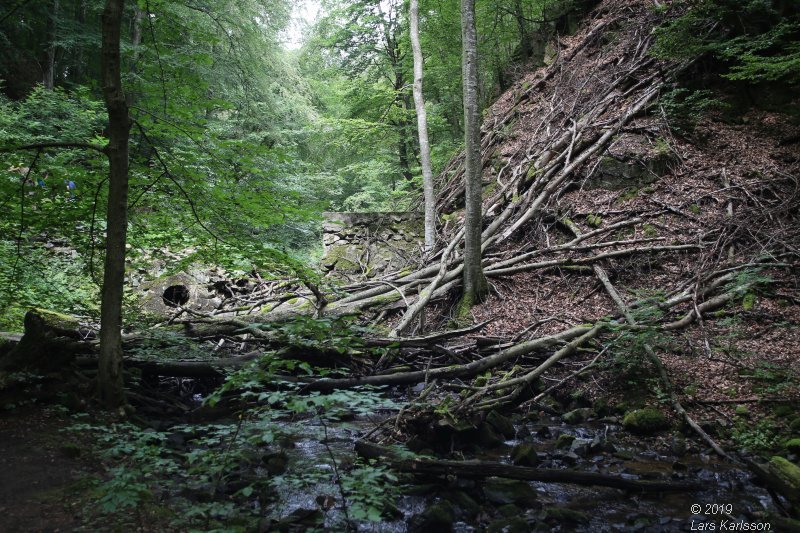 Another dam with a hole for a water tube.
---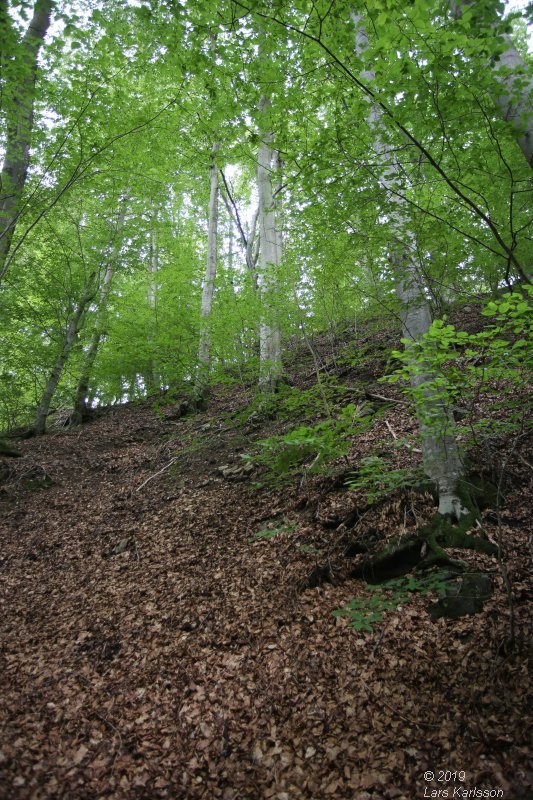 ---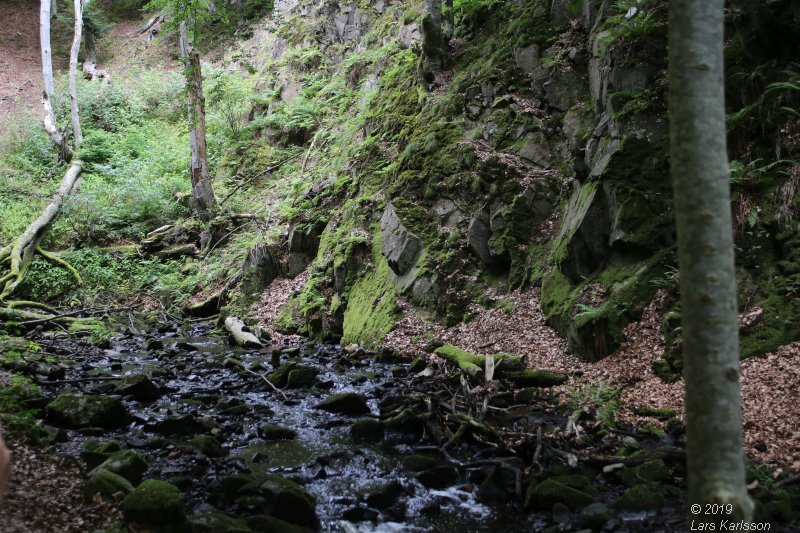 We are now closing in to the waterfalls, it's more than 700 meters walk along the ravine to these falls.
---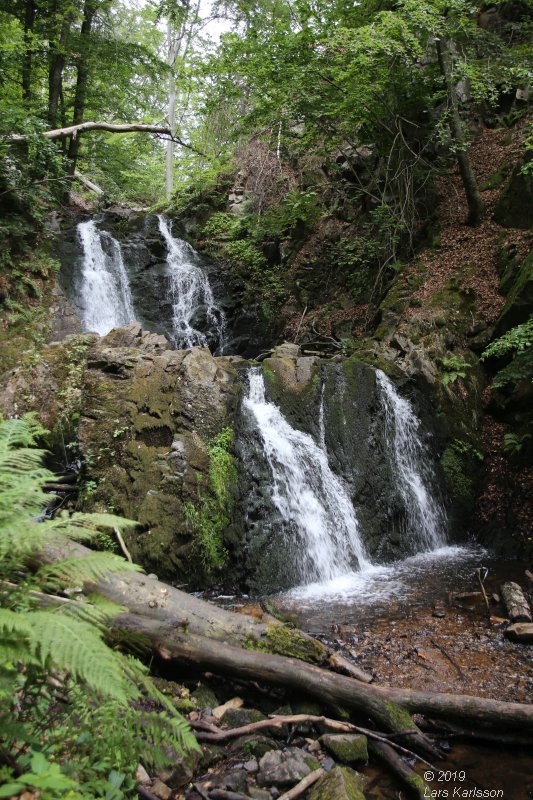 My teacher at the 1960s always told us that Skåne is flat, maybe she never visit this place. The free falls we see here are about 15 meters high together.
---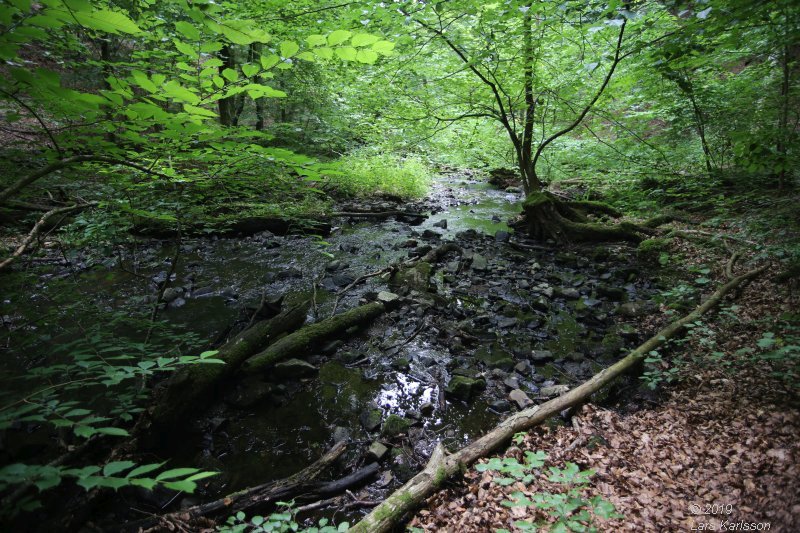 After taking some photographs we walk back to the car. It wasn't many people here, even if it's a very famous place and it's tourist season now.
---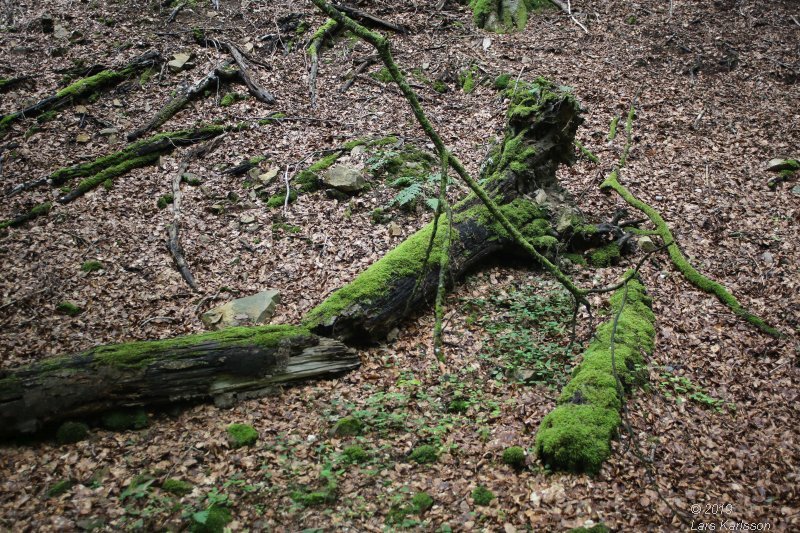 ---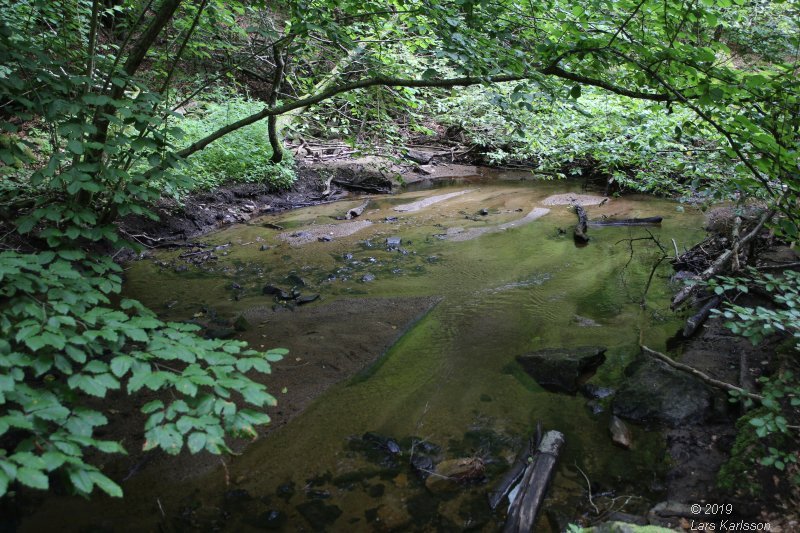 It's a hot day but in the ravine it was a perfect temperature for us.
More to read about Forsakar at Wikipedia:
---
Brösarps Backar: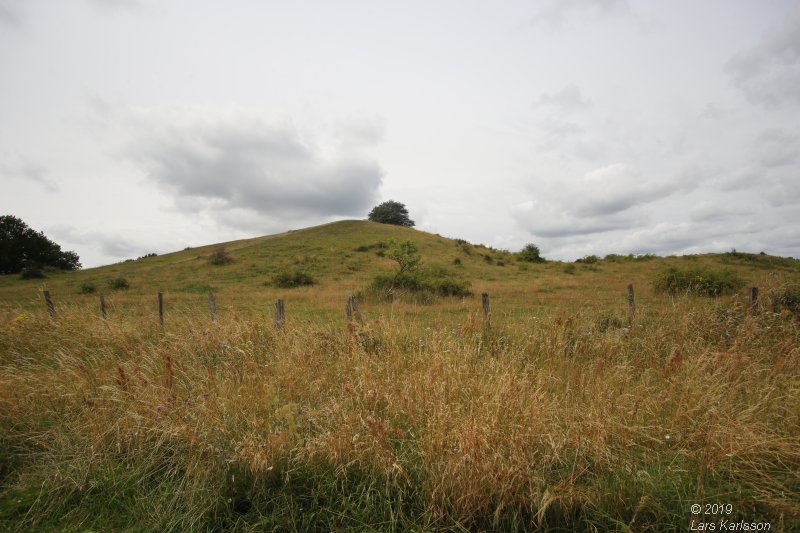 Our friend Gunnar told us that we must see Brösarps Backar, and we did. Actually we come back the day after to find a better place to take photos from.
More to read about Brösarp at Wikipedia:
---
Haväng:
After Brösarps Backar we drive in the Southeastern direction towards the sea. There are a lot of protected military areas here and not so easy to find which way to drive.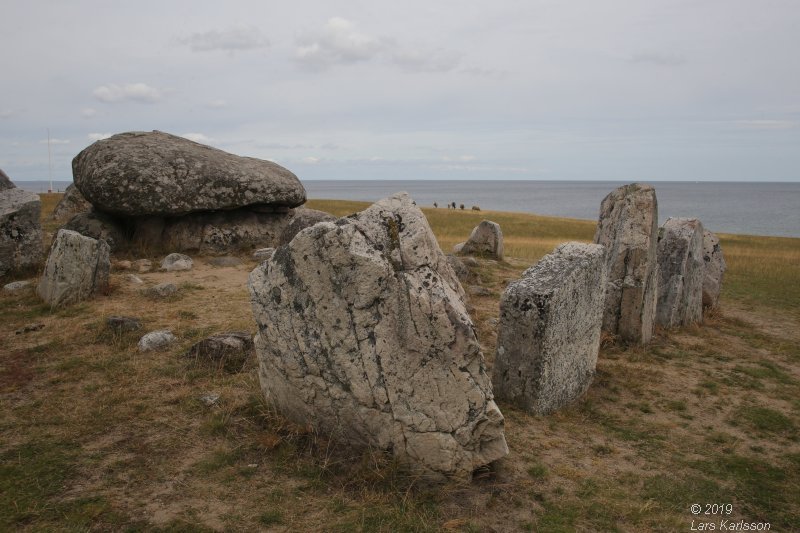 Haväng is a nature reserve, there are also ancient graves at this place.
---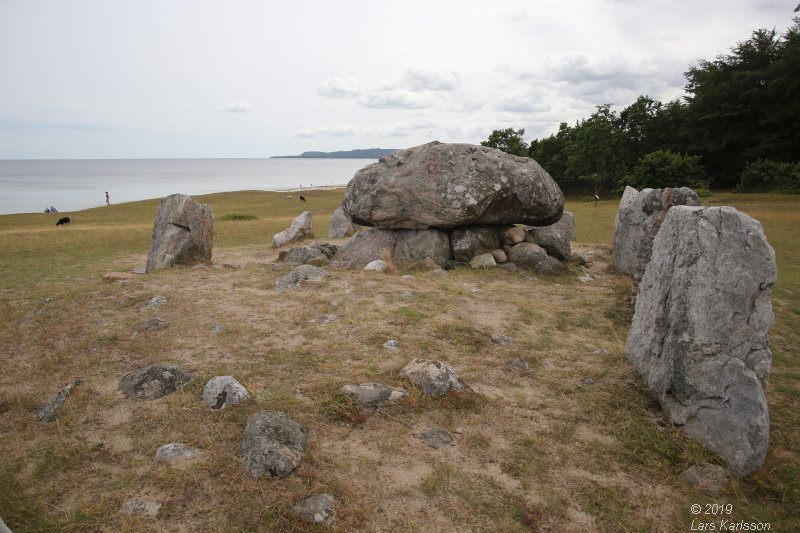 This grave is thought to be 5000 years old, older than the pyramids. In Sweden we call a grave like this for a Dös.
More to read about Dös at Wikipedia:
---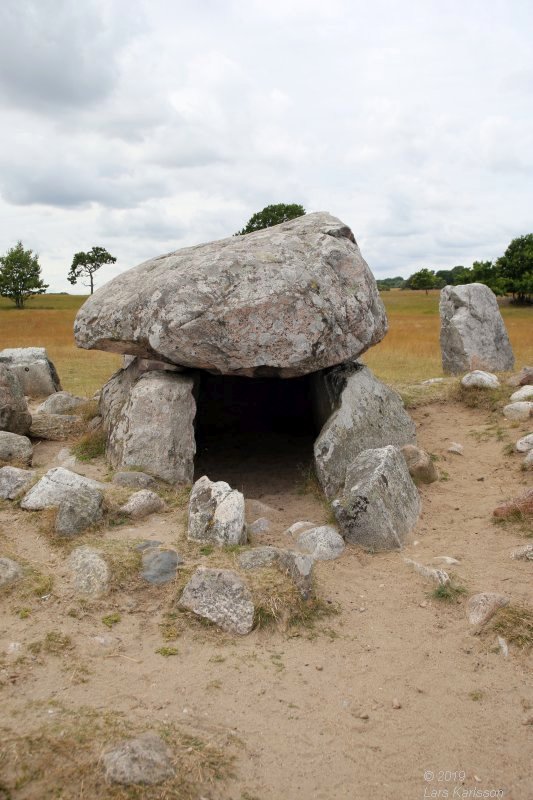 The port of the grave, pointing to the sea.
---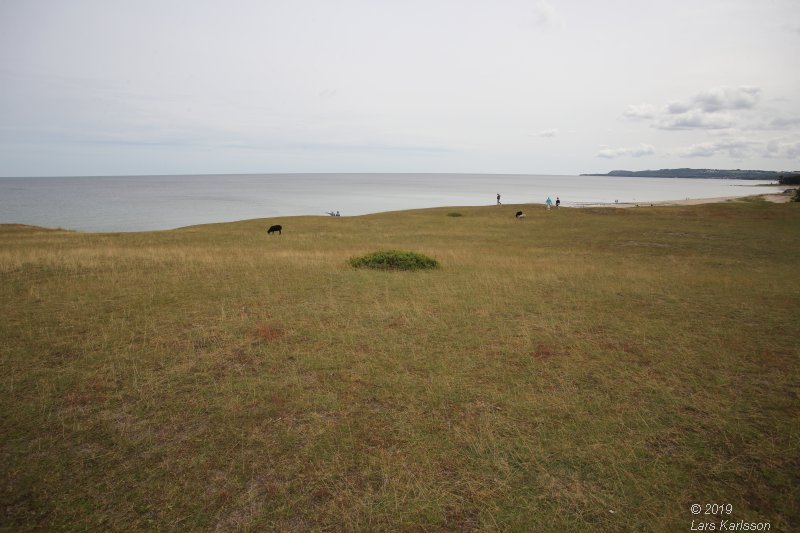 More to read about Haväng at Wikipedia:
---
Kivik:
We continue driving, follow the coast in Southern direction and arrived at the village Kivik.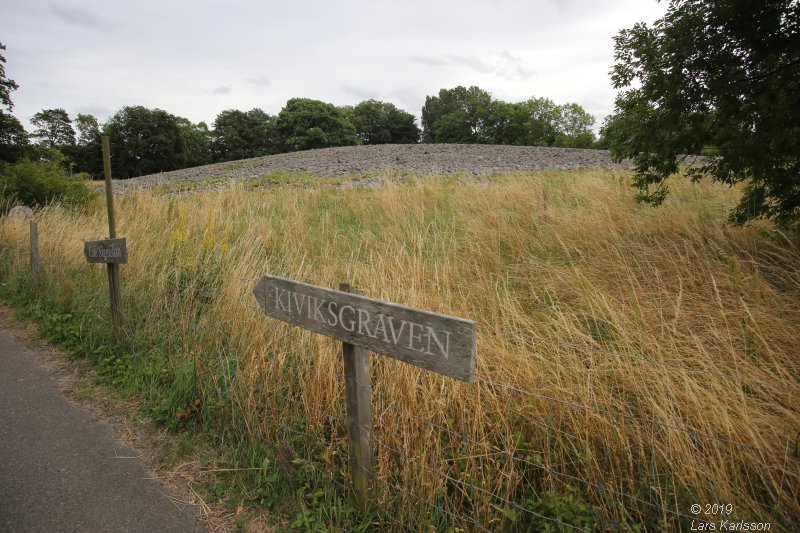 Kivik's grave or King's tomb in Kivik, this is what we most wanted to see at our travel down to Southern Sweden.
---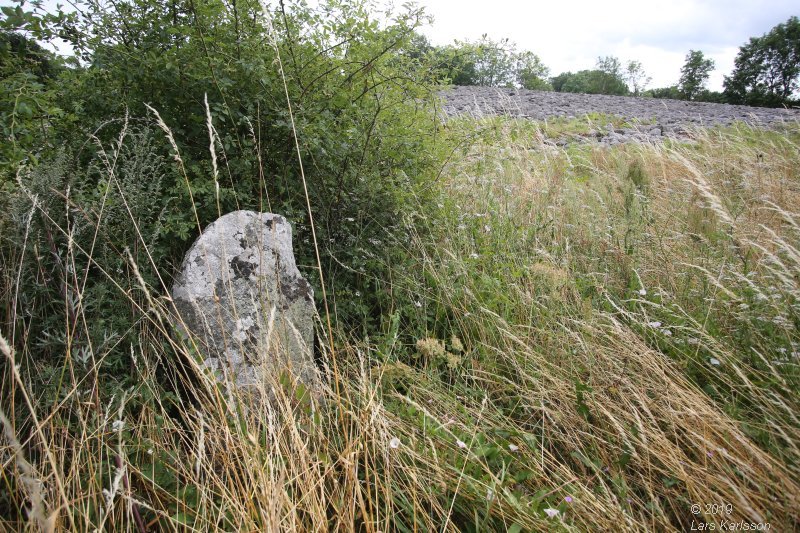 Sorry to say they have destroyed this grave in earlier times. Now it's restored to what they think how it looked ones. The small stone in front of us is maybe one part of the grave complex.
---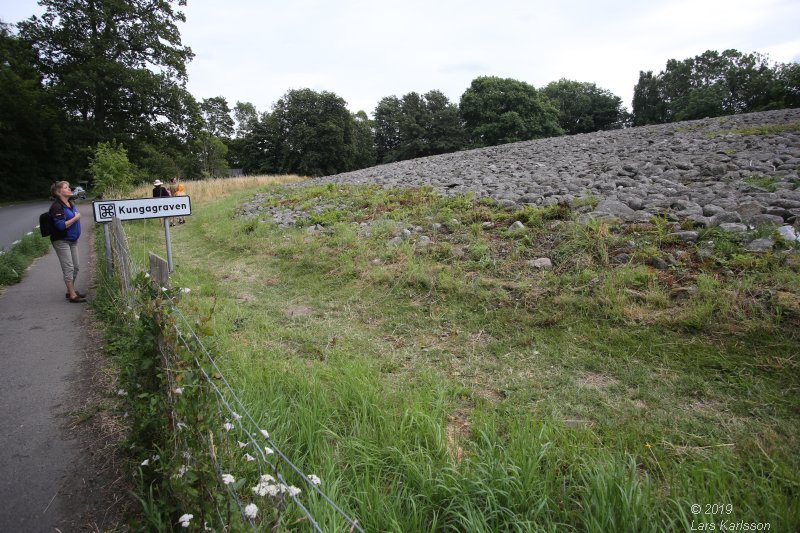 This is the biggest ancient grave we have in Sweden with its diameter of 60 meters. The Great Pyramid of Giza is 230 meters wide.
More to read about Cheopspyramiden at Wikipedia:
Who cares if it's square or circular, it's exiting anyway!
---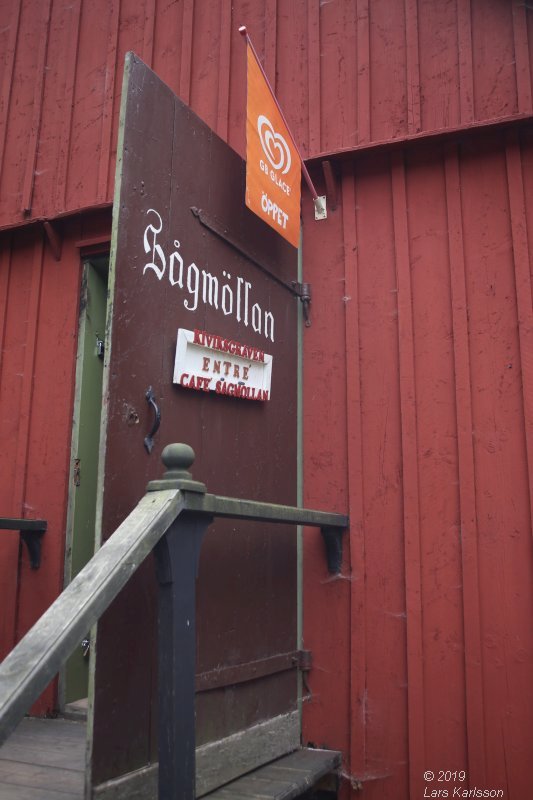 Entrance to the grave is through the red house, it's a coffee shop too.
---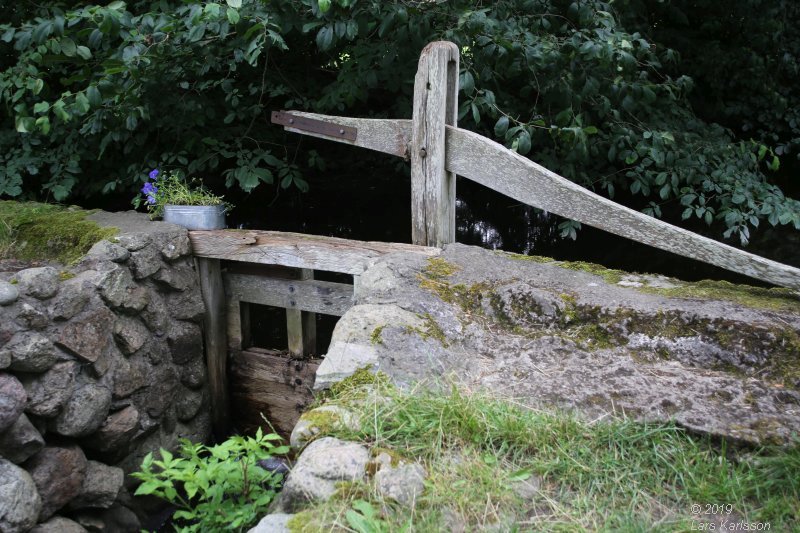 ---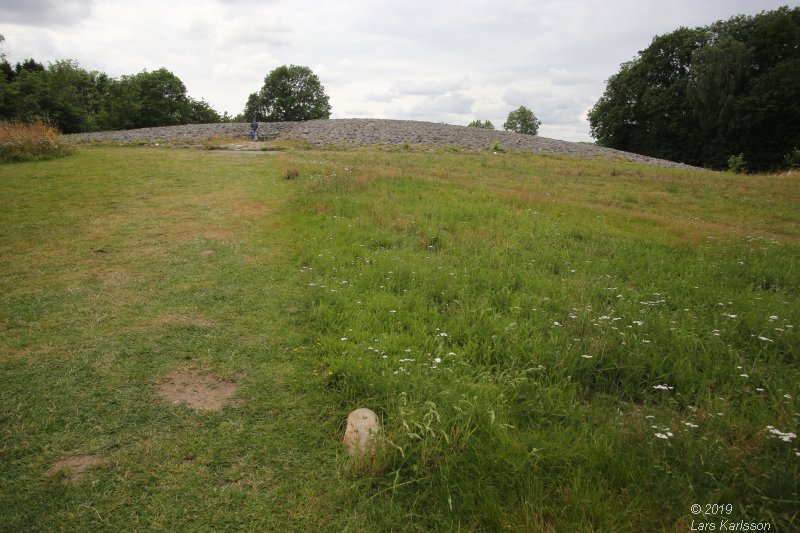 When they restored the grave they also added an entrance to the inner chamber.
---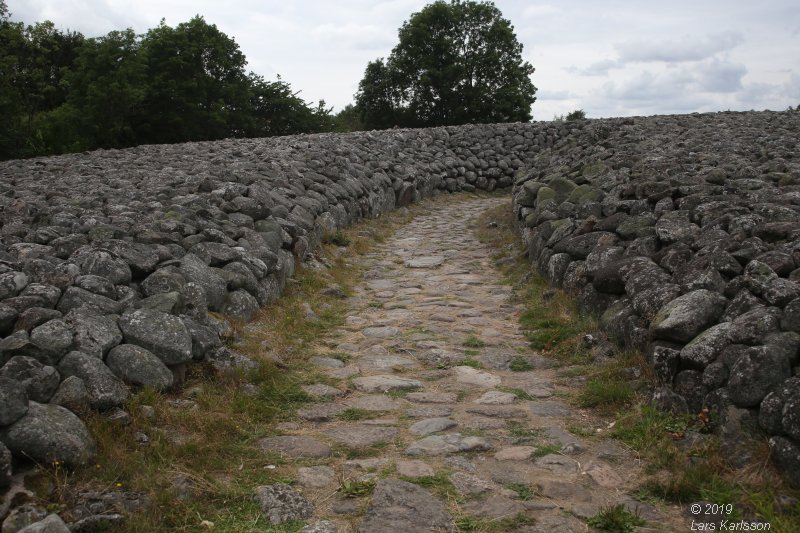 ---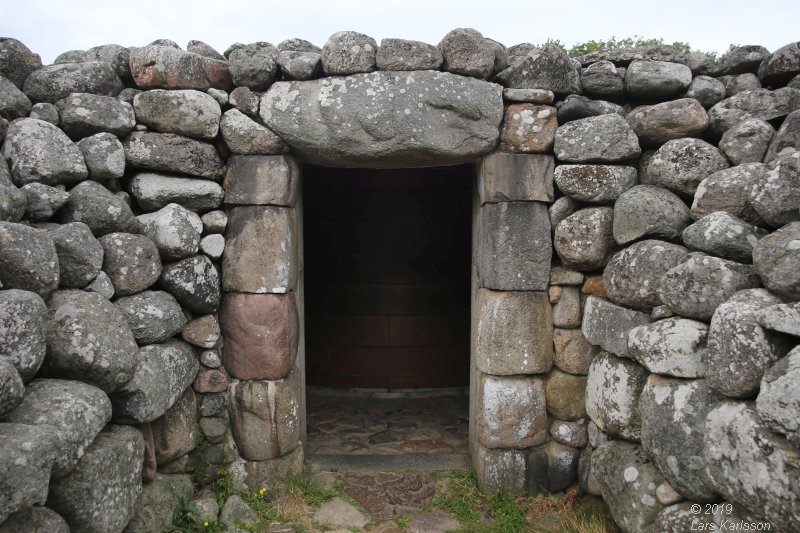 It looks exiting, now we enter the darkness.
---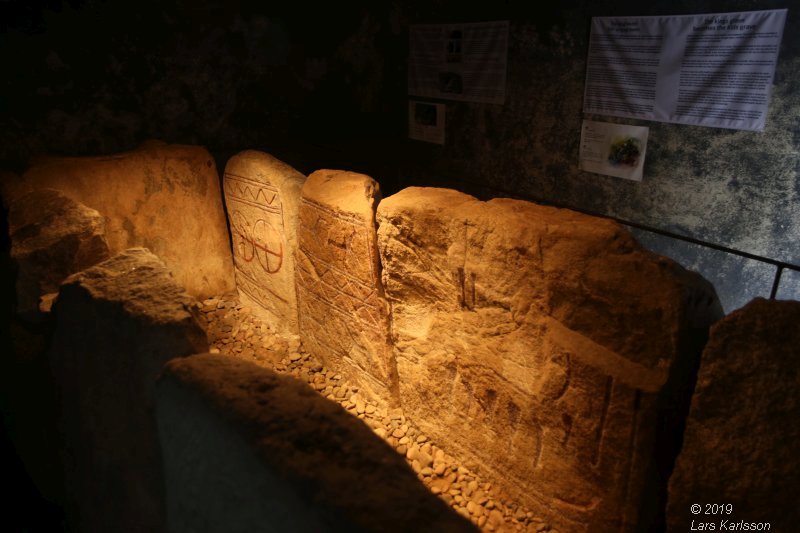 They have found many skeletons in this grave. Most fantastic is the carvings at the stones. There are a lot of theories what they means and where the people came from. I guess from the Mediterranean Sea.
---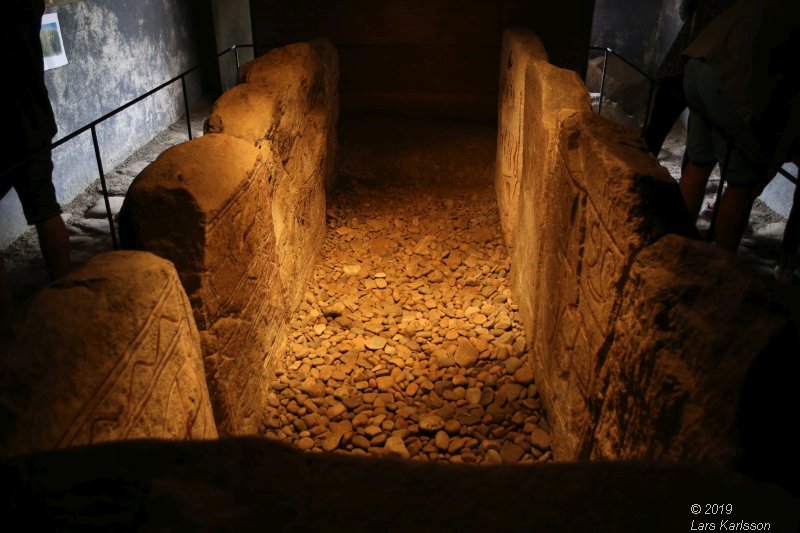 Recently they have done DNA test of the skeletons and got some surprise about the age, much younger than they thought.
---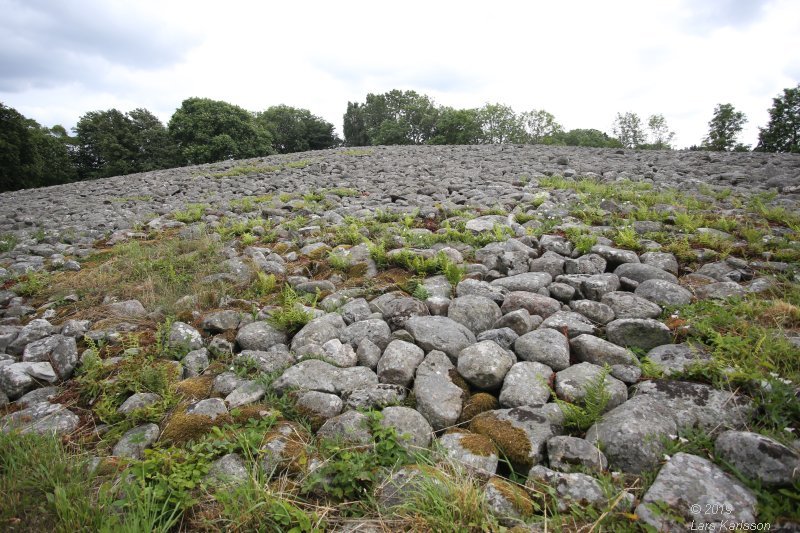 It was very dark inside the tomb, out in the sunshine again.
More to read about Kungagraven i Kivik at Wikipedia:
---
Ängakåsen: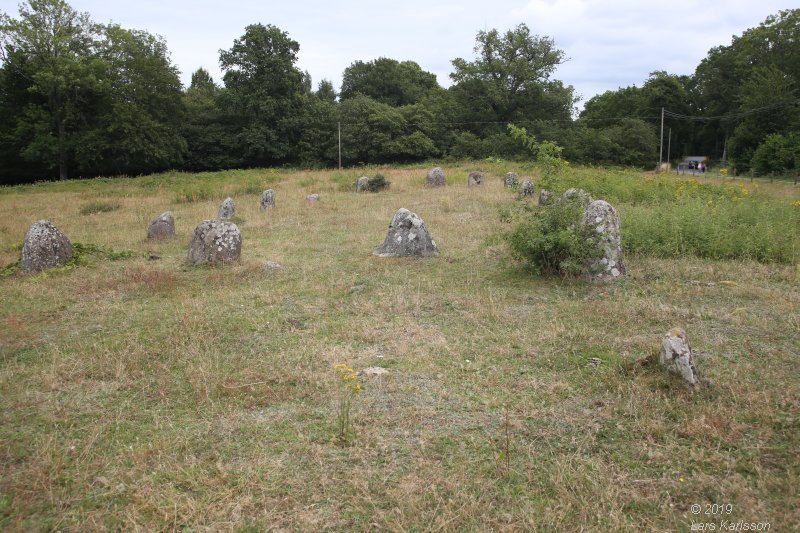 Just a couple of hundred meters South of the King's grave there is another ancient place. These rows of stones we call a stone ship.
---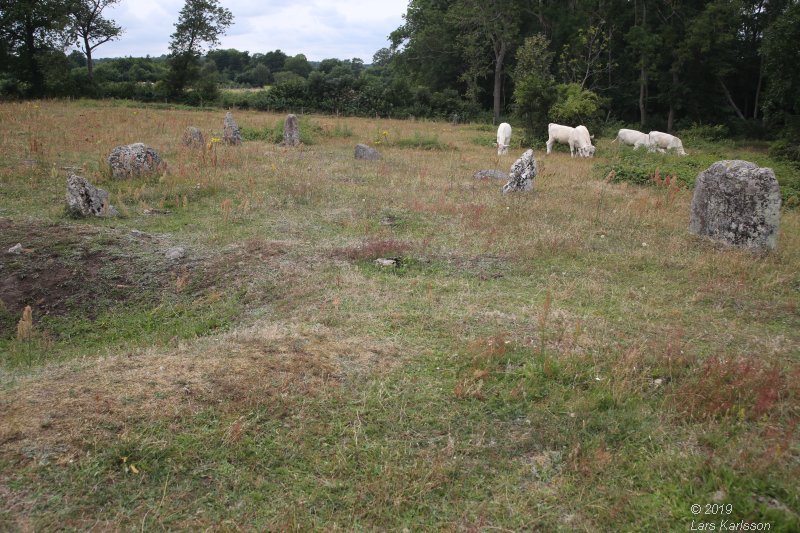 This stone ship have 30 erected stones and is 60 meter long. I'm standing in the middle of the stone ship.
---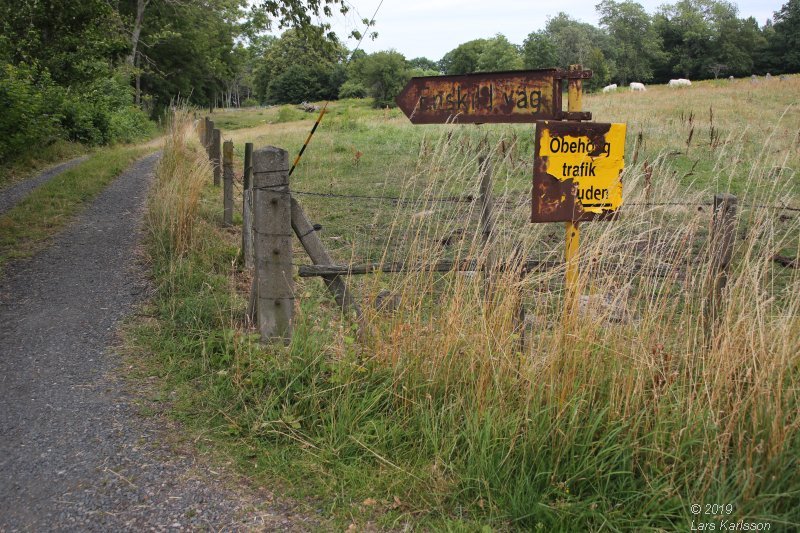 This private road leads down to the coast.
---
2nd map of today's travels, fourth day, from Ängakåsen to Ringsjö:
Second part of todays driving, distance is about 170 km.
---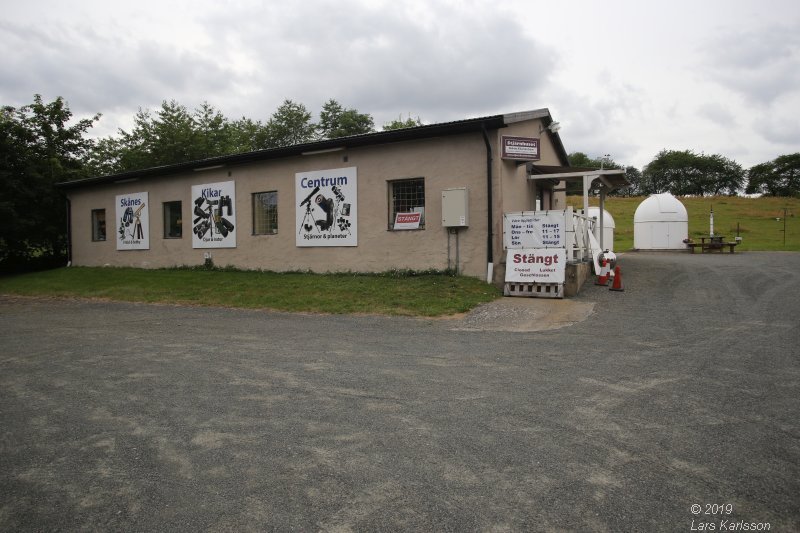 As you maybe noticed on other pages I'm interested in astronomy. I know that one seller of astronomy equipment is placed in Kivik. Here we has stopped at Stjärnhuset (Star house) in Kivik, but it was closed :-(
---
Simrishamn: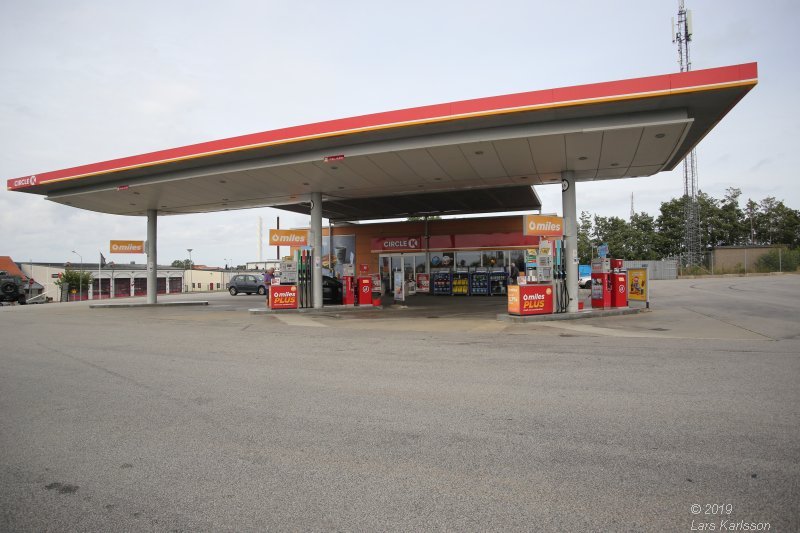 Filled up the car with petrol and toasts with soda for us. My car doesn't take very much petrol, 0.85 Liter per 10 km, I'm used with twice that.
---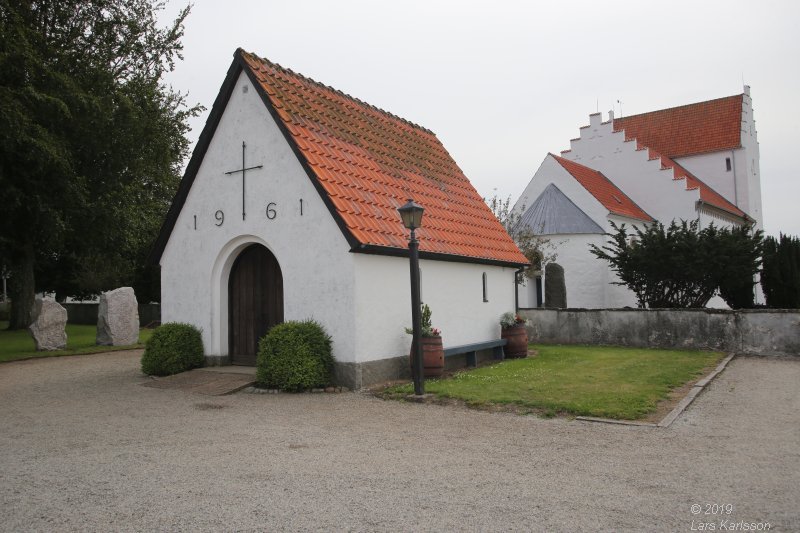 Simris kyrka, this stop because of two great runestones, you see them to the left of the building.
---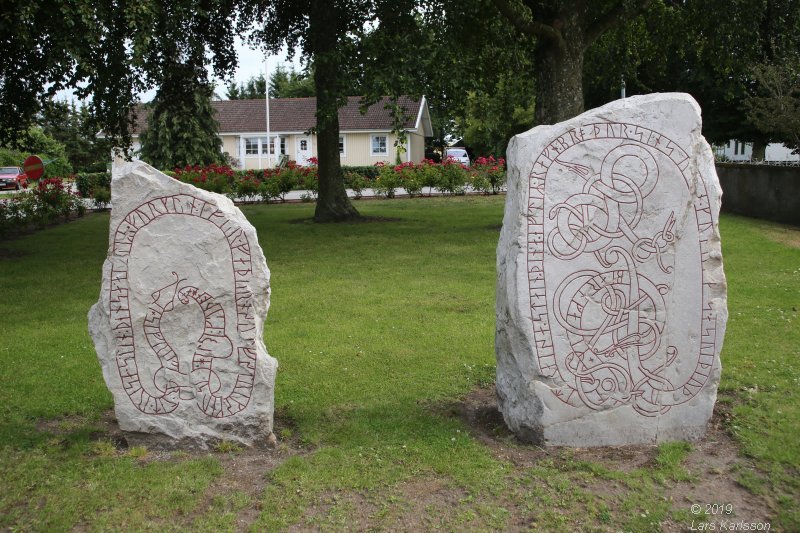 These two beautiful runestones has earlier been built into the church's walls. It was common in earlier times that the churches used ancient stones as building elements, the stones was flat and practical. Today they usually find them when doing restoration of churches, then they take them out of the wall and set them up outside the building as has been done with these two runestones.
These stones doesn't have any religious cross carved on them. The runestones who had that are normally from the later Viking period. Roughly older runestones are from 750 to 900 a.d. Younger runestones are from 900 to 1200 a.d.
The inscriptions of the left stone says: "Sigrev lät resa denna sten efter Forkunn ... Åsulfs fader, Knuts dräng. Gud hjälpe hans ande" or in English : "Sigrev erected this stone after Forkum ... Åsulf's father, Knut's laborer. God helped his spirit".
More to read about Simris church at Wikipedia:
---
Glimmingehus: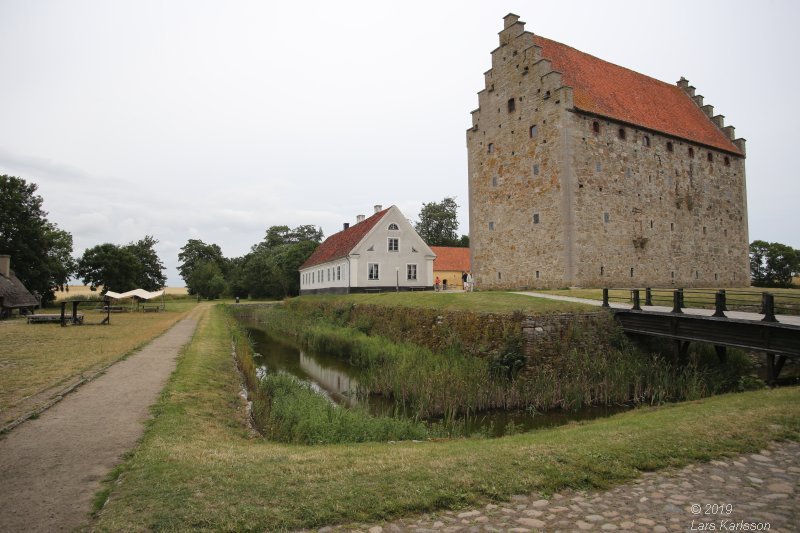 This fort is built 1499 and very well preserved, a moat and a bridge help them defense the house and fort.
---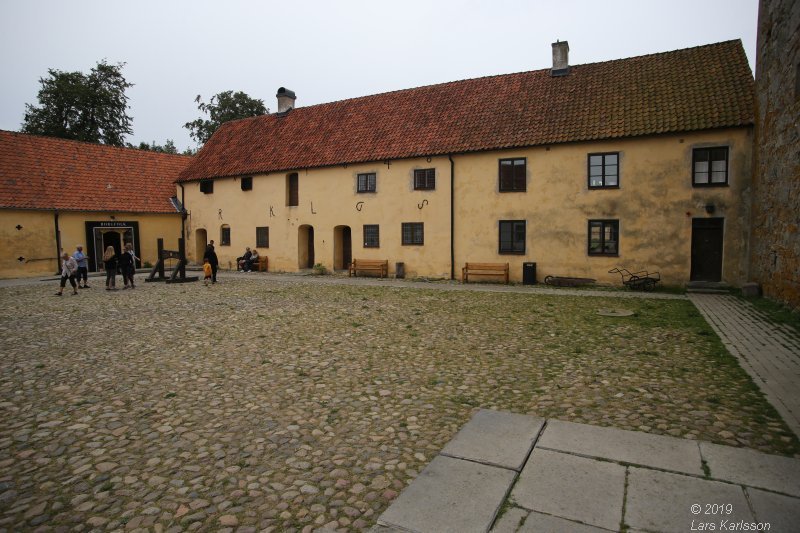 At the time this house was built this part of the country belonged to Denmark.
---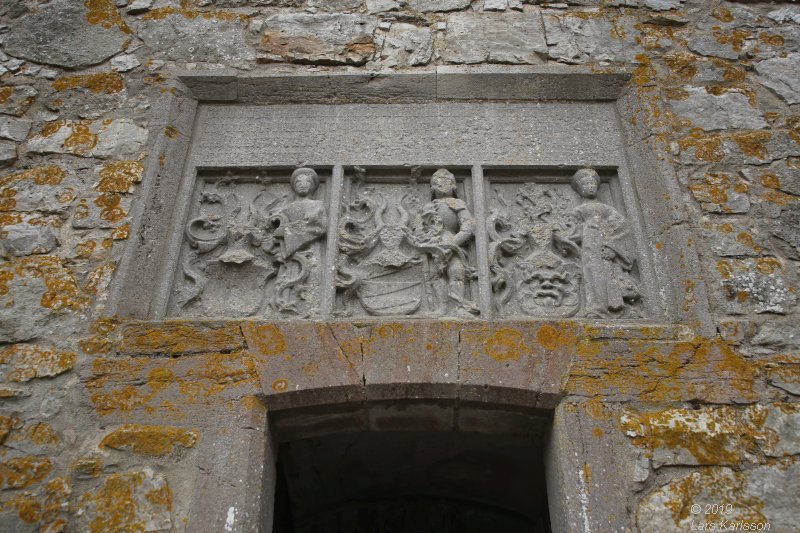 We enter the building.
---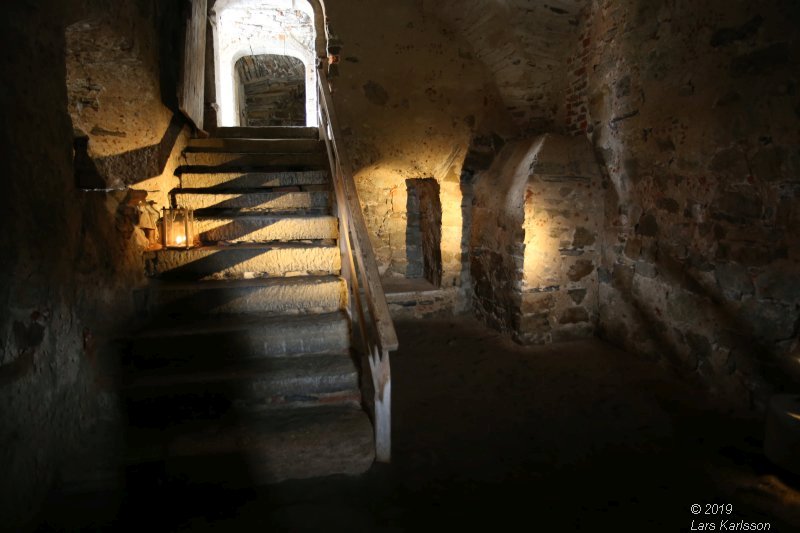 This is the staircase down to the basement where the kitchen is placed.
---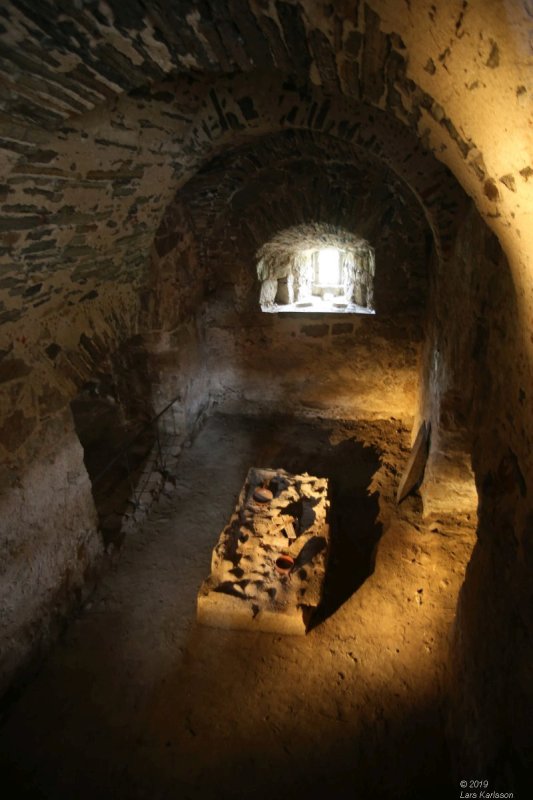 ---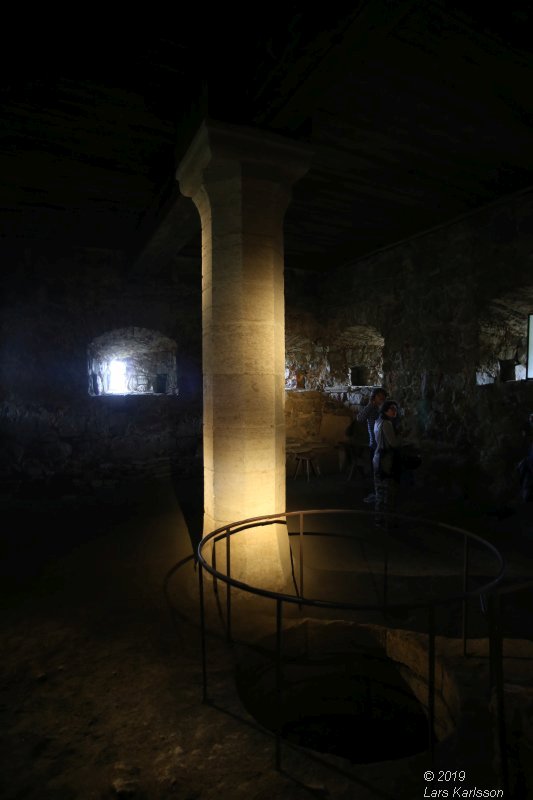 A column support the buildings upper floors, in front of it it's a well.
---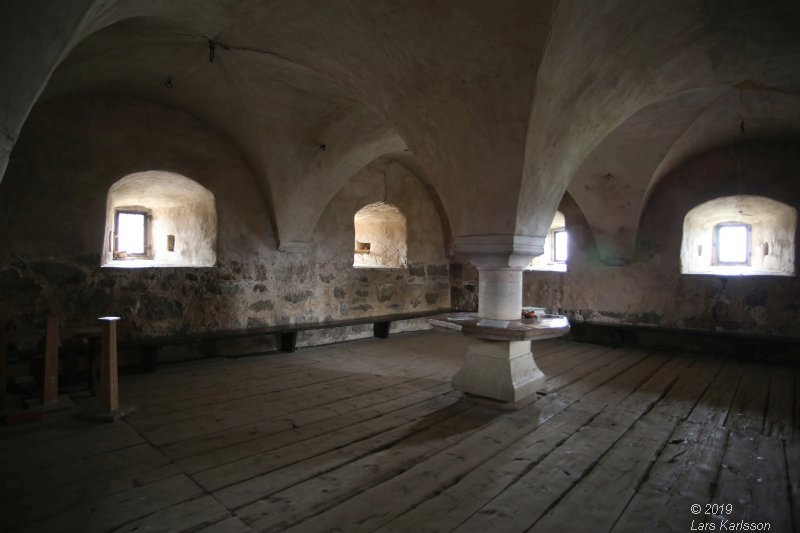 ---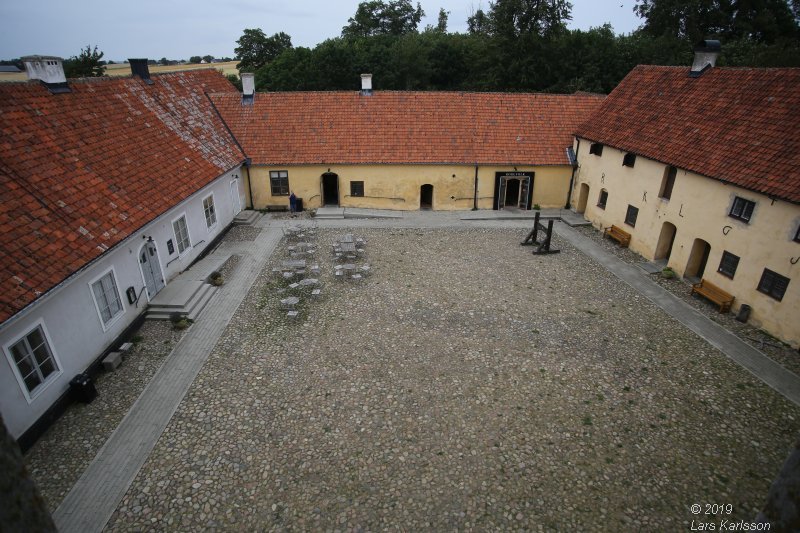 The fort is 30 meters high, great view over the yard.
---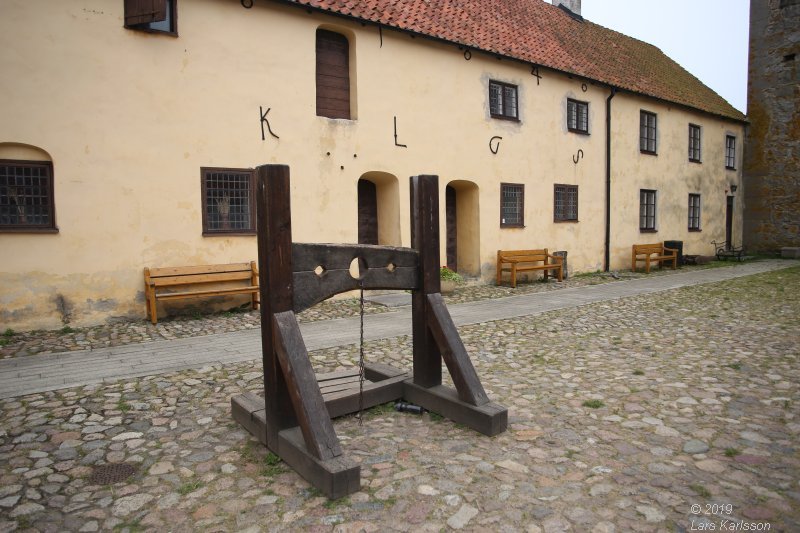 This device they used when punishing the criminals. The neck through the big hole and the arms through the two small holes.
More to read about Glimmingehus at Wikipedia:
---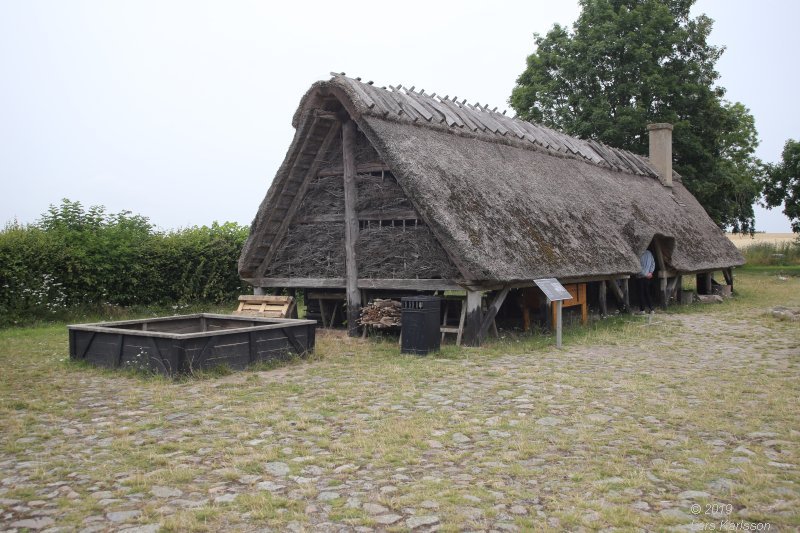 Outside near the moat we found the blacksmith's workshop.
---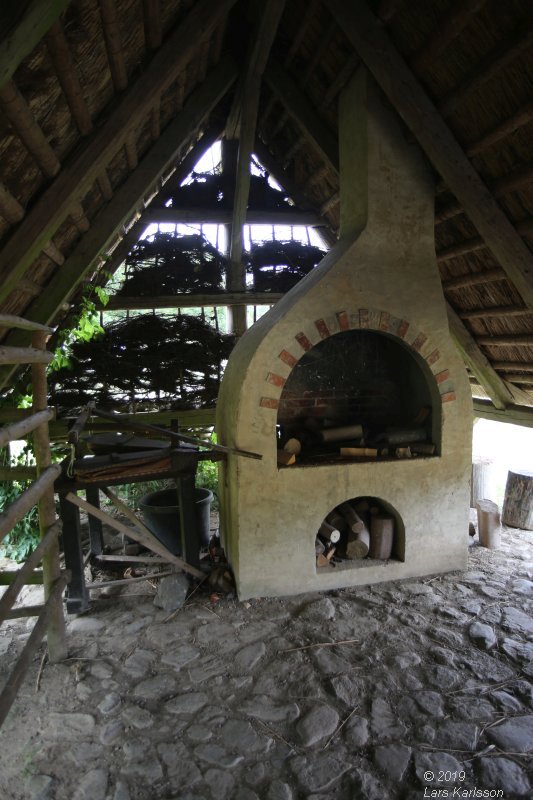 The oven where they heat the iron.
---
Bolshög: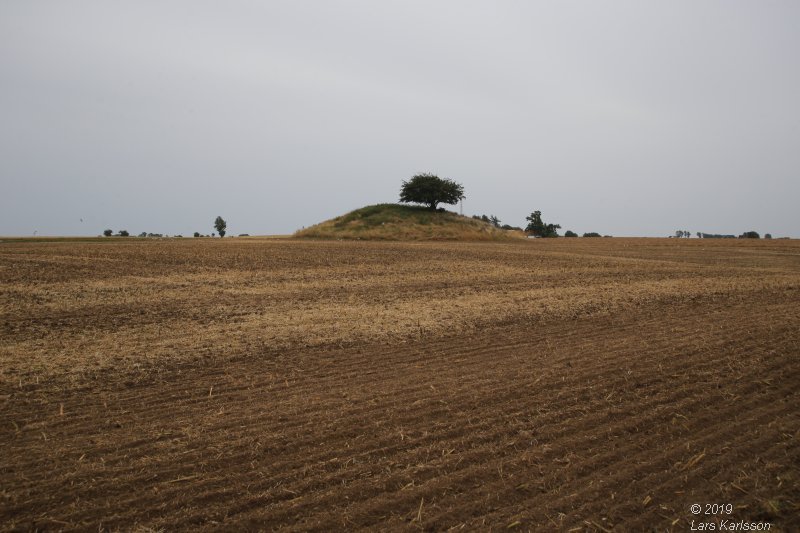 When we leave Glimminge house we see a hill in the background, this is Bolhög's hill, a grave.
---
Lunnabjär:
After this we set course to the coast, we want to visit the place Ales stones.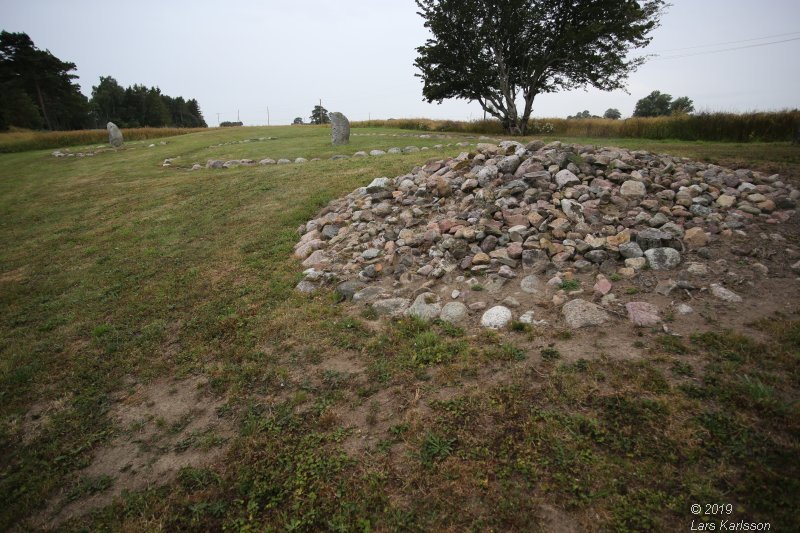 Before we came to the coast we found more ancient stones, it hopeless to travel here, there are so lot of things to see that we have to stop all the time.
---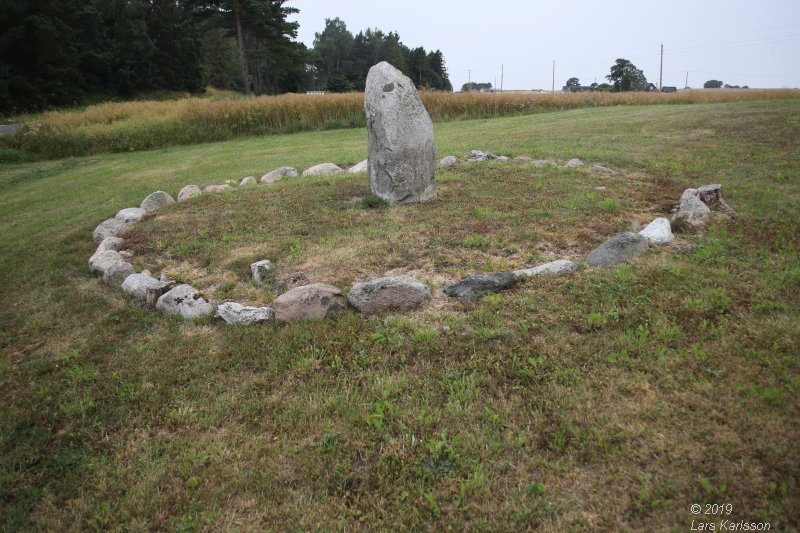 The ages of these graves are about 3500 years. They were found in 1934.
After have seen these stones we continue to Kåseberga where Ales stones are placed. When we reached that place we got rain, we decided to come back tomorrow and hope for better weather then. It's time for us to find a place to stay in, we booked stay in Ringsjö.
---
Bjäresjö: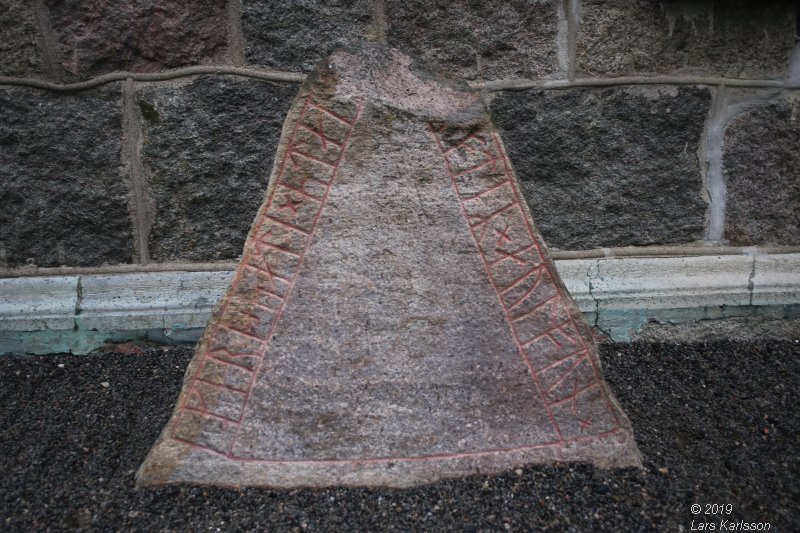 On the our way to Ringsjö there are three runestones Gunilla want to see. This is the first, placed outside the Bjäresjö church. Runestones doesn't normally have the shape of a triangle, but this runestone has.
---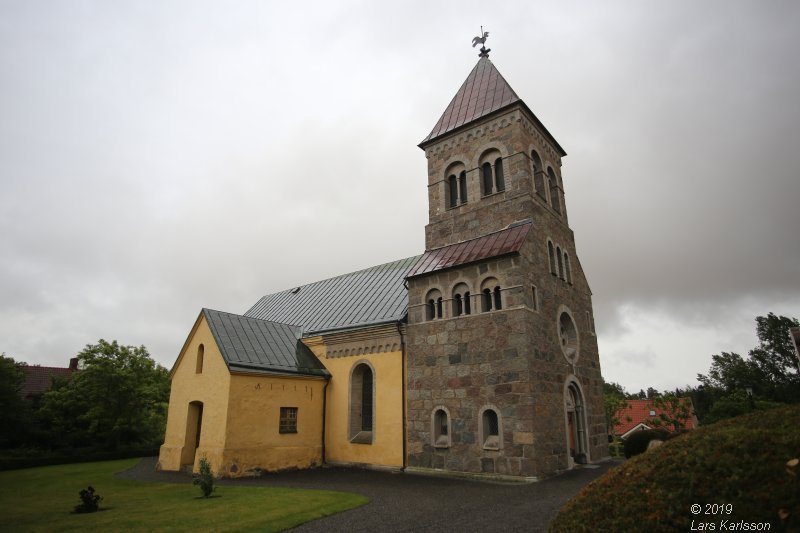 What are really good with old churches are that they are old, lot of hundreds years old. When looking on old maps you can have them as reference points.
More to read about Bjäresjö at Wikipedia:
---
Skårby: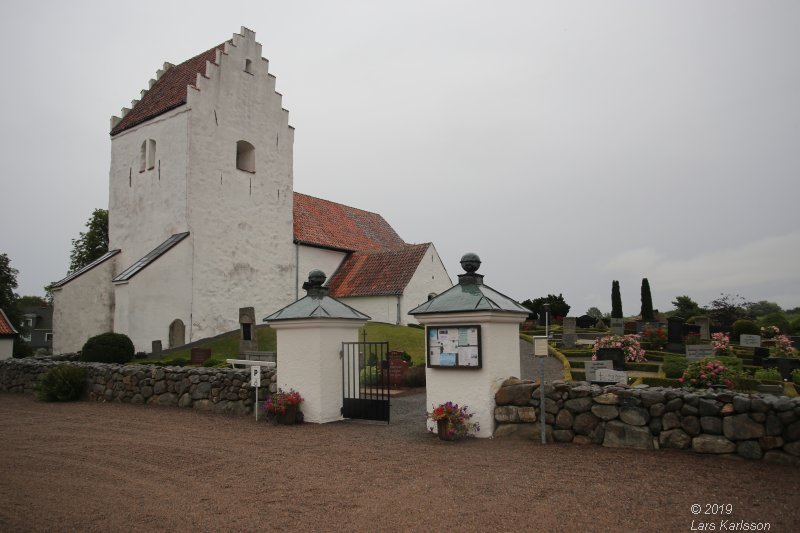 The second stone we found at Skårby church.
---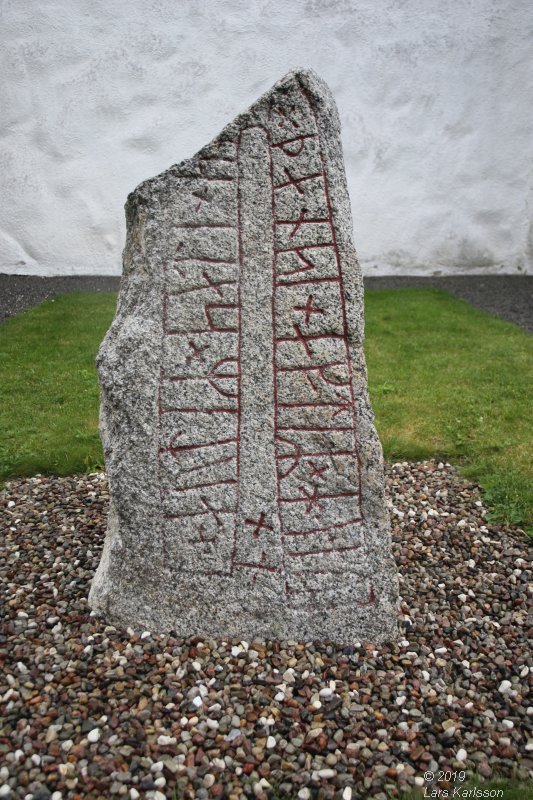 We expected to find two runestones at this place, but it looks like one of them has been moved. Now we feel we got enough with runestones and drive the car direct to our stay in Ringsjö.
More to read about Skårby at Wikipedia:
---
Ringsjö: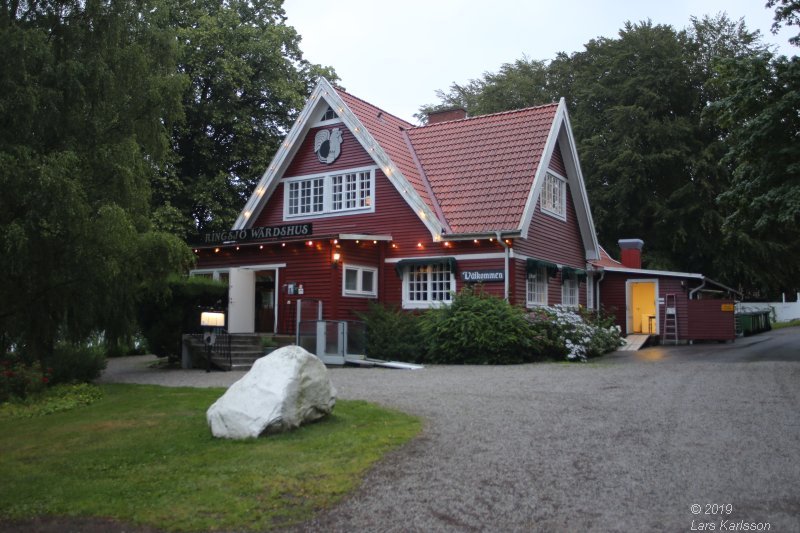 We arrived at Ringsjö Inn and B&B at nine pm. The restaurant was still open and we got the key to the room.
---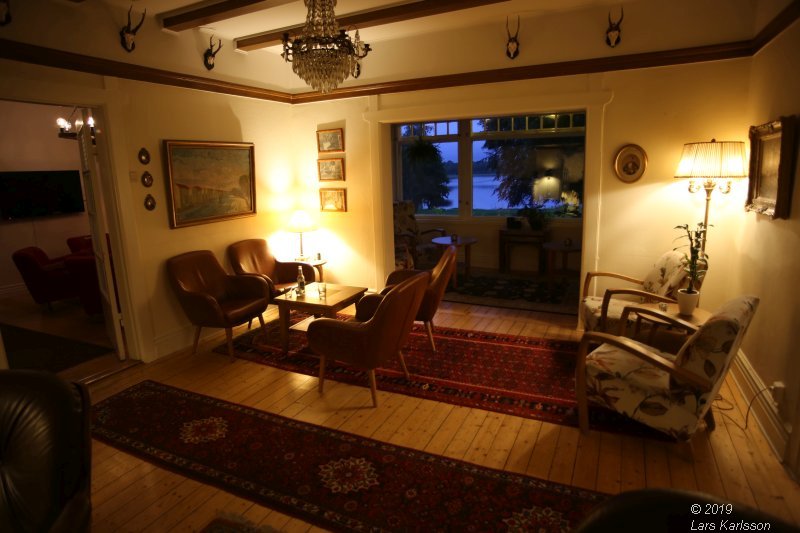 The hotel is placed very beautifully with the lake Östra Ringsjön just outside.
---