My travels in Sweden:
By car through Blekinge, Skåne and Småland, 2019
---
(or maybe the travel should be called the Stone Age Travel)
Content:
I have added links with deeper information, most of them are Wikipedia links. I have chosen the Swedish link, but in some cases you can shift to English. If there is no English version you can use Google translator or similar service. There are more information in the Swedish language.
---
2, Second day, from Kristianopel to Ronneby:
Map of travel second day, from Kristianopel to Ronneby:
Todays travel distance about 160 km.
---
Kristianopel: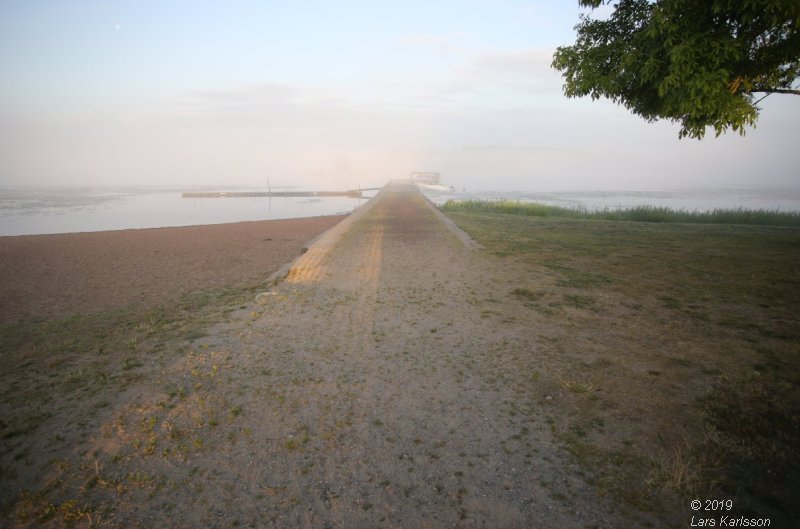 Waking up in the morning, a short walk around the house and we see this beautiful foggy view over the beach.
---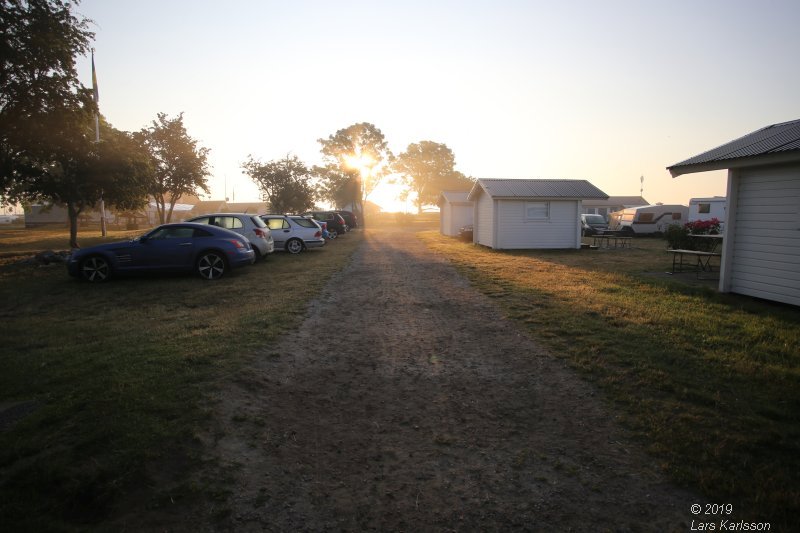 ---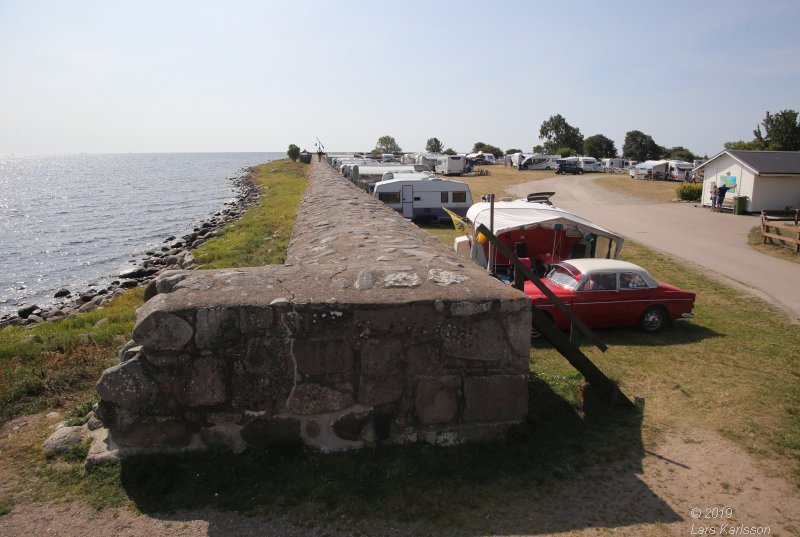 We took a walk on the wall to get a better view. Notice the classic car, a Volvo Amazon with a matching caravan.
---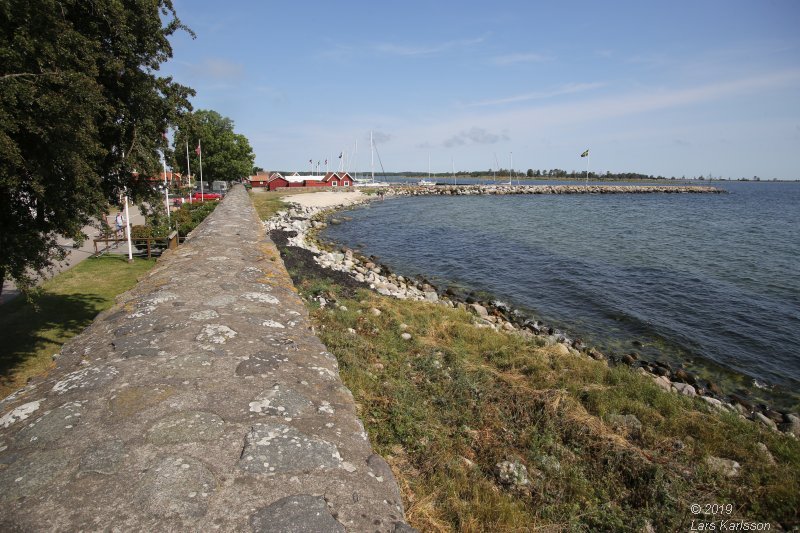 ---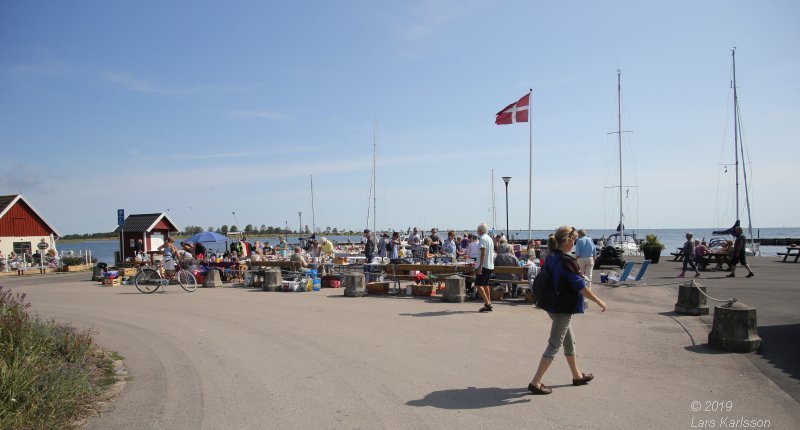 At the square at the harbor was today a flee market with a lot of people looking around.
---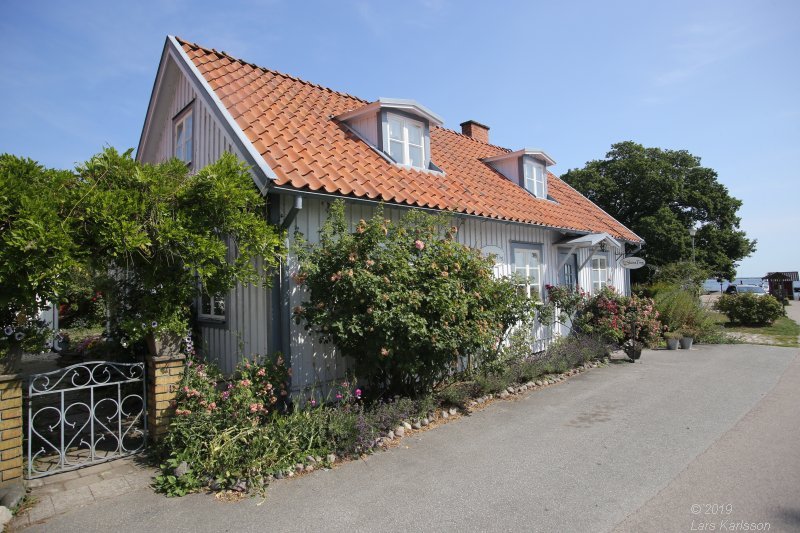 Now we heading to the restaurant where we were told we could get breakfast.
---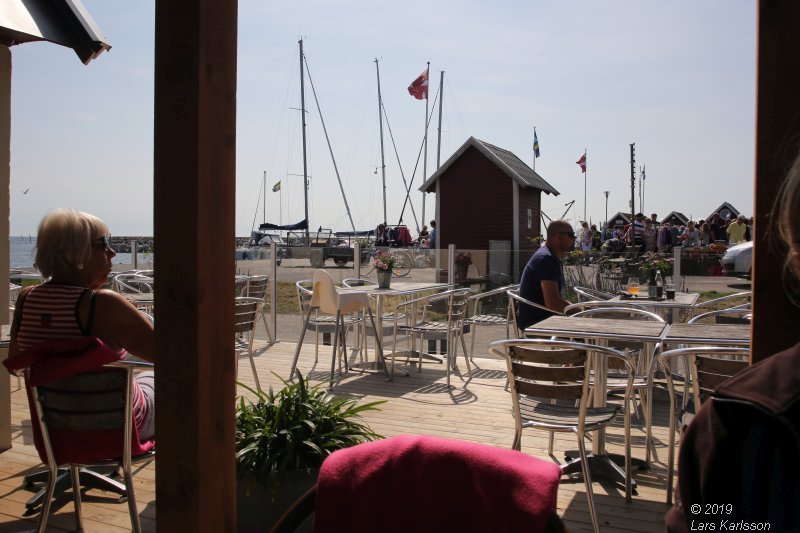 Here it is, nice view over the harbor, breakfast ? No more a lunch, we was a bit sleepy this morning and arrived late.
---
Torhamns Udde:
After the breakfast we took the small roads along the coast towards Torhamns Udde in Southeast of Blekinge.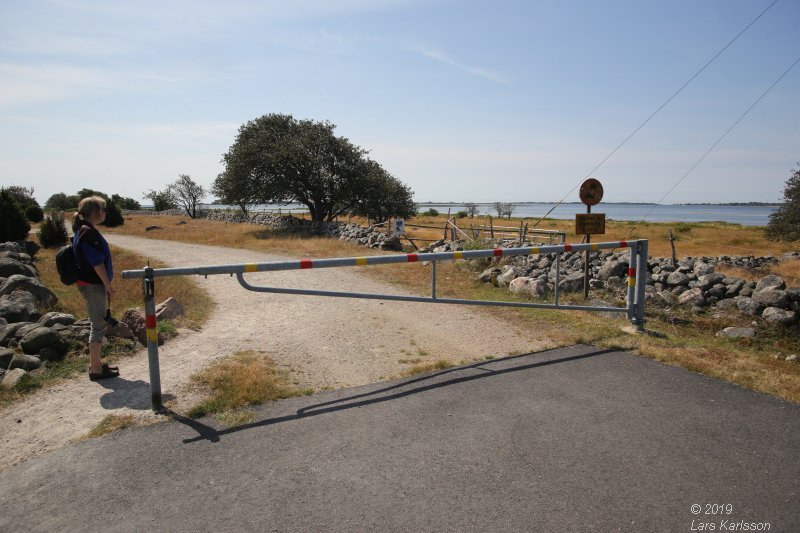 Here we are at Torhamns Udde, there was a stop, no cars, only walk.
---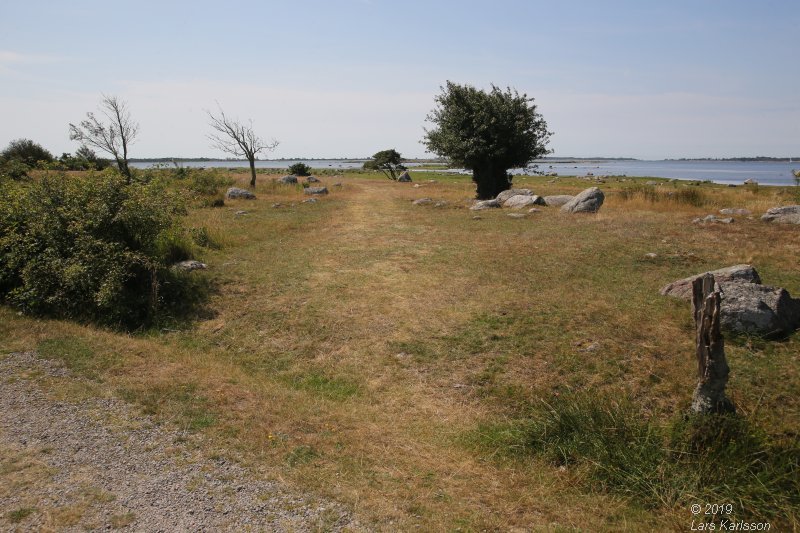 We already noticed that there shall be an ancient grave yard out here.
---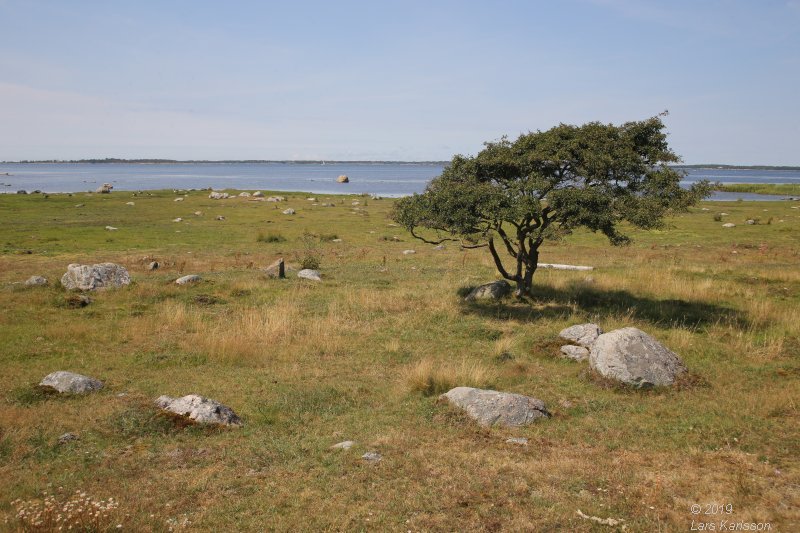 You see small flat hills, that are the graves, also a lot of erected stones from ancient people, more than 2000 thousand years old.
---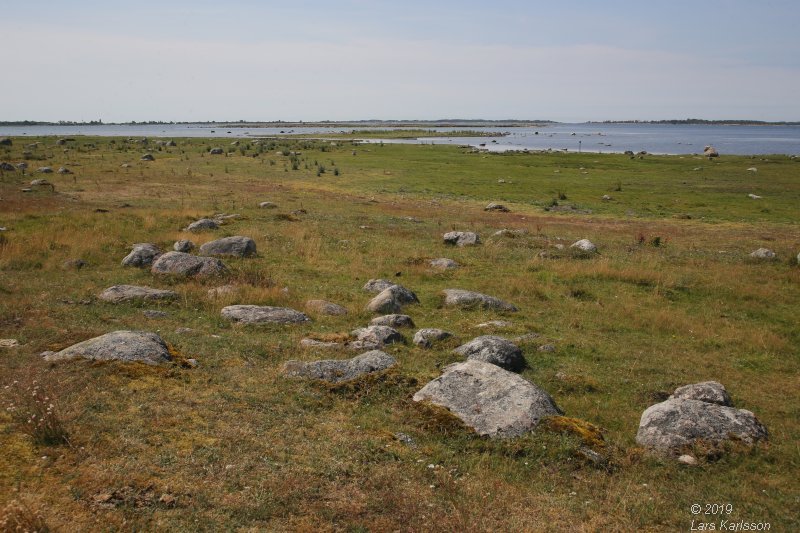 In Sweden normally the land rises its level relative the sea because of the earlier ice age, the ice pressed the land down. But in south it's the opposite, the land lowers, maybe one mm per year. And at the same time the sea rises it's level which increase the effect.
---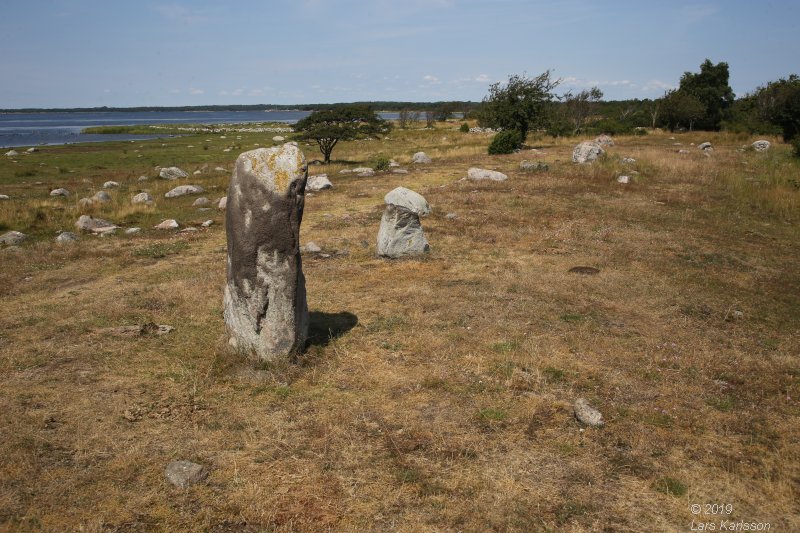 More erected stones.
---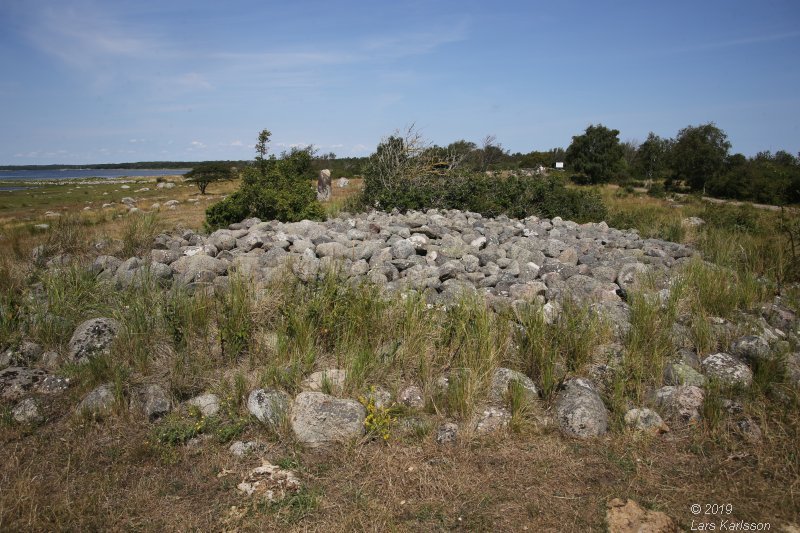 Another ancient grave, in Swedish called Stenröse.
---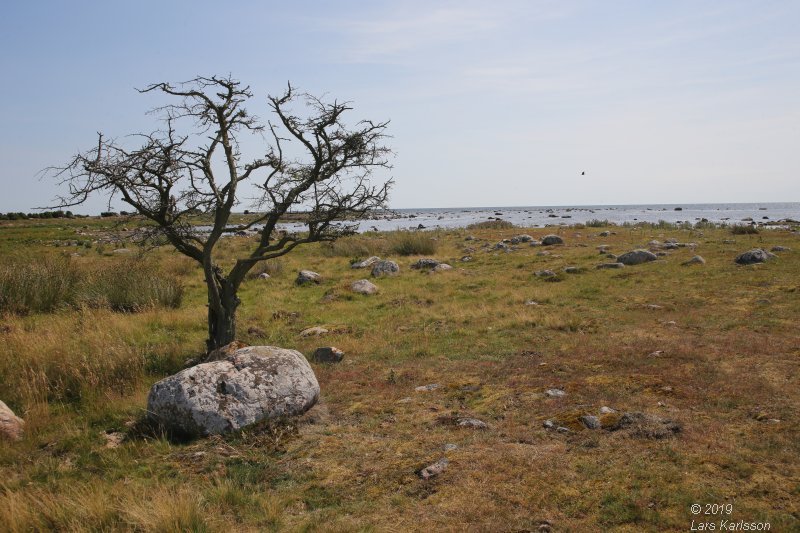 More to read about Torhamns Udde's nature reserve at Wikipedia:
---
Torhamn: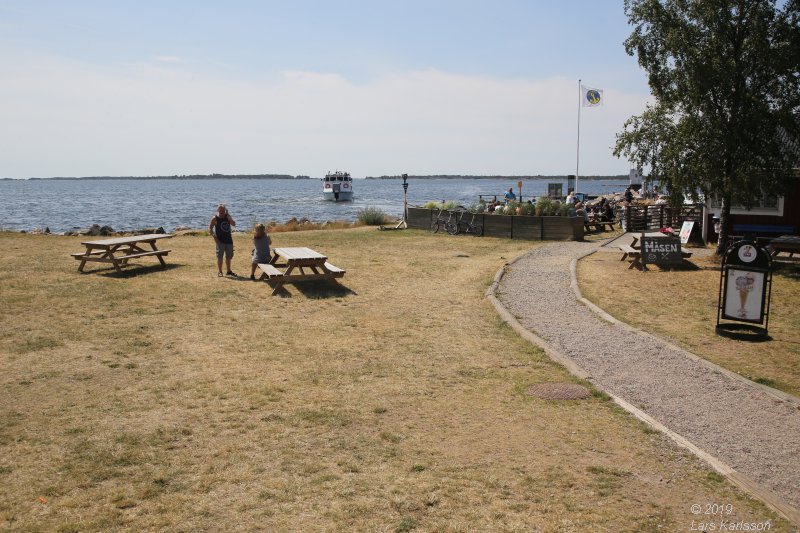 When we leave the nature reserve we did a short stop at Torhamn harbor. Looks very nice but we had a lot of things to do today and continue our travel.
More to read about Torhamn at Wikipedia:
---
Hästhallen: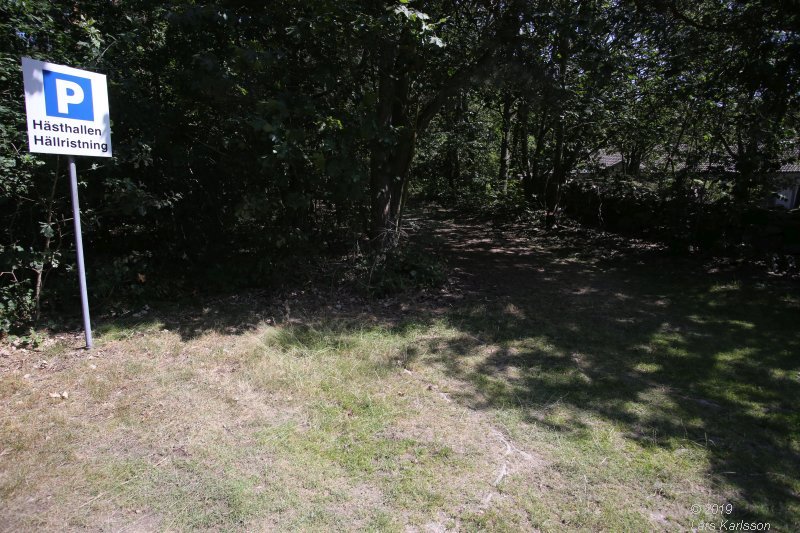 Next stop is Hästhallen, we have read about the rock carvings here, more than 80 and lot of carved ships. We park the car and start walking.
---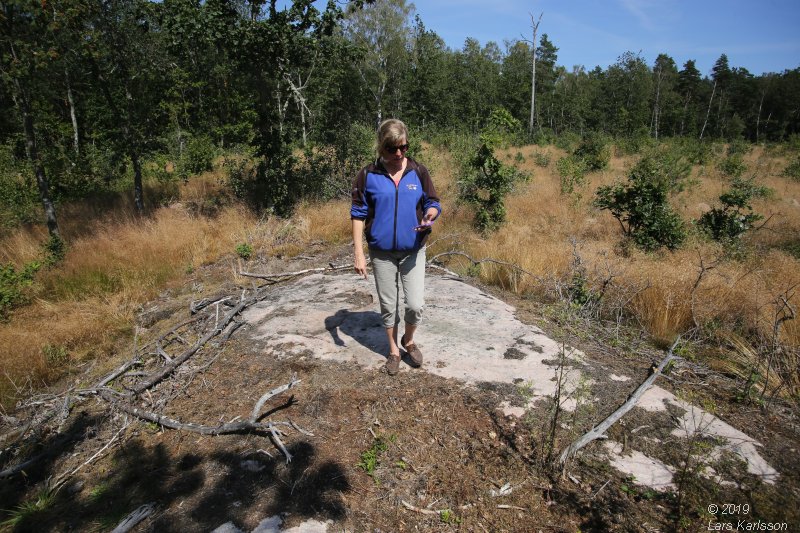 Equipped with GPS and smartphones we can't miss it, or? Gunilla examine the GPS and say she stand on the rock carvings, but there are not any one here. We walks around in the high grass, find more rocks but no one with visible rock carvings.
If you find these ancient places interesting you can use my maps here: Fornhistoriska kartor
---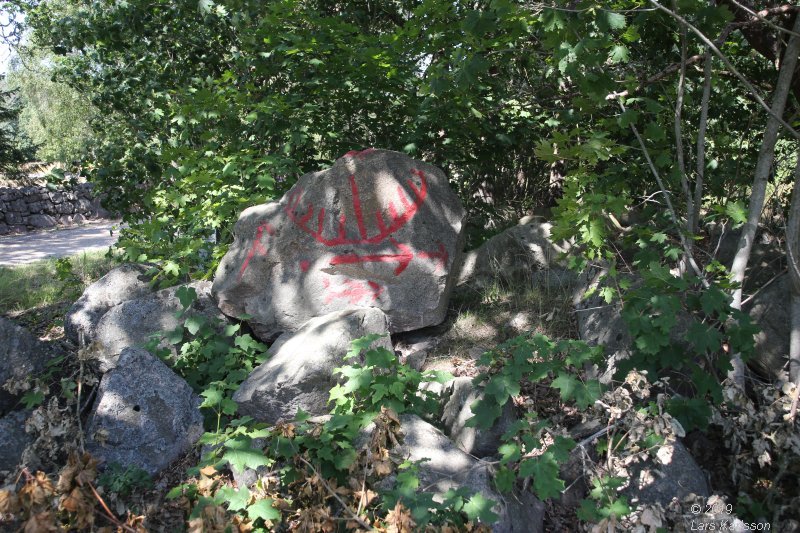 We gave up and walk back to the parking lot, then we see this painted sign with an arrow, it points in the opposite direction.
More to read about Hästhallen at Wikipedia:
That were the rock carvings we should have found, but we have seen so many others so it doesn't matter.
---
Skällön:
After this we take the direction to Tjurkö.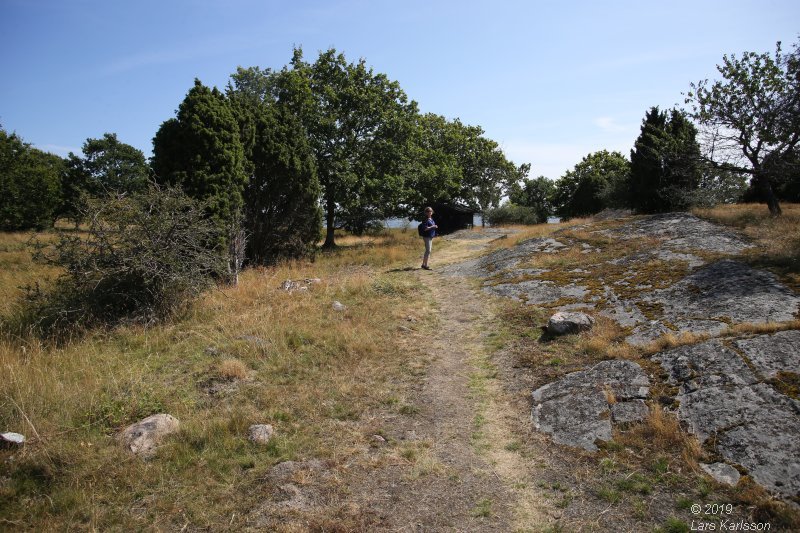 On that way we pass the island Skällön. At the Western part there are more interesting things to see, a runestone.
---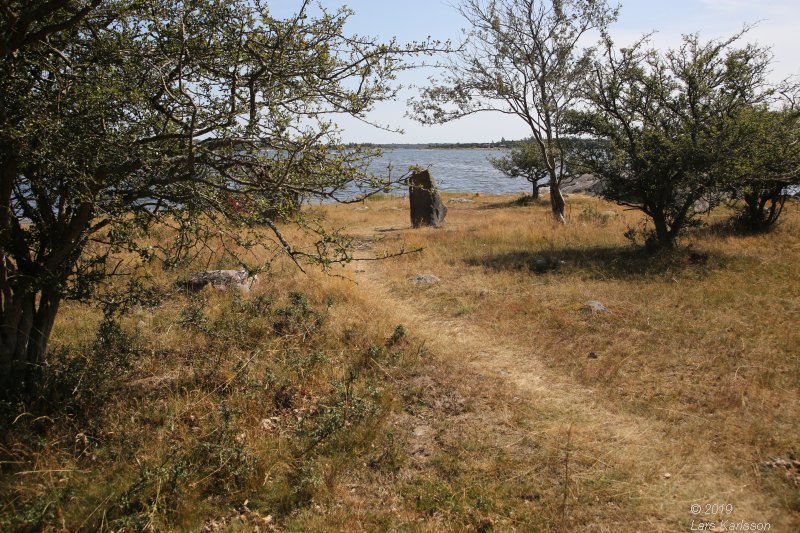 We see the runestone already from distance.
---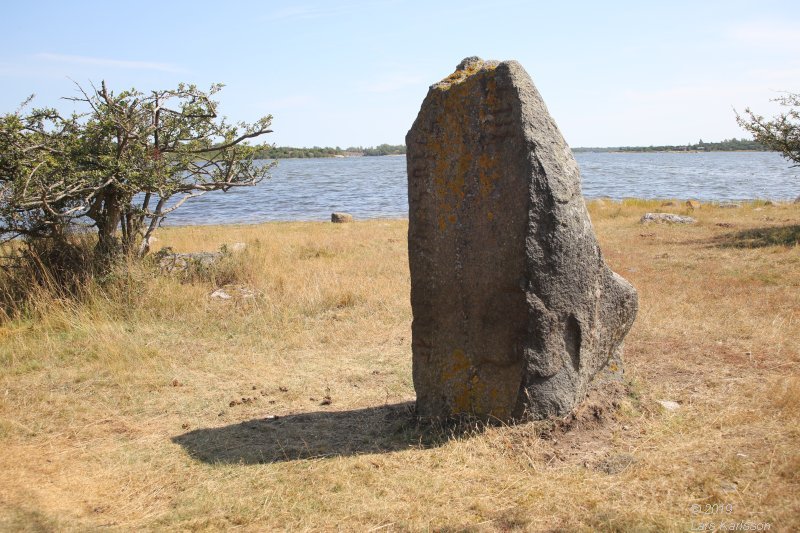 The inscriptions says: skibarR : kupis : raisp ... ... stin. Gunilla explains in Swedish it says: "skepparen gudis lät resa denna stenen" or in English: "the skipper Gudis let erect this stone". This runestone has been moved and they are not sure about its exact original location.
---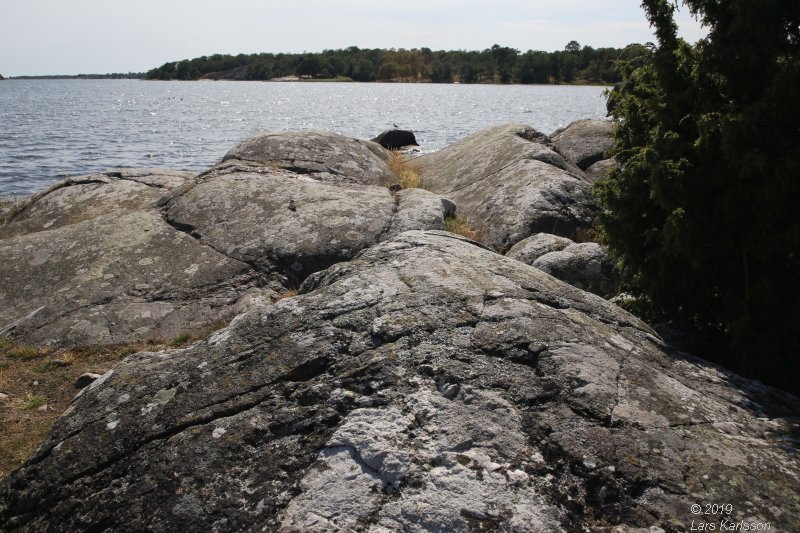 We walk around this place and enjoyed the beautiful views. We meet a German family and help the mother to take some family portraits.
---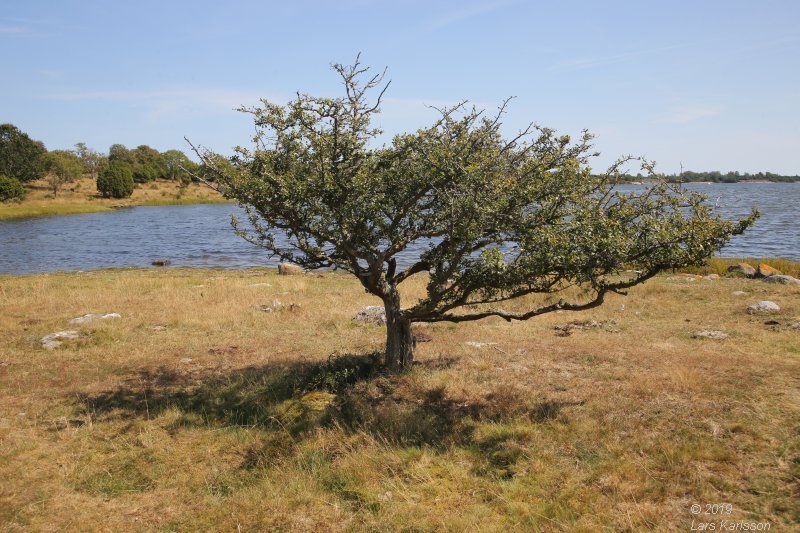 It was not far from here the Russian submarine U-137 stranded in 1981.
More to read about the submarine U137 at Wikipedia:
---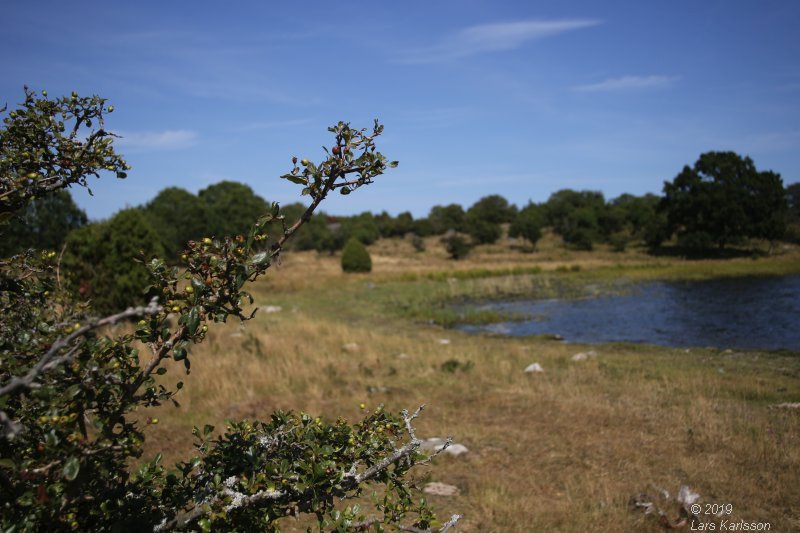 ---
Tjurkö: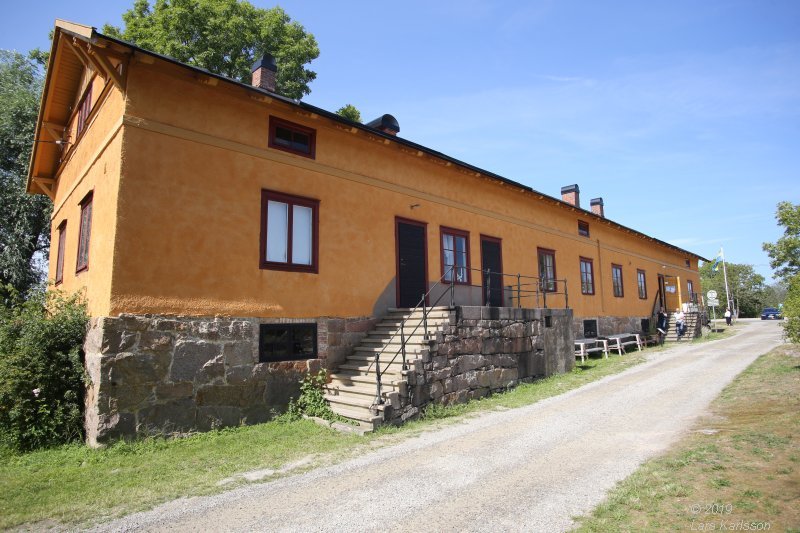 There are three islands in a row, the last one is Tjurkö. At this place there is a stonemasonry which is interesting to see. I have already visit this place in 2004.
---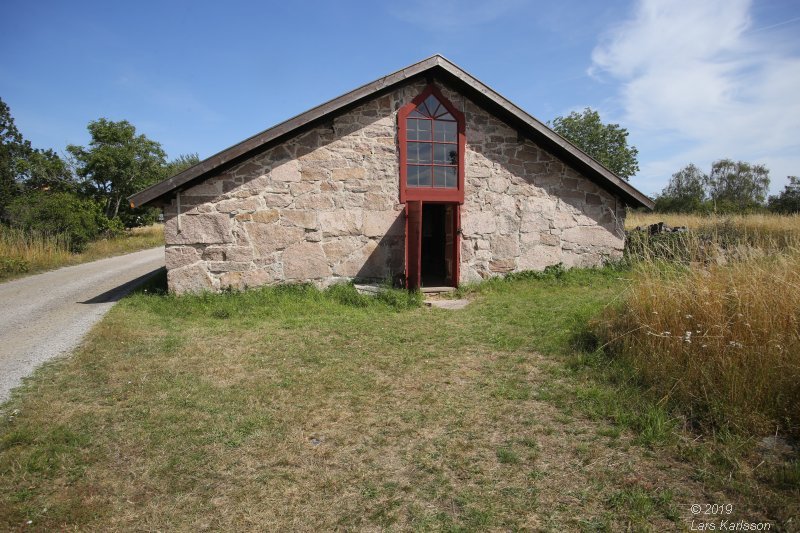 A house for the workers with stores and food.
---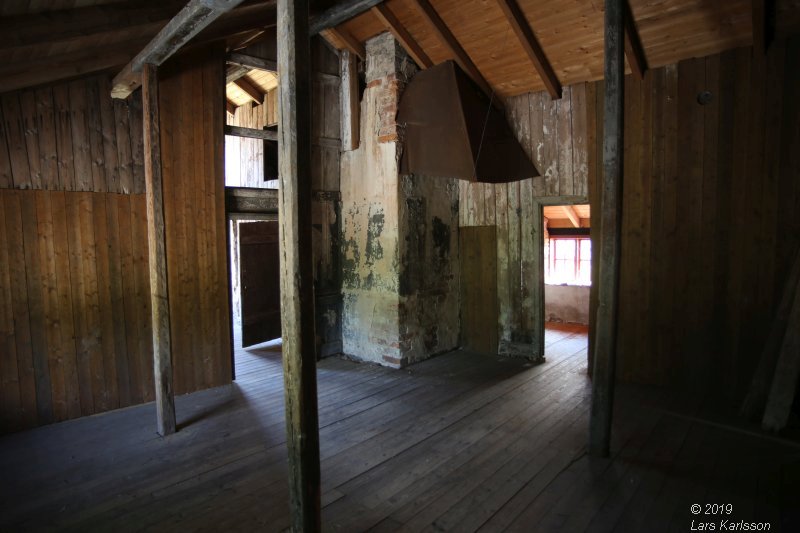 ---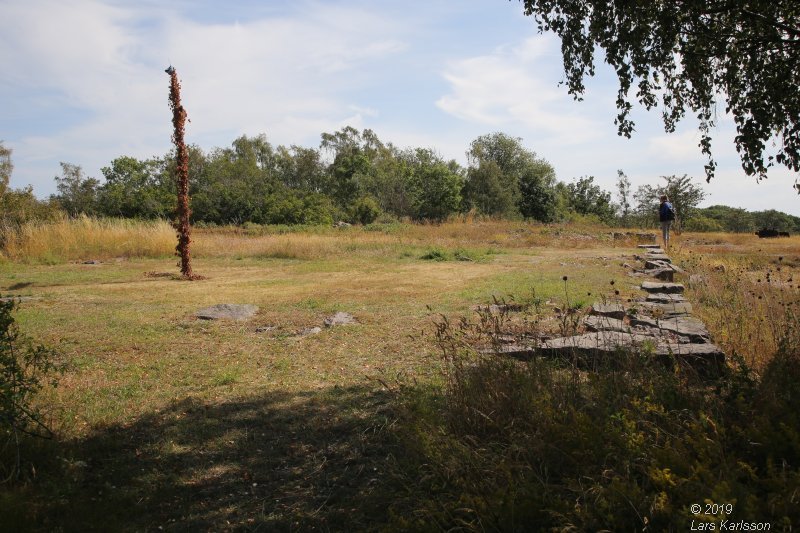 ---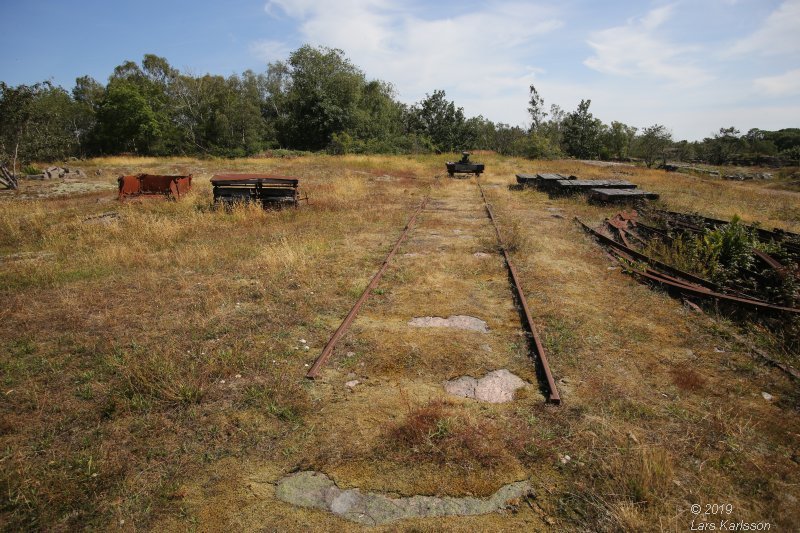 They had a lot of railways and wagons to transport the stones with, we can still see some parts of it left.
---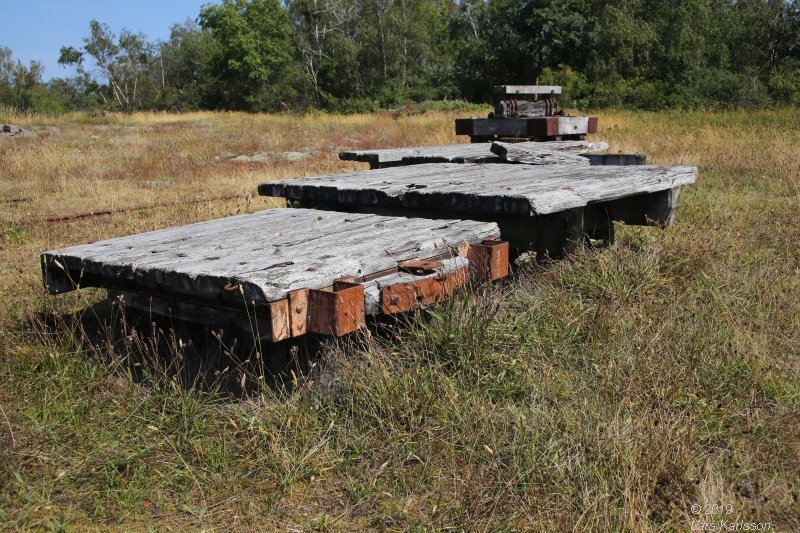 ---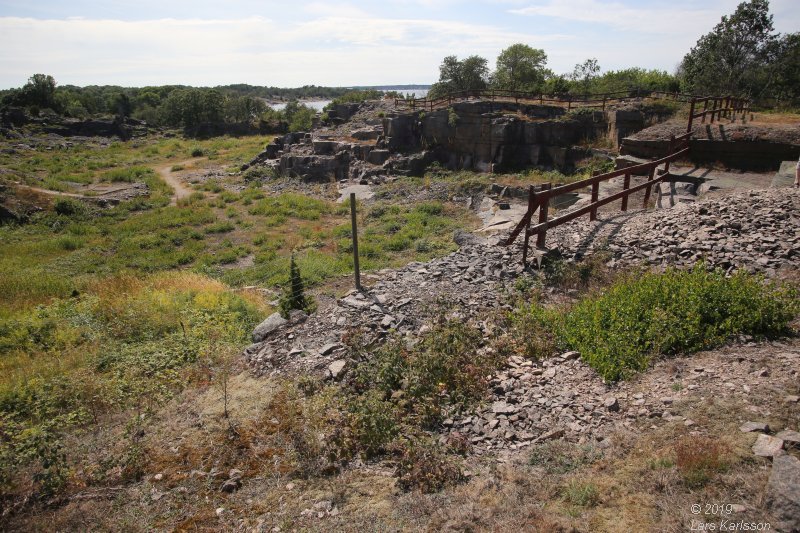 The big stonemasonry.
---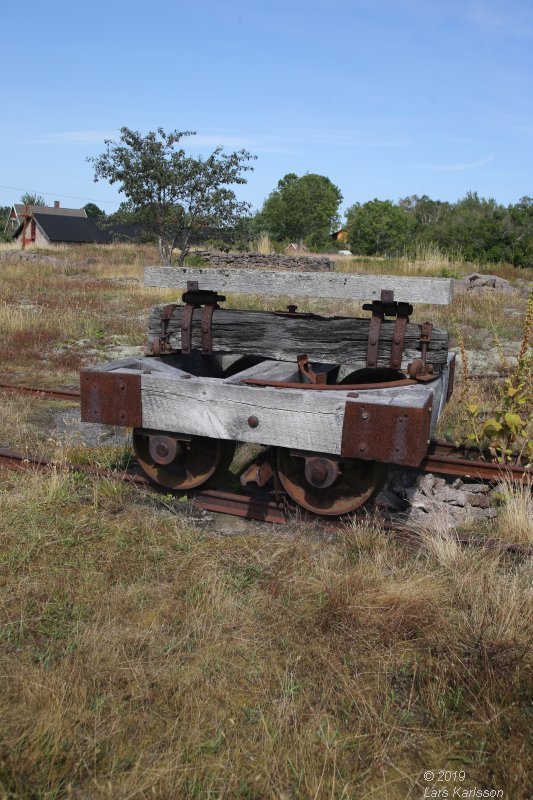 More to read about Tjurkö stenhuggeri (stonemasonry) at Wikipedia:
---
Lösen: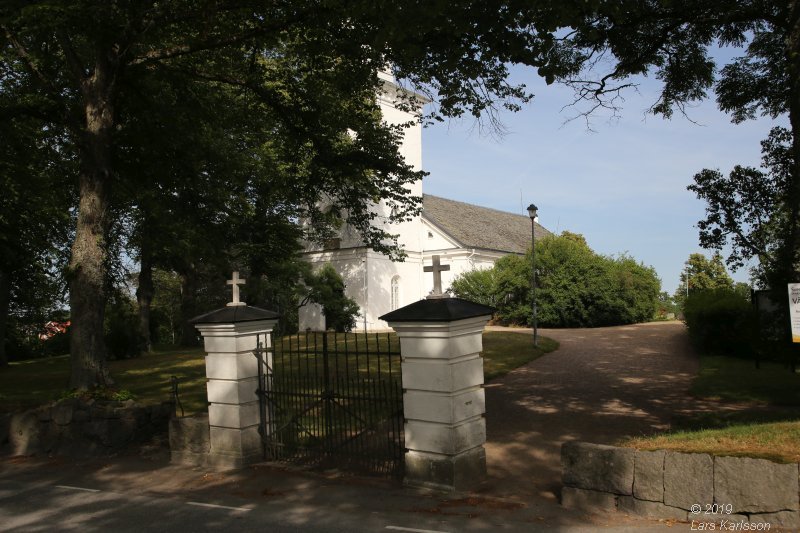 Next stop we plan to be Karlskrona city, but first we stopped at Lösen church.
---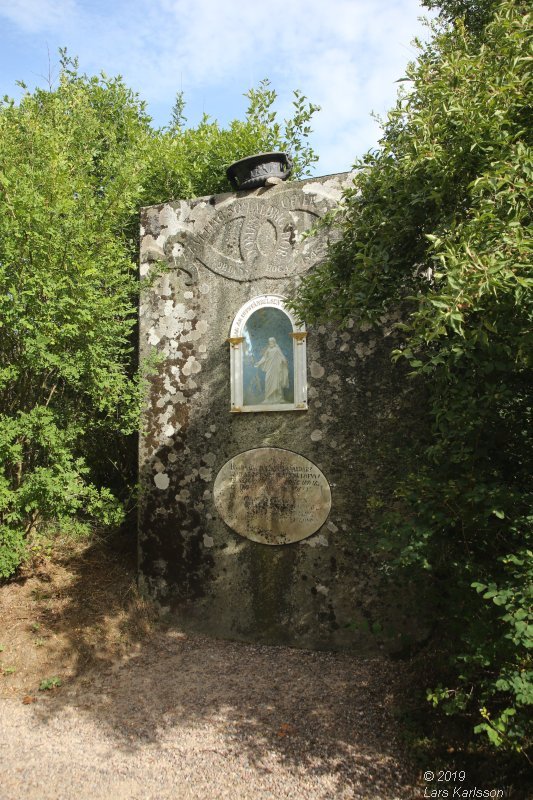 Why we stop at a church once again? Runestones ! This is not a runestone, more a memorial stone. The Jesus statue says something like "Jag är uppstånden ... " or in English "I'm resurrected ... "
---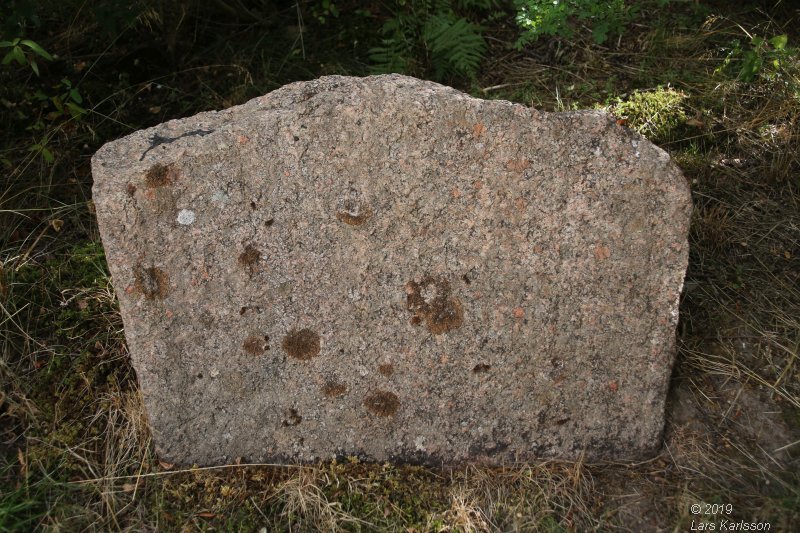 In the bush we found one of the runestones we looking for, very bad shape, only the lower part of stone preserved and it's hard to read the text.
---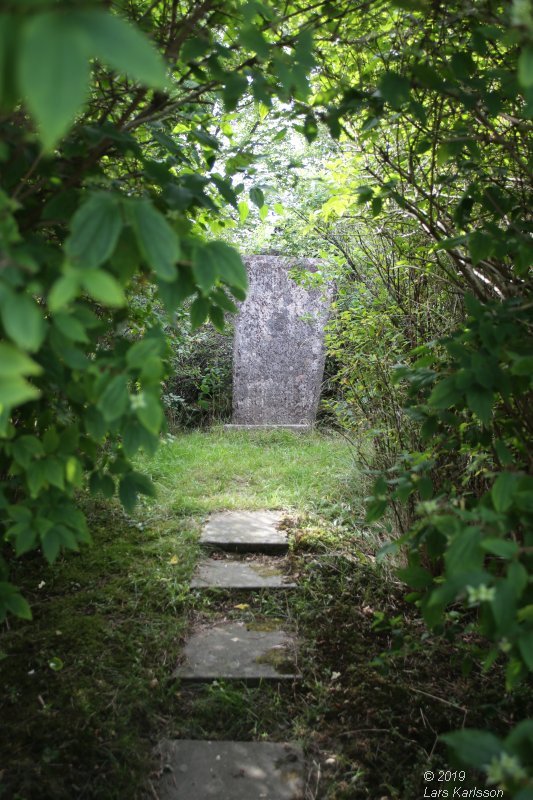 Looking for the second runestone and we found it in the same bush. This runestone has been reshaped in modern times.
---
Karlskrona:
After this we drive in to the Karlskrona city center.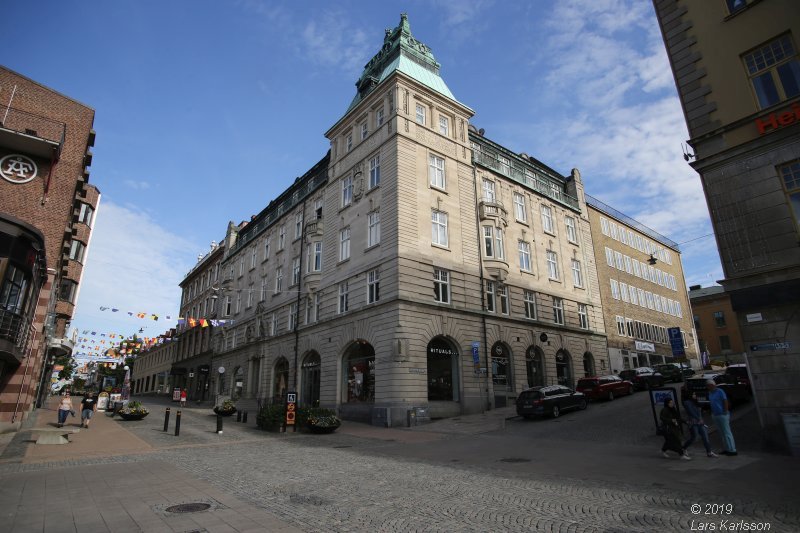 What special with this city? I did my pre education as a marine soldier at this place in the 1980s.
---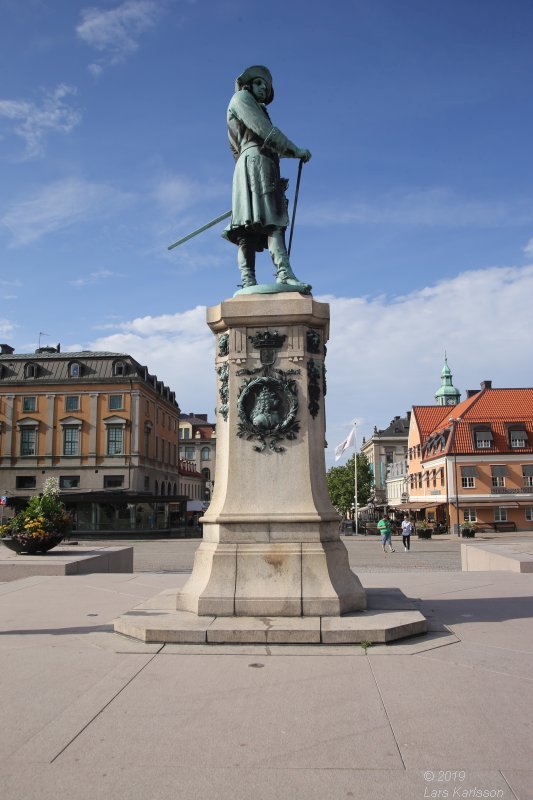 I try to follow the streets which I walked on here 40 years ago, this is the main square. My father also did his marine pre education here. At one of his photographs there is a statue, I was sure it was this statue, but I was wrong. Now I got unsure, was his photos from this city at all?
This statue is our king Karl XI, born 1655, dead 1697.
---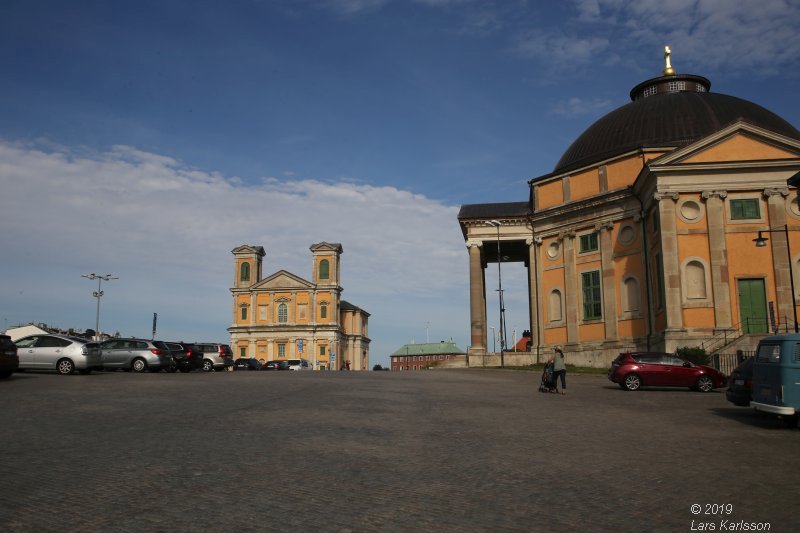 Two churches at the main square, Fredrikskyrkan to the left and Trefaldighetskyrkan to the right.
---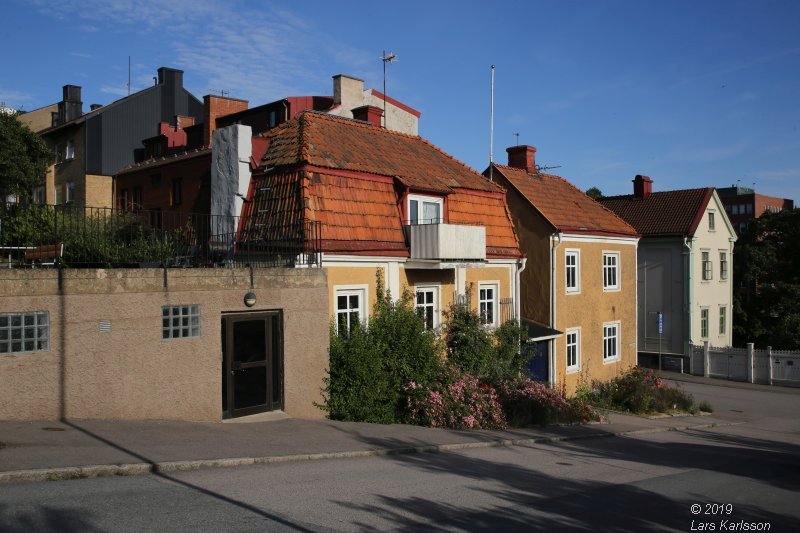 In the old harbor there is a museum that we want to visit, but it's late and maybe already closed. We take a walk down to the harbor.
---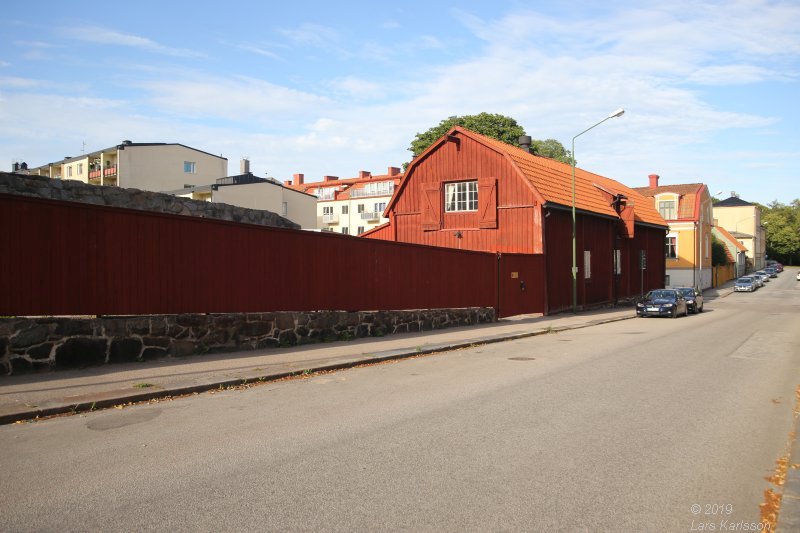 No, the museum was closed, and it had high walls around it so we couldn't see anything.
More to read about Karlskrona's marine museum at Wikipedia:
---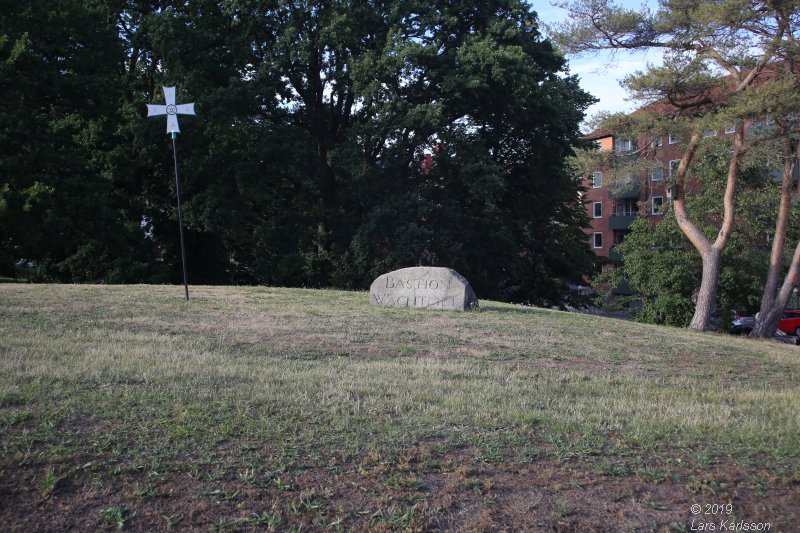 Now we had taken us up to the hill where the clock tower is placed. A memorial stone, Bastion Wachtmei in front of us.
---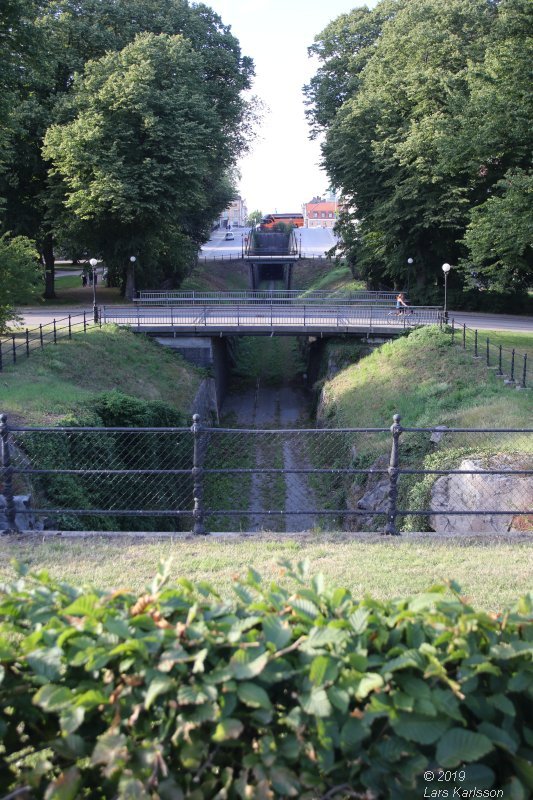 Below us we had the railway that connect to the shipyard.
---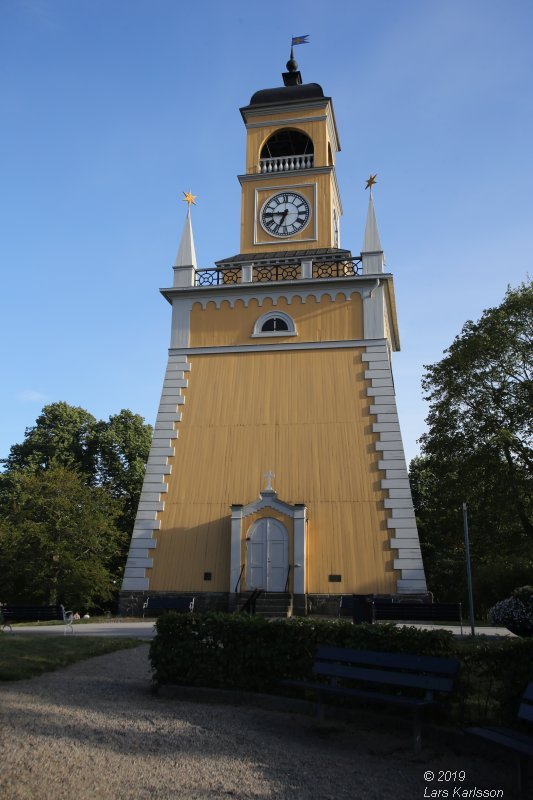 Amiralitetsklockstapeln, the bell control all the workers, when to start work, when to eat and when to go home. Built already 1699.
More to read about Karlskrona's marin museum at Wikipedia:
---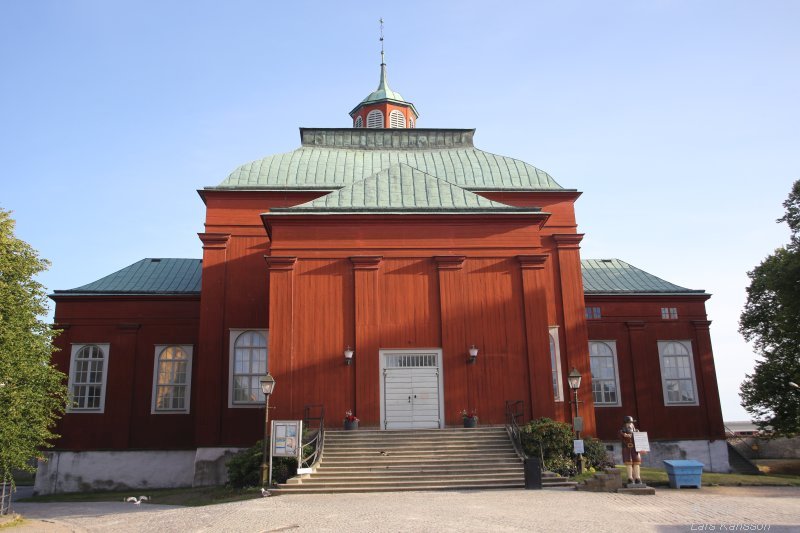 Amiralitetskyrkan with its statue Rosenbom.
---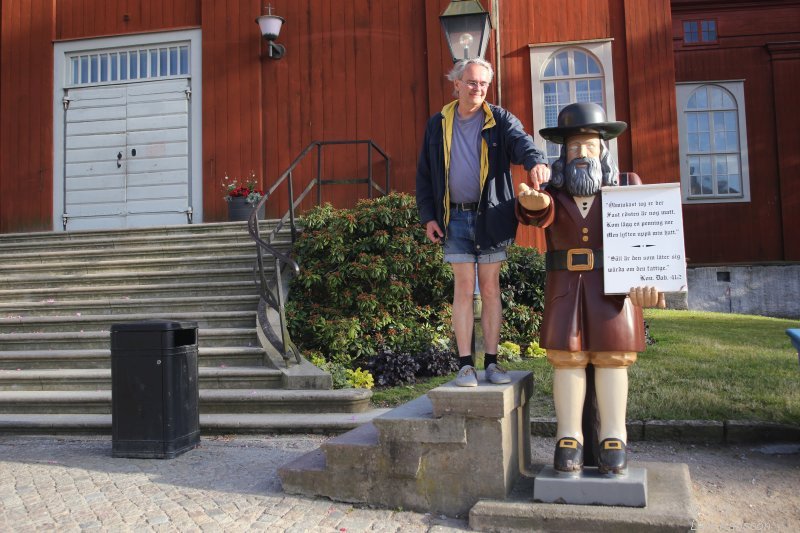 I gave a penny to Rosenbom, the poor man.
More to read about Rosenbom at Wikipedia:
---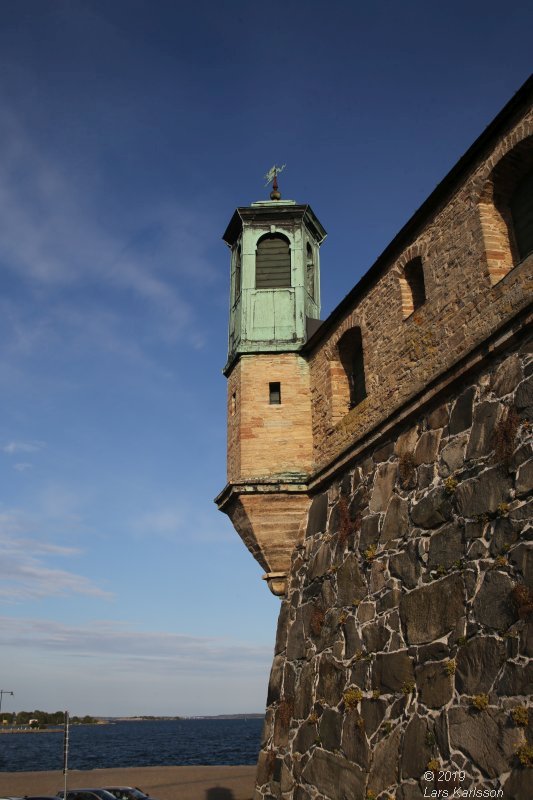 We follow the street Vallgatan in Eastern direction down to the harbor.
---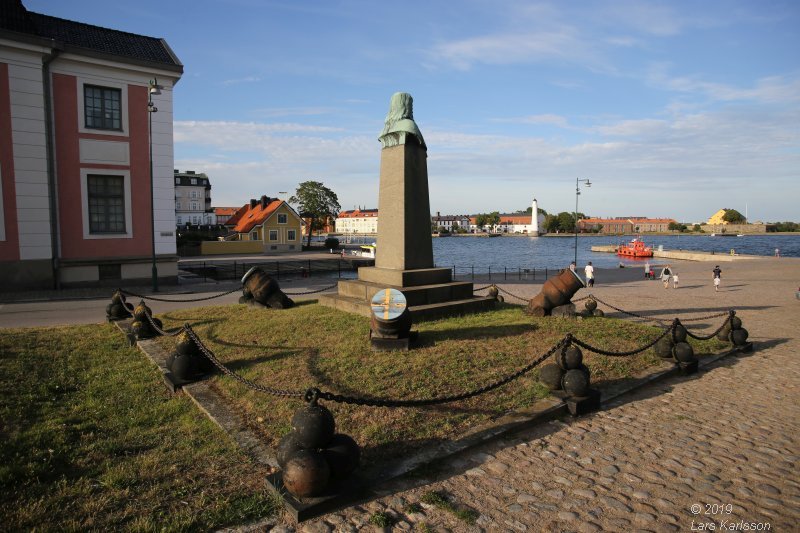 In the background you see where I stayed during my military duties.
---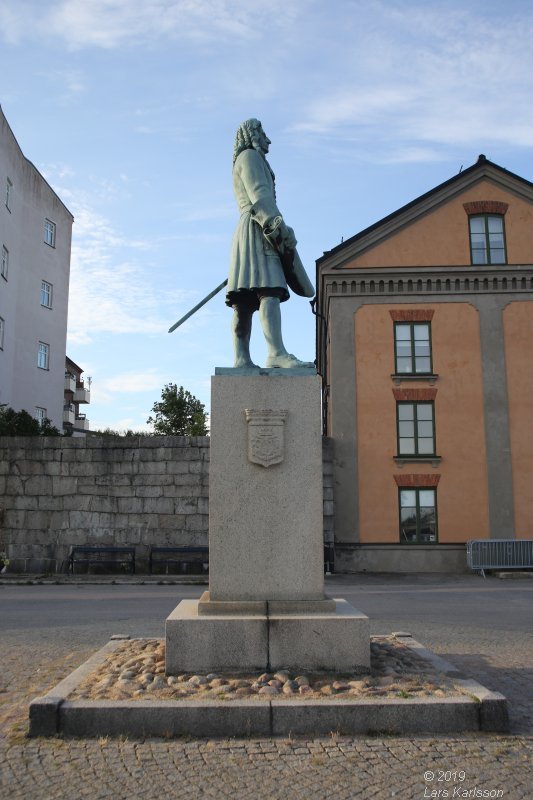 What a surprise, here is the statue my father had on his photography. It's a statue of admiral Hans Wachtmeister.
More to read about statue at Wikipedia:
---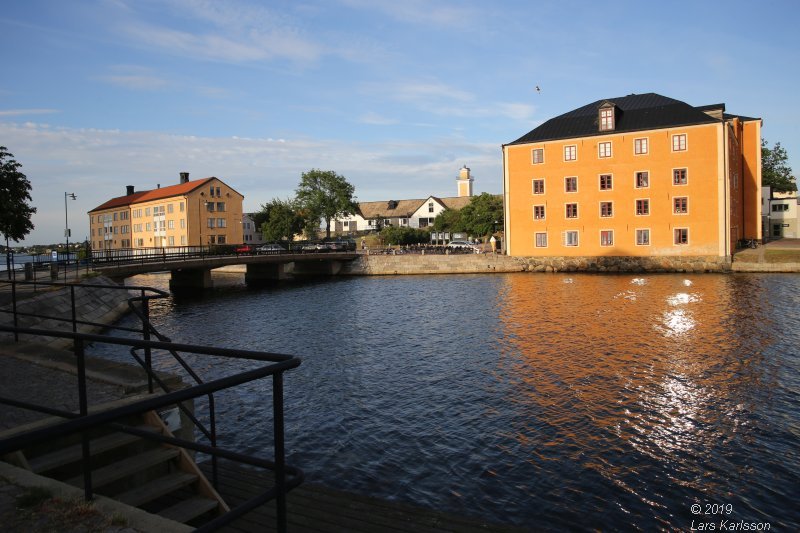 In front of us, the island Stumholmen.
---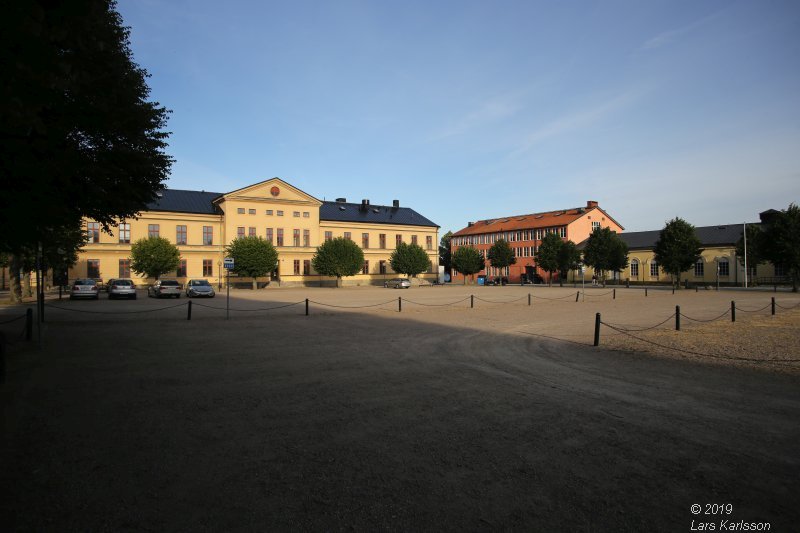 This is the center of my memories from Karlskrona. When I stay here in the 1980s we had the restaurant in the yellow building, the pink building were the school with the marine education. The last building to the right was a cinema.
---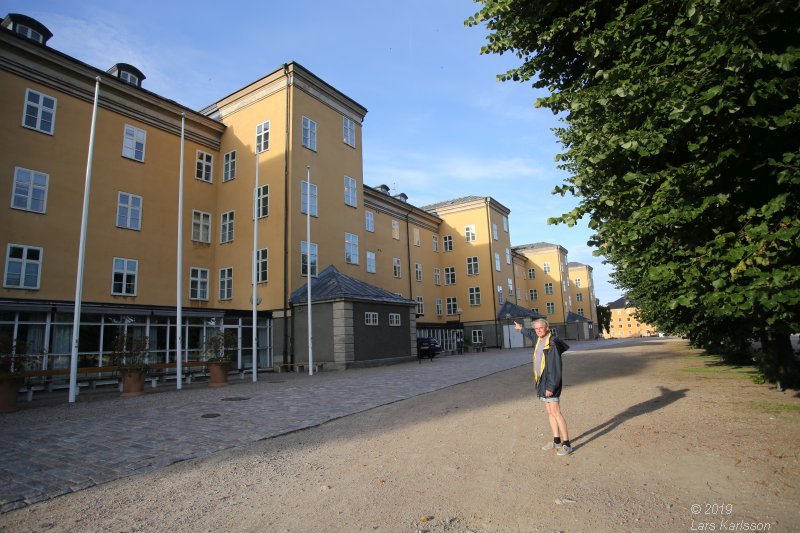 I had my room up there, maybe second floor. I stayed here about six weeks, after that I was transferred to Stockholm, my hometown.
---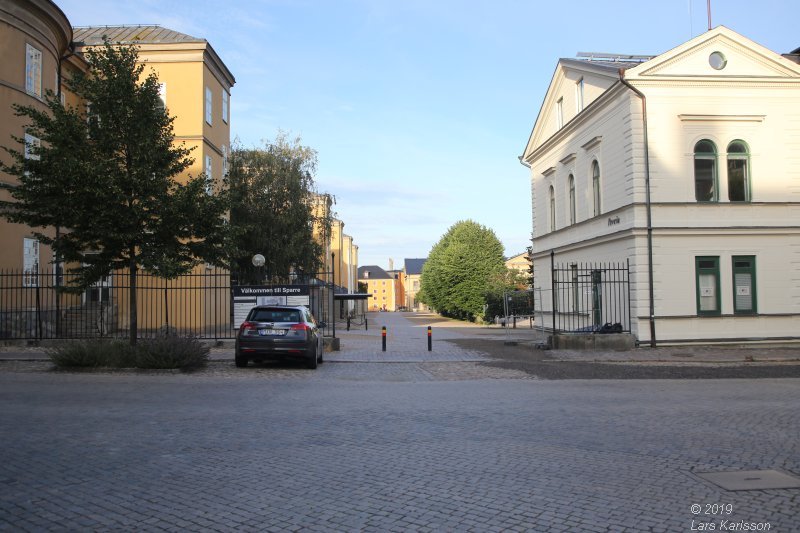 The gate, when we arrived from Stockholm by train a bus picked us up at Karlskrona train station and transferred us to this gate. Nowadays it's not any military activity here, it's an open civil area.
---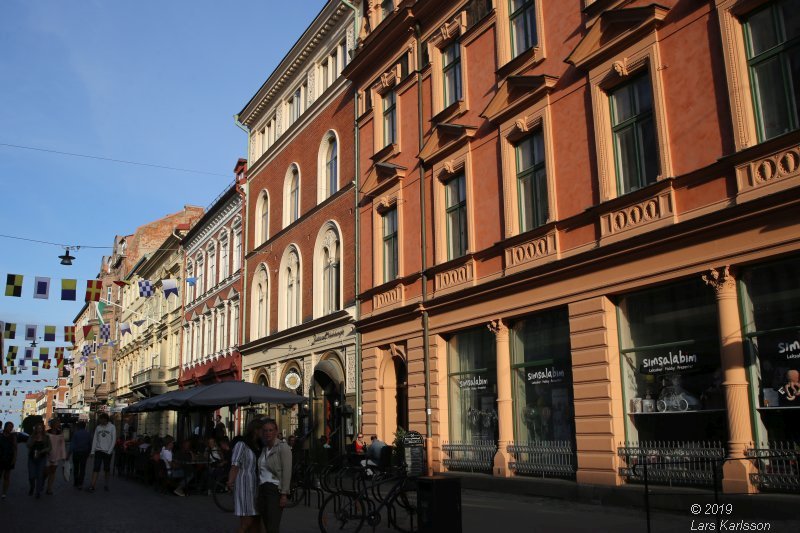 I end my visit in Karlskrona with a walk around in the city.
---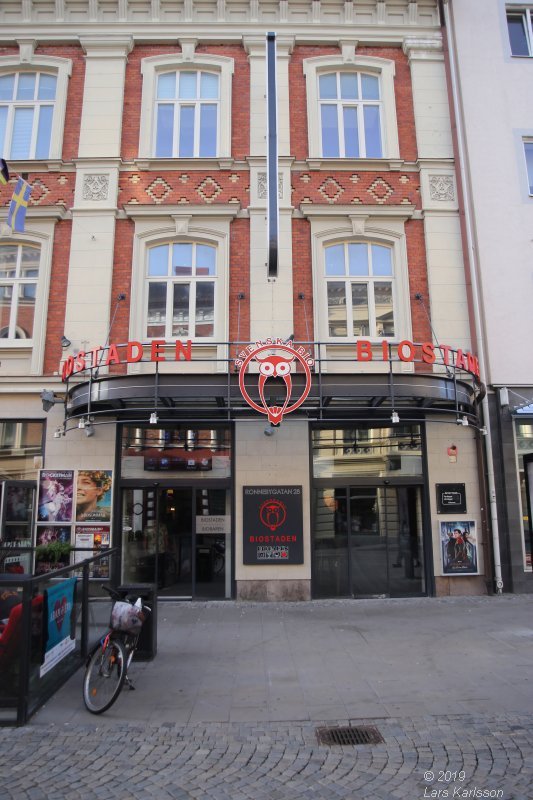 I only have weak memories from this time, but I remember I saw a lot of movies.
---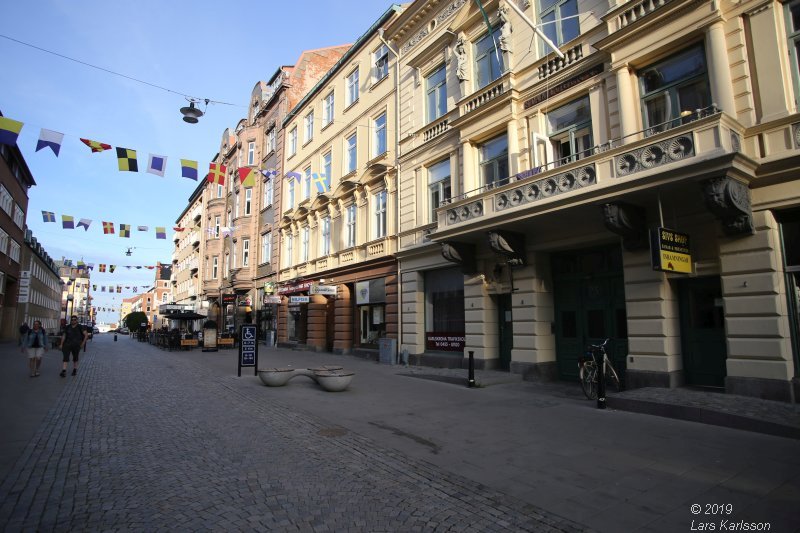 ---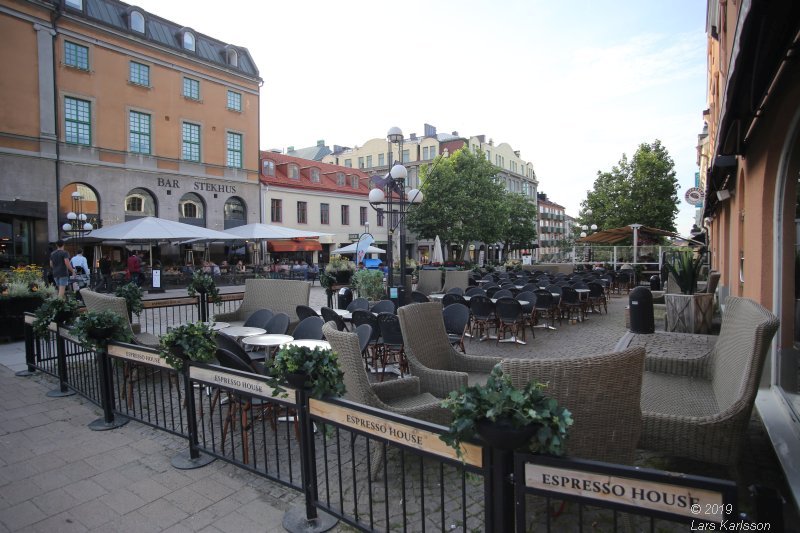 An Espresso House, to Gunillas disappointment it was closed.
More to read about Karlskrona at Wikipedia:
---
Johannishusåsen:
We booked a new room, this time in the city Ronneby, it's about in the middle of Blekinge.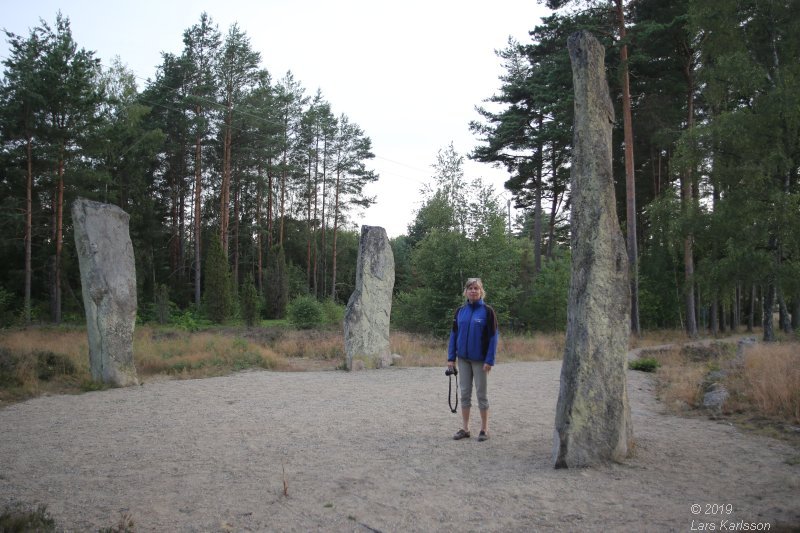 First we had to visit some ancient stones in Johannishusåsen. Look what big they are compare to my little girl !
---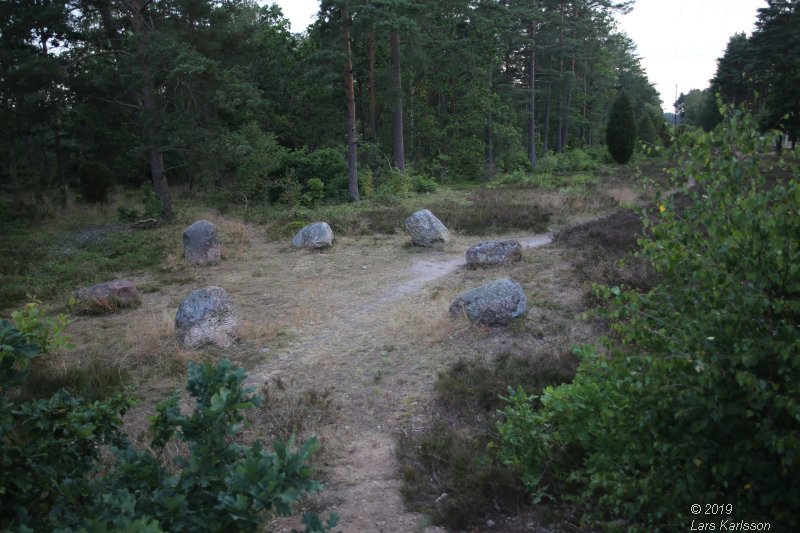 Behind is a Judge Circle. The wise men sat on the stones in the circle and the accused in center, at least some people says so.
More to read about Domarring at Wikipedia:
---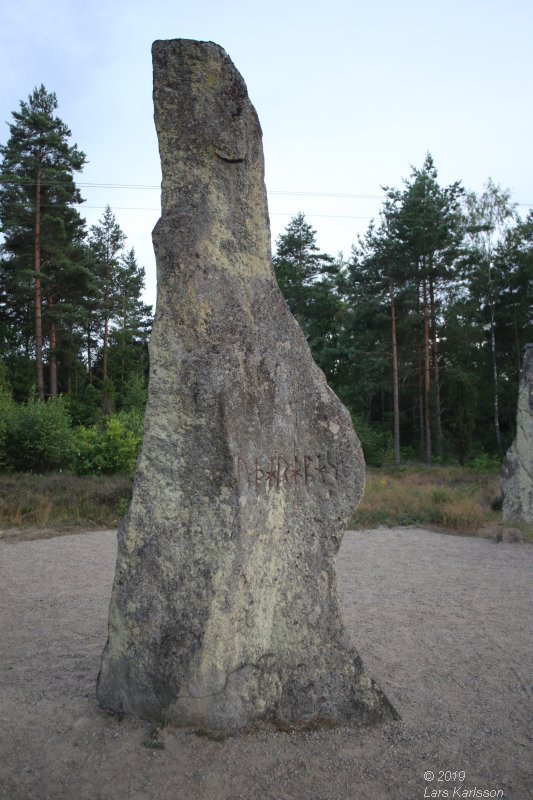 On the way back we could read on a sign that there shall be some inscriptions on the backside of one of the stones. We walked back to read what it says. "Olycksbringande spådom" or in English "Evil divination".
---
Ronneby: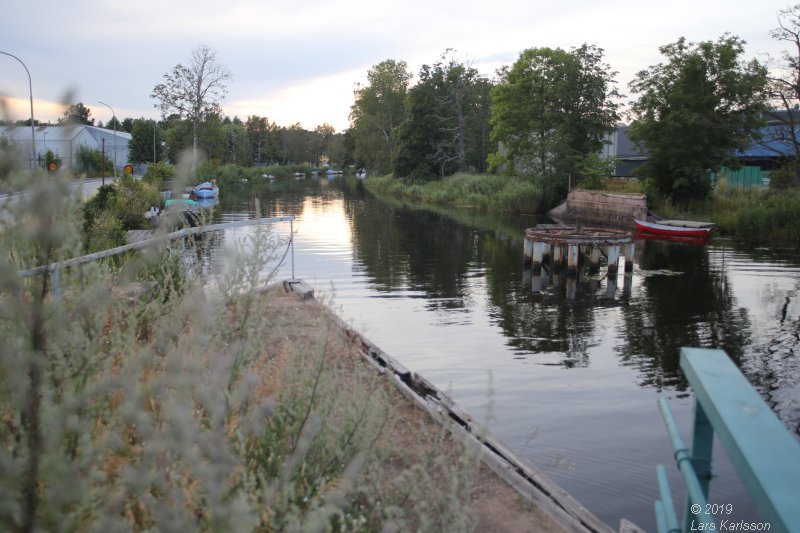 This is Ronneby river where it flows out in the sea. Now we have to follow this river upstream to find our hotel.
---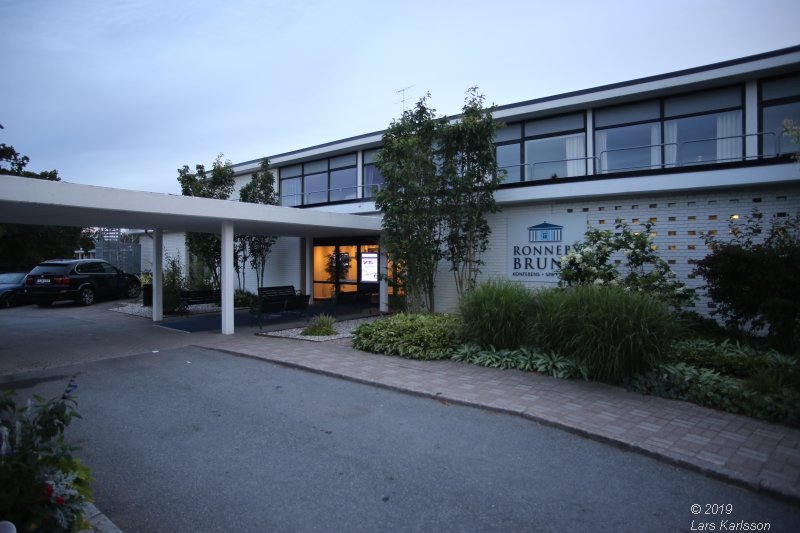 Hotel Ronneby Brunn with Spa and a waterland.
---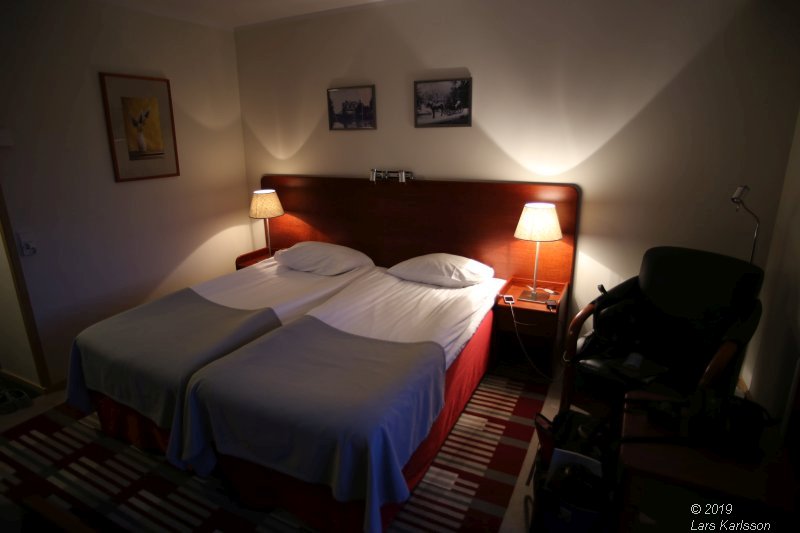 Yes, a comfortable bed for us!
---