My travel in Europe:
By train in Northern Germany, 2022
---
Content:
---
Day 16, Schwerin to Rostock:
It's the third day in Schwerin now and we are on the move to Rostock.
Here is a map of the travel from Schwerin to Rostock:
A direct train and it took fifty minutes and a distance of 90 km.
---
Schwerin: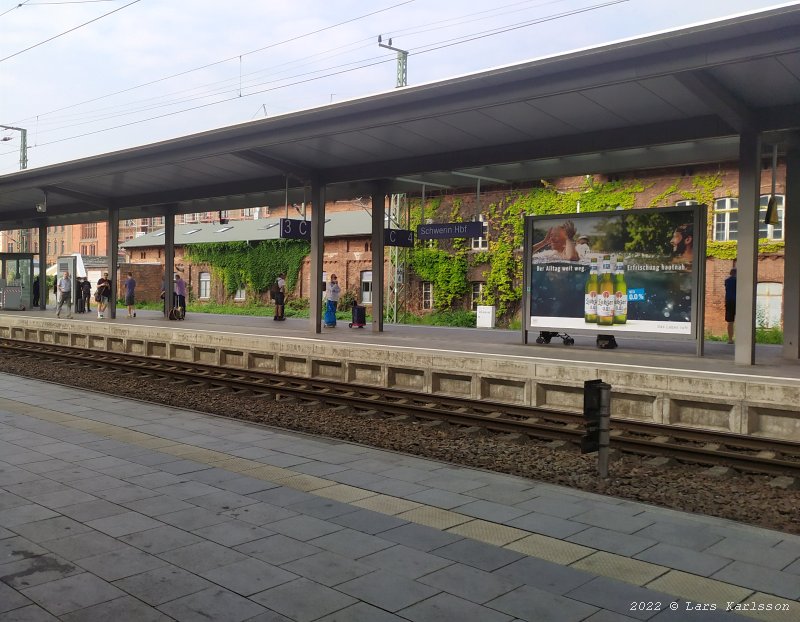 The railway station Schwerin HBF at 9:40. This will be the last train we travel with, a bit sad because we have now got used to do this train travel between cities. We don't expect it to a lot of people on the train, but still we are here 30 minutes before departure.
---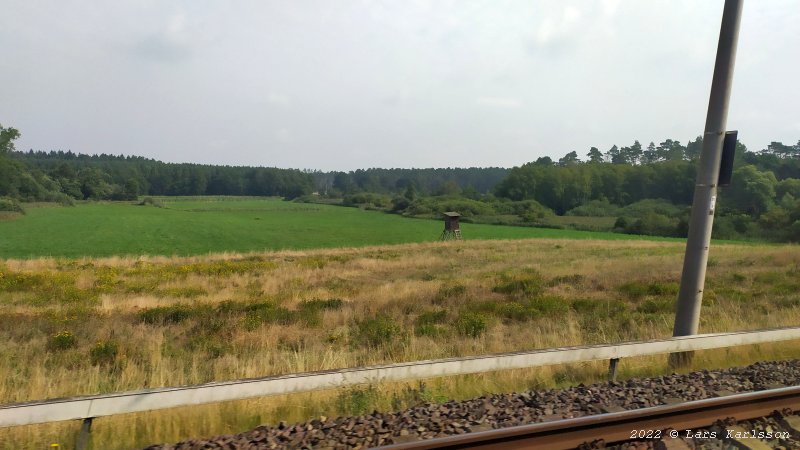 After 5 minutes we are out on the countryside. The population looks to be very concentrated to the cities. At other places we have seen huge solar panel plants and wind mill parks.
---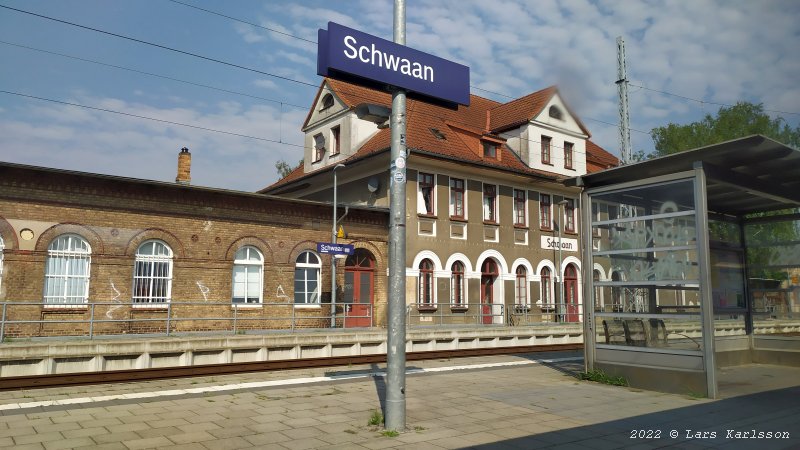 Schwaan, one of the stops on the way to Rostock.
---
Rostock: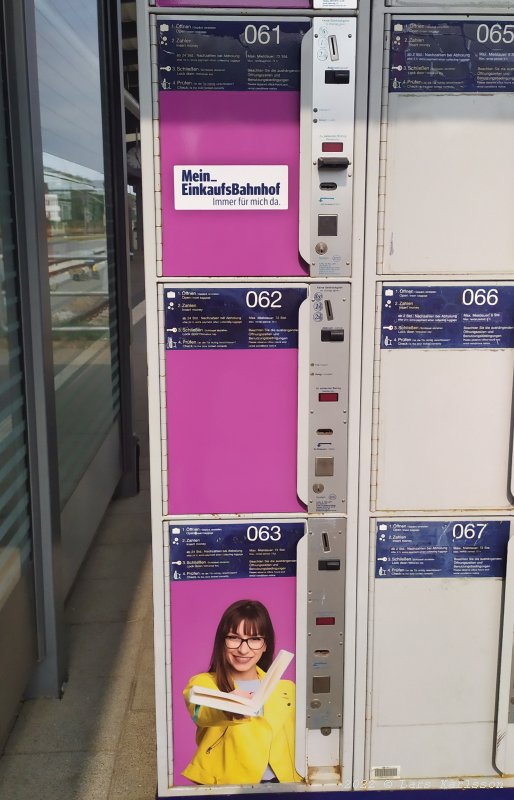 We place our luggage in the railway station's box. Strange, earlier we could put in both of our luggage in one box, now we need two.
---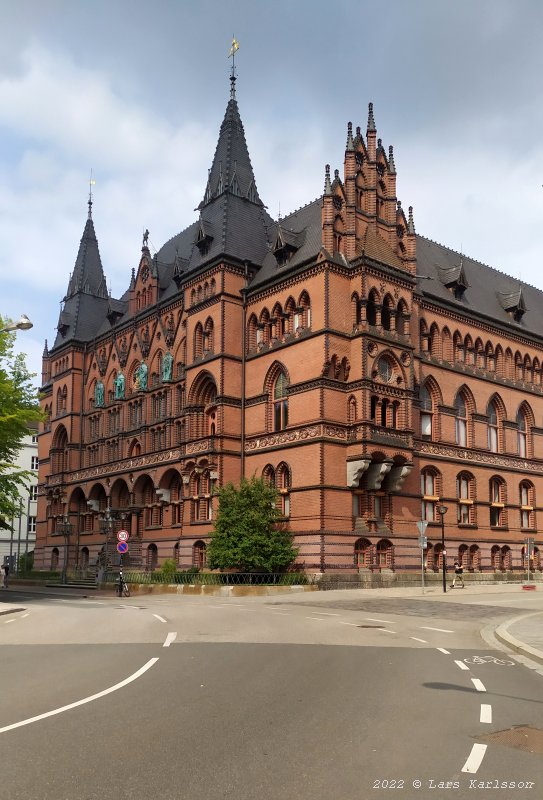 Free from caring the luggage we can relax and walk back to the old center which we already know from our visit here two weeks earlier.
---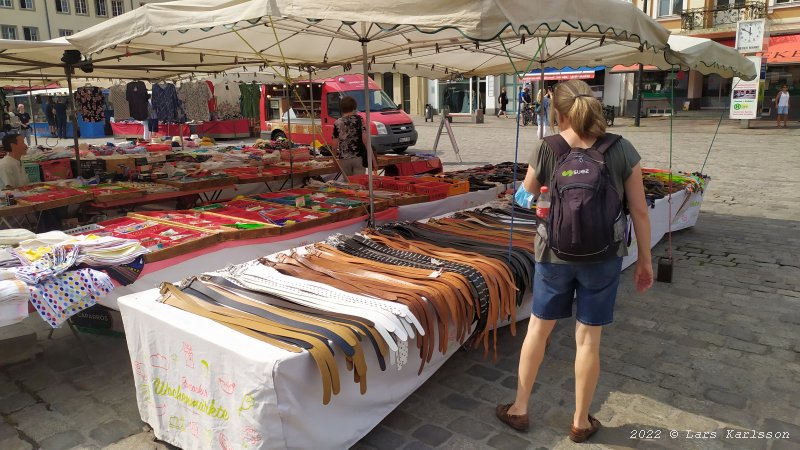 Gunilla looks for a new belt, but no fitted.
---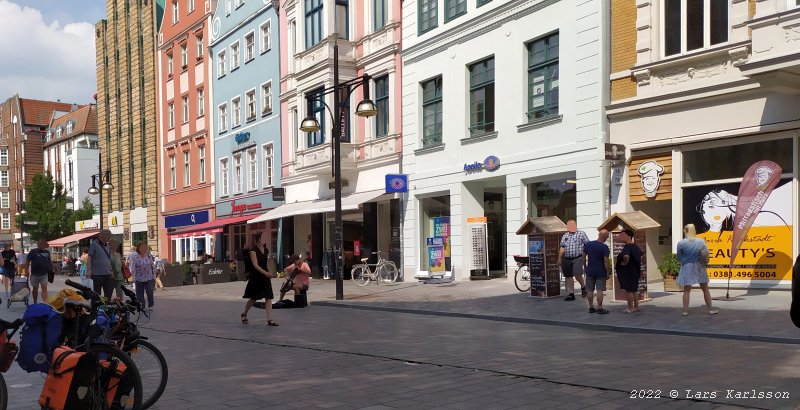 The shopping street Kröpelinerstrasse. No cars are allowed on this street.
---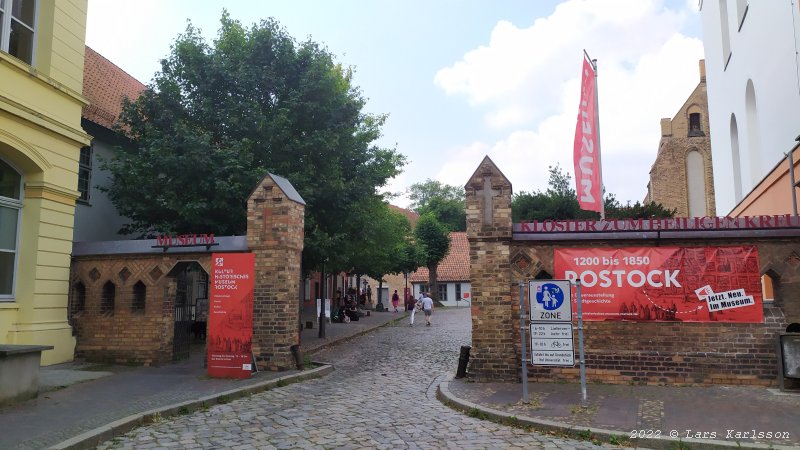 Last time we visited the abbey only at one corner, now during daytime we could examine it more deeper.
---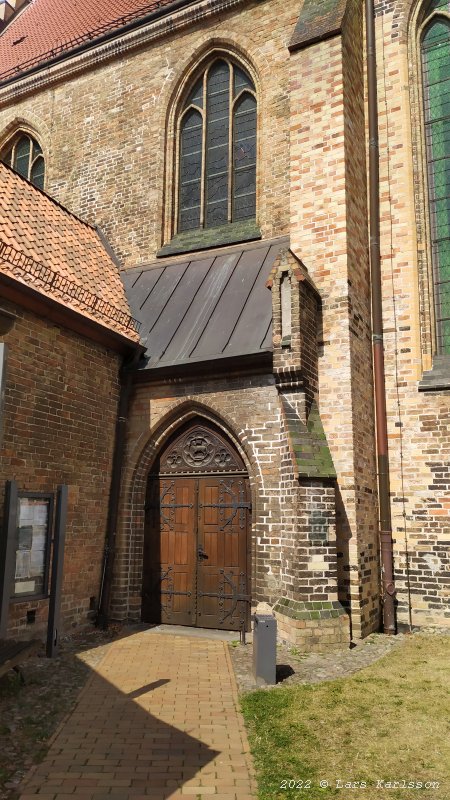 The buildings looks exciting, but we think all these are rebuilt after the war.
---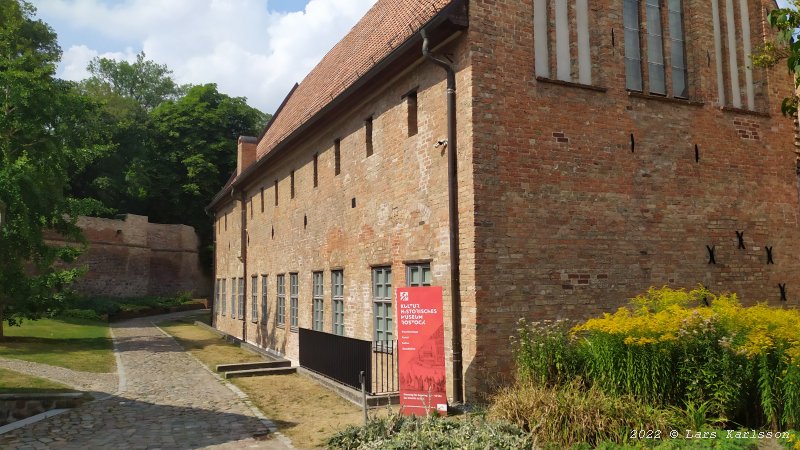 Part of the old city wall in the background.
---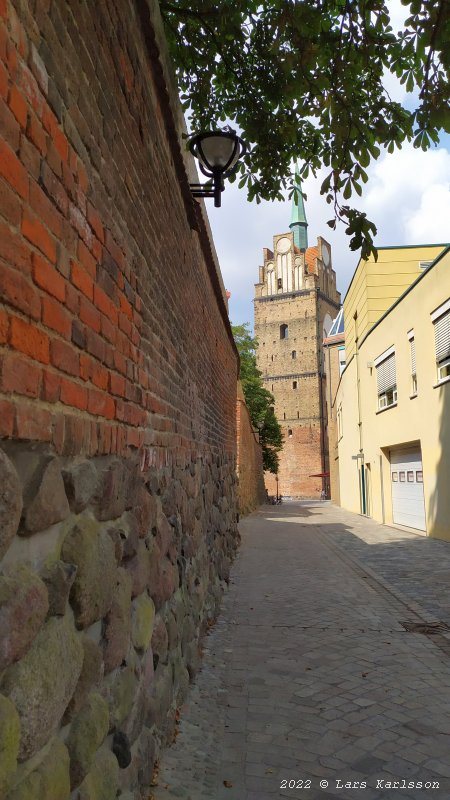 Kröpeliner Tor, we have looked at old maps over this city and when the tower was one part of the city wall.
Here are more information about the Kröpeliner Tor (only german):
---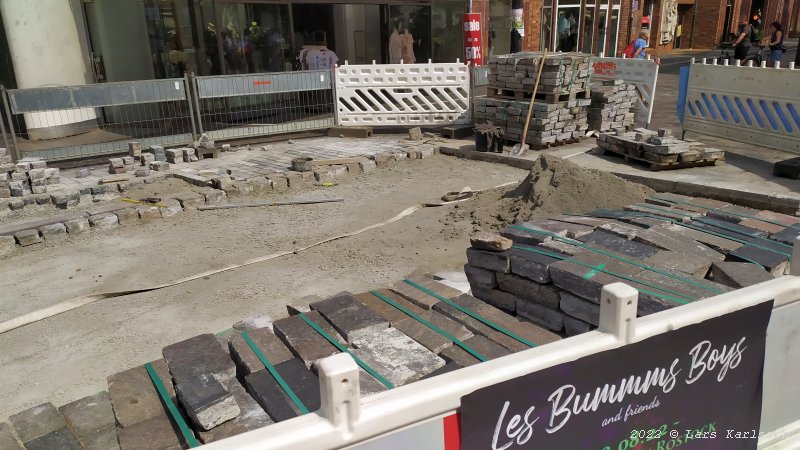 Two weeks earlier it was a hole here, we could see old fundament after demolished buildings.
---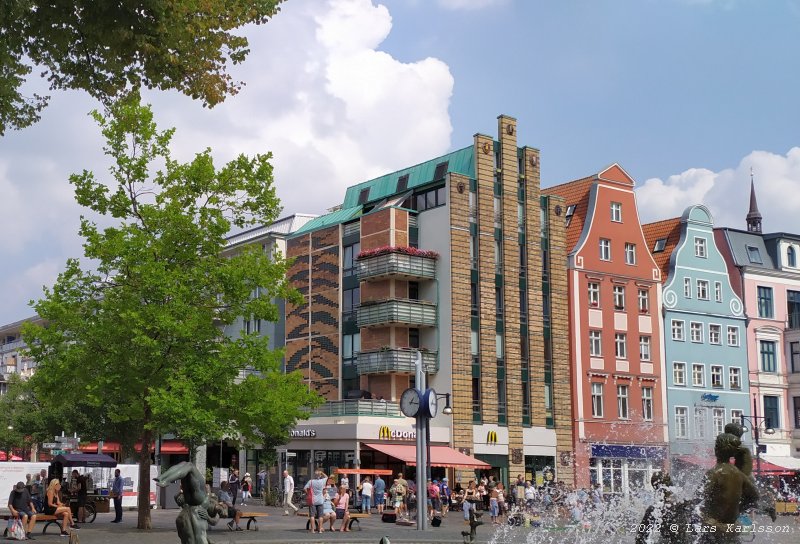 The square at the fountain Brunnen der Lebenstreude.
---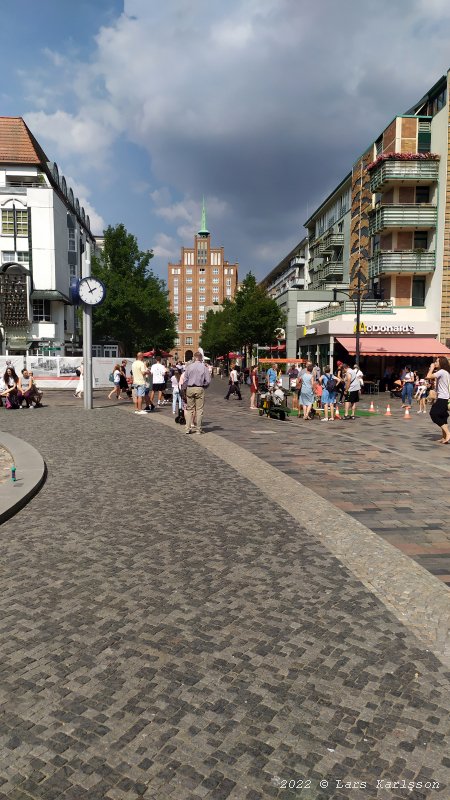 The clock is now almost 2 pm, we have to plan how to get to the ferry.
---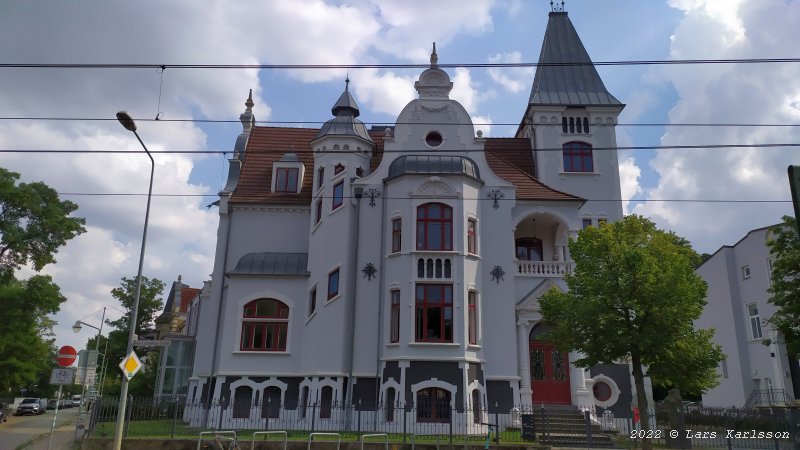 We take the tram back to the railway station and pickup our luggage. Then we took a tram to Lorenzstrasse and the plan was to change to a bus at this place. All together a 45 minutes travel to the ferry.
Now it got dramatic, when we got of the tram we see that it was a bus station on the other side of the street, but our bus number wasn't on the sign. Google map told us to go all the way to another bus stop. We got there, but no bus, it looks to be a bus stop only in traffic during the night. Meantime we see our bus go from far away. We missed that bus, waited and missed the second one too. We run back to the tram to try to find a taxi, no one there. Then we go to the bus station that we should had go to earlier. Yes on a small sign we could see that the bus stop here. We took the next bus to the ferry, is everything alright now ?
No this bus didn't go all the way to the ferry. We asked the bus driver how to get to the ferry, he told us step on his bus and go back. He drives for a long time and now we where closer to Rostock than earlier, but then he told us to take another bus on the other side of the street, it will come in only minutes. The bus came, but now we thought that we will never arrived to the ferry in time.
But we arrived in time, then we go to the ferry gate, but the guard didn't let us in, we must have a printed ticket, the one in smartphone wasn't allowed to use. Oh no, more problem, we rush over to the info terminal where our ferry has its office and asked for help, he printed out our ticket and then we rushed back to the ferry gate. This time the guard let us enter the ferry. Here we had traveled by train and buss 16 days without any problem, but this last one got us in trouble, now we really need to sit down and relax.
If we take this ferry once again in the future I think it's better to go on the Western side as we did when we arrived. With a bus between the ferry terminal to the tram station Rostock-Lutten Klein. From there it's possible to take a tram or train to Rostock HBF.
---
Rostock Ferry terminal: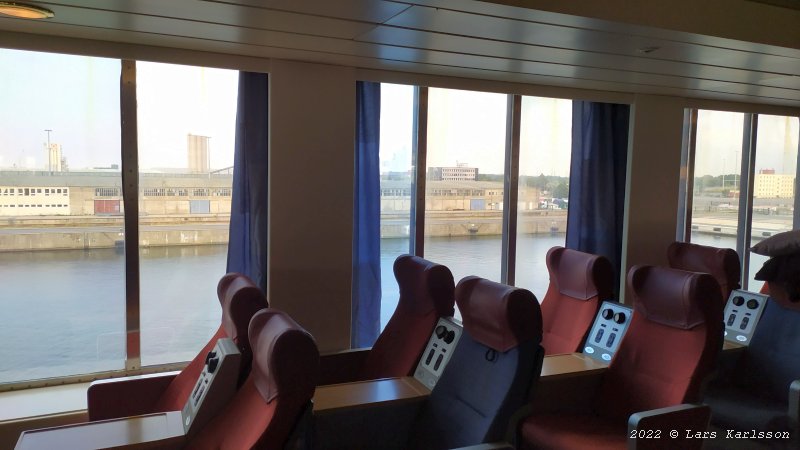 Our flight chair where we could sit down to calm down. The ferry is just to leave the harbor and we have a terrific weather. With earlier practicing ferry travel with out a cabin we could arrange a more comfortable sleep.
---
Visby in Sweden: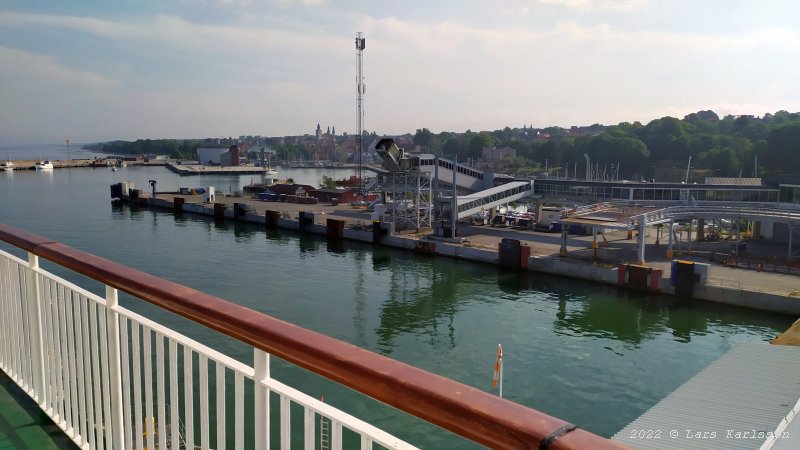 Even on this tour the ferry make a stop at the Swedish island Gotland and the city Visby. The time is now 9 am and we had just eaten our breakfast.
---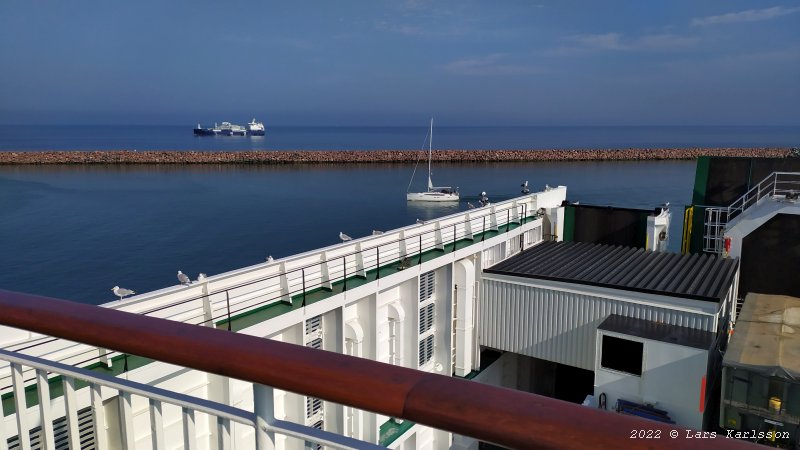 This is the third time we are at Visby during the two last months.
---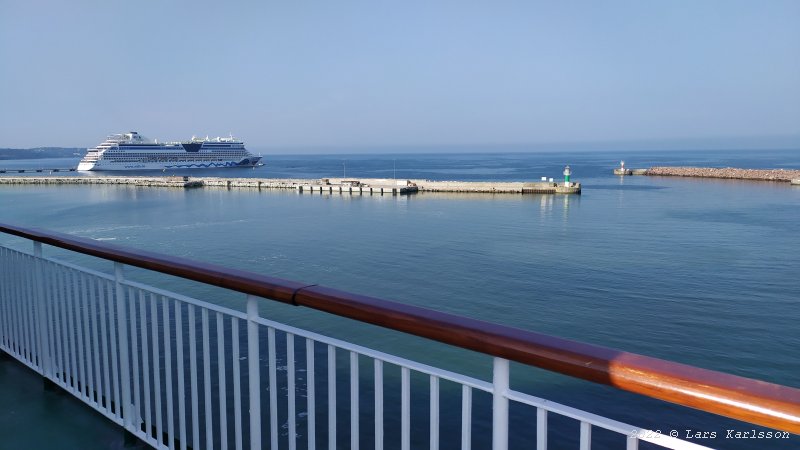 The stop at Visby is short, maybe 45 minutes. Out on the Baltic sea once again, five more hours and we are back in Stockholm.
---
Nynäshamn in Sweden: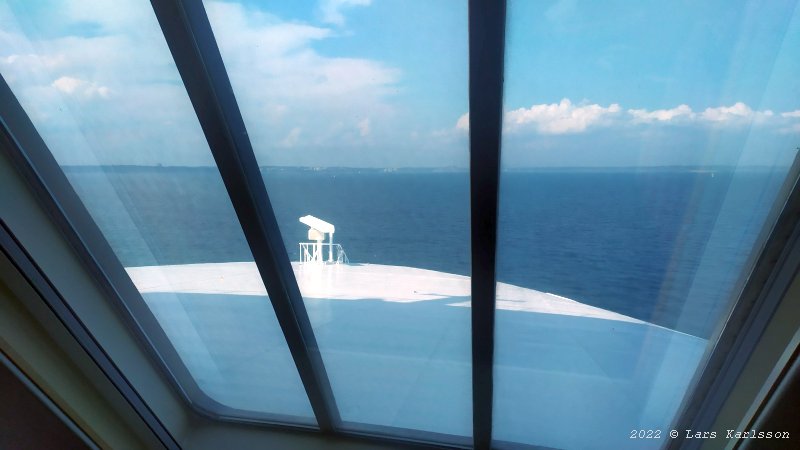 We see Nynäshamn, back here 17 days later.
---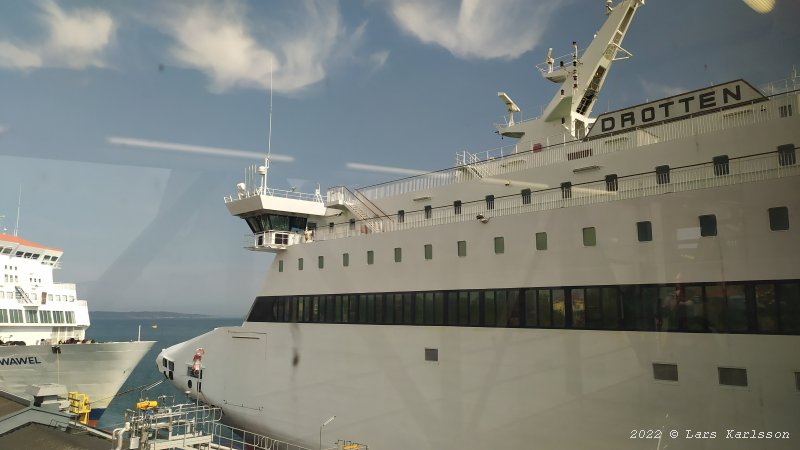 Drotten, our ferry we got home with.
Here are more information about Nynäshamn:
---
If you find it interesting to know how much money we spent on this tour I have here some fact.
| Type | Cost each Euro | Cost all together | Comment |
| --- | --- | --- | --- |
| Sweden bus and local train | 4 | 16 | |
| Ferry | 28 | 112 | |
| Train Germany | 9 | 18 | 30 days tickets |
| Guided tours, Museum etc | - | 190 | |
| Hotel cost | - | 1385 | 14 days, the ferry was free |
| Breakfast, dinner, drinks | - | 1040 | |
Total cost add up to 2760 Euro for two persons, that isn't much for a 17 day travel. But of course we could used cheaper hotels and cheaper food. But we prefer to have good times when traveling. Its cheaper for us to stay and eat in Germany compare to Sweden. But our last visit to Greece at Crete was even more economical, it ended up for two weeks to 1700 Euro and that included everything, even a rented car for 4 days.
The END