My travel in Europe:
By train in Northern Germany, 2022
---
Content:
---
Day 4, from Rostock to Warnemunde and back:
We liked Rostock so much that we decided to stay one more day. At our hotel there were no free room that we could book. But the hotel Blue Door where we stay have one more hotel in Rostock. It's placed at the North of old town. No problem for us to book a room at this hotel.
Here is a map of todays route:
It's possible to go with train or tram.
---
Rostock: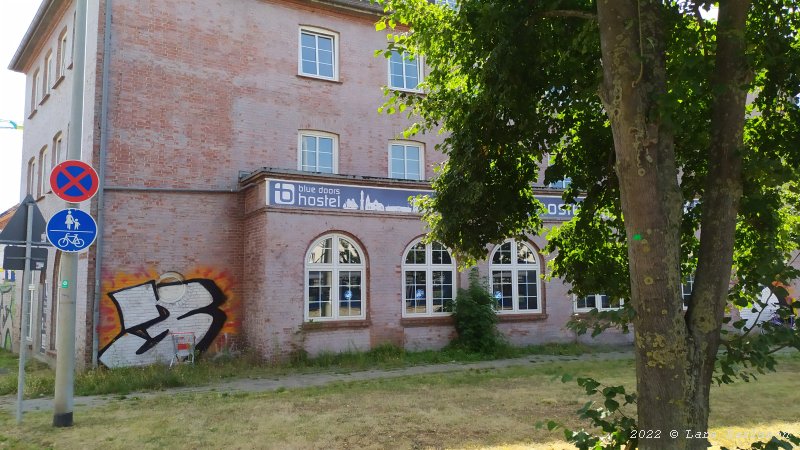 As usual we start with a breakfast buffet and drawing plans for the day. We check out and leave the hotel and take the tram to Parkstrasse where our new hotel is. Our new hotel looks to need a bit of renovation from outside but when we came inside it was terrific. We can't check in until much later, the staff offered us to store our luggage behind the desk, great, now that problem was solved.
---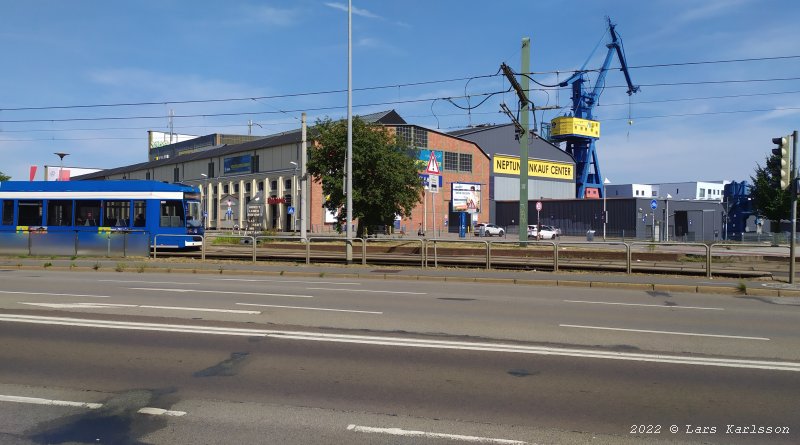 The staff on the hotel give us instruction how to come to Warnemunde, we can take the tram but it's slow, 55 minutes. The train only needs 35 minutes and go all the way out on the pier to Warnemunde HBF. The train stations is a 8 minutes walk away from the hotel.
---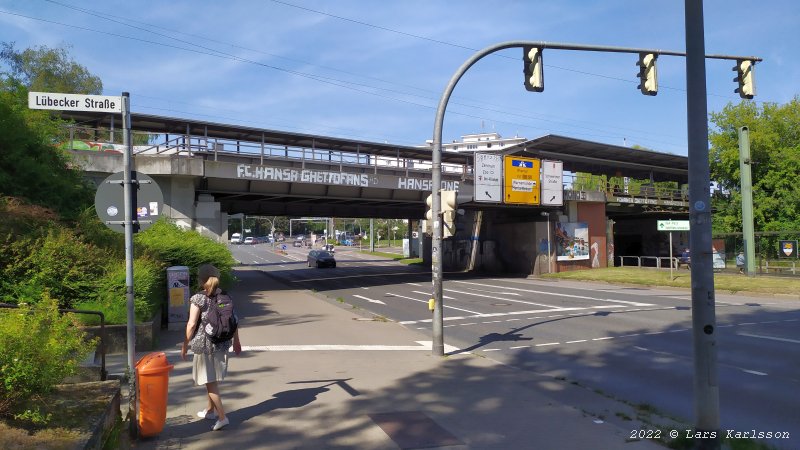 This day is hotter then ever, it will reach 35 C degrees during the day. Here is the railway station Holbeinplatz where we take the train from.
---
Warnemunde: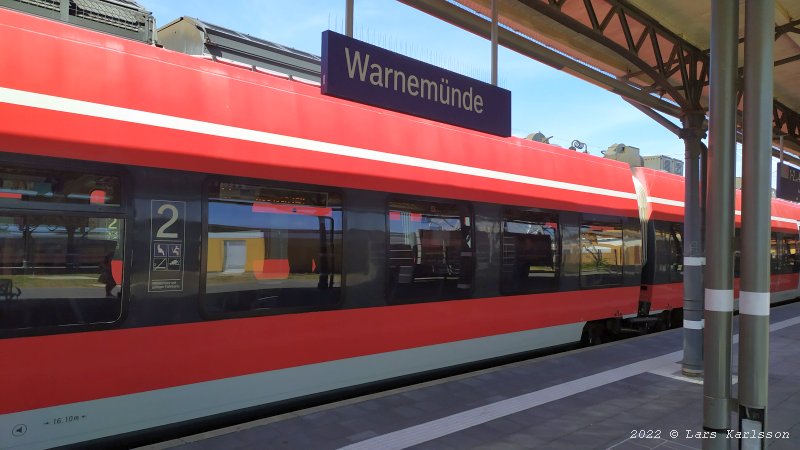 35 minutes later and we are at Warnemunde railway station.
---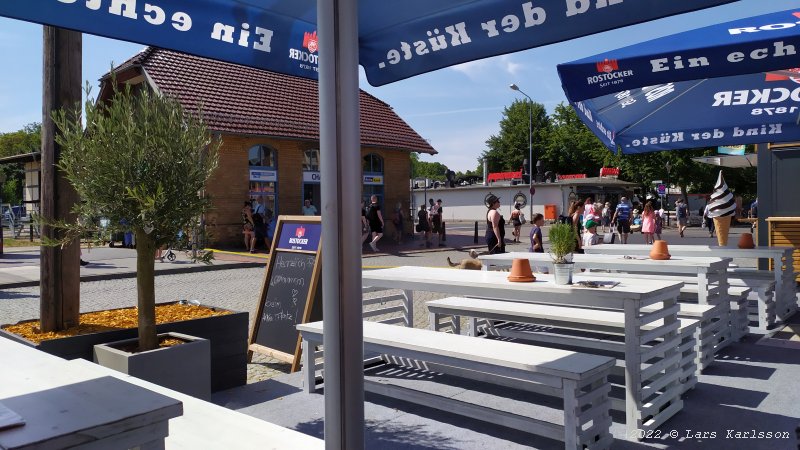 40 meters walk and we found a waterhole. Coffee and Coca Cola.
---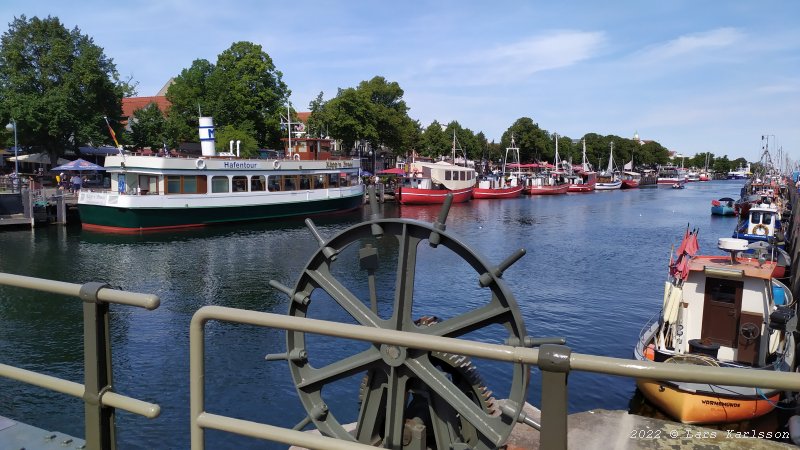 A bridge lead us over to Warnemunde central area. Made a stop on the bridge to have a view over the harbor. This is a town that we like which we can see direct.
---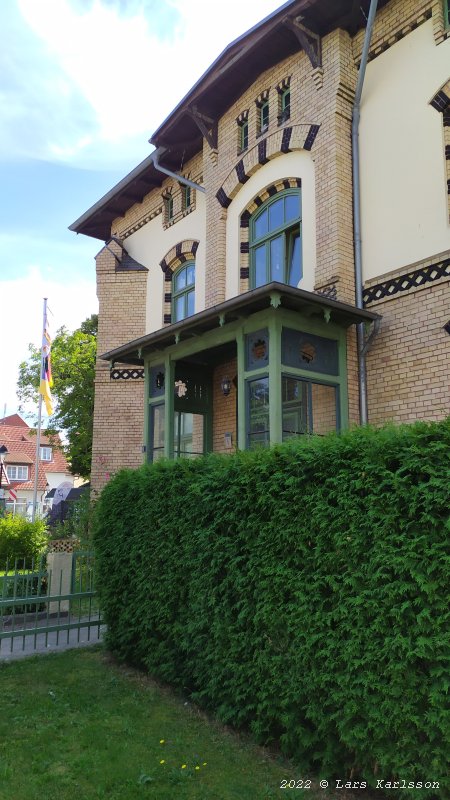 Walking to the avenue along Kirchenplatz and turn left after the church. Here we have a market where we can buy some food and water bottles. During the walk, looking at all nice houses we pass by.
---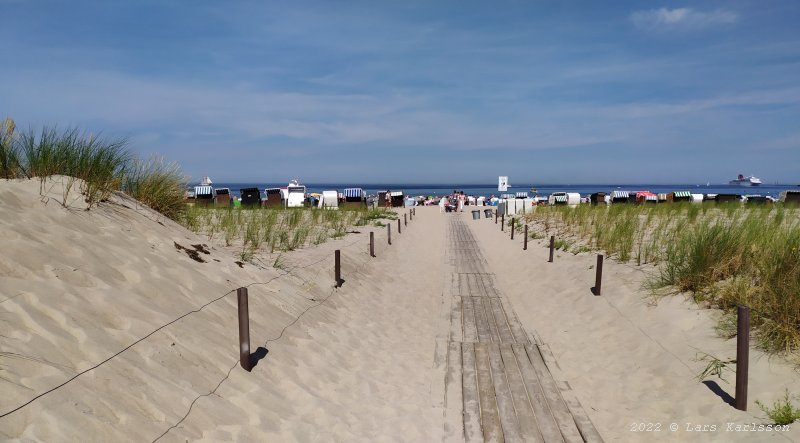 What to do in Warnemunde ? Of course visit the beach, after we walked 20 meters out on the beach we felt, we can't stay here, too hot. Turned around quickly and walked back to the shadows from the houses. We can't understand how people can survive out there.
---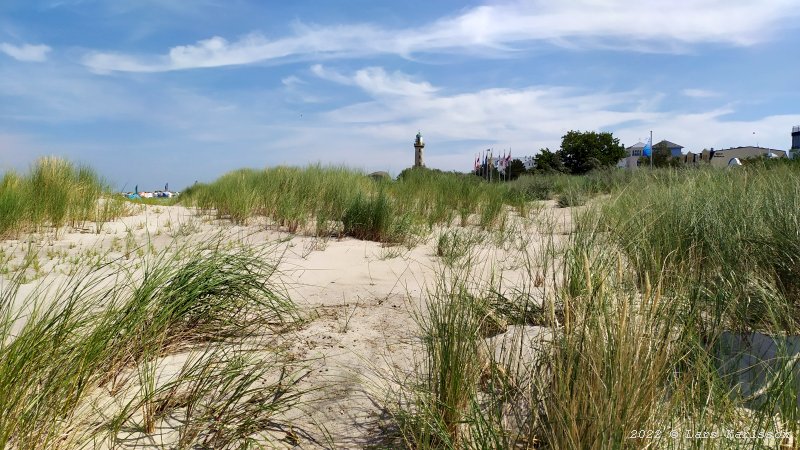 To the right or in Eastern direction we see a lighthouse, that's something we must take a closer look at.
---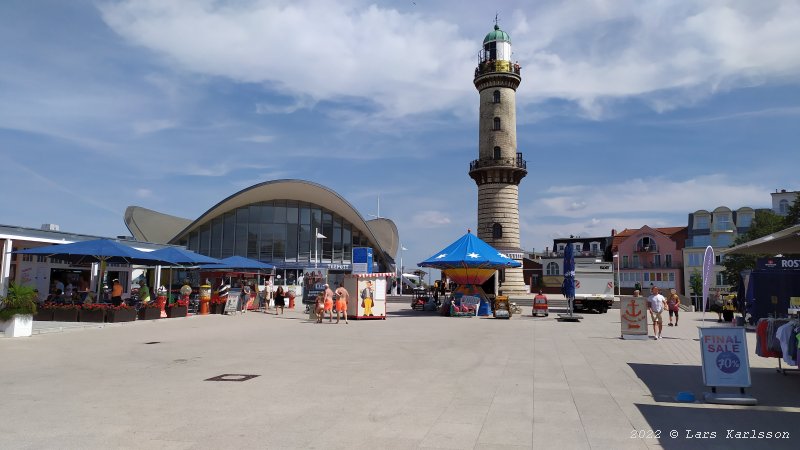 Warnemunde Lighthouse, built in 1898 and it's 36 meters height.
Here is more information about Warnemunde Lighthouse:
---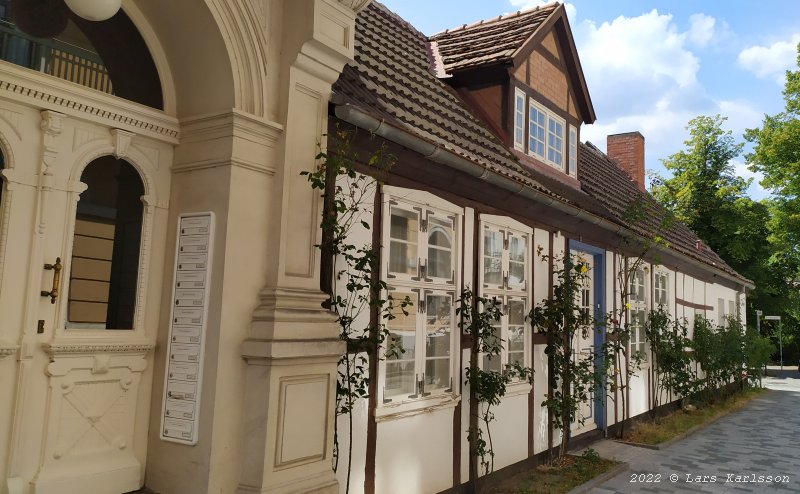 After a couple of hours out in the sunshine we must have an ice cream. Walking around in the town to find that.
---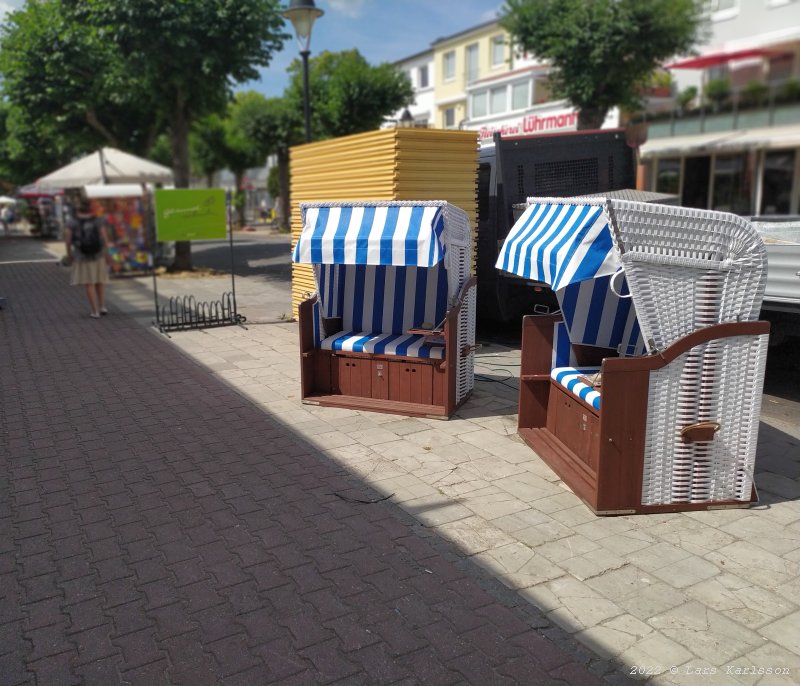 Baden Baden beach chairs, famous for Germany.
---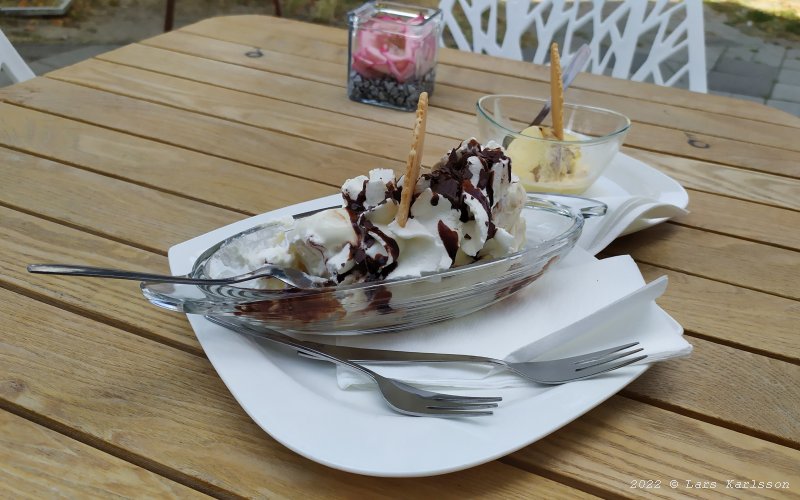 At last, at Munchenstrasse we find what we needed, banana ice cream.
---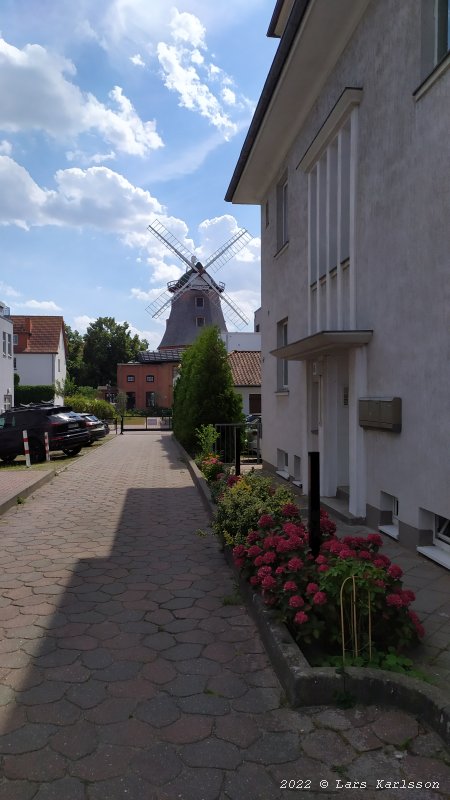 Has it cold down enough for us to do another visit to the beach ? We walk North towards the beach again to give it a try.
---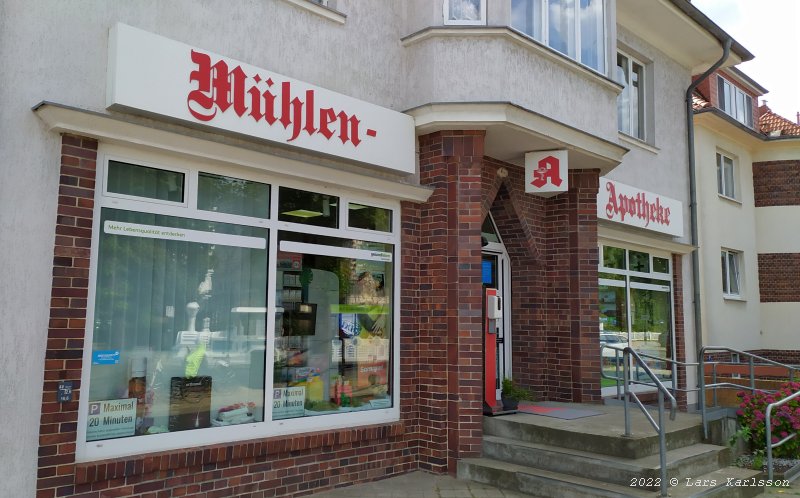 Muhlen Apotheke.
---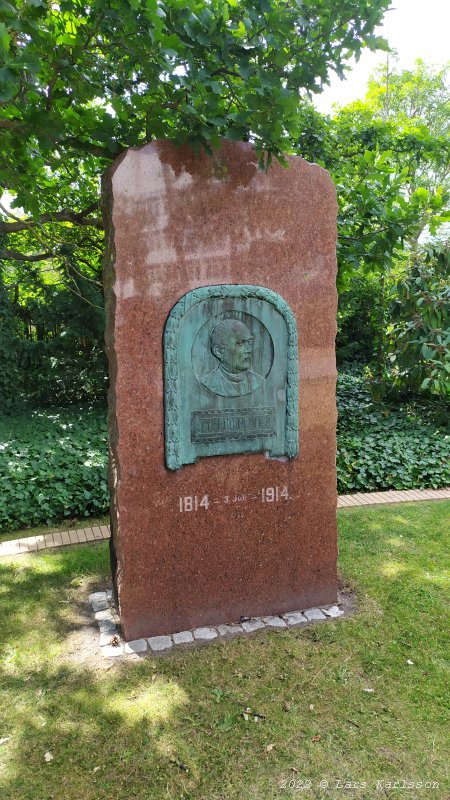 John Brinckman, born 1814, he was a famous German writer.
Here is more information about John Brinckman:
---
---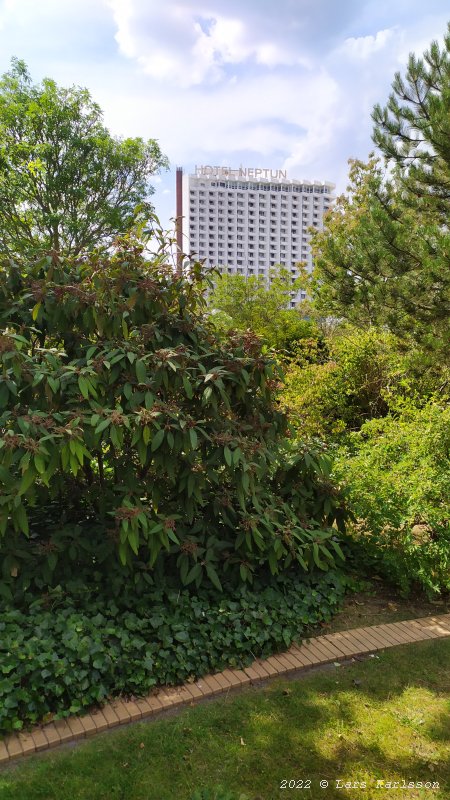 Hotel Neptun, during the East Germany history Fidel Castro stayed here.
---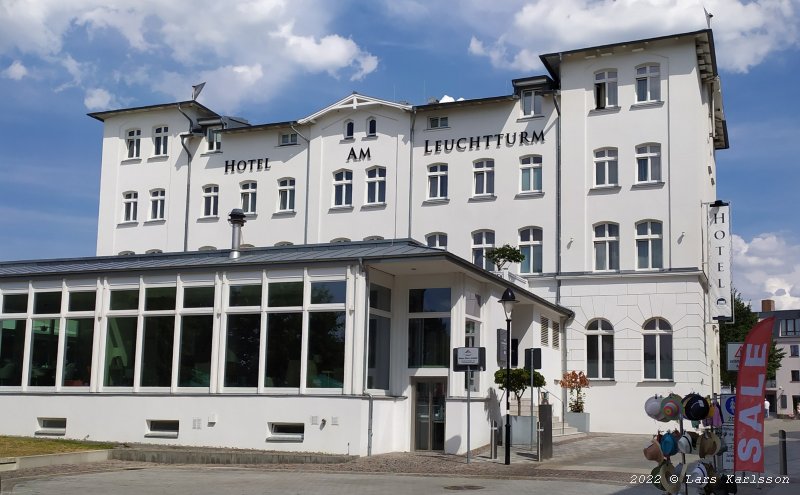 Hotel am Leuchtturm.
---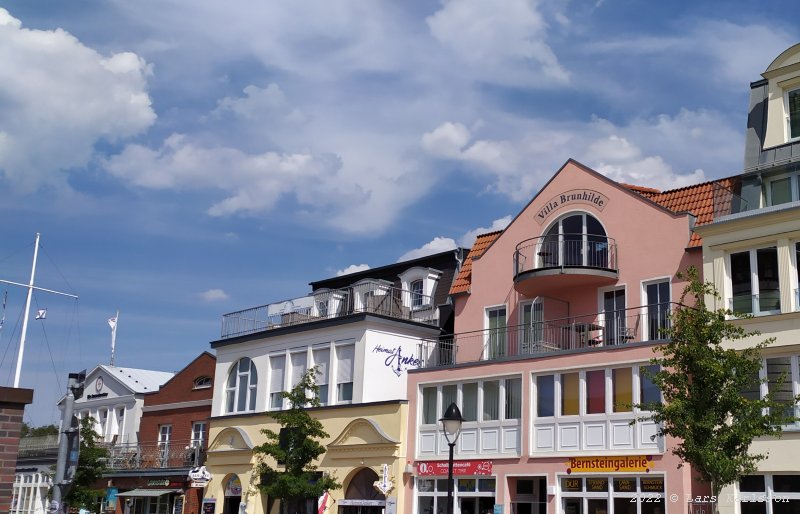 Now when it's about 3 pm it's easier for us to handle the heat. Walking along the houses along the beach.
---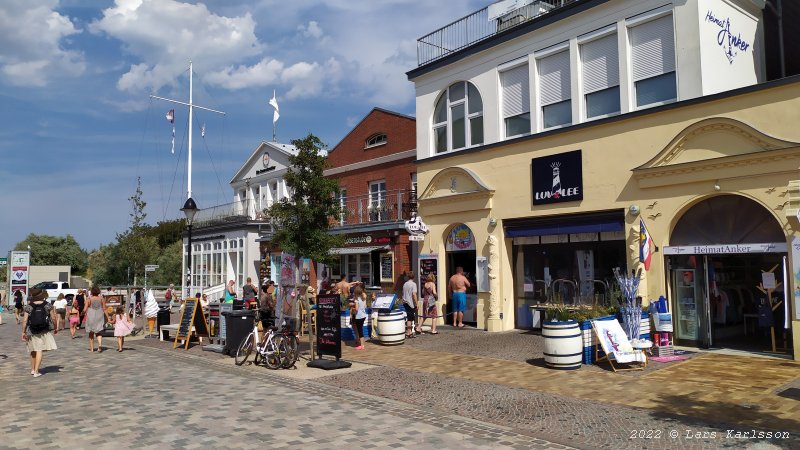 The queue for ice cream sales is long.
---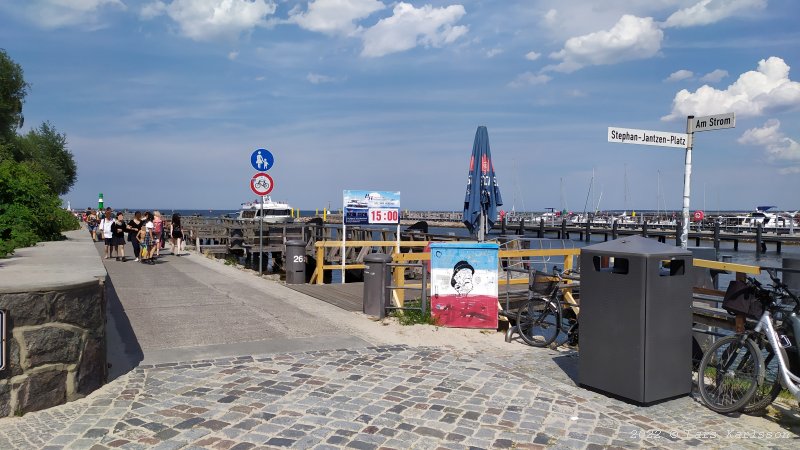 At the Eastern side of the beach is the harbor. The channel here is called the Alte Strom, the Old Channel.
---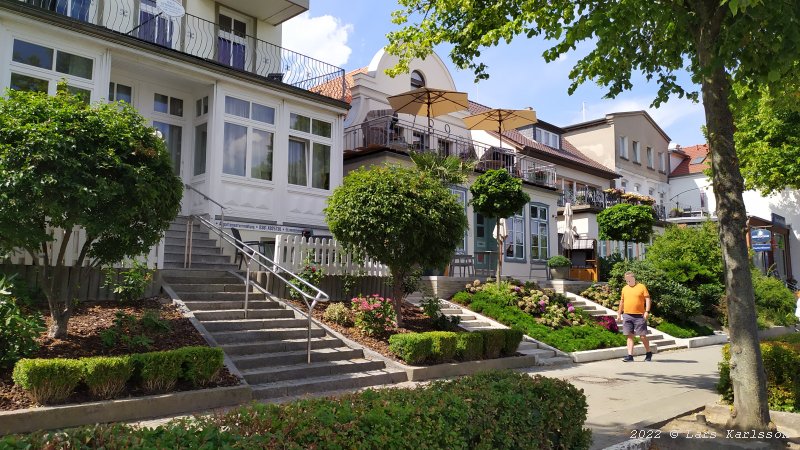 We find a lot of beautiful houses here.
---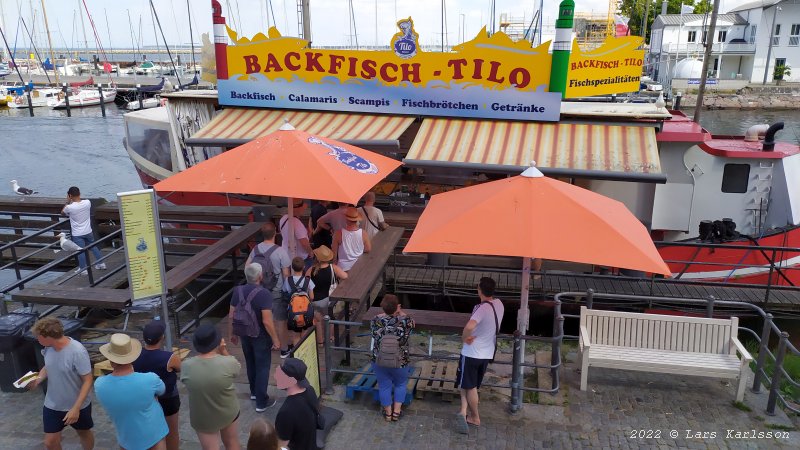 Also a lot of restaurants, on this boat they serve fish, Gunilla likes fish but no hunger today, yet.
---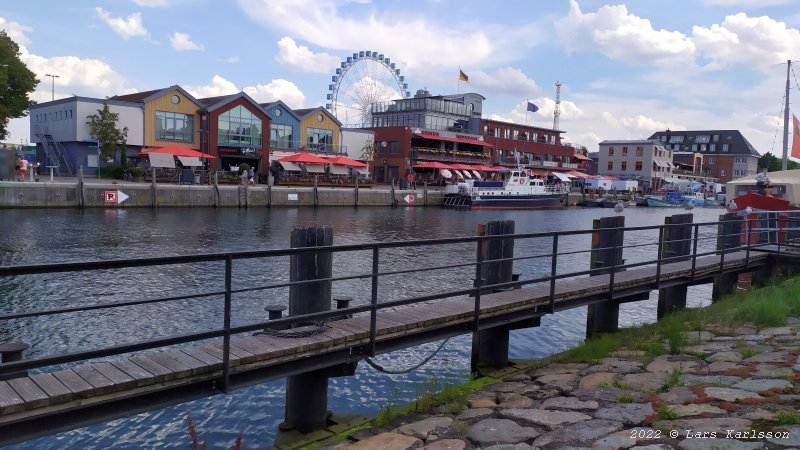 A boat cruise along the harbor could be nice and we started to looking at what boats we can go with.
---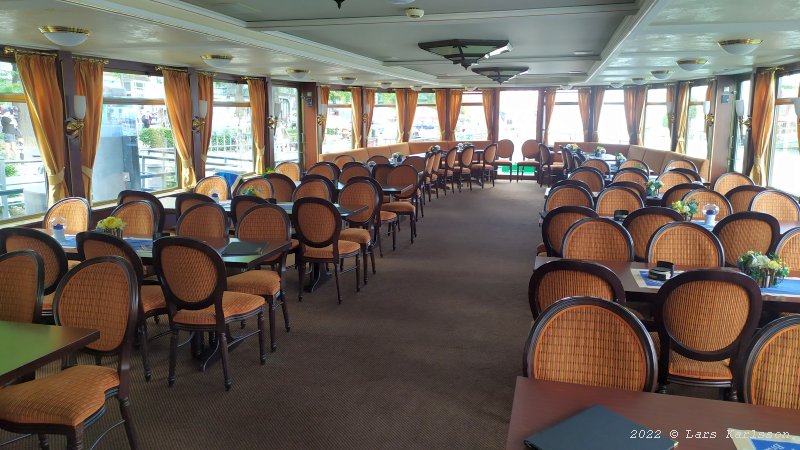 Found one boat that depart in 20 minutes, the salon is wonderful but we want to have a free view and go to the upper deck.
---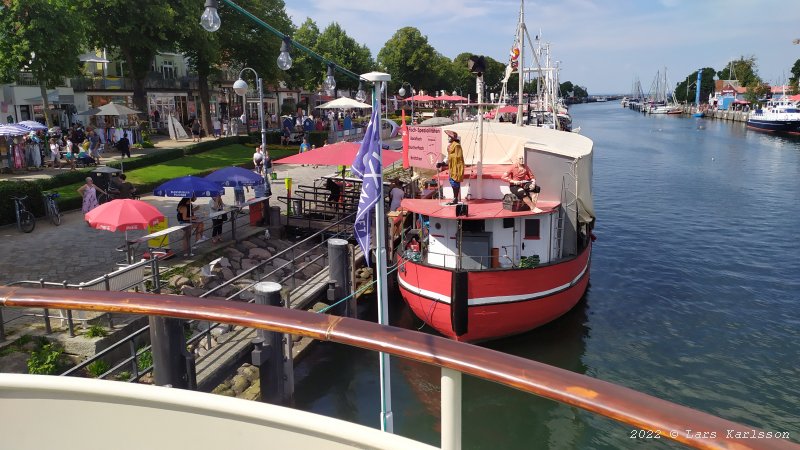 It's about 4 pm now and the tour takes one hour and cost us 30 Euro.
---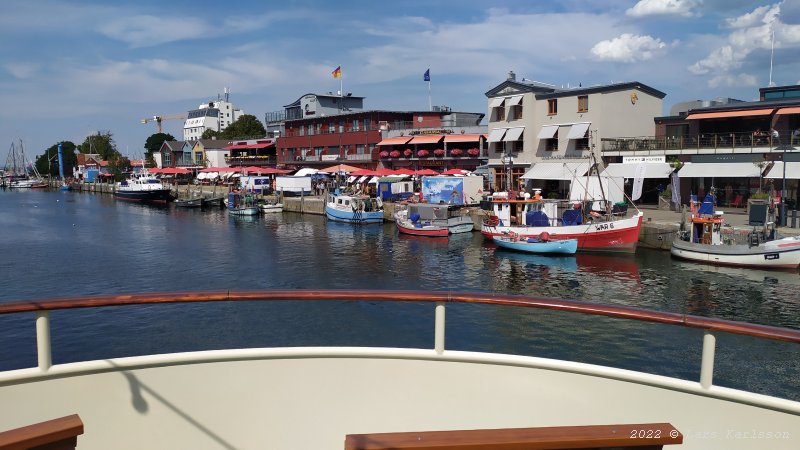 Even on the other side there are a lot of restaurants, but many of them looks to be closed. They shouldn't be closed because it's August which is the month when most Germans have vacations.
---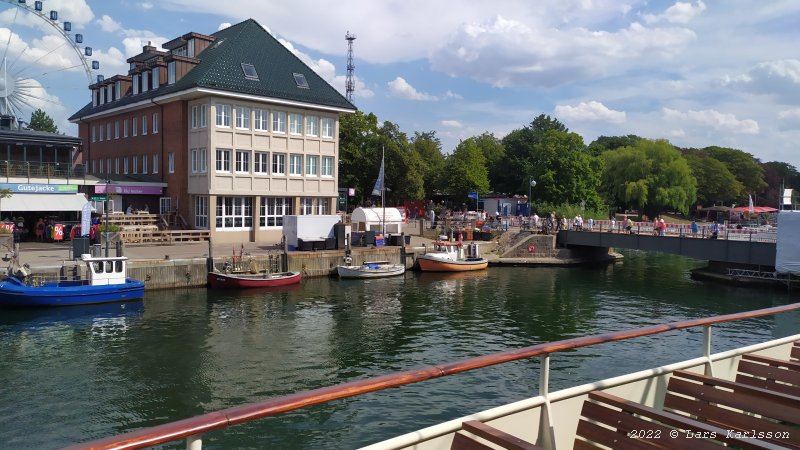 This is the bridge we came over from the railway station.
---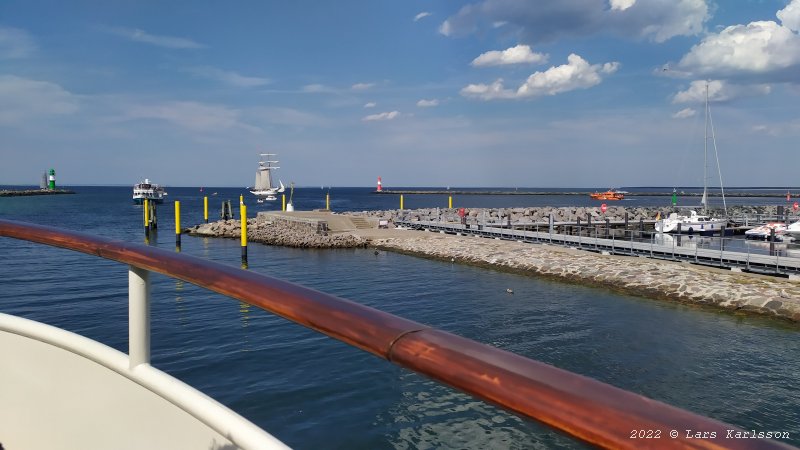 The cruise started, a big sail ship is coming into the harbor.
---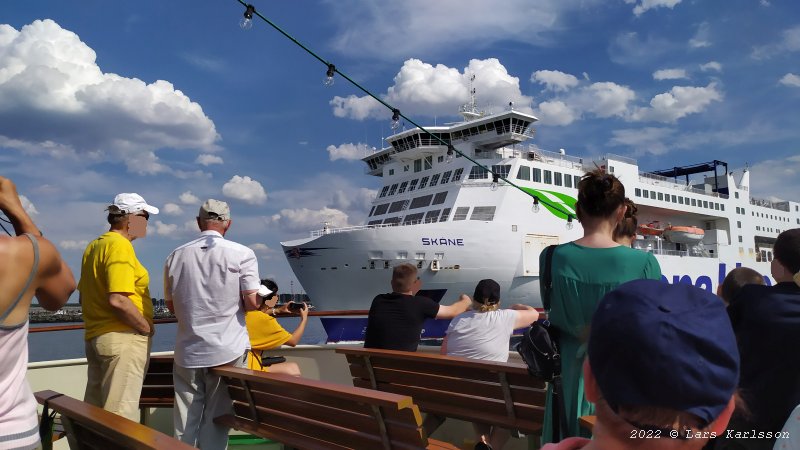 A big ship come up close to us, very close.
---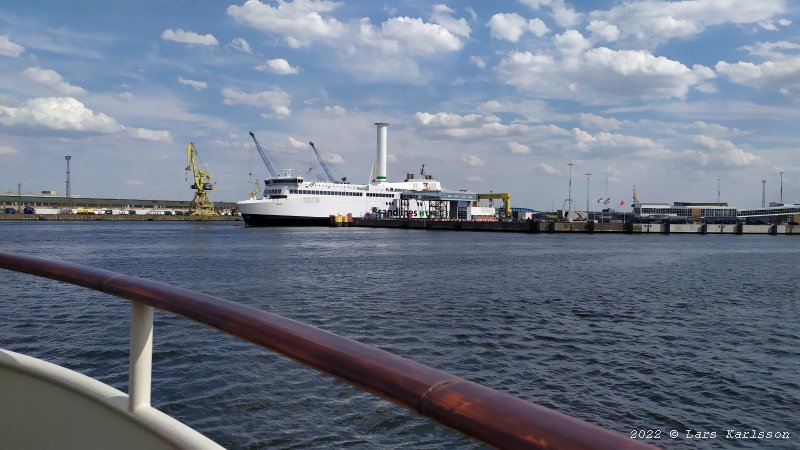 This is a very special kind of sailing ship, it use the tower which rotate slowly as a sail.
---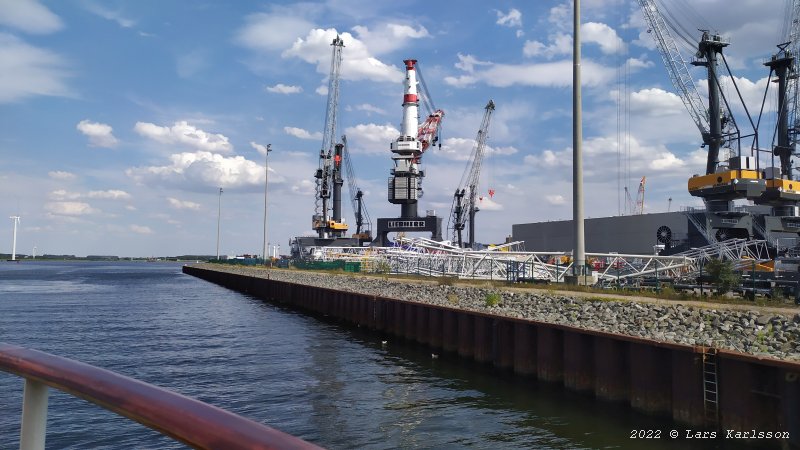 Very big cranes and many of them.
---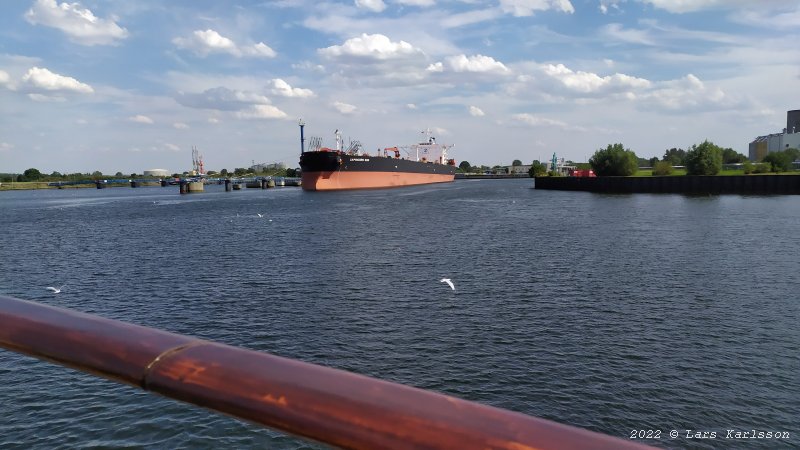 Coal is still important for Germany and a lot of cargo ships is used to transport it.
---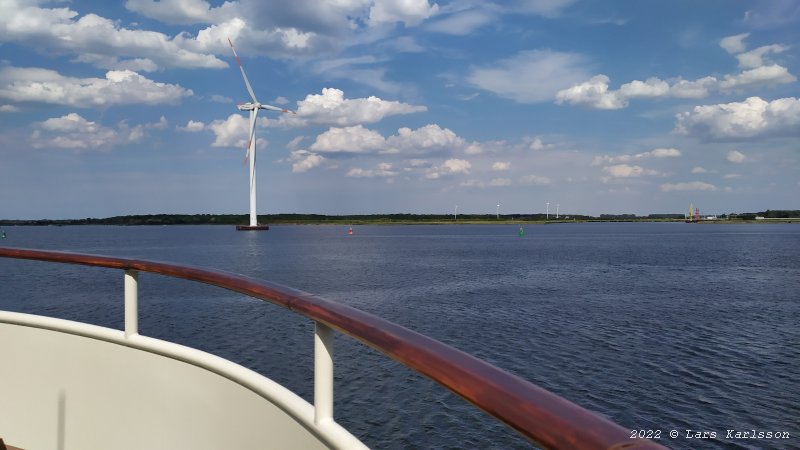 Wind power.
---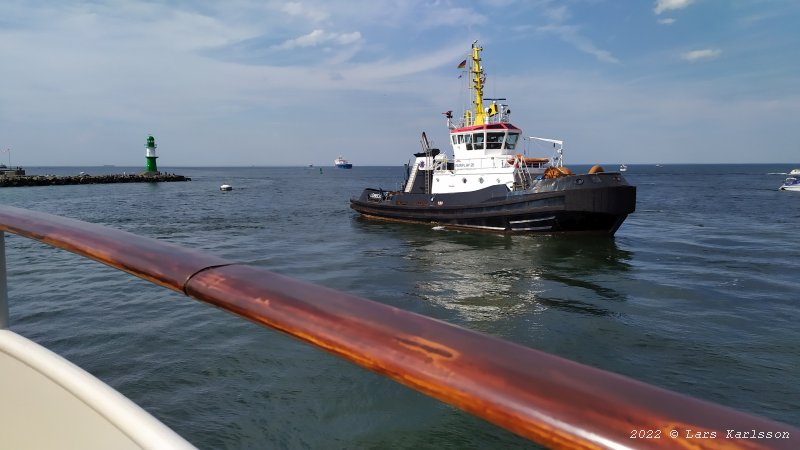 A tug boat, maybe he is waiting for the big tanker that is coming in at the background.
---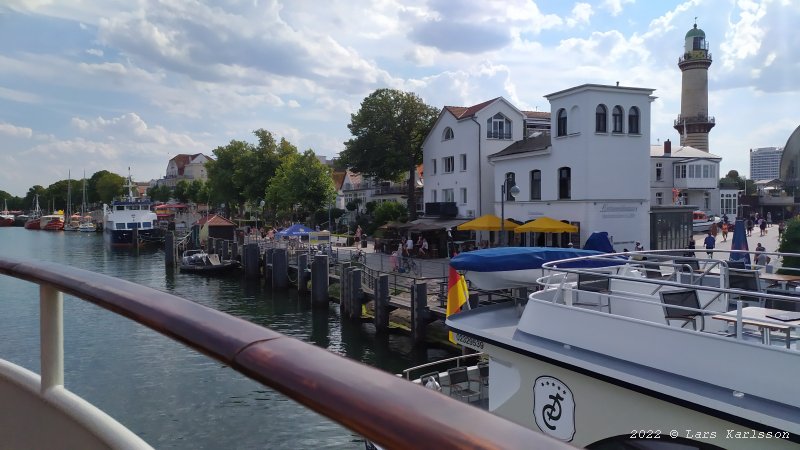 Now one hour has gone and we are almost back from where we started, the lighthouse to the right.
---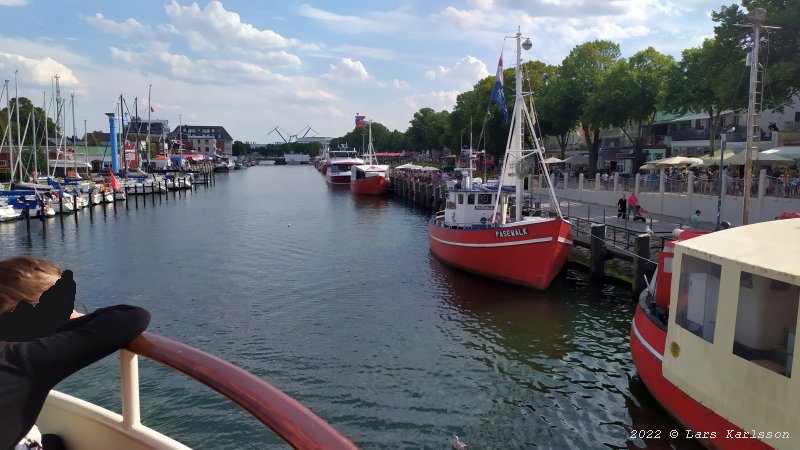 Warnemunde was a perfect place to be at this hot day, now we take the train back to Rostock and our hotel.
Here is more information about Warnemunde:
---
Rostock: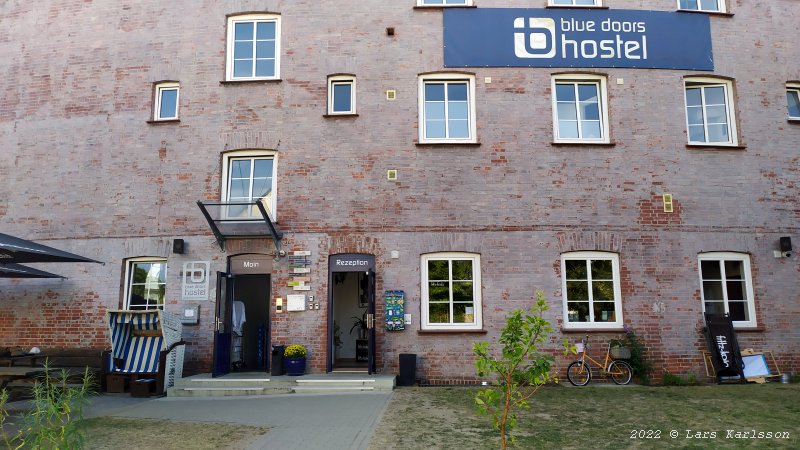 We pickup our luggage and they told us that we can stay in the annex.
---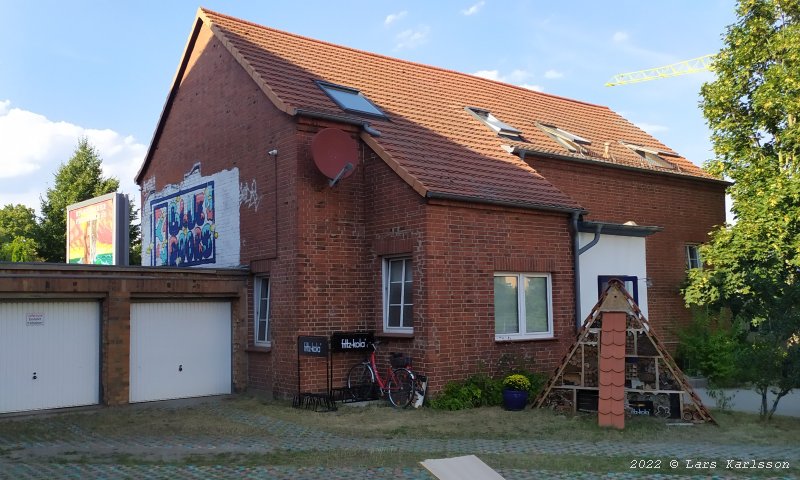 The annex, what a nice little house for us.
---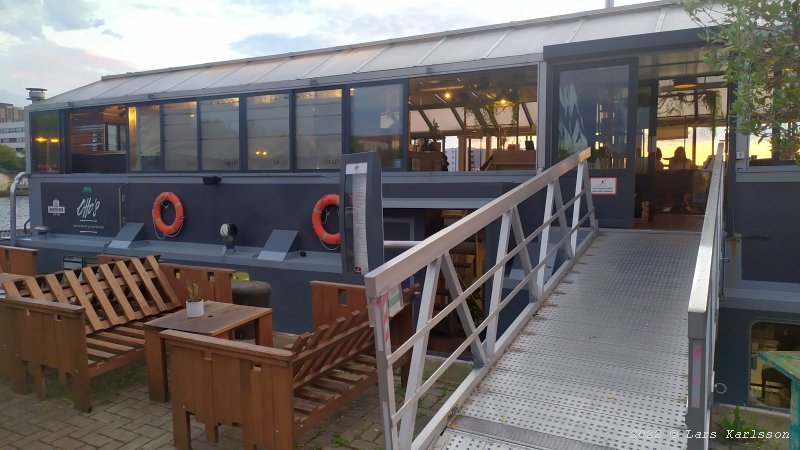 Evening and the hunger remind us that we must find somewhere to eat. We walk down to the river Unterwarnow and find a very fine restaurant on a pram. We order a mix dish for two. It came as a three level dish full of food for us.
---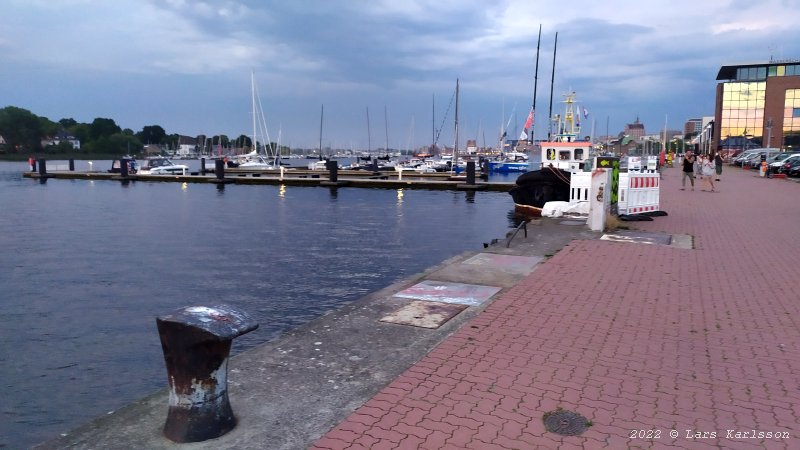 After the dinner an evening walk along the pier, not many people here.
---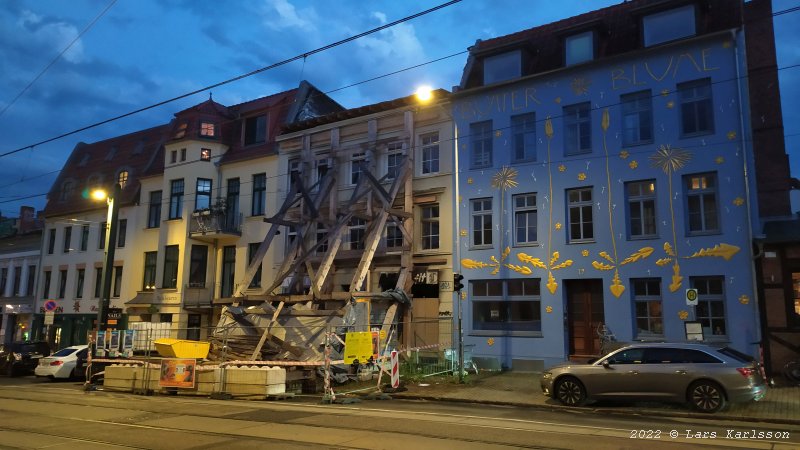 Up to the street at old center and walk back to our hotel. A wonderful day in the beautiful Warnemunde.