My travel in Europe:
By train in Northern Germany, 2022
---
Content:
---
Day 5, from Rostock to Stralsund and Berlin:
This was the last day in Rostock and with sadness we leave it today. We are now going to Stralsund which is a place we hope to be very interesting, but it's just a four hour stop on the way to Berlin. The weather forecast isn't so good, rain is promised at Stralsund but not in Berlin.
Here is a map of todays route:
With RE train to Stralsund, one and a half hour.
---
Rostock: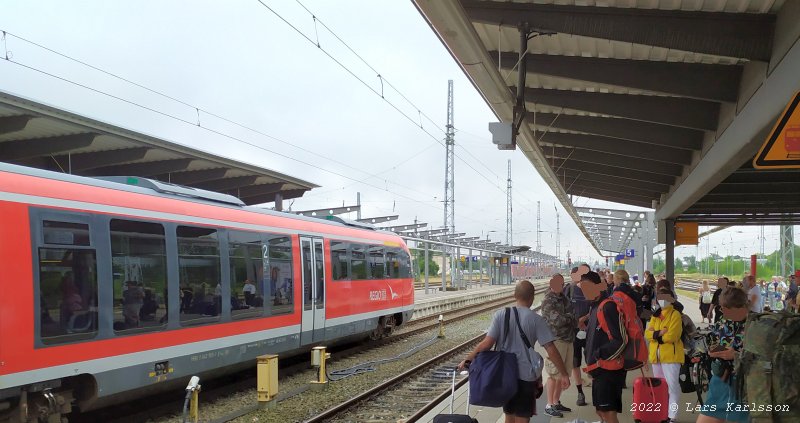 We got up early and after the breakfast we took the tram to the railway station. Here we are at Rostock HBF at 10:30 and waiting for the train that will take us to Stralsund.
---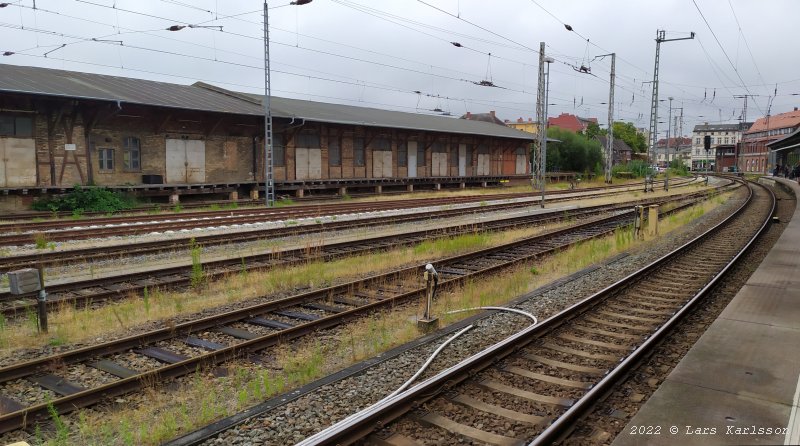 A last good bye to the town we liked so much.
---
Stralsund: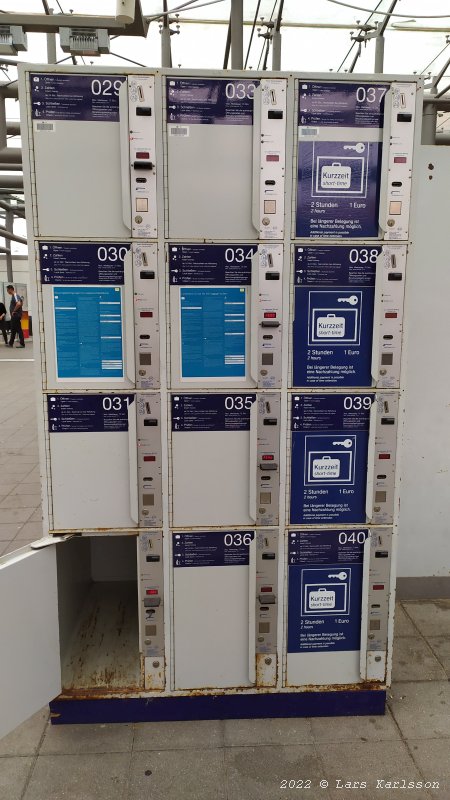 When we arrived at the railway station at Stralsund we looked for boxes to store our luggage in during our walk in the city. Found one and only one free box, we succeeded to store both our suitcases in one box, 3 Euro for 24 hours.
---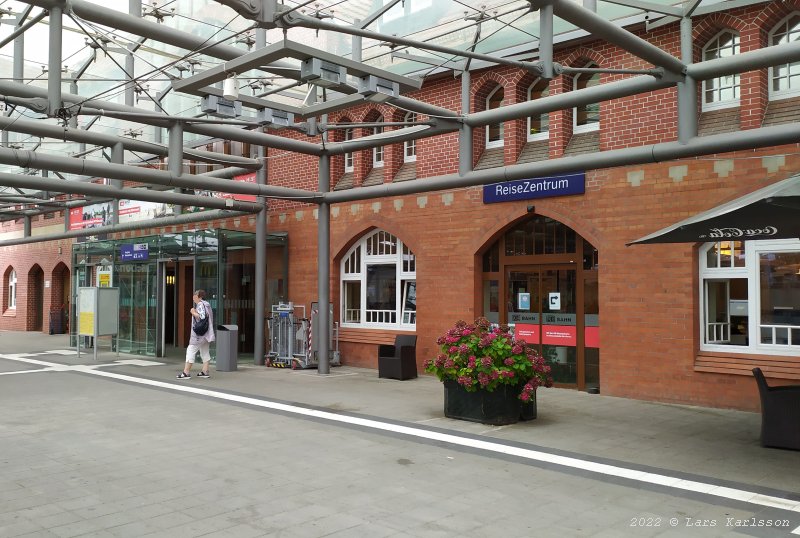 It is fine weather without any rain, I left the umbrella in the suitcase, big mistake !
---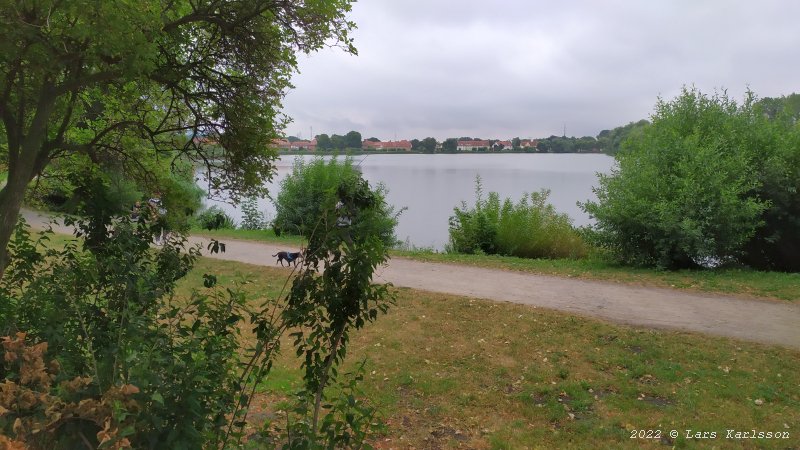 From the railway station to Stralsund's old town is just a short walk. We follow the street Tribseer Damm. The city has three small lakes around it, this is the Kleiner Frankenteich lake. Earlier it was a part of a channel.
---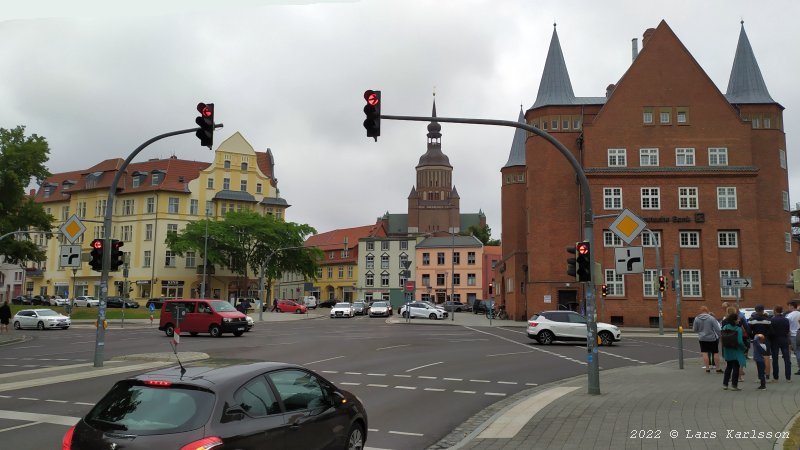 Here where the street Tribseer and Frankenwall cross start the old city. There are a lot of traffic here, not so nice. And it also happens that it have started to rain !
---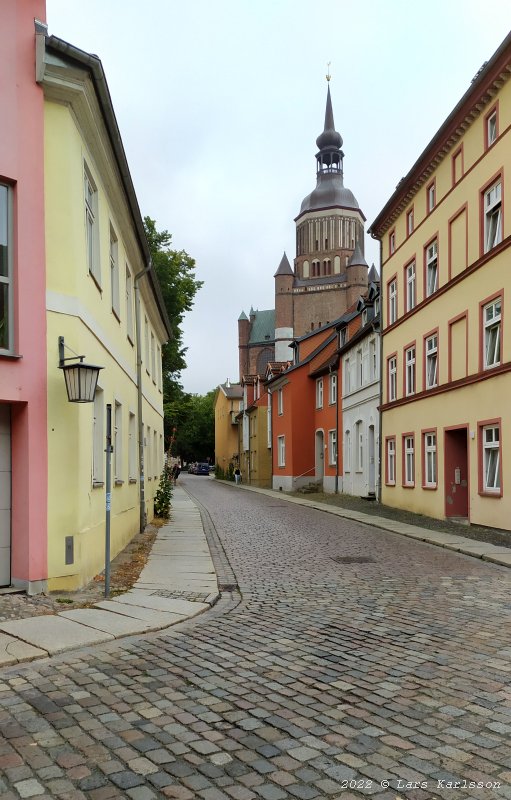 We choose to walk at the smaller streets in the old town to get rid of the traffic.
---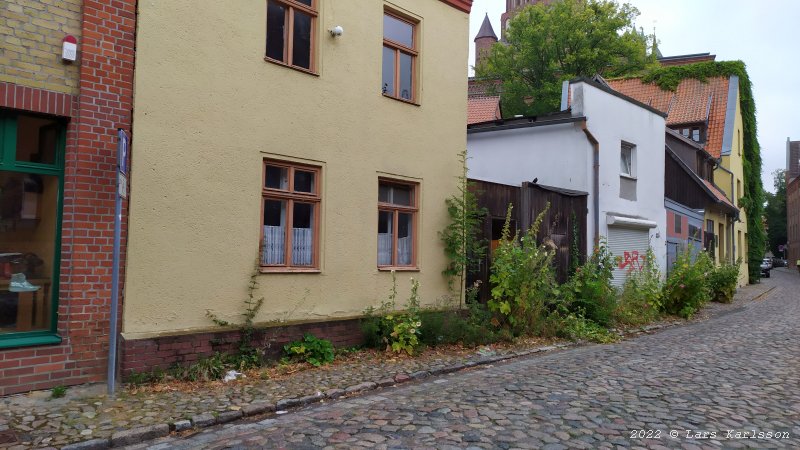 There are green vegetation along the sidewalks.
---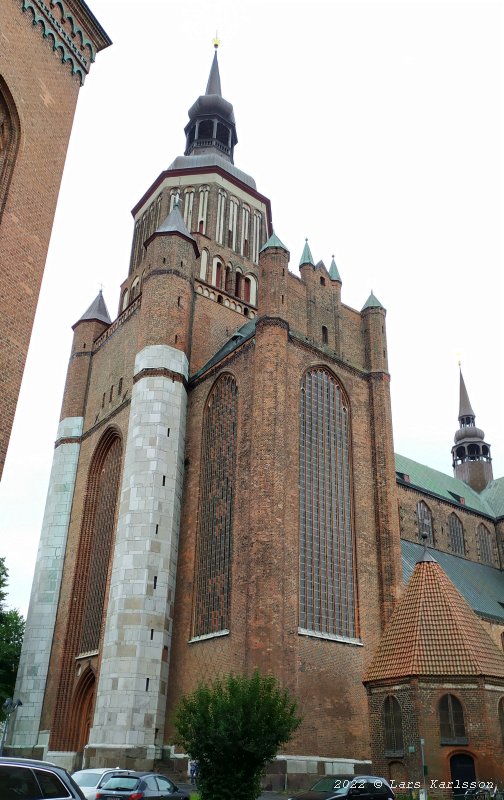 The first church we see is, yes what ? A Maria Church !
---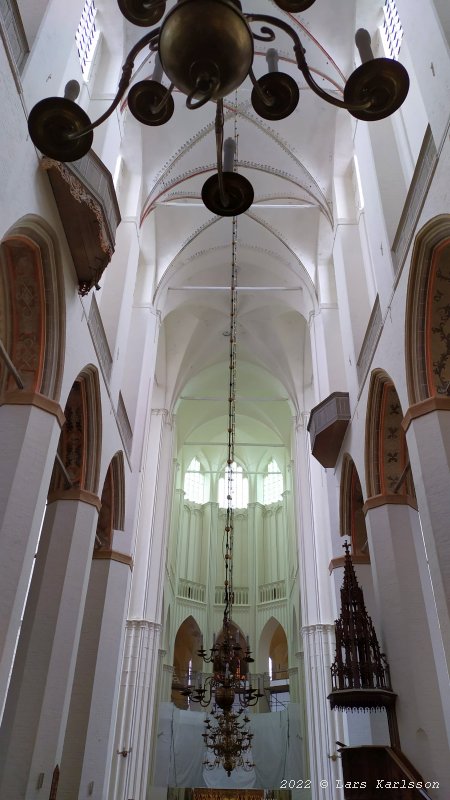 It's open and we enter it, a magnificent space here, we talk quiet to each other to not disturb.
---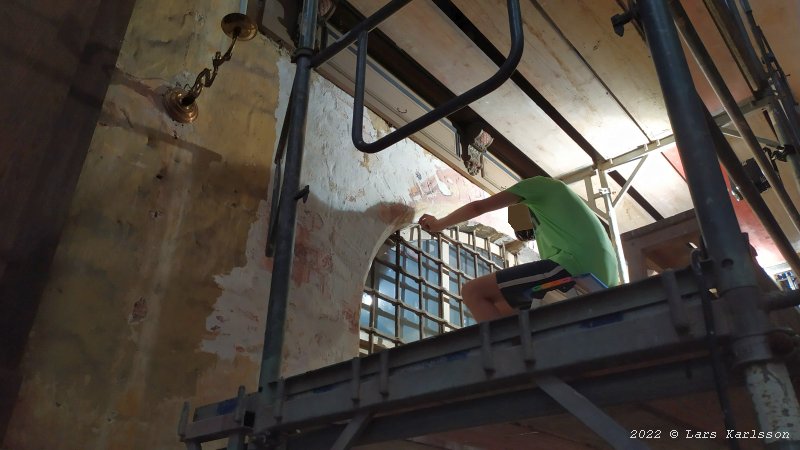 A renovation is going on, a slowly process to get everything correct.
---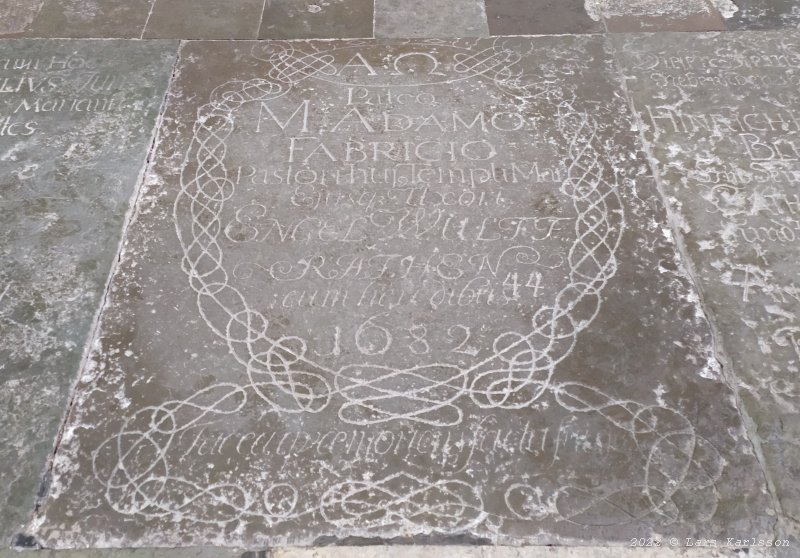 A tombstone in the floor: "Malamo, Fabrico, Paston Templi Ma ... , 1682", Latin or ?
---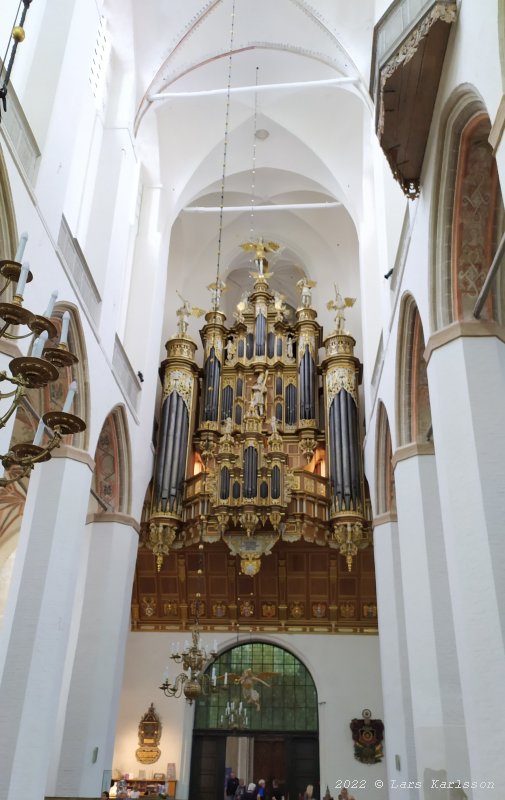 A big organ at the other end impress on us, the church was built before 1298.
Here is more information about St. Mary's church:
---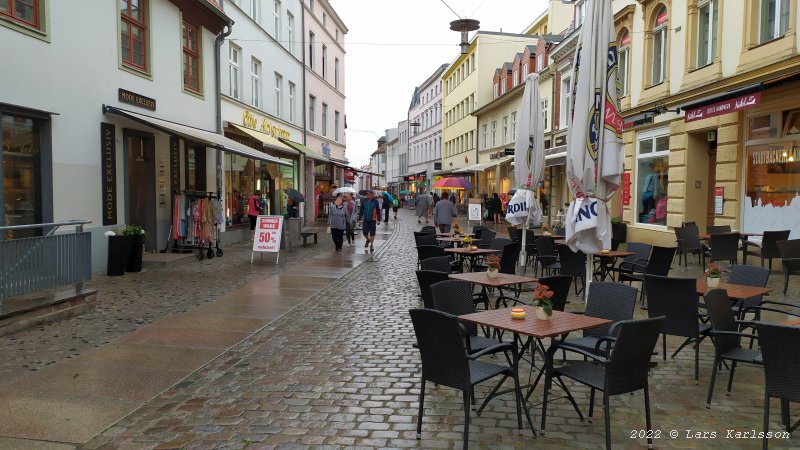 The Street Tribseer Strasse, it looks to be the main shopping street and here are also plenty of restaurants. The rain isn't very heavy and we can walk around without the umbrella.
---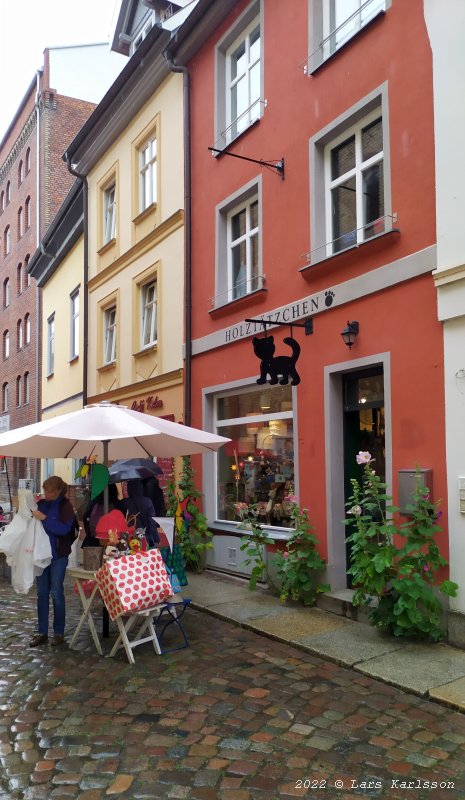 After a while we wanted go get inside somewhere. Holztätzchen looks good.
---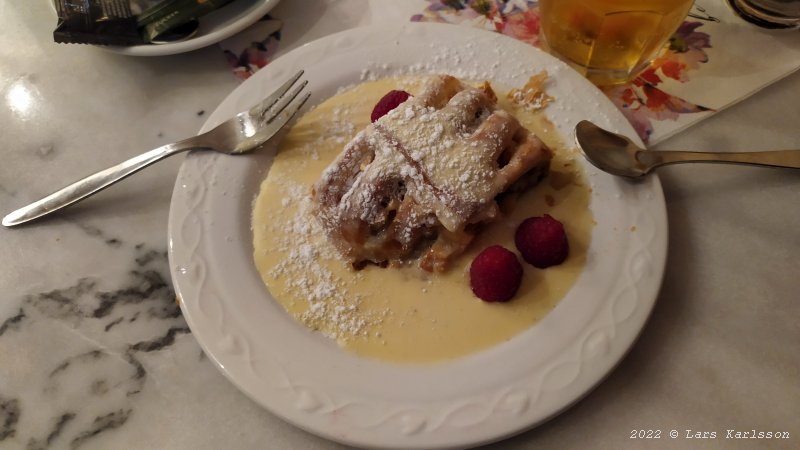 Apple cake with custard and strawberries, yum.
---
---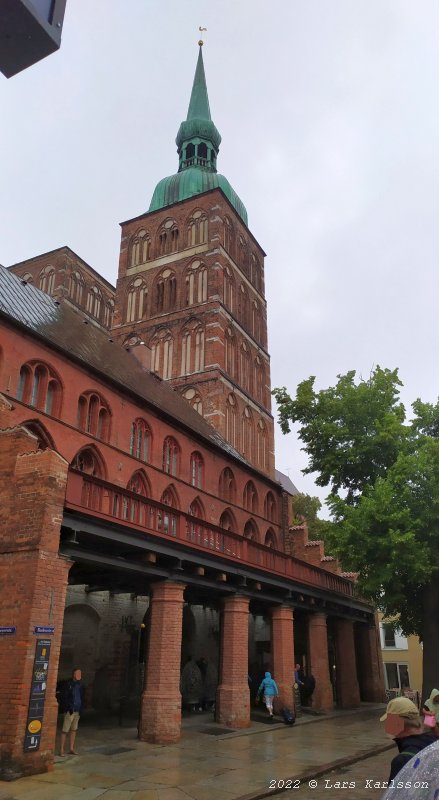 Stralsund has a similar background as Wismar we visited two days ago. Both has been controlled by Sweden a short period many years ago. This is the Rathaus and here we have read that there are something related to Sweden.
---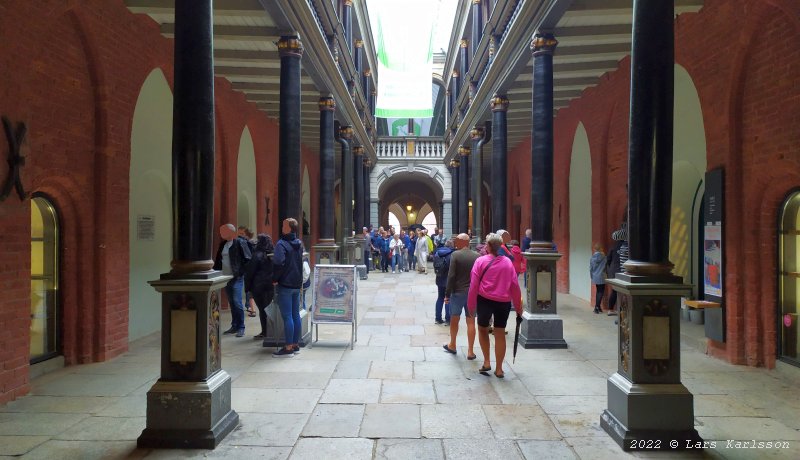 Walking inside to the hall and looking.
---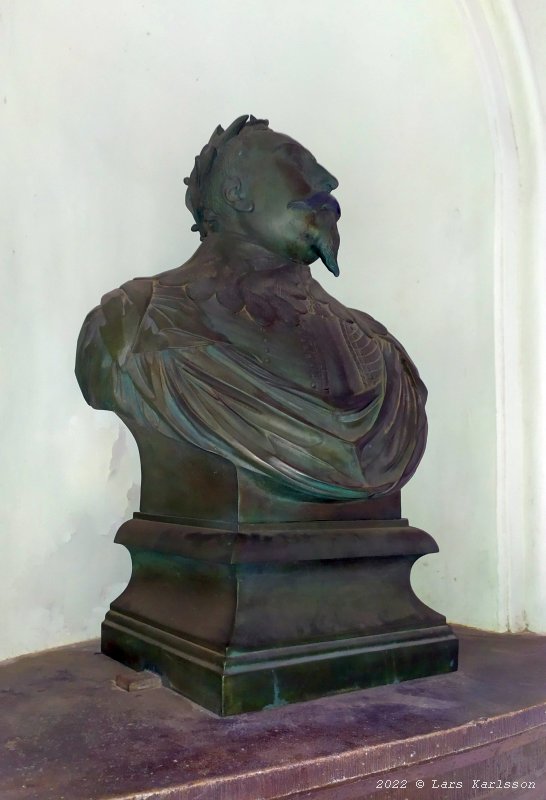 Yes here he is, our Swedish king Gustaf Adolf, arrived here 1630. I hope that we didn't cause too much trouble for the citizens.
---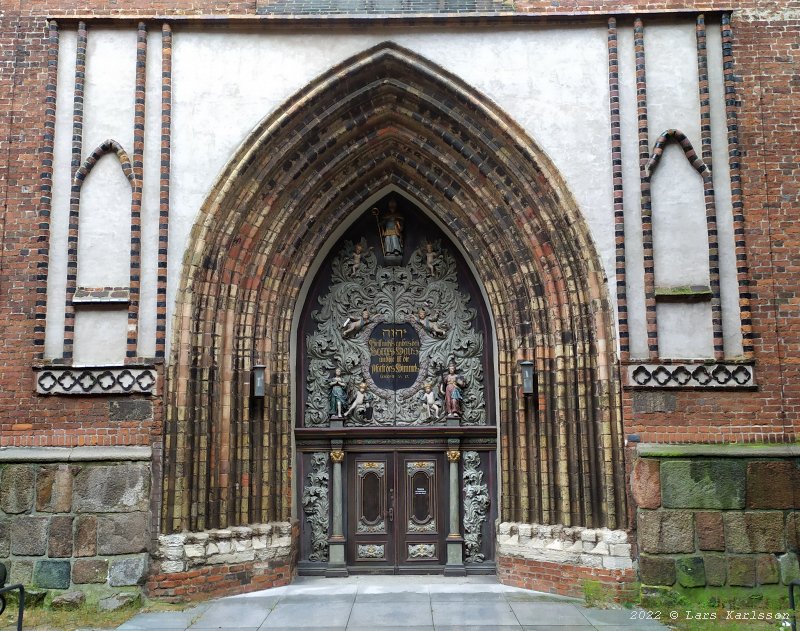 From one of the Eastern openings in the Rathaus we could see the port to Nikolai Church.
---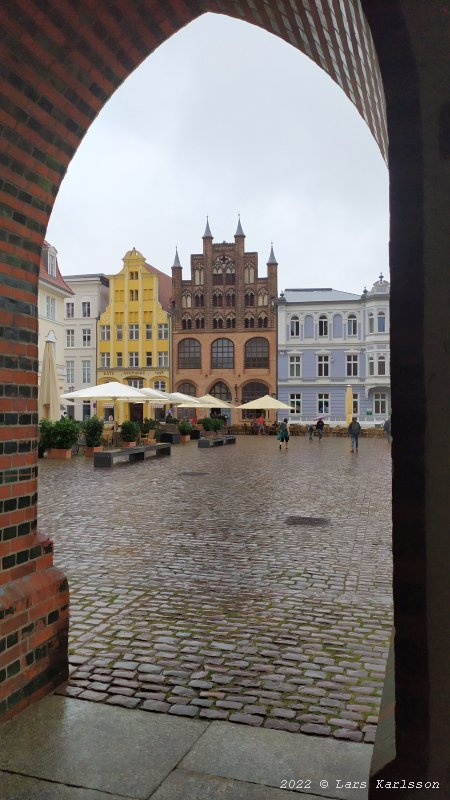 At North we have the Old Market of Stralsund.
---

After this we followed the street Semlowerstrasse and came to this island, Hafeninsel. For sure it's interesting but the rain get us to go back.
---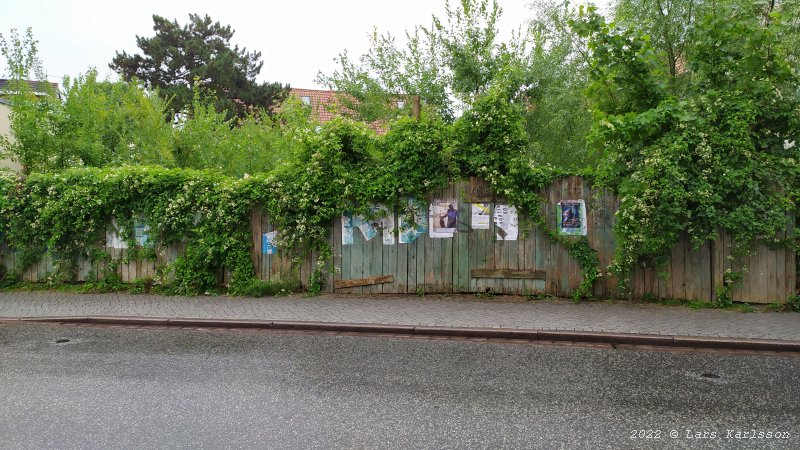 A block with a free area to build something at in the future.
---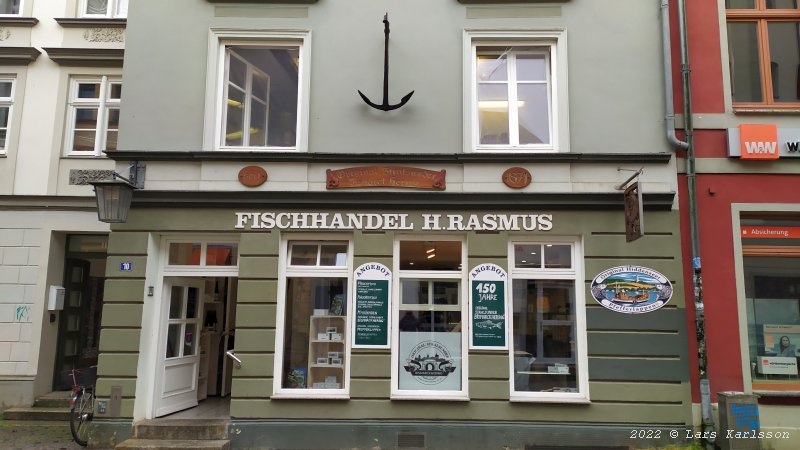 Fisher market.
---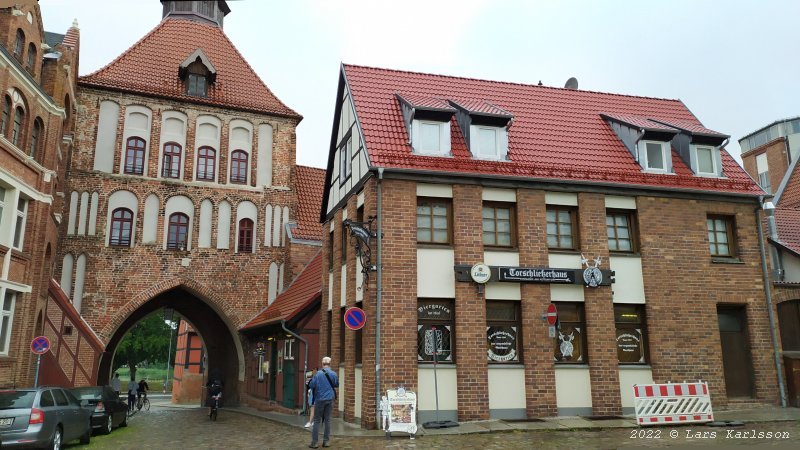 On the Western side of the old town at street Heilgeiststrasse we found this gate with a tower, Kutertor.
---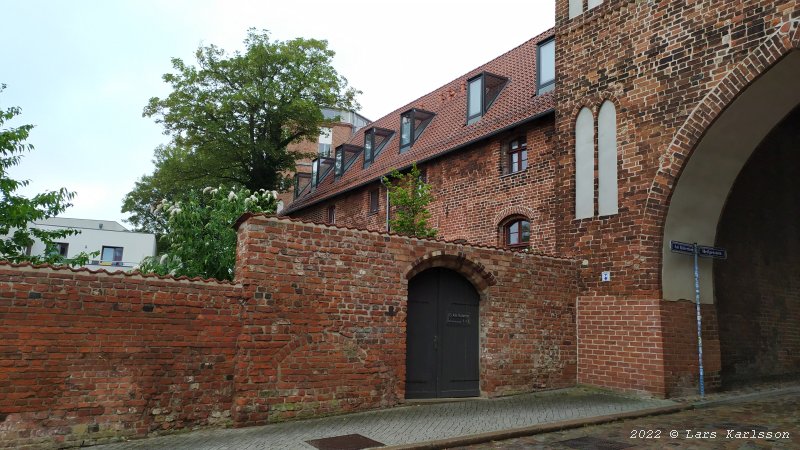 The gate and tower from outside. Now we feel that it not give very much to walk around in this bad weather. Better to continue to Berlin. Check the time schedule for the trains, have we just missed one train ? No it's a delay of 25 minutes, if we rush quickly back to the railway station we maybe can catch that train.
Here is more information about Stralsund:
---
We continue by train to Berlin:
With RE train 3 hours to Berlin, no change.
---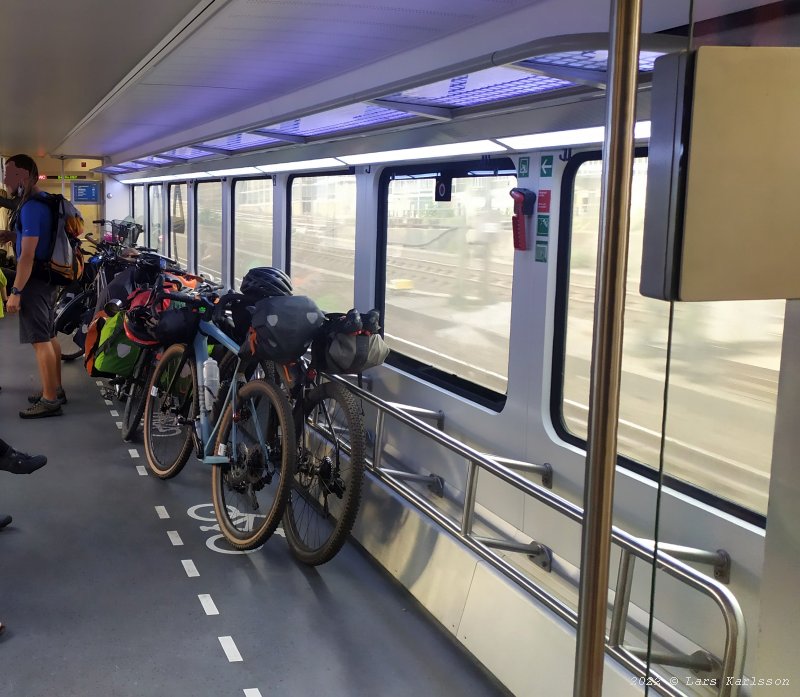 Yes we came onboard the train. This train has a separate area for bicycles and we also see many of them on other trains too. We go to the upper deck and got seats, much better compare to walk in the rain. Stralsund had been a nice town if the weather had been better, but why do they allow all those cars in the old city ?
---
Berlin: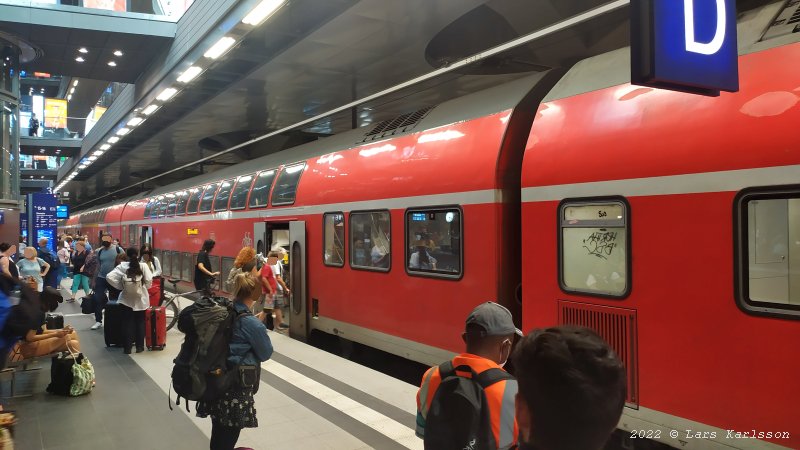 Here we have just arrived to Berlin HBF three hours later, a very big railway station. Where to go now ? The station has a very open design and it's easy to orientate where you are and where to go. Our hotel Menninger is only 250 meters away from the railway station.
---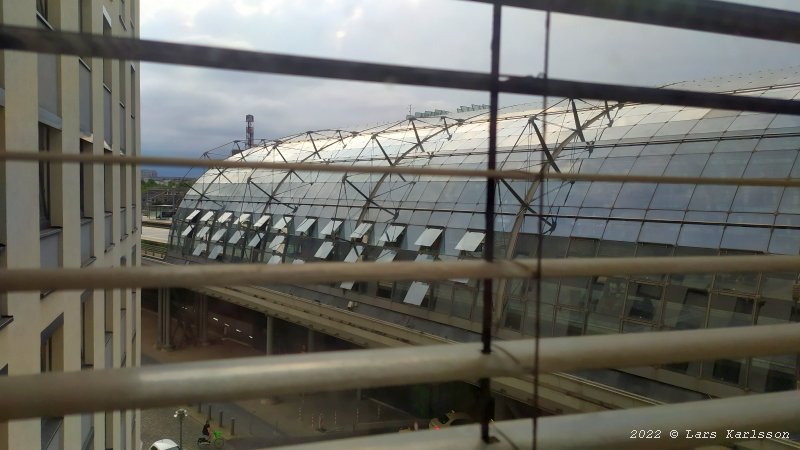 We check in at the hotel and get our room which is on the fifth floor, view over the railway station. We got a big room and comfortable beds. Here we will stay three days and we have paid for breakfast buffet.
Here is more information about our hotel Meininger Hotel Berlin:
---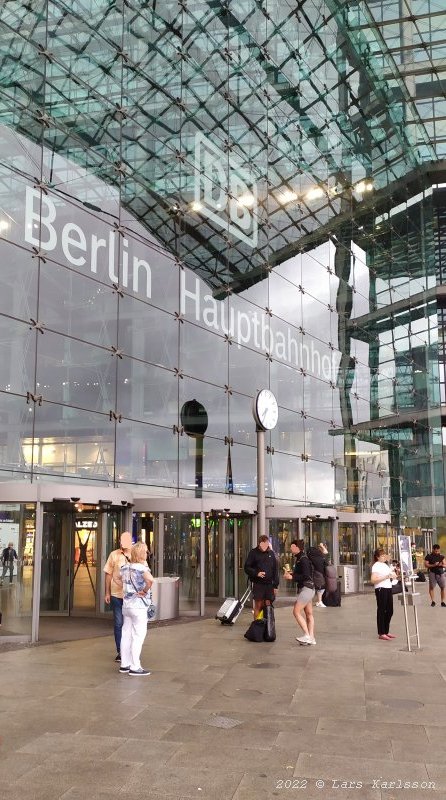 After we had installed us at the hotel we go back to the railway station.
---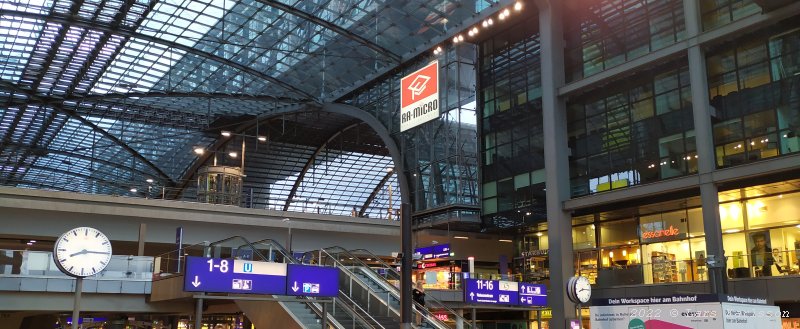 We want to have one more look inside the station. We also want to have something small to eat before we go out for a walk in the city. This time McDonalds served us with hamburgers.
---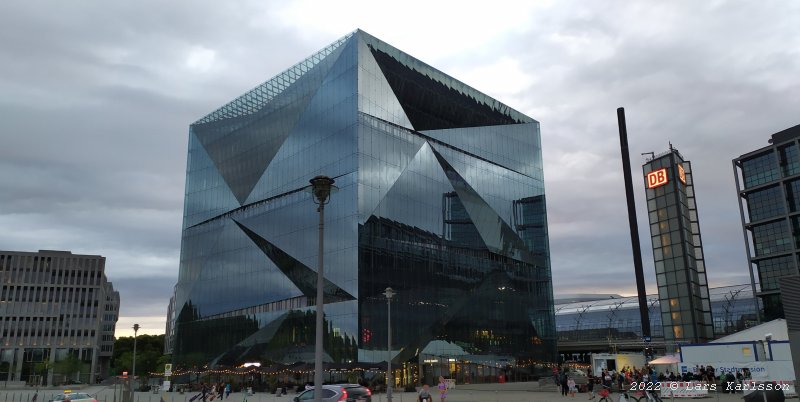 3XN Cube at Washingtonplatz, very futurustic and it's in front of our hotel.
---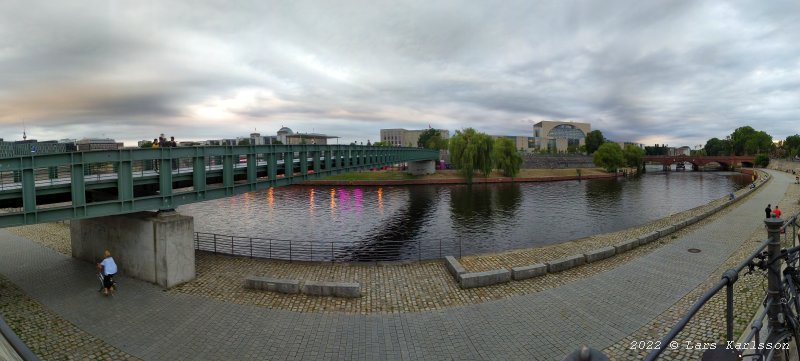 First we want to see the Reichstag building.
---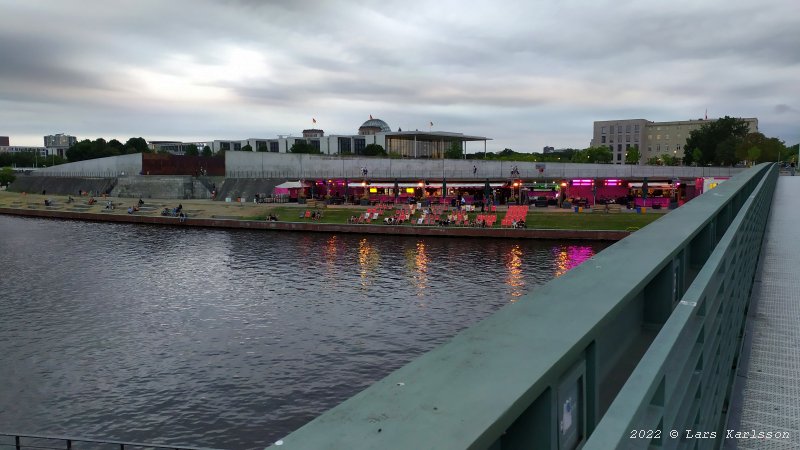 Walking over the bridge and see this outdoor bar, Capital Beach, a place we will visit later the coming days. It's the Spree river we have here, 200 meter from our hotel.
---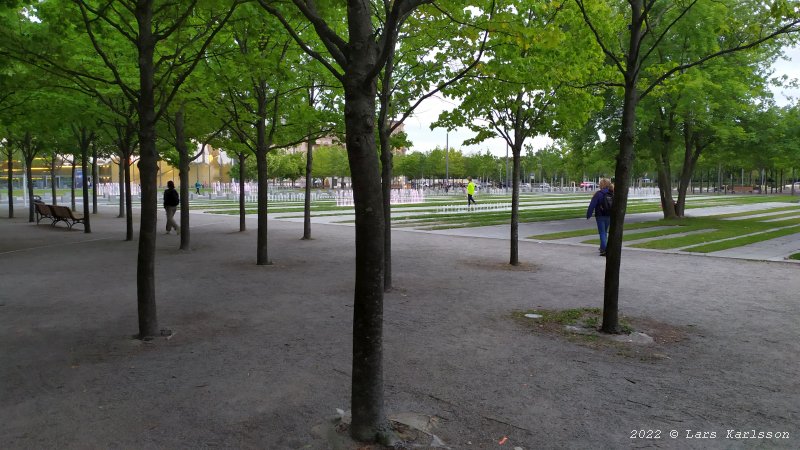 We asking a police in English where to find the Reichstag building, he pointed out the direction and explained, great.
Earlier we have found that there are very few Germans that speak English, even the younger people. At the hotels there is different of course. In Berlin which is more international we see tourist from many countries other than Germany. In the earlier cities we have visited it's almost only German tourists, strange because what we have seen it's very interesting and nice in these cities.
---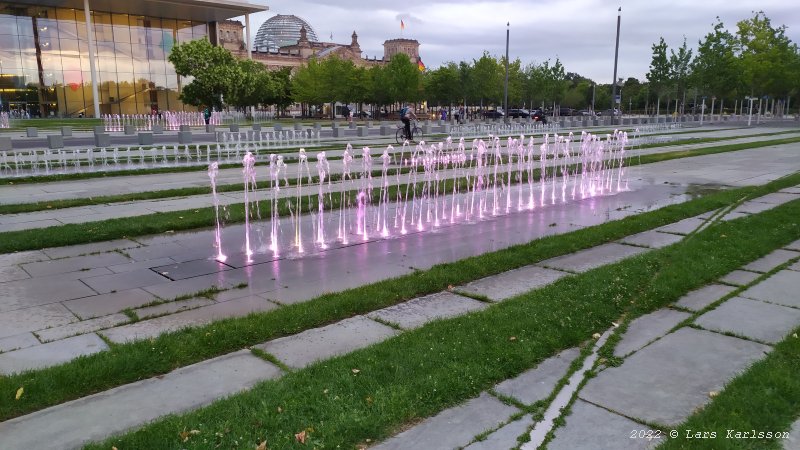 A park with fountains to pass by on the way to the Reichstag building, very beautiful lighted.
---
Reichstag building: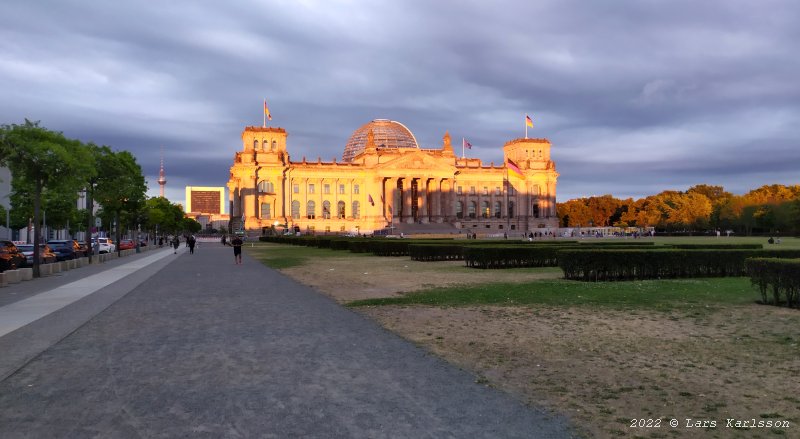 We found it exactly when the evening sun lit it up, so beautiful. There are not many people here, we walk almost alone in the park.
Here is more information about the Reichstag building:
---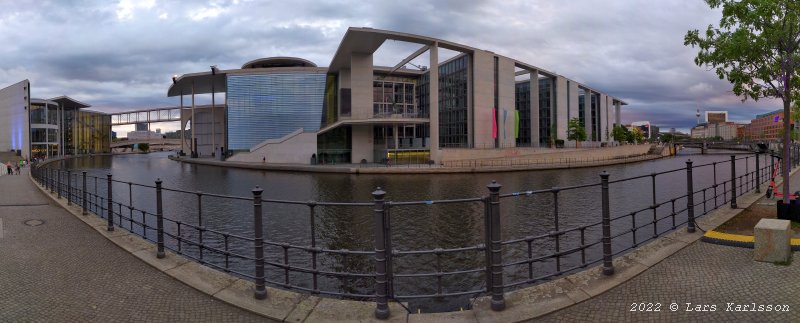 Here was the Berlin wall across the Spree river, only 30 years ago. All is gone today and new big buildings has replaced the history.
---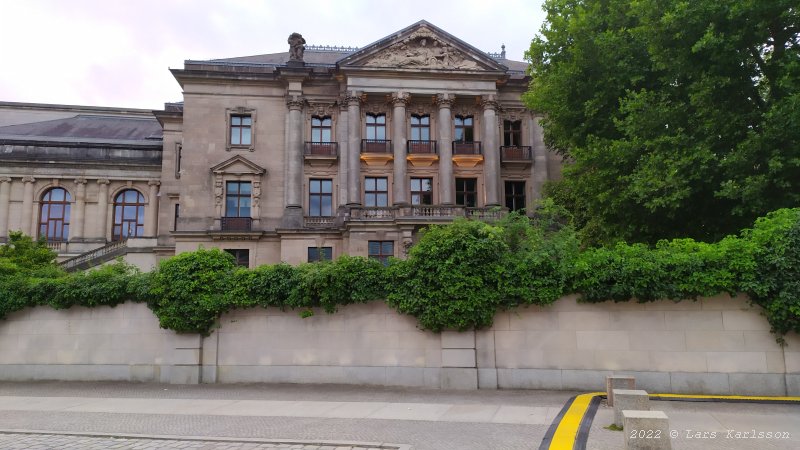 Deutsche Parliament.
---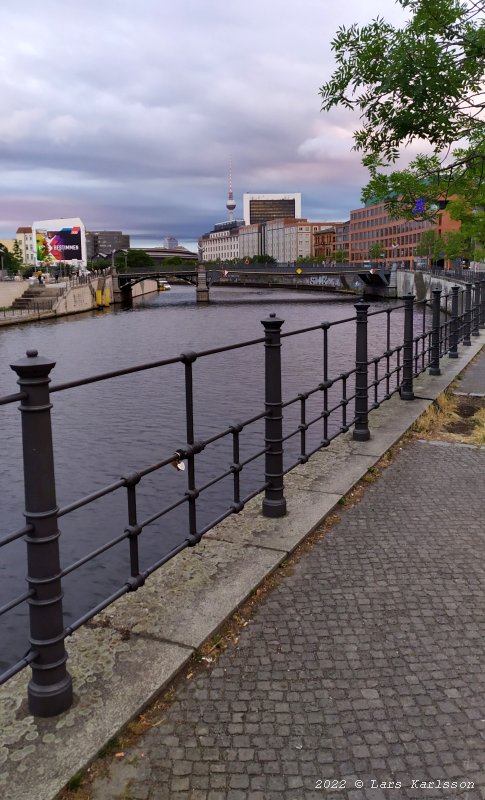 We got a bit confused when we try to find the Brandenburger Tor, walked too far along the river.
---

A couple of blocks walk and we find it, we are standing on the Pariser Platz. First time we see a lot of people, they too are here to look at Brandenburger Tor.
---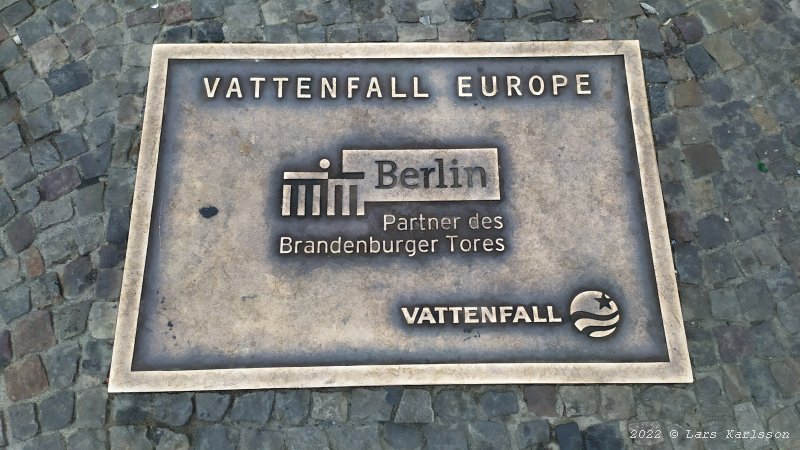 The Swedish company Vattenfall, an expensive adventure for the Swedish tax payers (the energy part).
---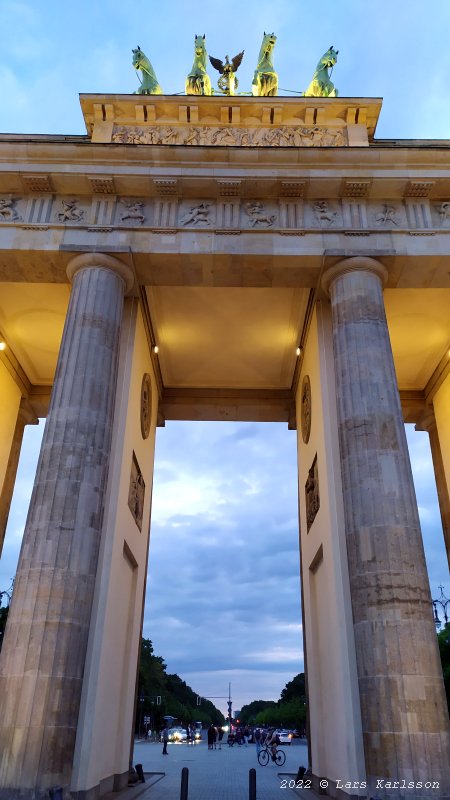 A last look at the gate until we proceed walking.
Here is more information about the Brandenburg Gate:
---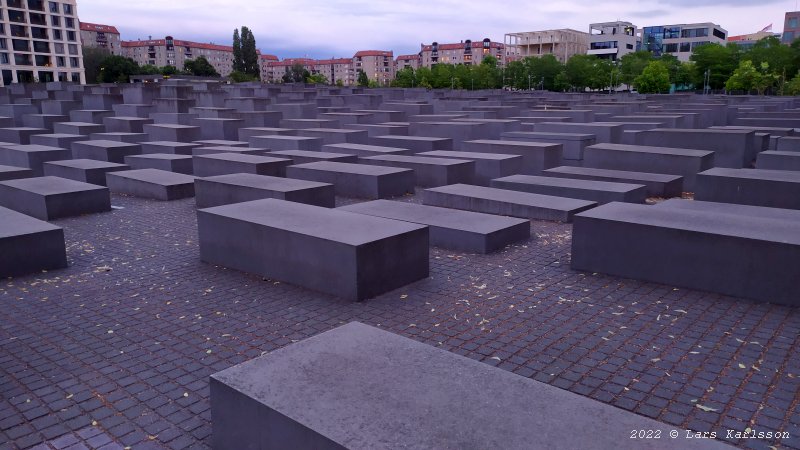 On our walk we come to this place. It's the Memorial to the Murdered Jews of Europe. It's like a very big labyrinth, a bit spooky in the dark. I lost Gunilla and had to call her.
Here is more information about the Monument of the Jews:
---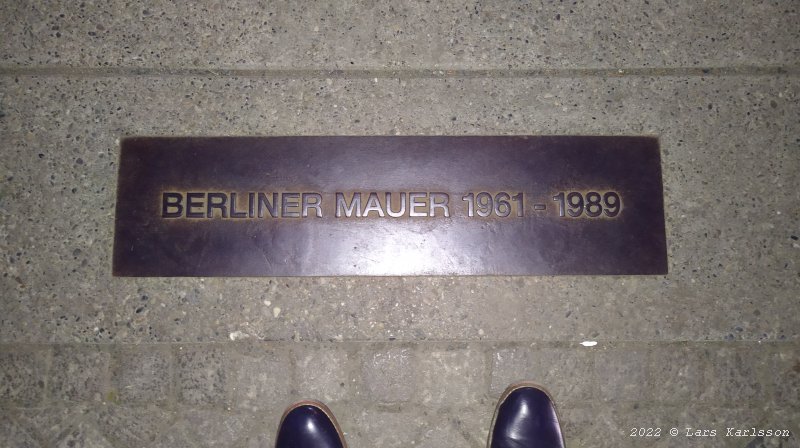 On the ground is a sign about the Berlin Wall and I can follow a line out on the street where it stood.
Here is more information about Berlin: