My travel in Europe:
By train in Northern Germany, 2022
---
Content:
---
Day 13, Bremen to Hamburg:
Third day in Bremen and it's time for us to move on, now Hamburg is our destination.
Here is a map of our move from Bremen to Hamburg:
No change of trains on this route, 1 hour and ten minutes and 120 km.
---
Bremen: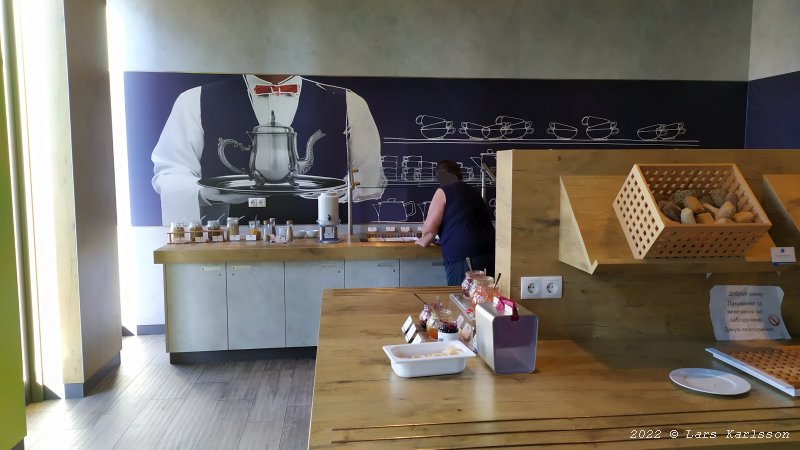 This is our breakfast room at Hotel IBIS at 6th floor. It's a standard buffet with all the food we need.
---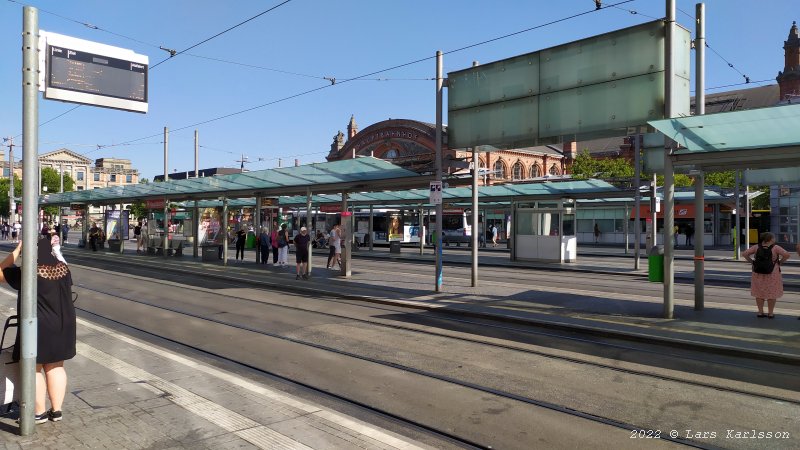 Outside the hotel's door we have the bus station and behind is the railway station. We have checked the time schedule of the trains to Hamburg, it's wise to start early because it could be a lot of people on this train.
---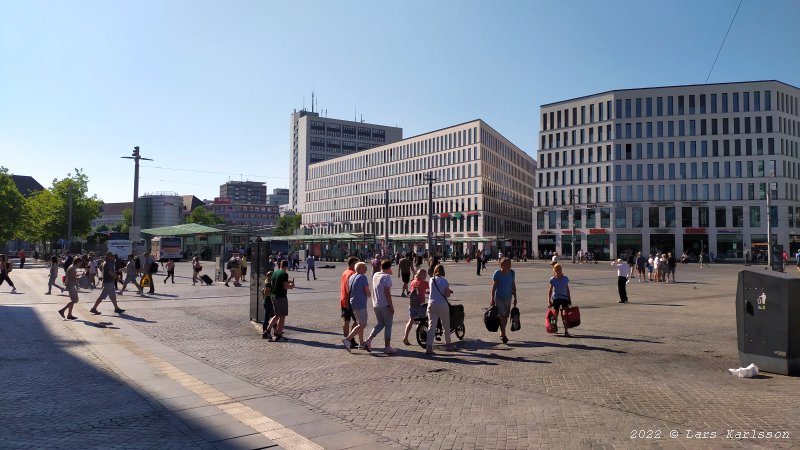 A look back before we enter the railway station, the building in the middle is the IBIS Hotel which was our home for two days.
---
Bremen HBF:

The hall in the railway station is impressive, a big open space. The first railway station opened already 1842, this one opened 1872.
---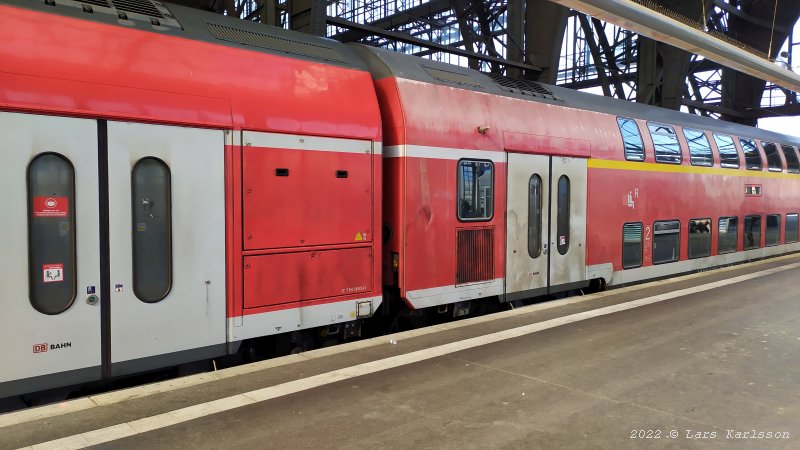 We are waiting on the platform for our train, this red train isn't ours. While we waiting it came a lot of people that were on the way to Hamburg as we do. Quick as we are we got seats.
---
Hamburg: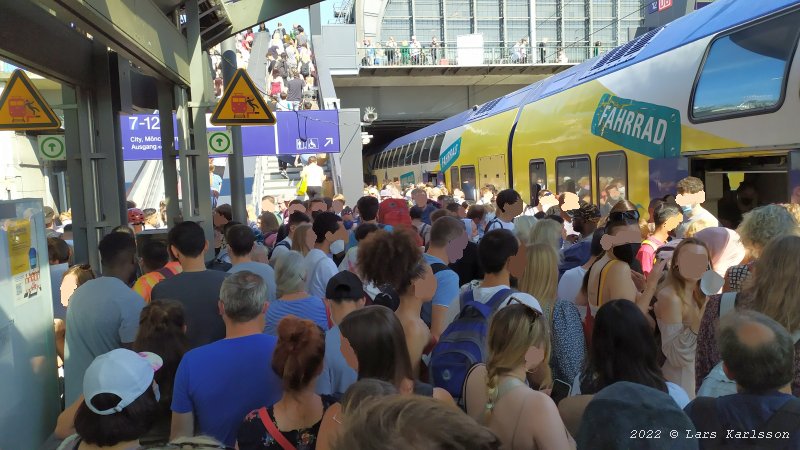 There were not only many people on the train, at the railway station at Hamburg there were even more people waiting to get on the train. We got worried, how will we got off the train ? We were pushed off the train and in someway we got our luggage with us. Then we must get to the escalator in front of us. We succeeded even with that, checking that the wallet and smartphone were still in the pocket.
---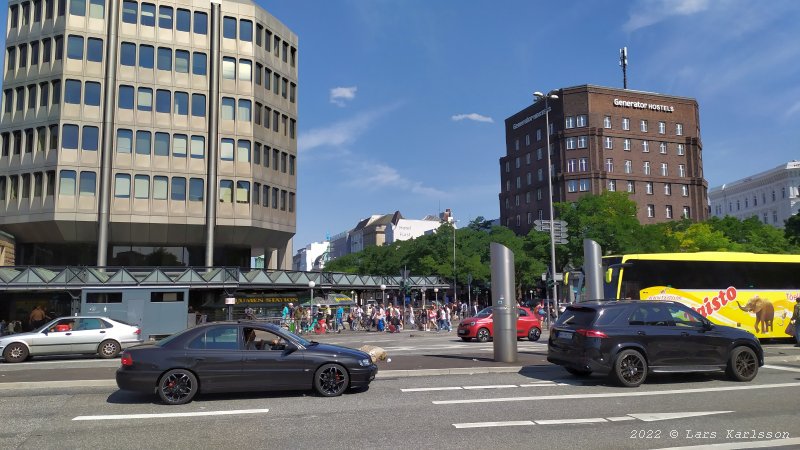 Our first contact with Hamburg was a bit stressful to say the least. The escalator took us to the street Berlinertordamm, lot of traffic here. We have booked a room at the Hotel Furst Bismarck and it's very close to where we are now, behind the brown building.
---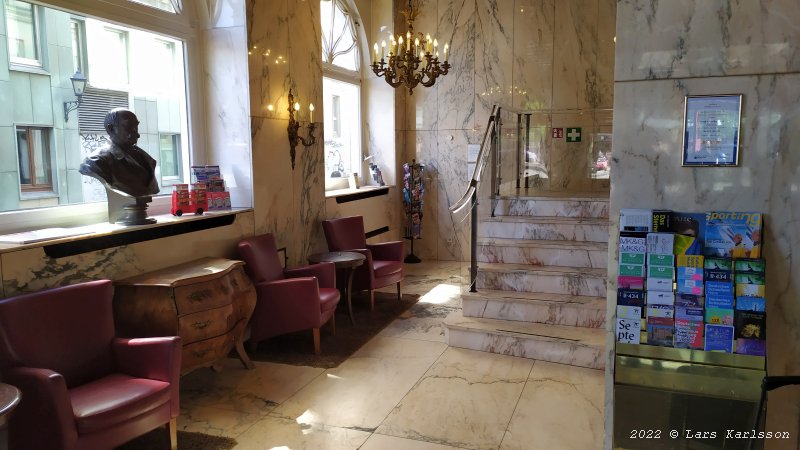 Hotel Furst Bismarck is an old hotel and not so big. When we stepped into the foyer we felt that we have come to heaven. The staff helped us with the room and we bought a breakfast buffet for tomorrow. This is the most expensive hotel that we stayed at, 160 Euro per night and the breakfast 16 Euro each. But it was well worth it, we love it and we only stay here one night.
---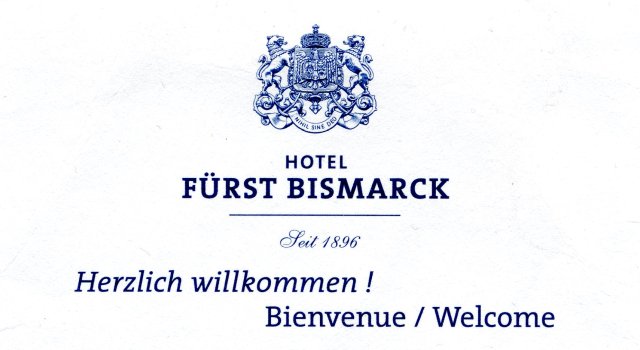 Herzlich willkommen !
---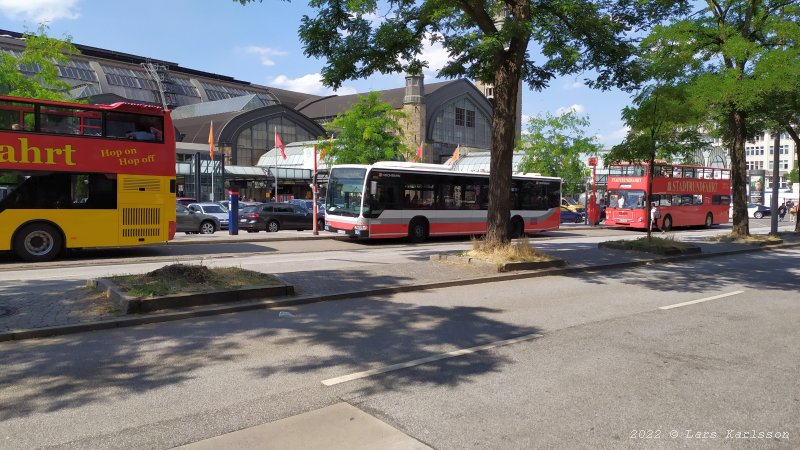 After the usual rest at the hotel we were prepared to enter the city of Hamburg. In front of the hotel we have the busses and trams stations, behind the railway station.
---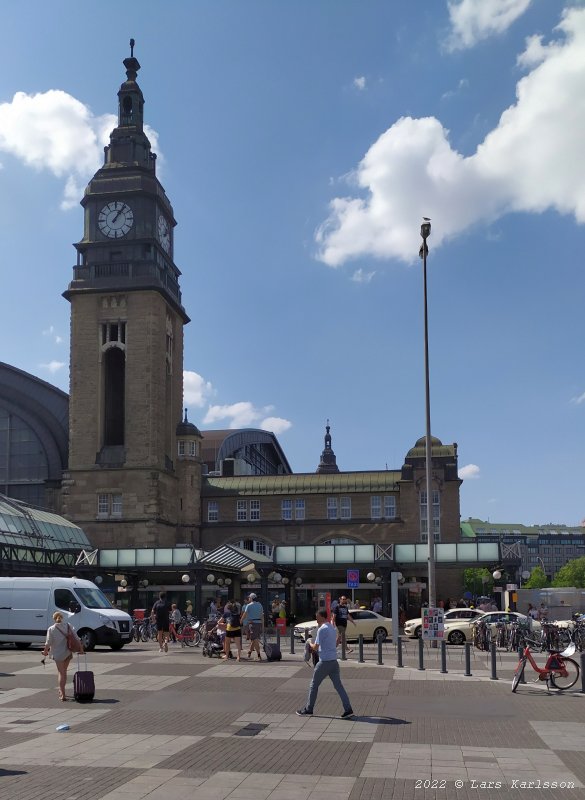 The clock tower of the railway station is impressive, people everywhere running back and forth.
Here is more information about Hamburg Hauptbahnhof:
---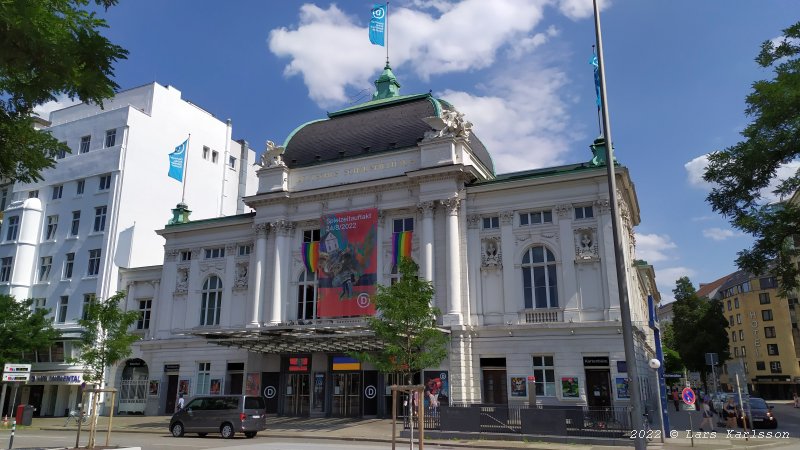 We took a short walk in the surroundings, at the third block North of our hotel is the building Deutshes Schauspielhaus. It's a theatre and it was established already 1901. The street is Kirchenallee.
Here is more information about Deutsches Schauspielhaus:
---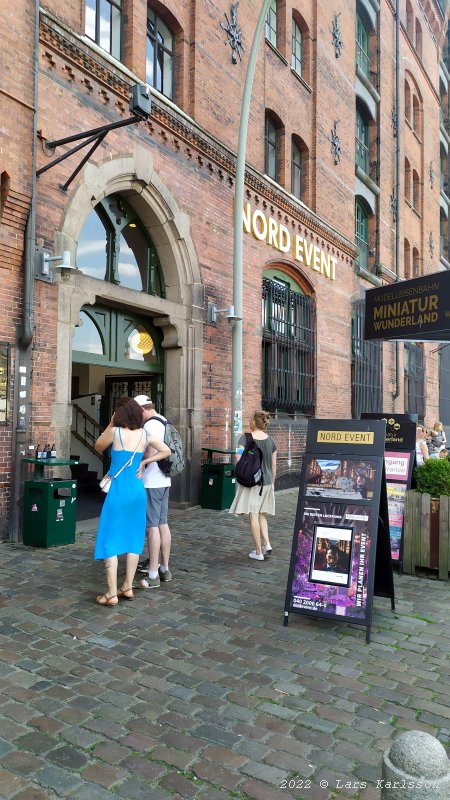 There are not many things that we know that could be interesting for us to look at in Hamburg. But our friends has told us that we must go to the Miniatur Wunderland. It's buildings that contain 1500 square meter of models of different places around the world. Very focused on model railways. It's about one km from our hotel and we could take a bus from there to the Miniatur Wunderland, about ten minutes away.
We get in to the office to buy tickets, but they told us that it was full, we can come back later at 5pm. We only have one day here and got a bit disappointed. Over to plan B, visit the Rathaus as we have done at all other places we have visited. It's only a 15 minute walk from here, we are at the street Brook in the channel area.
---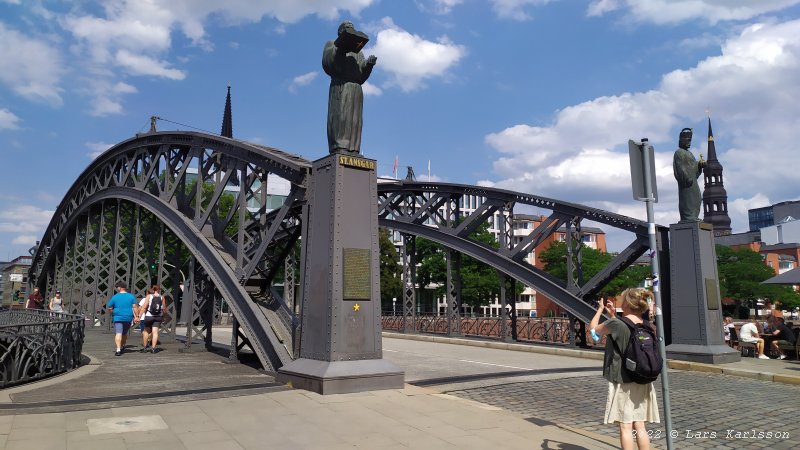 First we have to cross the channel and walk over this bridge. The statue in front of us is familiar, it's Ansgar. He visited Sweden as early as the 9th century, that was at the Wiking era.
Here is more information about Ansgar:
---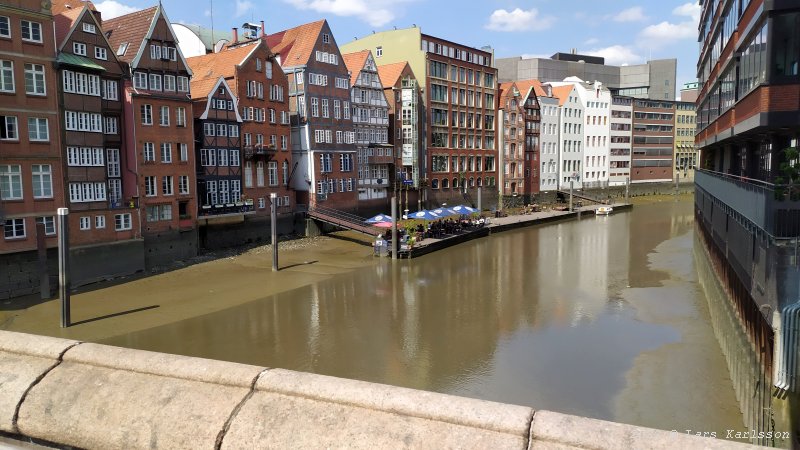 After 5 minutes walk we are at the Hohe Brucke and got a view of one of the channels. Notice how low the water level is. We could later hear from the news that Germany has big problem with this, the can't use their prams for transportation.
---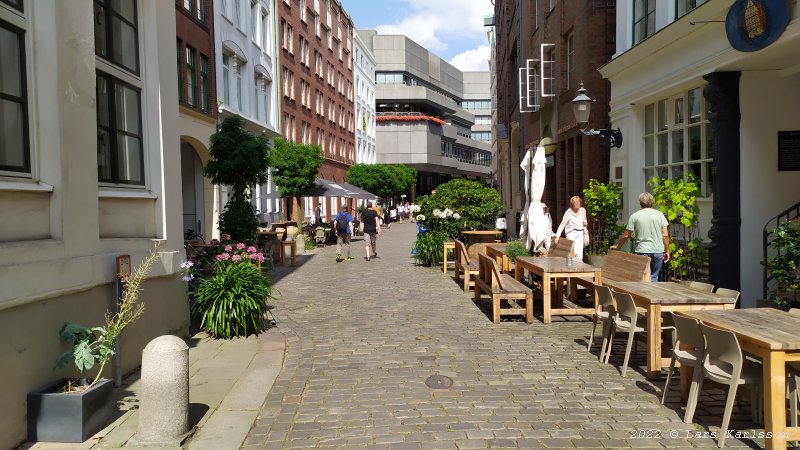 We continue on the street Deichstrasse and found some nice restaurants. But we were not hungry or thirsty yet, it's only 2pm.
---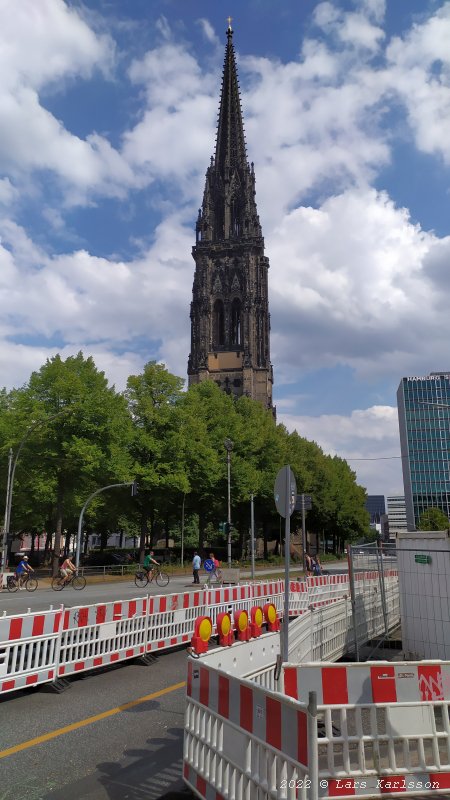 As in all cities there are a lot of road works, above it we have the Mahnmal St. Nikolai with a viewpoint in its tower.
---
---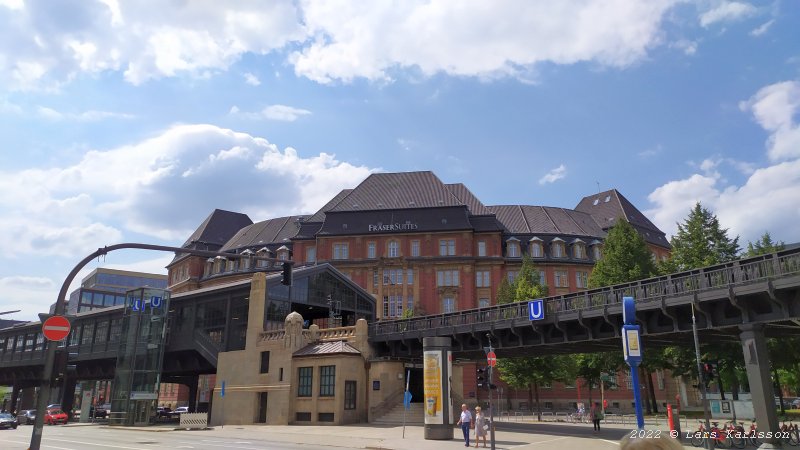 At Rödingsmarkt we found this interesting subway station, it's old, opened 1912.
Here is more information about Rödingsmarkt station:
---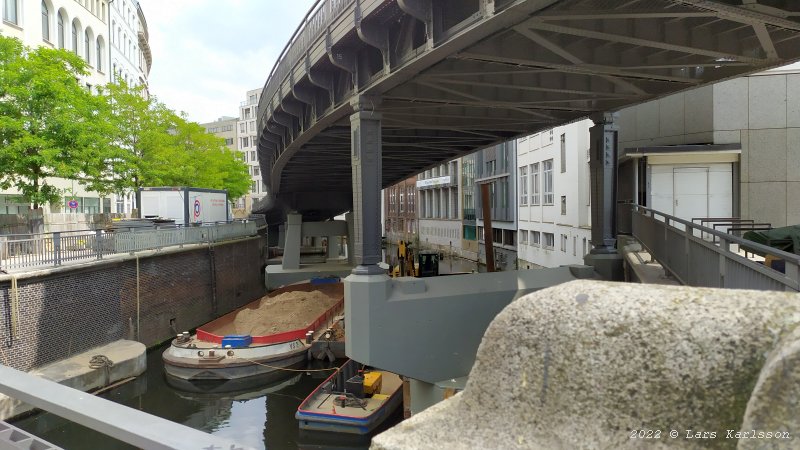 Its rail continue down in the channel's water, the channel is the Alsterfleet. It has been renovated recently.
---
Map over our walks in Hamburg:
We took a couple of busses and didn't walk all these ways.
---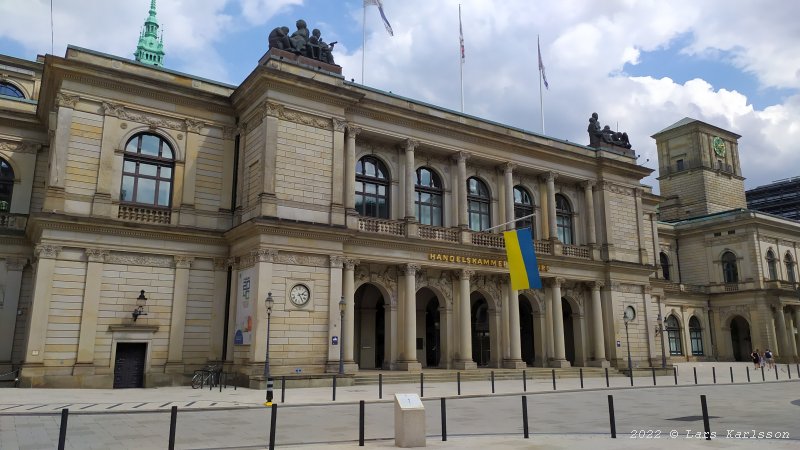 Now we are very close to the Rathaus. This building is joined together with that building and it's the Handelskammer of Hamburg, Hamburg Chamber of Commerce.
---
Rathaus of Hamburg: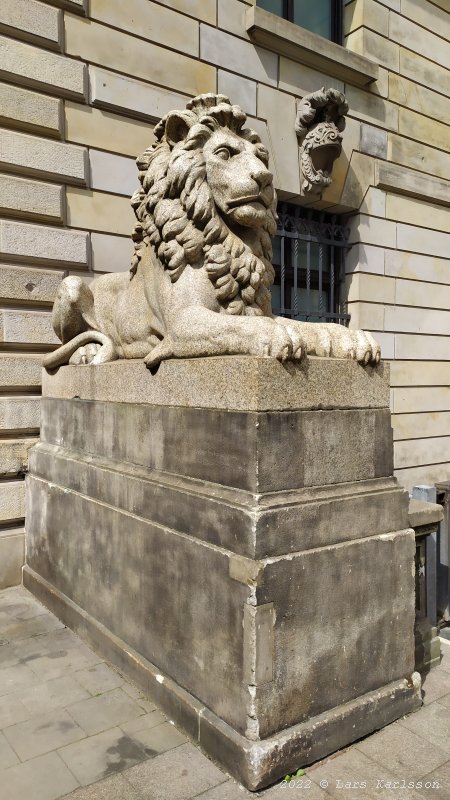 Around the corner of the building we have one of the lions guarding the Rathaus.
---

The yard inside hear is wonderfully beautiful with a fountain in the center.
---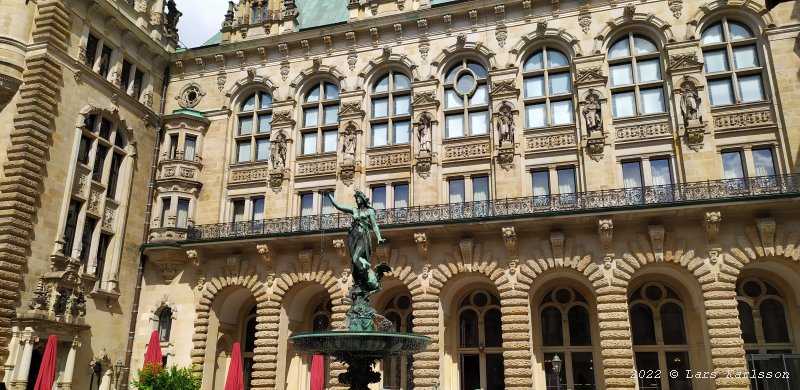 There are a lot of people visiting this place and they take photos of each other in front of the fountain. I cooled down my hands in the water.
---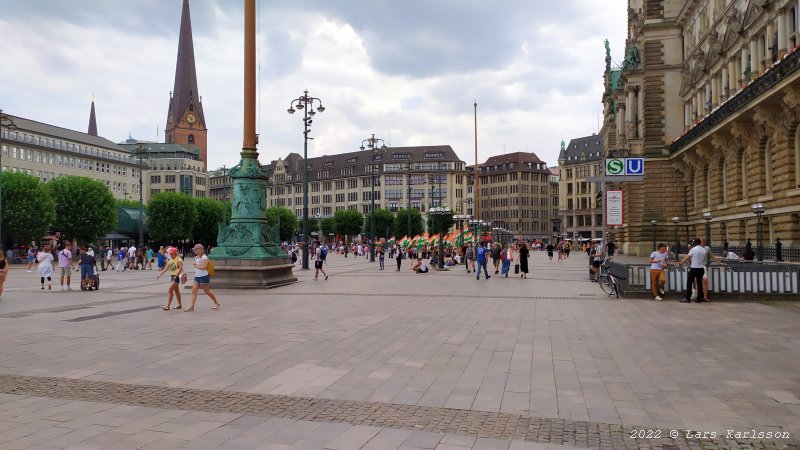 There is a big square in front of the Rathaus, Rathausmarkt.
---
Flakturm IV: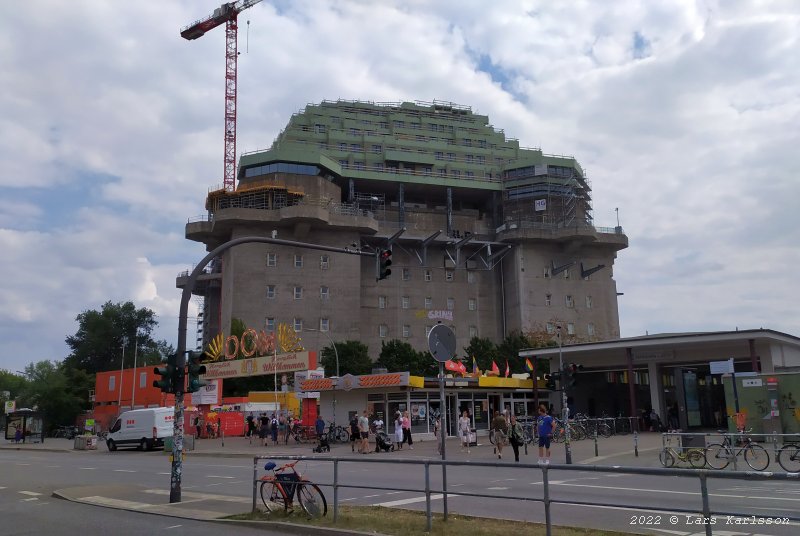 Something I have seen at documentaries about Germany is the defense towers they have in Berlin and other places. In Hamburg there is one that is well preserved and they call them Flakturms in Germany, they are from the 1940s and WW II. This is the Falkturm IV. The green top is something new they have built on it to get some use of the tower.
---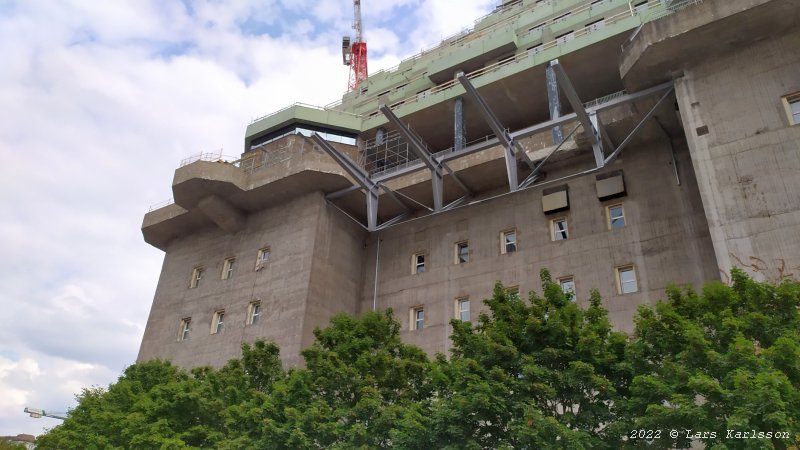 Look how massive they are, they were built to withstand all weapons from that time, some walls are 3 meters thick. The platforms we see is where the anti-aircraft guns was placed, there were many of them and also a radar that guided them. At ground floor where the shelter for the people.
We were a bit nervous to get here because we thought maybe there are criminals living in the ruins of it. Fortunately we were wrong, it was placed inside an amusement park today.
Here is more information about Flakturms:
---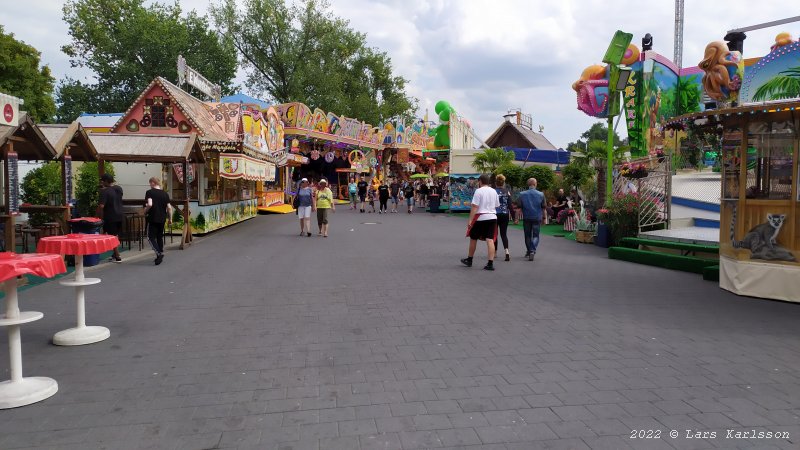 It was free to enter the amusement park and we took a closer look to it. It was very big and with advanced machines.
---
Jungfernstieg:

We took the bus to the Flakturm and took it back to the city also. We jumped off at Jungfernstieg, sat down and enjoyed the view over the lake which is a part of the channels. Now we feel some hunger !
---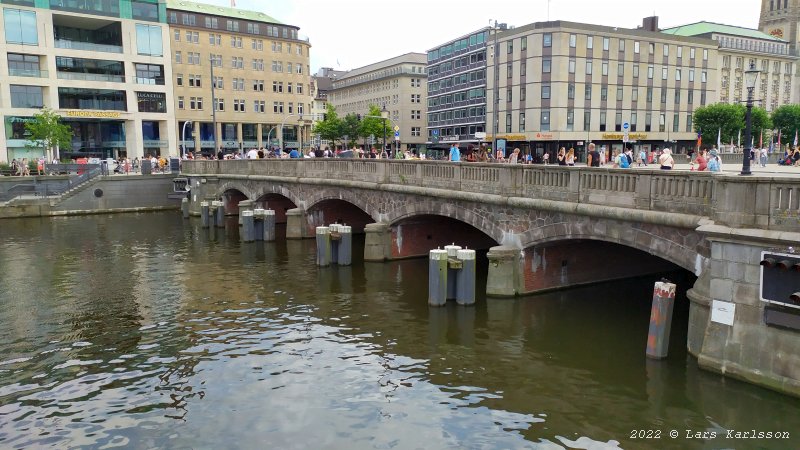 We walked in Eastern direction into the older areas to look for a nice restaurant for us to eat at.
---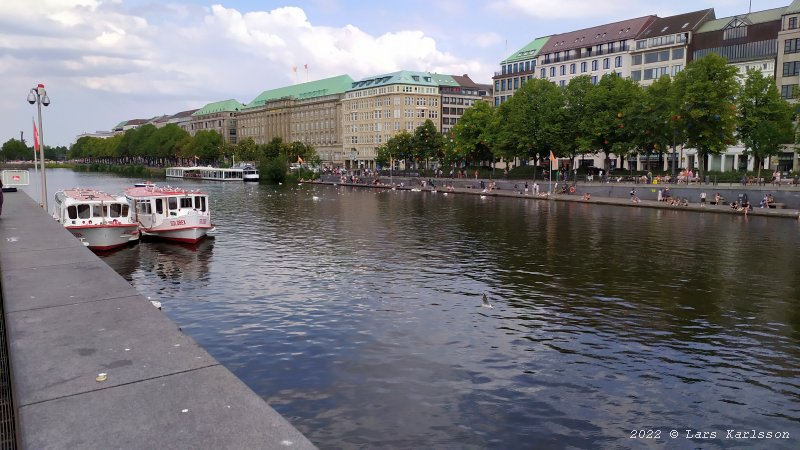 There are lot of channels at Hamburg and it has been important for its development over the years.
---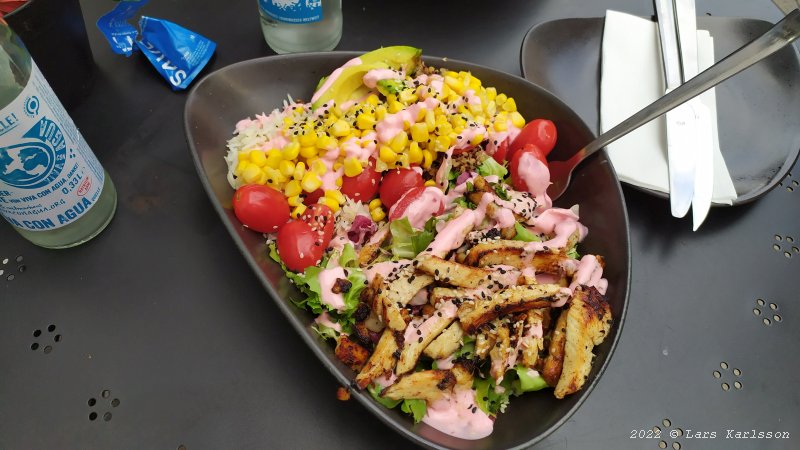 It wasn't easy to find a restaurant that was open, one had some complicated computer system to order the dinner from. We didn't understand how to use it and walked away. After some block we found an Indian restaurant and got this tasty food. We thought we ordered water with gas, it was Spanish and read Con Gas. But a closer look and we found it was Con Agua, of course it must be water but no bubbles but who cares, we were hungry !
---
Miniatur Wunderland:
After we finished the dinner Gunilla said that we should try to get into the Miniatur Wunderland, maybe not that much people there now. We found a bus station close to the restaurant, only 8 minutes to the next bus. We sat down but no bus came, waited and waited, after more than 25 minutes it came. German and time schedule isn't what it was in earlier times.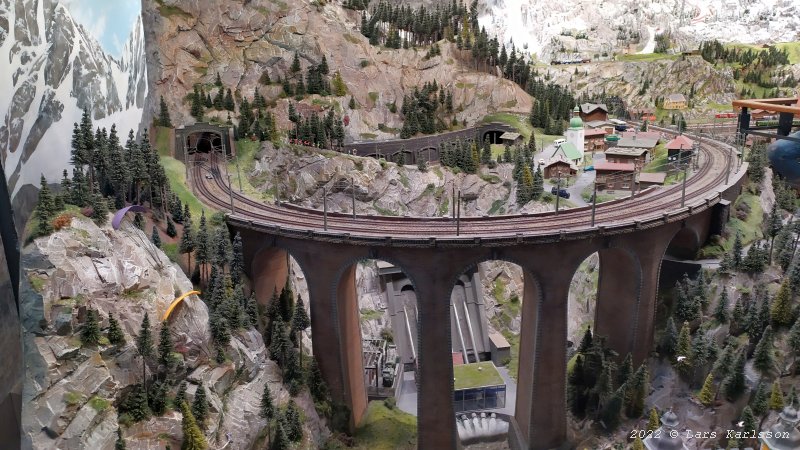 At the Miniatur Wunderland we could now buy us tickets and enter the exhibition. It's really impressive what amazing miniatures they have built. And it's very big, two buildings and three floors.
---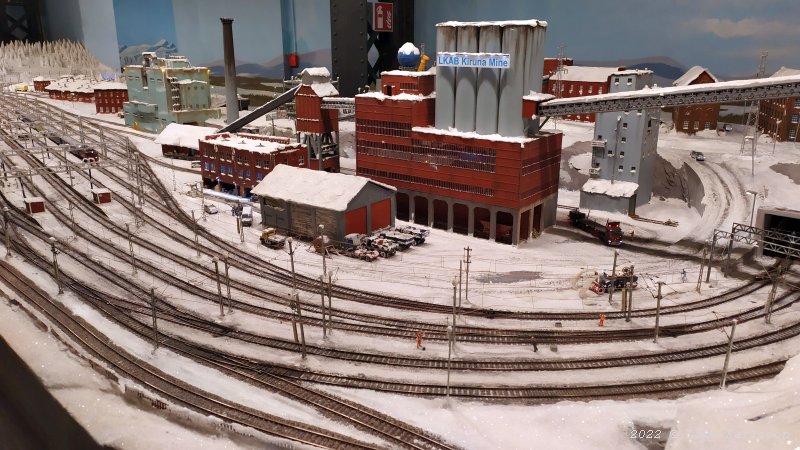 We walked around and looked at all models. One thing that impressed on us a little bit more was a Concorde that started, and then fly away into the wall and disappeared. Here we have found a model of the Northern Sweden, LKAB's mine at Lappland.
---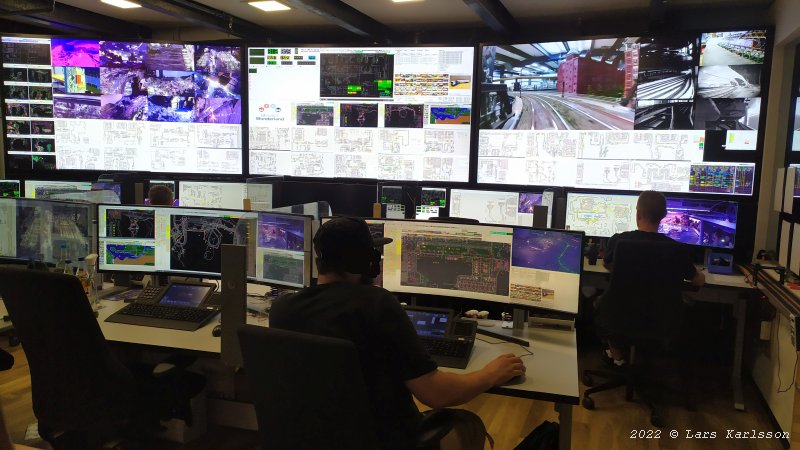 The staff that controlled everything looked to be very concentrated, any fail were not allowed.
Here are more information about Miniatur Wunderland at Hamburg:
After this we went back to the hotel.
---
Hotel Furste Bismarck: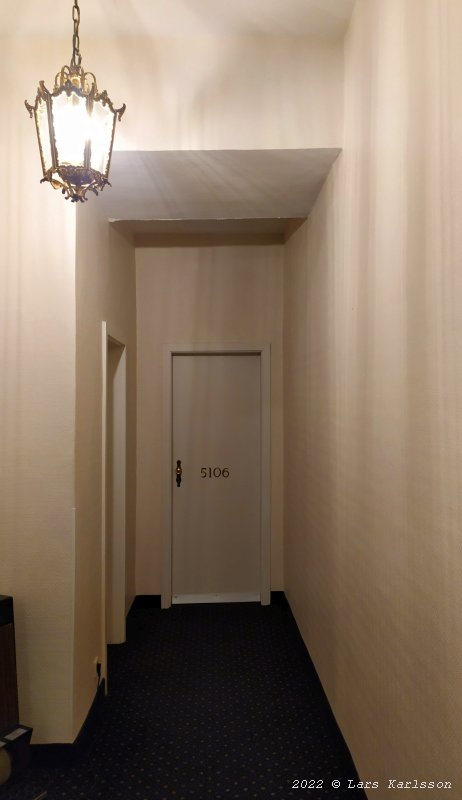 After a long and intensive day we have to go back to our hotel room for a rest.
---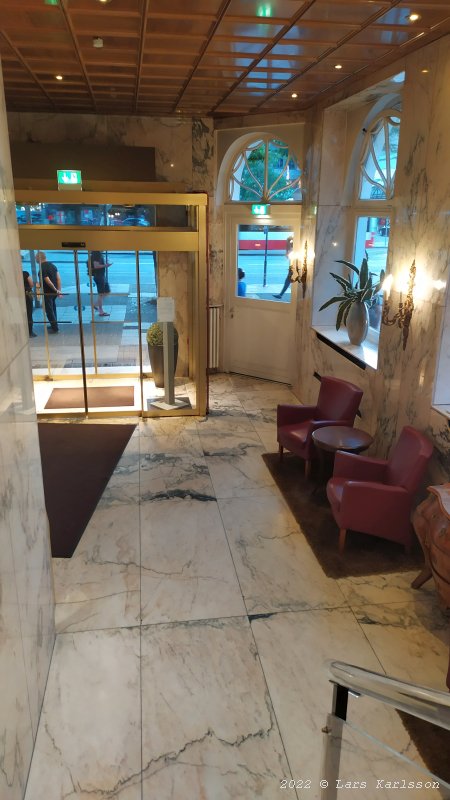 Two hours later and we were alert again, out for fun. Look what a wonderful entrance, built in marble.
---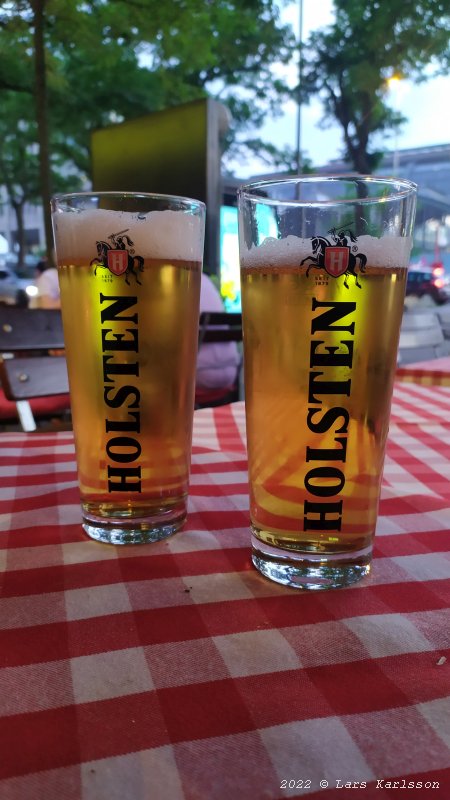 We walked to a restaurant at the same block as the hotel and sat down for something to drink. Order a local brewed beer, Holsten.
---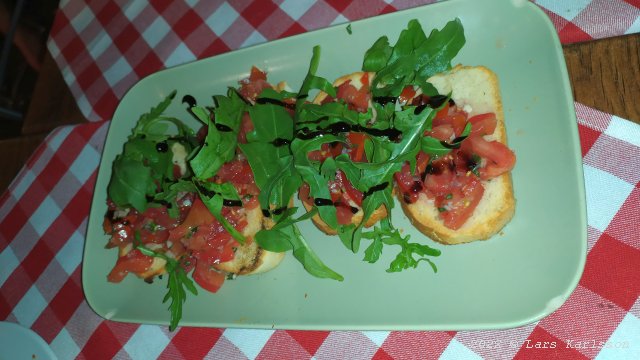 After a while we thought it could be tasty to eat something and ordered one tapas, and 30 minutes later one more.
Even Hamburg was an Hanseatic City, here are more information about Hamburg: