My travel in Europe:
By train in Northern Germany, 2022
---
Content:
---
Day 8, Berlin to Magdeburg:
When we waking up this morning it's the fourth day in Berlin. Todays plan is to go by train to the small town Magdeburg. It's only a one day stop, our goal is to come to Wernegerode. My old friend Lennart who is an experienced train traveler recommended us to visit this old cozy town. But we don't want to sit on a train for more than 3 hours, that's why we make a one day stop at Magdeburg.
Here is a map of todays travel from Berlin to Magdeburg:
The train took almost 2 hours between the two cities and the distance is 150 km.
---
Berlin: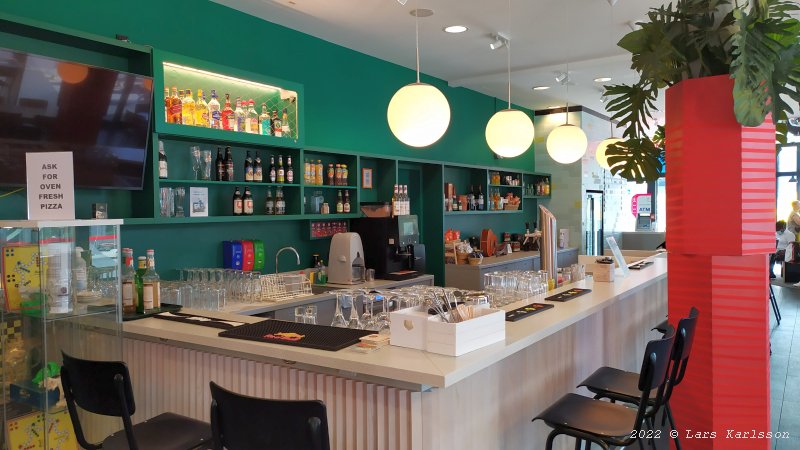 The breakfast room is behind the bar. It was in this bar we got a glass of Berliner Luft but that wasn't in the morning.
---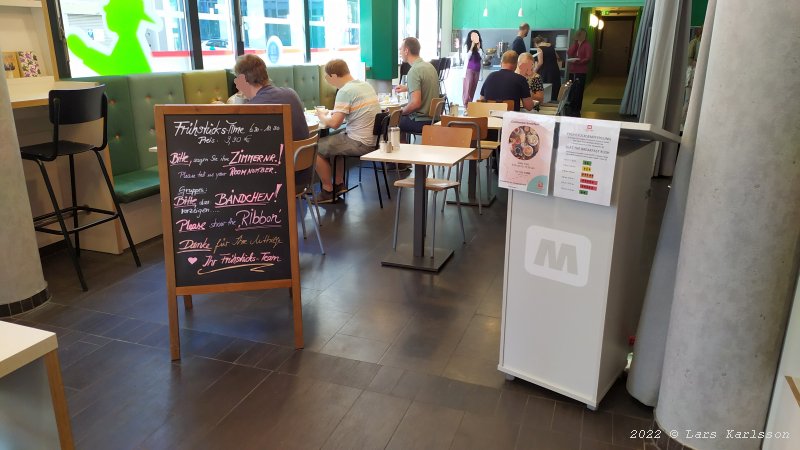 We like to have the breakfast as a buffet and bought us this every day on this Germany travel. At this hotel it cost 9 Euro each, but it varied from 6 to 16 Euro at other hotels. The cheapest didn't include a buffet, only sandwiches and coffee.
---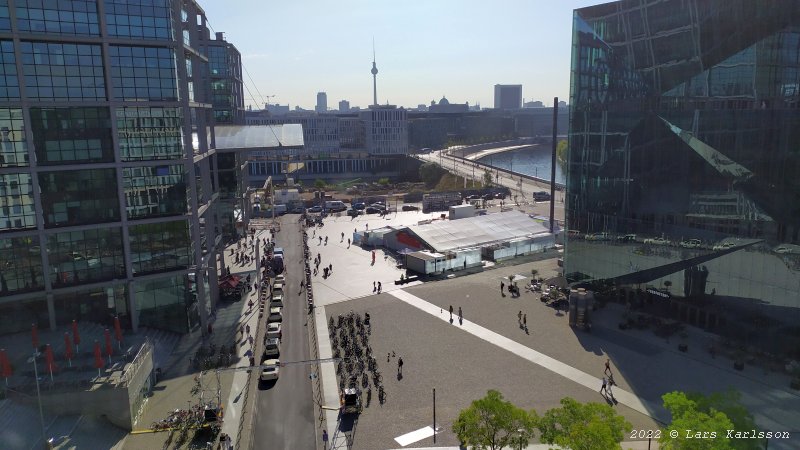 This last day we discovered that this hotel had a roof terrace. We got up there to get this view. To the left is the Berlin HBF, to the right the 3XN Cube and in the middle the river Spree.
---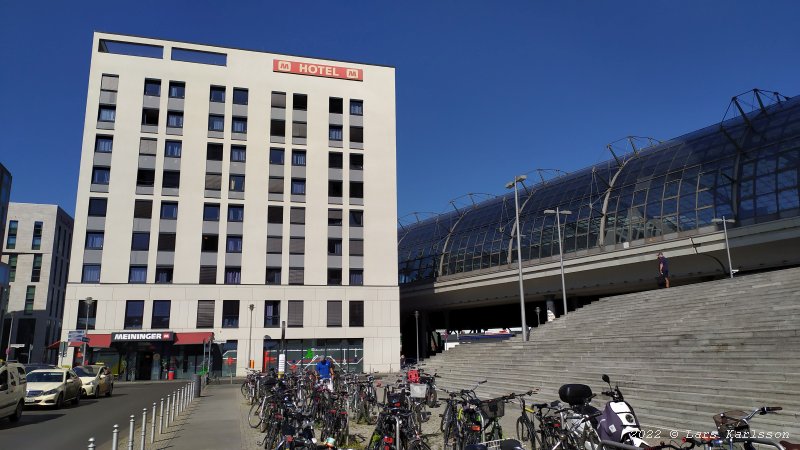 A good bye to our hotel and then we go to the railway station.
---
Berlin HBF: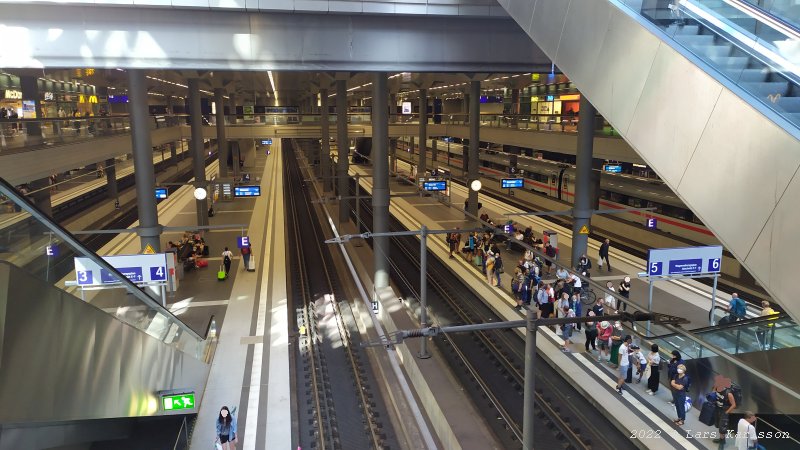 The Berlin HBF is a many levels construction, railway tracks everywhere you look, left, right, up and down.
---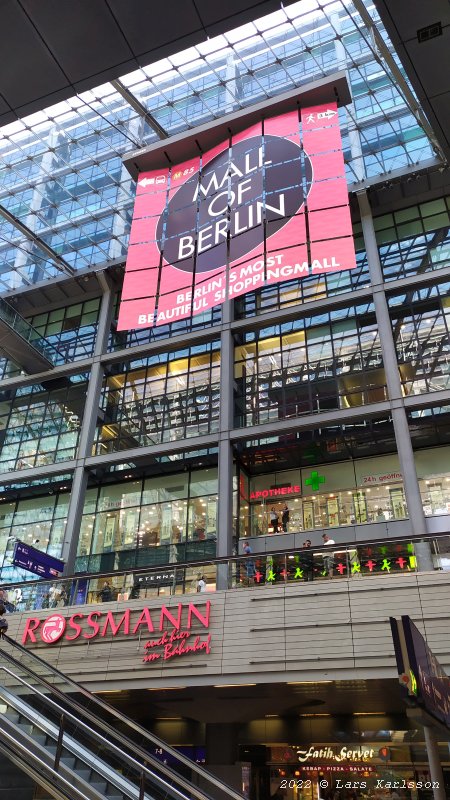 Our train to Magdeburg depart from track 13, somewhere up there in heaven.
---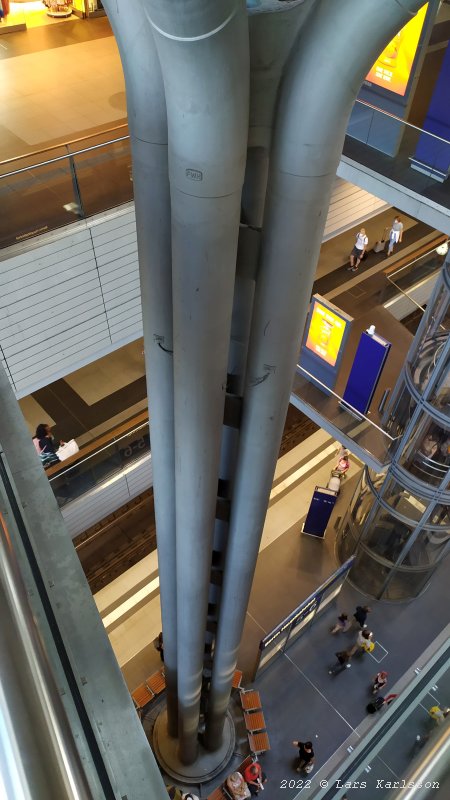 After some escalators we are up here and looking down, oh yes, we are on high level. Doesn't the pillar look a bit weak to hold for the heavy trains ?
---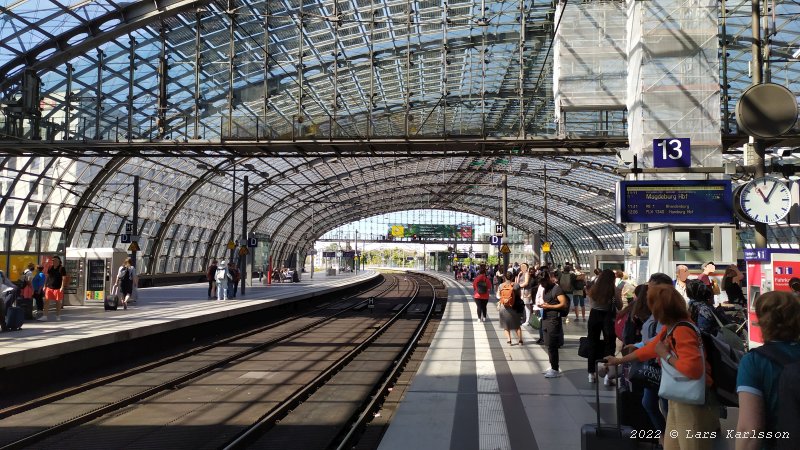 Waiting at track 13 for our Magdeburg train. Not many people that took this train and we got seats even today.
More information about Berlin Hauptbahnhof:
---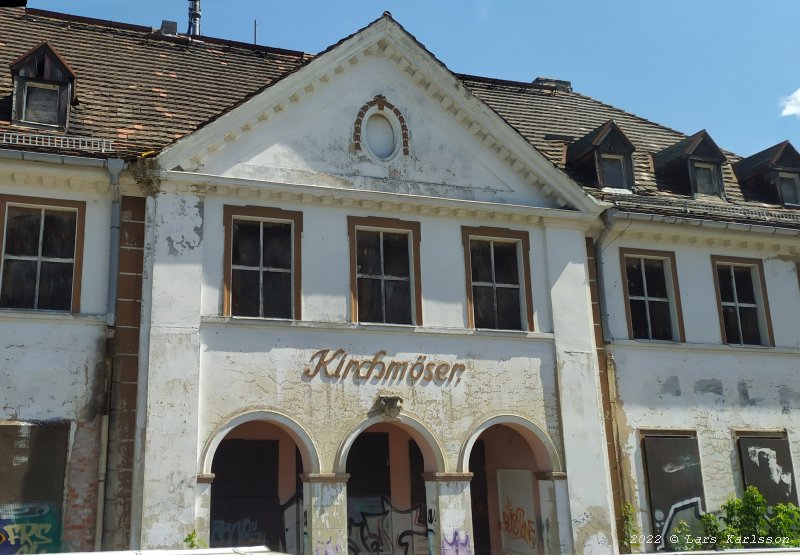 One of many stops on the way to our destination Magdeburg, Kirchmöser. Almost every station has its old railway station left, but most of them are abandoned and closed. I hope they don't demolish them in the future but keep them, history is important.
---
Magdeburg: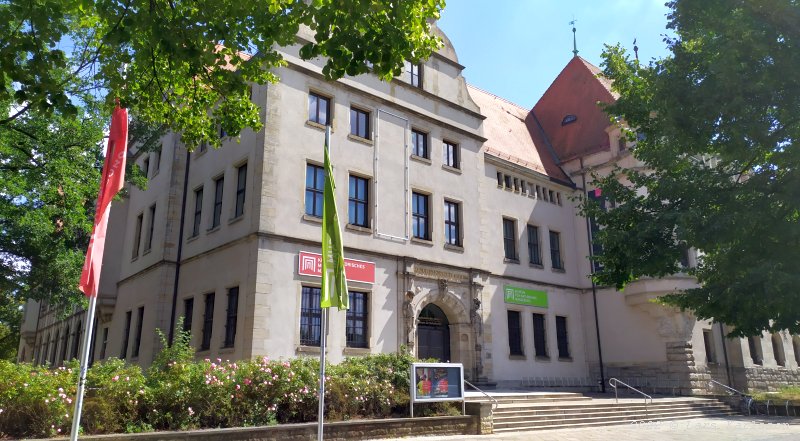 Nothing dramatic happen on this train and we got off at Magdeburg as we should. We have a 600 meter walk to our hotel, B&B Hotel Magdeburg. All the hotels we have chosen on this trip is less than one km from the railway station.
---
Map of Magdeburg:
Magdeburg is a very small town and we don't expect to need more than one day to see what we want. This town belonged to the former East Germany as all other towns we have visited yet.
---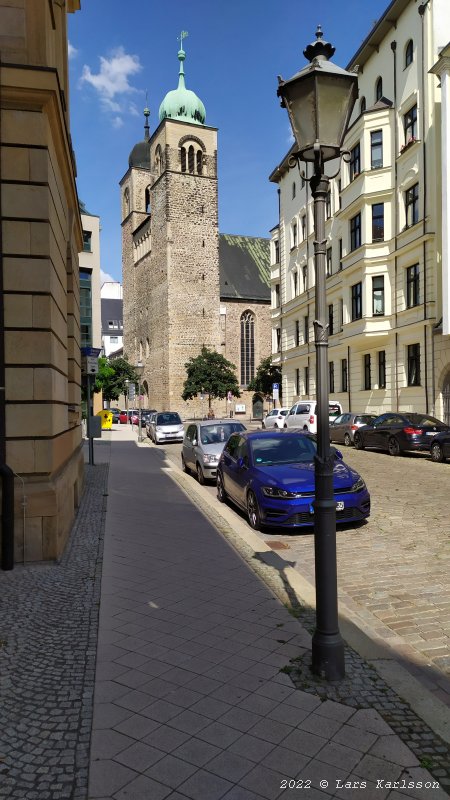 After we had checked in and installed us on the hotel we go out for our first walk in Magdeburg's old center. This town wasn't in our plan from the beginning, but a couples of days ago we read about it and we got a feeling that it was a place that we would find nice. The first church in sight, Saint Sebastian.
---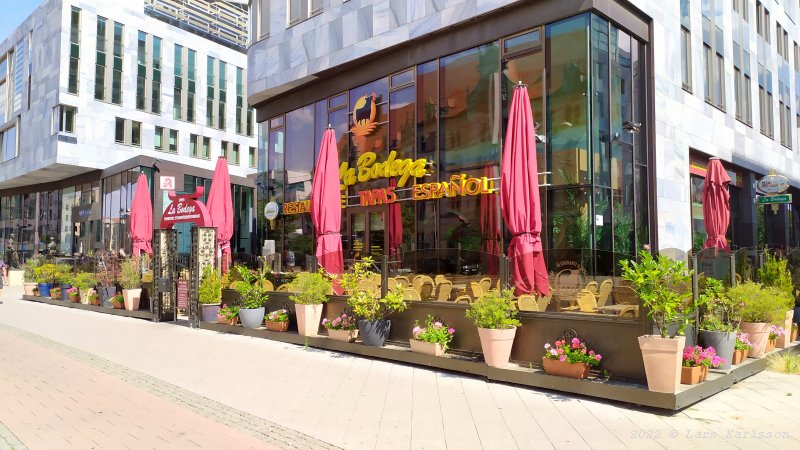 We hadn't eat any lunch yet. When we found this Spanish restaurant, La Bodega, we went happy, can we have tapas or similar here ? No, it was closed.
---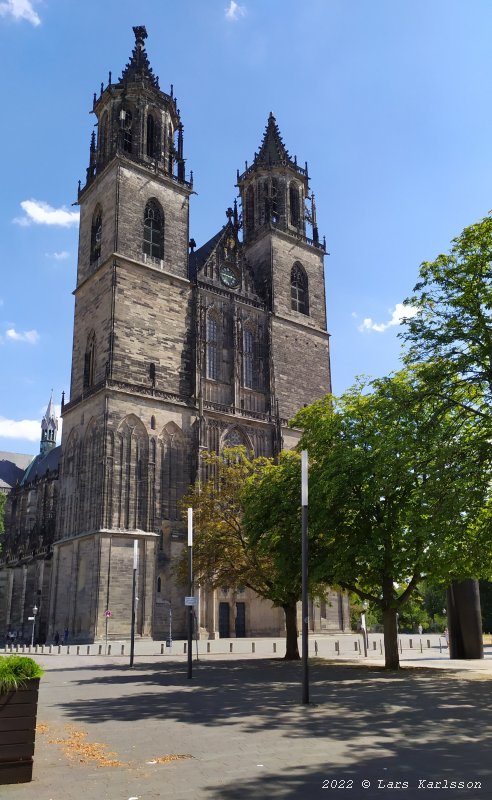 Magdeburg's Dom, why do we see so many old churches in the towns we visit ? It's the first buildings they start to rebuild, a symbol for a town.
---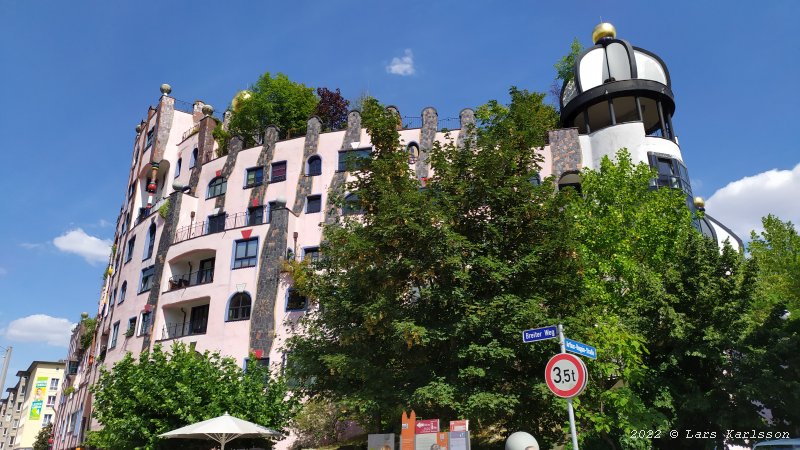 This exiting building was something we already know about, it's The Green Citadel of Magdeburg. The roof has grass on top of it and that is the reason behind its name.
Here is more information about Gröna citadellet i Magdeburg (no English):
---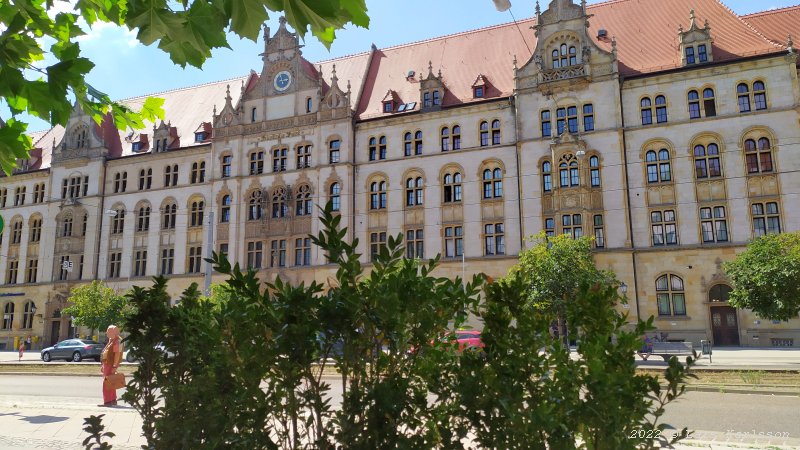 We sat down at a cafe at the Green Citadel and have this view over the street, the Deutsche Post office building.
---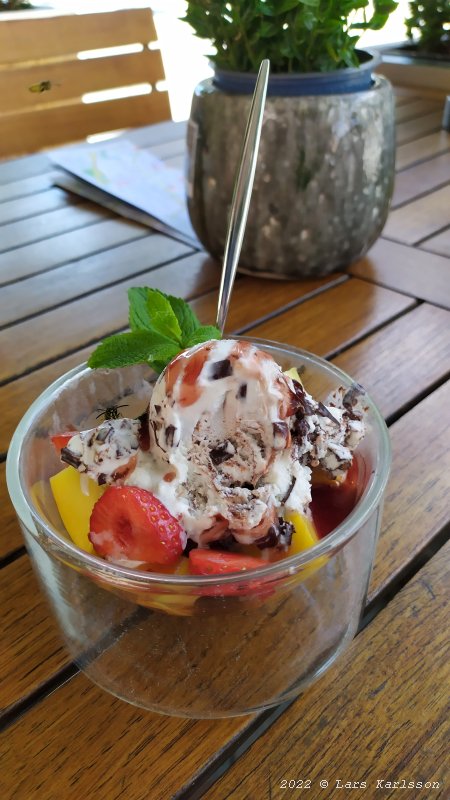 If no tapas then we could always take an ice cream with straw berries, even this day is hot, around 30 C degrees.
---
---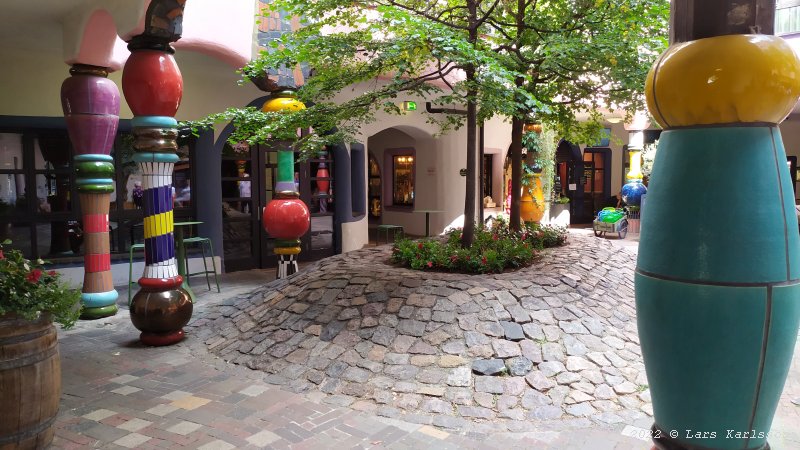 The inner yard of the building was an open area, more restaurants and cafes.
---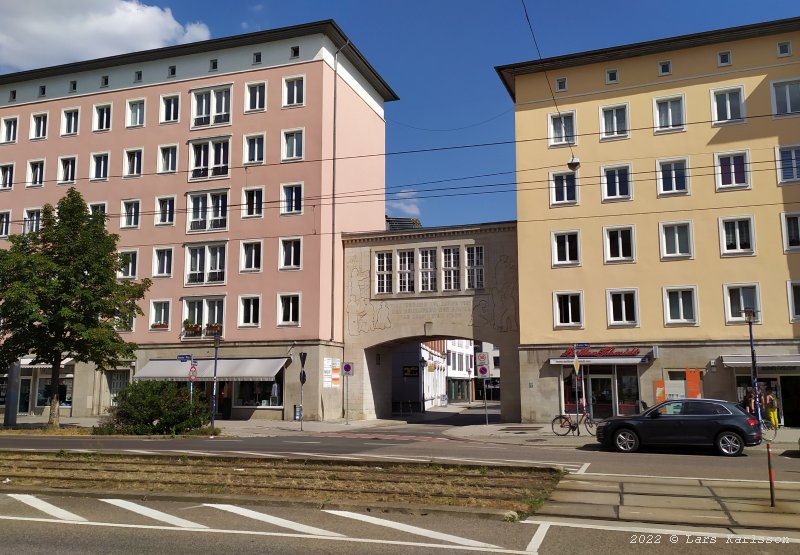 Continue walking the street Breiter Weg in Northern direction. A gate over the street Bärstrasse on the right side of the street. There are a lot of modern buildings and we could later read about how hard this town was bombed during the WW II. At least they could later rebuilt some of the old buildings. Maybe it were a lot of factories at this town that caused the heavy bombing of it.
---
Rathaus der Landehauptstadt: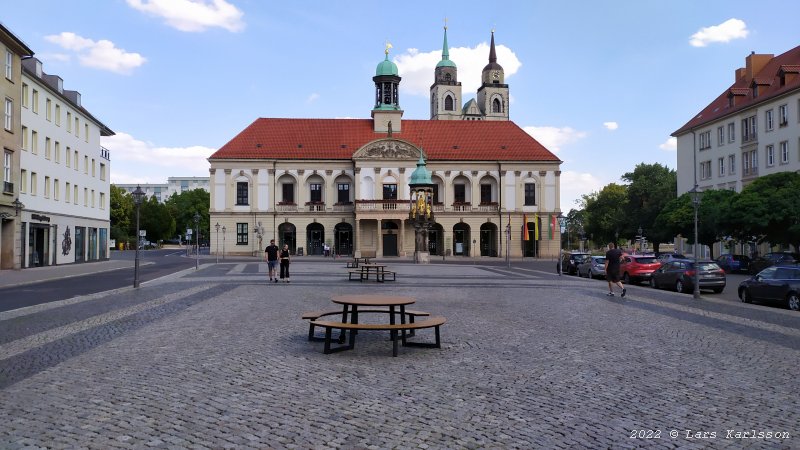 Already when we started walking we have decided to visit the Rathaus, her it is in the Northern part of the town.
---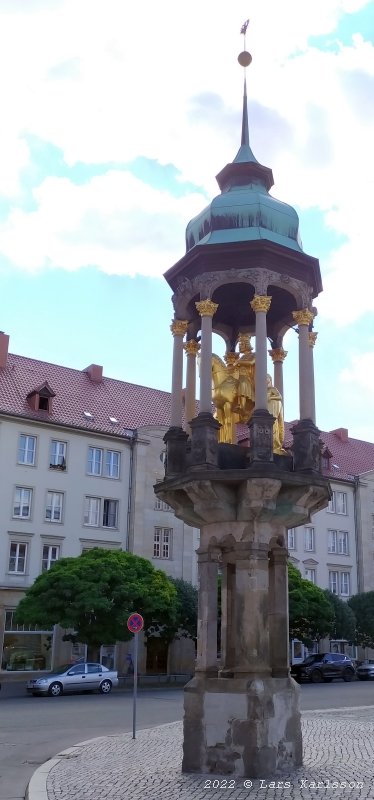 This is the Magdeburger Reiter, Magdeburg's knight. It's a copy of the original and installed 1966.
---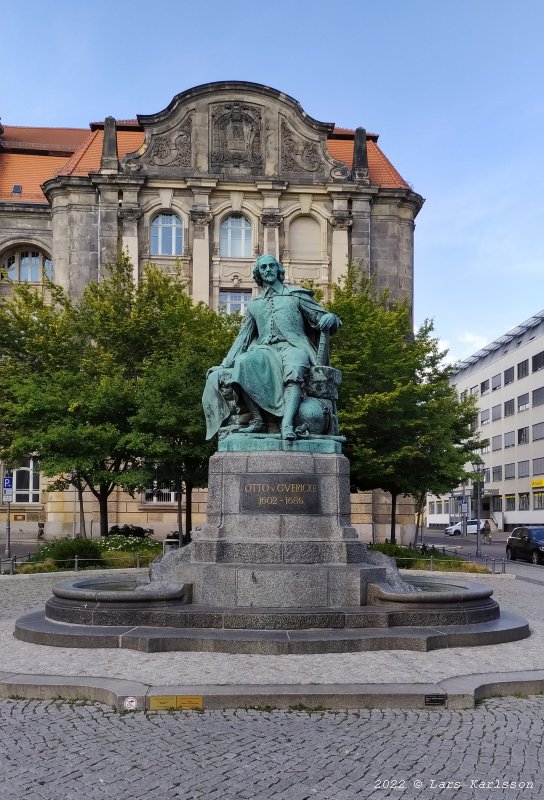 Otto von Guericke, most famous for its vacuum pump. He had vacuum pumped two half spheres and the atmospheric pressure hold them together so hard that even horses couldn't separate them. You could see the sphere on the right side of his leg.
Here is more information about Otto von Guericke:
---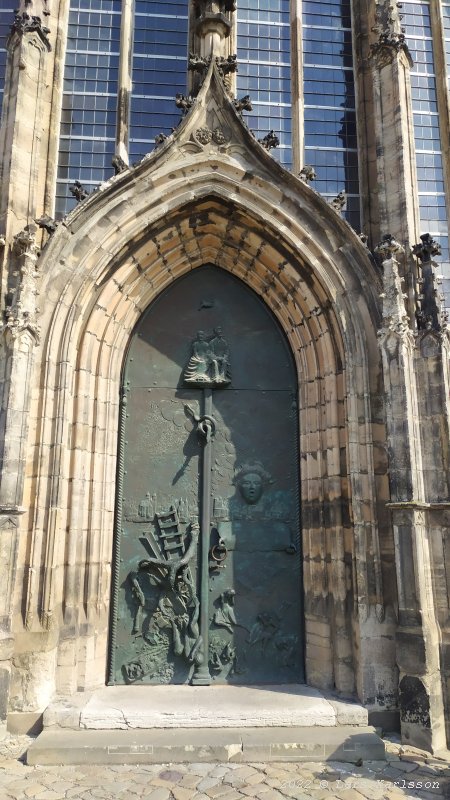 After the Rathaus we decided to walk down to the river Elbe. We see two high tower above the roofs and got curious, we must get closer, of course it was a church, this time the Johanneskirche.
---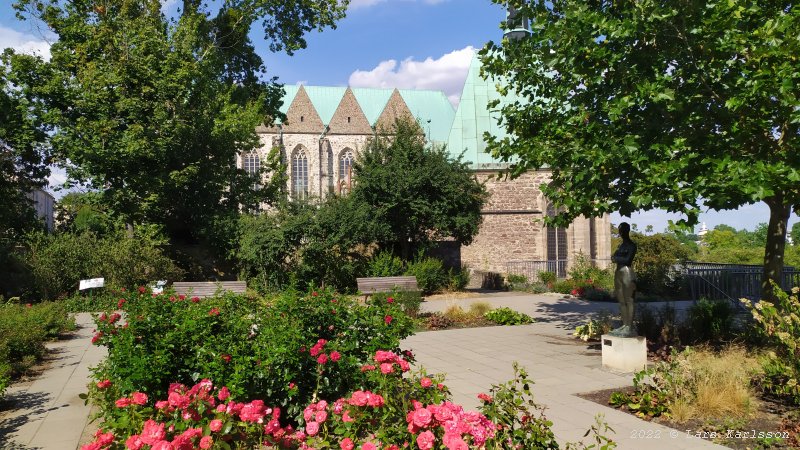 From that church we walk through the park to Magdalenenkapelle. That's the small building in front, behind is the Saint Petri's Church.
---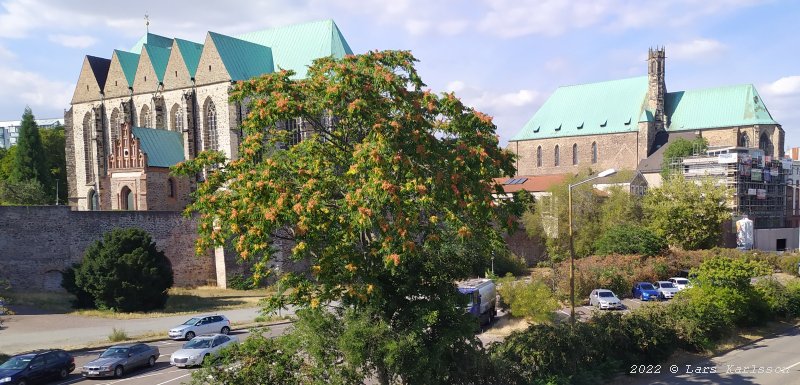 Walk over the road Schleinufer and we see another church behind Saint Petri. Now it got much more interesting, this is a Walloon Church. Some of my far away ancestors was a Wallon, an Iron worker, maybe from Belgium.
Magdeburg is not a typical tourist place and it's difficult to find information in English. This information is in German, Wallonerkirche:
---
Elbe River: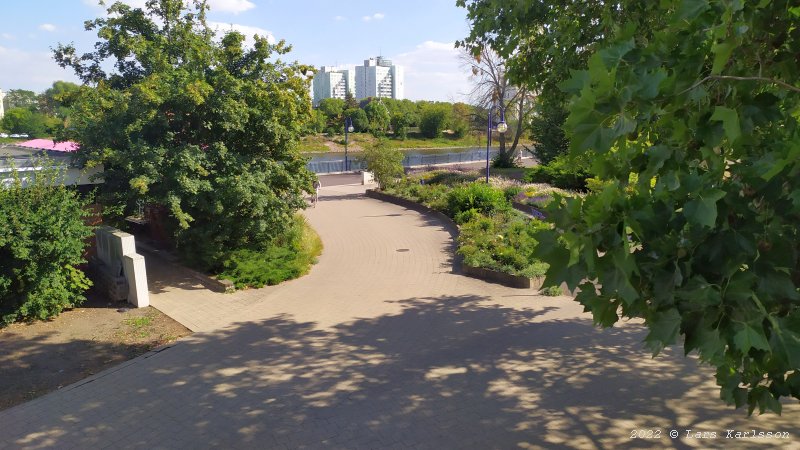 After the bridge we are at the river Elbe, it's a 1100 km long river and it rises in the Northern Czech Republic.
Here is more information about the river Elbe:
---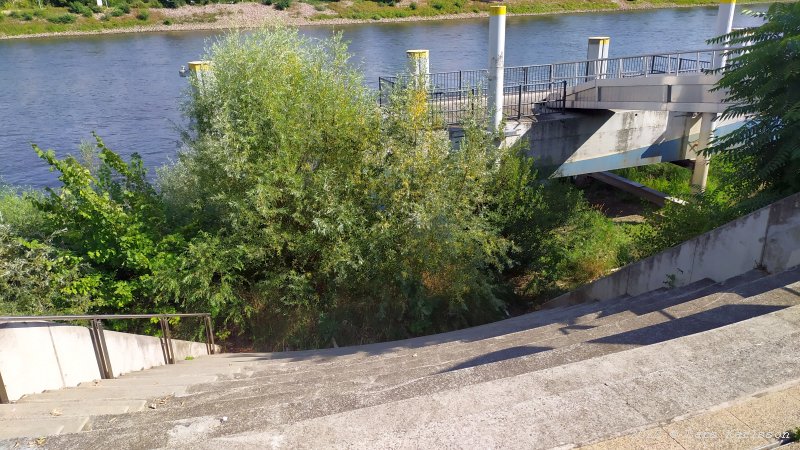 It's a bit strange, we don't see any river boats, it should be plenty of them. The explanation must be because of the low water level and rapid water stream, to dangerous to maneuver boats under these circumstances. The pier in front of us float on the water, but now the water level is so low that it stands on the ground.
---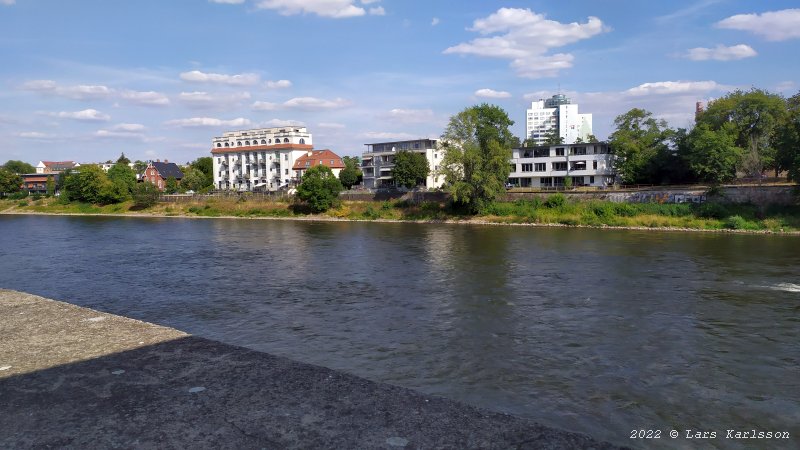 We stood here and looked at the water, it flowed in a very rapid pace to the left and North.
---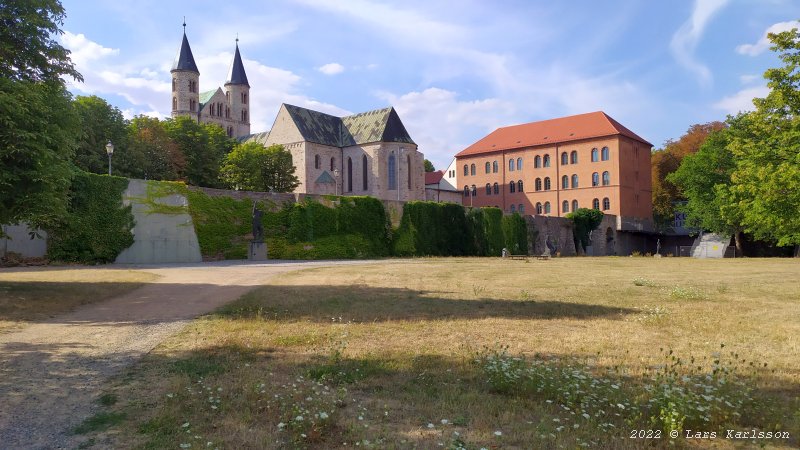 We followed Elbe river about 700 meter. After that we felt that it was too hard to walk in the heat so we go back to the old center. In the old center shadows we cooled down. It's the Klosterkirche in the background.
---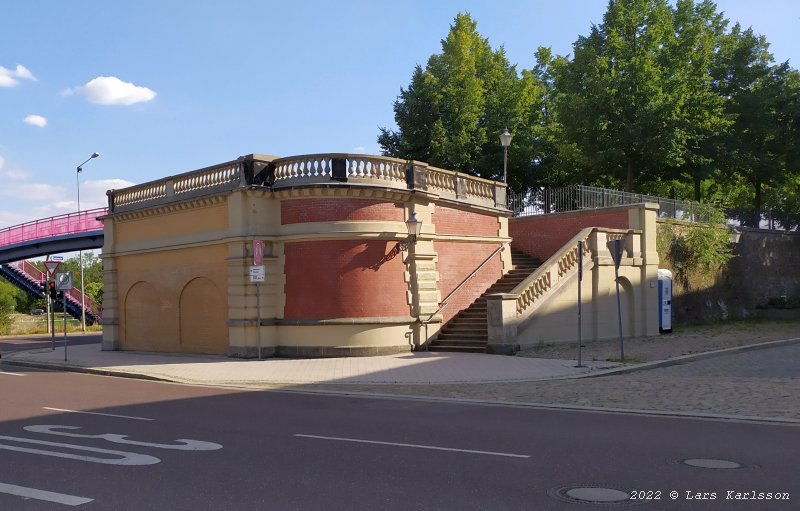 We walked up the street Gouvernementsberg, didn't understood if this was a remnant of a city wall. It looked a bit too modern for that.
---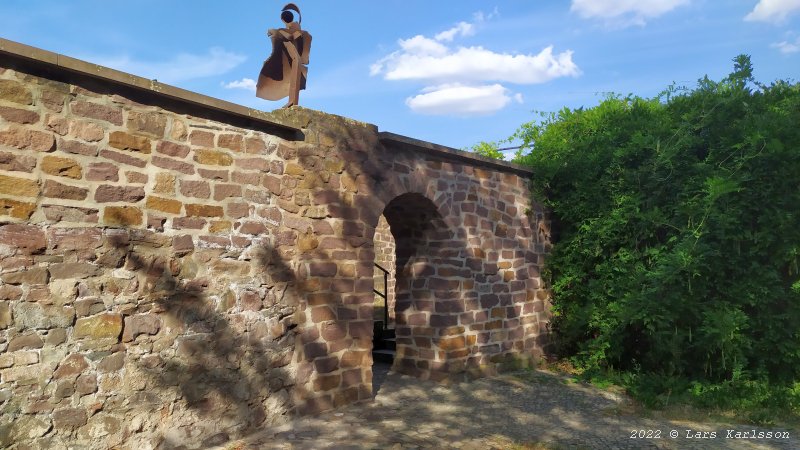 Behind this wall is a sculpture park, but we were more eager to get something to eat.
---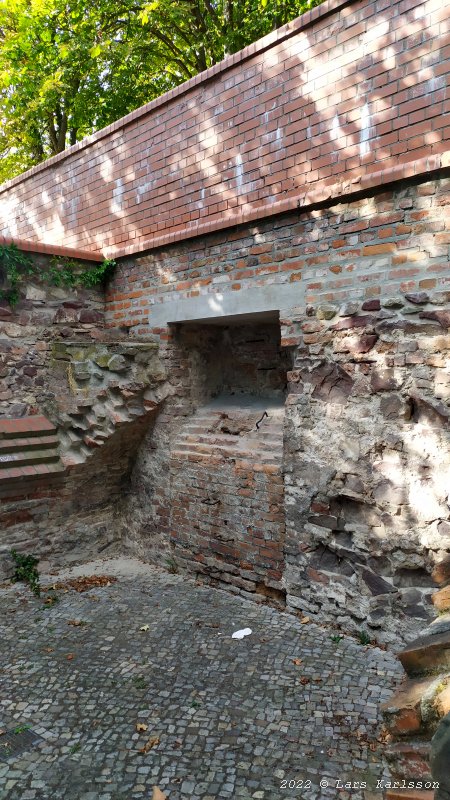 And what was this ? Maybe a ruin of a outlet for a fountain.
---
Domplatz Magdeburg: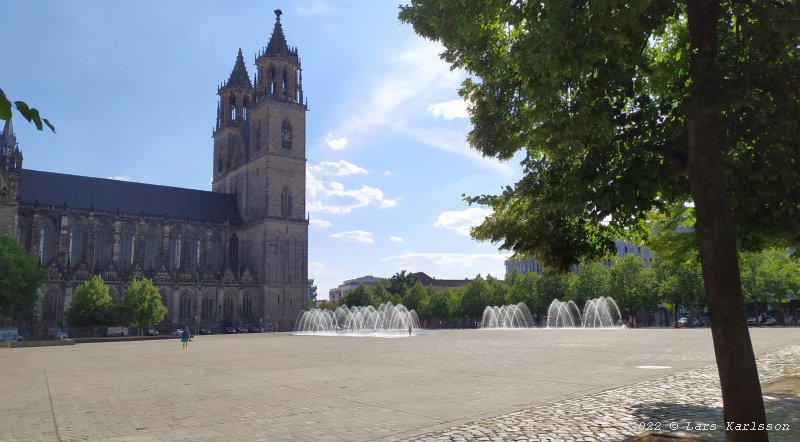 We came to this square with it's nice fountains, we stand here for a moment and look at it. The children played with the water when it goes up and down.
---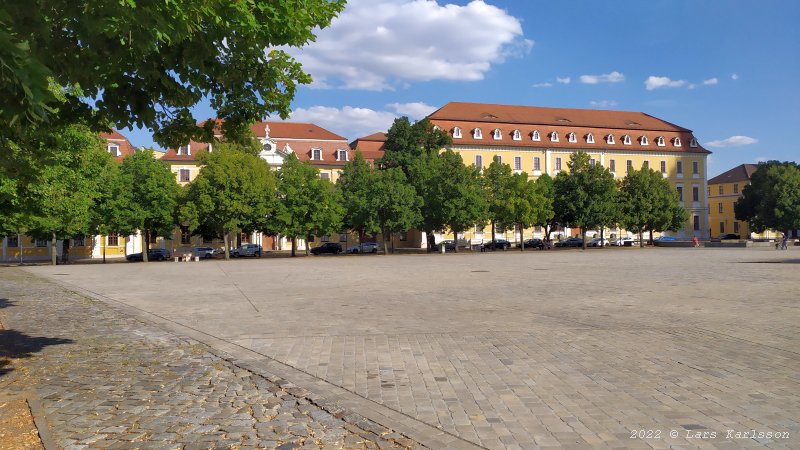 On the Eastern side of the square are some old buildings, the one to the left is a hotel, in the middle is the Ministerium.
---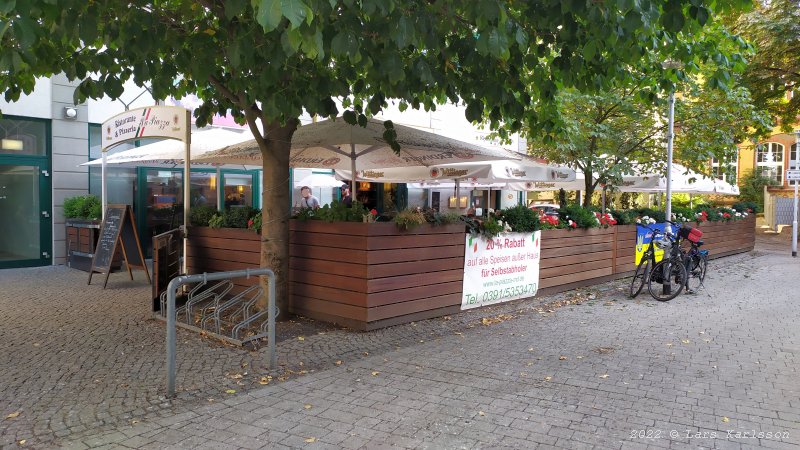 We have little hard to love the heavy German food a hot day like this, once again we get to an Italian restaurant.
---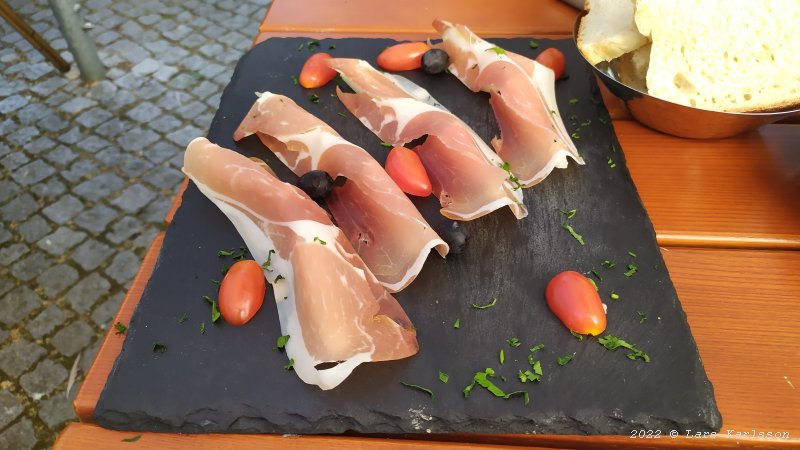 This Serano ham was perfect for us and two cool beers to it.
---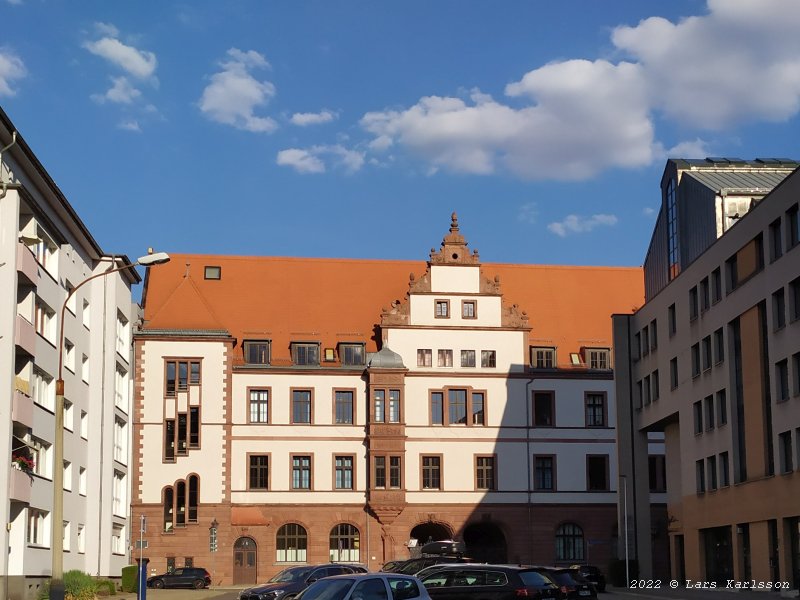 After the dinner we had not much that we know about to look at. We walked in Southern direction where the town's restaurants area are.
---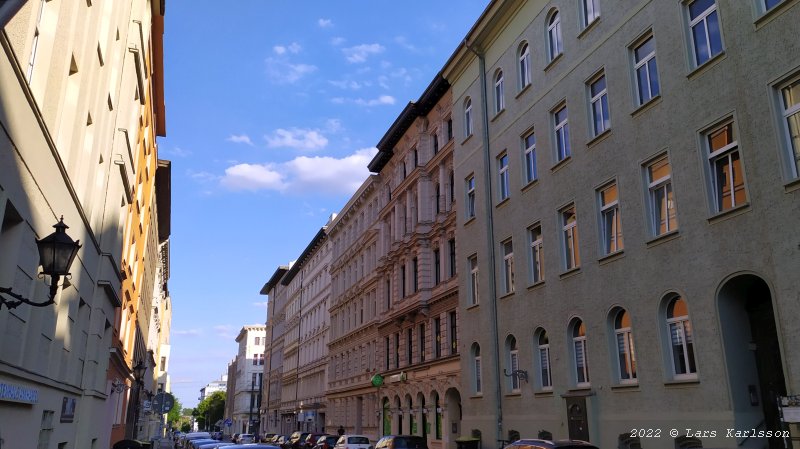 Nice small streets with some old buildings.
---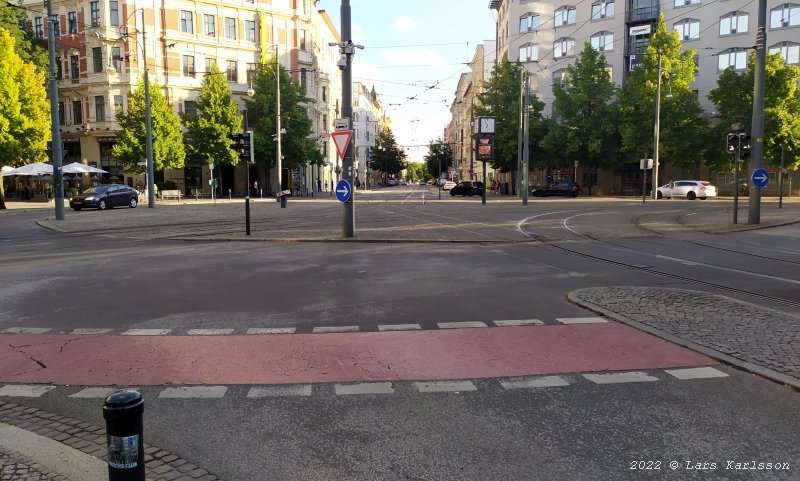 At this roundabout we turn around and walk back towards our hotel. Took a rest at a bar for drinks, one color full and one hot Baily and relaxed. What nice to just sit down and do nothing. Got back to the hotel early, it was only 300 meters from the bar.
Here are more information about Magdeburg: