My travel in Europe:
By train in Northern Germany, 2022
---
Content:
---
Day 9, Magdeburg to Wernigerode:
After only one day in Magdeburg we left the town to go further, now it's Wernigerode that's waiting for us. It's on our friend Lennart we visit this new town. We have never heard about it earlier but after he recommended it we look at some tourist videos and liked what we saw.
Here is a map of todays travel from Magdeburg to Wernigerode:
We had to change train at Halberstadt, it took a little more than 1 hour and the distance is 100 km.
---
Magdeburg hotel:
Up in the morning to see what breakfast we get on this new hotel. We had read that one person had complained that she didn't find the yoghurt, very bad we thought if we don't get any yoghurt. But Gunilla find it in the refrigerator, very anonym packaging to it so it was easy to miss. As usual very good breakfast with lot of food to choose from, yoghurt, juice, coffee, bread, ham, chees etc.
---
Magdeburg HBF: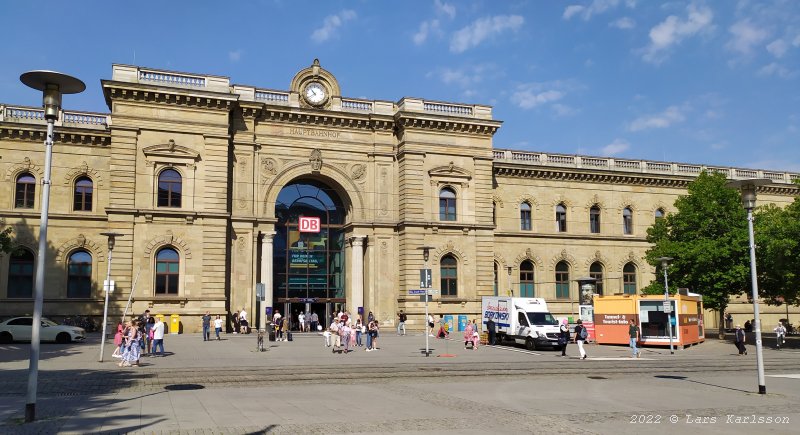 10:40 at the railway station Magdeburg HBF, it was so close that we didn't wait for the tram, we walked to it.
---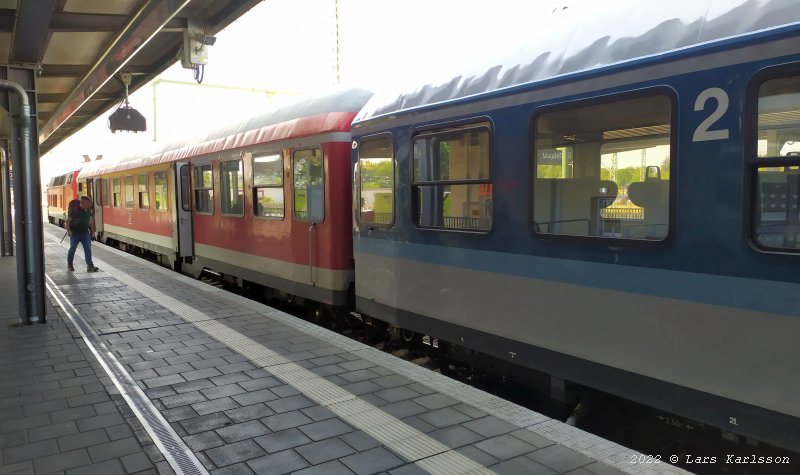 The train are already at the station, not that big double decker we have traveled with earlier. Small but cozy carriages. Now the tricky part, we have to do a change to a bus at Halberstadt because of they repair of the railway. Only 7 minutes for us to find that bus.
We got out from the Halberstadt railway station and looking for signs where the bus was. Didn't find any information and we rush out to the nearby bus station and looking, no bus there either. Then we saw a big white bus were people walking towards, could it the bus ? We run to the bus, a rented tourist bus and there we saw the sign with information. Quickly push the luggage in the storage and jump into the bus, yes we got the last seat.
---
Wernigerode: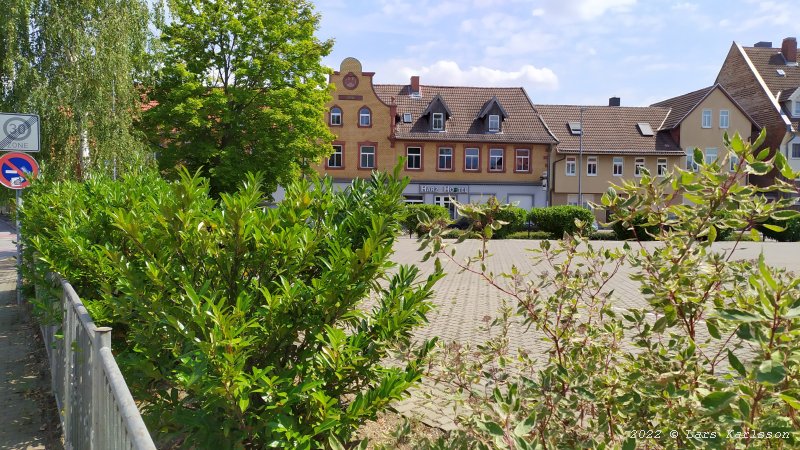 We had to change train at Halberstadt but all together it didn't take much more than an hour to Wernigerode. Here we have found our new hotel, Harz Hostel. We know that we can't check in in 3 hours, but we knocked on the door to see if any was there, no it wasn't.
---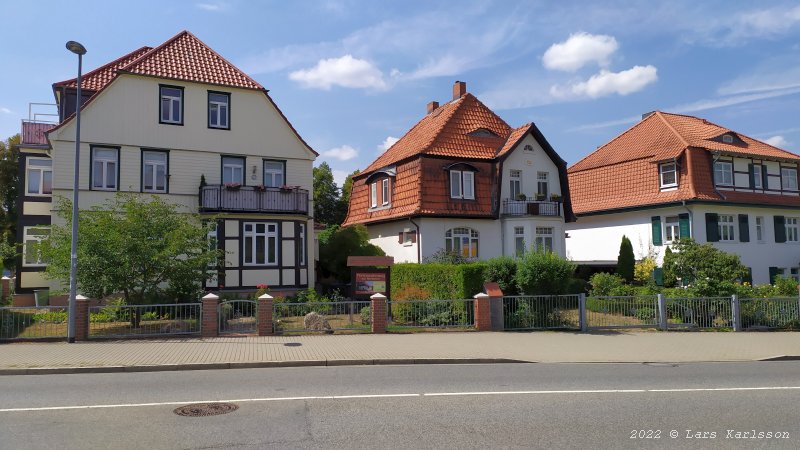 We took our luggage and walked down to the old town.
---

Our first glimpse of the town told us that this is a nice place to stay at.
Lennart who told us about this little town tells:
I have a special love for Wernigerode since I came there for the first time in 2006 and remember what it was like:
I got off the train and locked my luggage in a luggage locker directly to the right of the entrance, where there is now a ticket office. Then I stepped out onto the stairs to the station building, saw the castle that seemed to be floating above the treetops and the steam train station to the right and "fell like a pine tree". It was enough, it was like they say "love at first sight". And then I had not yet seen anything of the city!
Lennart
---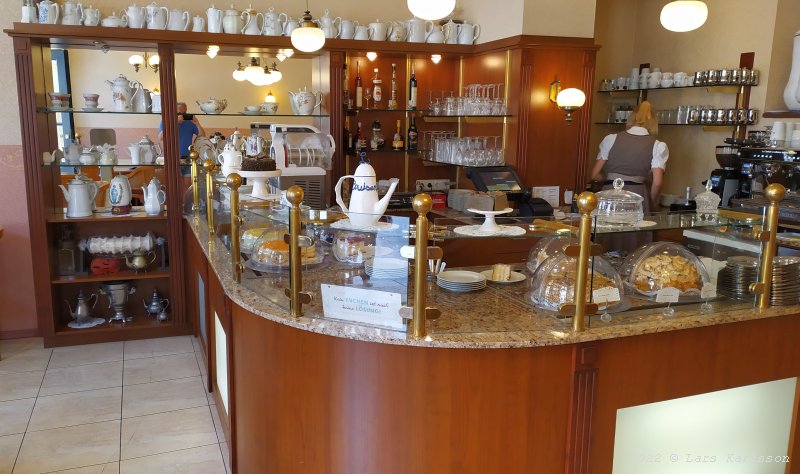 Lennart has told us that Wernigerode are famous for its ice cream. Here we have came to an ice cream shop. A young girl worked in fast pace to serve ice cream and coffee nonstop. She also had to take care of an outdoor ice cream bar.
---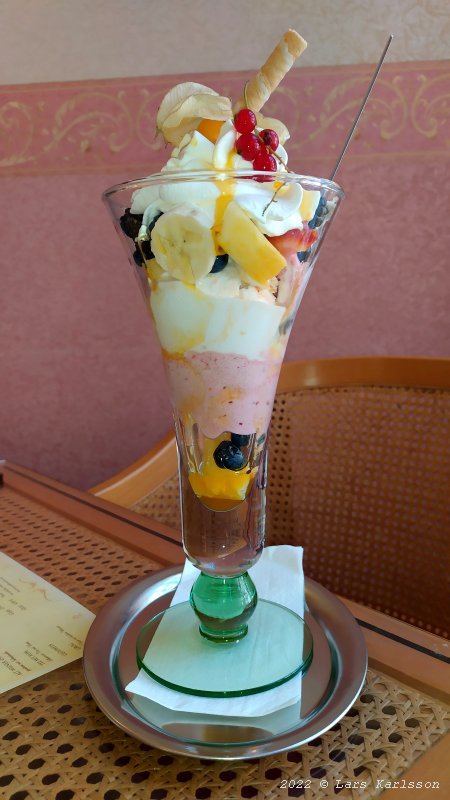 What a nice start of the day ! When we eat our ice creams more staff arrived to help the girl to serve ice cream and coffee.
---
Nicolaplatz: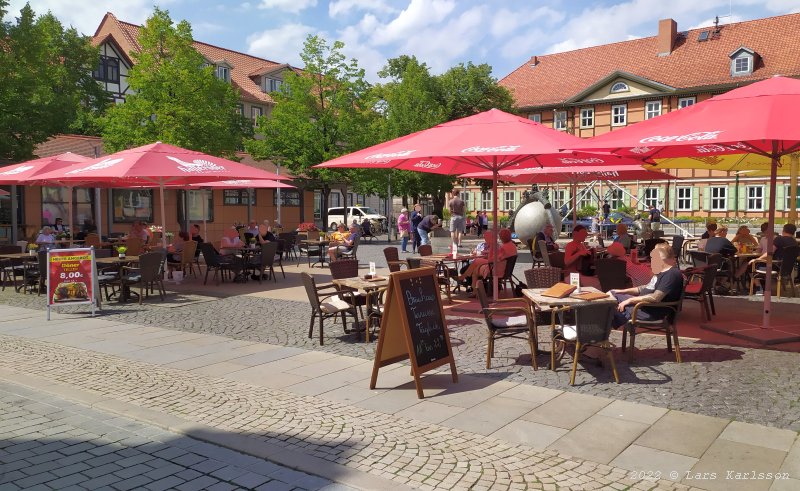 After the ice cream and coffee we take a walk down to Nicola square. It's hot today too but not that hot as the first days, maybe 28 C degree.
---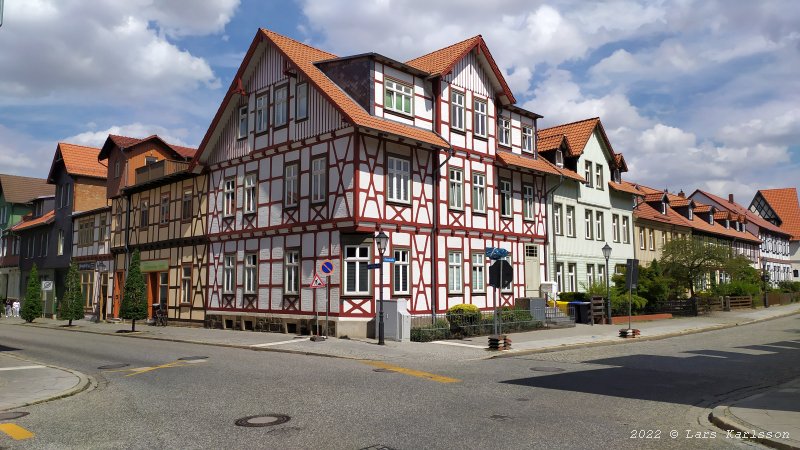 We were not sure if this old town belonged to the former DDR, East Germany. But later we found information that it was so. We are now walking back to the hotel to check in. The man who own the hotel was very funny and we talked a lot about our travel and asked questions. We also booked one more night, in this nice town we want to stay a bit longer.
---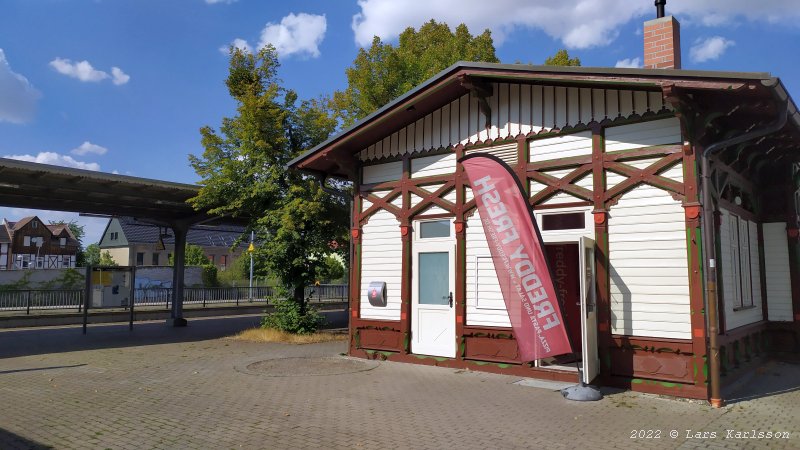 Now when we don't have our luggage to carry around anymore we could walk around easier. First we go back to the train station, this is the Wernigerode HBF with some extra house. But we also know that there is an older railway with steam locomotives.
---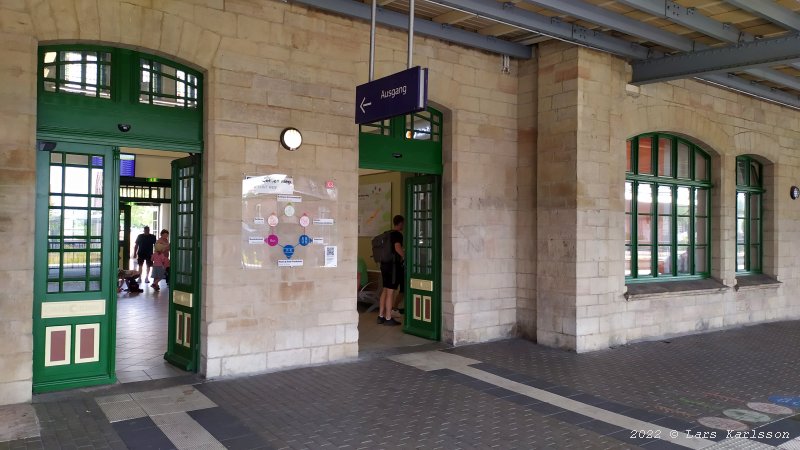 The entrance to the main building of the "new" railway station.
---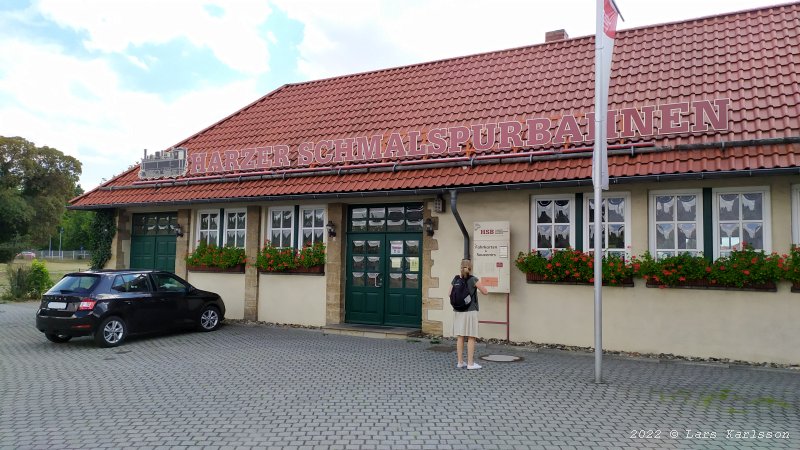 Hundred meters from the new railway station we found the locomotive railway station.
---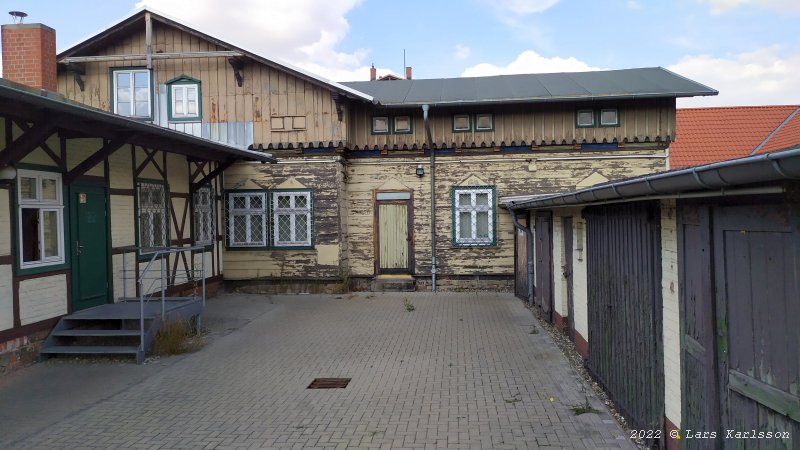 Walking around and looking at the old buildings that belongs to the railway station.
---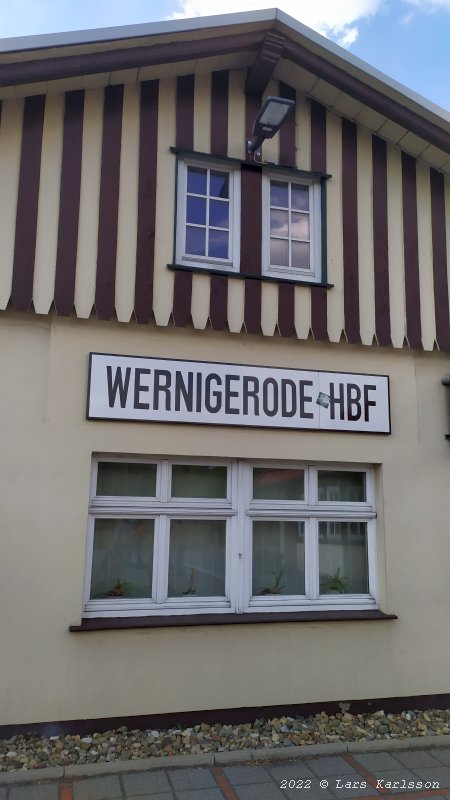 First we thought that we could take this train to the castle on the nearby hill. When we looked at the time schedule and price list we found it to be a bit expensive for that short travel. Later we understood that it didn't go up the hill, it was much farer away.
---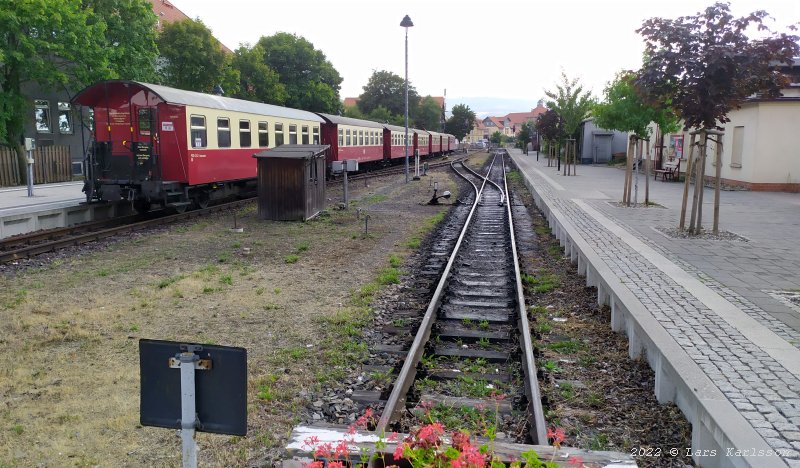 As you see the track is very narrow, we have a lot of them at Swedish museum railways too.
---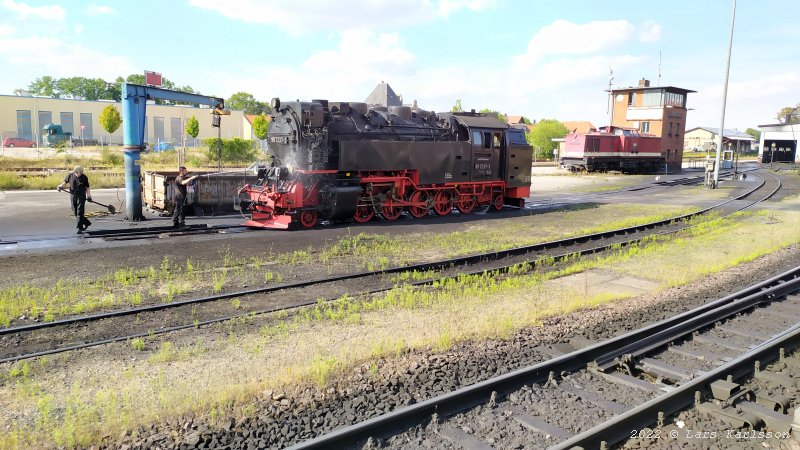 The locomotive is prepared for this day's work. Fully loaded with coal and water. My friends has traveled with this steam train and strongly recommend it.
Here is more information about the steam railway:
---
---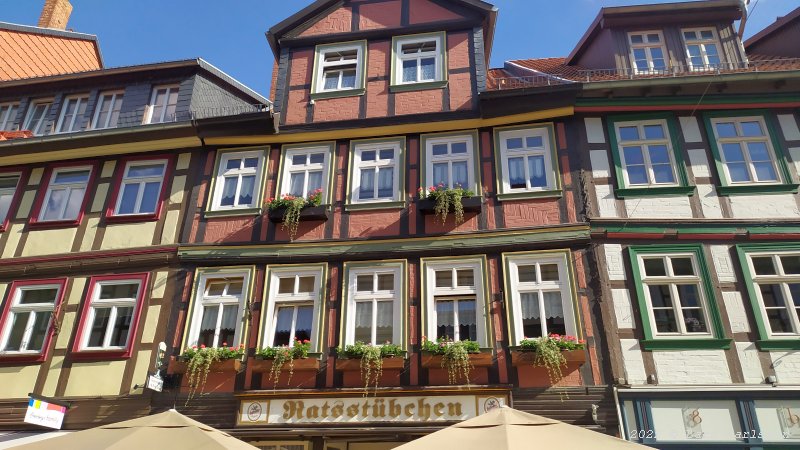 Back in old town, now we want to have a look at all these old buildings. This is at the Marktplatz.
---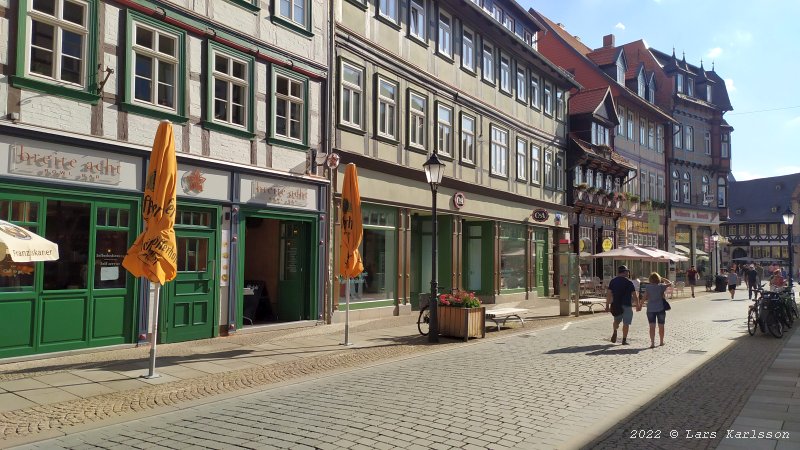 The street Westernstrasse.
---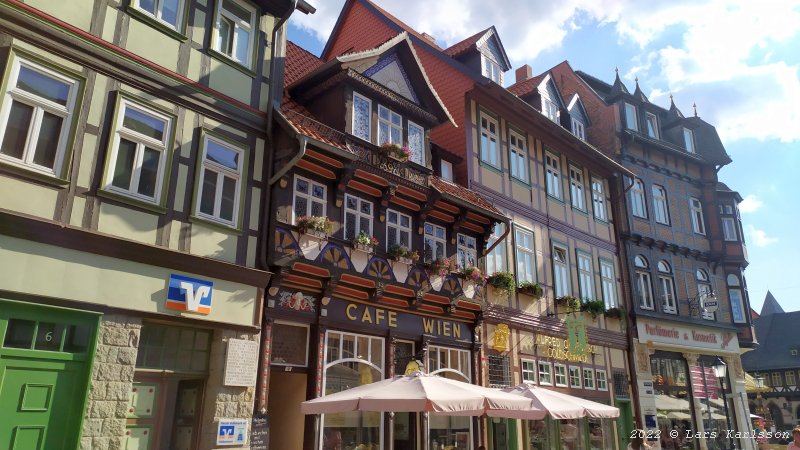 There are cafes and restaurant at a lot of places along this street.
---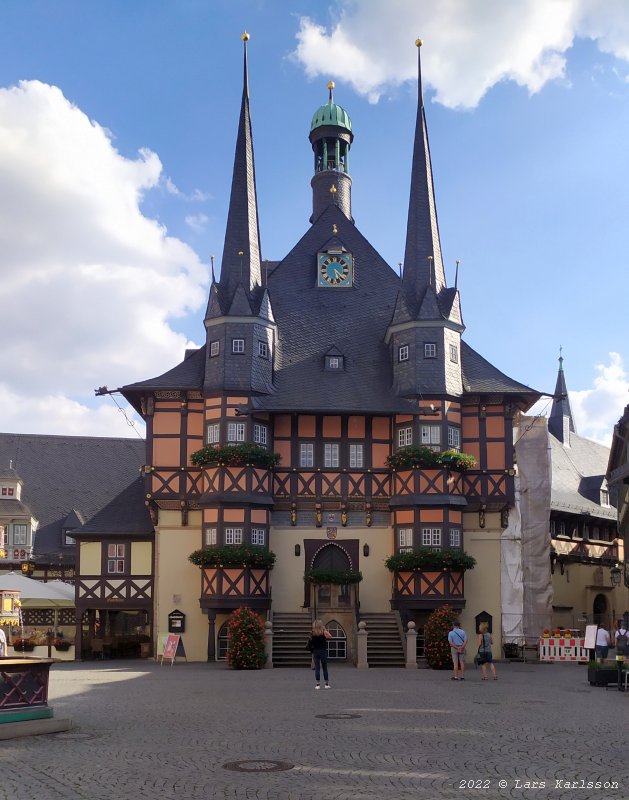 The Rathaus at the Marktplatz. We could read that couple get married here.
---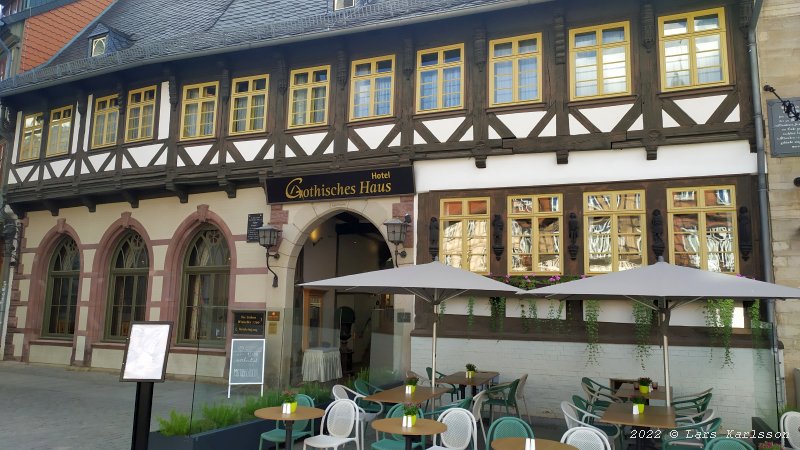 Gothisches Haus.
---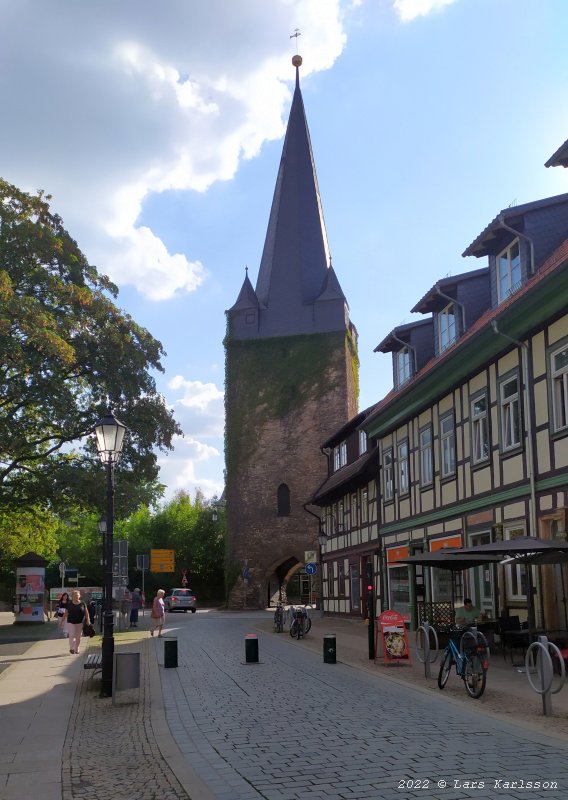 Westerntorturm with the street Johann Sebastian Bach Strasse behind.
---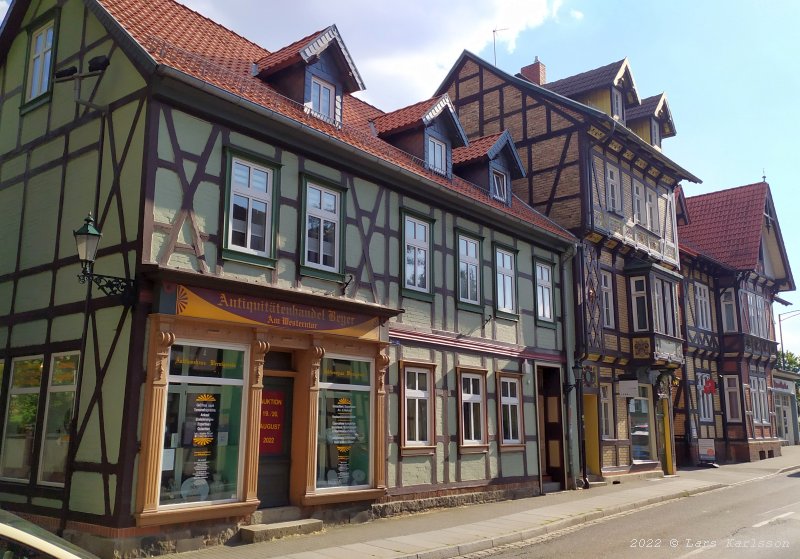 Walked out through the gate. The last old house, after this it's much newer buildings.
---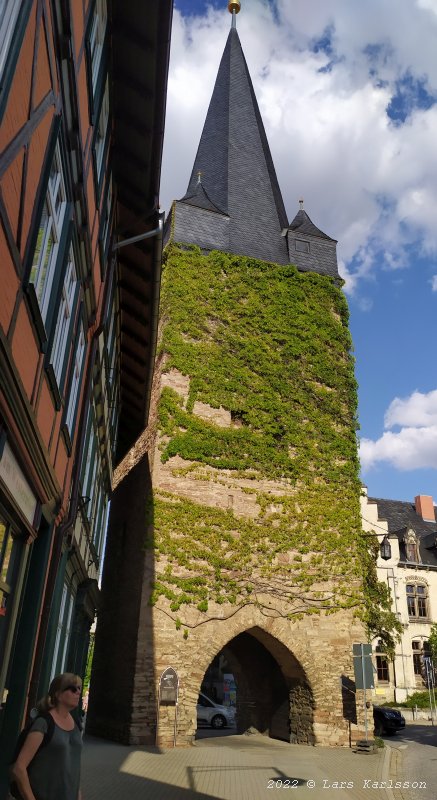 The tower from the outside, once a part of the city wall. Later we will see what's left of the city wall. Turned back to the old city again.
---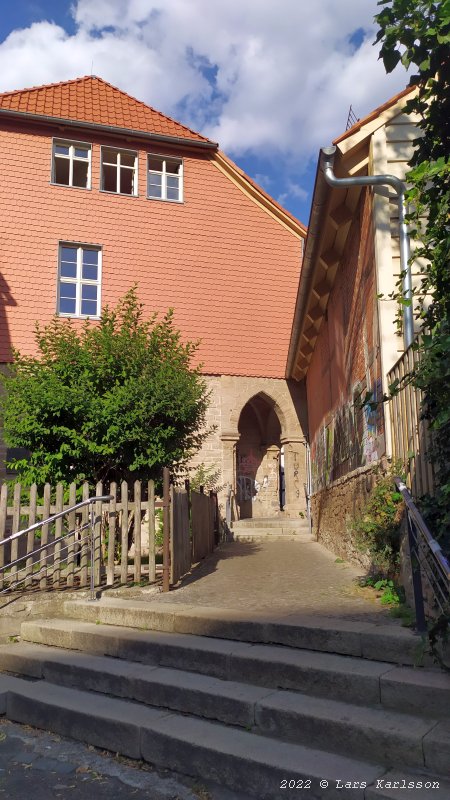 We walk towards the school Gerbart-Hauptmann and behind the school is this gate.
---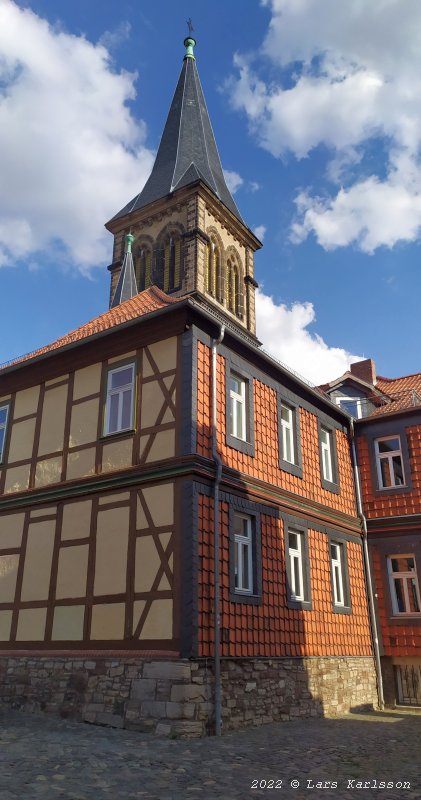 We see a lot of houses with the roof panels placed at the walls. Why ? Must be some local tradition.
---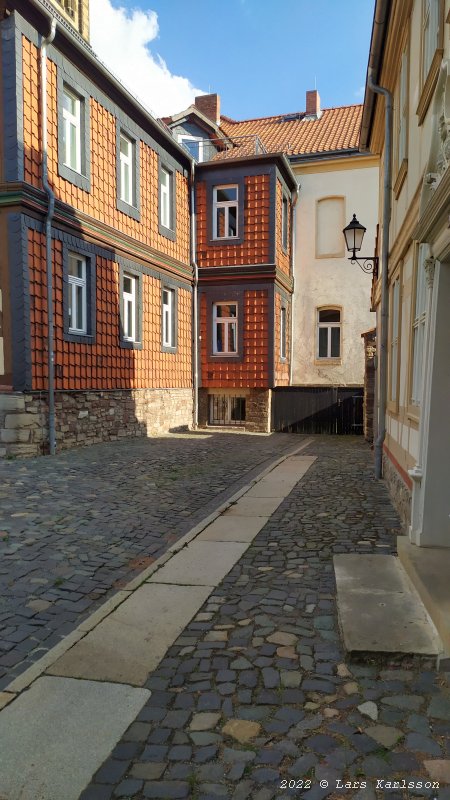 At the street Oberpfarrkirchhof we found narrow alleys to walk at.
---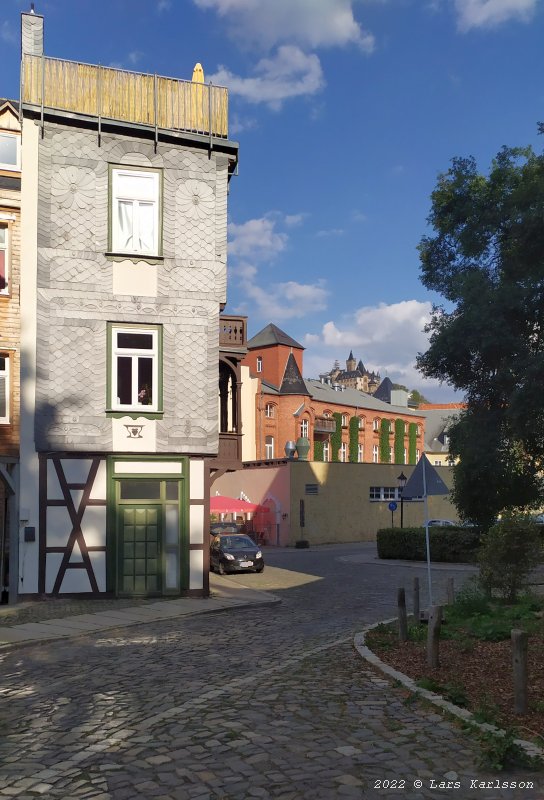 In an opening we got a glimpse of the castle at the hill that we want to visit. Now we see how close it is and why the steam locomotive can't take us to that place.
---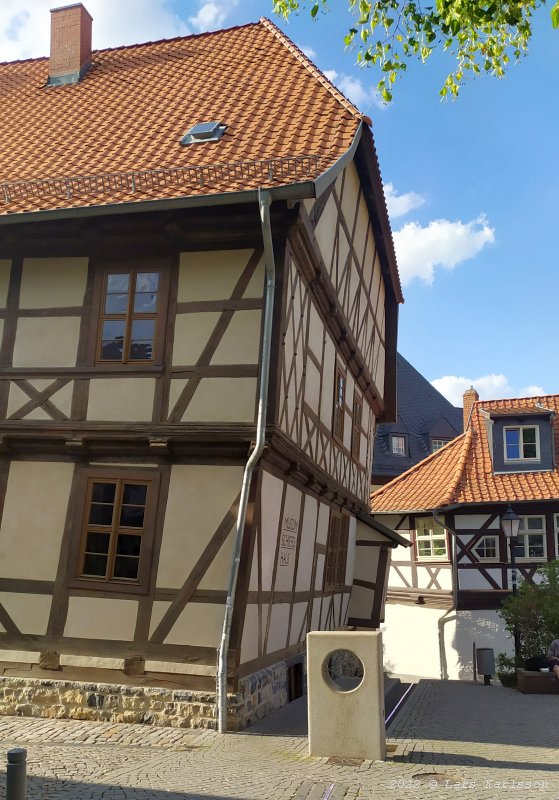 Old houses can get problems, look how tilted it is, when will it fall down ?
---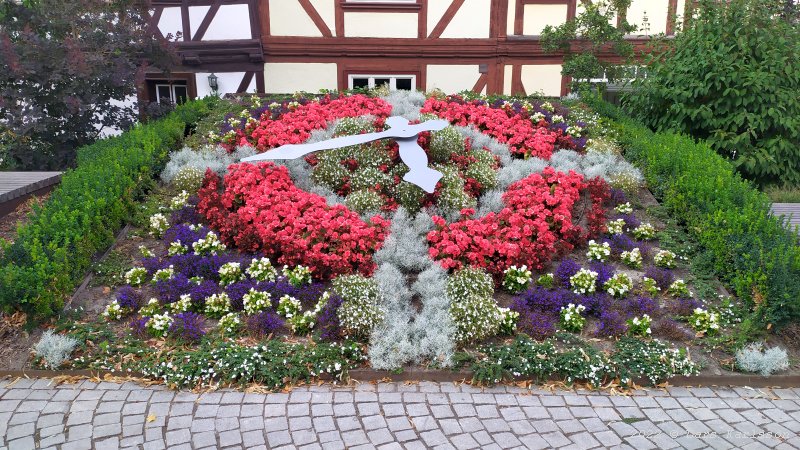 The flower clock tells us that it's already 17:40 and we haven't ate yet.
---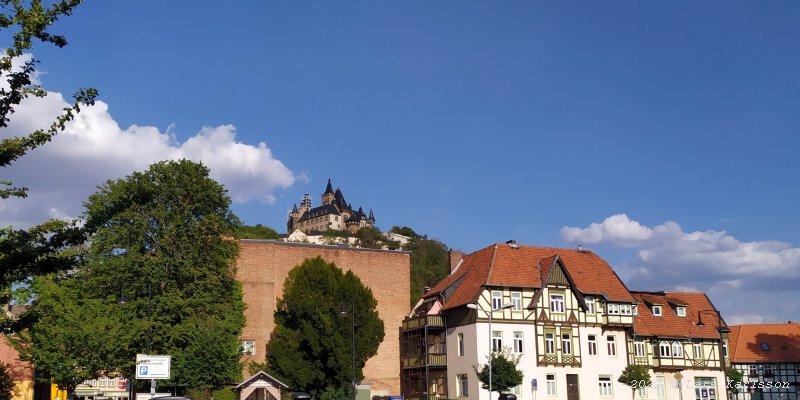 We walk towards to the main street to find a restaurant where we can eat.
---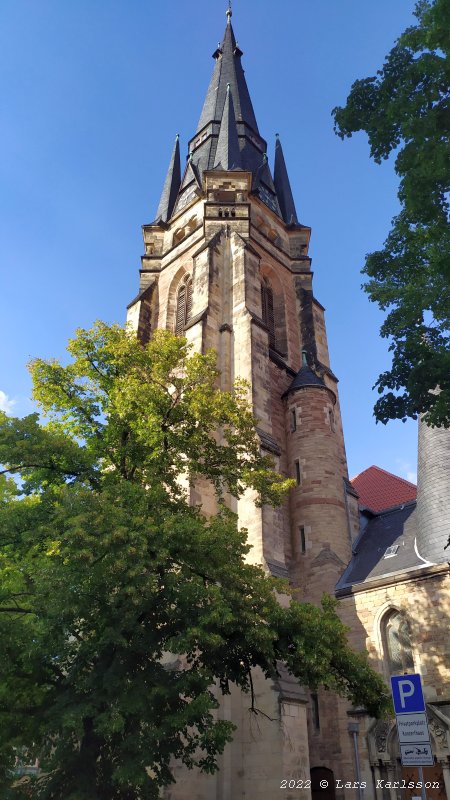 One church at the street Liebfrauenkirchhof.
---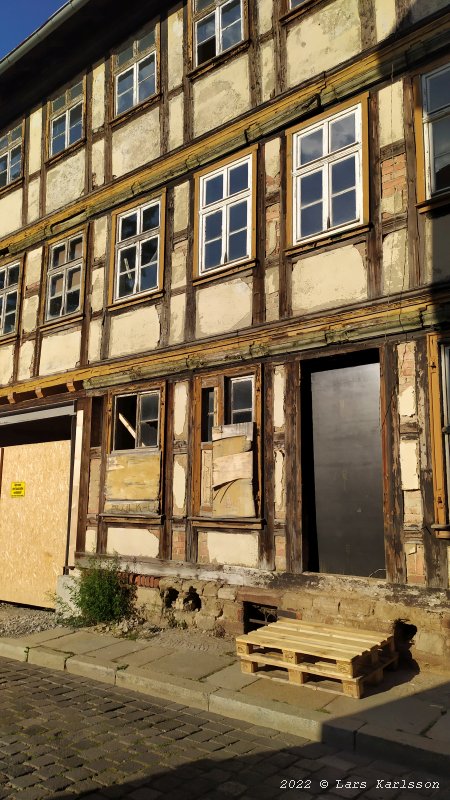 Found one restaurant that we liked, but they didn't have any table for us, strange. On the way to the main street Breite Strasse we see some older buildings that hasn't been restored yet. At the main street we once again happens to stay at an Italian restaurant, pasta for me and soup for Gunilla.
---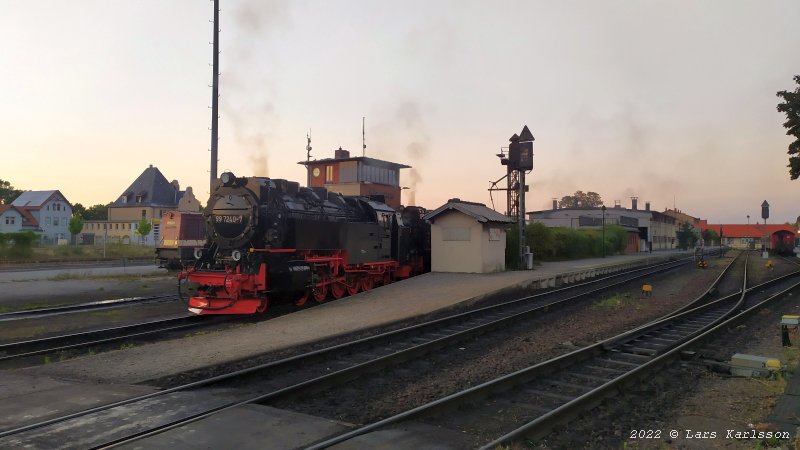 Time to go back to our hostel, we took the way where the steam train was parked.
---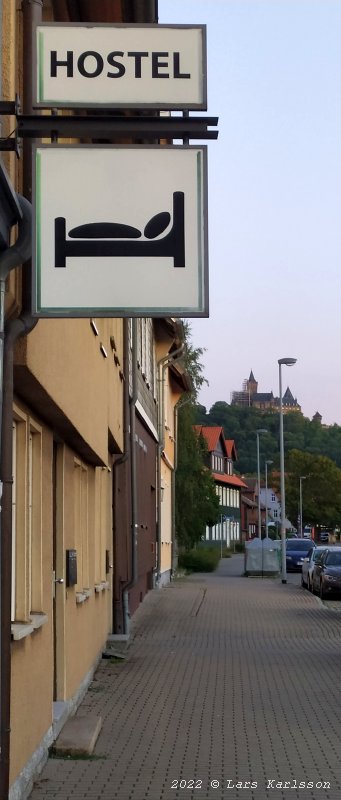 Our hostel, we got a very big room with private bathroom. This was the cheapest room we had, only 65 Euro per night.
Here are more information about Wernigerode: