My travel in Europe:
By train in Northern Germany, 2022
---
Content:
---
Day 11, Wernigerode to Hanover and then Bremen:
Waking up the third day in Wernigerode, this is the last day here and now we are going to a bigger city, Bremen.
Here is a map of travel from Wernigerode to Hanover and then Bremen:
We have to change trains two times, one at Goslar and another at Hanover. Three and half hours and 230 km.
---
Wernigerode:

Our room at the hostel, big as you can see and a private bathroom. It's a hostel and the sheet wasn't included, but only cost 3 Euro each. For this morning we had bought us yogurt as a complement to the breakfast, we will go direct to the train station and no time to visit a cafe.
---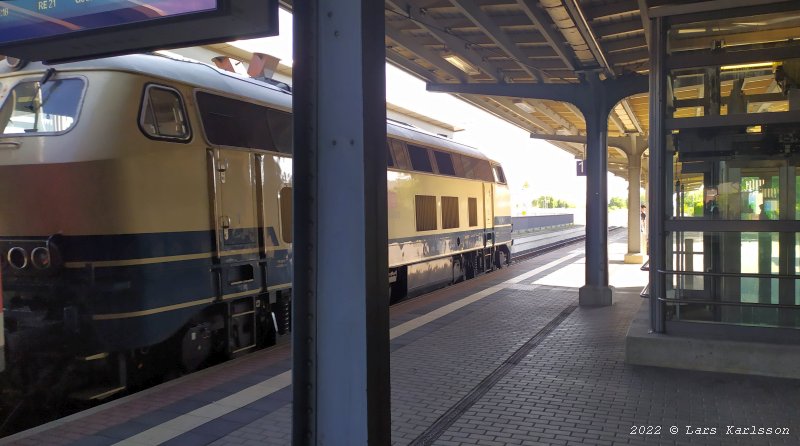 Wernigerode HBF station, we were here early to be sure to have a seat. But there almost no other people here. The train arrives and it's a diesel locomotive. Not the first time, there are many railways that are not electrified yet. Germany has suprised me many times on this tour.
---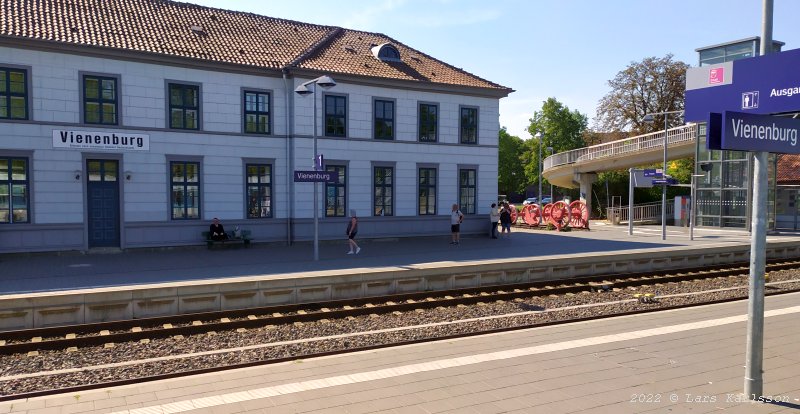 At Vienenburg village they have a big factory were they manufactures railway wheels, they have a pair of them at right of the building as a monument.
---
Goslar: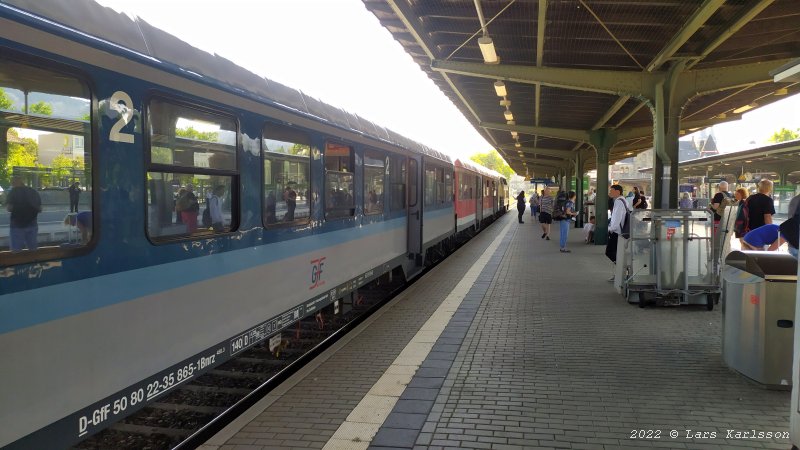 First change, we have just arrived at Goslar railway station, the other train will leave in only 8 minutes. Our friends has told us that Goslar is a very nice old town, about the same as Wernigerode. We discussed if we would stay one night here too, but we can't be in Germany too many days and we go further direct with the next train.
Here is more information about Goslar:
---
The next train that take us to Hanover is of a more modern design but we like the old ones too.
---
Hanover: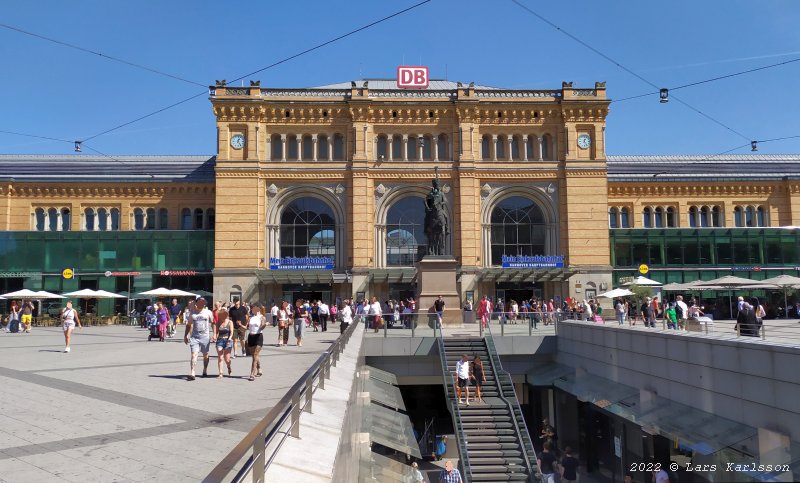 At Hanover we have over an hour to do something. We take our bags and go out into the square outside the railway station and look around to see what we can find. This is a modern city, probably many industries in its surroundings. The first thing we see is that the square is on two levels. The square is the Ernst August Platz with the old railway station in the background.
---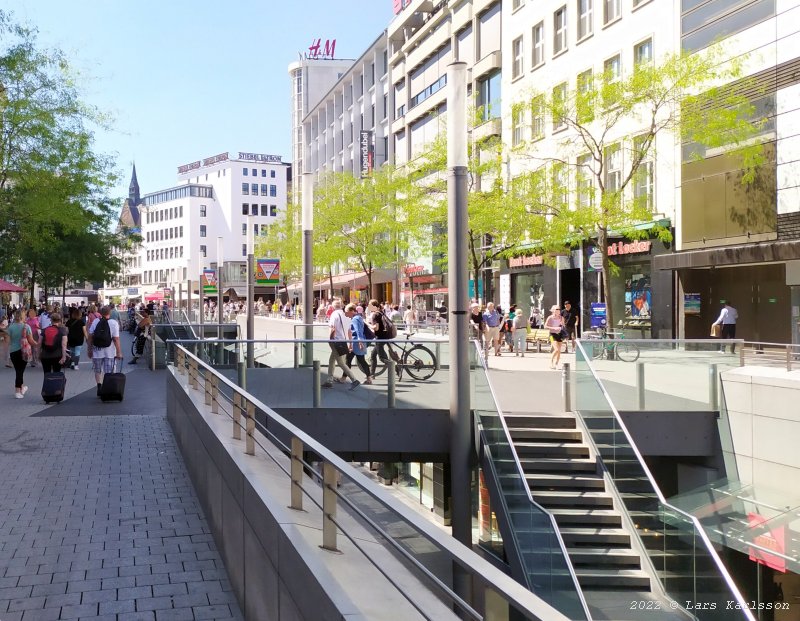 We follow the street Bahnhofstrasse in southwestern direction. Gunilla reminds me that she only had one cup of coffee today. We follow the street further until we find a place where they sell coffee.
---
We are not far from the railway station, but we turn around and go back the street Grosse Packhofstrasse. There are only modern buildings where we go.
---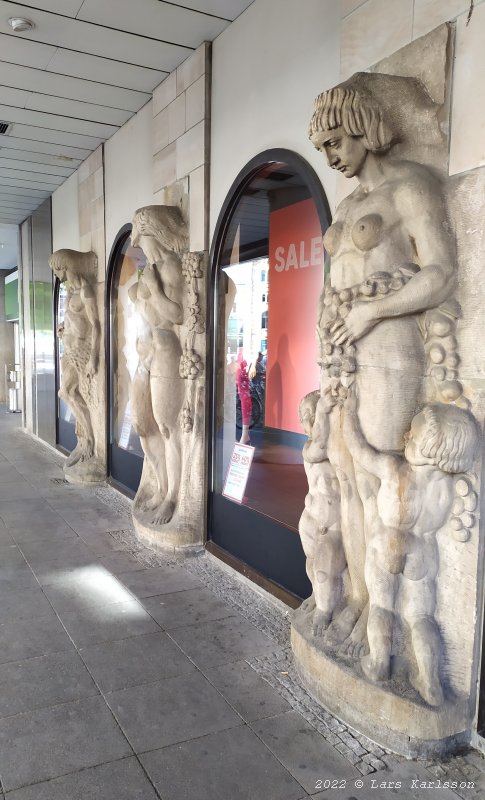 Now that we are almost back to the railway station, we see some old remains of statues at the wall of a modern building. Three beautiful women in pose for us.
---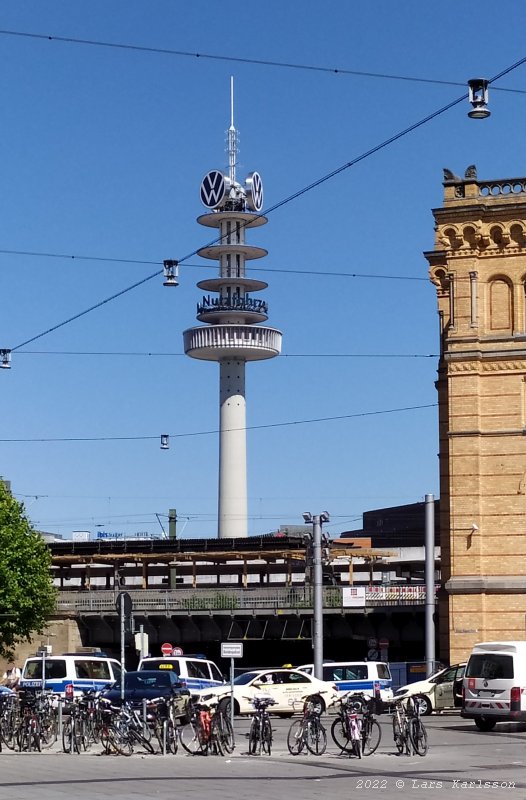 Gunilla has an old Volkswagen, maybe it was born here in the late 1990s ?
---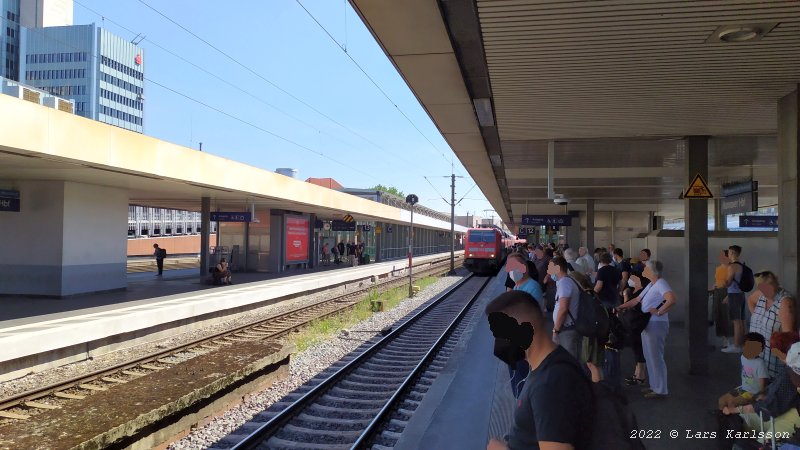 Now over an hour has passed since landed here and we enter the train station again to stand at the platform and wait for the train. There are more people here than we are used to. It gets quite full on the train, but no more than we could get a seat.
Here is more information about Hanover:
---
Bremen: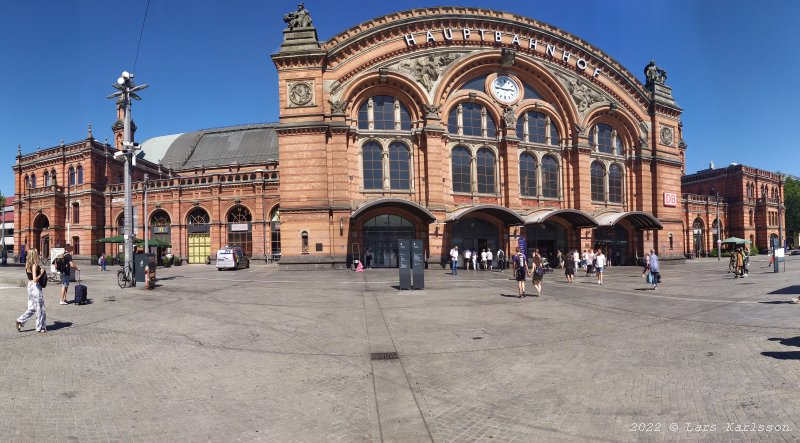 At last we arrived at Bremen, it is immediately noticeable that we have arrived in a big city. The railway station is big and grand, all cities tend to boast nice station buildings. We go out into the square in front of the station building and look around. We have booked a room at the IBIS hotel. It's called IBIS Budget Hotel, we'll see how much budget it is, it was pretty cheap anyway and only 250 meters from the train station. We found the hotel in one corner of the square where we are standing.
---

Check-in at the hotel goes smoothly. It is a very modern hotel, the elevator requires the hotel card to get to the hotel rooms. The hotel's reception is unusually enough on floor 6. We will stay here for two nights and pay for breakfast for both days, it costs 9 Euro per breakfast and it is a buffet. The hotel room cost 90 Euro per night, which can be considered very cheap when you stay in a big city. Our room is at floor 4.
---
Old Town of Bremen:
Bremen is an old Hanseatic city, it is connected to the Baltic Sea via the river Weser. Bremen, like so many other cities in northern Germany, was heavily bombed during WW II. However, we have seen on YouTube films that in the city center there is part of the old rebuilt.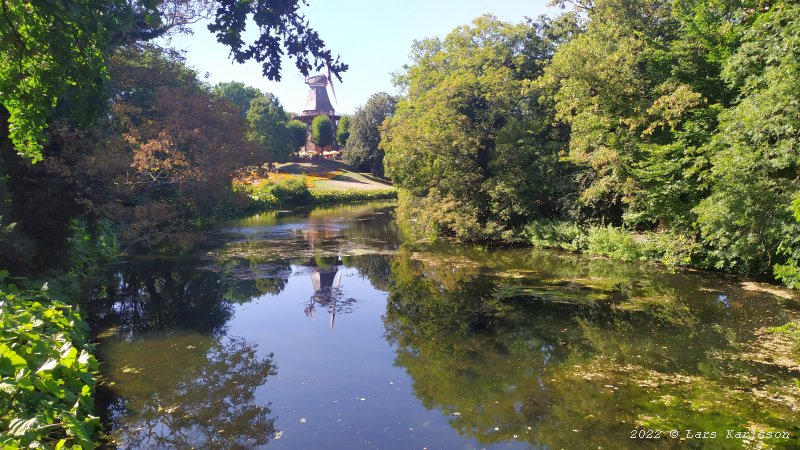 We now set off for the old inner city, we are also a bit hungry and we hope to find a small cozy restaurant to eat at fairly soon. Here we pass the old moat that goes around the old city, it was only 200 meters to walk here from our hotel. A windmill has been preserved and there is today a restaurant.
When we walk towards the old town, we meet many poor and homeless people, it's sad to see.
---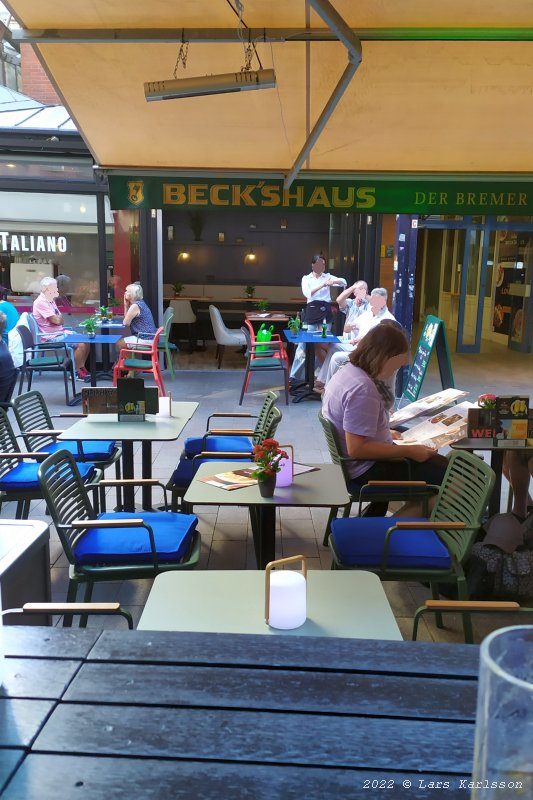 We walk just three blocks and there we find an alley with a restaurant that looks promising. They have several dishes to choose from and we both find something to eat. We talk for a while with our nice waitress, ask her if he can guess where we are from. She starts a bit tentatively with the Netherlands, we said wrong, further north. She says Denmark, then Norway then Finland. We help her and tell her that there is one more country between the last two countries, Sweden ! I tell her about my website that she can go to it later and read about our travel report, also say that there is quite a lot written about astronomy. Then she really shines and talks about her interest in astronomy. The planet Jupiter is her favorite object and she shows us her arm tattoo of it. Before we go we see they have Happy Hour later tonight for drinks. We might go here again on the way back.
---
Lieben Frauen Kirche: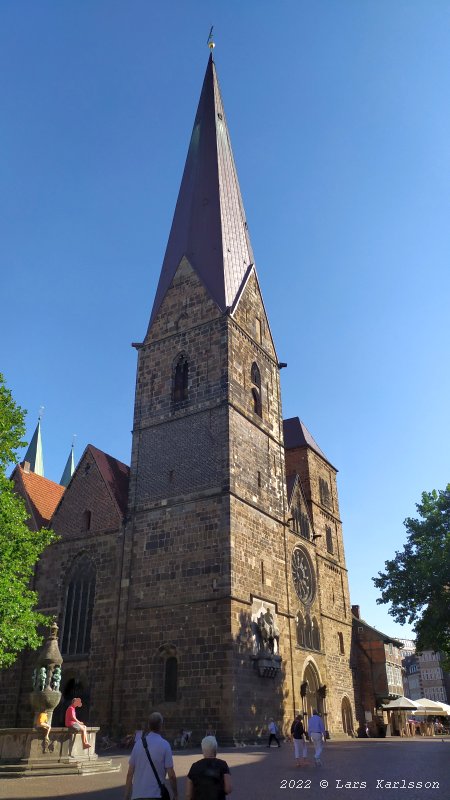 After dinner we continue in the old town. Most of the houses are modern, probably everything older was too damaged during the WW II to be rebuilt. When we come down to the main square, however, we see several old, beautiful buildings. The first ones we arrive at are the church Unser Lieben Frauen Kirche, or translated to English: Church of Our Lady.
Here is more information about the Church of Our Lady:
---
---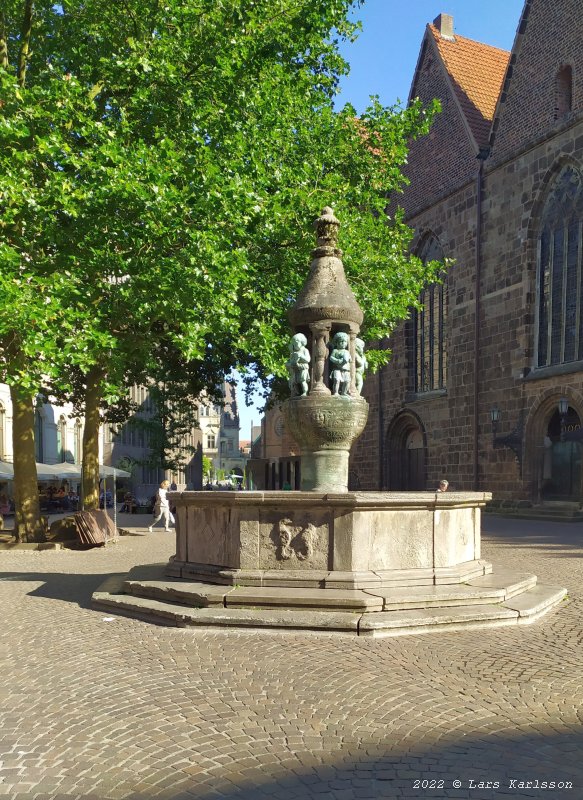 In front of the church is the Marcus Fountain.
---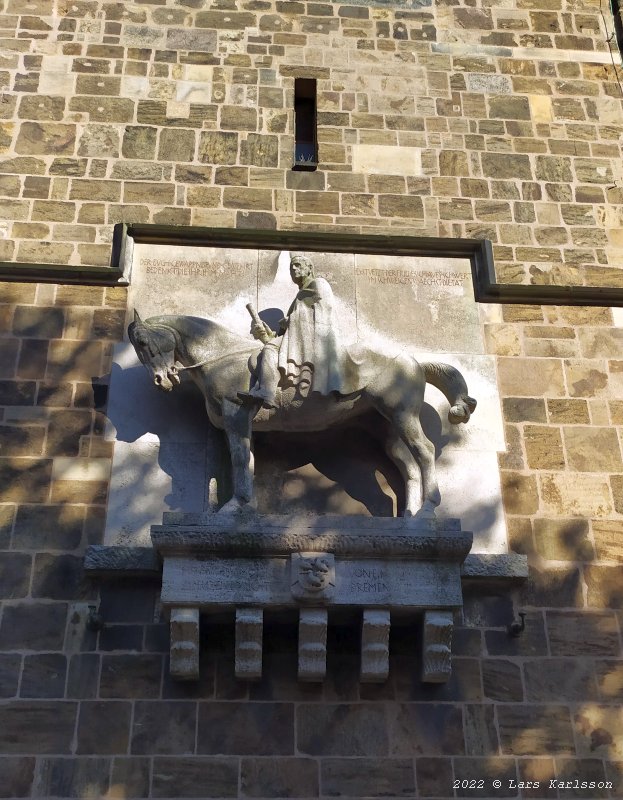 On the wall of the church is the Prussian field marshal Helmut Graf von Moltke on his horse.
---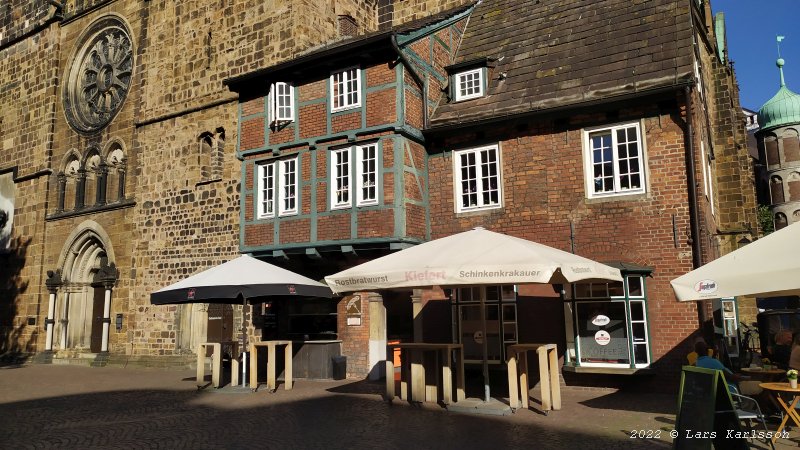 In one of the corner of the church there is a building that looks to be of later year. Here is a restaurant today.
---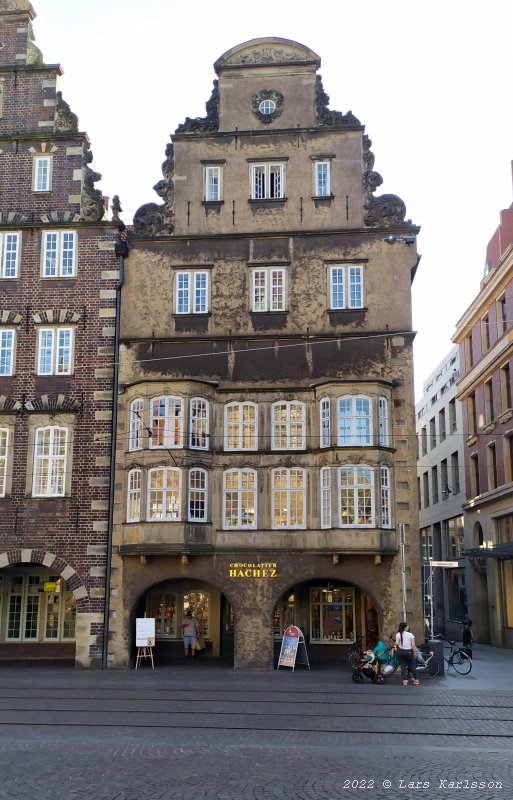 At the southwestern side of the square are other old buildings.
---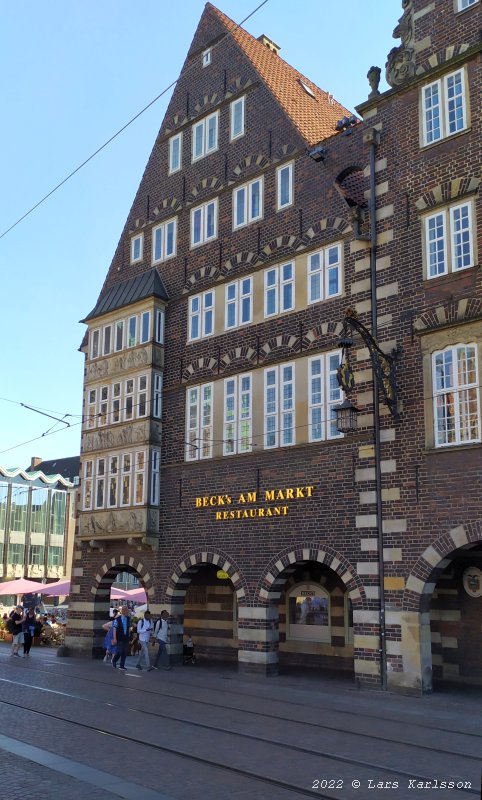 In the same block but the other corner. The trams pass in front of the houses.
---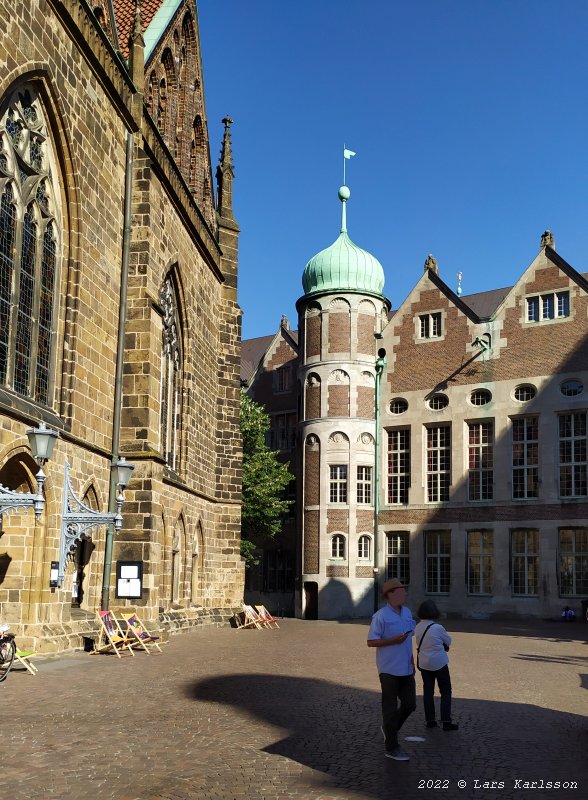 The Church of Our Lady to the left and the Rathaus in front.
---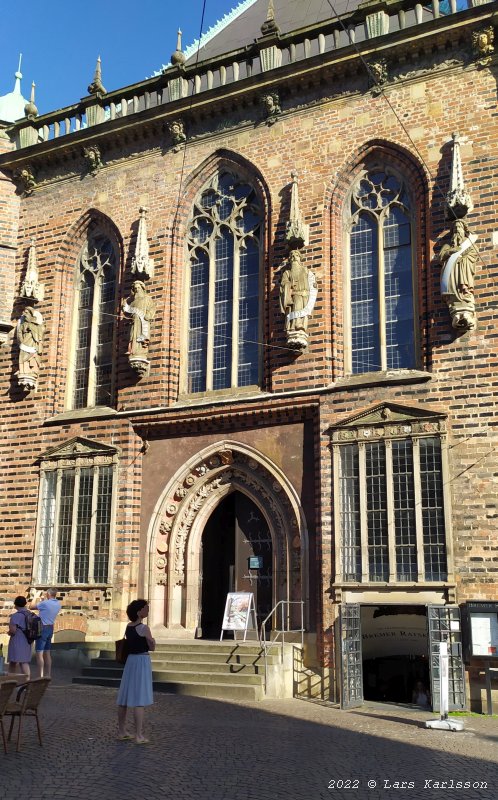 My mother-in-law visited Bremen as early as 1949 as a teenager. She has told that she visited the Town Hall Cellar and drank a beer there.
Here is more information about the Rathaus:
---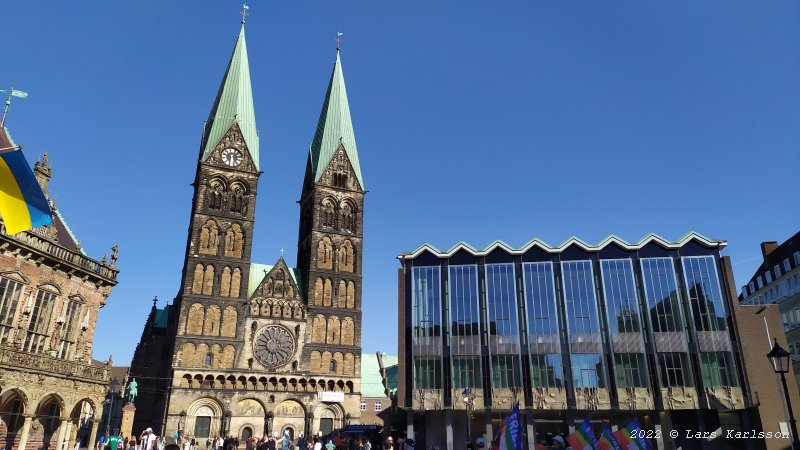 Saint Petri Dom and the modern building is the Bremen Parliament.
---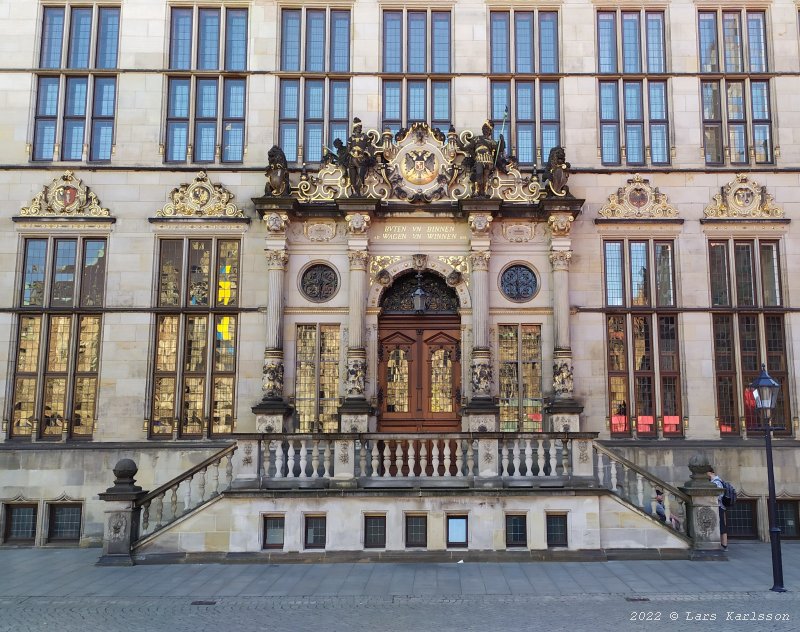 Bremer Marktplatz and the Schutting building, it was the city's merchants place once.
Here is more information about the Schutting:
---
Böttcherstrasse: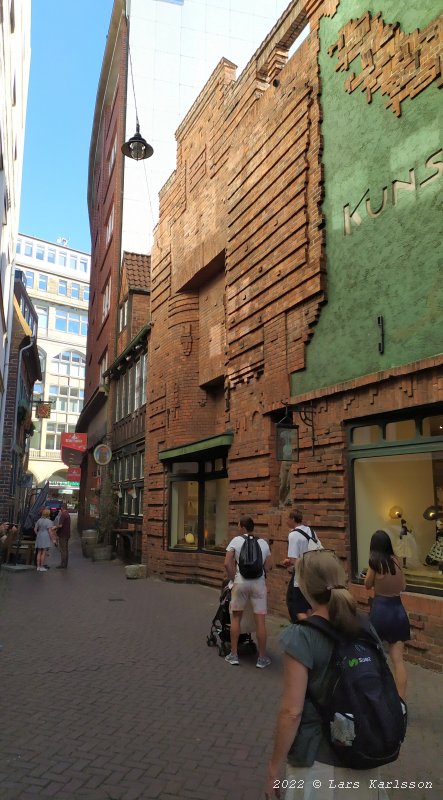 When we walking around in the old city we suddenly came to a narrow street with buildings that looked old. But we understand they must be new but with old design. The street is Böttcherstrasse,
---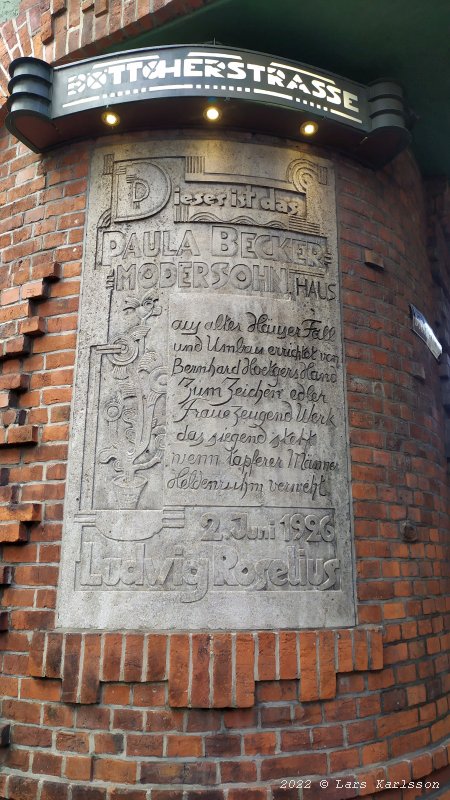 1926, maybe it wasn't that new that we thought.
---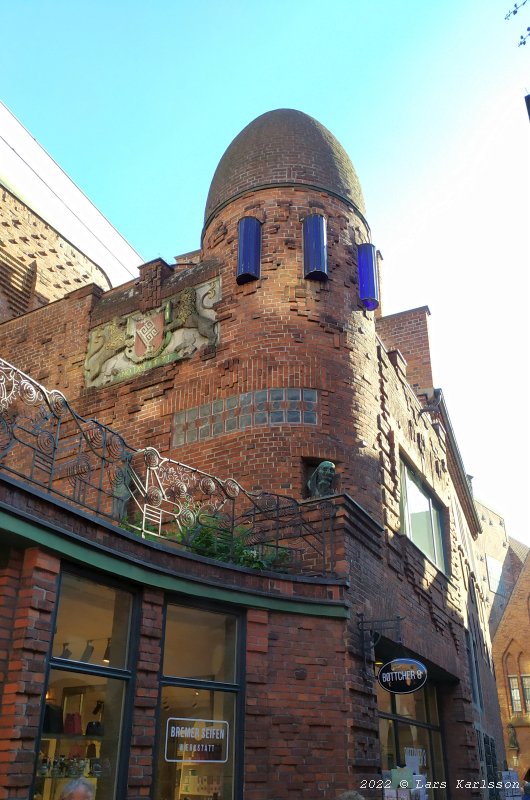 The architecture and style is fantastic here at these blocks, shops and restaurants in most buildings.
---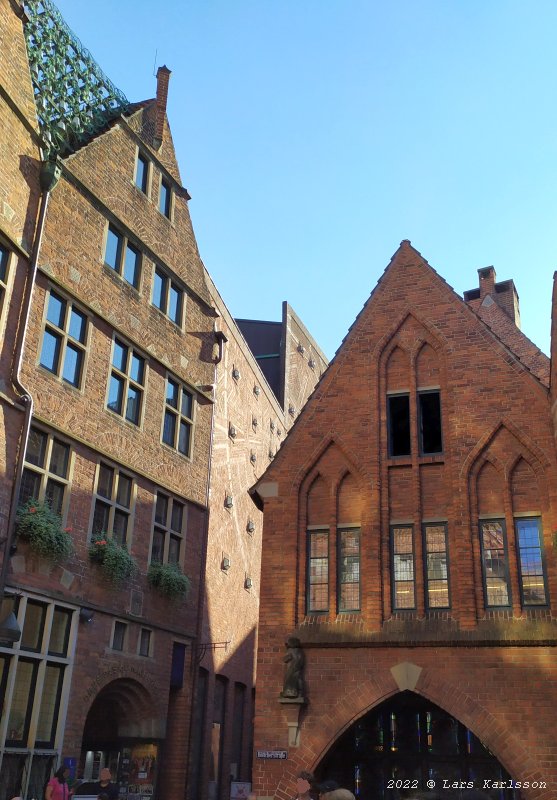 The last block until we enter the street Martinistrasse, that street is near the river Waser.
Here are more information about the Böttcherstrasse:
---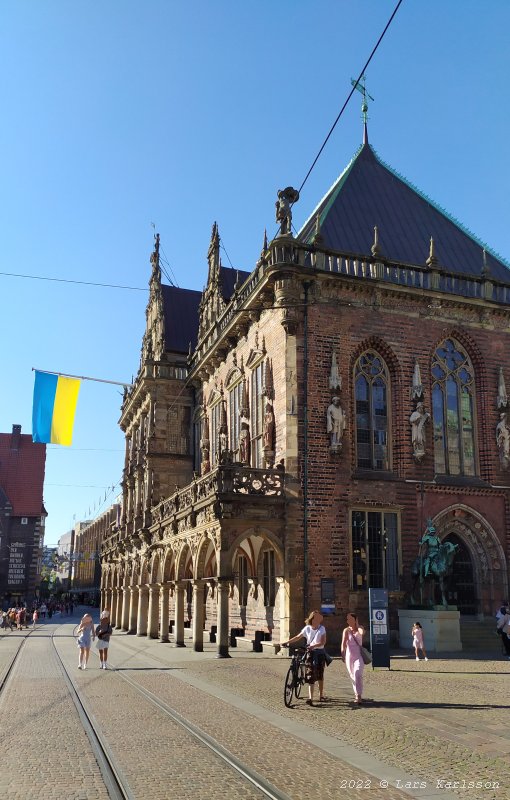 We walk back to the square Bremer Marktplatz and the Rathaus.
---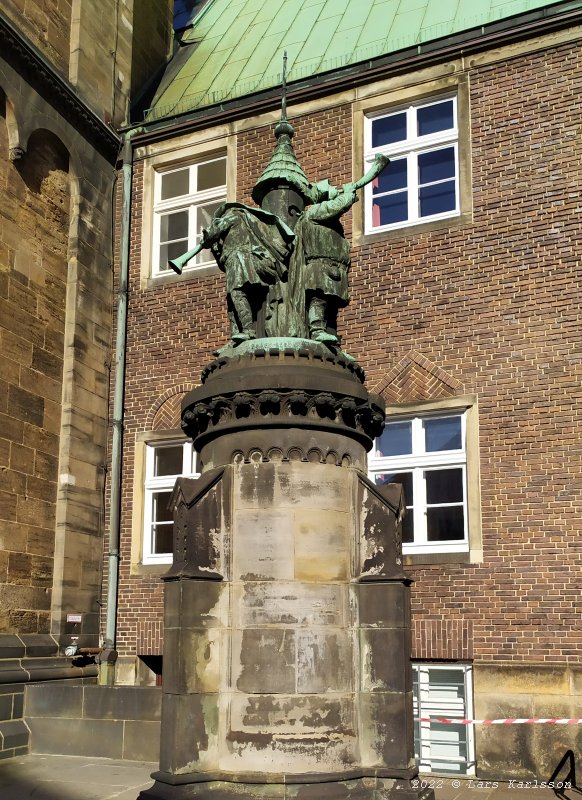 Around the corner of Saint Petri Dom we found the Tower Blowers Fountain, but where is the water ?
---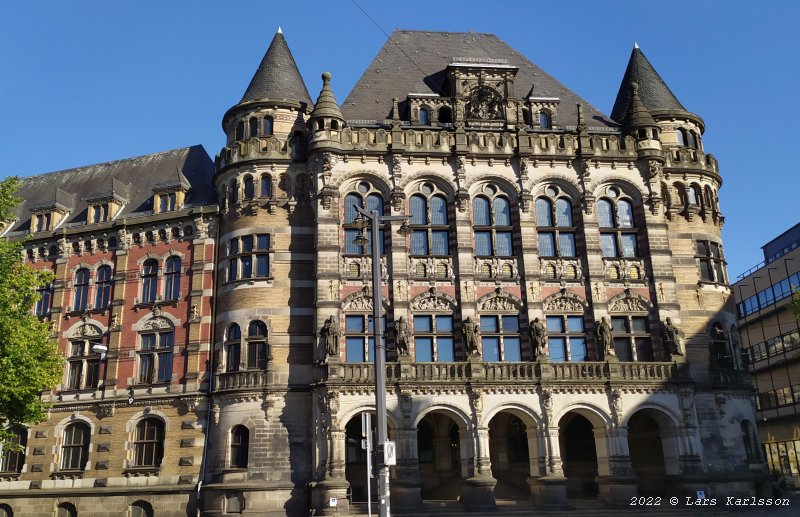 Even if much of the old buildings was destroyed during the war they have managed to rebuild many of them. This is the Bremen Landgerich building.
---
Schnoor: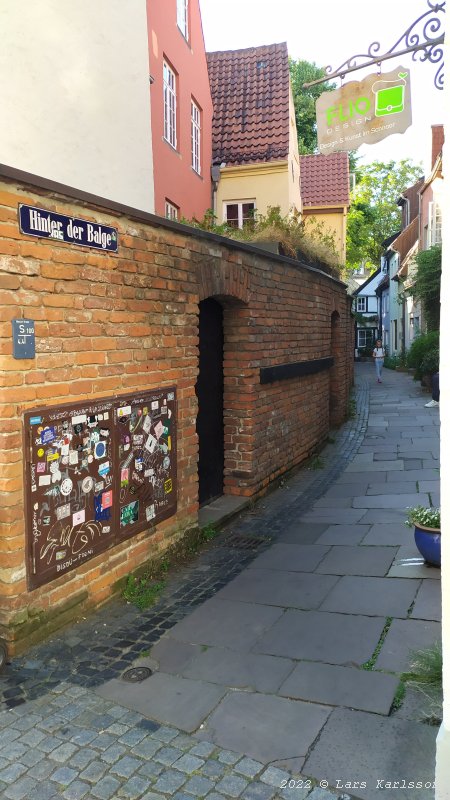 Gunilla has read about a district called Schnoor which is located in the old town at the Eastern side. We find it after a while, enter the narrow cozy alleys. Here the buildings are smaller and it is more of a residential area, but also many small restaurants.
---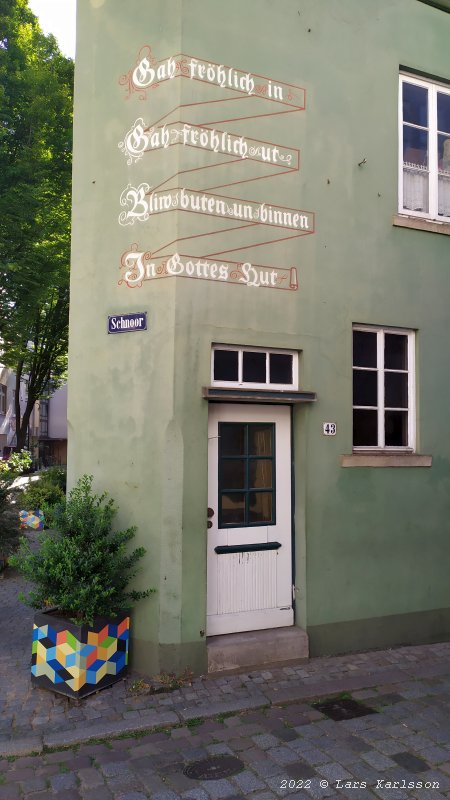 The alleys are really narrow here, you can't pass through them more than one person at a time. After a while we come out onto a wider street. There is something written on the facade, the first thought was that it are the streets names, but it is probably something else.
---
Bremer Geschichtenhaus: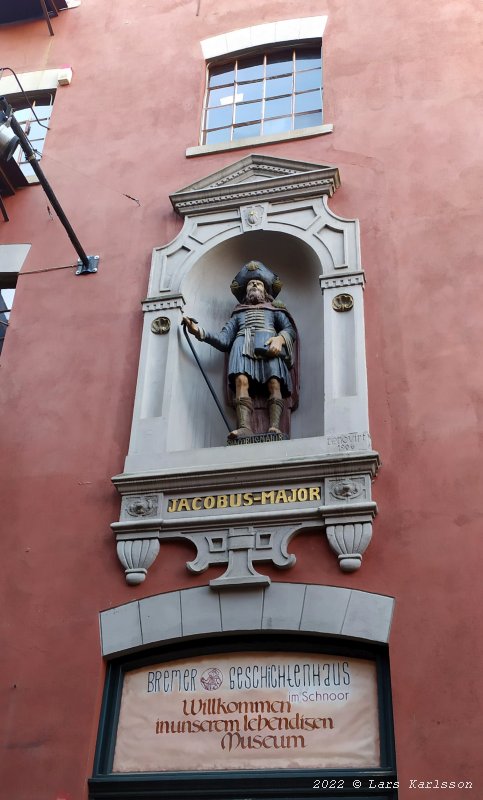 The building Bremer Geschichtenhaus, a museum of some kind, the statue is Jacobus-Major.
---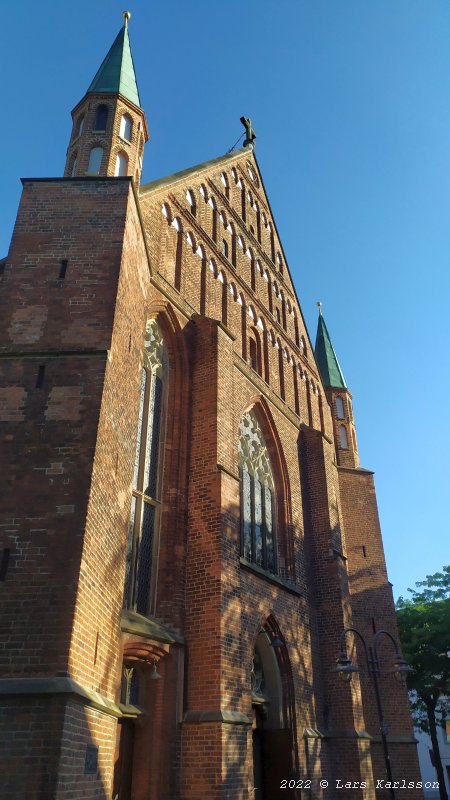 Now we decide to go back to the restaurant where we ate before the Happy Hour ends. Follow the small alleys and end up on the street Lange Wieren, where we pass this church Saint Petri Kirche. Then we are out on the street Balgebruckstrasse. From there we go up towards the square and further back to the restaurant. We each order a large drink, but when we get them I become thoughtful, my drink looks much smaller than Gunilla's. I ask our nice waitress, the same one who served us dinner, if something has gone wrong. Strange she said and went to talk to the drink master. She comes back and says that they offer one more for free to me. Two small ones make one big one and then some more, what a nice evening. Now we just have to go back to the hotel and try the beds to feel if they are comfortable to sleep in. The room and the beds looked great so it's probably not a problem.
Here are more information about Bremen: