Project:
Pentax 645 300 mm ED f/4 lens
---
Contents:
Related projects:
Note:
I take no responsibility or liability for what are written here, you use the information on your own risk!
---
11: Fix of tilted sensor
After some tips from Greg at a Ice In Space forum I'm now for sure that the sensor is tilted relative the optical axis. I don't know how much and the directions is difficult to find more then that I know that it's diagonal across the sensor. What's make it difficult to find the directions, the image in the sensor is upside down and mirror. The files is Fits and they have origin at another place and it depends on the software how it handles this, ASTAP display the Fits file upside down. Then I should only mirror the image, or ? I have to do some test to find this out, I guess it will be the quadrant 2 or 4 that need a shim to eliminate the tilt. Greg gave a very useful tip: "If the stars are getting worse after packing then its either the wrong side or too much packing. Usually the wrong side of the sensor is being packed."
Later I maybe can 3D-Print a device that let me adjust the tilt angle of the sensor. But I must start with something simpler. The bayonets has some flex, I can put something in between.
---
Figure out some shims to test with: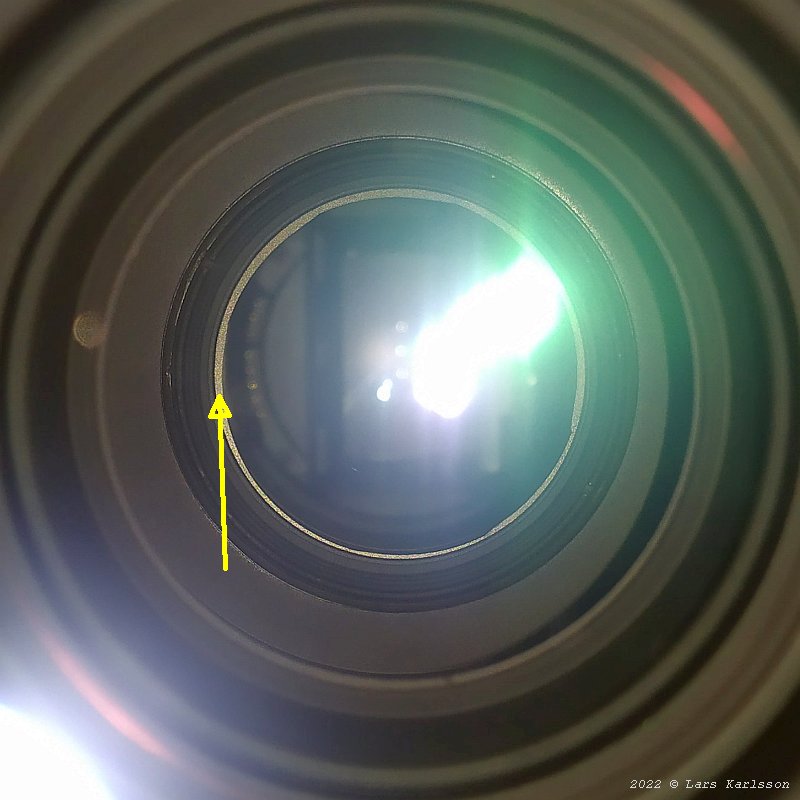 From the kitchen I once again found something useful, aluminum foil. I measure the thickness of it and find it to be 0.01 mm or 10 my.
---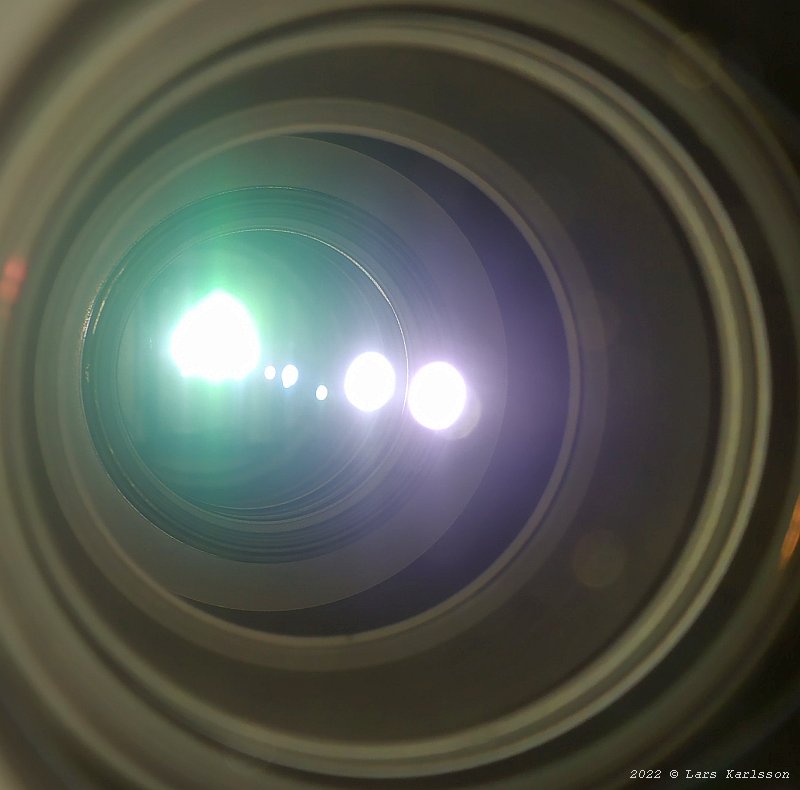 16 layers of it gave 0.16 mm or 160 my, good to start with I thought. But then I remember that I have made a focus depth calculator:
From that calculation I got a theoretical focus depth of +/- 10 my. Maybe a shim of 160 my was a bit too much, I reduced it to 8 layer at 80 my.
---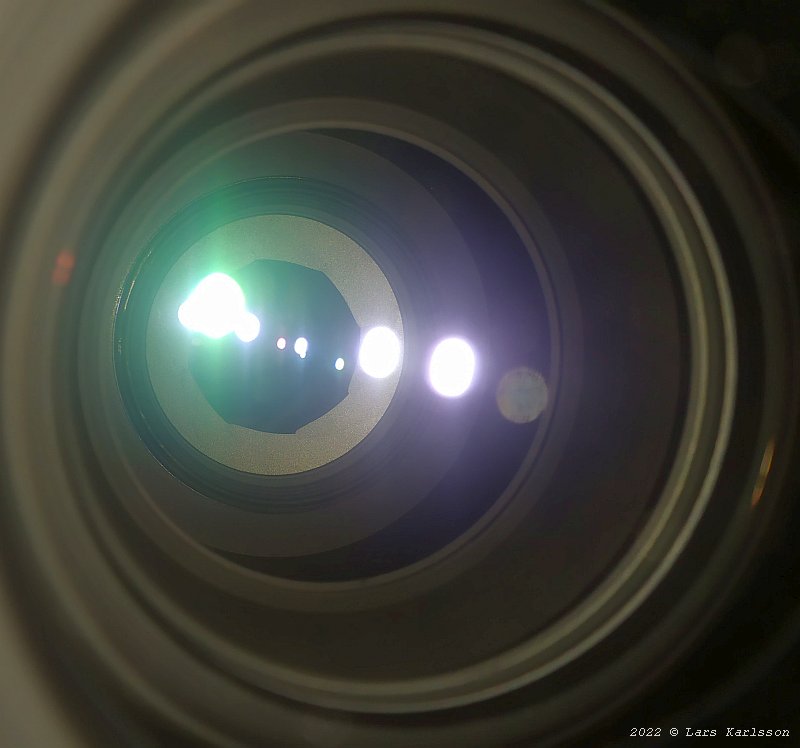 I start with the first quadrant, expand the bayonet gap and put in the 16 layer (later 8) aluminum foil. The spring to the left press the camera towards the lens to eliminate the play in the bayonets.
Later when I have a clear sky I will take 10 photos of a star filed, change the foil to quadrant 2 take 10 new photos and so on ... Then I can analyze the four images to find out which directions is correct. After that I change the thickness and move the foil until i get the precise correct position and thickness. It will take some time, it's also very important that it's stable and don't change when the camera points to different directions at sky.
---
Focus temperature dependent: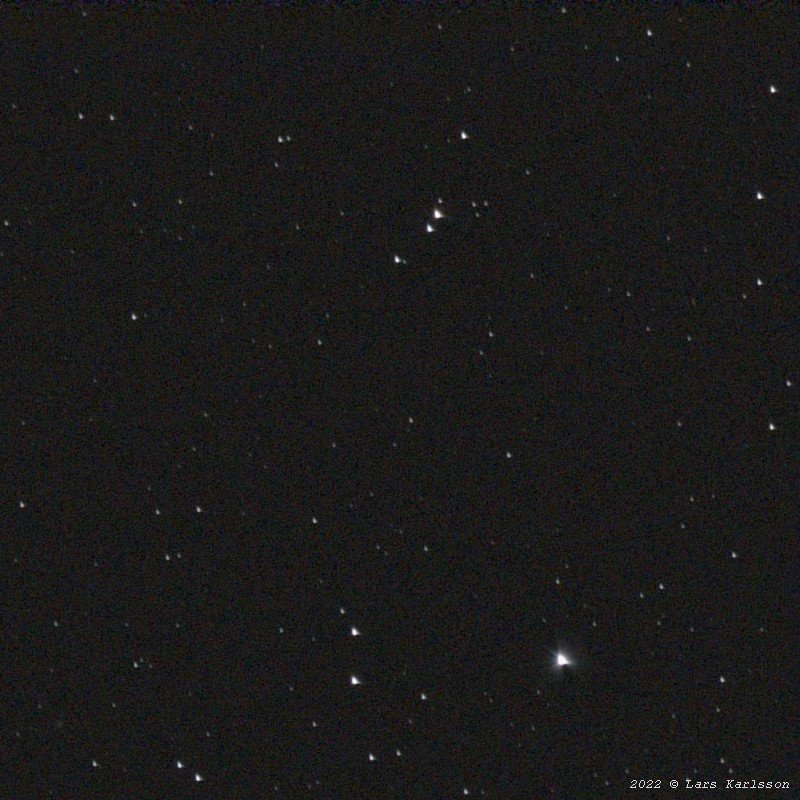 This night was not perfect clear, but good enough to do the test I have planned. First at set the focus, this is just after I have bring the camera from indoor +20 C degree to outdoor -2 C degree. When at temperature equilibrium at 0 C degree the focus point is at 63900, about. I have to wait 30 minutes to let it stabilize.
---
Test with a shims at different places:
To do this test I use CCD-Inspector in ASTAP. Between each move of the shim the lens is auto focused with the stars in the 40 % center.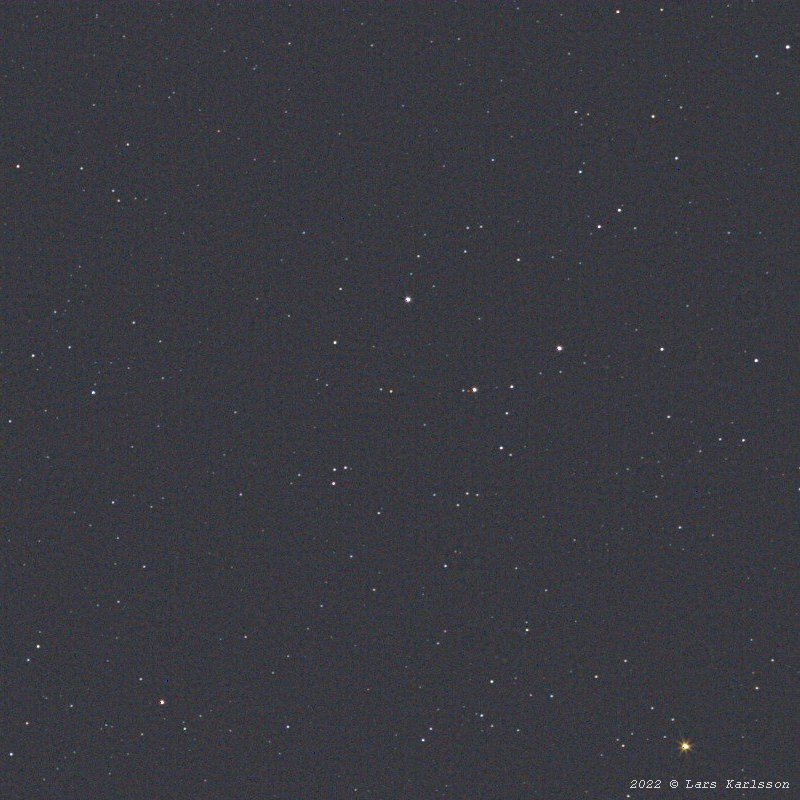 First image is without any shim, just the original tilt. It's centered around the star Mizar, the double star in Big Bear.
---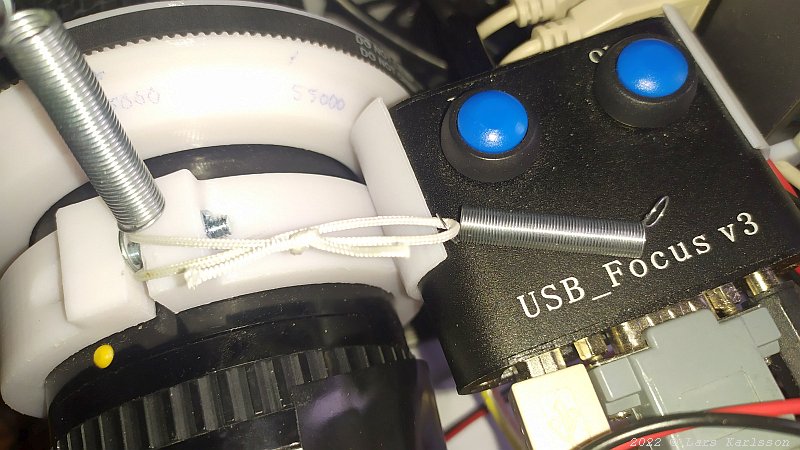 A 80 my shim at first quadrant. Not very much happen.
---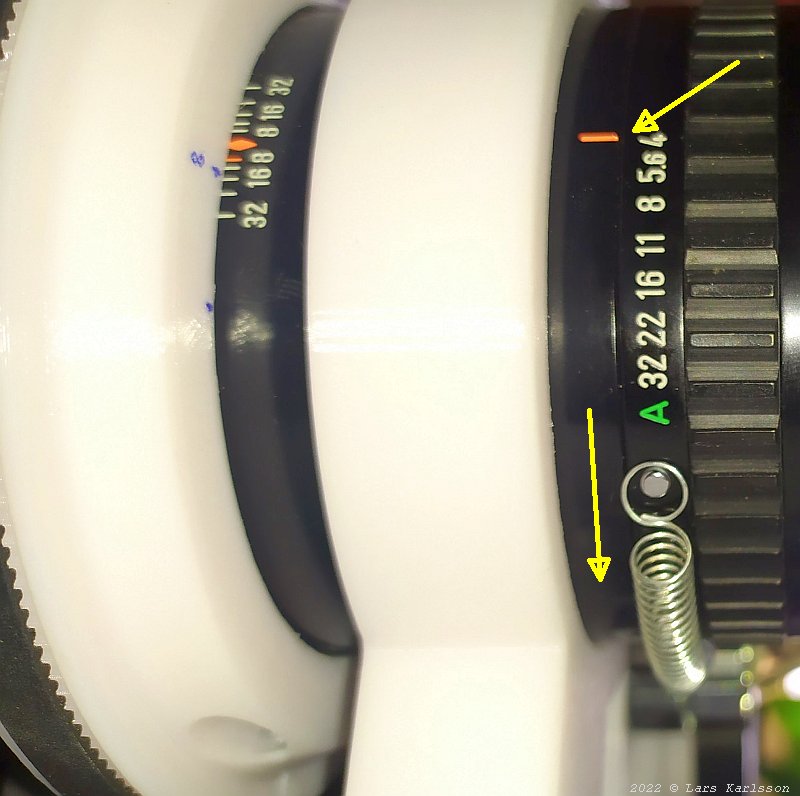 A 80 my shim at second quadrant. A big difference but to the worse.
---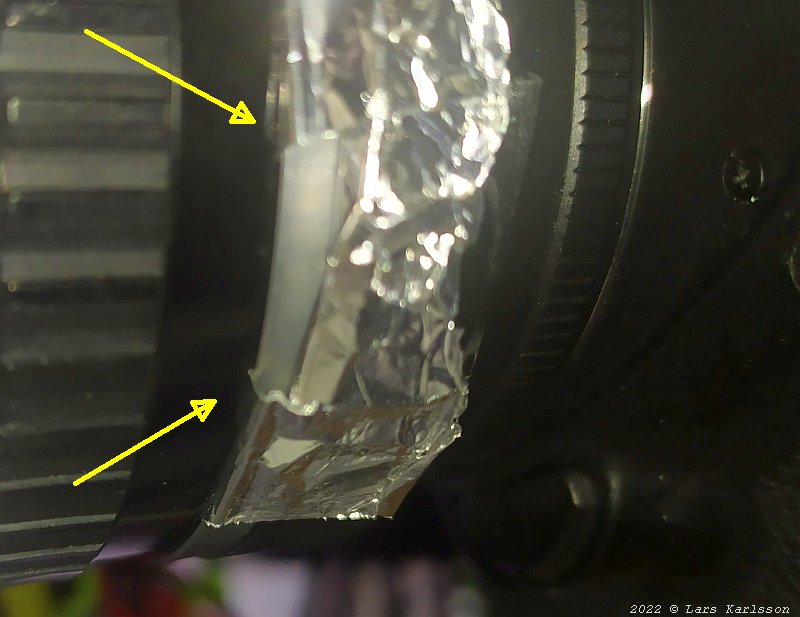 A 80 my shim at third quadrant.
---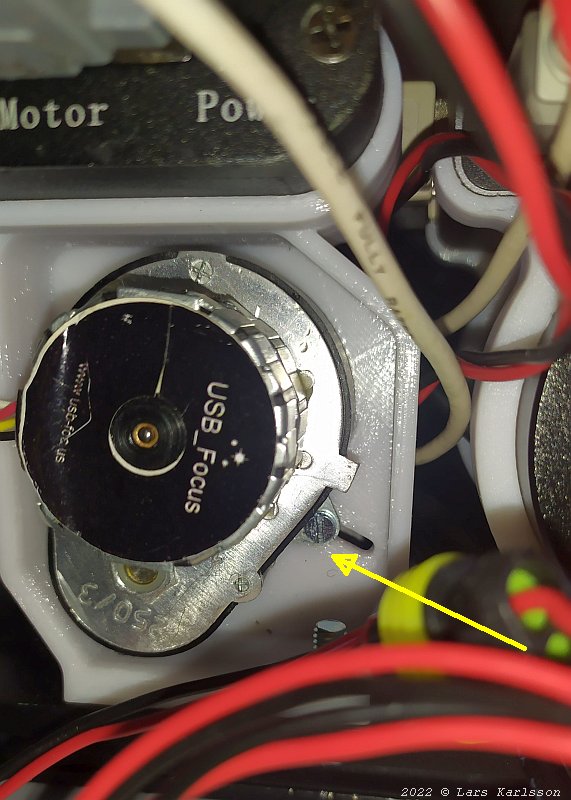 A 80 my shim at fourth quadrant. Much worse.
It's a bit strange, sometimes the values increase and sometimes they decrease. The image looks to be at correct orientation, but doesn't matter as long as I'm consequent. A wild guess, I shall put a shim between quadrant 1 and 4 more closer to 4 (11 o'clock) it also has to be a little bit thinner, 60 my ? But now there are clouds all over the sky, I have to wait for another clear night.
---
Eliminating the tilt of sensor:
With the data I have collected now I make a new shim. Little bit different, 4 layers which gives 40 my thickness and also divided it in two parts to get it more stable.
---
I place the new shim in the 4th quadrant. I didn't want to have it at the camera bayonet, instead I place it between the lens and the adapter. With that I can now loosen the camera without the shim falls away.
---
With 40 my shim at quadrant 4, oh... I who thought it should be perfect now, but it got worse. Something went wrong as usual. I think I will use a 60 my shim next time.
---
Montage of the new 6 layer 60 my shim, did it a little bit different in a try to get it more stable. Position about 11 o'clock when looking from behind.
---
New test image, a little bit better maybe. My first shim of 80 my in this 4th quadrant over compensated it, now I have 60 my and it's to low correction. Maybe something went wrong the first time, I try with a 80 my shim one more time.
---
Tilt analyze of my TS130 APO refractor with Canon 6D mounted:
Just to have something to compare with. Here is my TS130 f/7 APO refractor. Exact the same tilt, maybe it's the camera sensor that is tilted. The bayonet of the camera house is very elastic, I wish the springs of the bayonet that hold the lens in place had been stronger. That's why I have the spring outside the camera house that press the lens and camera house together.
---
New shim 80 my, now almost correct direction, but needs a thicker shim.
---
Still the 80 my shim but moved it closer to 12 o'clock position. Better and now I'm very close, maybe I must have a more stable mechanics before I can get away the last tilt.
---