Tutorial:
Download files that belong to AstroImageJ
---
Content:
Note:
I take no responsibility or liability for what are written here, you use the information at your own risk!
---
1, AstroImageJ, my own macros:
Instructions how to download and install own macros.
You download and use them at your own risk and make sure you have a backup of your files!
---
Installation of my batch read raw macro files:
Download and unpack the files in the plugins directory of AstroImageJ, see below how it should look.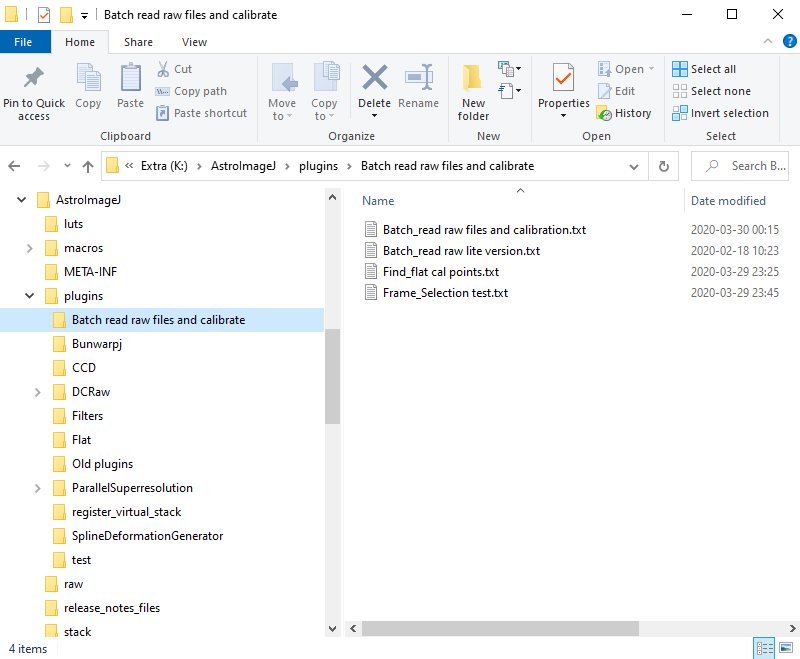 Note:
Even if it's a macro it should be installed in the plugin directory.
---
When you start AstroImageJ it should come up like this: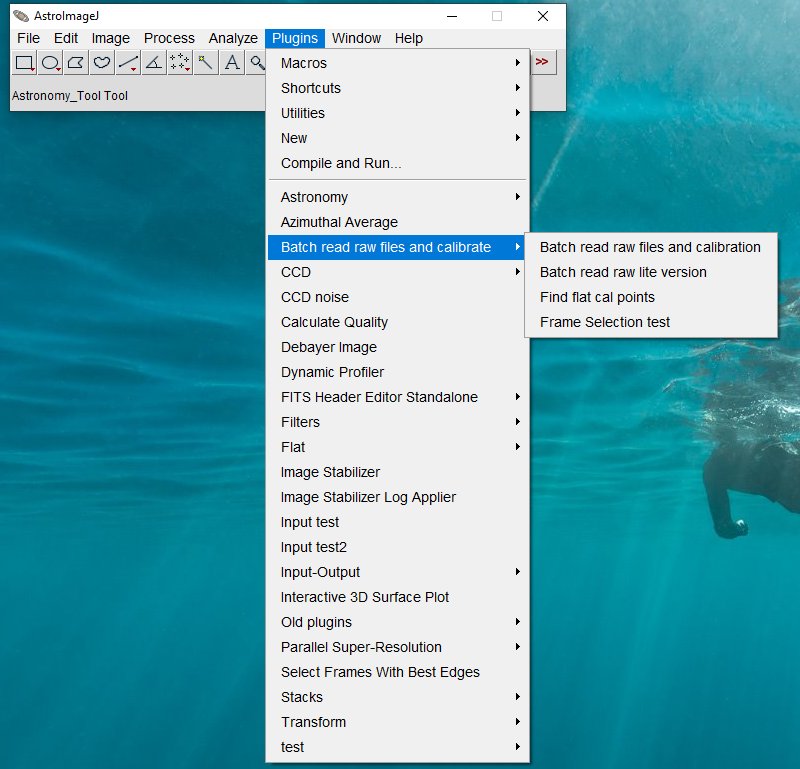 Today there are four macros.
---
Download:
Download my own macro tools here:
All four macros are included in this zip file.
History: version
20210218
Clean up the macro code and added more comments, fixed antoher bug in making master bias, dark and flats.
20200424
Fixed bug in making master bias, dark and flats.
20200403
Added Fits file format export.
20200123
Added a function to stack aligned RGGB images.
20200120
Changed help text added a create processed stack folder.
Both making calibration images and calibrate images in the same macro now.
Rewritten with more functions.
20200119
Added a menu to make it easier to use, totally rewritten code behind.
20200108
Spelling corrections.
20200105
Lot of new options.
Set a multiplier for red and blue channel gain.
Set a gain when doing HDR images i.e. different ISO settings.
Choose which number base in filename, 1000, 2000, 3000 ...
20170930
Added option to calibrate with or without flats.
Change how to add camera data in filename.
20170926
Added option how to set output filename.
20160515
First release.
20200217
Beta.
Note:
You download them on your own risk, have backup of all your files !
Instructions how to use AstroImageJ: Tutorial: AstroImageJ Introduction.
---