Project:
INDI drivers
---
Contents:
Note:
I take no responsibility or liability for what are written here, you use the information on your own risk!
---
1: Introduction
Since two years I have used a Linux based control system for my astro equipment. In the Windows world it's ASCOM you find most of the drivers in, in Linux it's INDI drivers. Now I have problem with the INDI EQMOD driver that control SkyWatcher's telescopes. It's an old driver and I have to fix one or two problems with it. Normally there are a lot of skilled people that updating the drivers, but it's old and no one seems to work with it. Only me left to do it. It's written in C++. It was 27 years ago I did something with C++, so it's a big step for me, but now I must solve it. But I have a friend who knows everything about developing software and setting up the environment to do this, without his help this had been impossible for me.
---
Installation of Qt Creator:
When developing these INDI drivers for Raspberry all say to me:
"It's much easier to do it with everything setup direct in the Raspberry, if you try to do it in your Windows computer it going to be very difficult."
On the INDI homepage there are instructions how to setup the development tool Qt Creator. Just to follow it, or ? Hm ... maybe. But it's very handy to have a friend that guide you through, at least for me.
After successful installation this should have been added to your Raspberry: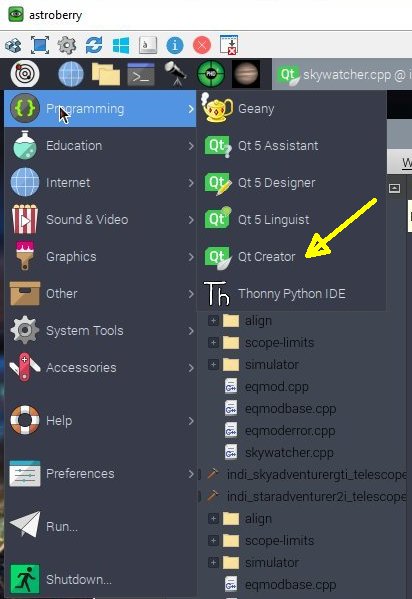 Qt Creator is the tool where you develop your C++ code for your INDI driver.
---
GitHub:
The project is connected to GitHub where my friend helped me to create an account for my INDI drivers project. From this you get access to all the drivers and there source code. Maybe you can have the files installed on your Raspberry locally and not need this GitHub connection, but it's handy and you can share it with others.
---
Test open a INDI file: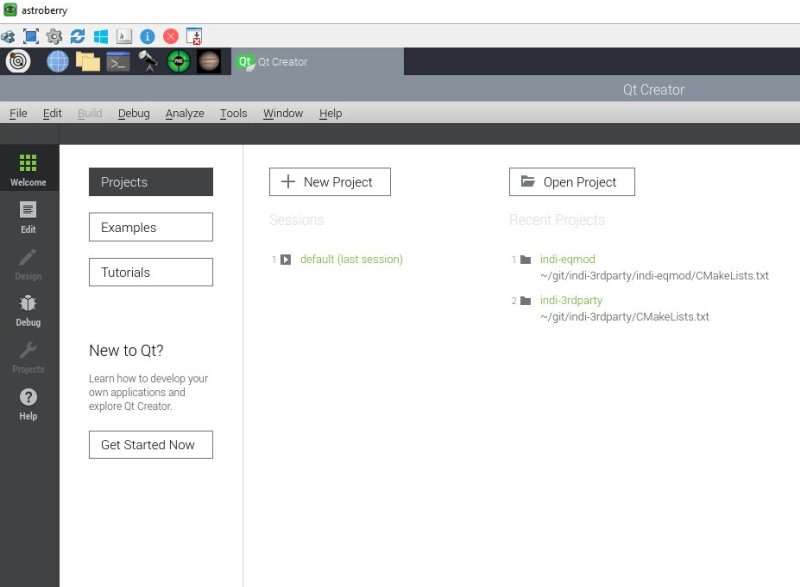 I have here test open one of EQMOD's files, by examine them carefully I understood that it was in this file I have my problems. Very difficult because it's a big file and when you don't are so skilled at C++ it take some time.
---
Test compiling: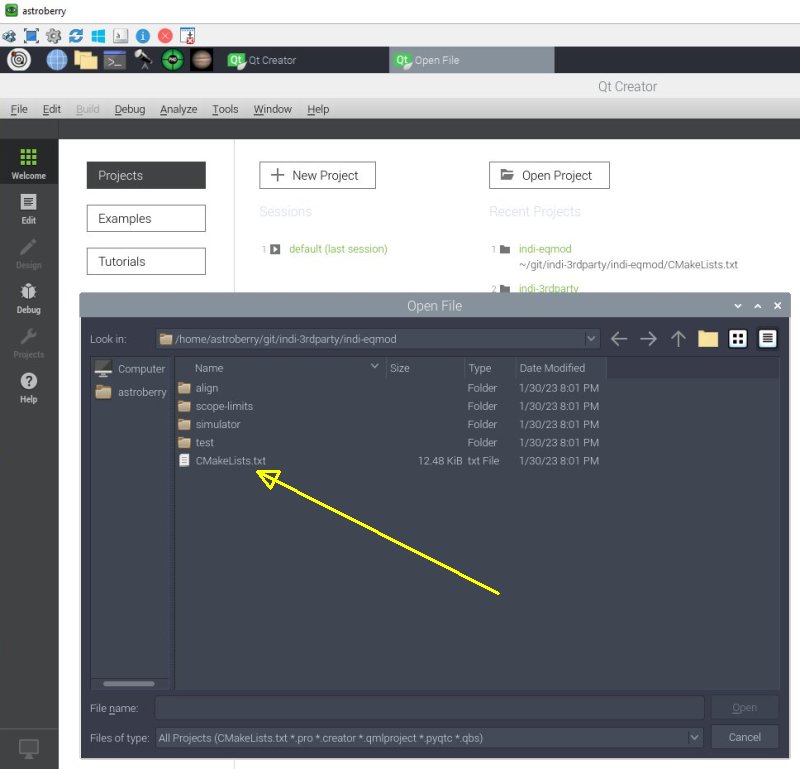 When doing the first test compiling it went wrong because it didn't fins some files in the ahpgtbase.h file. These where the files that had to be included. All with help from my friend, even he felt some frustrated over this.
---
Compiling: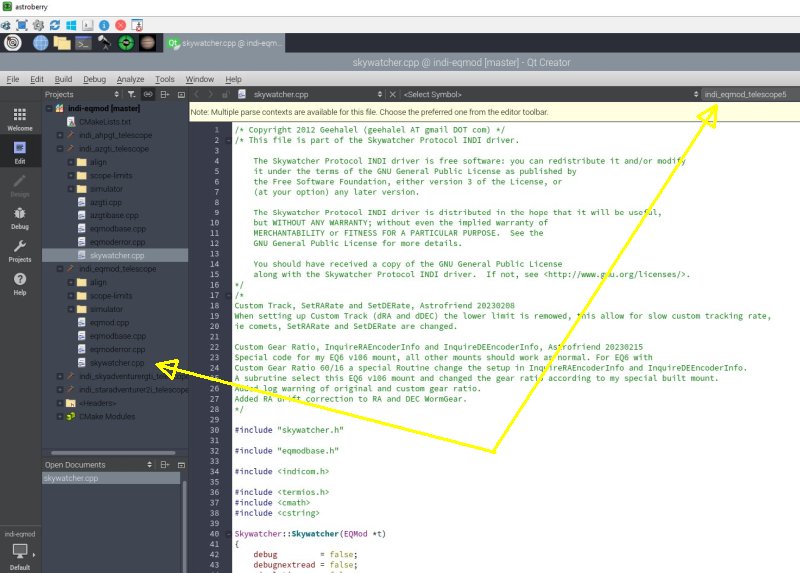 This time the compiling went correct without any errors. You do it from the Build menu (outside this screen. I choose All files, first time it compile all files and it took a long time, but next time it only compile the ones that have been changed. The new compiled file can be mowed and replace the old, but my friend made it more advanced. He set it up to look for the new file where it is instead of using the old file in its original place.
Now the system is ready to do some C++ coding in the INDI drivers.
Some history about SkyWatcher and EQMOD (Windows):
---