My travel in Europe:
Lanzarote, island of Spain, 2020
---
Content:
---
Planning our Lanzarote trip:
I have earlier visited the Spain's Canary Islands: La Palma and Tenerife, Gunilla has visited Tenerife and Gran Canaria. Now we want to see a new Canary island. After some research we found a last minute travel to Lanzarote, when we read about the island and looking at YouTube videos we found it to be very interesting. We bought two tickets for 270 Euro each including hotel. This is not a island you visit to see a lot of ancient culture, more it's the beautiful nature that's interesting.
Google Map over Lanzarote:
From airport to Puerto del Carmen, 8 km.
---
Day I, Travel to Lanzarote:
Up in the air, Portuguese: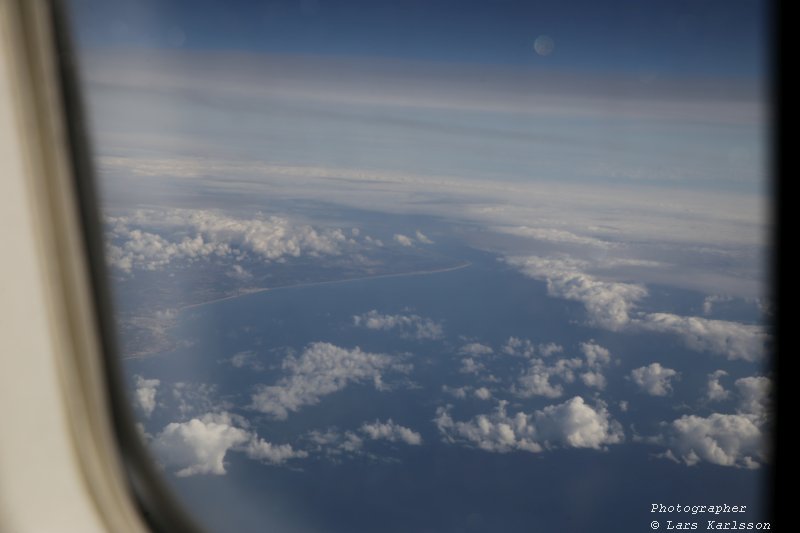 This could be the Portuguese's Faro we see down there, we are now over the Atlantic ocean. On the aircraft's flight computer I can read that we has traveled 2774 km and 1418 km is left. Totally it takes about 5.5 hours. The altitude is 11800 meters and speed about 900 km/h. The temperature at this altitude is a freezing -65 degrees Celsius.
---
Puerto del Carmen: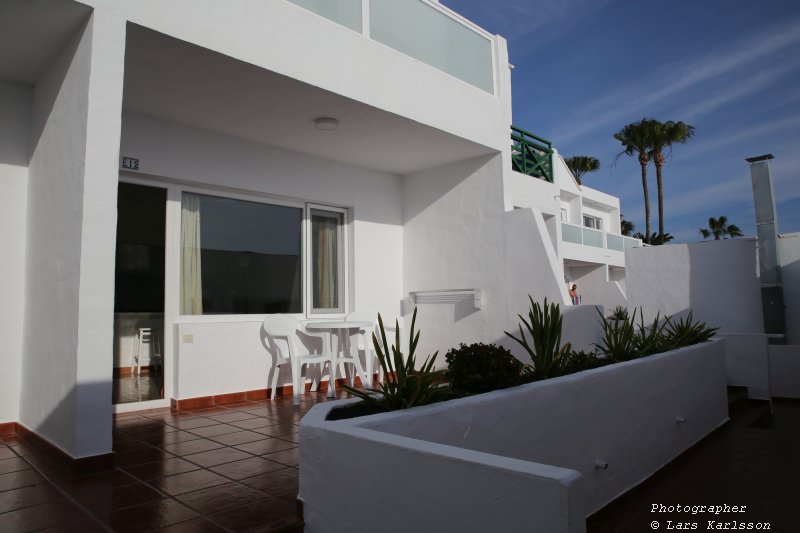 From the airport we took one of the public airport busses to Puerto del Carmen where our hotel is placed. A bus ticket cost 1.80 Euro, one buss departure every 30 minute. The hotel we got was described as a simple low cost hotel, maybe, but it fitted us perfect. Almost as we had our own connected villa with a private terrace. Less than 100 meters to the beach. The hotel's name is Rocas Blancas.
---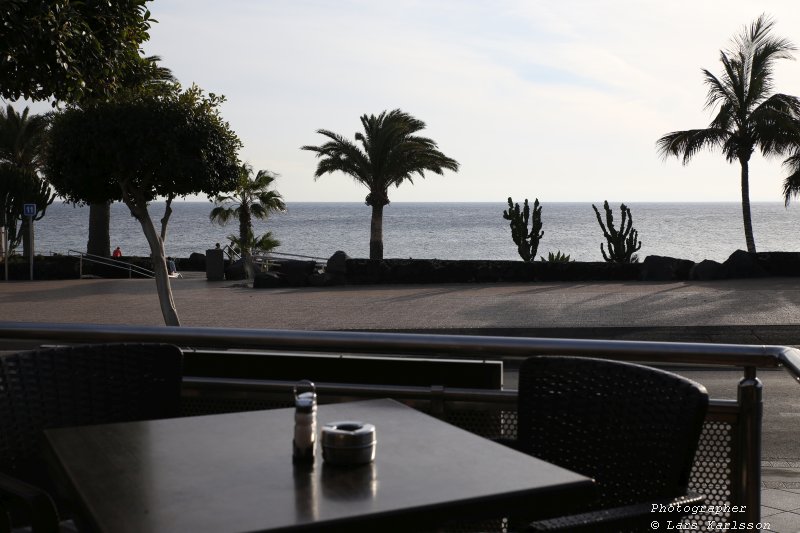 One of the closets restaurants came to be our favorite, we visited it several times. Not bad to have a view like this.
At Wikipedia you find more information about Lanzarote:
---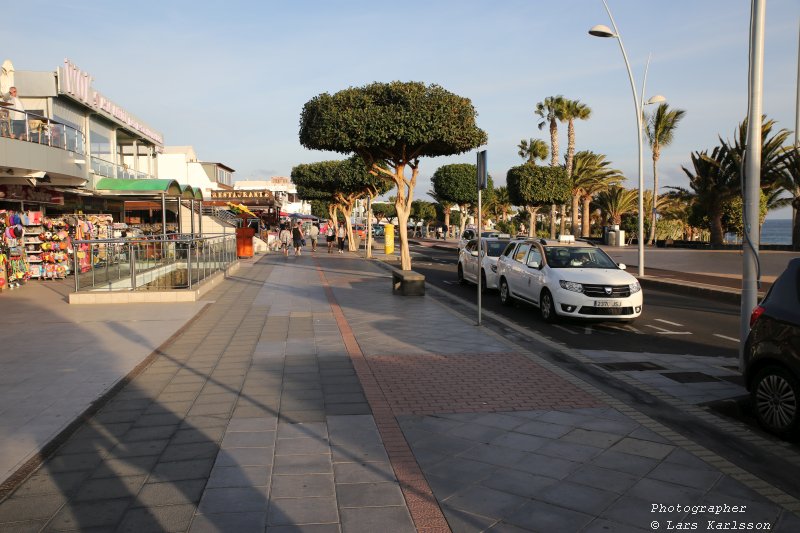 After we had installed us on the hotel we took a walk to get us to learn the local area. In front of our hotel we have the street Avenue de las Playas, it follows all the way along the beach. There are many restaurants along this road, we also found car rents, supermarkets and ATMs without fees.
---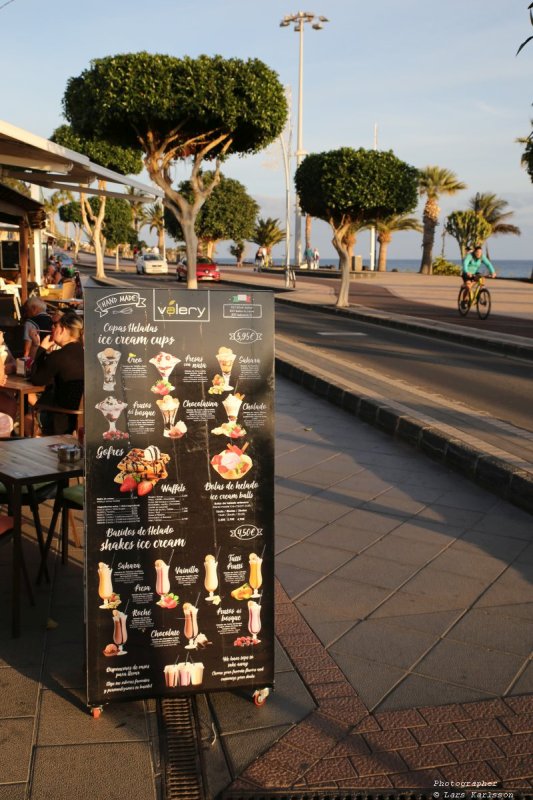 Ice creams, great because it's hot here, but not now, later.
---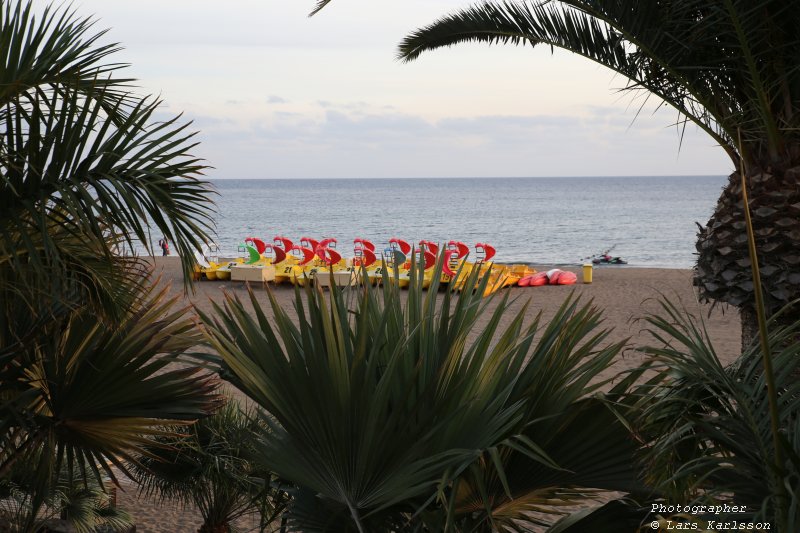 Palm trees and sea views, small boats with water slide.
---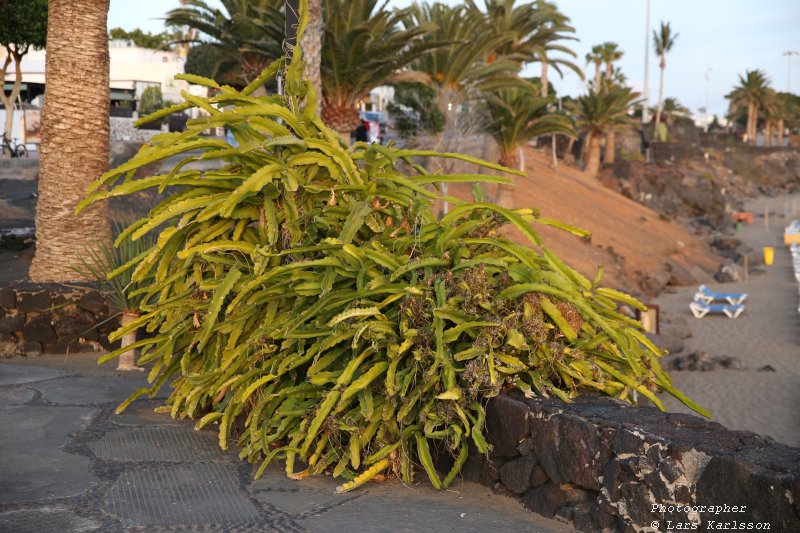 In Southern like Lanzarote there are of course cactus plants everywhere. Exotic for Northern people like we are.
---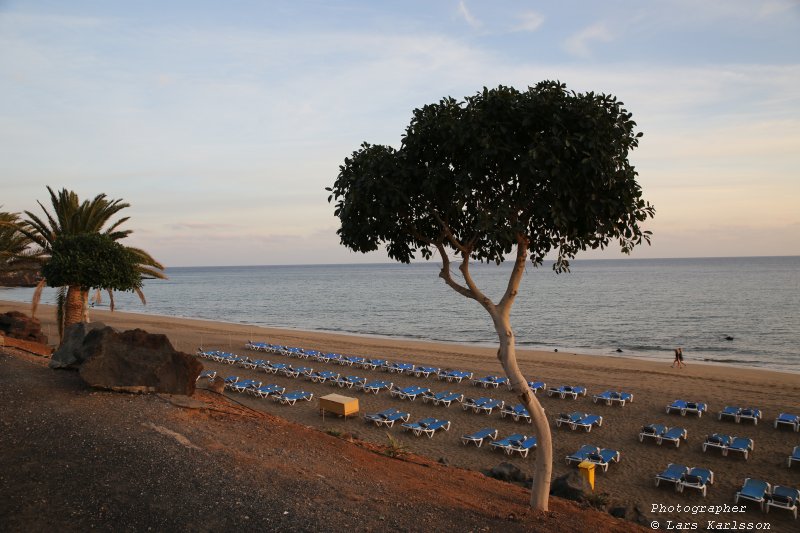 Someone from the staff must have a lot of work to line up the chairs like this every day.
---
---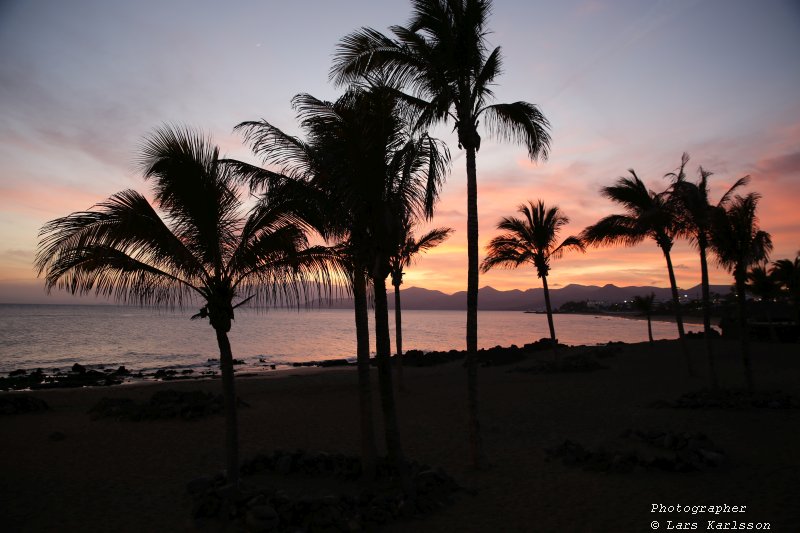 We arrived about 3 pm and now a couples of hours later it start to be dark. We turn around and go back to the hotel.
At Wikipedia you find more information about Puerto del Carmen:
---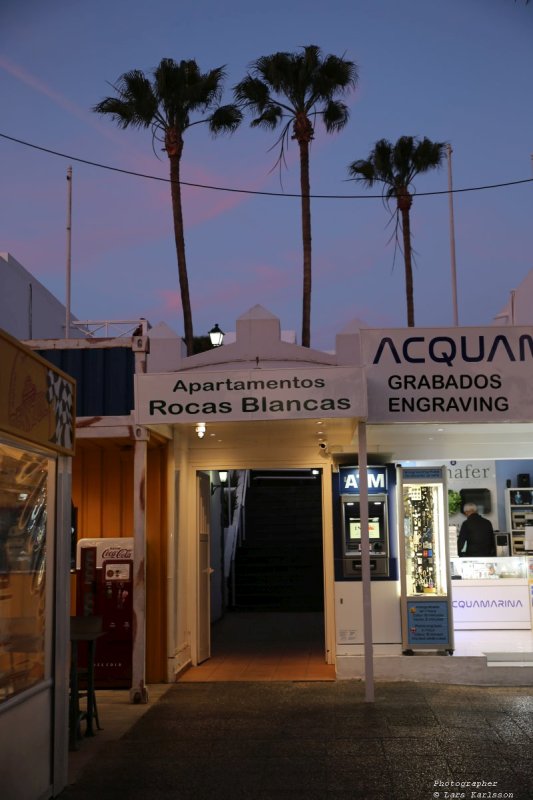 Our hotel's entrance, Rocas Blancas.
---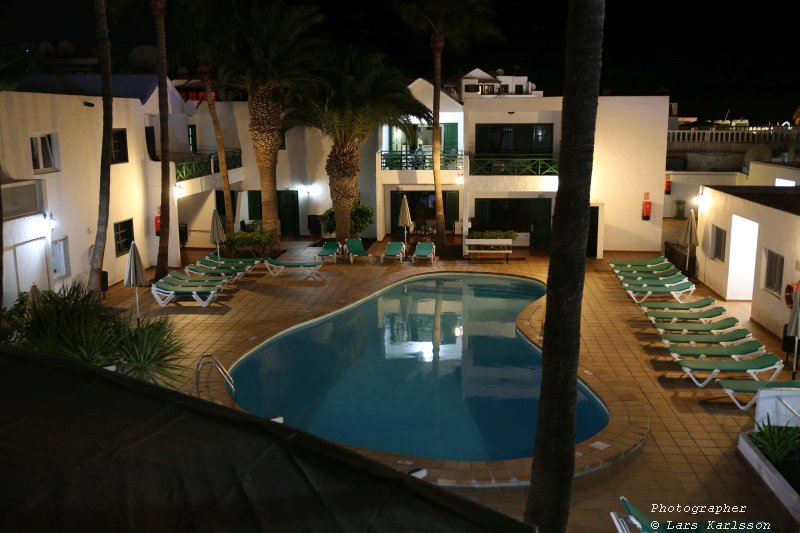 Before we go inside we walked up to the upper terrace and got a view over the ocean and our pool.
---
Day II: Walk from Puerto del Carmen Puerto Calero and bus to Puerto Blanca:
Puerto del Carmen: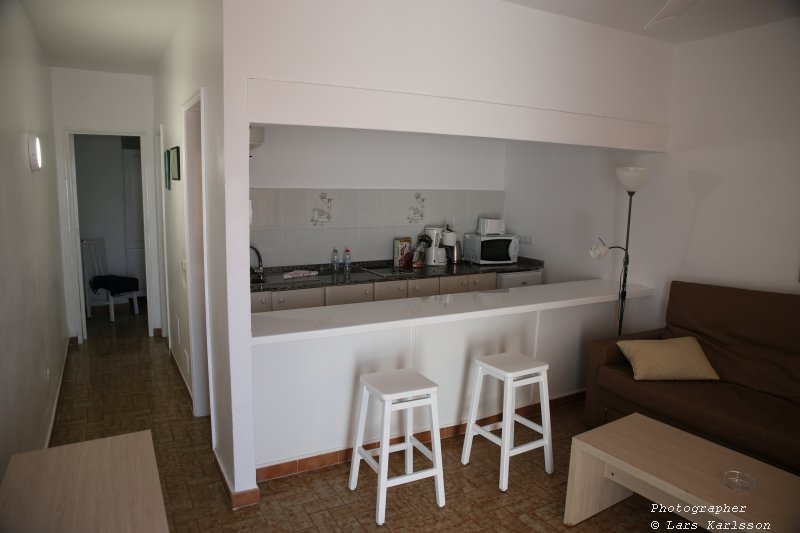 We slept many hours this night because we were tired after the long travel. Waking up in the morning to prepare our breakfast. As you see we have our own kitchen and a living room.
---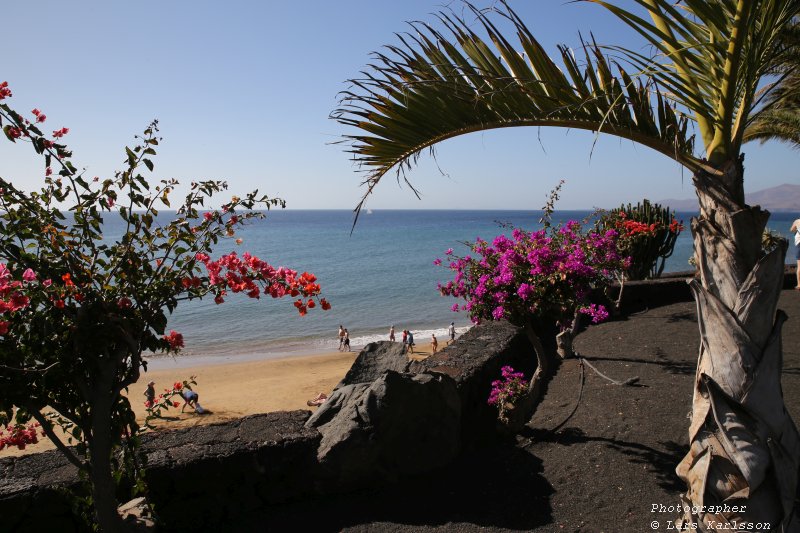 We decided to start this day with a walk along the beach to the nearby village Puerto Calero, about 7 km walk.
---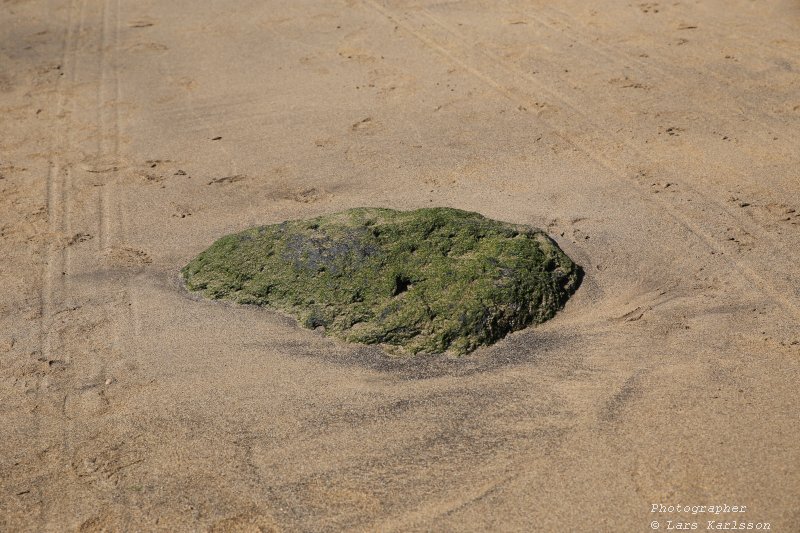 The sand is told to blown to here from Africa's Sahara desert.
---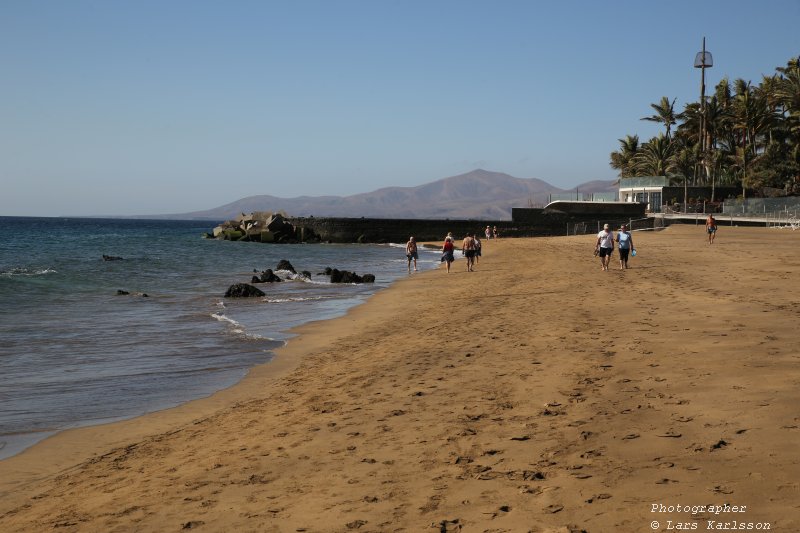 A hotel and a marina block the walk path along the beach, we walk up in the town to pass through it.
---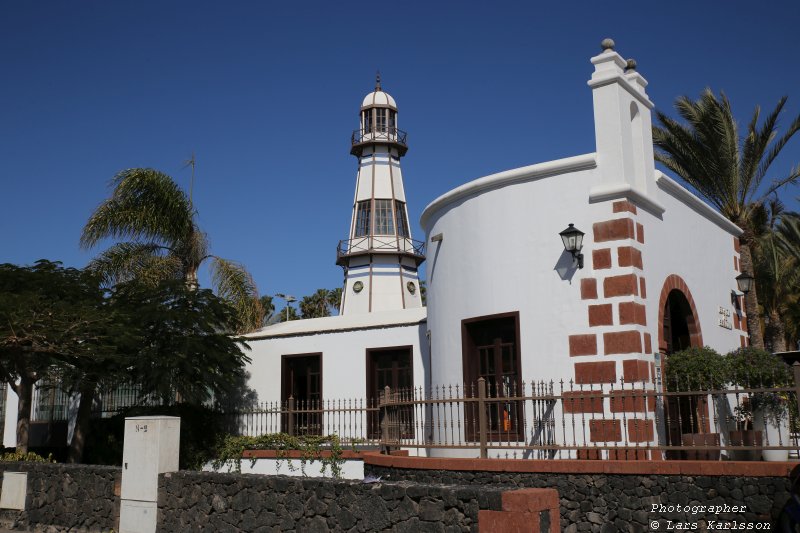 A light house, we think it's just a copy, not functional but a nice looking decoration for the resdtaurant.
---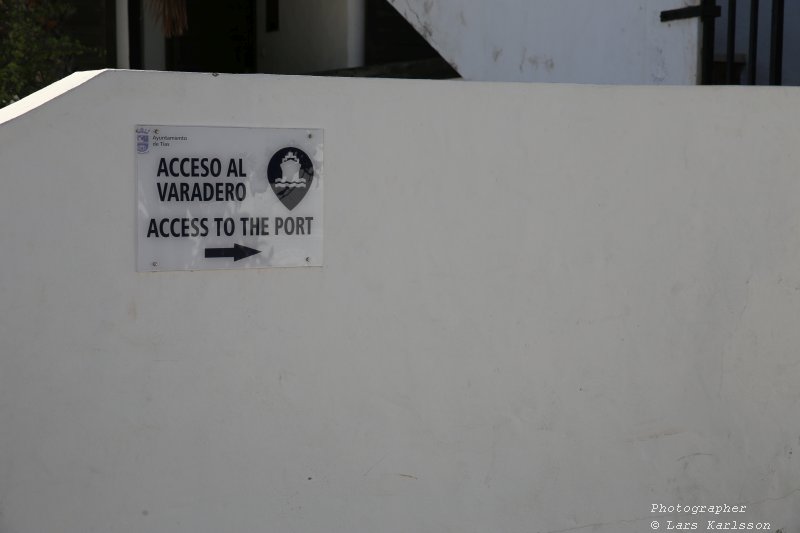 Between the houses we found a new walk path down to the old harbor of Puerto del Carmen.
---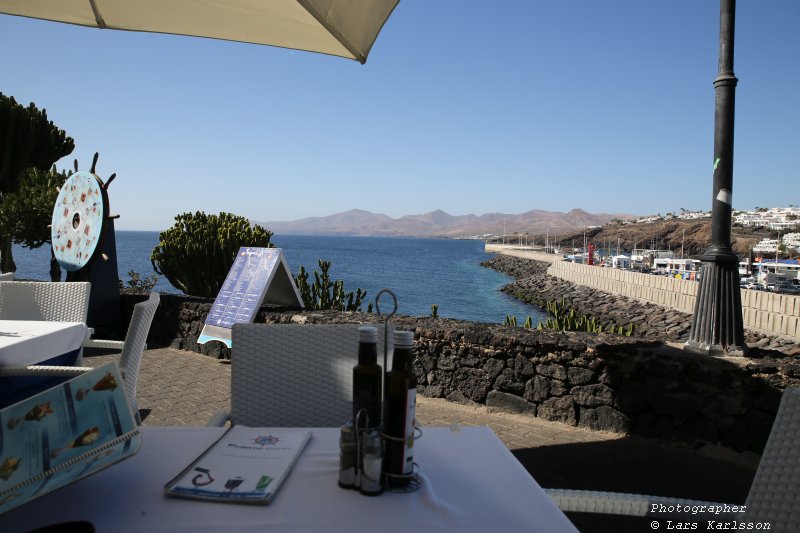 Along this walk path we found many cafes and restaurants, here we have stopped, we took a coffee and an ice cream. What a fabulous view we had from here, down there is the old harbor.
The temperature was from 22 to 26 degrees Celsius this week. At home we read that the temperature was something like -6 degrees Celsius. The people at Lanzarote call it winter, for sure they have never visited Sweden in the Winter !
---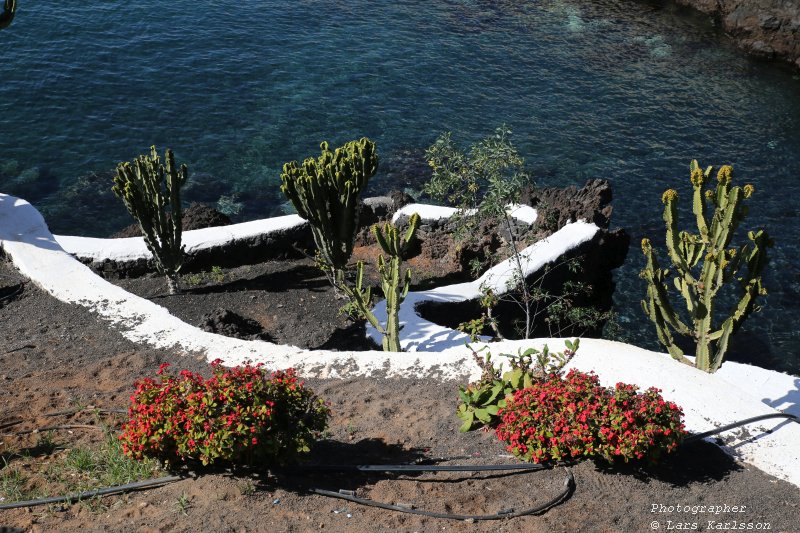 ---
Old Harbor: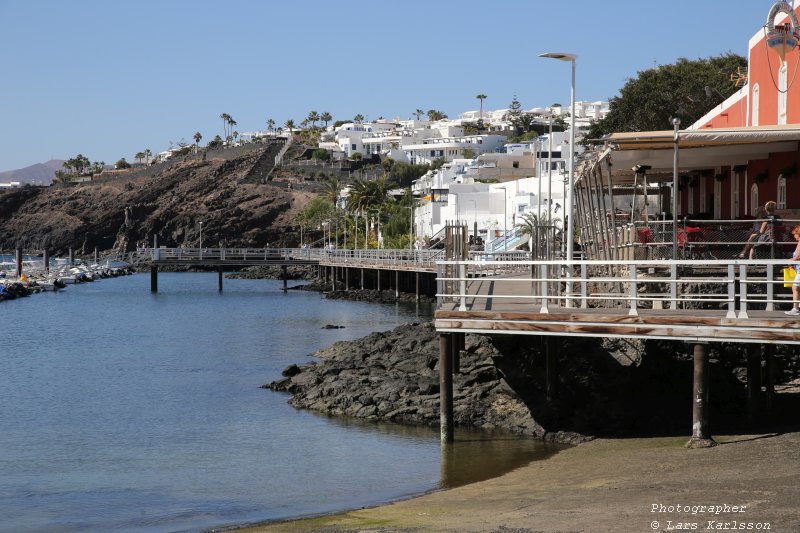 Down in the Old Harbor we see how the walk path goes up the hill in the background.
---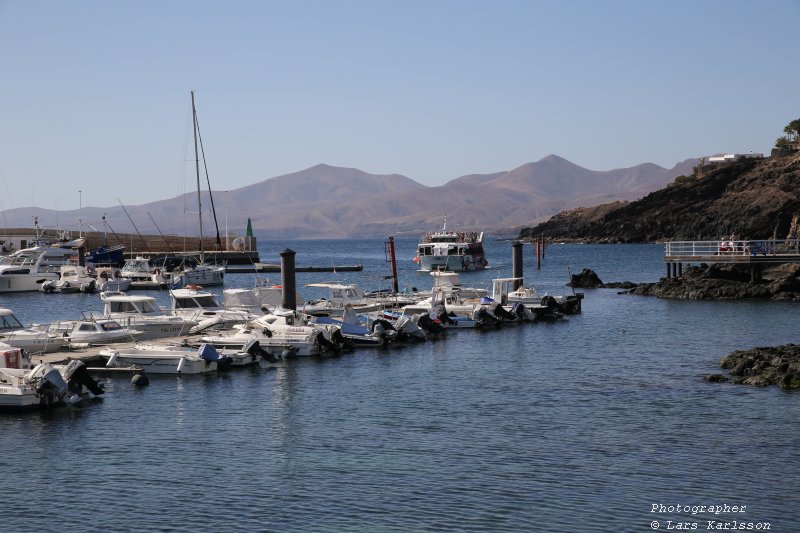 One of the tourist ferries enter the harbor.
---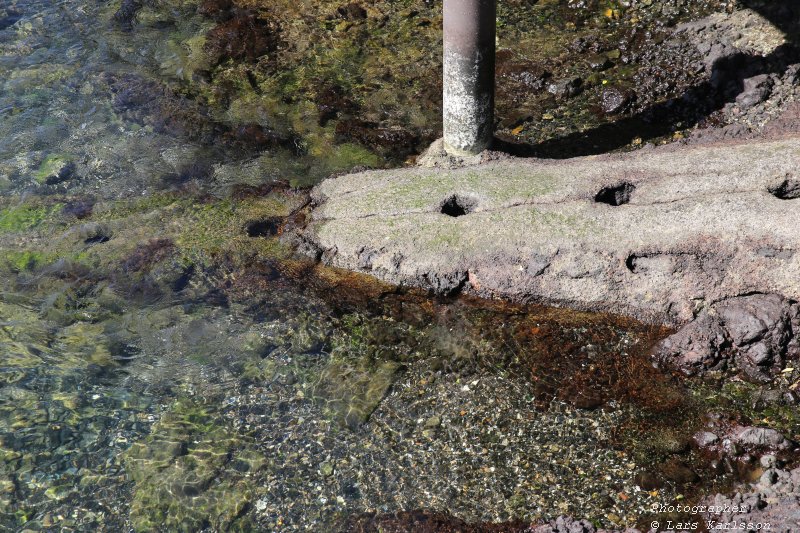 We stop and look at this, it must be a foundation of an old pier.
---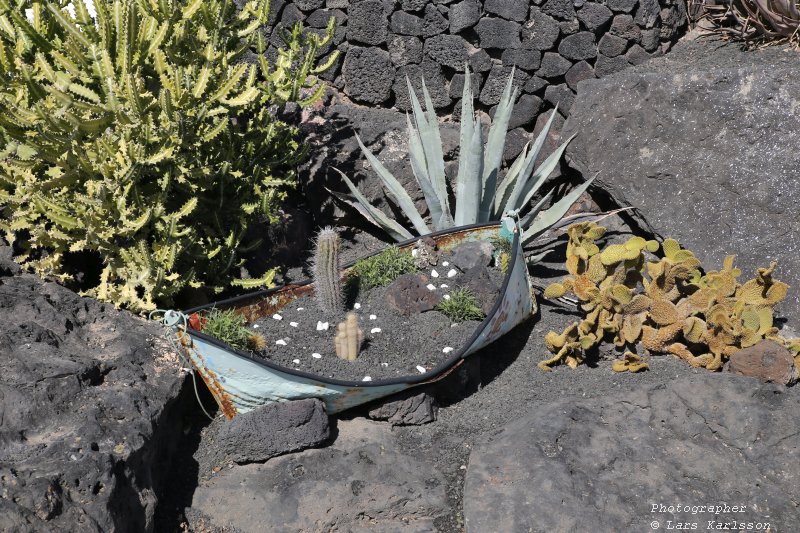 ---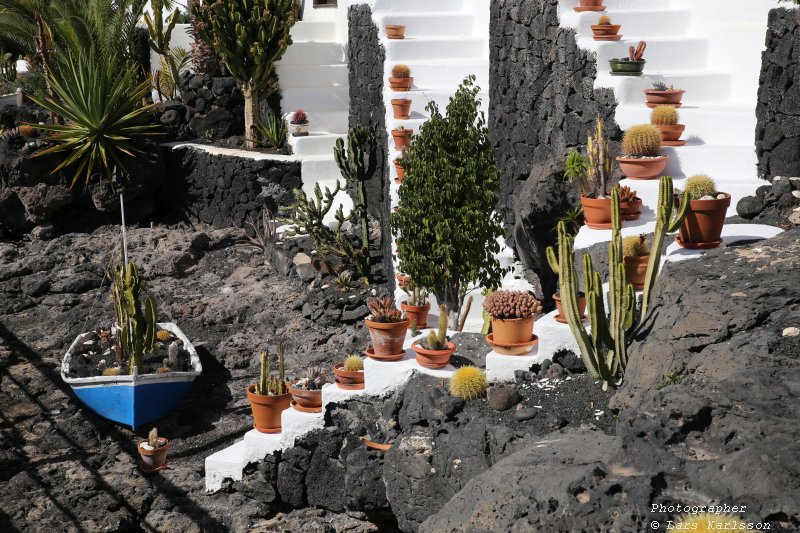 ---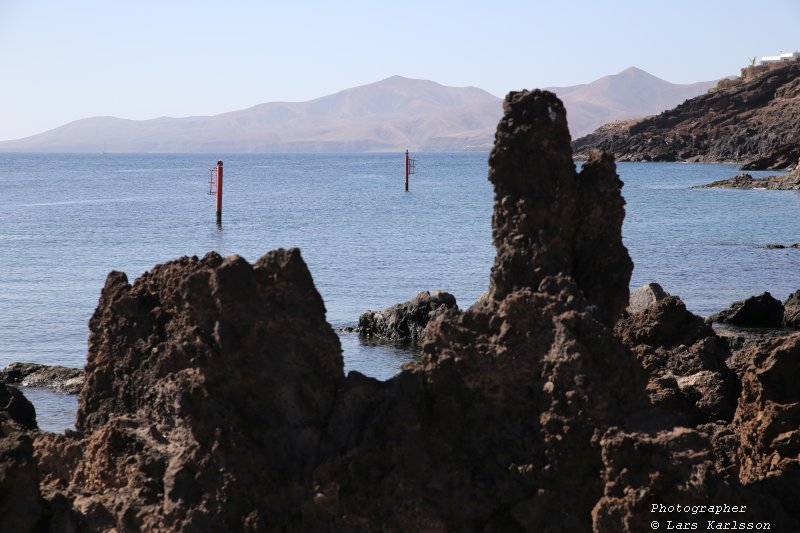 We have reached the end of the harbor, now we have to go up between the houses in the community and from there continue on the walkway up to the hill.
---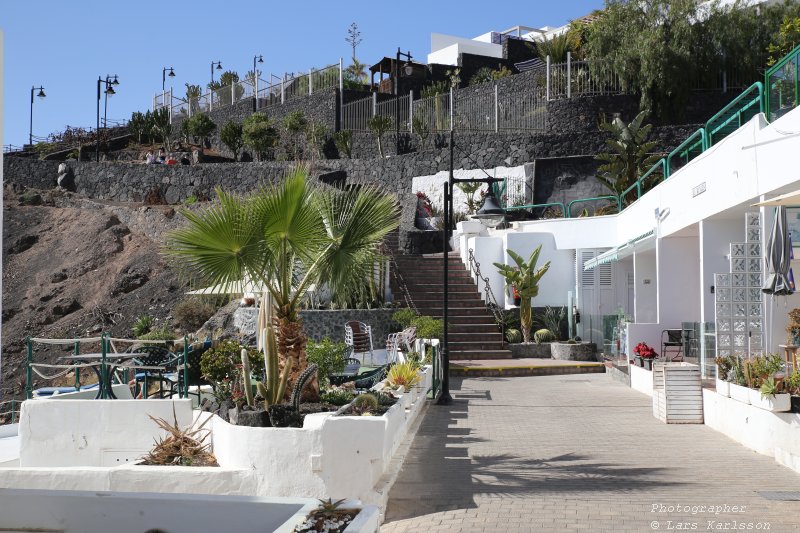 The staircase that lead up to hill and the walkpath.
---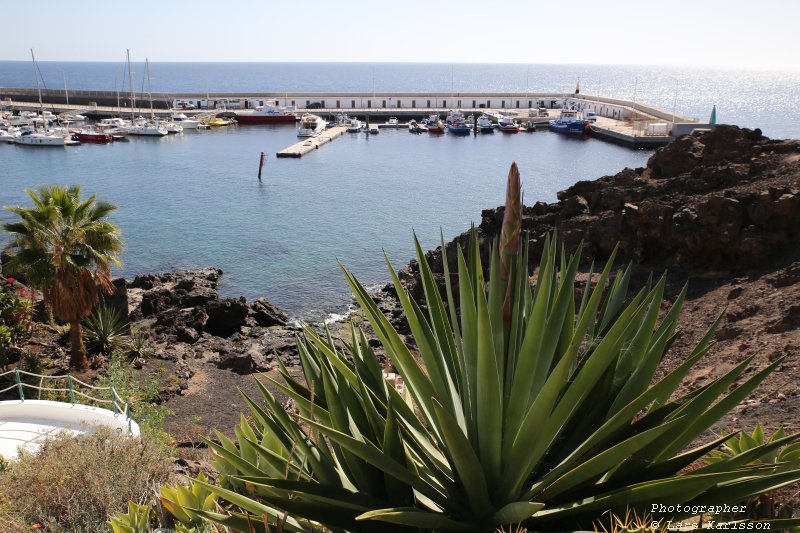 ---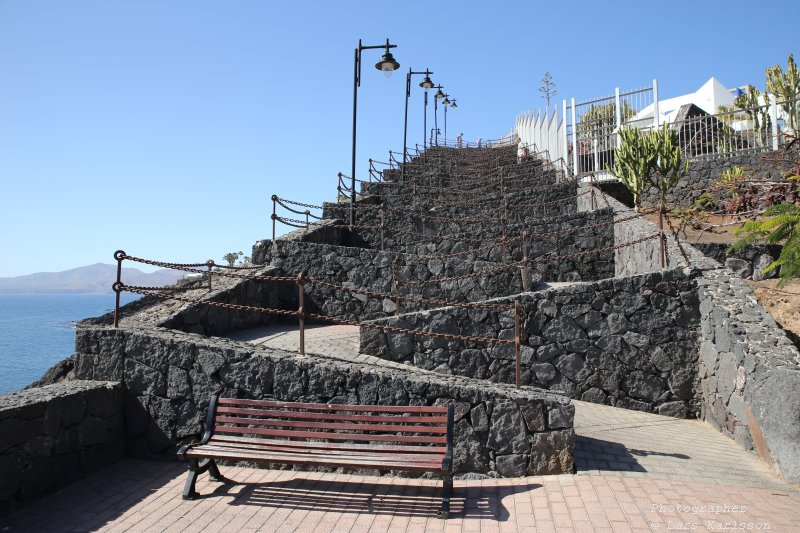 A serpentine walkpath to enter. People came downwards with their bicycles (leading them) here too.
---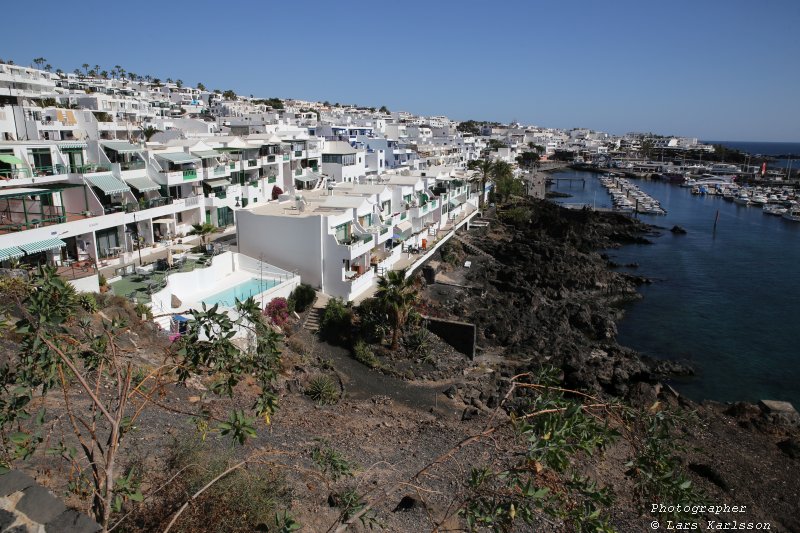 From top of the hill we looked back to The Old Harbor. We think the villas we see here are private, not hotels, but we could see signs that they could be rented.
---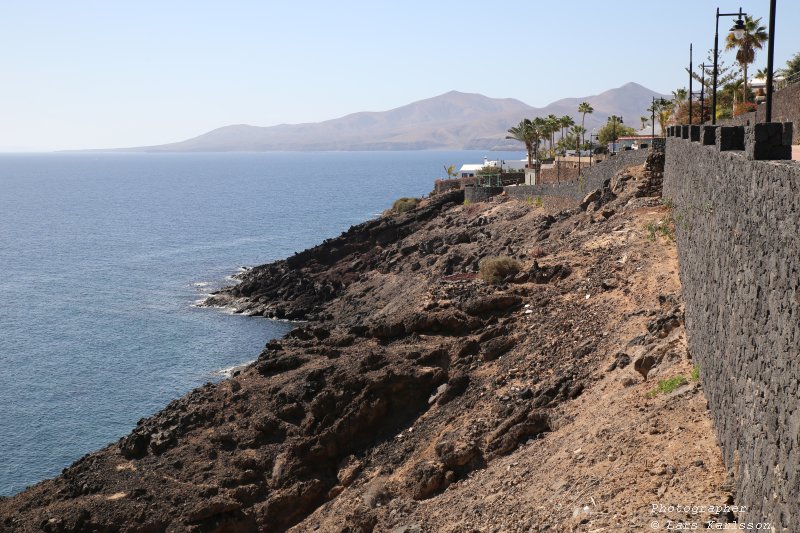 Now we are leaving Puerta del Carmen and take direction to Puerta Calero.
---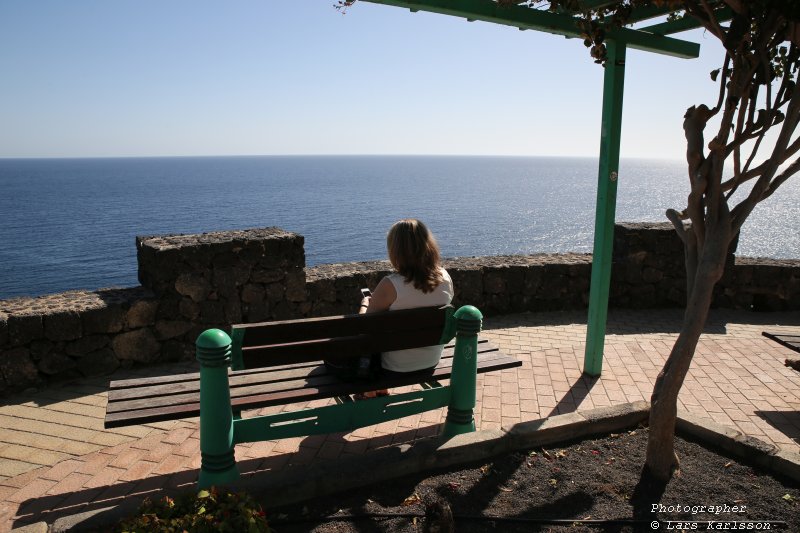 For us who are used with minus degrees temperature it's hot today, better to take a rest and enjoy the ocean view.
---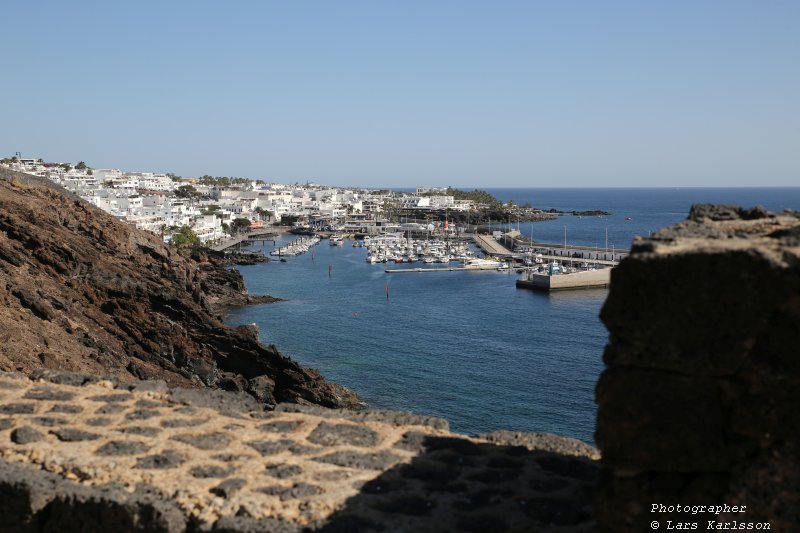 Last view of Puerto del Carmen and the Old Harbor.
---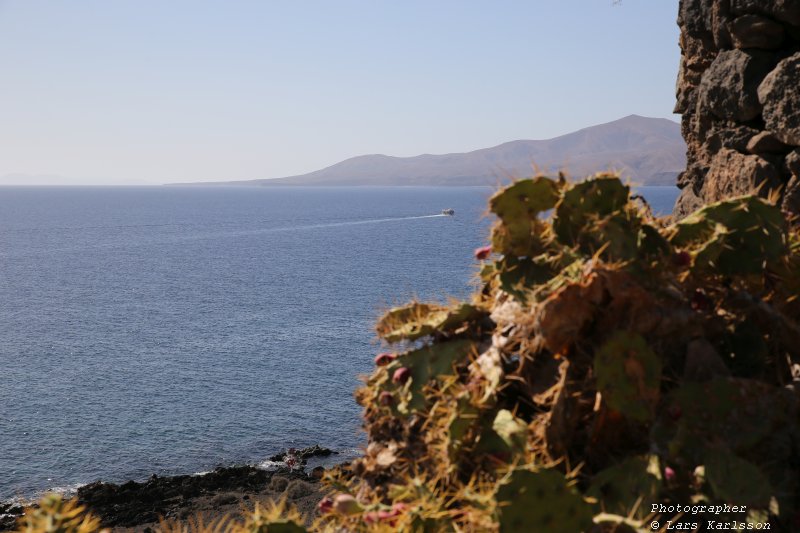 The tourist ferry is ahead of us.
---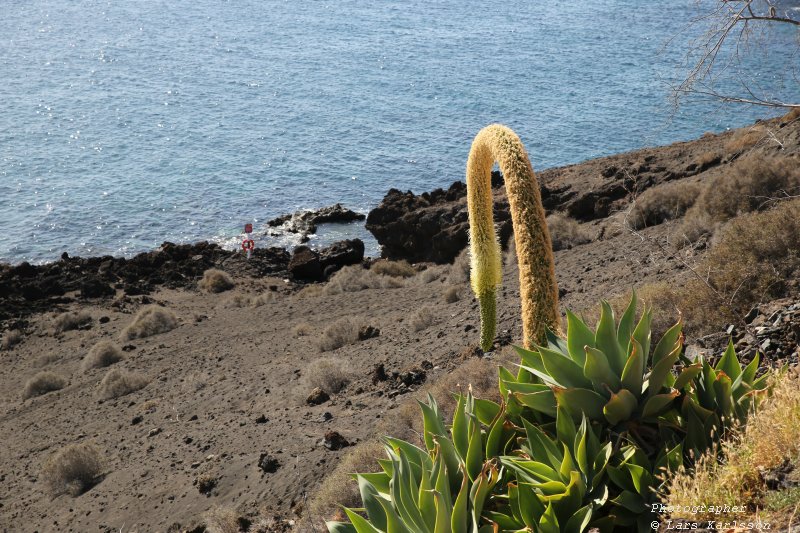 A cactus with a different shape. It looks to be a bath place down there, at least there is life guarding equipment there. But how to come to that place ?
---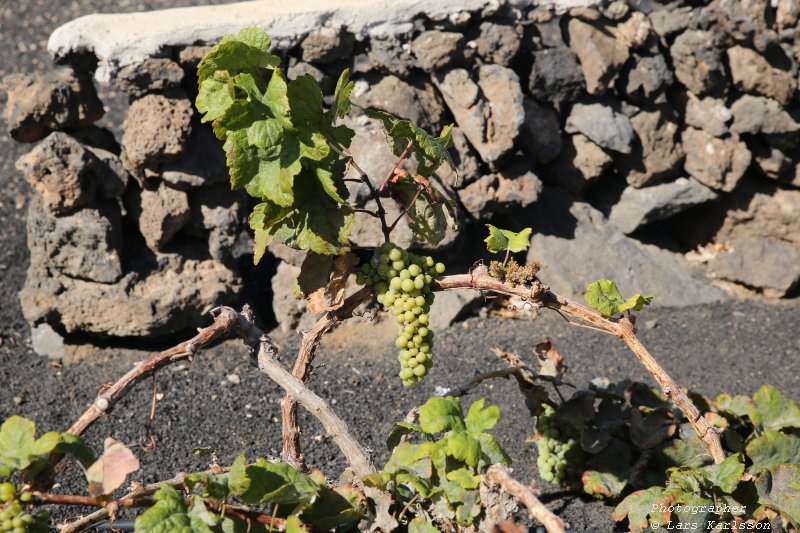 We could see a lot of small farms with grapes, the stones around the grape collect and store the moisture. It is very rare to rain on Lanzarote.
---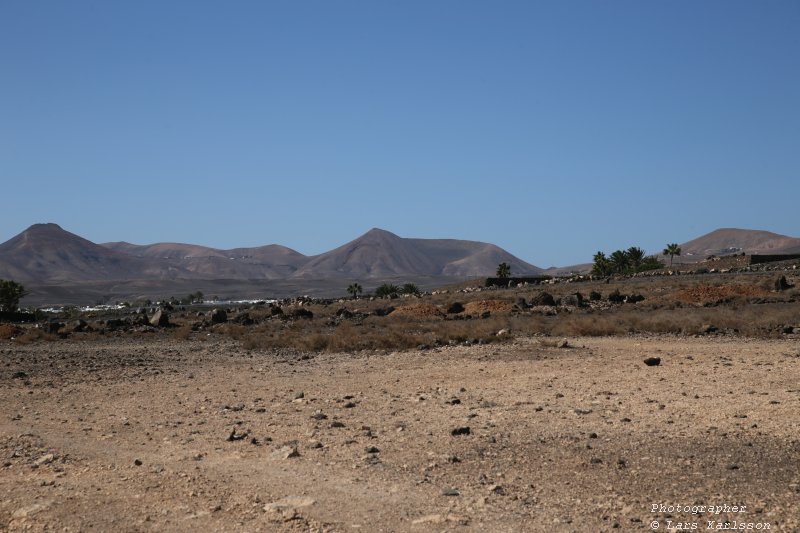 In background, the mountains, all of volcano origin.
---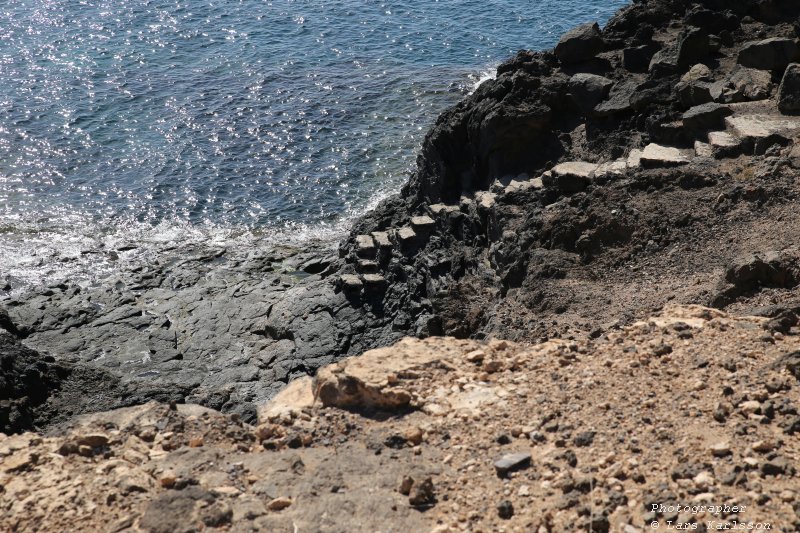 Another bath place, we didn't see any people bathing here.
---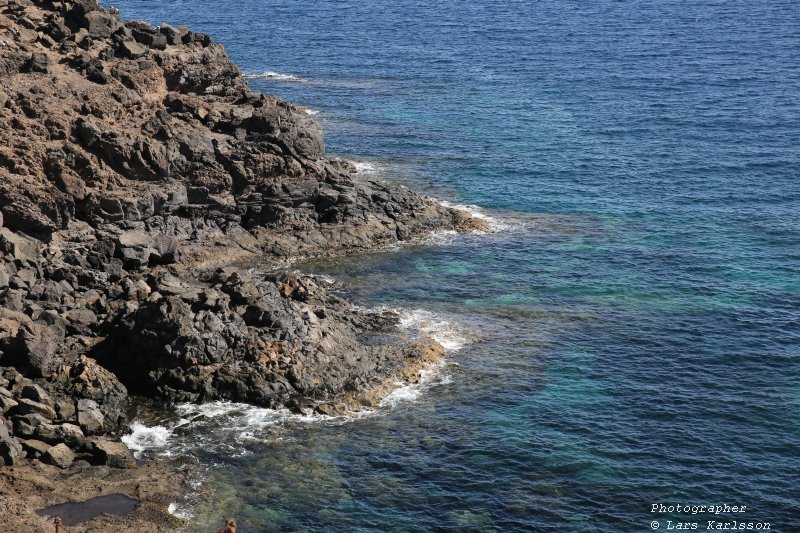 ---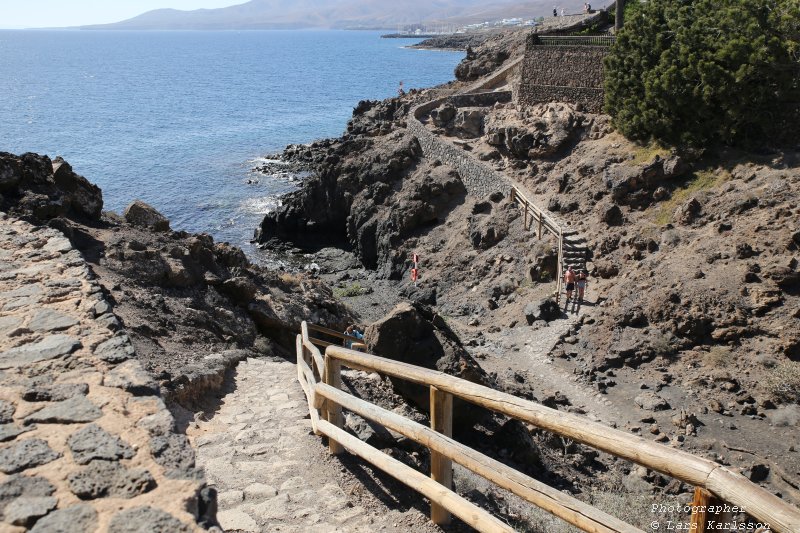 Stairs lead us down in the valley. Believe it or not, but some people came with a stroller here and fought their way up the stairs.
---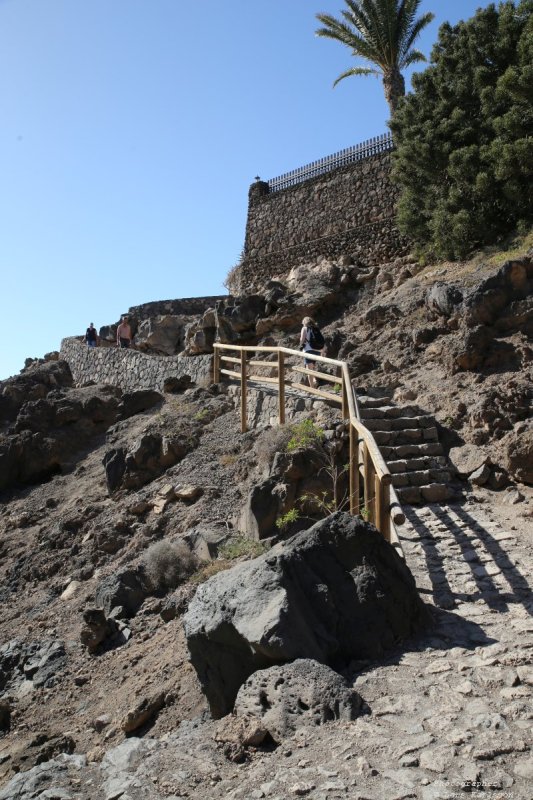 Even without a stroller it's heavy to walk in this hot day and go up the stairs.
---
Puerto Calero: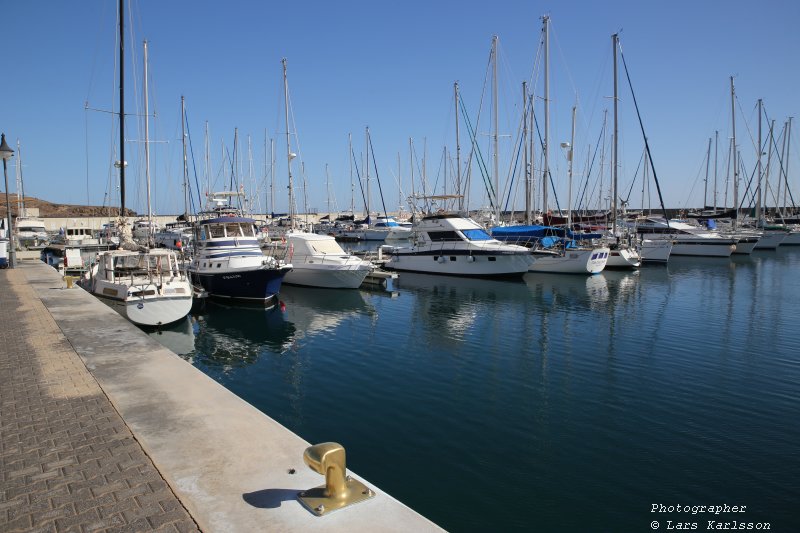 The harbor of Puerto Calero. We sat down in a cafe and took something to drink before we go up to the bus station to take a bus to the next stop.
At Wikipedia you find more information about Puerto Calero:
---
Puerto Blanca: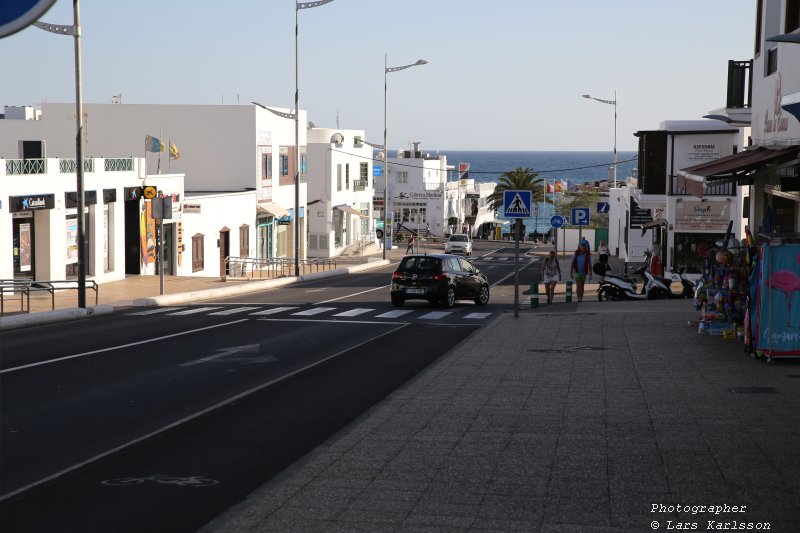 This bus take us to Puerto Blanca, that bus cost 2.80 Euro each. We always try to take the public busses, then we can decide for ourselves how long we want to stay compare if you take a guided bus tour. Much cheaper also and you get to know the local people.
Here we walk down the street from the bus station to the center of town and the beach, maybe a ten minutes walk.
By the way, now I can practice some Spanish, when enter the bus: Dos boletos, por favor.
---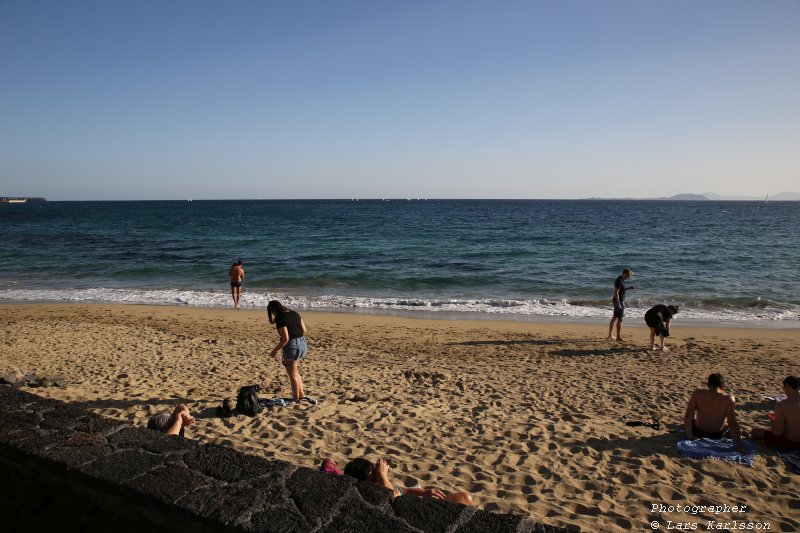 We don't see many people swimming here, maybe too late. In the back ground you can see another Canary island, the Fuerteventura island.
---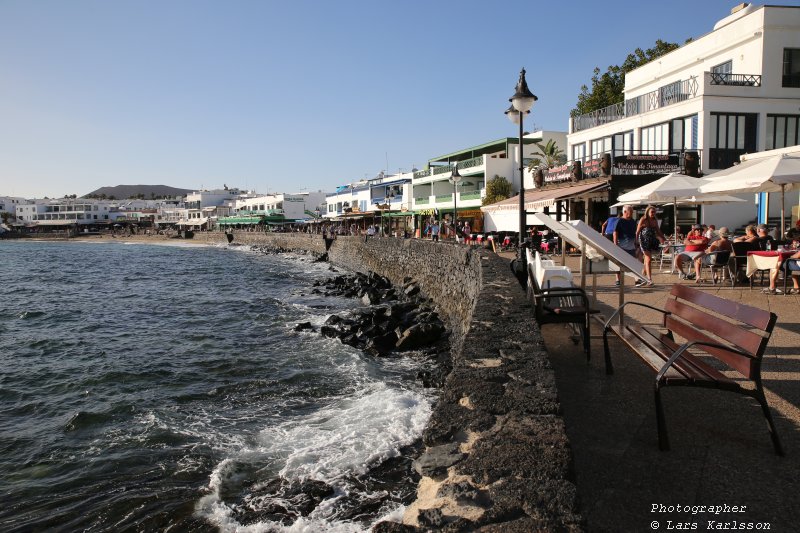 On the early morning busses the are many people that go to Puerto Blanca to swim, that beach is just outside the town.
---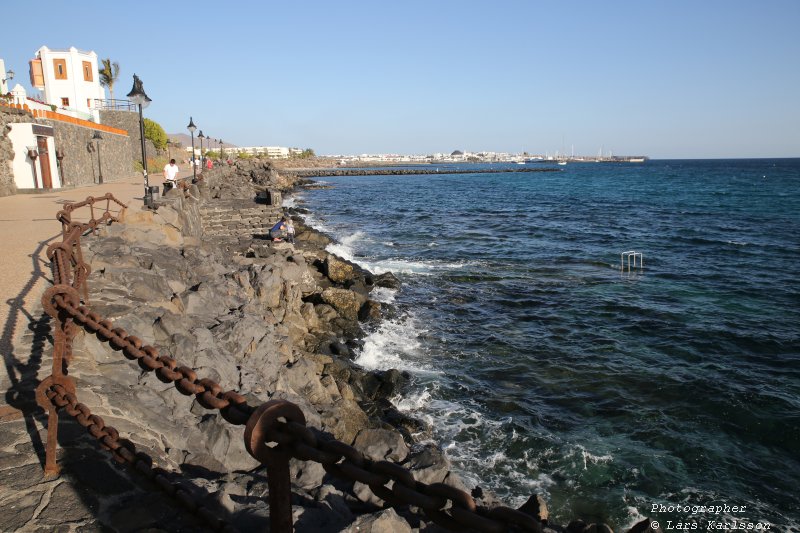 ---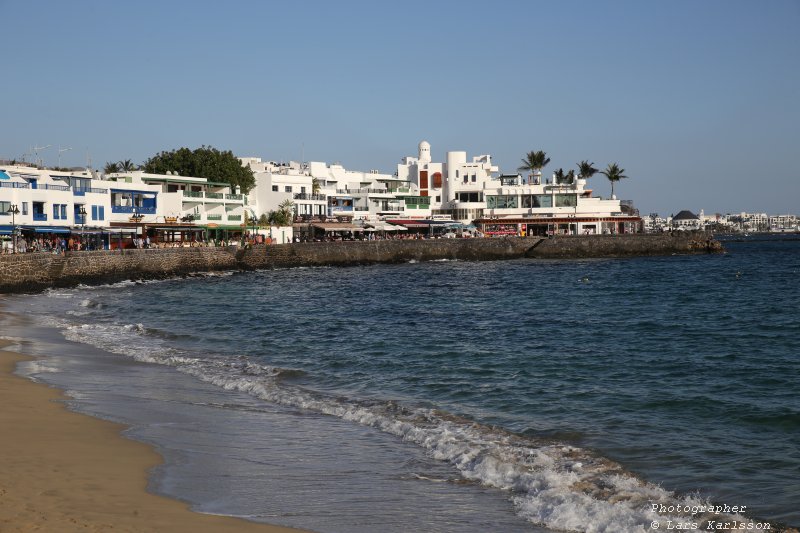 At Wikipedia you find more information about Puerto Blanca:
---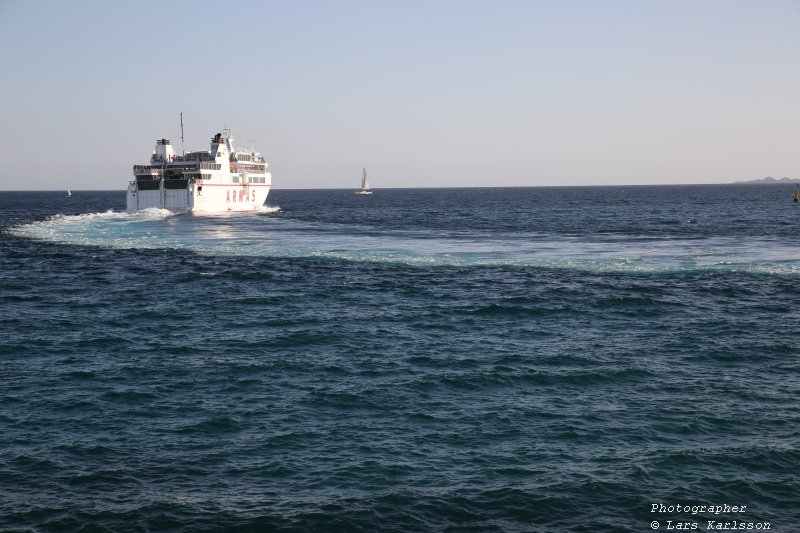 We found it very nice here and stayed for a dinner. From the restaurant we had a view to the harbor with the ferries coming and going.
---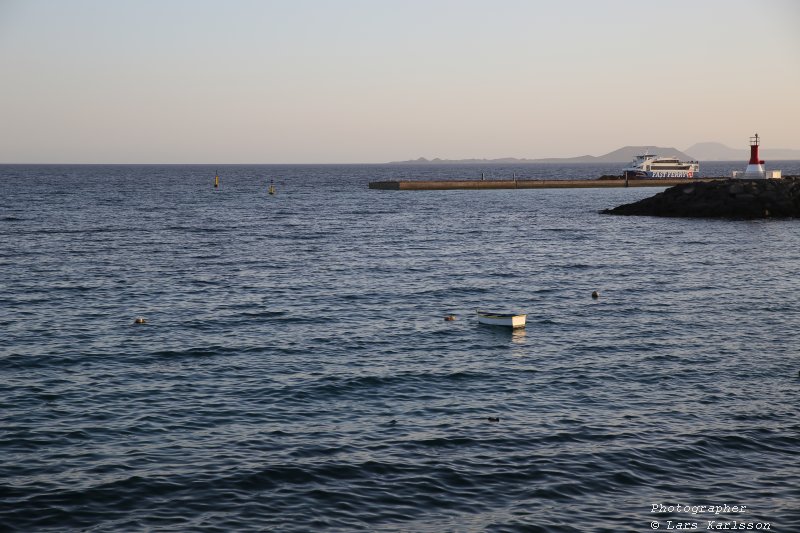 ---
Later in the evening we took the bus back to our hotel, it darkens quickly and the bus took another route back. We noted that before it had passed our hotel and could jump off the bus in time. Not sure where we exactly where, but with maps we could follow the street down to the beach where we lived.
---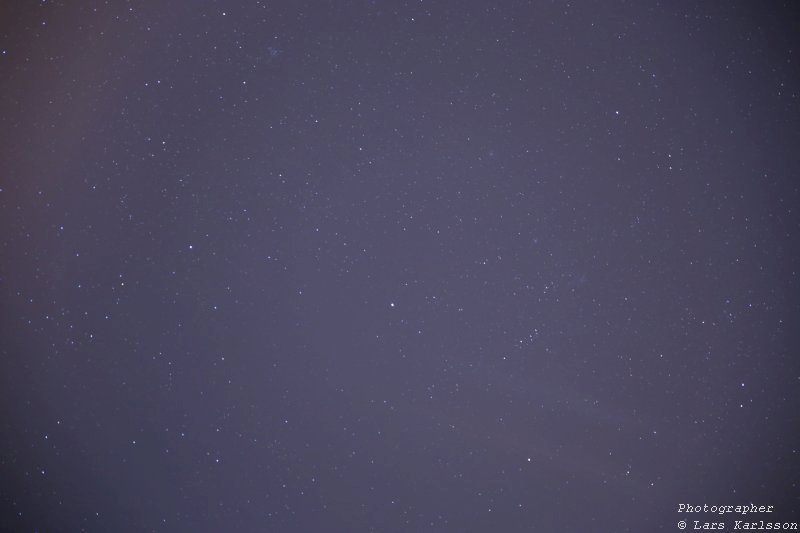 One last thing to do before we go to bed. I must at least have one deep sky photo of the starry sky. This is a 10 second exposure photo, ISO set to 1600, f/2.8 and 70 mm. The lens is my latest, a 24 - 70 mm f/2.8 zoom, perfect when travel, but a bit heavy.
---