My travel in Europe:
island of Malta
---
One week by walk, bus, boat and car at island of Malta, 2018
---
Planning our Malta trip:
I have wanted to go to Malta the last ten years, now in 2018 it's going to happen. Always when I have read about Malta I found it so enticing with its old history and all those old buildings still there. To Malta you can find flights all year around and it's easy to find hotels. Just a few months before we decided to go for Malta I got a new friend down here who gave us a lot of advices.
Landing at Malta and Sliema, day 1:
---
Skavsta airport, Sweden: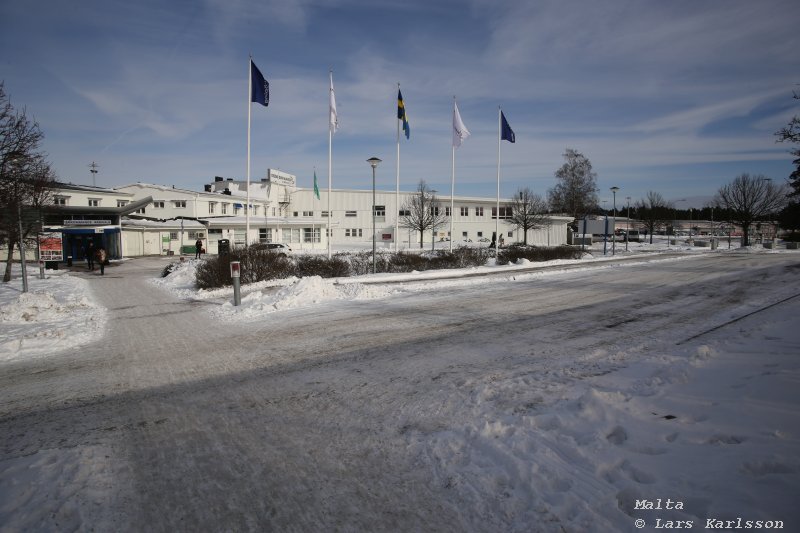 Maybe you understand why we leave Sweden at this time of the year? Minus ten degrees Celsius! This is the small airport Skavsta south of Stockholm in Sweden.
Sliema:
We landed at the Malta international airport about 9 pm. No problem for us to find a local bus that took us to Sliema where our hotel was.
---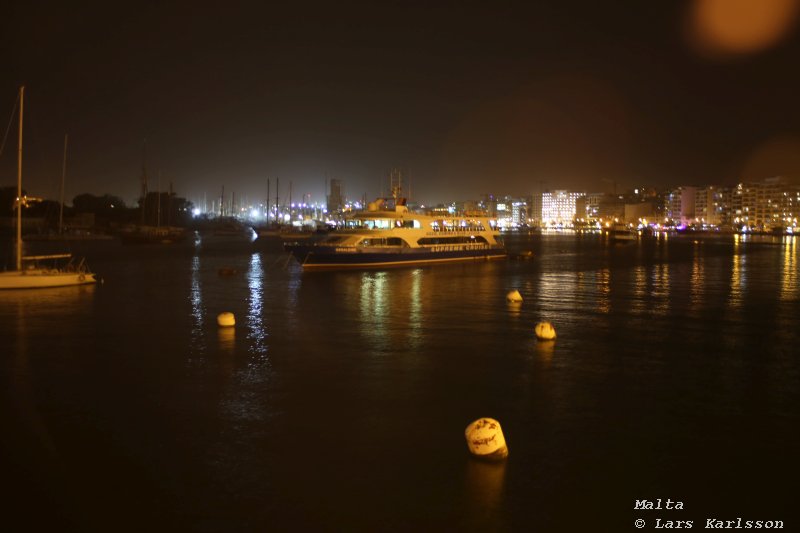 The Malta airport isn't far from Valletta the capital city, just about 10 km. Our hotel is in Sliema just north of Valletta.
A very helpful bus chaffer helped us where we were going to get off the bus. We came to the hotel about ten pm and was tired after the four hours flight.
---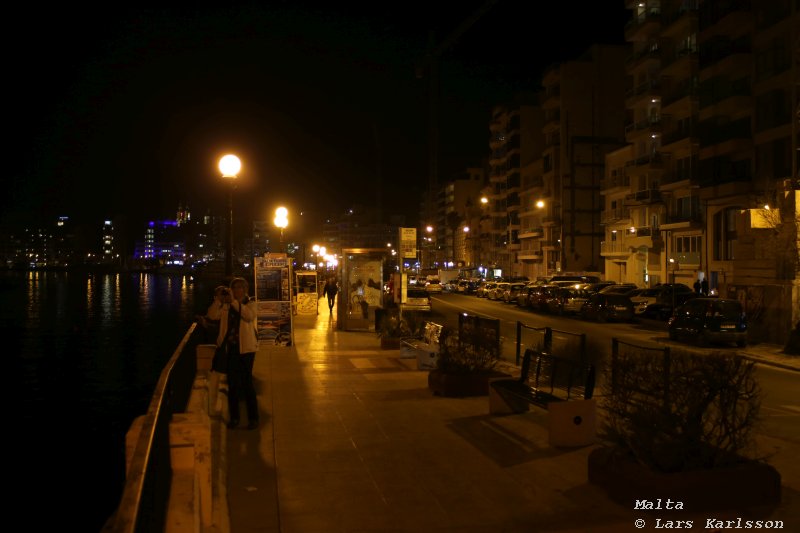 Even if we was tired we felt that we must take a short walk along the harbor outside the hotel. The temperature in the evening was about 15 degrees Celsius, 25 more then we had back in Stockholm, we like it!
---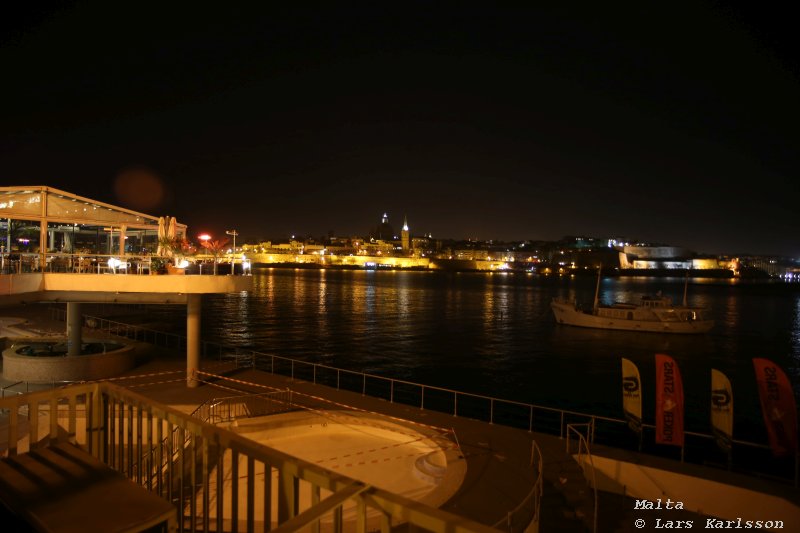 Along the harbor we found a lot of restaurants, good, then we know we will not starve, never know if they close down everything outside the tourist season. But my new friend Maurice has already told us that everything are open as usual all year around.
---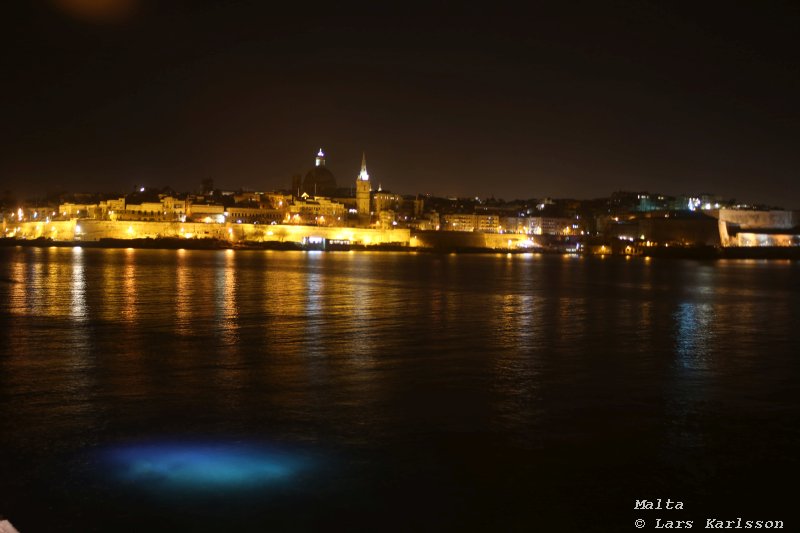 After 500 meters walk to the east we came to Tigne Seafront. Here we turned back to our hotel. You see the view over the Valletta, tomorrow we shall take a walk in the old center over there.
When I planned this trip I got information about an famous British astronomer, William Lassell, it was here he had one of his observatories in the 19th century, this one with the big 48" reflector telescope:
---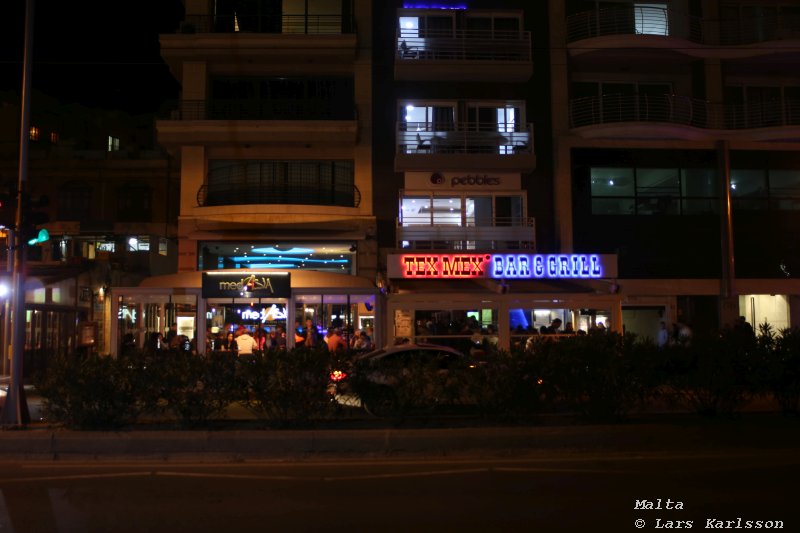 On the walk back to the hotel we stopped for a small meal before going to bed. We have now find out that all local busses and ferries only cost 1.50 Euro and you can buy a 12 ticket coupon for busses for 15 Euro.
---