Observatories that I have visited:
Uppsala old observatory, Sweden
---
Content:
---
1: Uppsala old observatory
We got a beautiful day and decided to take the car to Uppsala and visit the old observatory. This was one of the old observatories from the article "Sweden's old observatories" that I translated not long ago: Sweden's old observatories.
---
Main building, the observatory: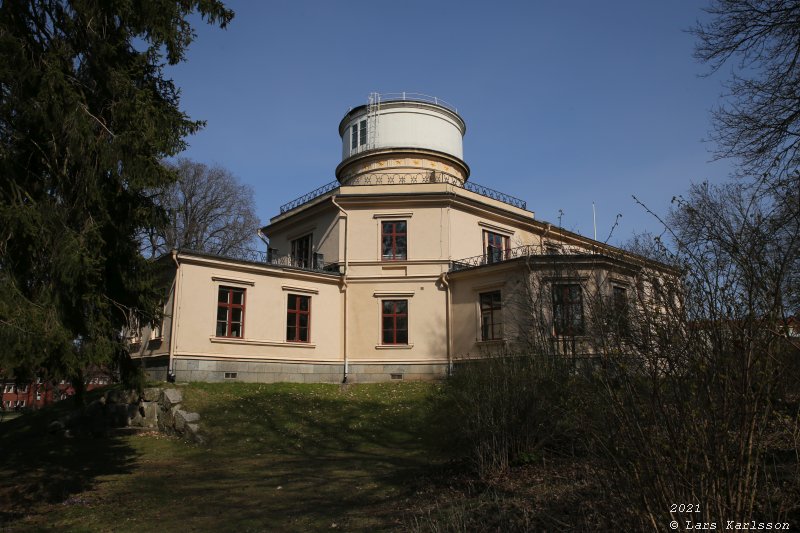 The observatory was built 1844 - 53. They had to move out on the countryside when they were forced to leave the building at center of Uppsala.
---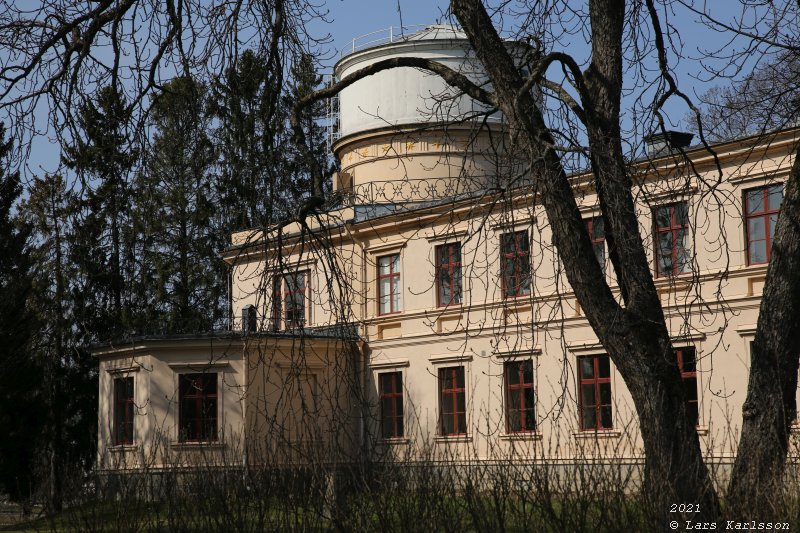 Nowadays top of the house was built later, 1891 when it replaced the old tower. It has an hatch that can open for the telescope and the roof can be rotated with its hatch.
---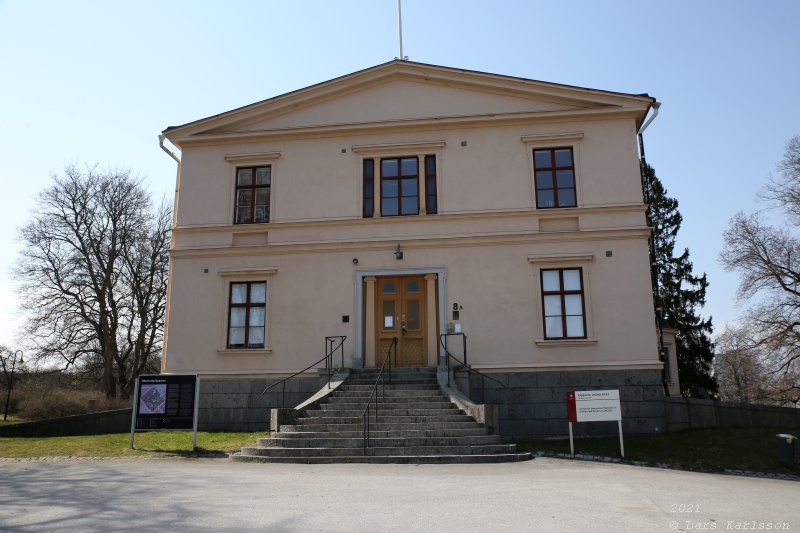 Main entrance which is directed to the East.
---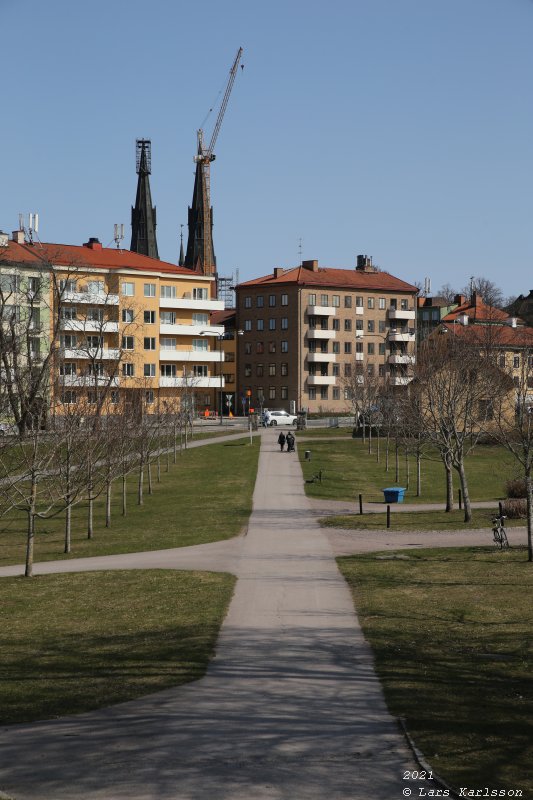 If this was the countryside 1840 it's not the situation today. In background, Uppsala Cathedral with its two towers.
---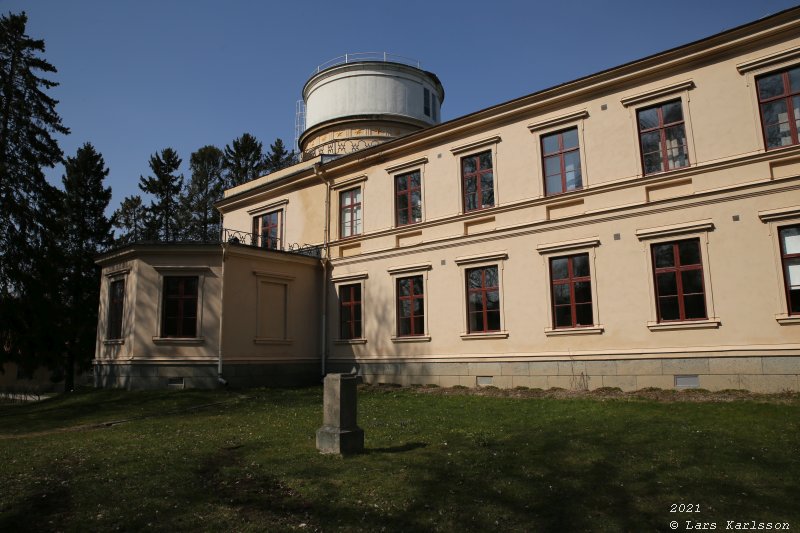 When they built this observatory they took part of the design from the observatory in Berlin.
---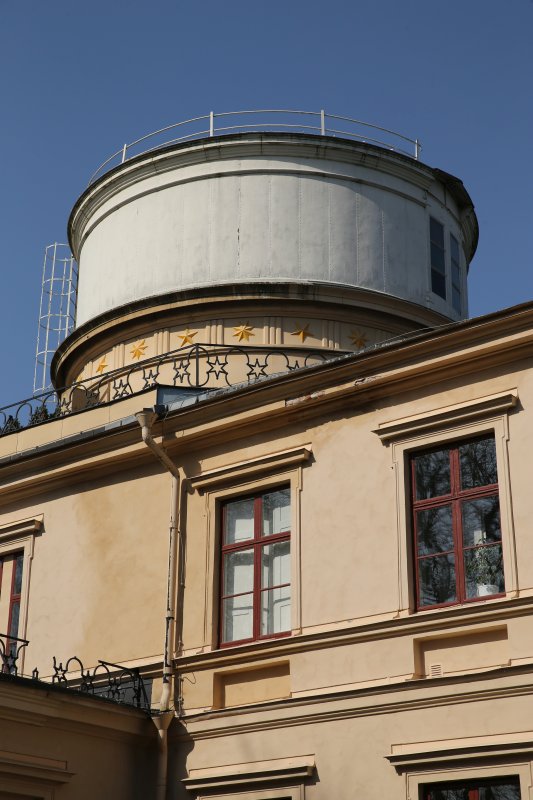 Stars in the ornament at the tower.
---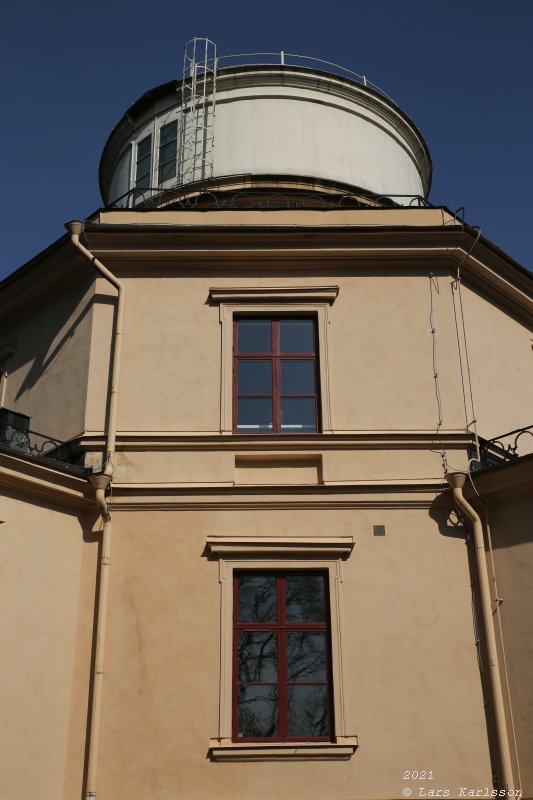 Originally it was a refractor telescope in this observatory. It had the size (opening) of 24 cm and was used by Herman Schultz the first years.
Update:
I got new information from my friend who live in Uppsala, the original double refractor is still there. See the link at bottom.
---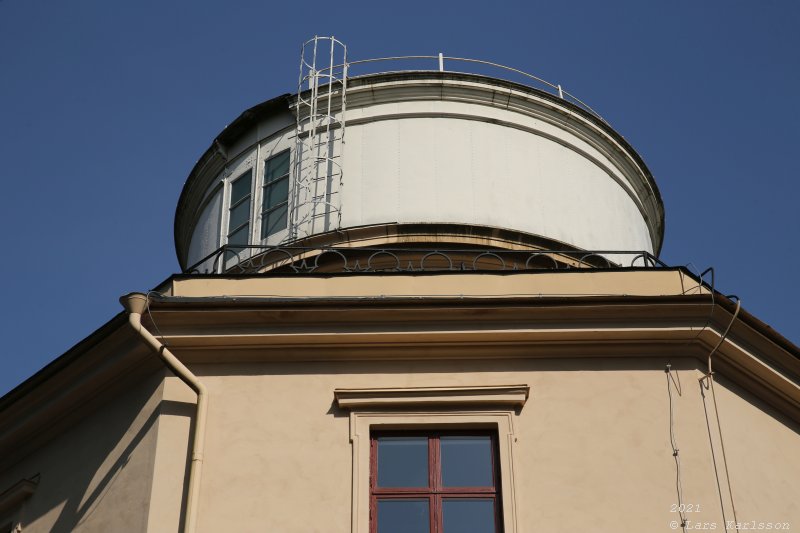 Very big building for a small telescope, but old refractor designs was very bulky compare to its size.
---
Side observatories:
One hundred meters South from the main building we found these observatories.
---
There are three of them, we think these are newer buildings but still very old.
---
I read somewhere that all these observatories are empty today.
---
The hatch for the telescope where the observer look through.
---
All these buildings are placed in a beautiful park. We could read at one sign that the flowers are planted in star constellation patterns.
---
---
---
A view back to the main building from one of the small observatories with its shadow.
---
Seismological instrument house:
---
Workshop and staff quarters:
The most left house was the workshop, mechanical and optics I think. The three to the right was the staffs living quarters.
---
Professor's residence:
The professor could of course not live among the workers and had his own house.
---
---
Store:
---
Instrument house:
When some of the instrument was not in use they stored them here.
---
Meteorological observatory:
Built after the astronomical observatory.
---
---
Musicum:
Built 1928.
---
Additional information by Lars:
More about Uppsala's observatory:
---
Philip from Ice in Space forum told me that there is an Uppsala telescope in Siding spring Australia:
From Ice in Space forum I got this message:
My name is Barry Gilbert, I'm a founding member of the Tamworth Regional Astronomy Club (TRAC). We have recently acquired the Uppsala 0.5 metre Schmidt telescope from siding spring. It is a rather large heavy telescope, that we disassembled for cheaper crane handling and transport. It is 178 kilometres from Tamworth.
Links provided by Barry:
Wow, that's a place I want to visit !
I found more information about the Schimdt telescope and why it has the Uppsala name. It was built 1956 in Sweden and placed at Mount Stromlo Observatory from 1957 to 1982:
More info about Mount Stromlo Observatory:
---