Astronomical observatories in Sweden
by Östen Bergstrand (1873 to 1948)
---
Content:
---
Astronomical observatories in Sweden, page 7 to 8
By Östen Bergstrand
A couple of years after his appointment, Celsius undertook a trip abroad to make himself at home with the conditions at Europe's foremost observatories. During this journey he made himself known as one of the most talented scientists of our time. He disappeared for four years, and when he returned home, it was to take part in the large French surveying expedition to Lapland, for which he submitted proposals to the French Academy of Sciences. It was not until 1737 that he returned to Uppsala. And now he seriously addressed the issue of establishing the new observatory. With energy, expertise and enthusiasm he went to work, and he succeeded in persuading the not-so-rich university to make really significant sacrifices for the purpose according to the economic conditions of the time (state grants to universities were out of the question at that time). But, as Schuck points out in his history, the governing men of the university did so apparently in the knowledge that this benevolence was

N. C. Dunér.
Photographer unknown

shown to one of Europe's foremost scientists, whom it was an honor for universities to visit.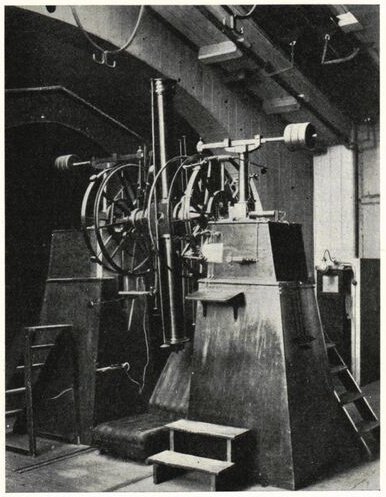 Meridian circle instrument at the observatory in Lund.
Photographer unknown.
---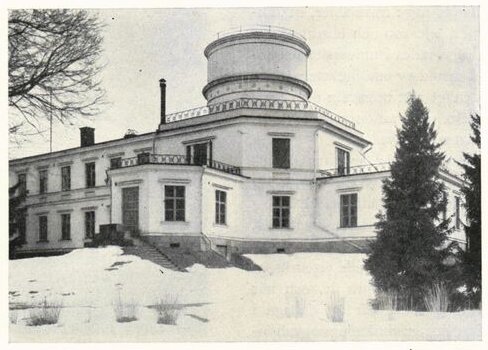 The observatory in Uppsala in todays style.
Photographer unknown.
The new observatory, whose construction could begin in 1739 and which was completed in 1741, was located inside the city, at Svartbäcksgatan. The architect of the building was none other than the famous superintendent C. Hårleman. Its tower superstructure, which rose high above the surrounding houses, formed for a whole century, as can be seen from older Uppsala pictures, a characteristic feature of the city's silhouette. The house is still there, although without the tower superstructure. It is the so-called Oratio obliqua (Svartbäcksgatan 9 B), easily recognizable by its oblique position in relation to the street line.

The instrumentation, for whose acquisition Celsius had made great efforts and even released significant additions of his own funds, was for his time quite good. These included a 12-foot sector by Sisson, a 5-foot passage instrument, various tubes and a fine

astronomical pendulum clock with mercury compensation, which Celsius had made by the most famous watchmaker of the time G. Graham in London. As a curiosity, it can be mentioned that the Grahams pendulum clock is still in progress to this day, albeit after a restoration carried out by Kessel, at the Uppsala Observatory. And is doing well. Through several donations, including Celsius' own precious collection of books, the observatory was gradually provided with a stately library.

Extensive observational work was carried out by Celsius himself (he died as early as 1744) and by contemporary and subsequent Uppsala astronomers, and Sweden's contribution to astronomical research at the time was by no means insignificant. Long and significant series of meteorological observations were also performed.
---
Additional information by Lars:
More about N. C. Dunér:
More about meridian circle instrument:
---