Astronomical observatories in Sweden
by Östen Bergstrand (1873 to 1948)
---
Content:
---
Astronomical observatories in Sweden, page 5 to 6
By Östen Bergstrand
The question, which above all occupied the representatives of astronomy in Sweden even during the first decades of the 17th century, was the question of the justification of astrology; this question was ventilated in a number of academic disputations and gave rise to violent clashes between the learned gentlemen. The otherwise very meager astronomical literature in Sweden during the 16th and 17th centuries mostly consists of calendars or more detailed almanacs as well as descriptions of comets and their fatal effects. According to an author quoted by Lundmark from 1572, this year's flaming new star ('Tycho Brahe's star') was a comet that appeared to be an asterisk. 'Even though this comet has no tail or ass, neither can its office be disposed of by her comet' (in Swedish: Åndock denna kometa haver ingen stjärt eller rompa, så kan icke dessheller avhända henne kometers ämbete), namely, to be a sign of the wrath of God and a bearer of all kinds of misfortunes. It is very strange that Tycho Brahe's great life deed practiced so closely does not seem in any respect to have had an uplifting effect on Swedish astronomy or even to have attracted any attention in our country.

Gustaf Svanberg.
Photographer unknown

Something that strongly contributed to keeping astronomy in Sweden down to a low position during this time was that they lacked an observatory and thus the opportunity for a more thorough study of the celestial bodies and their movements in the sky. The first attempt to establish an observatory was made in the 1650s by professor of mechanics in Uppsala Bengt Hedraeus. He erected at his own expense a 'spectator tower' on his farm at the corner of Övre Slottsgatan and S: t Johannisgatan in Uppsala, thus not far from the place where the current observatory is located. Hedraeus is also said to have made some instruments for his spectator tower.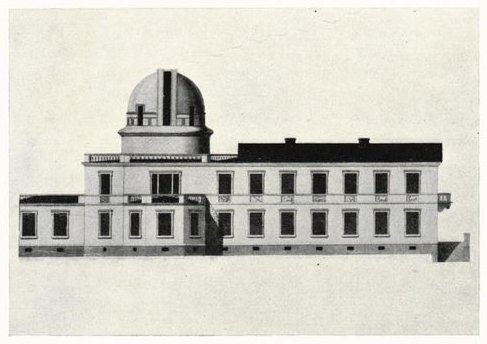 The new observatory in Uppsala, first outcast. From the 1844 original drawing by G. Svanberg och F. Way.
---
Axel Möller.
Photographer unknown.

Whether the small observatory has really become its equipment put in usable condition should be uncertain. In any case, no results of Hedraeus' observational activities are known.

The astronomers of the following period in Uppsala,

including Anders Spole (professor 1679 - 99), who has been described as 'the university's supplying scientific astronomer', must also have been engaged in astronomical observations. Spole had previously for a few years (1667 - 1676) been a professor in Lund and there on the roof of his house set up a small observatory, which, according to what Professor Lundmark made me aware of, can be identified on Erik Dahlberg's battle plans over the battle of Lund 1676. It must have burned down already in the latter year. Also in Uppsala, Spole had a small private observatory in his house, which was located at the corner of Svartbäcks- and Klostergatorna and which burned down by the great fire in 1702. Nor are the results of Spole's observations preserved. Distrustful of his modest instrumental aids, he is said by conscientiousness not to have wanted to publish the works performed with them.

Apart from the now mentioned insignificant approaches, we can say that it was not until well into the 18th century that Sweden got its first public astronomical observatory. In 1730, Anders Celcius, only 28 years old, was appointed professor of astronomy in Uppsala. He did his job to get the university a real observatory. There were probably some instruments: astrolabees, sextants, quadrants, telescopes and observation clocks. But they were kept in the university library, and because of the impossibility of setting them up properly, astronomical observations could only be made with great difficulty.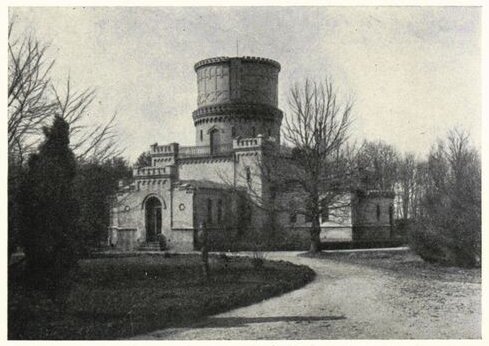 The observatory in Lund.
Photographer unknown.
---
Additional information by Lars:
More about Gustaf Svanberg (only Swedish):
More about Axel Möller:
More about Lund's observatory:
Location of Lund's old observatory.
---