Observatories that I have visited:
The Raven and the Owl observatory, Malta
---
A visit to Malta island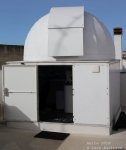 In the winter of 2018 we decided to visit Malta. It's the smallest country that I ever visited, the main island is just 10 by 20 km. What is of special interest is that I already a couple of months ago came in contact with an amateur astronomer, Maurice who is building his own observatory on top of the roof of his house.
When he heard that we are coming down to Malta he said, we must meet each other, and we did. After Maurice and his wife Marie Therese had took us around the western part of Malta he invited us to visit their home and see the observatory.
---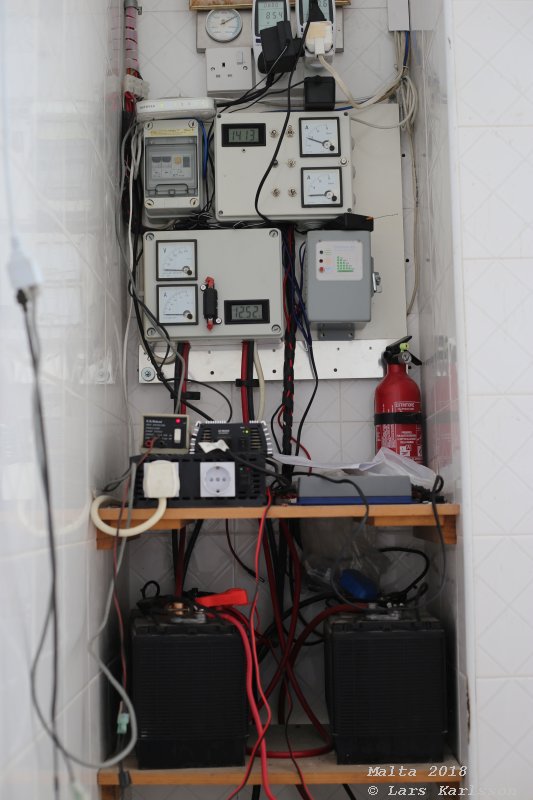 From the house there is a narrow stair that led us up to the observatory at the roof. In the stair we passed the power central. They have solar panels on the roof with a small battery backup. Also the observatory take power from this power central.
---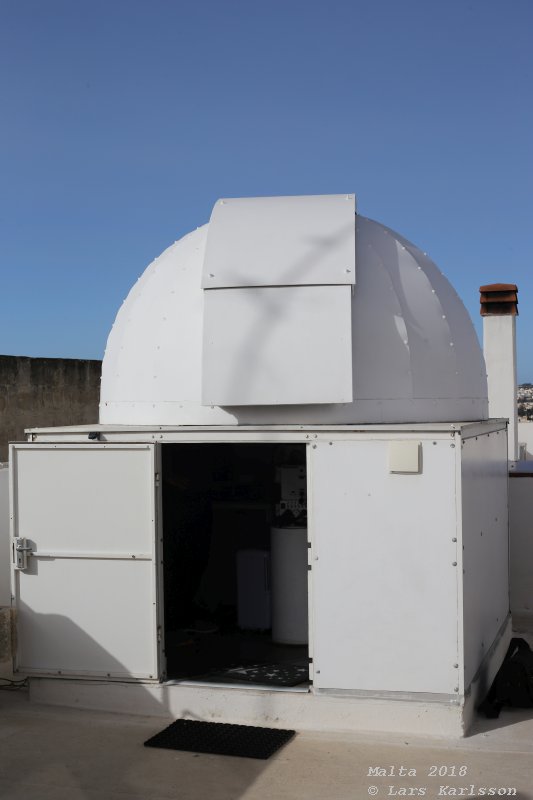 After we open the the door and enter the terrace we got a wonderful view over the landscape and the observatory. Maurice has built almost everything of the observatory building and it's mechanics by himself.
---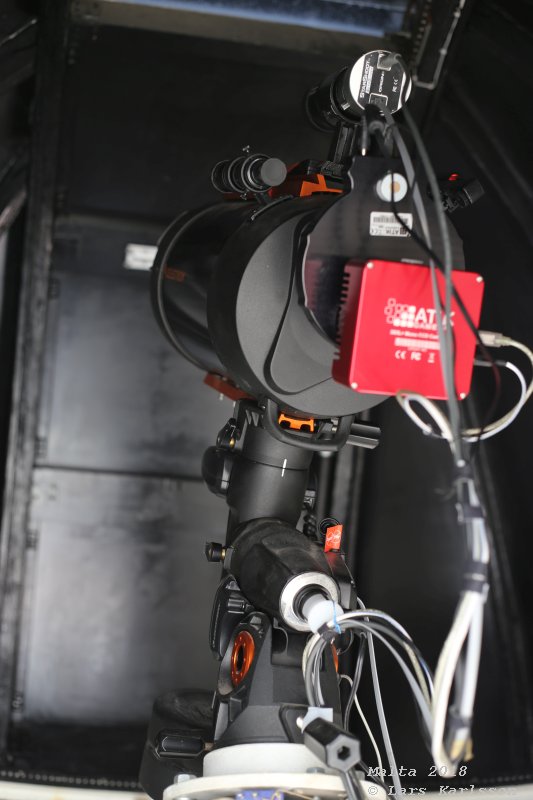 The observatory houses an 8 inch Schmidt Cassegrain telescope. The camera is of monochrome make with filter wheel, included narrowband H-alpha filter.
---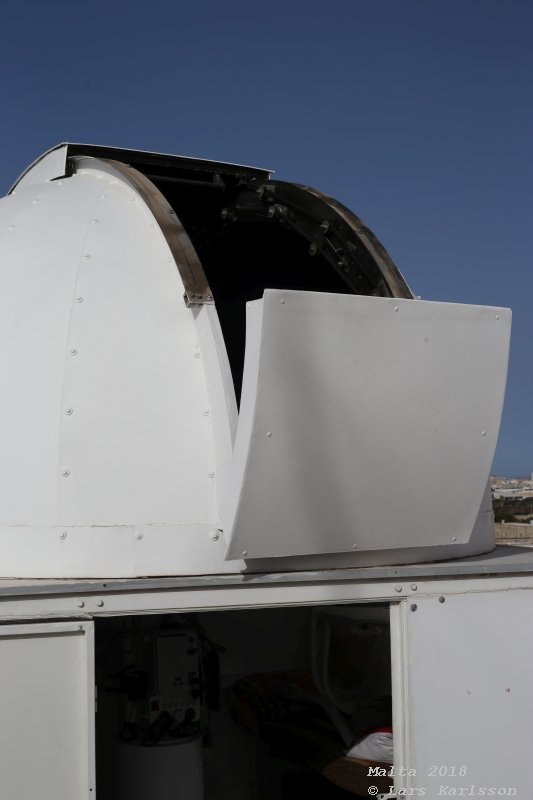 The opening of the dome is covered by two hatches, one upper and one lower hatch. Both electric motor controlled.
---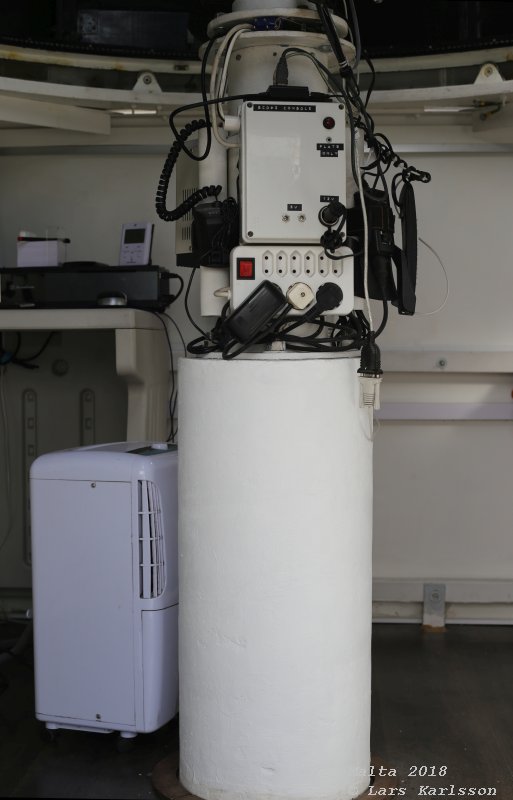 Heating ant anti dew equipment and a sub power central. When all running it can take up to 20 Amperes from the 12 volt power system.
---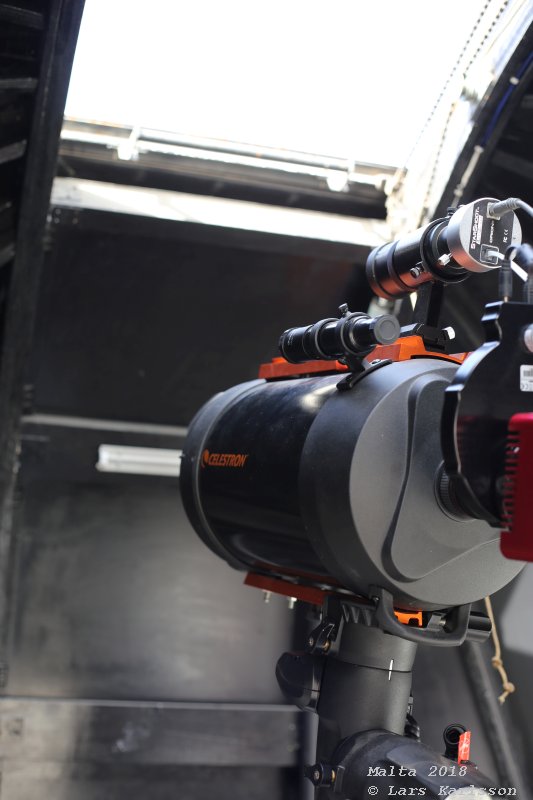 The dome is painted black inside to reduce glare. Inside the observatory you can stand upright, the building is about 2.2 by 2.2 meters wide and maybe 2 meters free space up to the roof.
---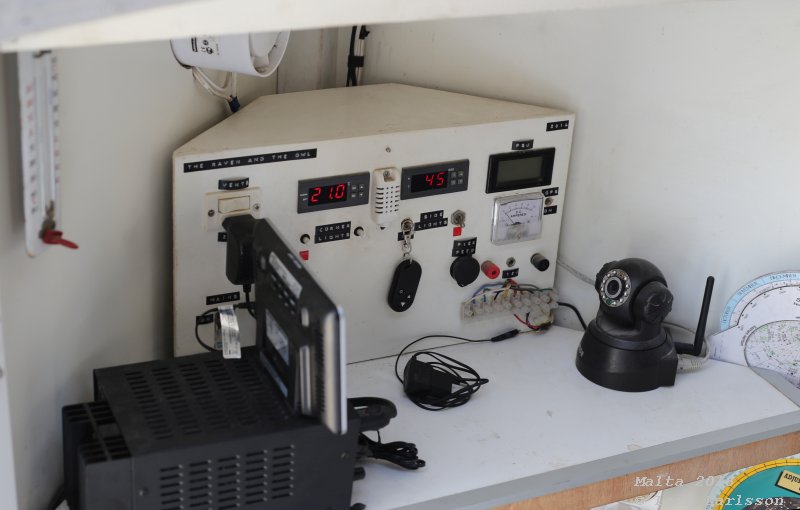 The control center with Voltage and Ampere meters. Also a web camera, used to have an overview when operating observatory by remote.
---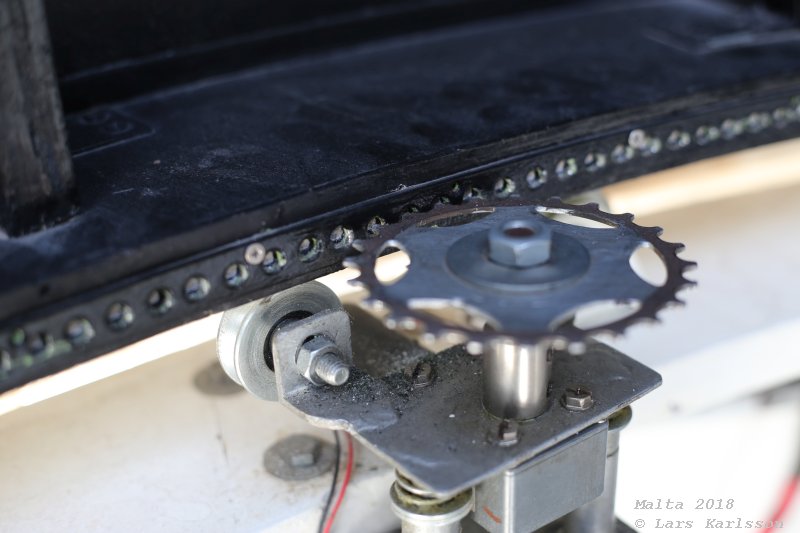 This motor operate the dome rotation. The steel rail with all its holes is drilled by hand, almost 6 meter long!
---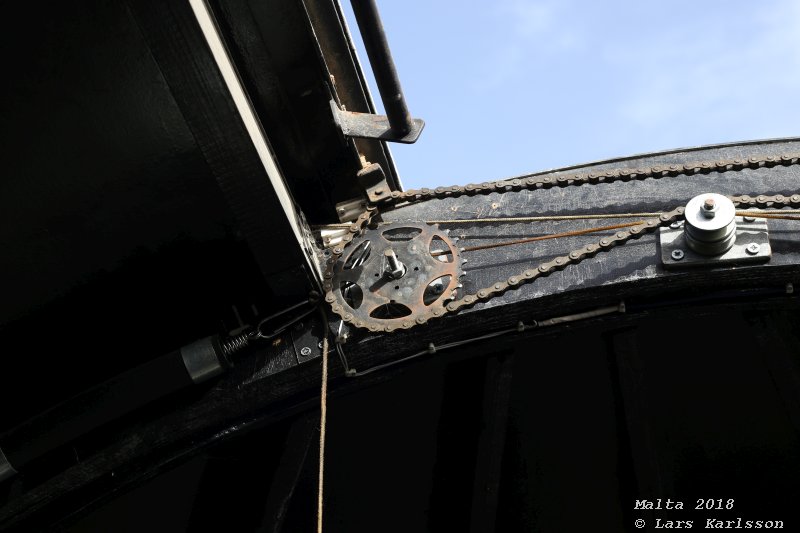 To operate the hatches they need to be balanced and with low friction rails. A chain with rollers and springs handle that, figured out by Maurice and some assistance from forums at internet. This is the upper hatch, fully open.
---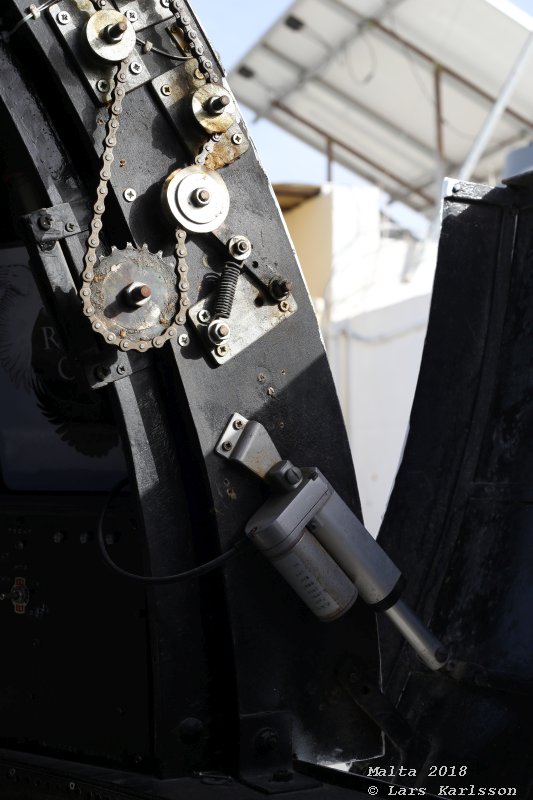 The lower hatch has its own actuator.
This observatory was very exiting to see, and in opposite to Sweden you can observe in plus degrees temperatures at this 36 degree latitude, at latitude 60 degrees in Sweden we often have minus ten degrees temperatures. I want to move to the south of Europe!
Here is a link to Maurice own homepage that describe the details:

Malta Observatory
(The Raven and the Owl observatory)
It's Maurice's daughter who have given the name to the observatory.
---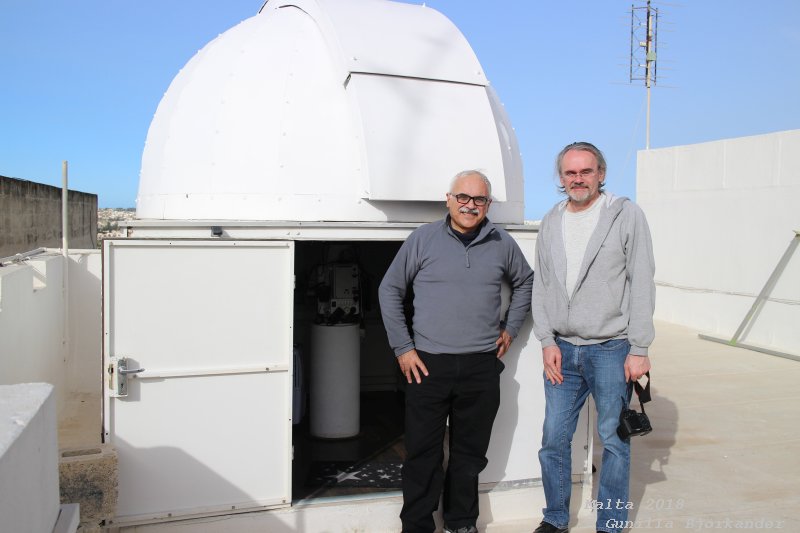 The proud observatory builder Maurice to the left, to the right myself.
Maurice also tell us this about astronomy in history at Malta:
I have checked on Lassel and his 24" was erected on St. John's Cavalier which is where Hastings garden is situated on the bastions of Valletta to the left of the main entrance. This telescope, the mirror of which he had ground himself, he took back with him to Maidenhead in Berkshire England, where he eventually died. Maidenhead is a small and pretty little town west of London. I remember it well because I even used to practice anaesthesia there long long time ago!
The huge 48" was erected in Tigne point in Sliema, across the bay, northwest of Valetta. In Lassel's time this must have been a dark and empty rocky outcrop at night with nothing but the sea around. It is VERY different now! It has become one of Malta's most expensive high-rise apartment areas and home to one of the island's largest shopping centers. Not much stars to see there at night probably but still a nice view of Valletta through a wine glass perhaps:) That telescope was carried from England to Malta by the British navy because of the influence of Lassel's friends on important persons back home and eventually when he retired to Maidenhead it was dismantled and scrapped. There is, as far as I know no museum or public display of astronomy in Malta. I am not a member of the local society but they do organize nightly observations in the Summer time sometimes.
Maurice
---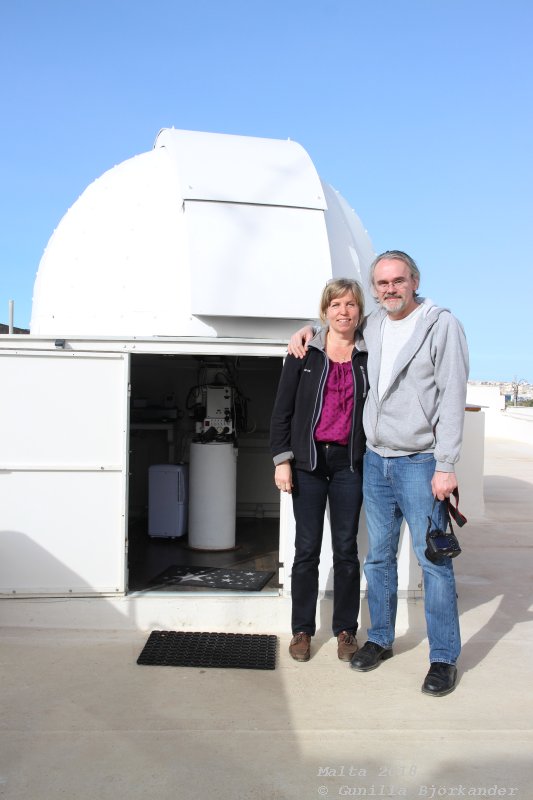 Gunilla and myself, now I have more ideas how I shall finish my own observatory.
We thanks Maurice and Marie Therese for a great day!
Here is a collection of links of the history of astronomy at Malta:
You have the full Malta travel story here:
---