My travels in Europe:
Eleven days by car in Scotland
---
Content:
---
Introduction:
I and my girlfriend wanted to visit Scotland. We investigated a lot of options, walk, by car, by train, rent a boat, go by bus. After some research we find that a car must be the best alternative. Not very expensive to rent a car and it gives us much more freedom. This was in August 2007.
I had spent a lot of time to arrange all the photos and write text to them. From 1700 photos I have chosen 270 to give you an overview of our travel. I want to share this to others that have plans to travel in Scotland. I have also a lot of links if you want to get deeper information of different places.
1. Edinburgh to Broadford, day 1 to 3:
Map of driving from Edinburgh to Broadford, 285 km:
Edinburgh:
After landing in Edinburgh and bring out the car we drive north. Edinburgh is Scotland's capital city and is located on the east coast, but Glasgow is the largest city and is located on the western side. Edinburgh's population is 5.3 million people.
The first part we drive on the freeway A90 which was not free, you have to pay about a pound to cross the bridge. Otherwise our plan is to keep us on the small roads. To drive on the left side turns out to be no problem.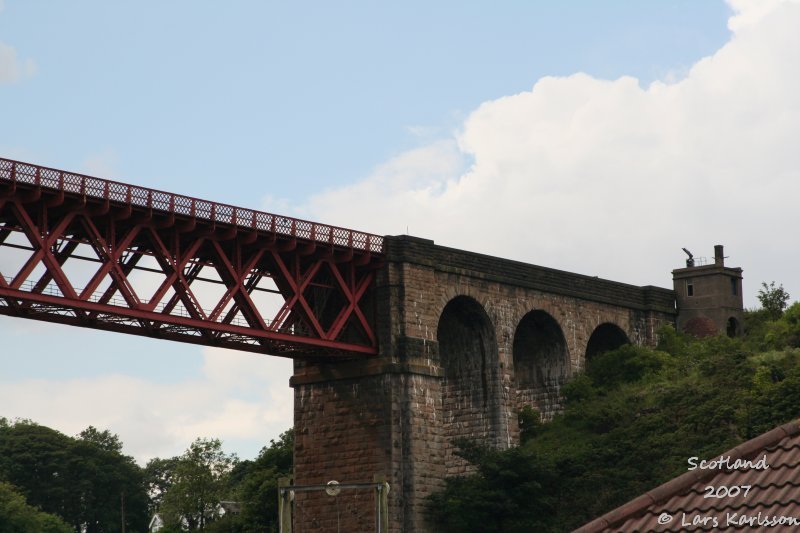 Forth Bridge. In north the railway bridge land in the North Queensferry. I will tell you more about this bridge when we are back at the end.
---
Burntisland: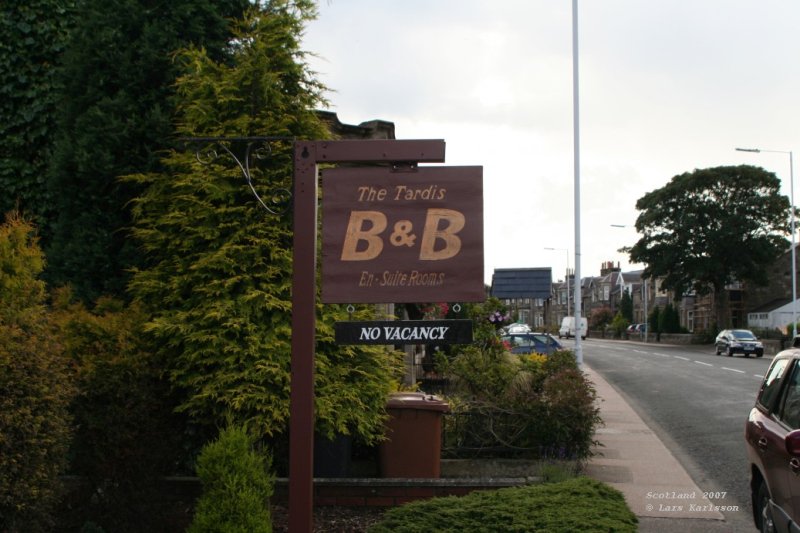 Once in Burntisland after various wrong turns we start looking for somewhere to stay. We didn't pre-booked anything, taking it as we where at the end of the day. You find signs like this everywhere, you don't have to call to book in advance. We was advised to get a room before 7 pm, after that time they maybe take down the free vacancy sign.
---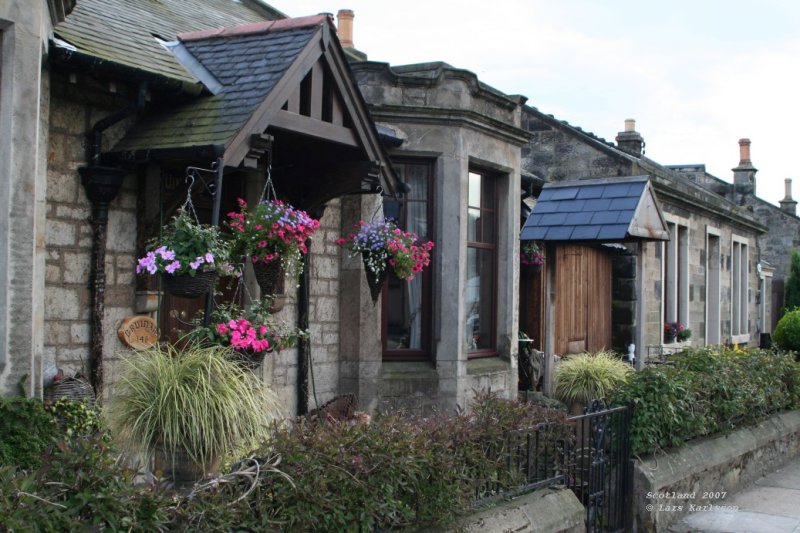 This is what most of the houses looks, built of gray hewn stone or stones cast of slag from the industry, just as we have in Sweden. They give a very nice impression!
---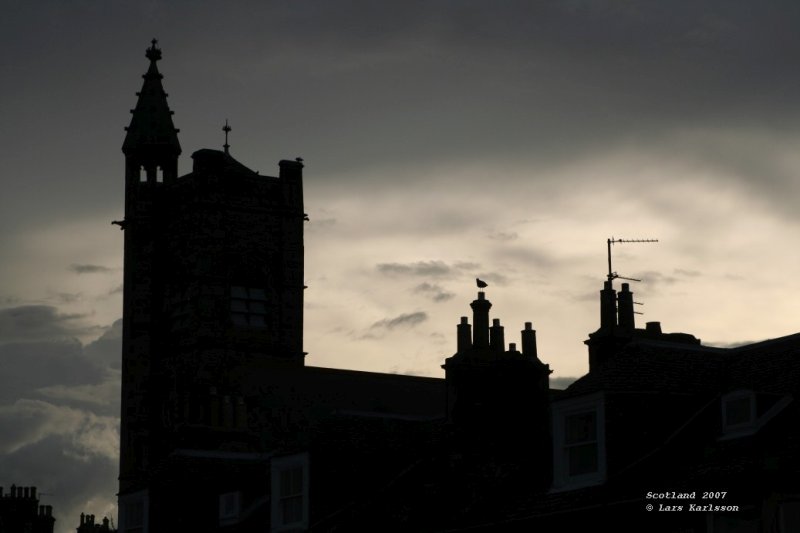 After we had installed us in our room we took a short evening walk before we got to bed, we're pretty tired after all the traveling from Sweden to Scotland.
---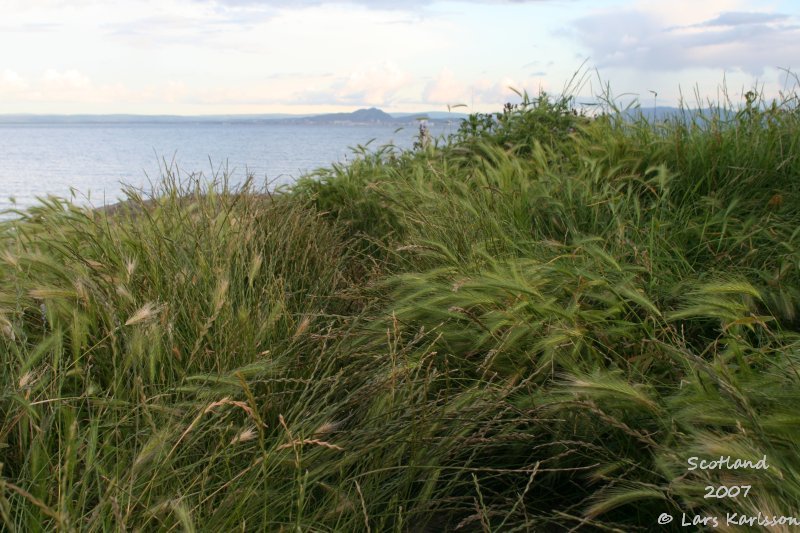 It's not far from North Sea. Before the bridges there were ferries here that crossing the bay, on other side you see Queensferry in Edinburgh.
---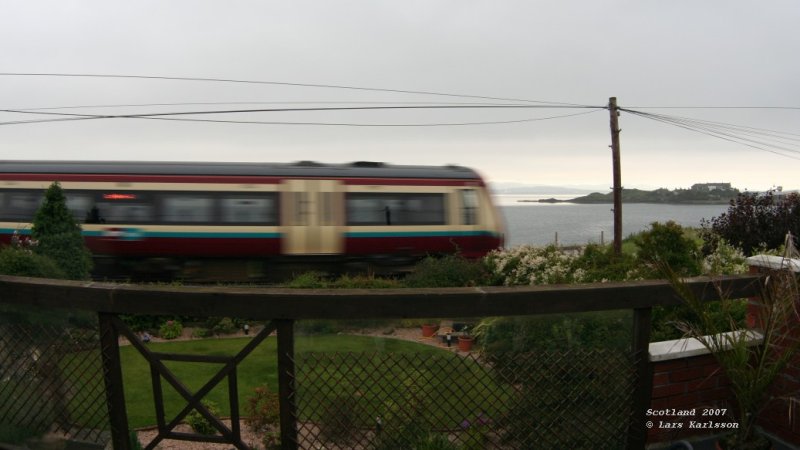 We wake up dazed by the trains rumble that past just outside the window.
The host invites us down for breakfast and we get a chat with him. He warns us, don't drive along the east coast where there are a golf tournament and all are chaotic!
---
St. Andrews: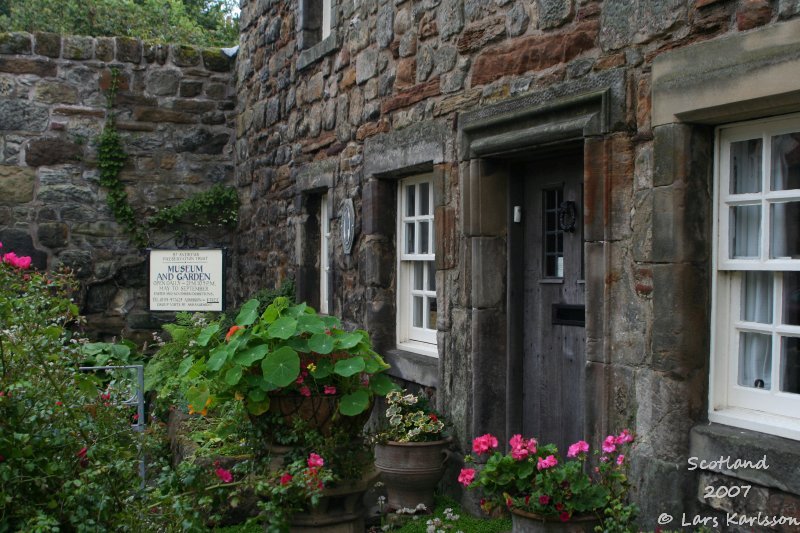 Despite warnings about the chaos we went a bit further along the coast to see the ancient ruins of St. Andrews. The museum in St. Andrews was not open today.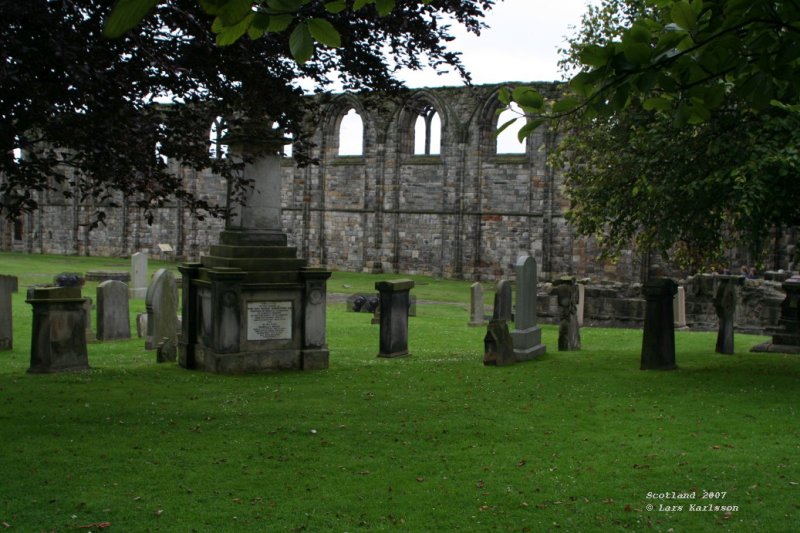 This is the St. Rule's Church founded around 1160.
---
---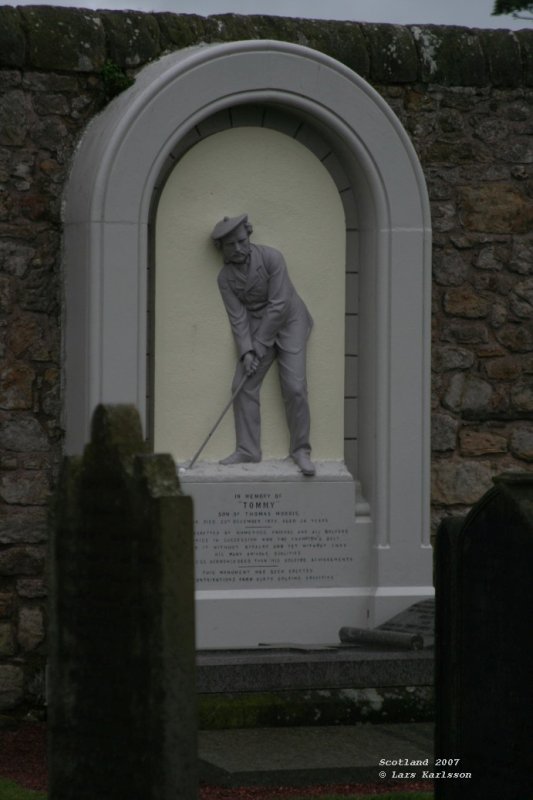 After going around on the old beautiful cemetery we see this tombstone. Now we understood that we ended up in golf players paradise!
---
Abernethy: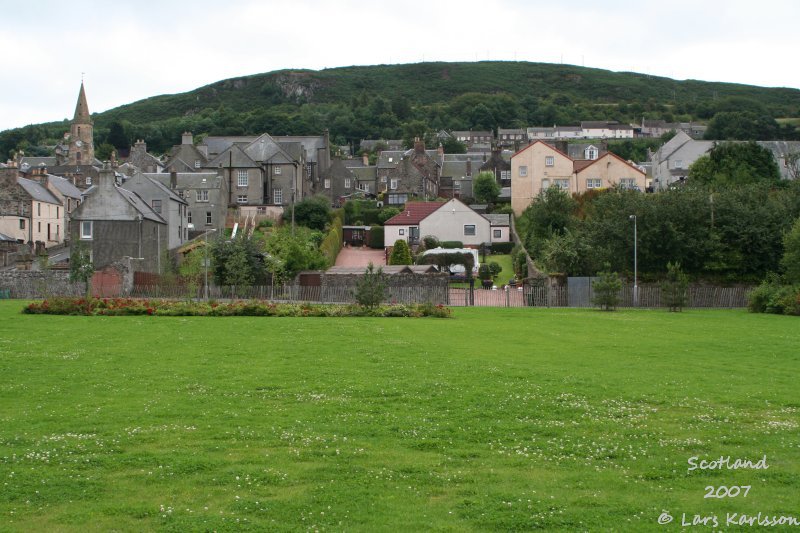 After St. Andrews we head for Perth, on the way we find Abernethy and we stopped to have a look.
---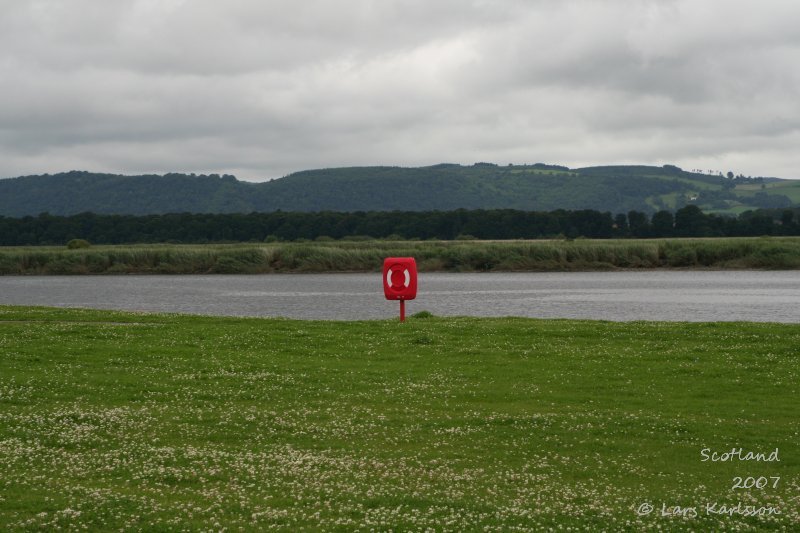 ---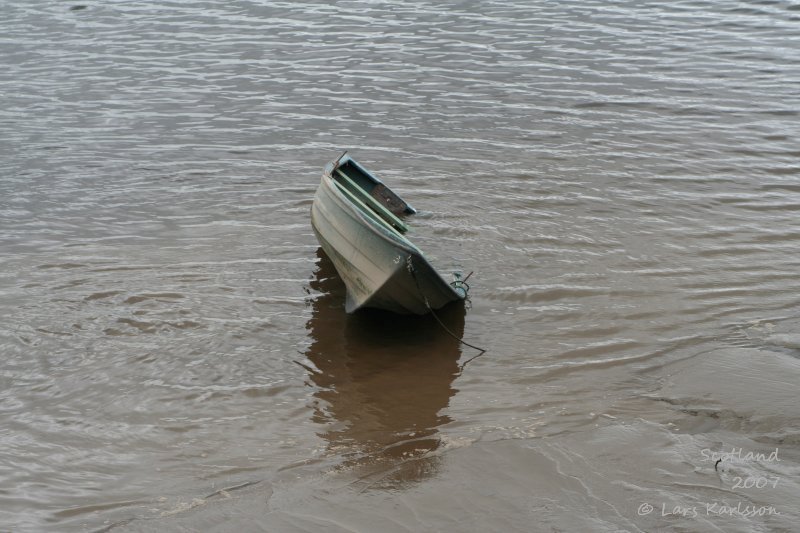 You will see many places where "Loch" name is included, it means lake.
---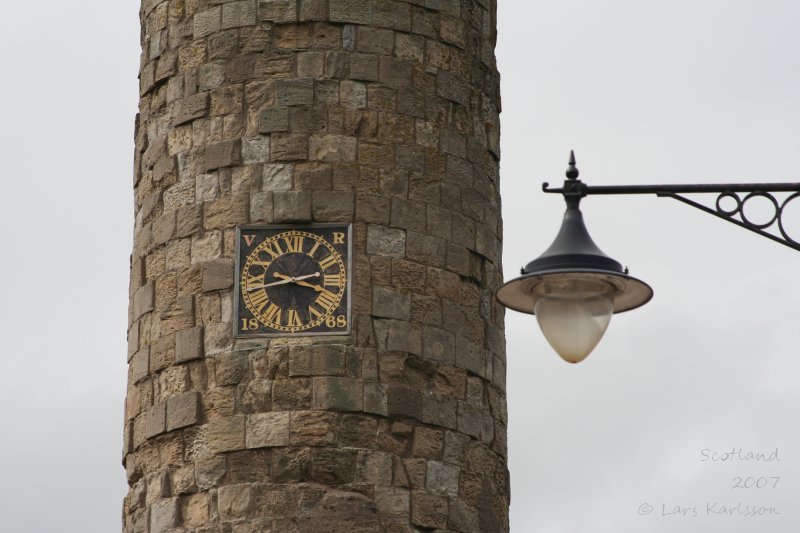 After a walk in old town we find this tower, 22 meters high. To get in the tower we need a key, we found it in the nearby tea shop.
---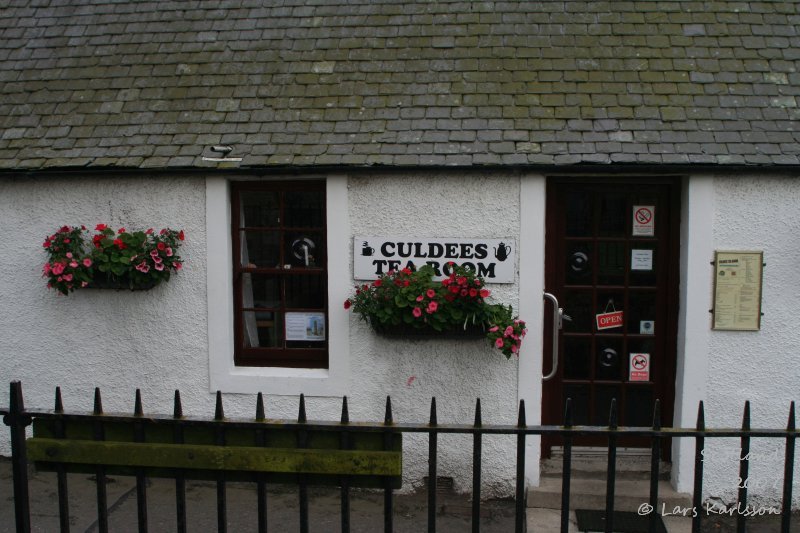 Culdees Tea Room, here we find the key to the tower.
---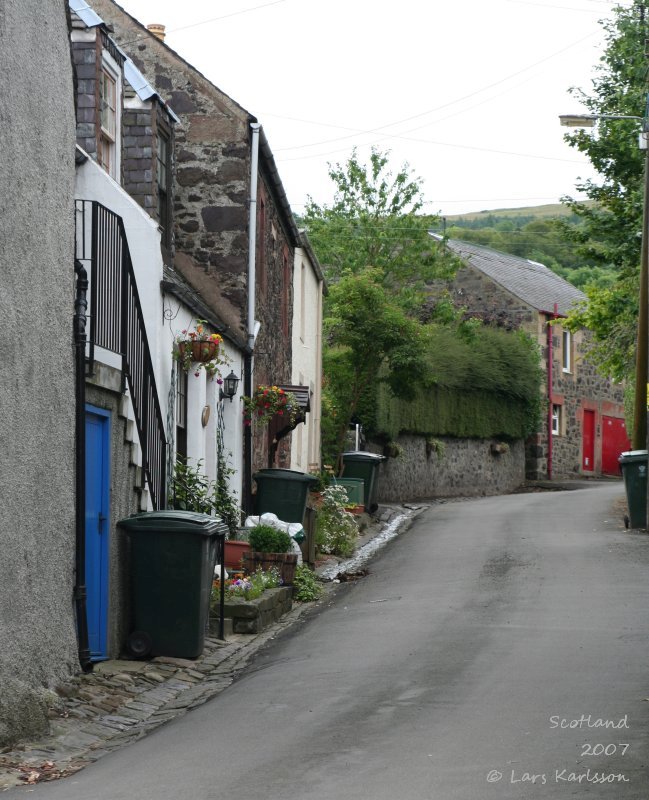 ---
Perth: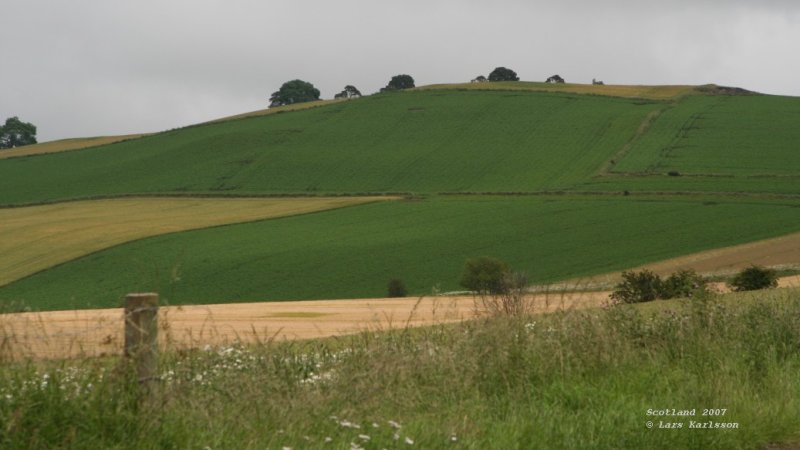 After leaving Abernethy we drive along the small roads towards our days goal, Perth. Here we experience a beautiful green field, just as we had imagined Scotland.
---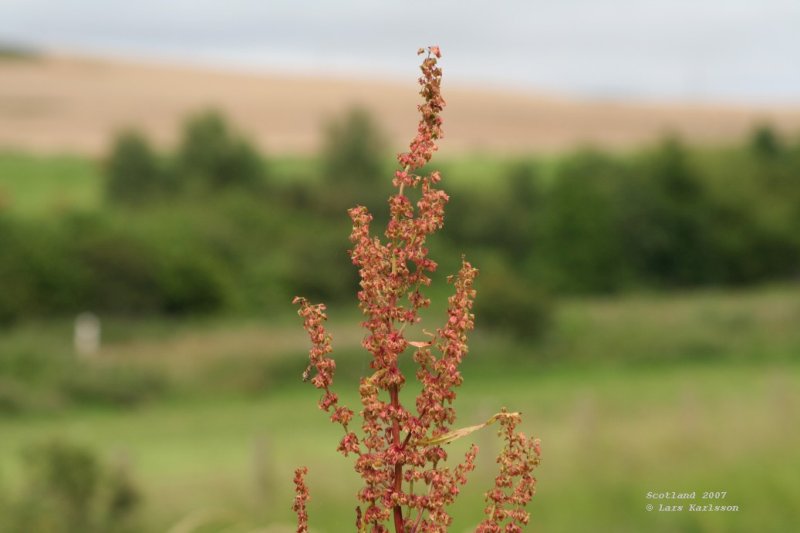 ---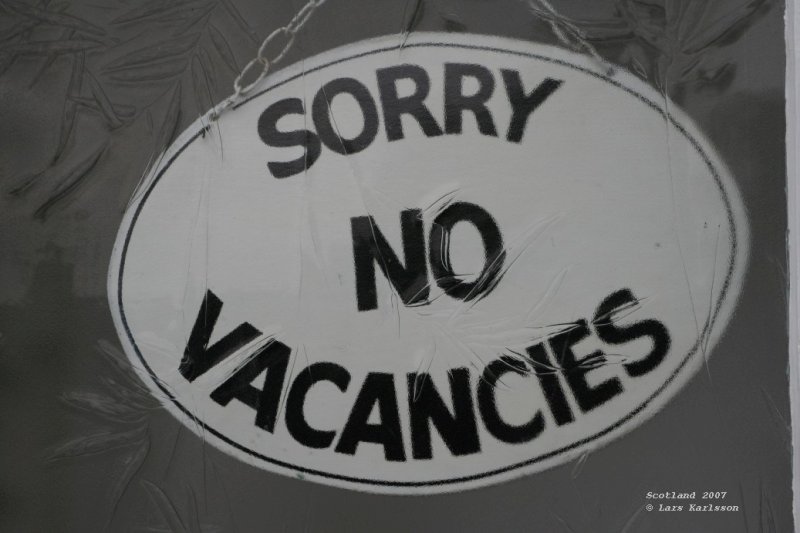 Arriving in Perth we start to look for somewhere to stay. We had to drive around some blocks before we found any free B&B.
---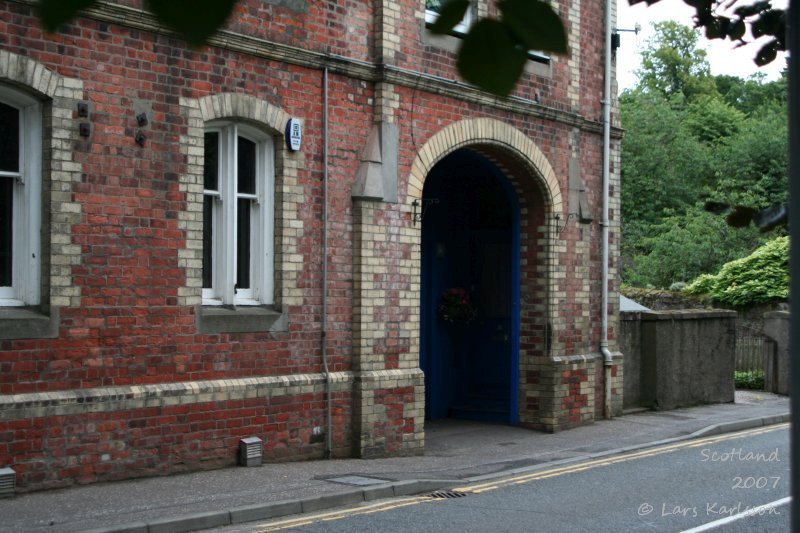 After we had our room we took an evening walk.
---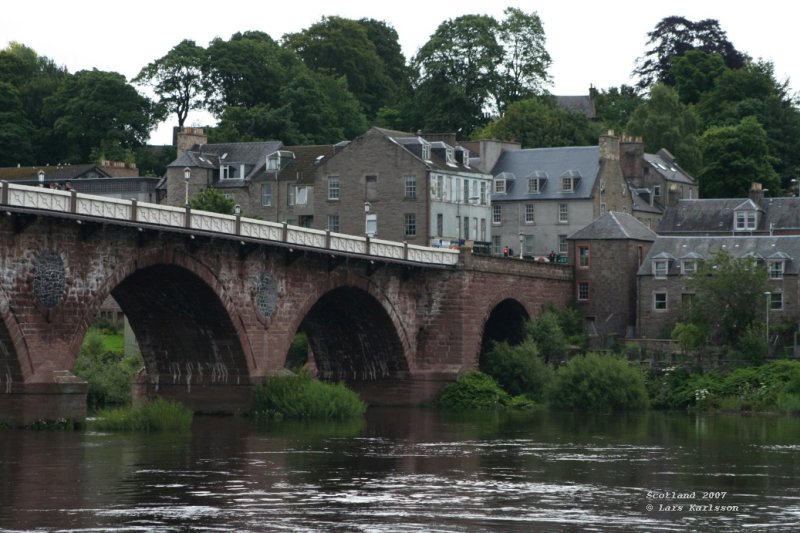 A beautiful old bridge leads us into the old part of Perth. It was built already in the 17th century but have been rebuilt and adapted to nowadays car traffic.
---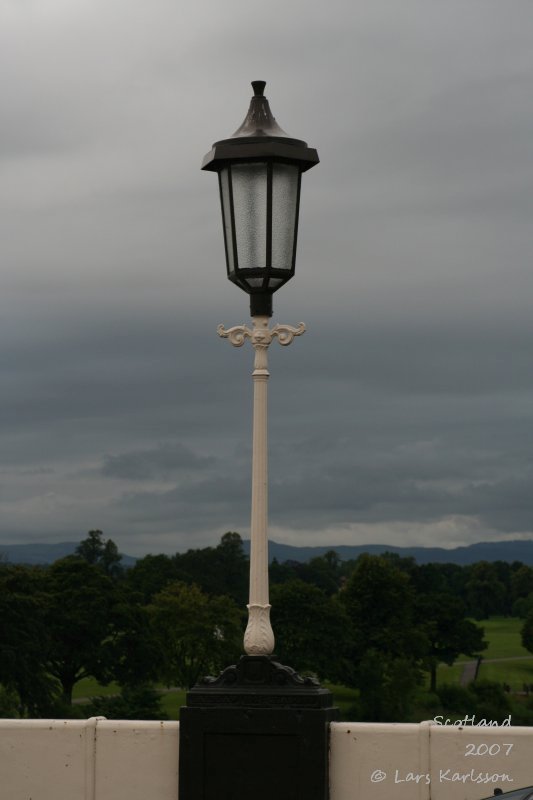 ---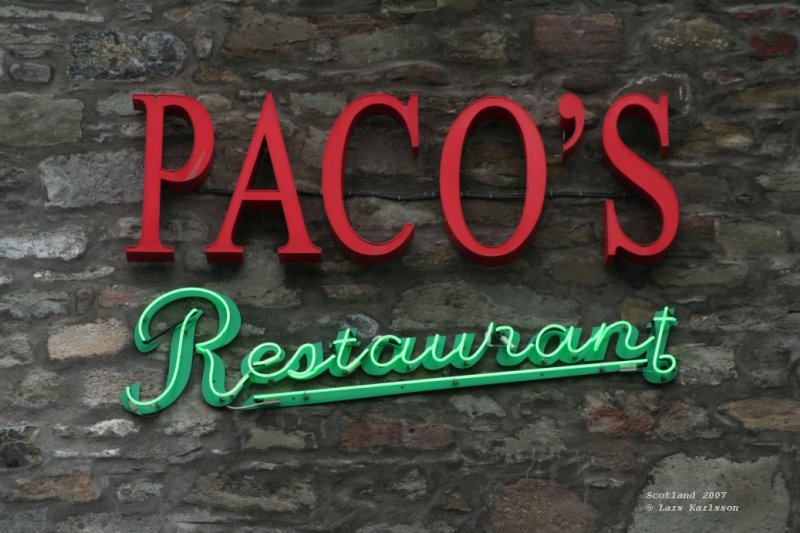 The food in Scotland is perhaps a little difficult to appreciate, but lucky us, we found a nice restaurant, the Paco's, a little like the Hard Rock Cafe. It is usually cheaper to eat here in Scotland than in Sweden.
---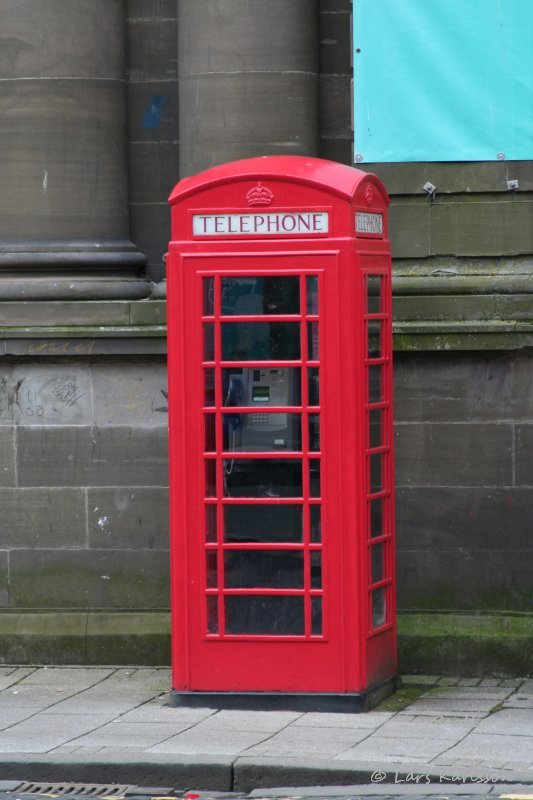 This is really British !
---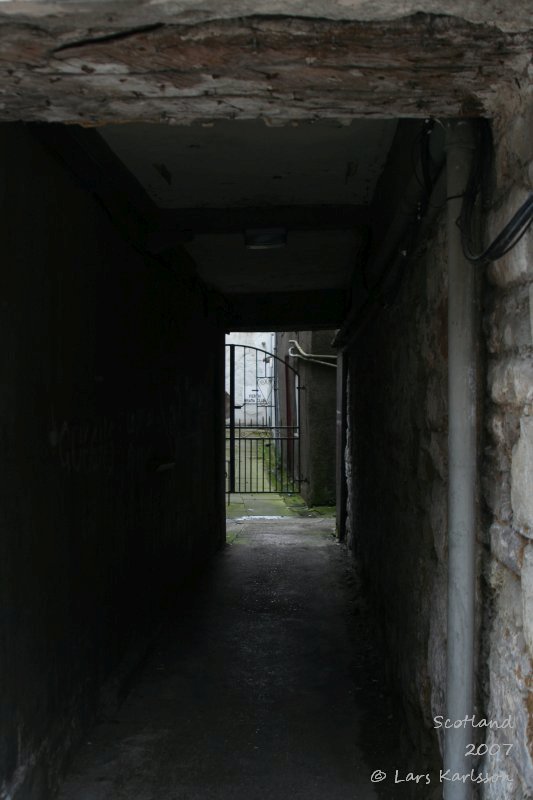 ---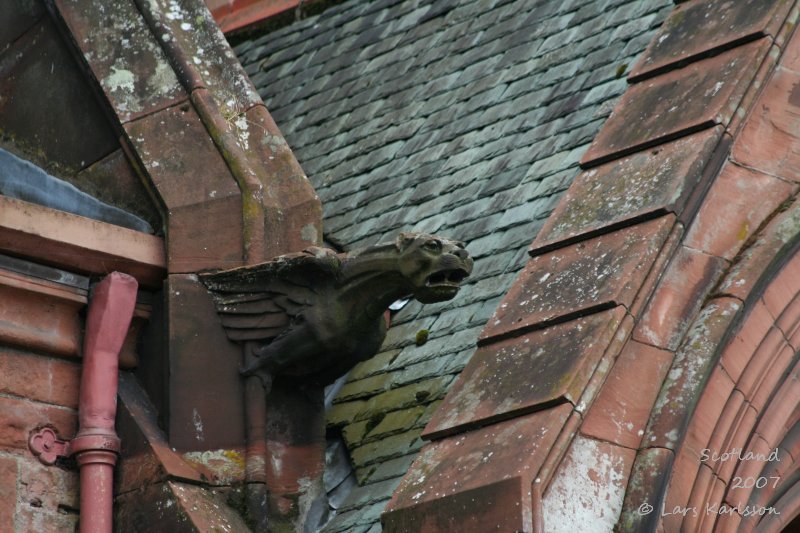 ---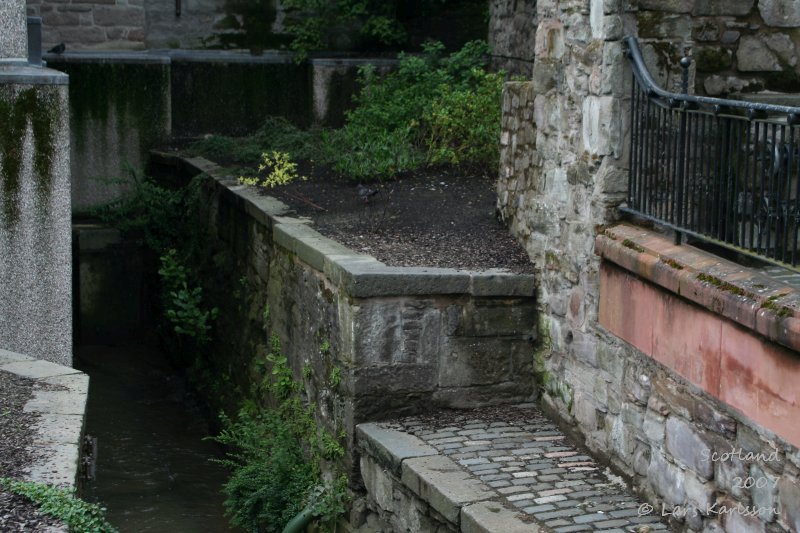 This look to be a part of an emergency system. In case of flooding they can open canals through the city.
---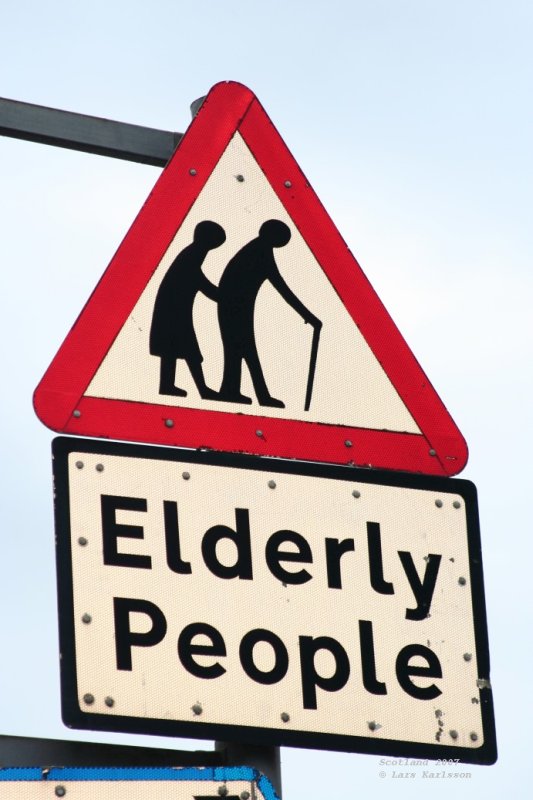 On the way home to our room suits, we look carefully to not come across the Elderly People they warns us about.
---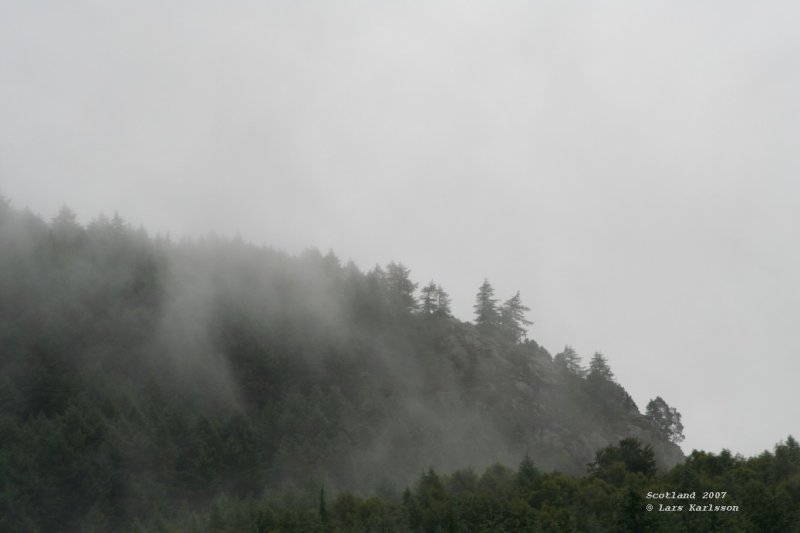 When we leave Perth and head north, we reach the Highlands. Here, nature are very similar to what we have in Sweden, spruce, mountains etc. They have however, a lot of sheep and goat grazing in the valleys that we might not see at home.
---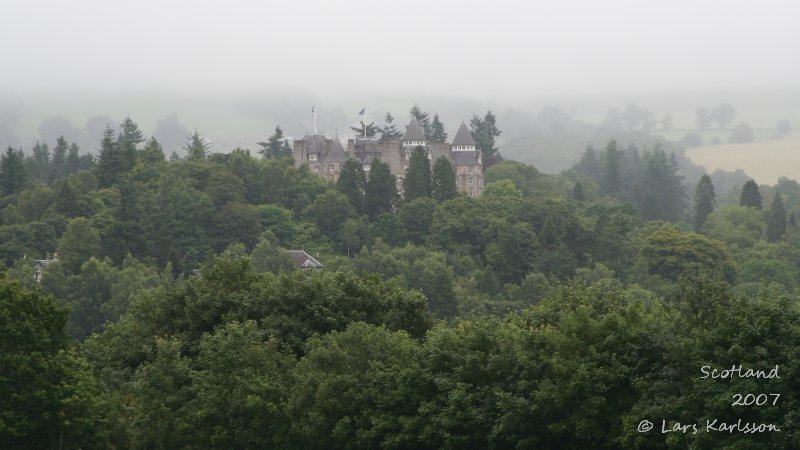 ---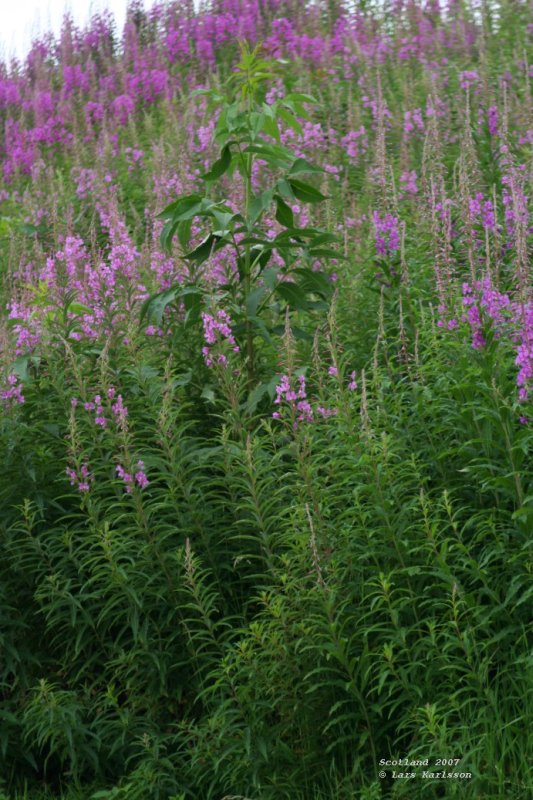 ---
Kingussie: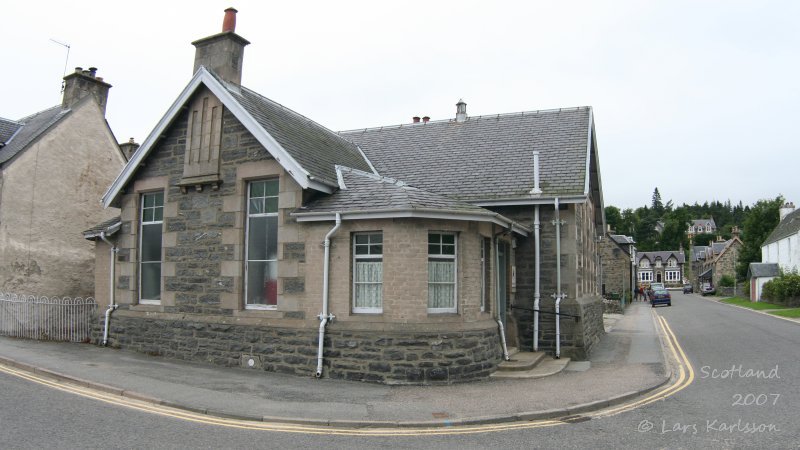 A short stop in Kingussie.
---
Ruthven Barracks: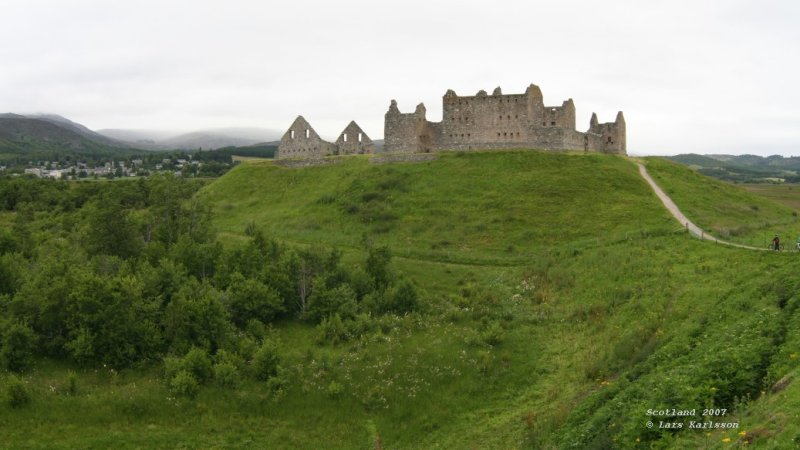 Ruthven Barracks, here we find our first old castle. It was completed in 1721 and was part of a defense that they built up in that time.
---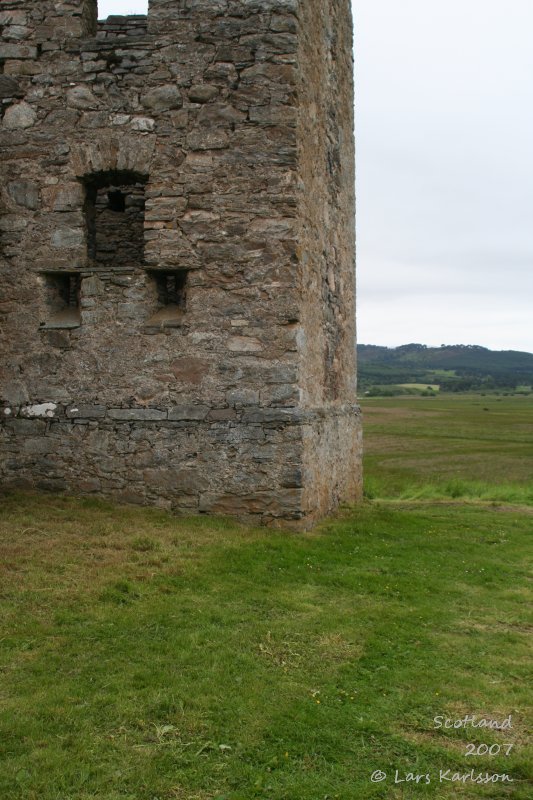 ---
Loch Insh: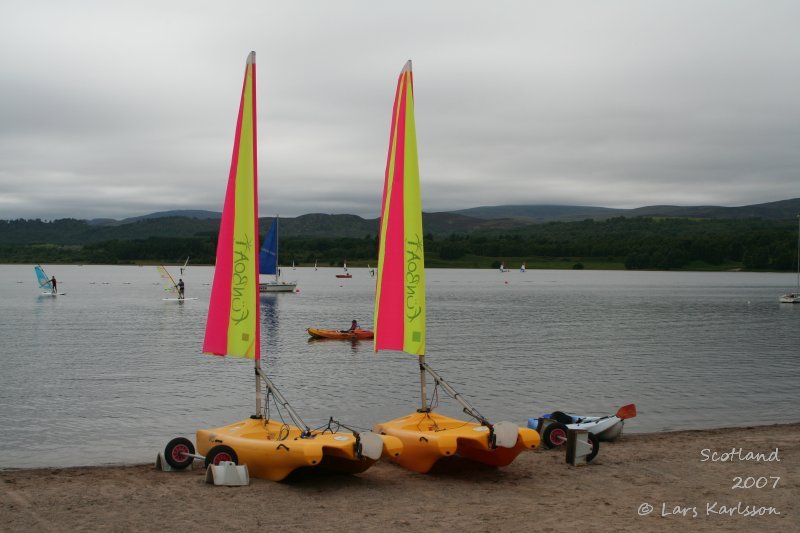 All people talk about a beautiful lake, we find it, Loch Insh. In this place we also found a ski slope with lift. As replacement for the snow the hill was equipped with brushes, seemed to work well.
---
Loch an Eilein: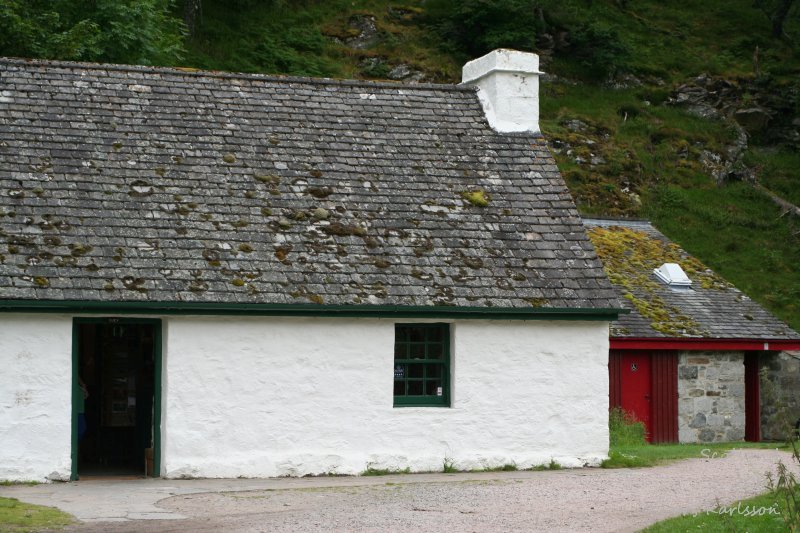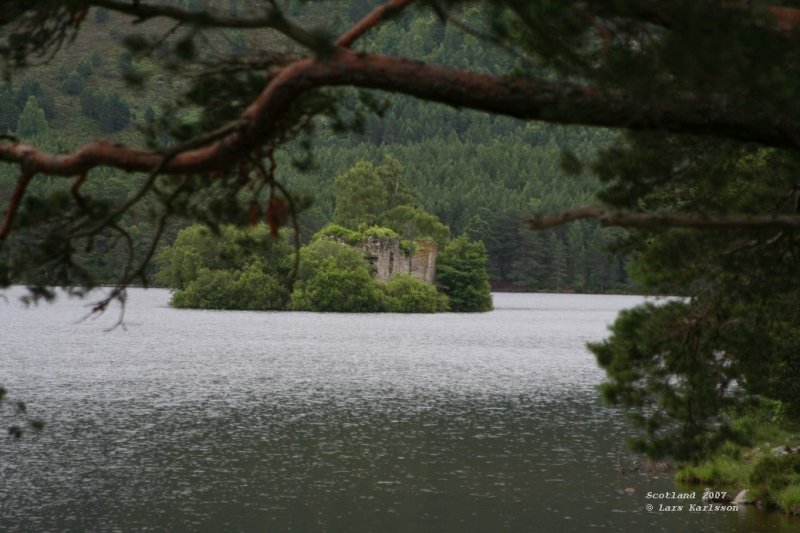 Loch an Eilein, here in this beautiful environment lies this castle. In old times guarded the shipping that crossing the lakes, today remains only a ruin.
---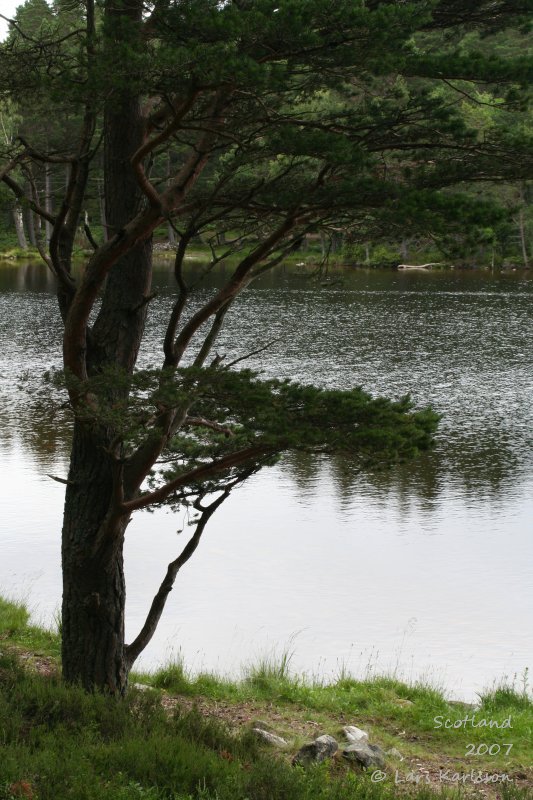 ---
Aviemore: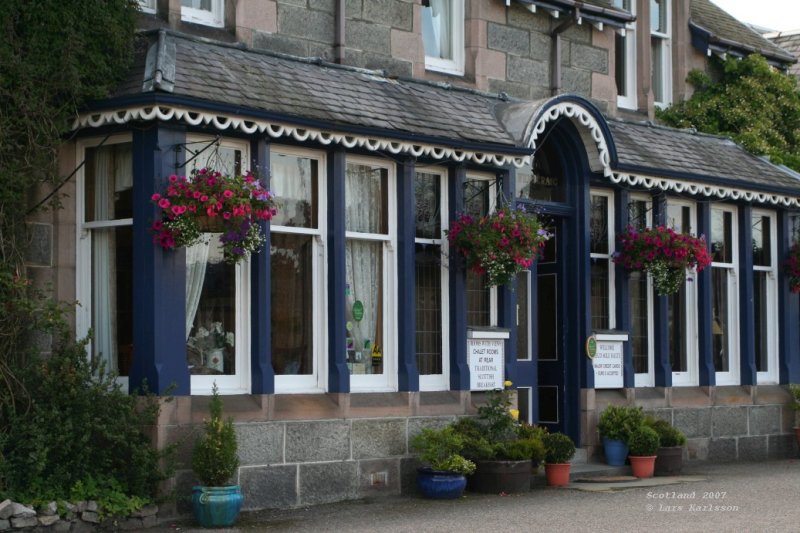 Aviemore, here we have now found a place to stay at. It is a ski hotel, something we didn't expect to find in Scotland. To breakfast they offered juice, toast, but also significantly steadier things like fried potato, sausages and other greasy things. Hungry, we did not go.
---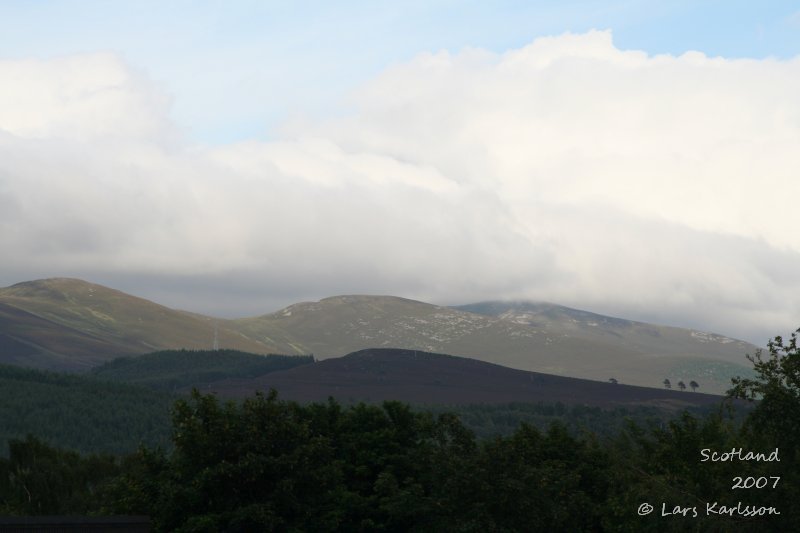 Is it here they are doing the skiing ?
---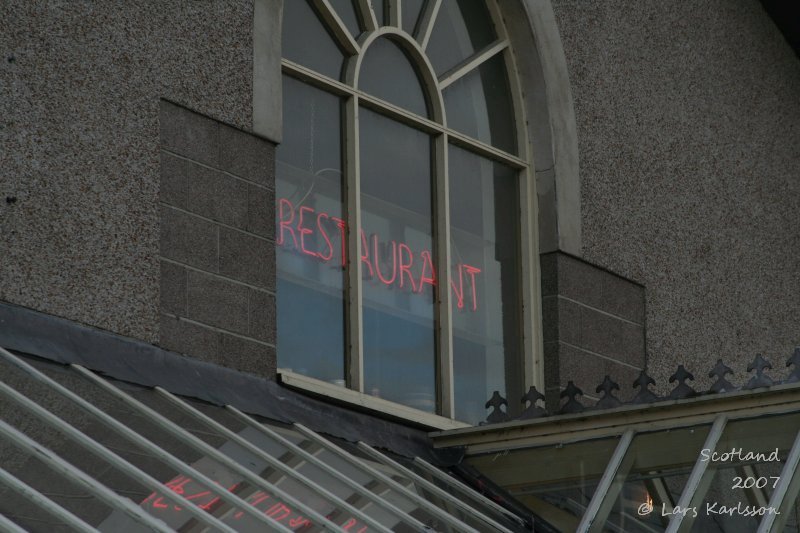 Now at evening we are hungry, we find a restaurant with tasty food. After this we walk home to our room and get to sleep.
---