My astronomy project:
DIY 3D-printed medium format off-axis adapter
with two filter drawers
---
Content:
Note:
I take no responsibility or liability for what are written here, you use the information on your own risk!
---
1: 3D CAD with ideas
I have always liked these big medium format cameras, once I had a Pentacon SIX (6x6 cm film) system with Carl Zeiss lenses. With this in mind I have planned my equipment. I have one TS130 APO refractor (910 mm fl) with 3" focuser and a 3" field flatter. My other is a Pentax 645 300 mm ED f/4 medium format lens. With the latest model of medium format cameras with mirror less construction and modern Sony CMOS sensors it's both better and cheaper. Normally the size of these sensors are 44x33 mm, both the telescope and lens above should handle this size easily. But the cameras are not without problem. Mirror less cameras has no optical viewer and then the live view is always on and heat up the sensor, it cause thermal noise. One of the cheapest MF cameras is the Fujifilm GFX 50R, about 2000 Euro used, but it has the pixel eater problem. And I'm not sure if any of them can be remote controlled like the Canon EOS cameras can.
Until the perfect cameras has arrived I plan how to solve other problems. A medium format off-axis adapter. My latest easy travel 300 mm system is a bit heavy because I use a separate guide telescope. If I in the future can replace it with an off-axis guider it will be more compact and lighter, higher guiding precision too. I have experience from off-axis guiding with full frame sensors. With a DSLR cameras the off-axis must be of thin type (11 mm wide), with that the tube that go to the guide camera is very narrow and block the light and give a narrow field. With medium format lenses and mirror less cameras I have much more back focus to work with.
---
Design ideas in 3D CAD: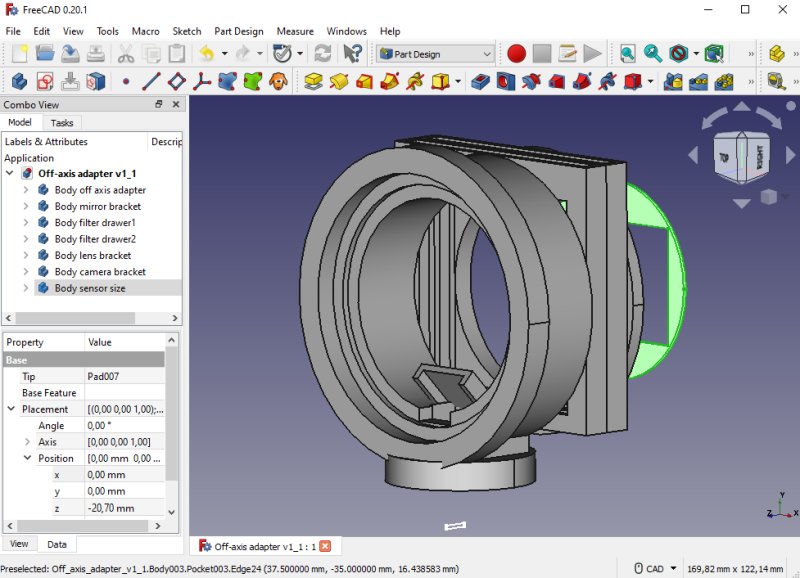 This is my first design idea how to solve all problems that I have with earlier off-axis adapters. In this case I designed it for my Pentax 645 system, it has a back focus of 70.87 mm compare to my Canon lenses which has 44 mm. If I take the Fujifilm GFX medium format cameras as an example, the mirror less camera has a back focus of 26.7 mm. It means that the distance between the flanges of lens and camera is 44.17 mm. How much can I squeeze in between ? The green dish is the sensors size, 44x33 mm.
In the CAD above I had inserted a lens adapter, off-axis adapter and two filter drawers and last the camera adapter. I got to fit it with the length of 44.17 mm. All building blocks are separated in the CAD to be flexible to adapt to other lenses and cameras.
---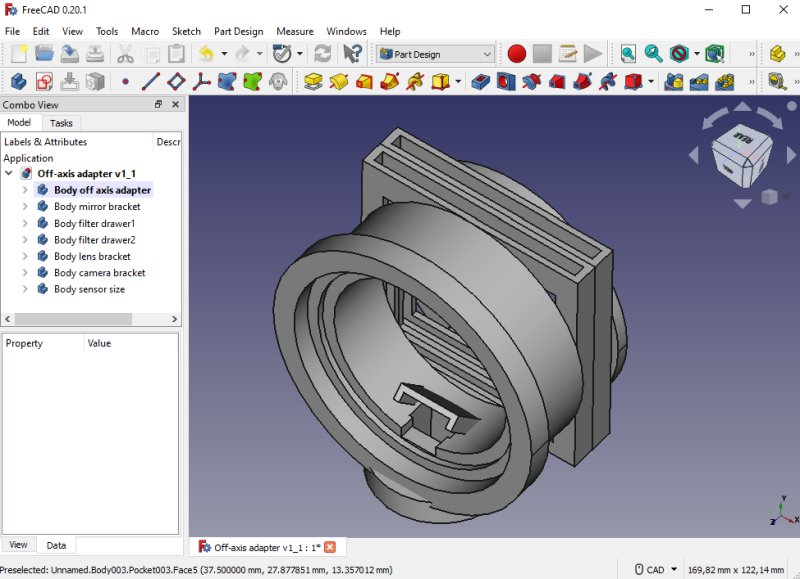 View from above, the two filter drawers. Each can hold at maximum a 65 mm square filter. With these big filters it isn't practical to use a filter wheel. One filter can be a pass band filter, 380 nm to 680 nm. With lenses the wavelength range must be limited to not cause soft sharpness. In the second filter box, red, green or blue filter, or narrowband filter.
---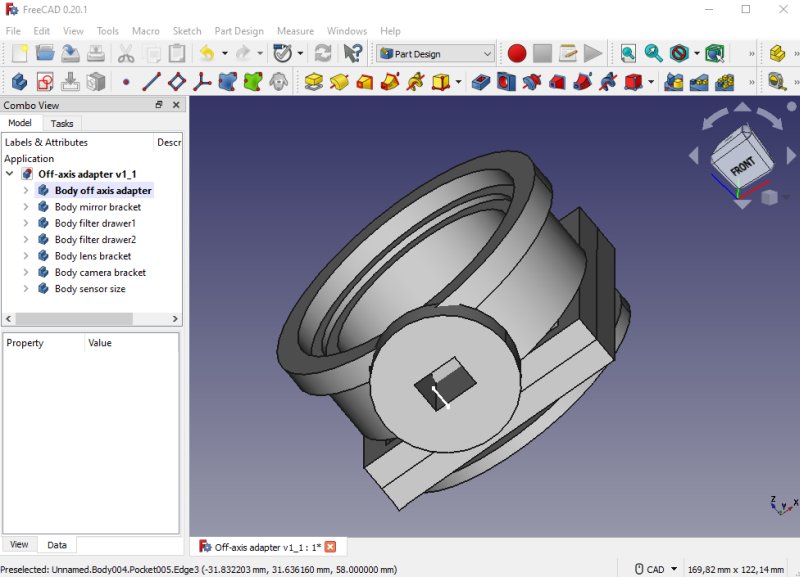 View from bellow, a big 18x12 mm rectangular opening let a wide light beam pass through. With off-axis guiding you have normally longer focal length compare when you use a separate guide telescope. To compensate for the narrow field this big hole let you use bigger sensors.
---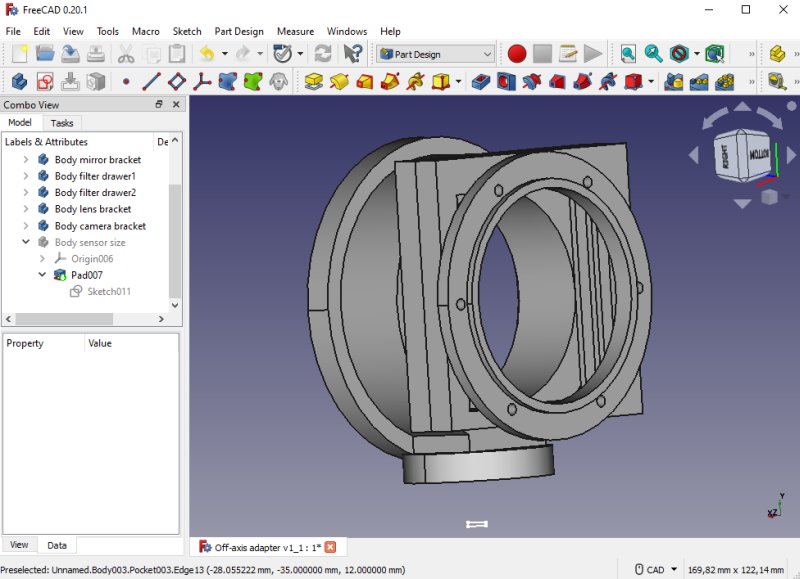 View from the camera side, it can connect to the camera with a bayonet or maybe use the camera's screws for the flange.
---
Lens bracket block: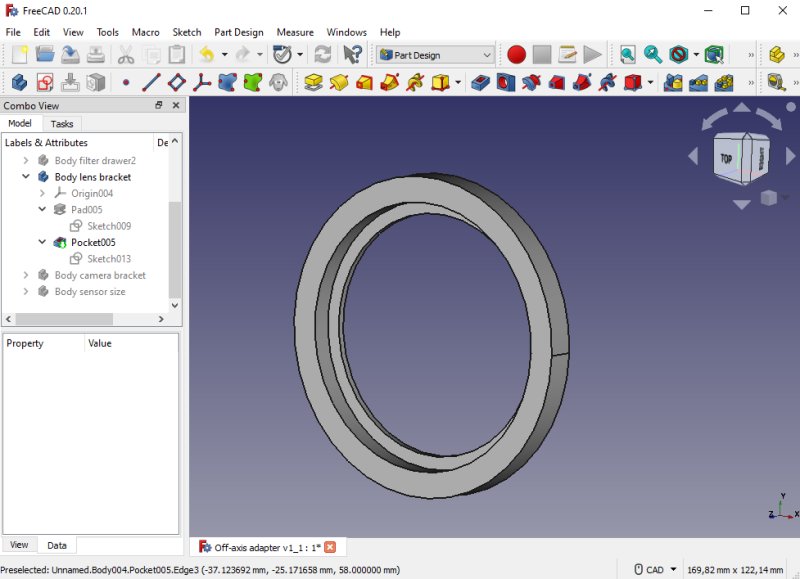 The first block, the adapter that connect to the lens, a Pentax 645 system lens. It's 8 mm wide but only built 2 mm on the wideness, the other 6 mm goes around the lens on its outside. For the telescope another adapter is needed, but not any problem because it has even longer back focus. Later I add three supports where it can attach to the lens bracket.
---
Off-axis block: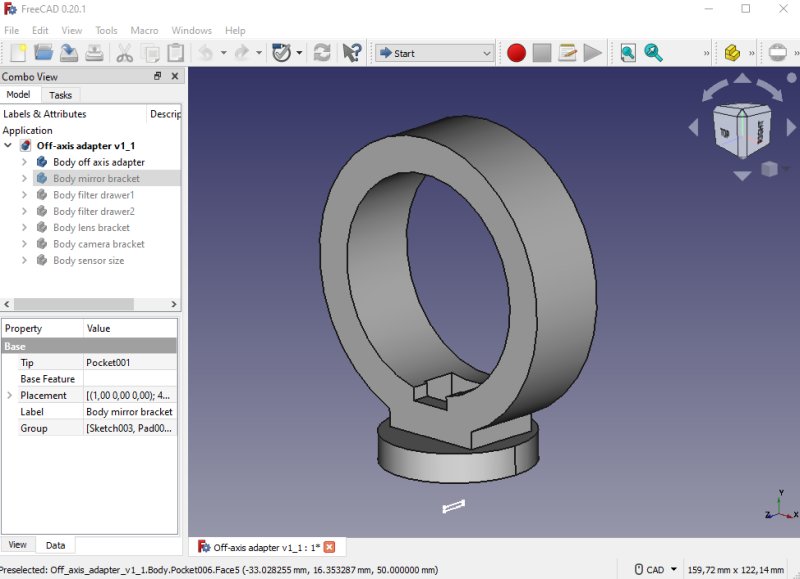 This is the block with the off-axis adapter. It is 22 mm wide, with this size the opening to the guide camera can be much wider. The center opening hole is 60 mm in diameter. The small white rectangle at bottom is the guide sensor. The distance from the flange to the sensor is 9 mm, it can be increased a bit if it's too short. The cylinder at bottom represent the T2 connection, M42x0.75 mm.
---
Mirror bracket: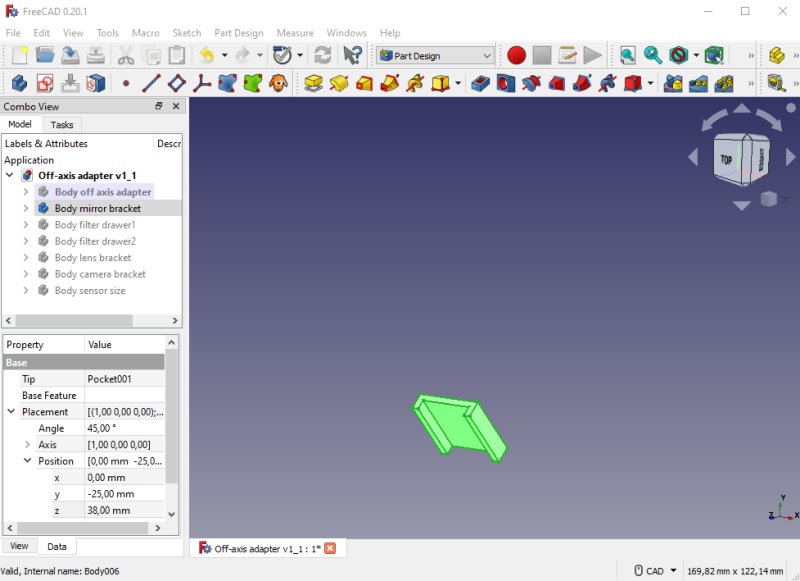 This is the diagonal mirror bracket and it's an integrated part and the off-axis block. It has an angle of 45 degrees and i's not adjustable up and down, it has a fixed position to get clear from a sensor of dimension 44x33 mm.
---
Filter 1 and 2 block: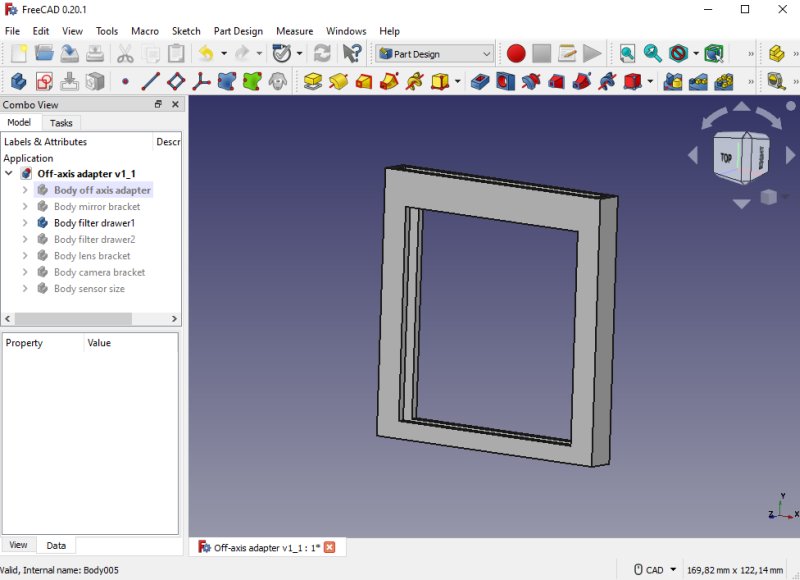 The filter drawers accept up to 65x65 mm square filters. They have to be mounted in a drawer box that inserts in this filter chassi. Each filter block is 8 mm wide, it needs more material around it to be strong enough.
---
Camera bracket block: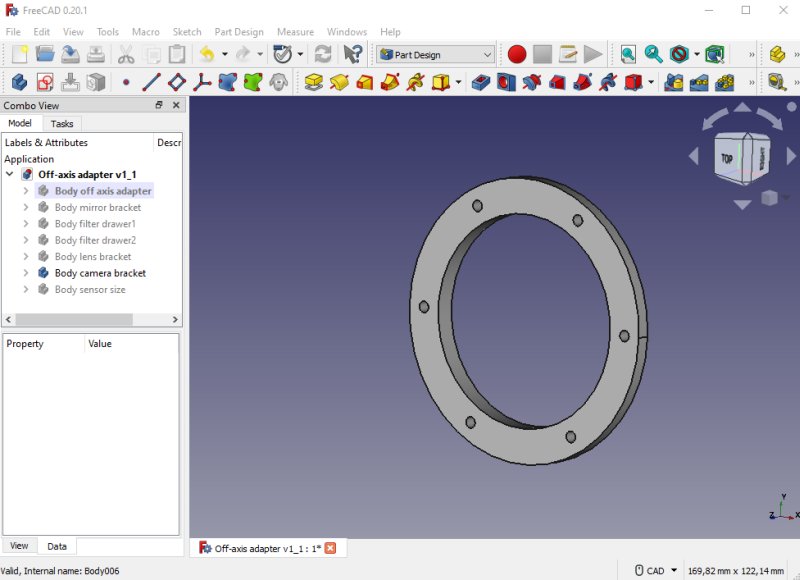 The last part, the adapter that connect to the camera. It's 4 mm wide plus the flange. Medium format will be in the future, I can easy adapt it to a Canon RP mirror less camera.
---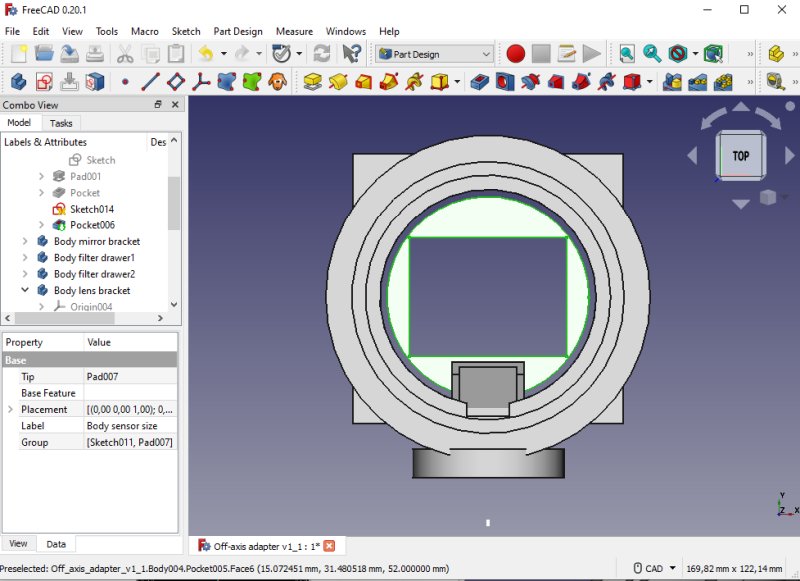 A view from the lens towards the camera sensor. It need an image circle of at least 55 mm compare to full frame's 44 mm. I can open up the hole by a mm or two, it's space enough for that.
Maybe this will only be an idea, but now I at least know that there is space enough between the optics and the camera to have this off-axis system between. For you that are worried about the plastic, it's possible to hand it over to someone who has a metal 3D-printer.
---