Seminar report:
How does the galaxy cluster environment affect molecular gas and star formation ?
The ALMA Fornax Cluster Survey
---
Contents:
---
How to get an interesting day:
This is for you that hadn't the chance to participate at the seminar, a very brief overview.
ALMA is short for "Atacama Large Millimeter Array", a big cluster of radio antennas placed at Chile. The Fornax Cluster is a big cluster of galaxies 100 million light-years away, the second biggest in our neighbourhood.
Some useful links:
ALMA and Fornax Cluster:
---
How does the galaxy cluster environment affect molecular gas and star formation ?
By Nikki Zabel
You can read her abstract here:
"When many galaxies crowd together in a small space, the environment gets harsher and more stressful for them. As a result, they wear out more quickly and retire younger than their peers in less populated areas: their star formation is quenched rapidly. This is why in galaxy clusters we find a large fraction of early-type galaxies compared to late-type spirals, which are much more common in the field. It has been known for a while that the responsible mechanisms for this early quenching, such as ram pressure stripping, galaxy-galaxy interactions, and starvation, play a significant role in removing the atomic gas from galaxies. If they are able to also directly affect the much more tightly bound and centrally located molecular gas, is less obvious. Since this gas is the direct fuel for star formation, this would have important implications for the evolution of cluster galaxies, and, with many galaxies residing in clusters and groups, galaxy evolution in the universe. With the ALMA Fornax Cluster Survey we study the molecular gas in Fornax cluster galaxies to find out whether the molecular gas in cluster galaxies can be removed directly through these processes, and how this affects their star formation."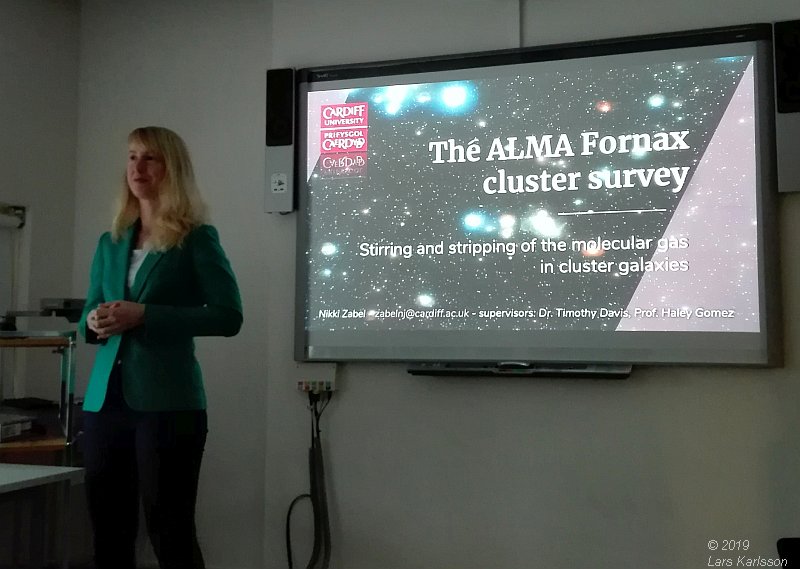 Nikki is a PHD student at Cardiff University, the seminar was held at Stockholm University 2019.
---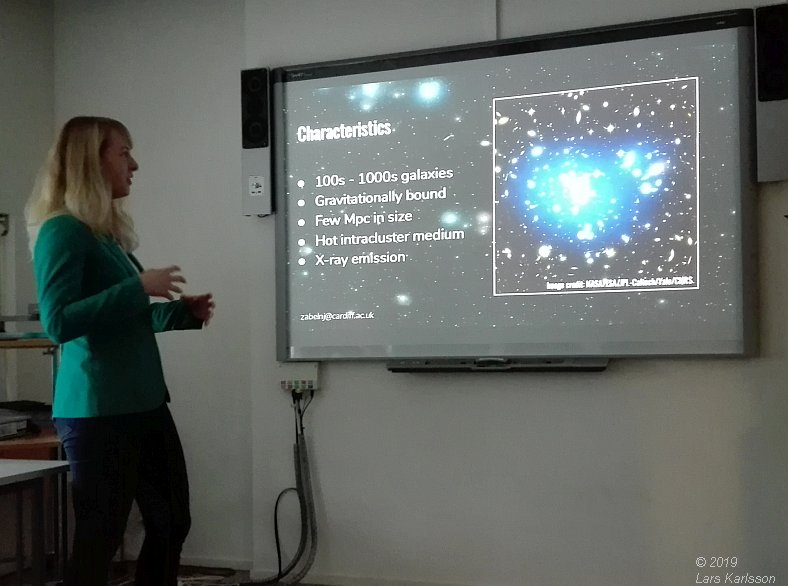 Nikki tells:
Characteristics of the galaxy cluster:
From 100 to 1000 galaxies
Gravitationally bound
Few Mpc in size
Hot intracluster medium
X-ray emission
---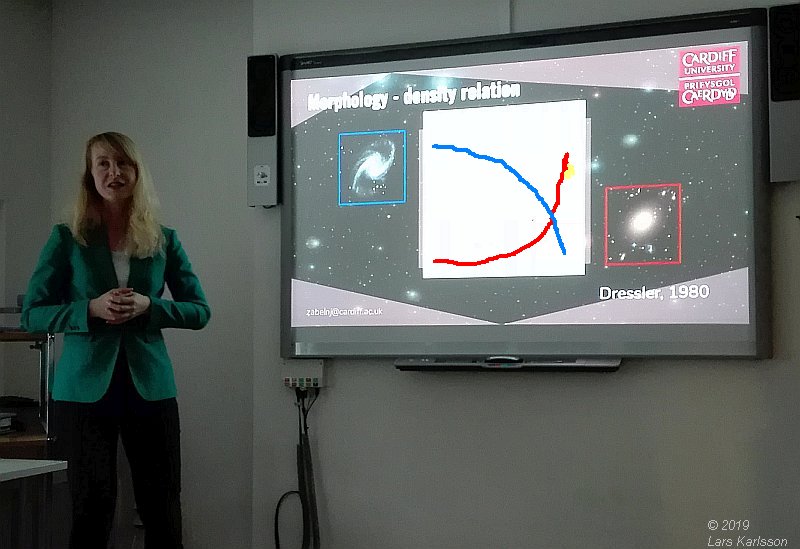 Nikki tells:
From data we see that the spiral shaped galaxies decrease and elliptical galaxies increase in number when the density goes up.
Lars:
Something went wrong with this image, I have filled in the blue and red line.
---
Starvation / Strangulation: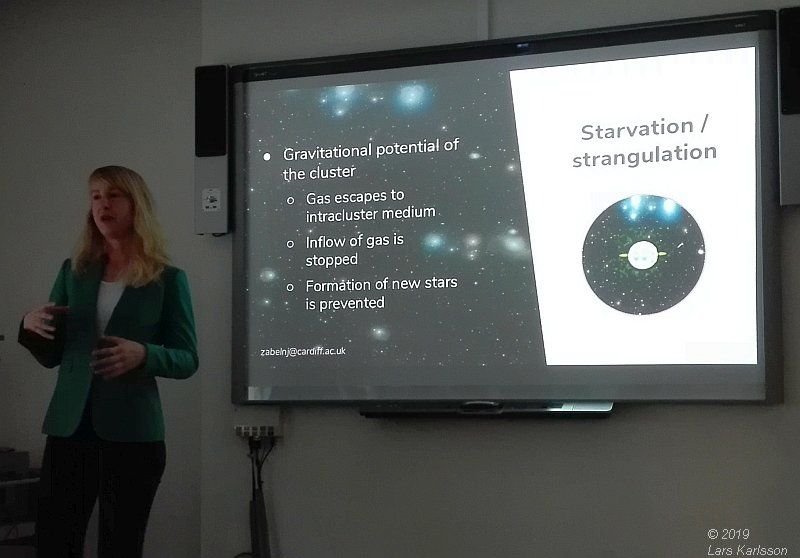 Nikki tells:
There are three processes going on in the cluster's gravitational potential.
Gravitational potential of the cluster

Gas escapes to intracluster medium
Inflow of gas is stopped
Formation of new stars is prvented
---
Galaxy - galaxy interactions: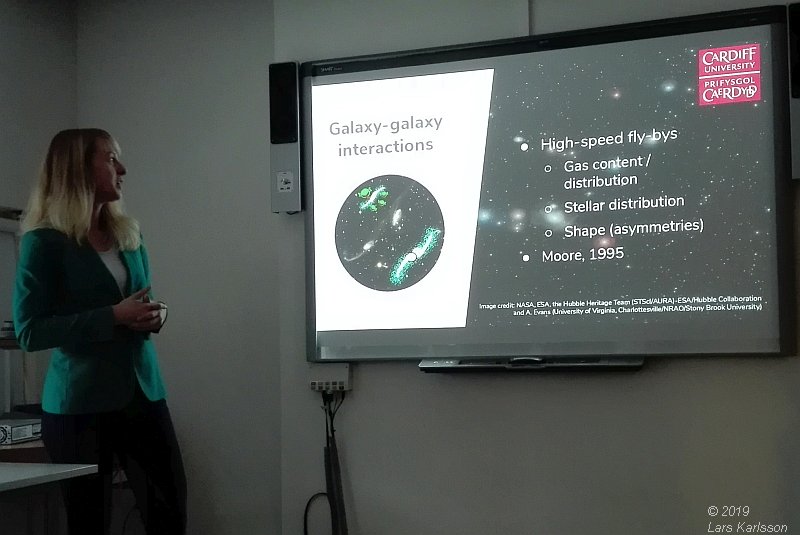 Nikki tells:
There are three processes going on in the galaxy - galaxy interactions.
High-speed fly-bys

Gas content / distribution
Stellar distribution
Shape
---
Ram pressure stripping: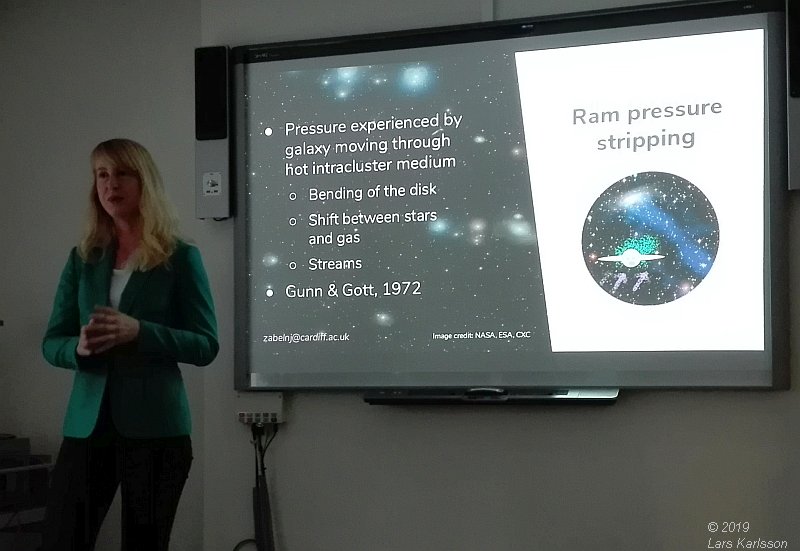 Nikki tells:
There are three processes going on in the cluster: Ram pressure stripping
Pressure experienced by galaxy moving through hot intracluster medium

Bending of the disk
Shift between stars and gasI
Streams
---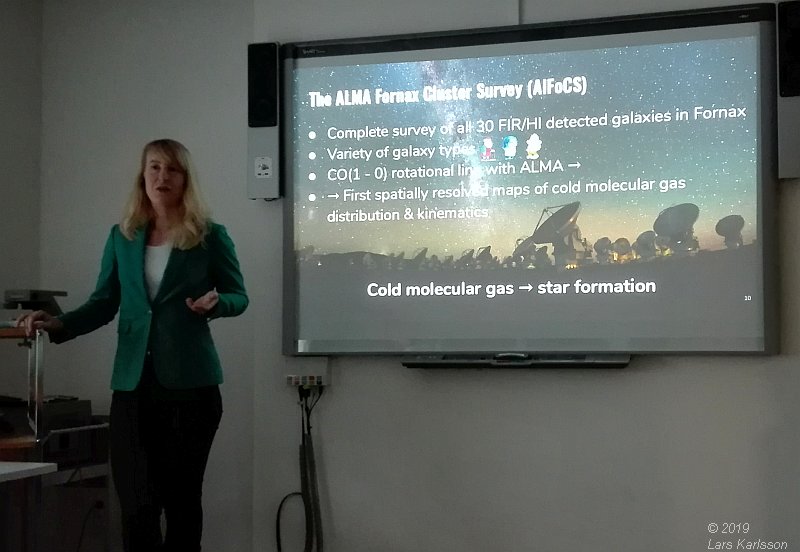 Nikki tells:
The ALMA Fornax survey (AIFoCS) have a complete survey of 30 FIR / HI galaxies in Fornax cluster.
---
Why the CO (1 - 0) line ?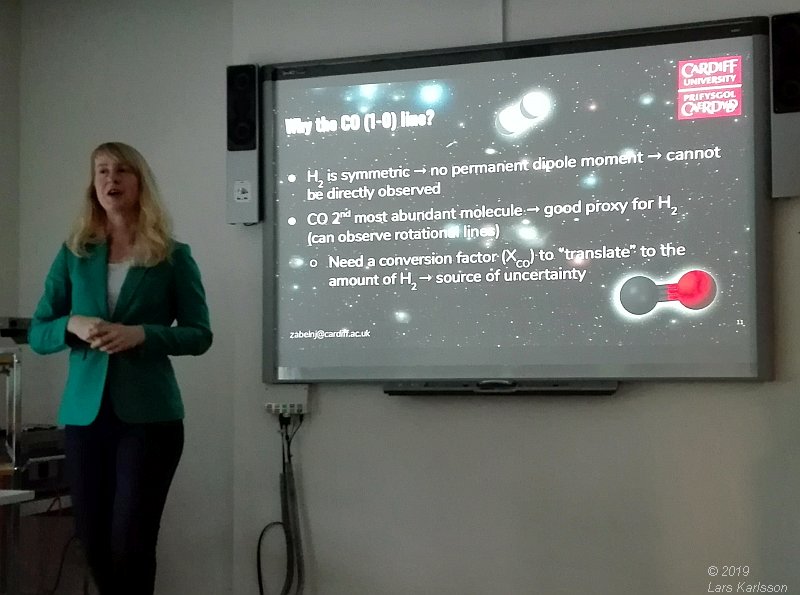 Nikki tells:
H2 is a symmetric molecule and can not be detected, but the molecule CO2 can.
Lars:
Molecules normally emitts in the radio wavelength and AMLA is a radio telescope.
---
Why Fornax cluster ?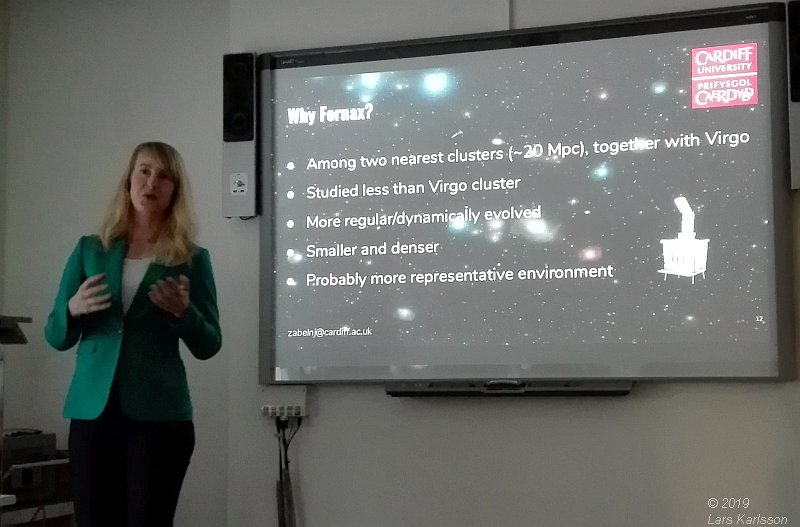 Nikki tells:
Why Fornax ?
Close to us
Less studied
More regular / dynamically evolved
Smaller and denser
Probably more representative environment
---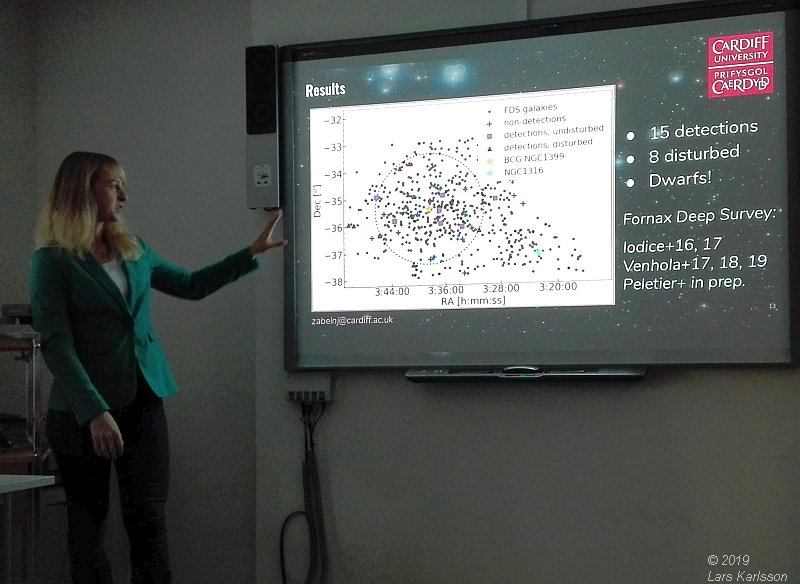 Nikki tells:
The result: 15 detections, 8 disturbed, Dwarfs !
---
NGC 1387 example: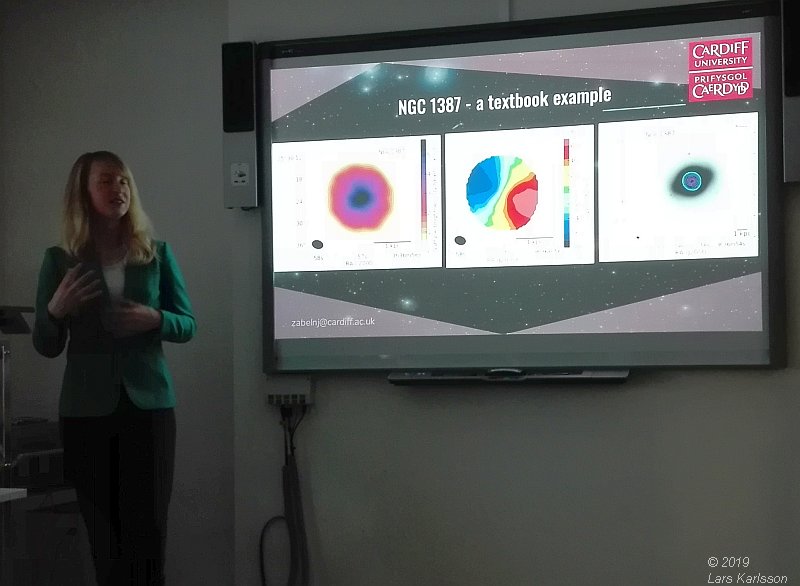 Nikki tells:
The third image has the radio map over imposed on the visual data, radio data is well inside the galaxy.
More to read about the galaxy NGC 1387:
---
The curious case NGCJ427A: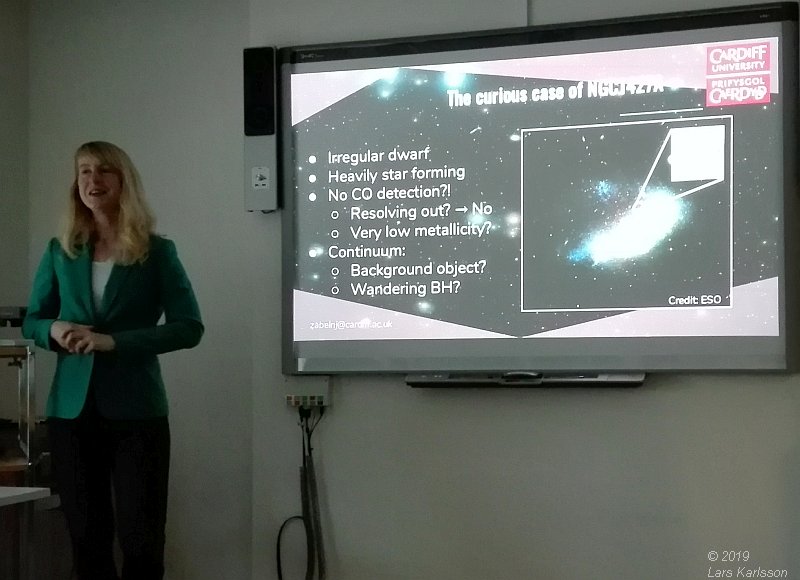 Nikki tells:
Heavily star forming, no CO detection, why ?
---
Conclusion: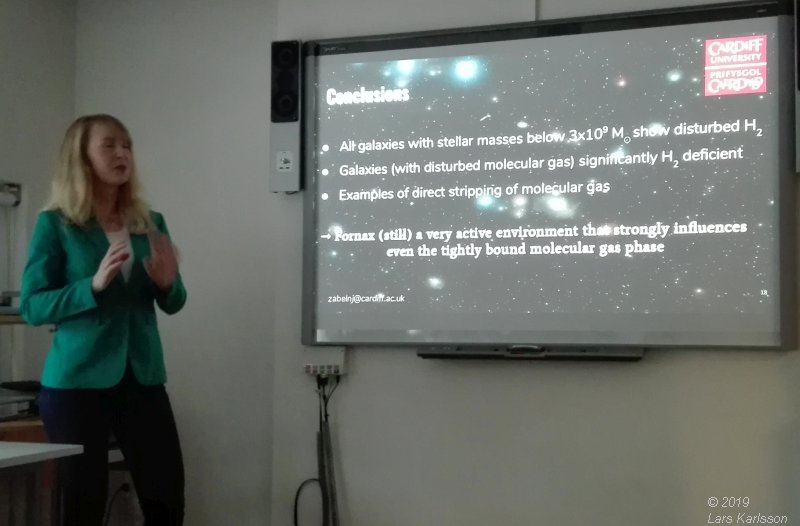 Nikki tells:
Conclusion is:
All galaxies with stellar masses below 3x109 Msun show disturbed H2
Galaxies with disturbed molecular gas significantly H2 deficient
Examples of direct stripping of molecular gas
---
Part 2: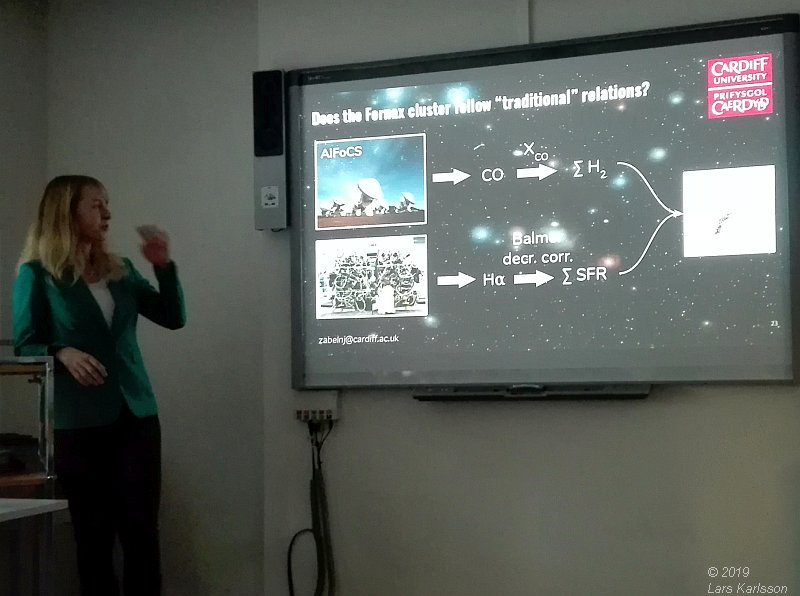 Nikki tells:
Does the Fornax cluster follow "traditional" relations ?
---
Balmer decrement: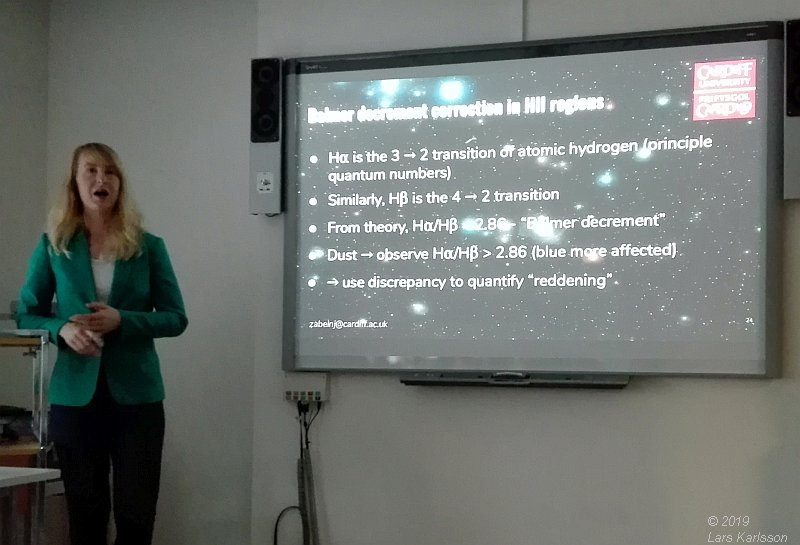 Nikki tells:
Balmer decrement correction in HII regions to get usuable data for "reddening".
---
FCC312 examples: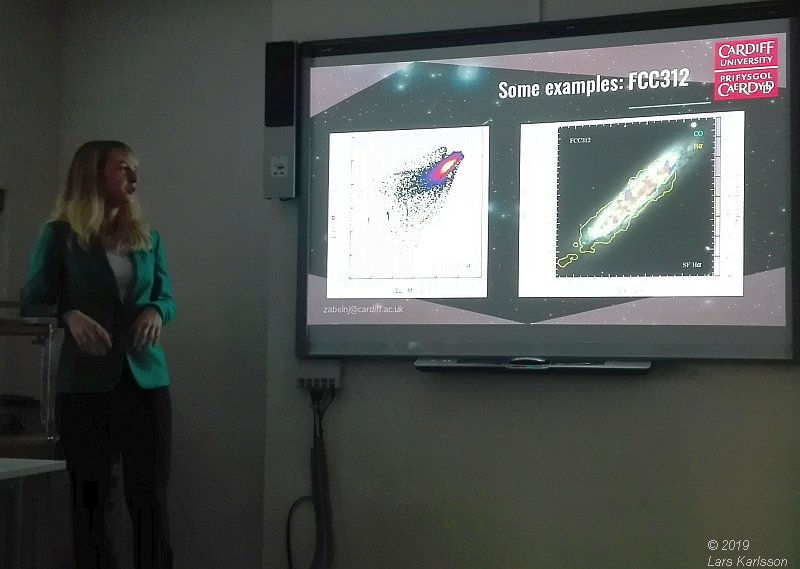 ---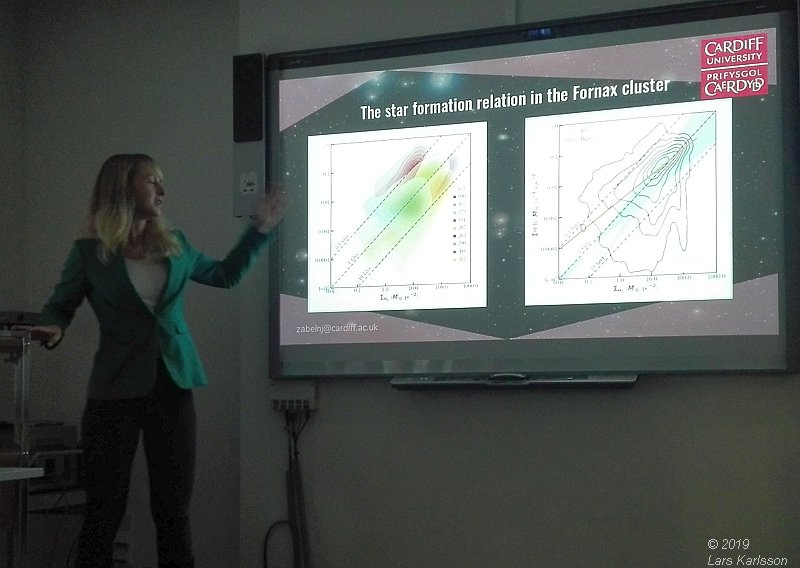 Nikki tells:
The star formation relation in the Fornax cluster.
---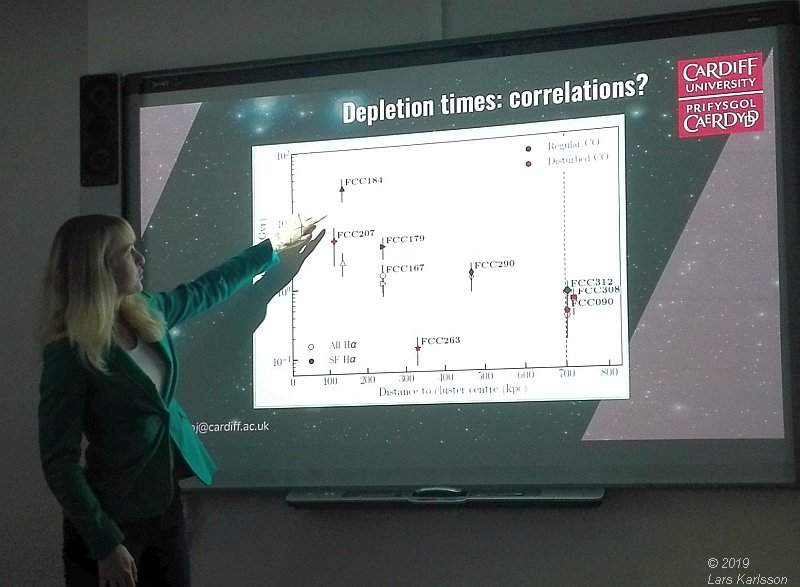 Nikki tells:
Depletion times: correlations ?
---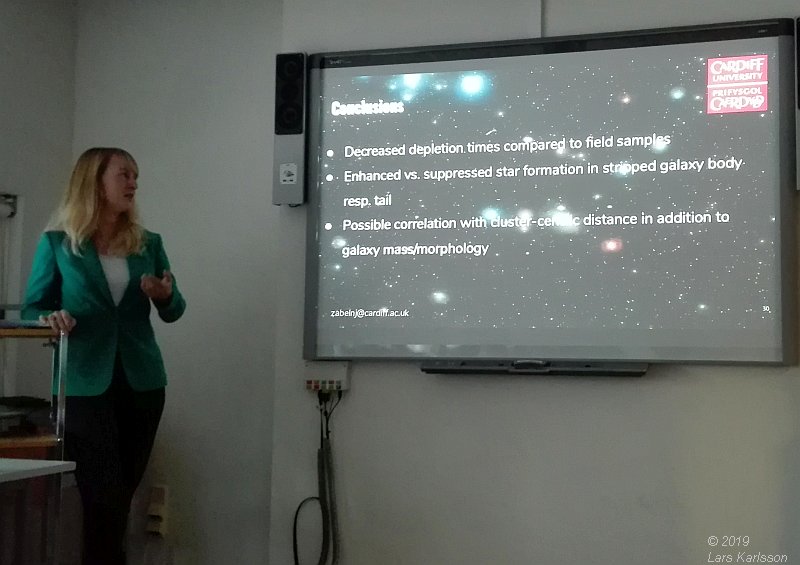 Nikki tells:
Conclusions:
Decreased depletion times compared to field samples
Enhanced vs. suppressed star formation in stripped galaxy body resp. tail
Possible correlation with cluster - center distance in addition to galaxy mass / morphology
Lars:
I have found some pages about Nikki Zabel where you can get more information about her research:
---
These seminars are very interesting. Do you find it interesting too? Join me next time!
If you don't live in Stockholm in Sweden as I do I'm sure that you can find something similar to visit at your place. Or you do as all other do, search the internet, TED Talks is good.
No more boring days!
---