My travel in Europe:
Turkey Side
---
One week in Turkey, Side
---
Planning our one week tour in Turkey, Side:
We have already been down in Turkey earlier, maybe you have read my travel report from Turkey and Cappadocia? ../travel-europe-turkey-cappadocia/turkey-antalya.html
One day on that round trip we visited the city Side at the western coast of Turkey, just ten minutes, but in that short time we see a lot of exiting old ruins. We thought, this is a place we must visit later. And now in 2014 we have planed a new week down in Turkey and Side. This time we do not go through an organized bus tour, but we plan all trips ourselves and what we shall see. The excursions are not really as planned, only that we will see the ruins of Side, the others we take as we feel when we are on the spot.
This page is under work!
One week in Turkey, Side, part 1:
---
Side:
Even this time we fly with the Turkey agency Detur.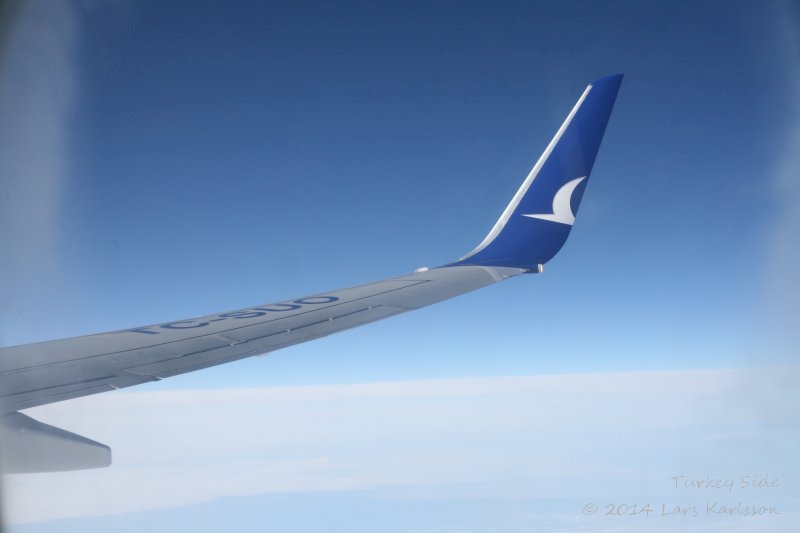 From Arlanda in Sweden to Antalya in Turkey.
---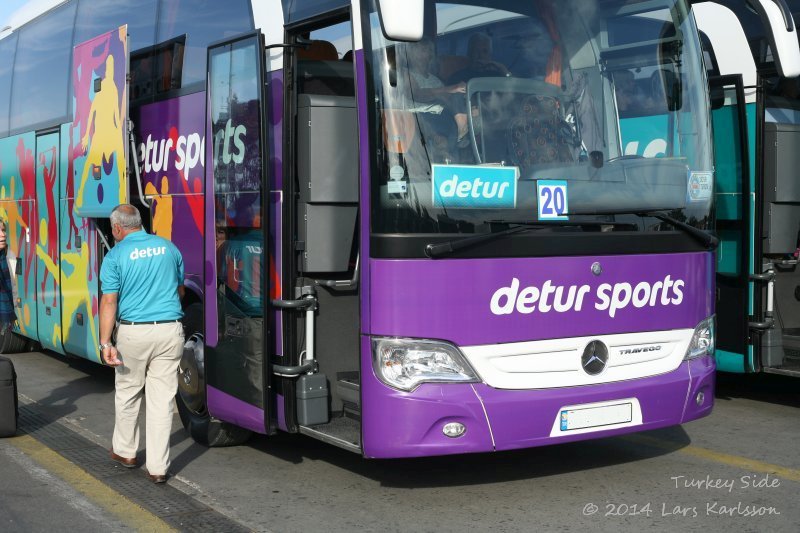 After we had landed successfully at the airport in Antalya we took the Detur bus transfer to Side. Maybe it took one hour, it's not far away but the bus stopped at a lot of hotels on the way.
---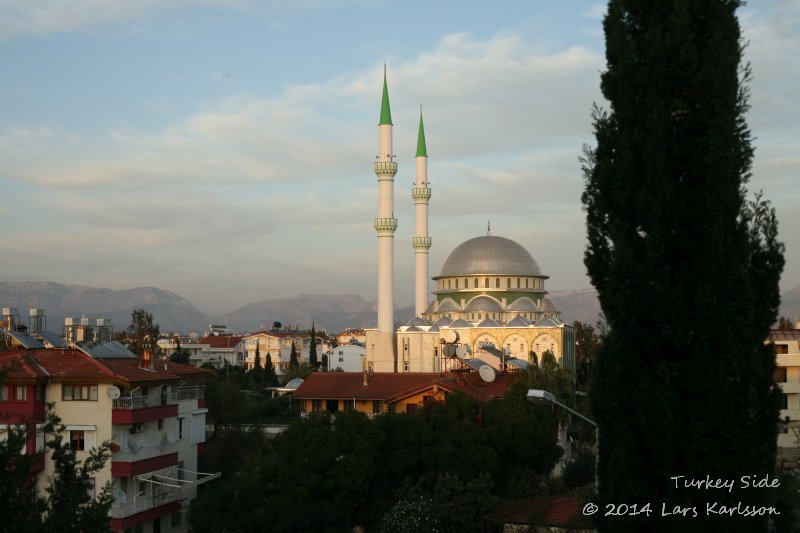 After we had installed us in the hotel room we went out on the balcony. This is our view, a Mosque, we now really feel that we are in Turkey!
---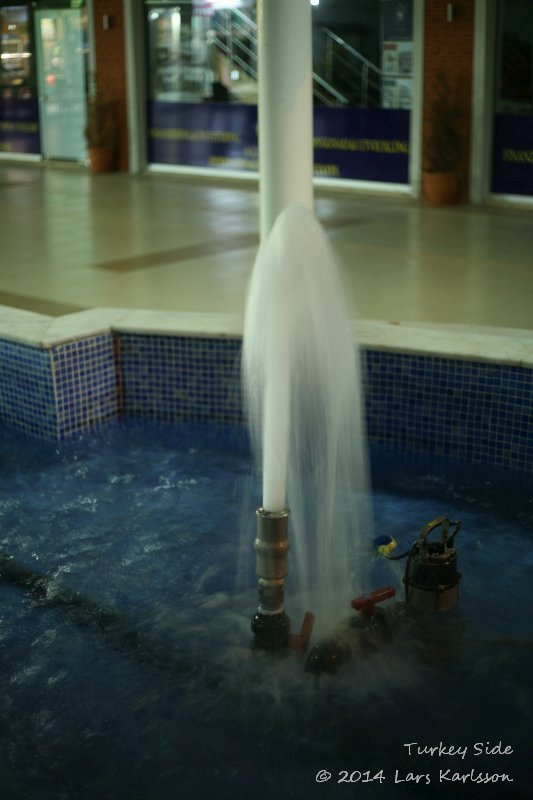 ---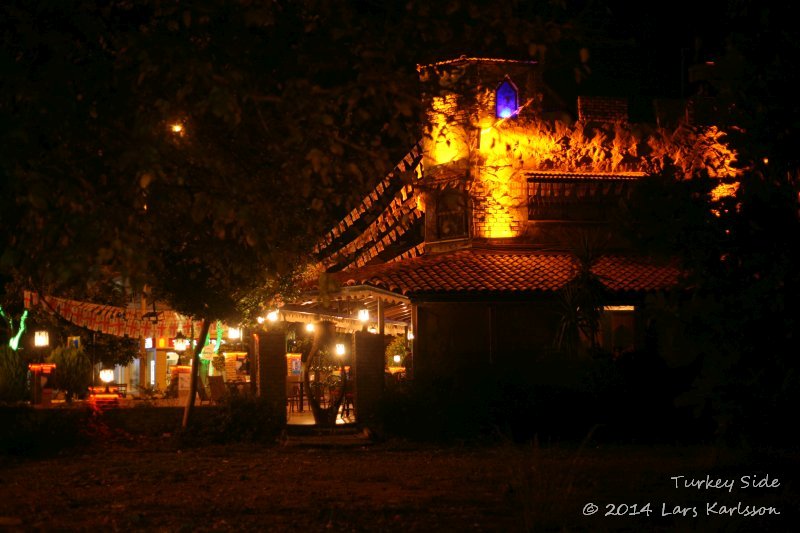 It was late and we was hungry, we took an evening walk and find a restaurant not far away. When we sat here there was a traffic accident in the. As we sat here and ate it happened a traffic accident in the roundabout just outside. A motorcyclist was hit by a car. No serious injuries but we felt some concern about how this week would end.
---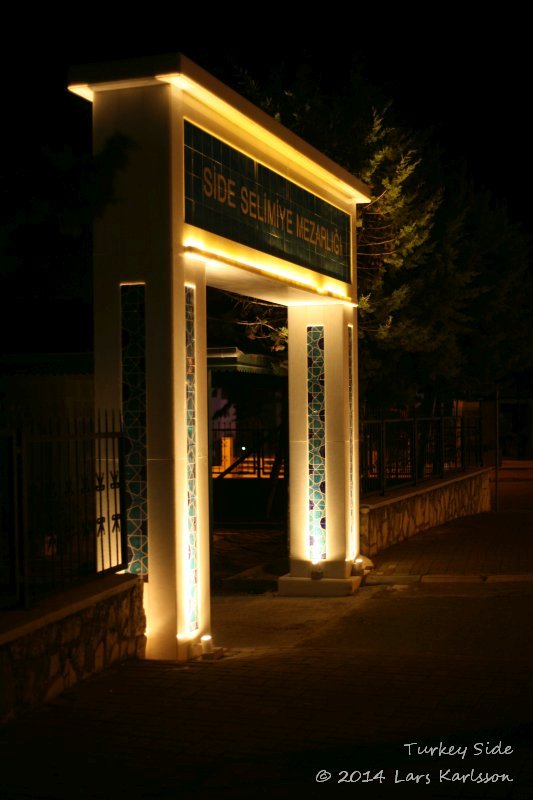 ---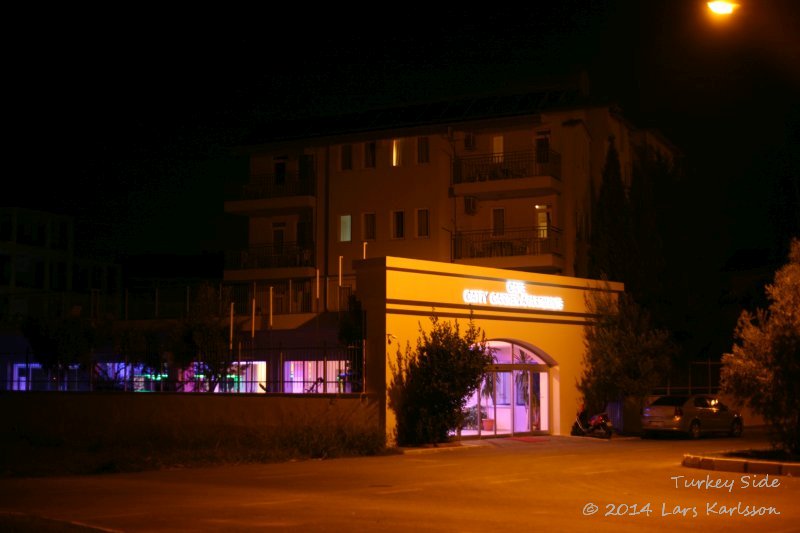 Back to our hotel.
---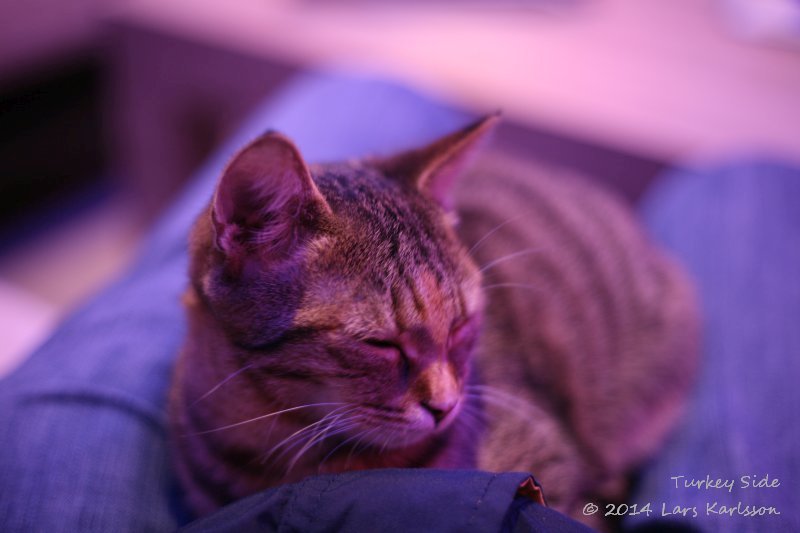 Even the cats in Side like me, and they were many!
---
---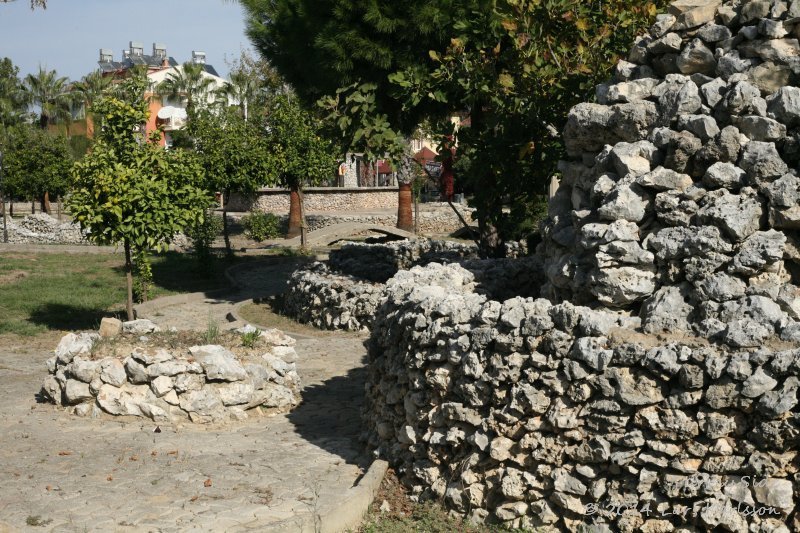 The hotel is just 20 minutes walk from the old town of Side. We started our walked in direction to the beach. After 5 minutes walk we found our first ruin.
---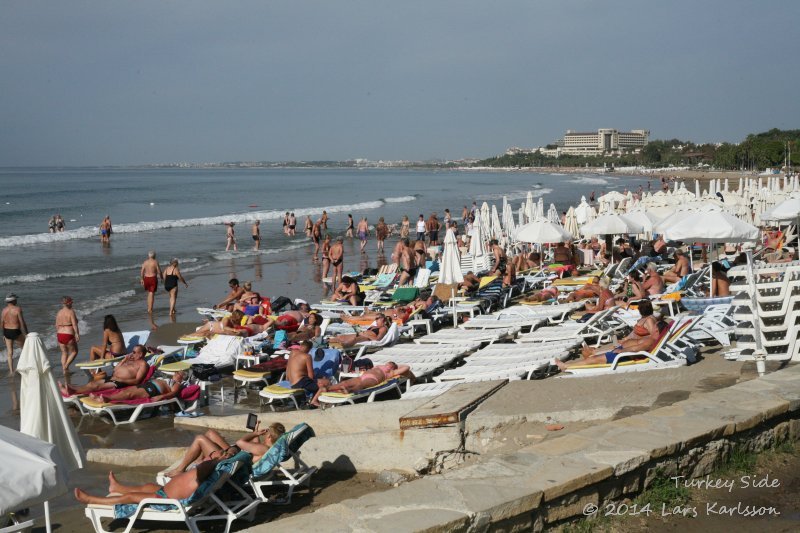 We think this is what make all people go to Side, sun and bath. But not we, we want to see the old culture.
---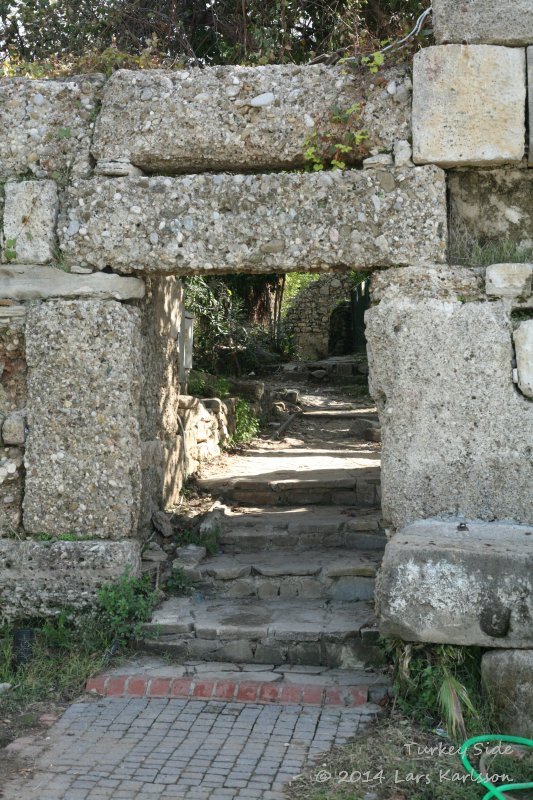 ---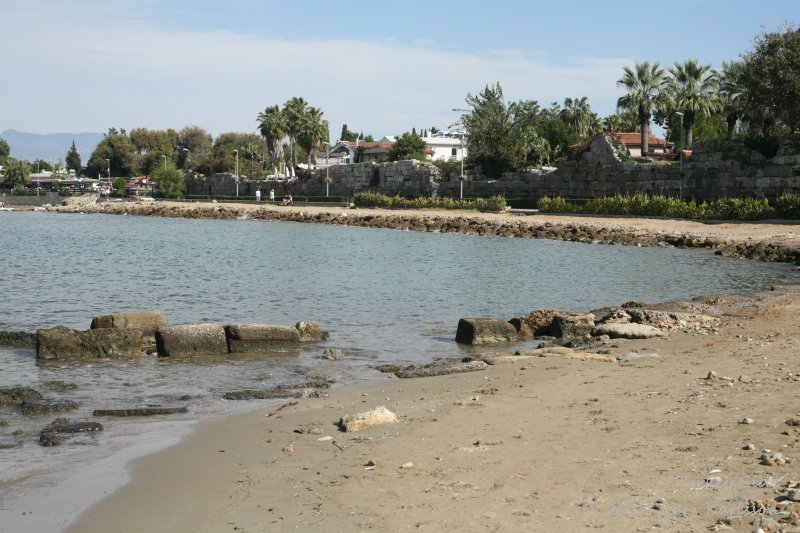 There are traces of old cultures everywhere.
---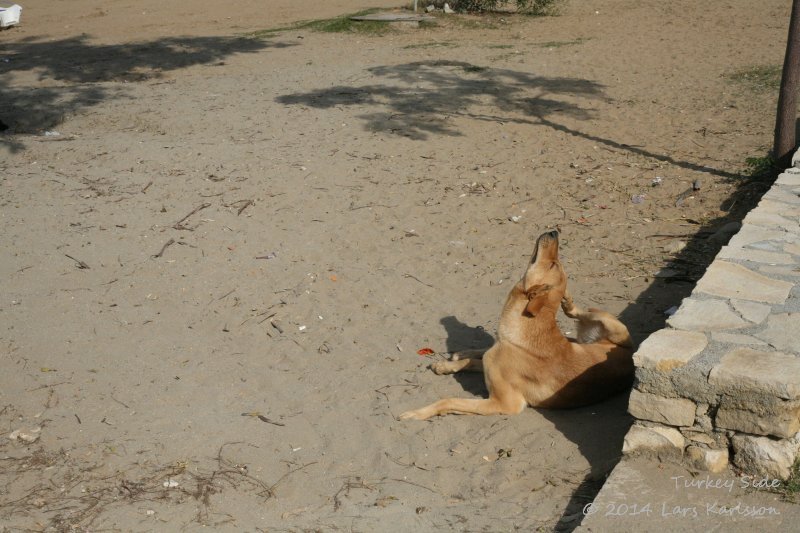 ---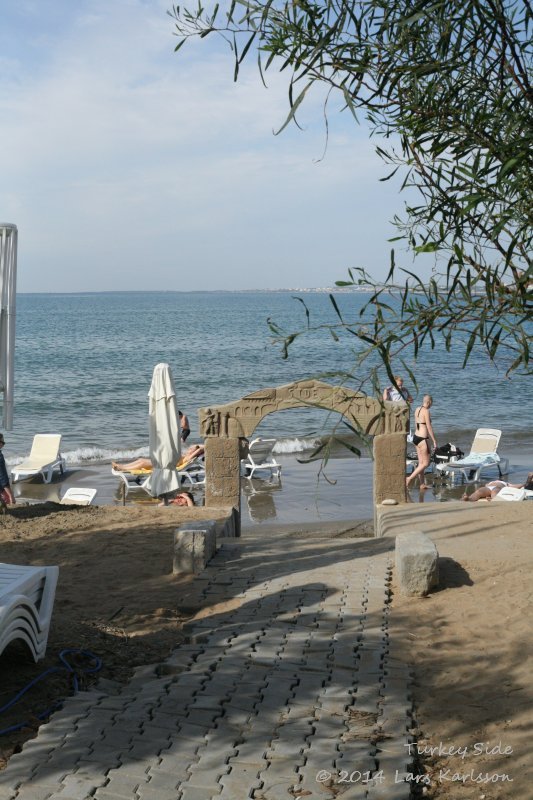 This one was not old.
---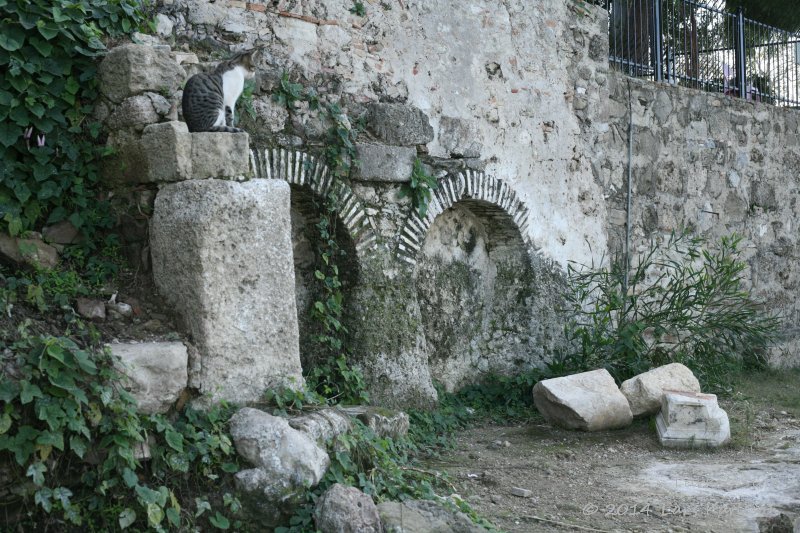 ---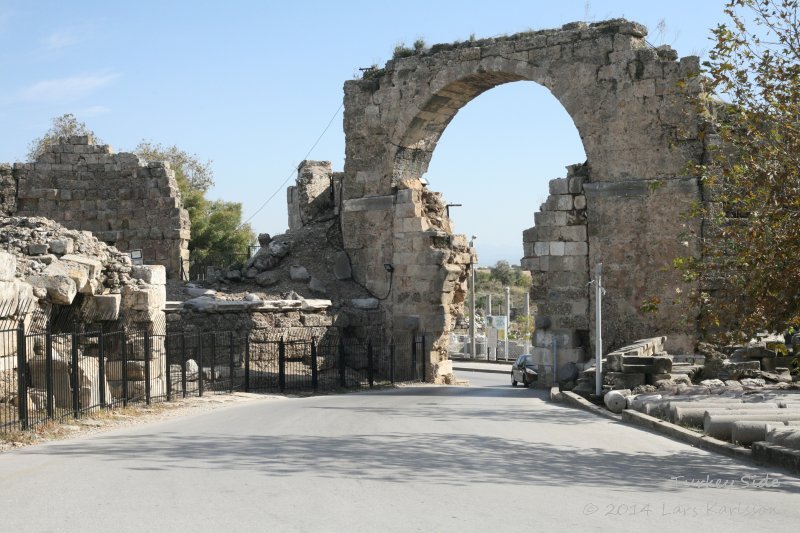 Vespasian Gate. This gate led to the center of Side in Romans time, here we are on the center side.
---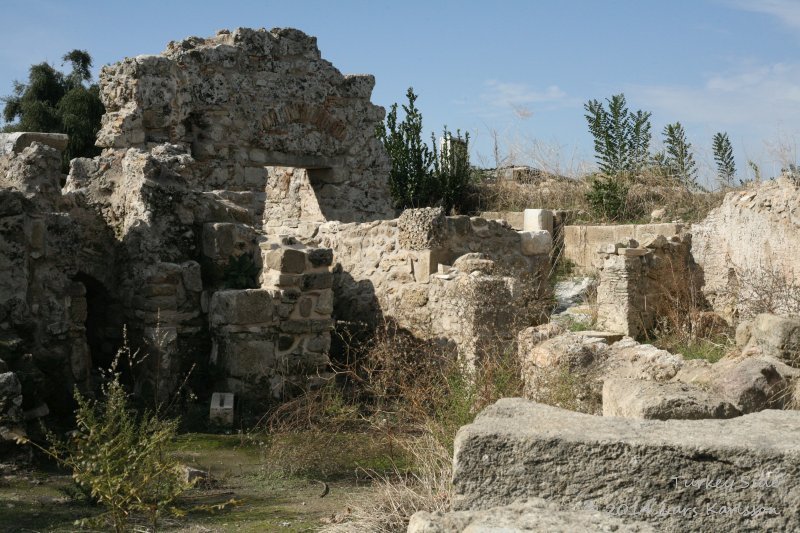 ---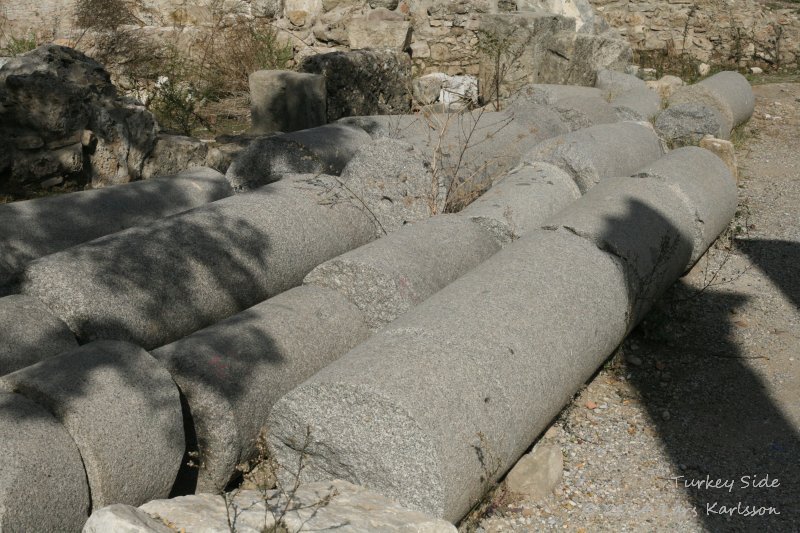 ---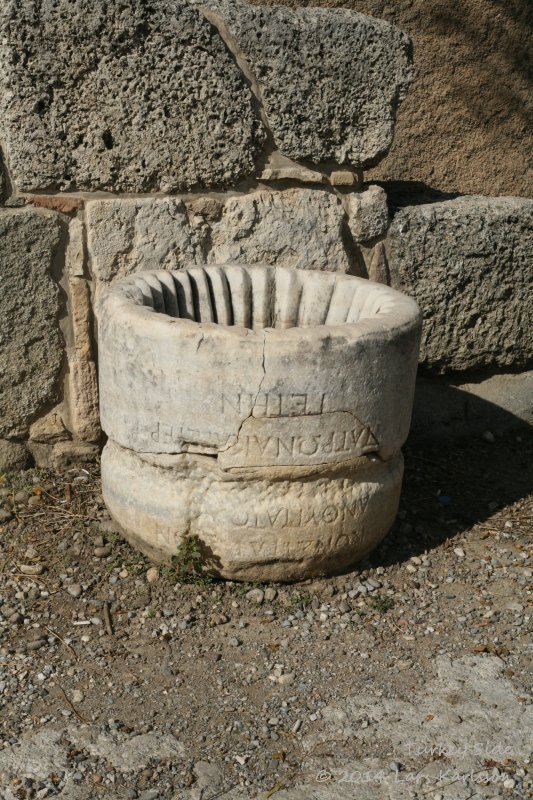 ---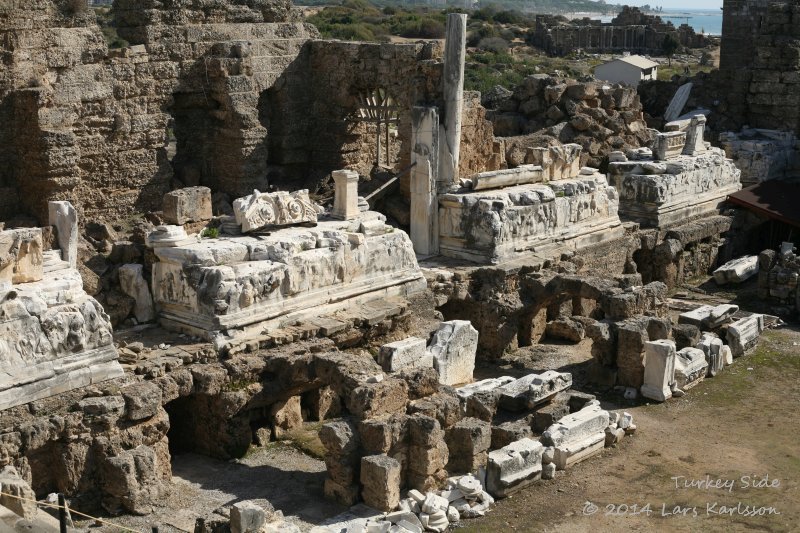 Now we are inside the ancient Greek Amphitheatre of Side, this is the stage.
---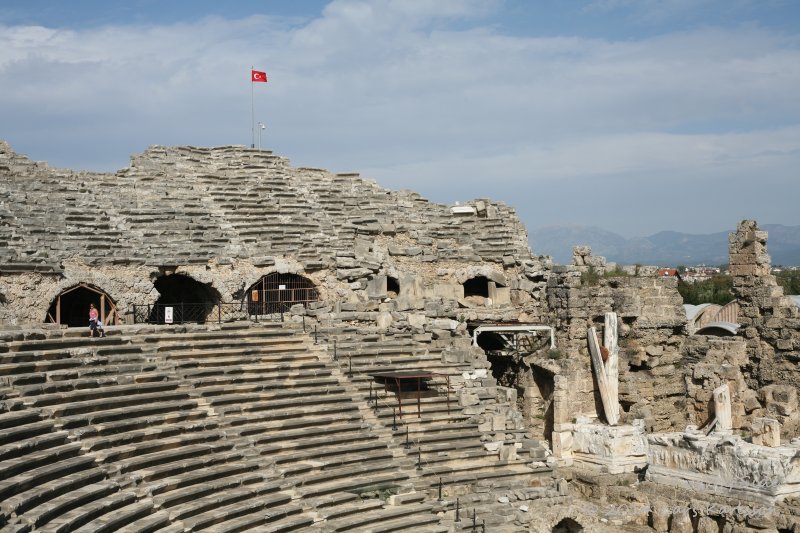 The theatre could take up to 15000 people.
---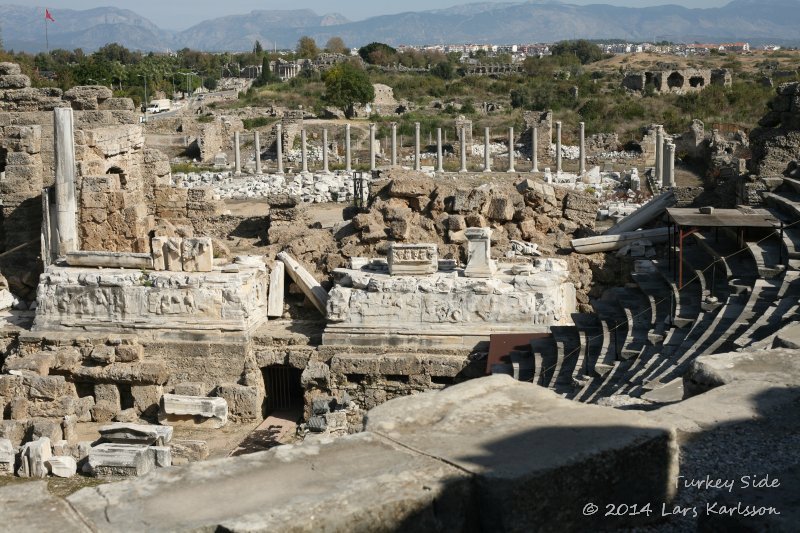 ---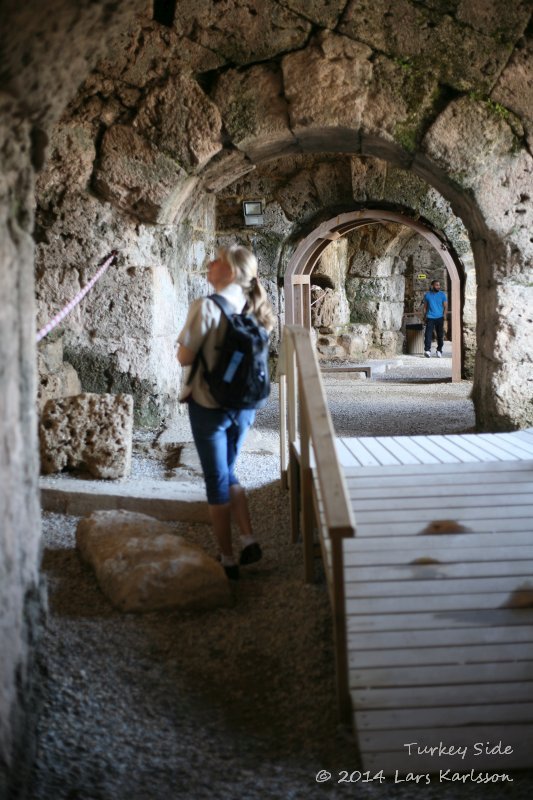 The theatre is very well preserved, here all the people walk by on the way up to the theatre.
---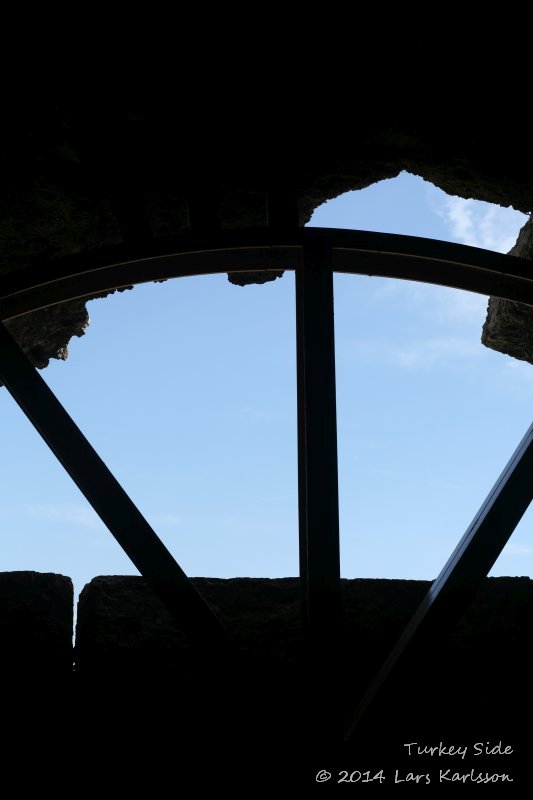 ---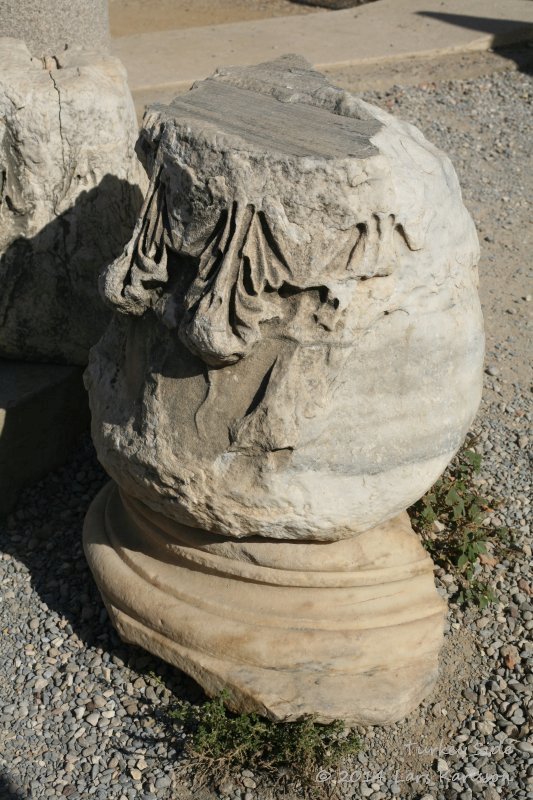 Can you imaging how many hours that must have been spent just to make this sculpture?
---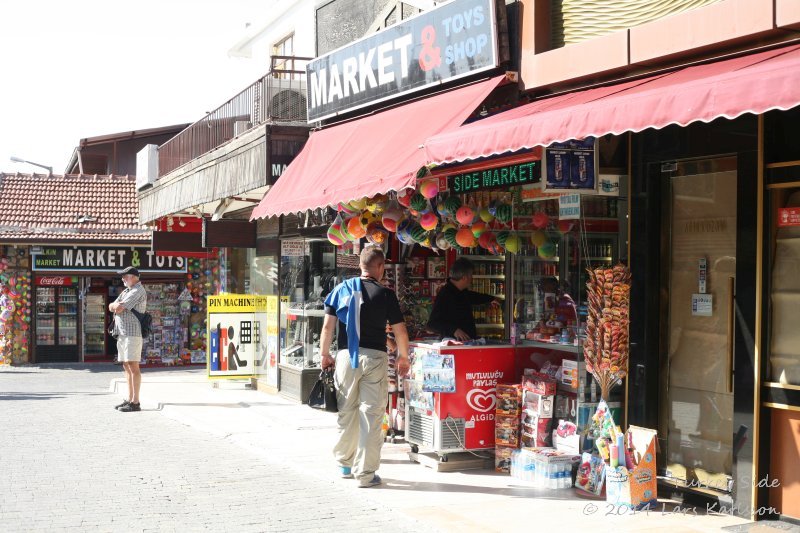 After the exiting visit at the ancient theatre we walk down to the old center of Side.
---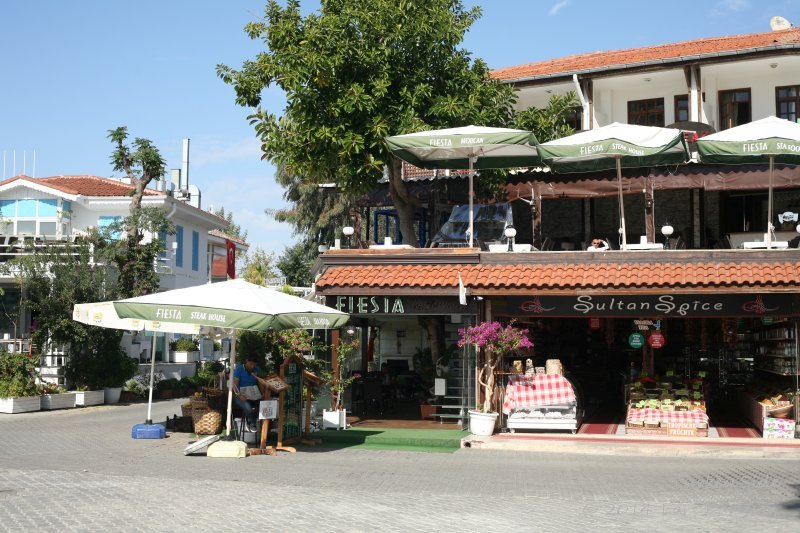 ---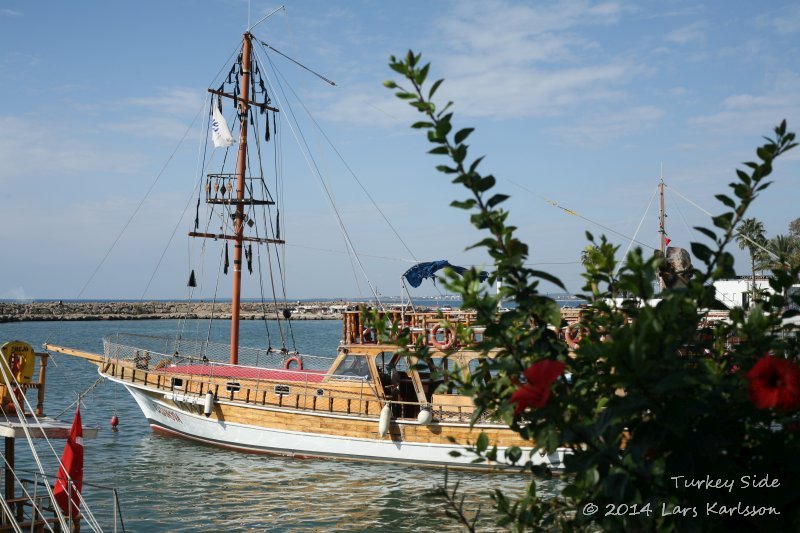 At the end we found this harbor, on an old map we could see that this port has been used for several centuries.
---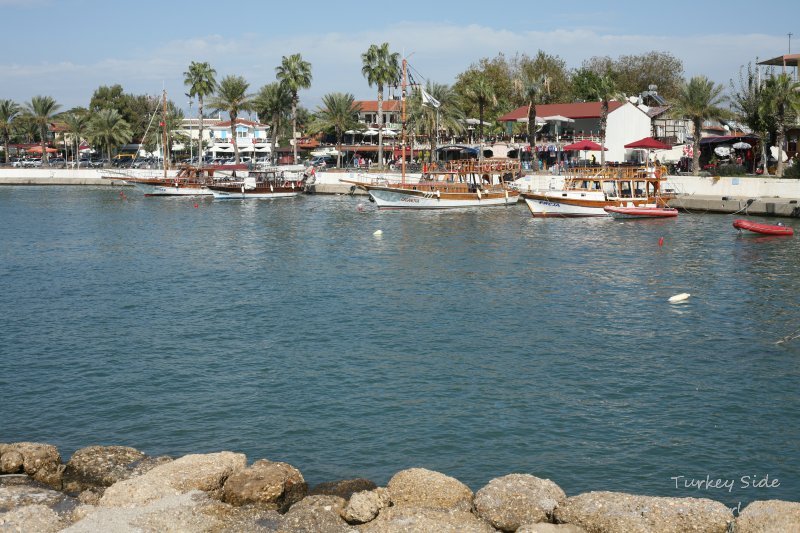 ---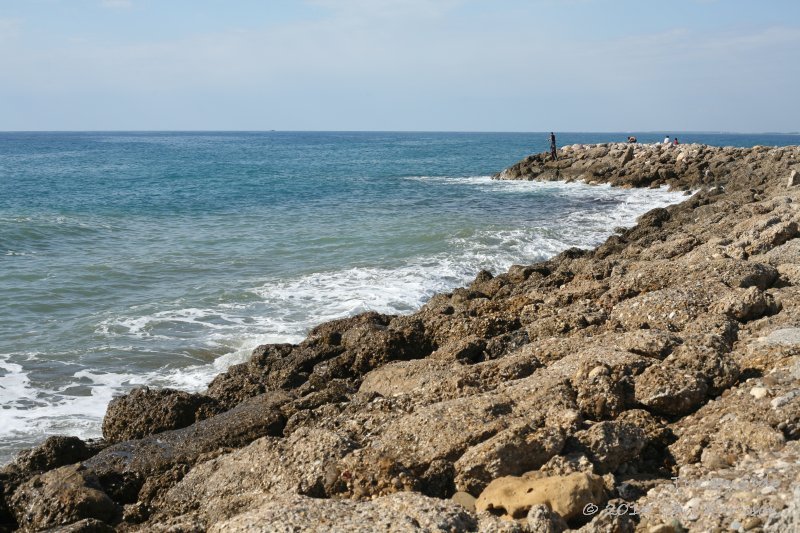 ---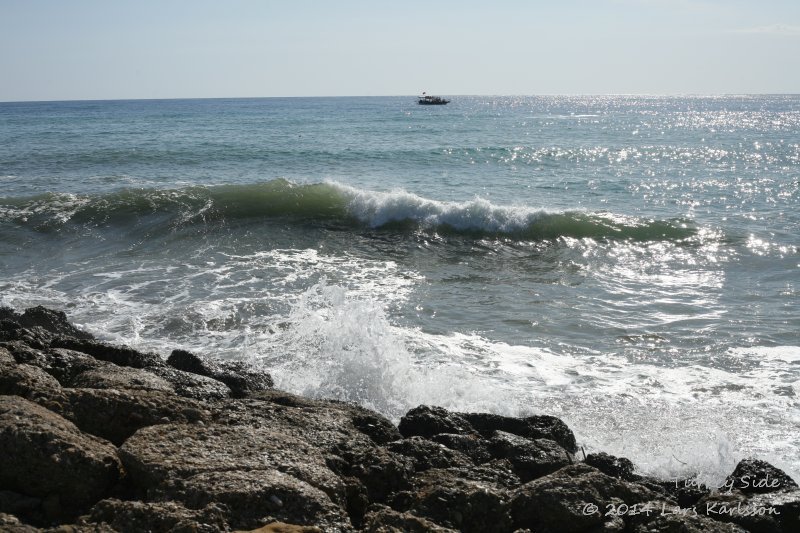 ---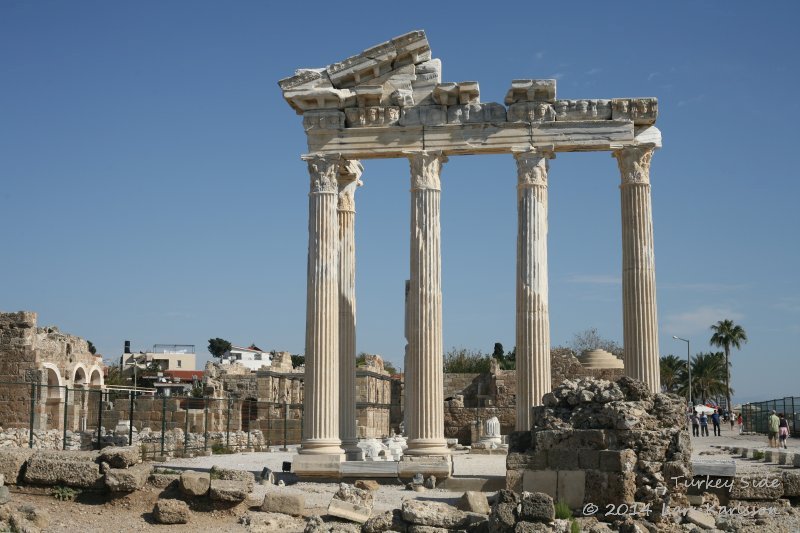 Just south of the harbor we found another ancient building. It's The Greek Temple of Apollo. Did you know that Anthony and Cleopatra met here?
---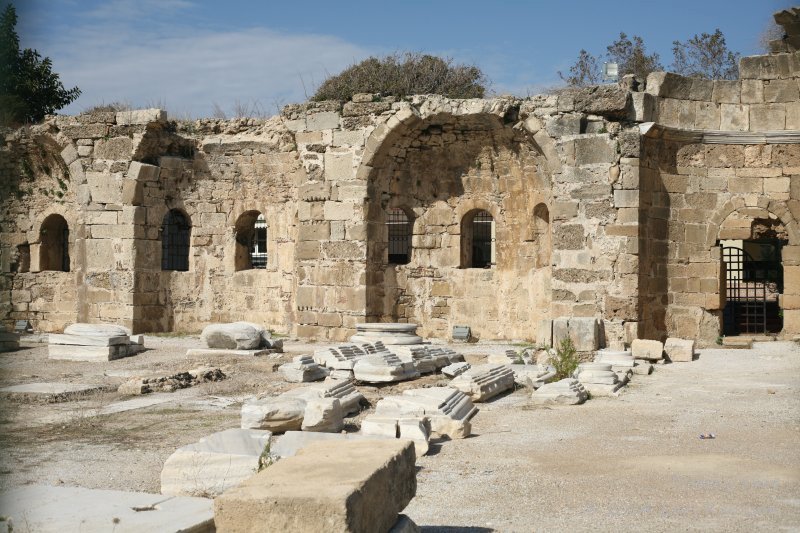 ---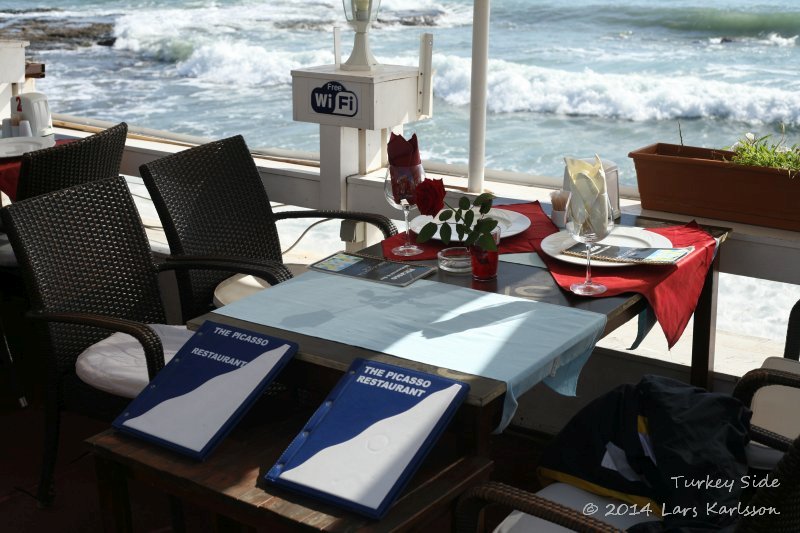 Time for lunch, south of the temple there are a lot of restaurants along the coast.
---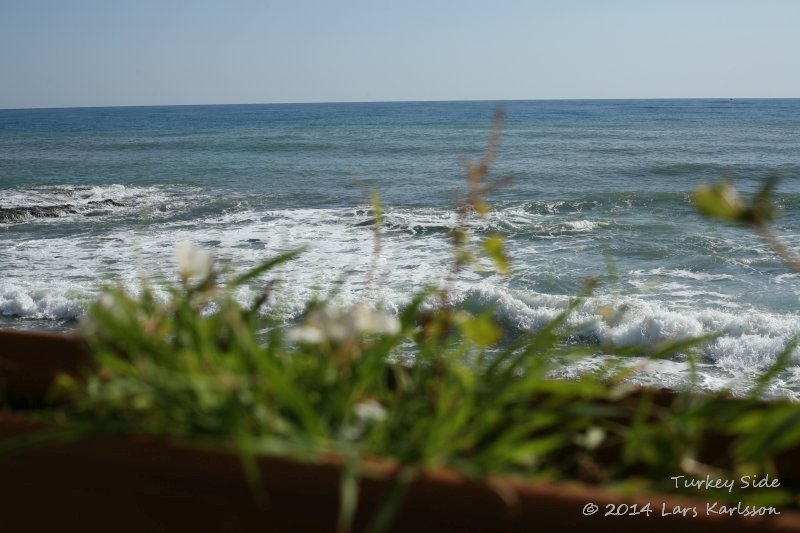 Beautiful view over the Mediterranean Sea, we like this place so much that we come back in the evening for a dinner.
---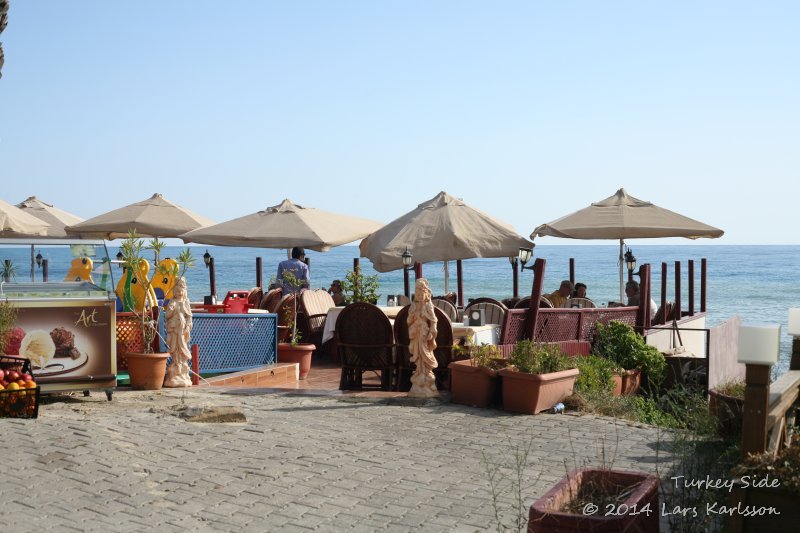 ---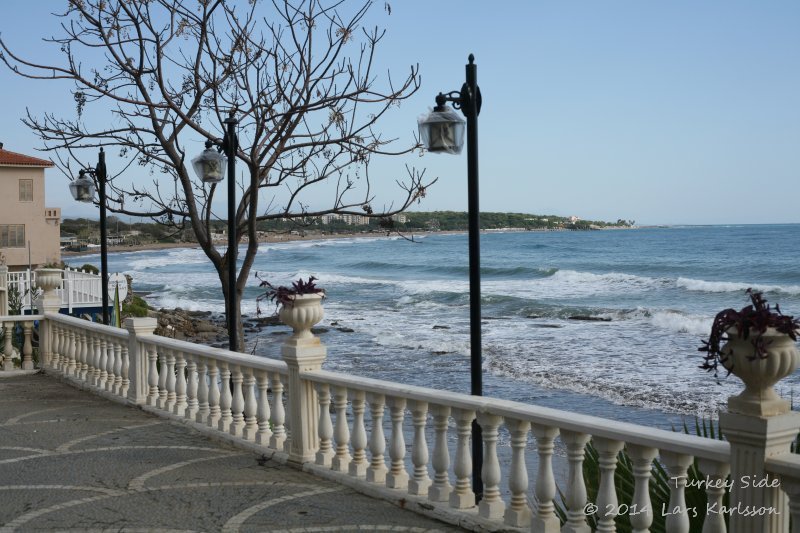 After we had studied the map we know there are ruins everywhere in this town.
---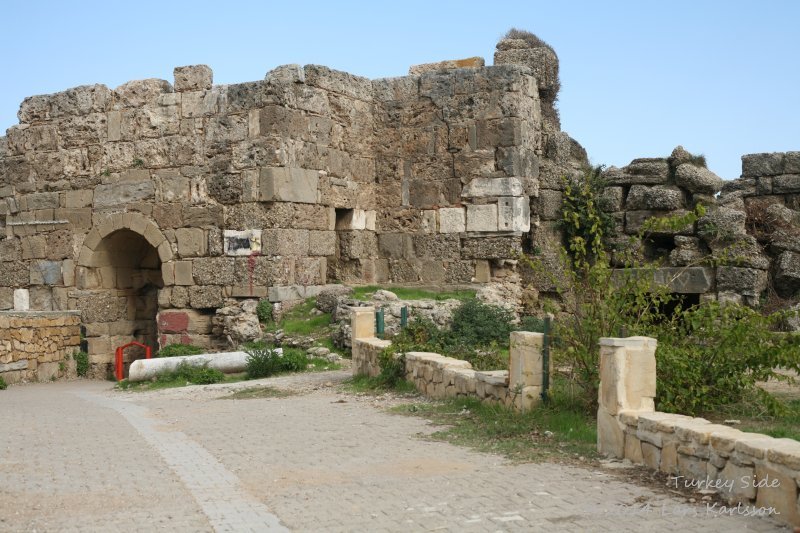 We are know at the southeastern gate that take us out of old town.
---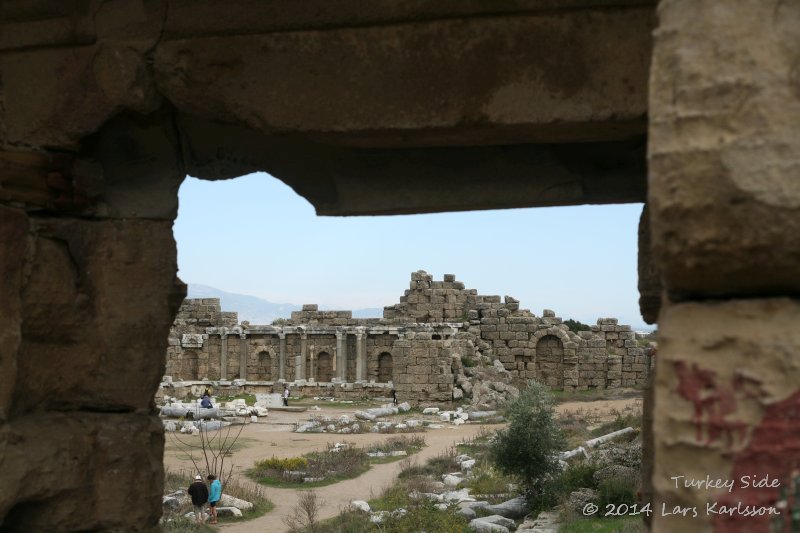 The Basilica with an older wall behind, in front of the building it has been a market place.
---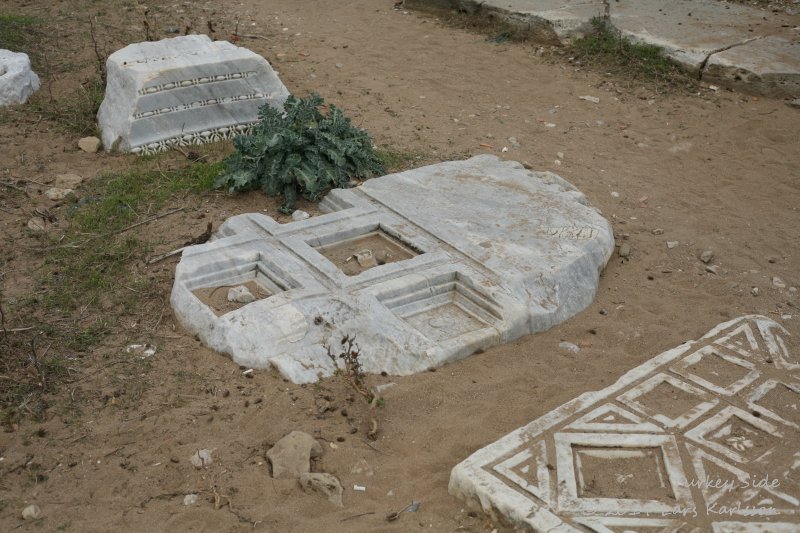 It's amazing, you could just walk around this ancient ruins and buildings.
---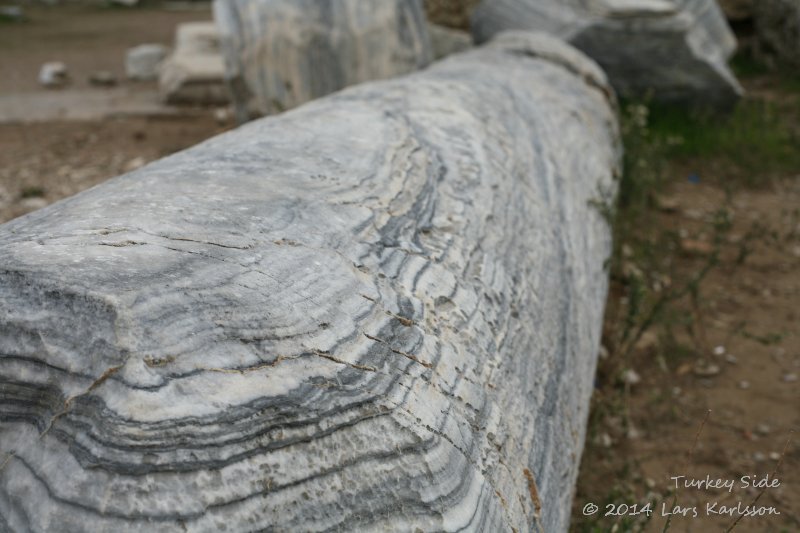 ---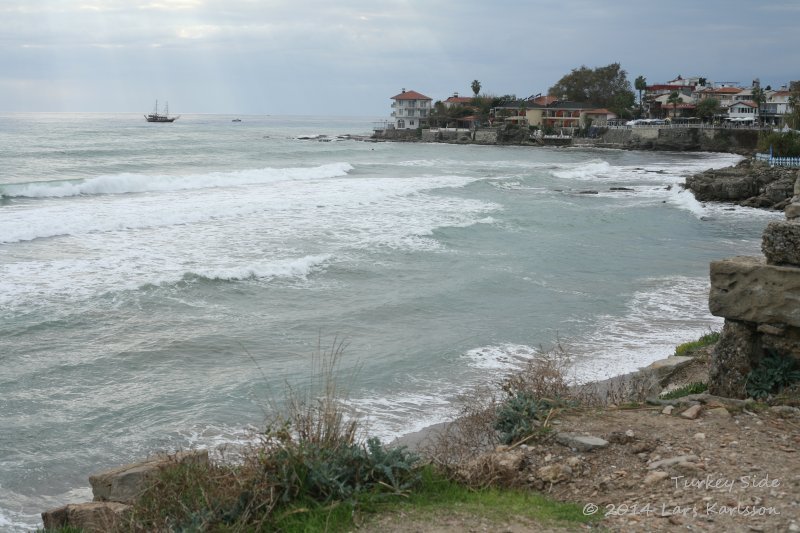 ---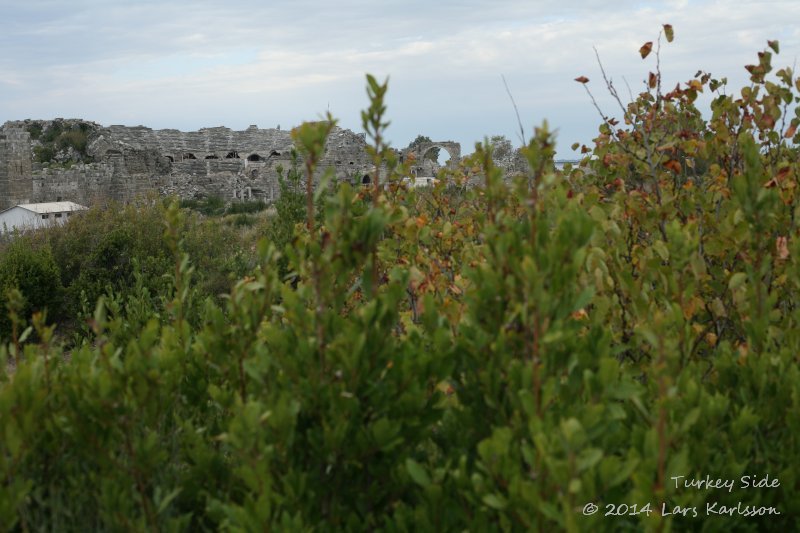 Here we are at the backside of the Greek Ancient Theatre.
---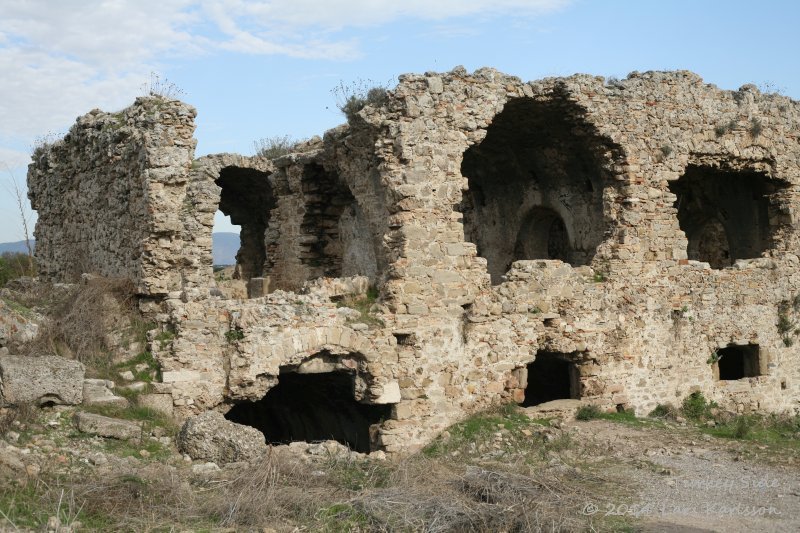 Ruins of houses, or maybe palace, because it must have been the rich people who lived here.
---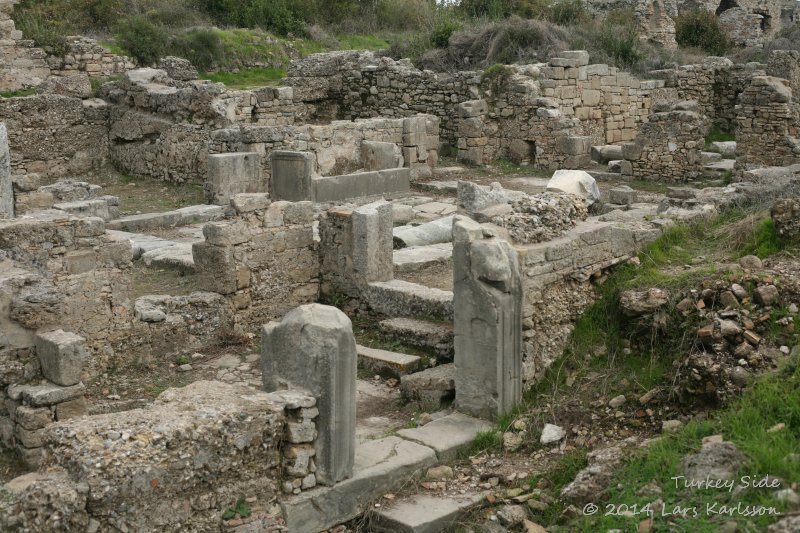 The Greek was here first, this is maybe ruins from the Romans that came after.
---
---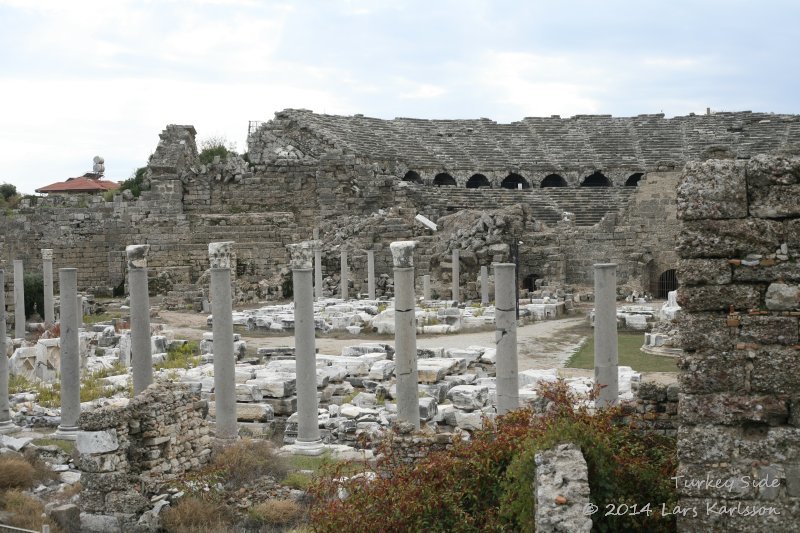 ---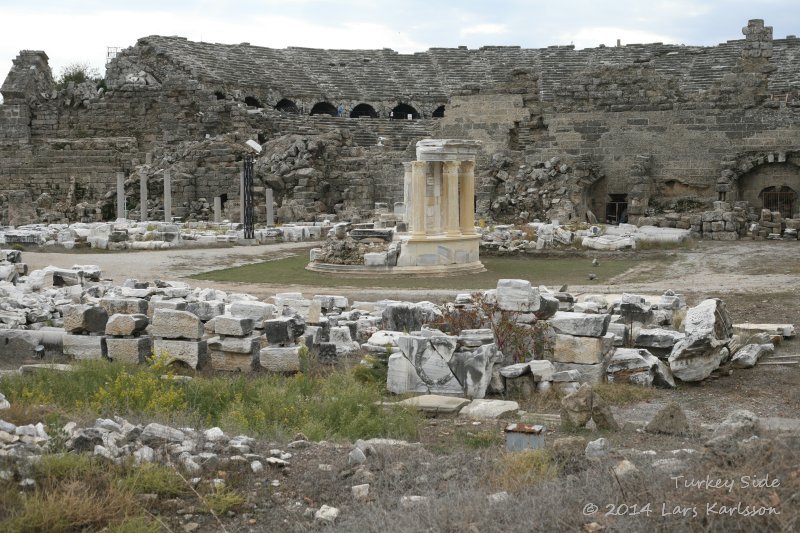 ---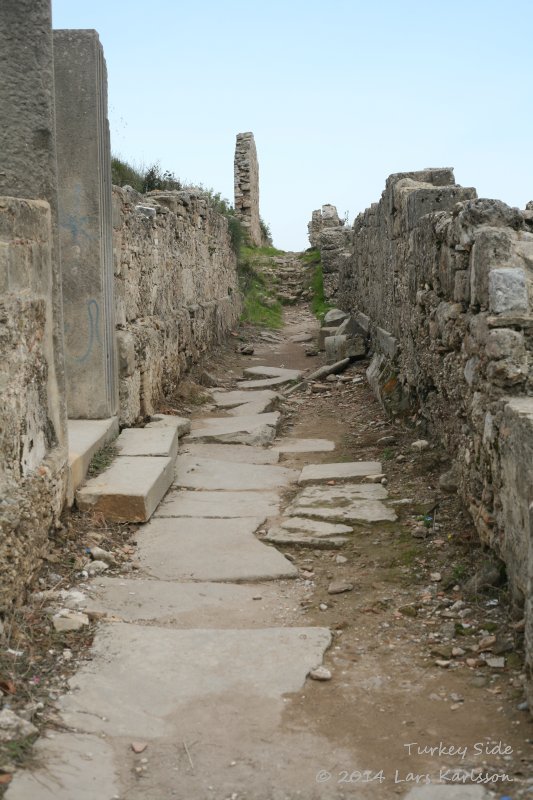 ---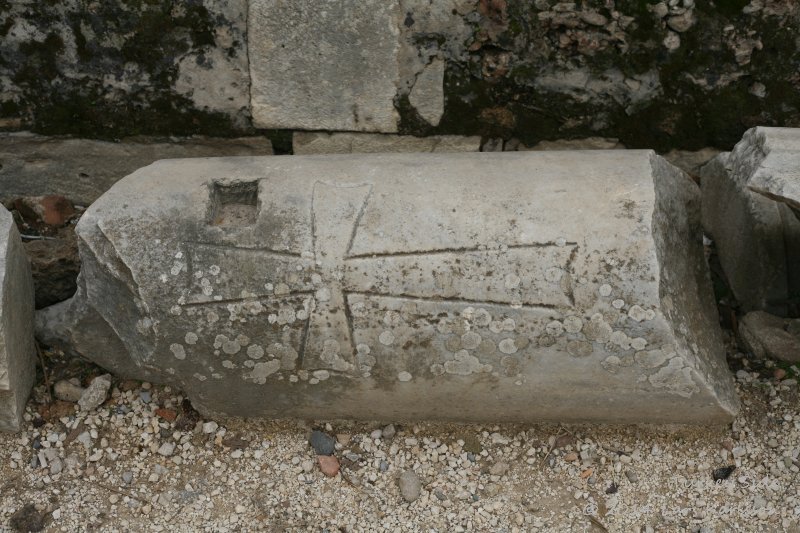 ---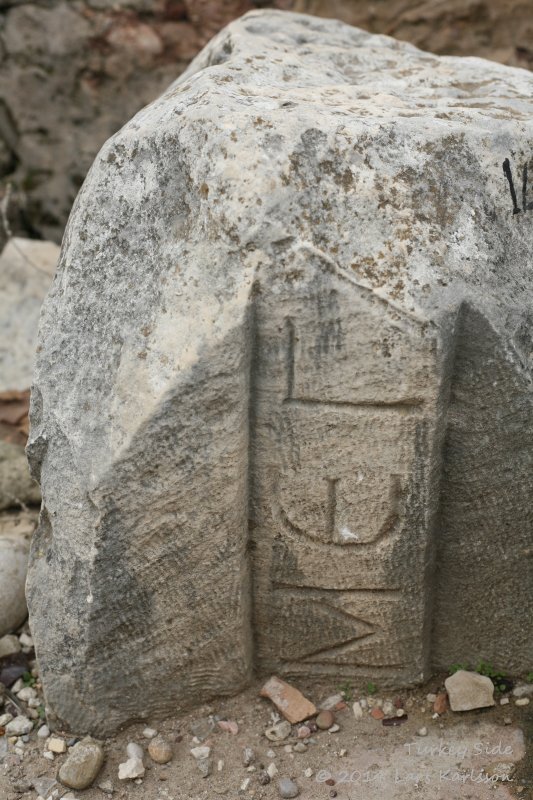 ---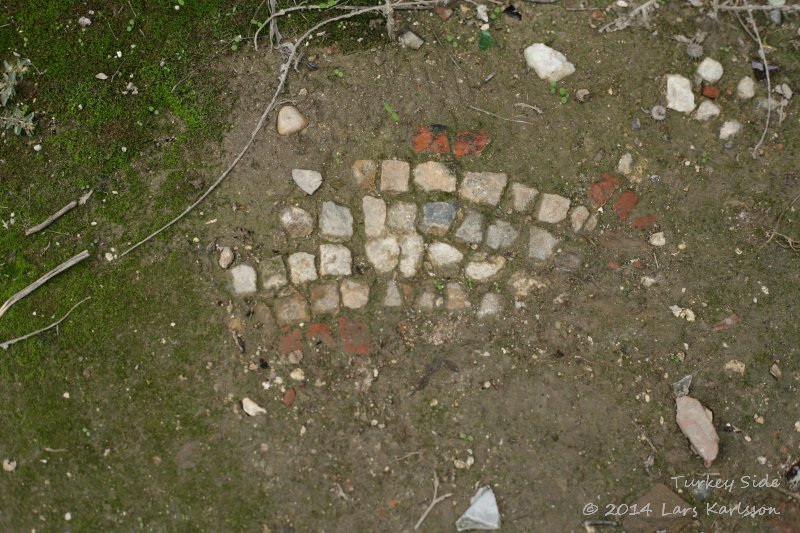 ---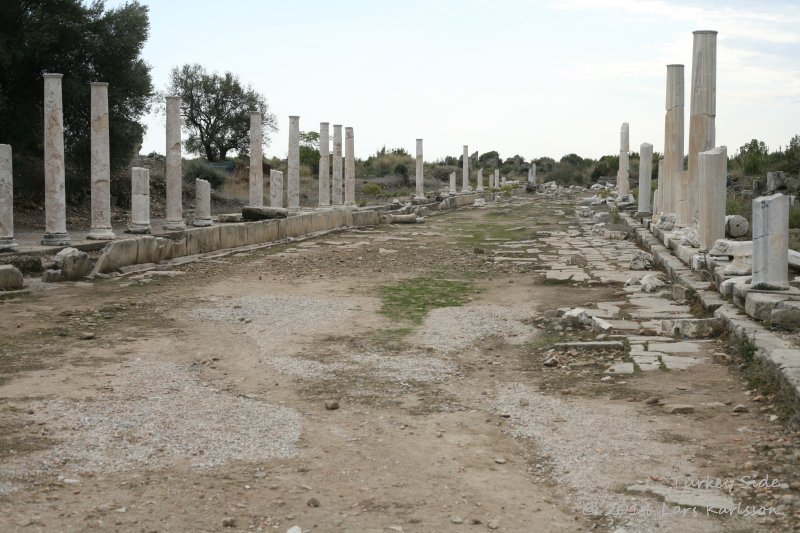 Main road through the ruins of the ancient city.
---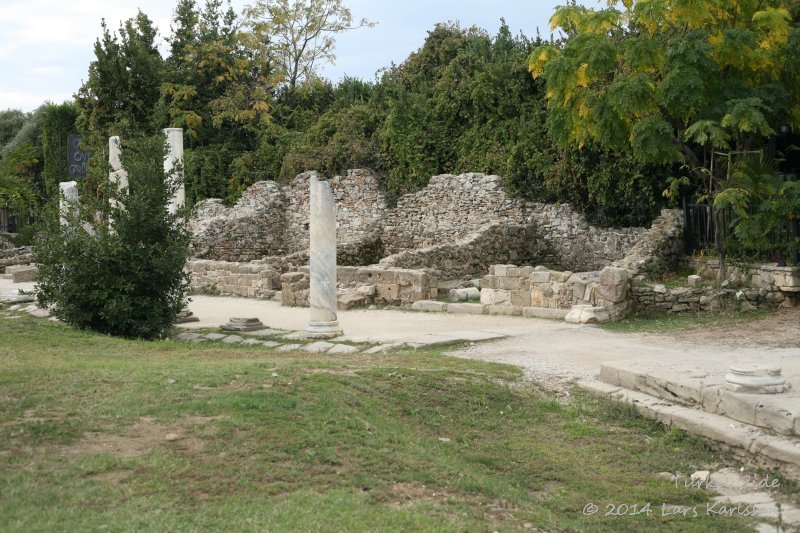 ---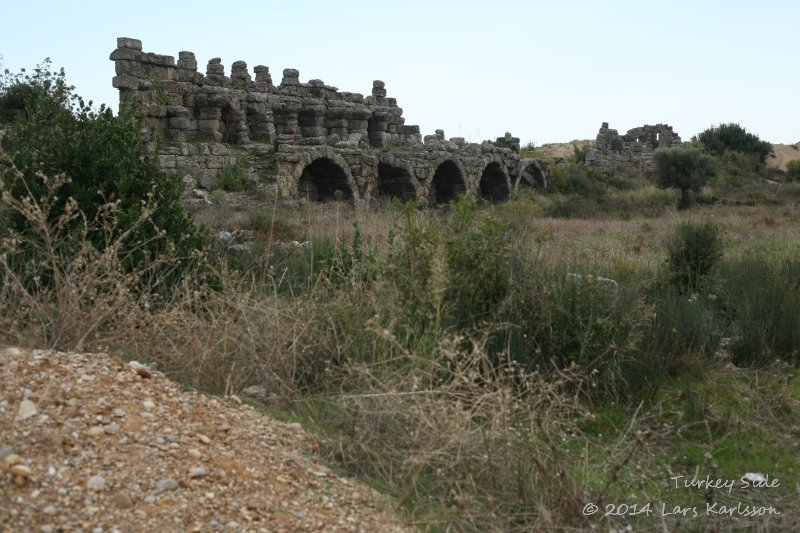 Eastern City Wall.
---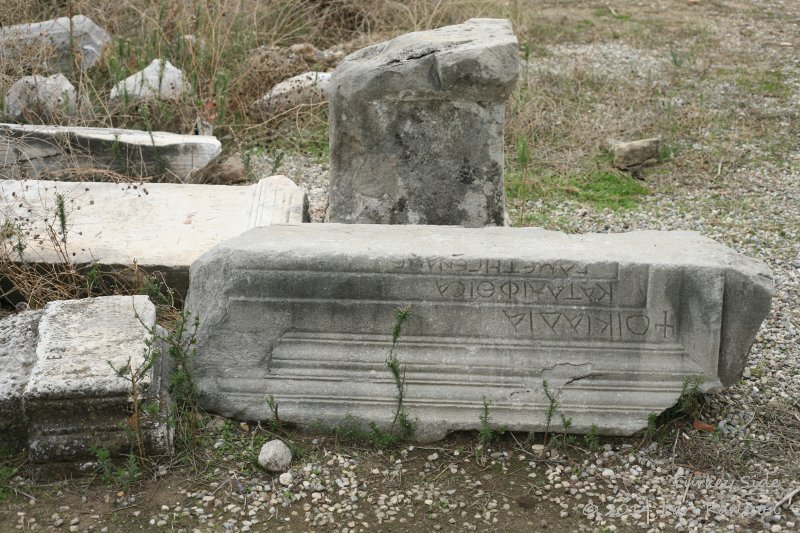 ---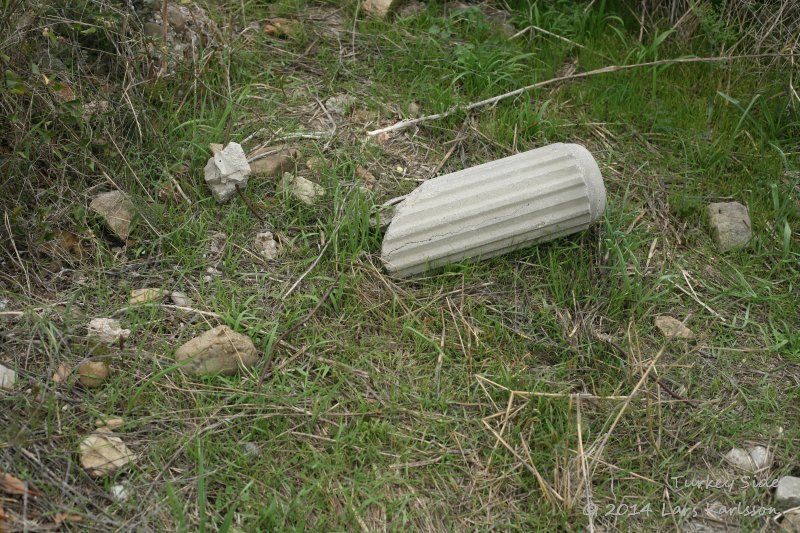 ---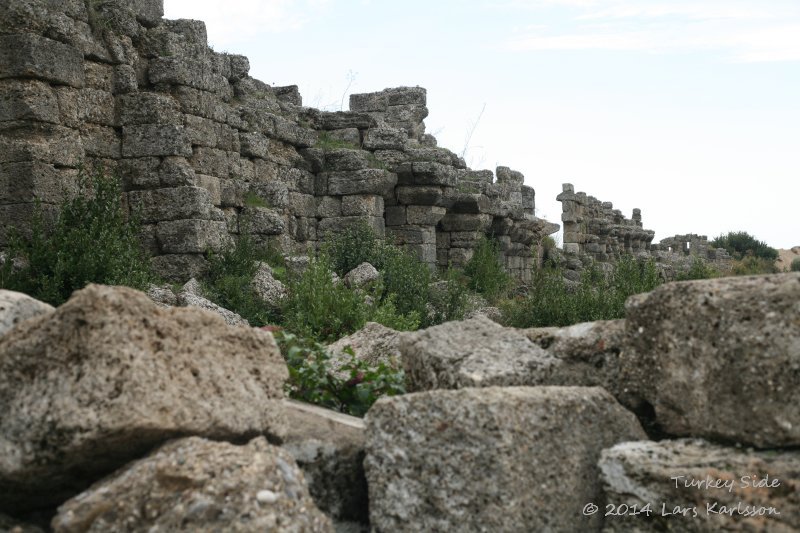 ---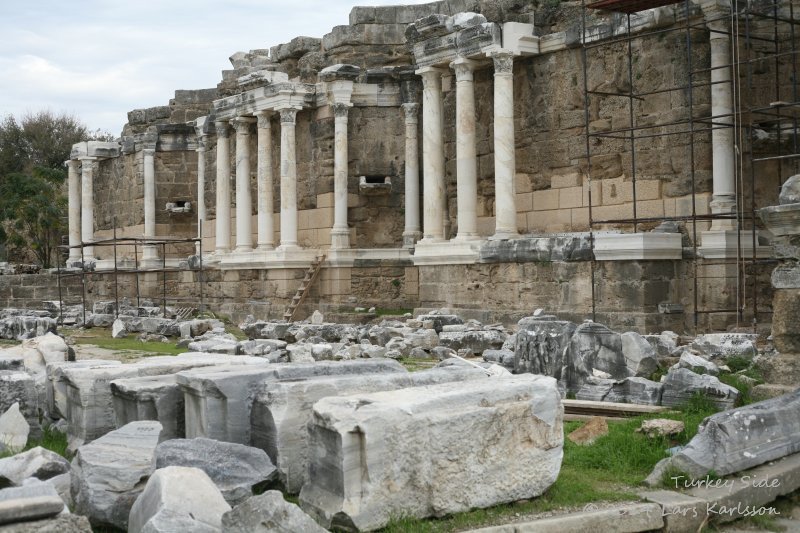 Monumental Fountain, Nymphaeum. From this fountain it flow a lot of water, you see the three water outcasters. Later you should see the aqueducts that led the water to town.
---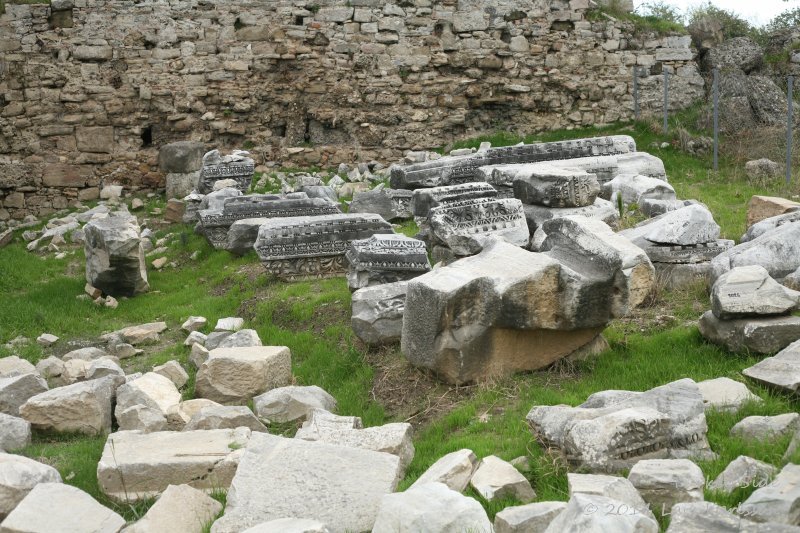 This is parts of the fountain, they are working to restore it, it's like a big puzzle.
---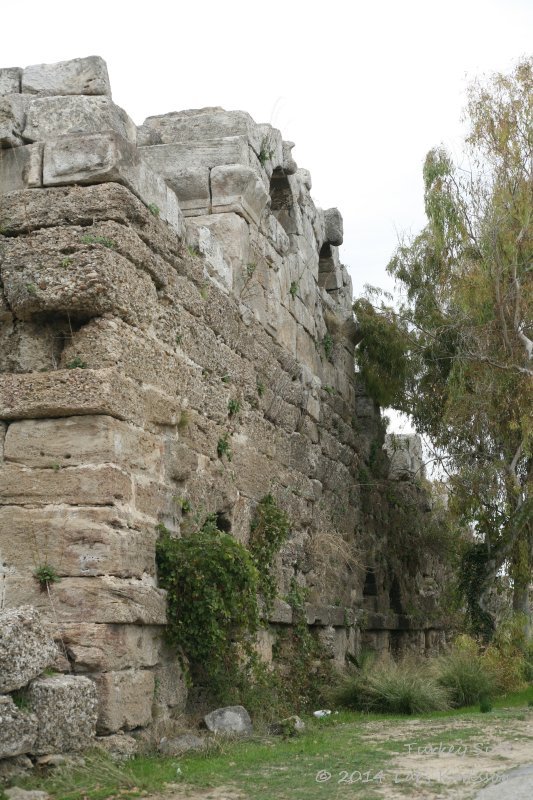 ---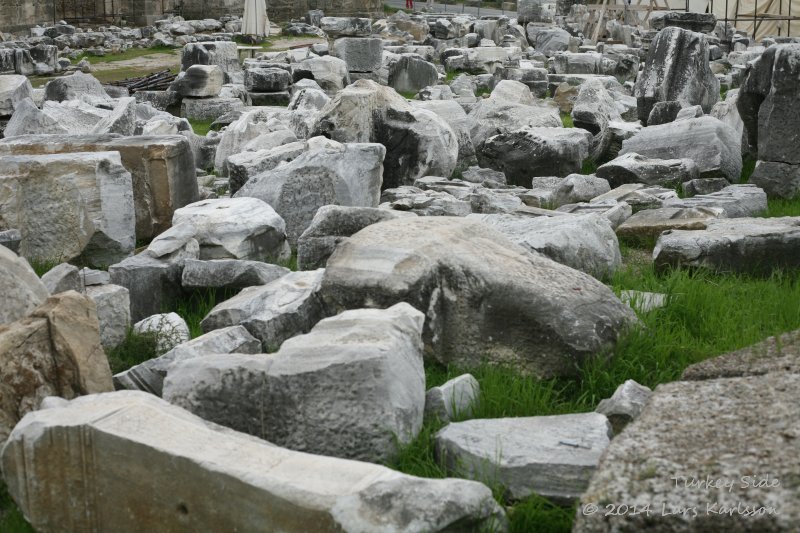 All these stones have to be find out were to place in this big puzzle.
---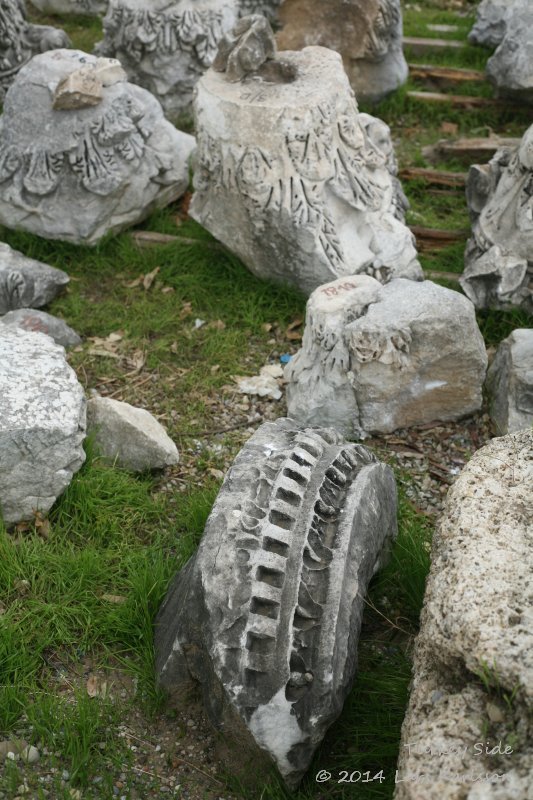 ---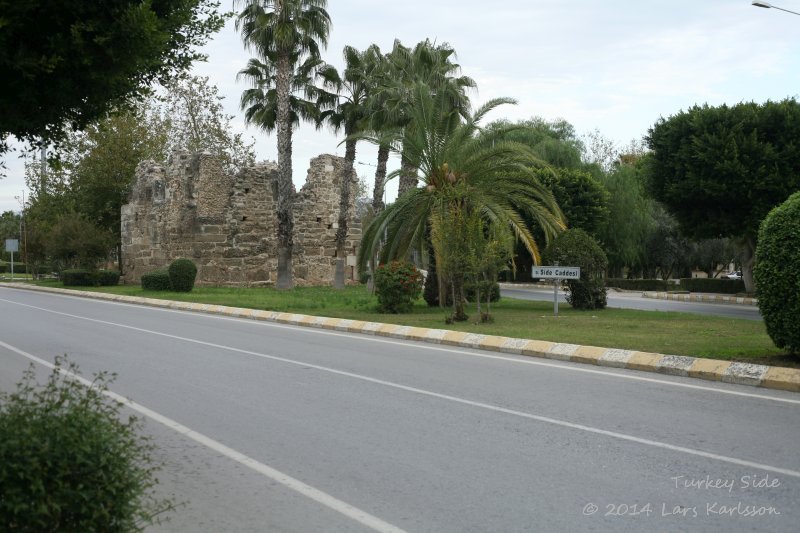 On the way back to the hotel, we are tired after this long day of walk.
---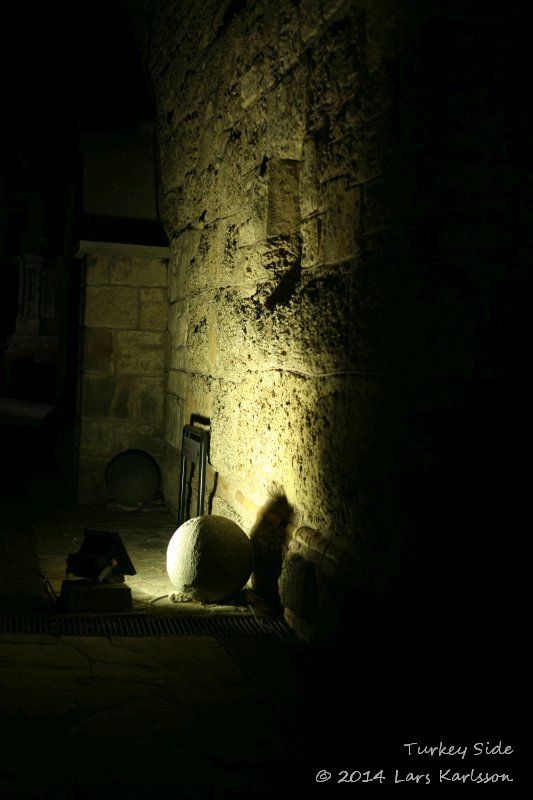 Now it's time to find a restaurant for dinner.
---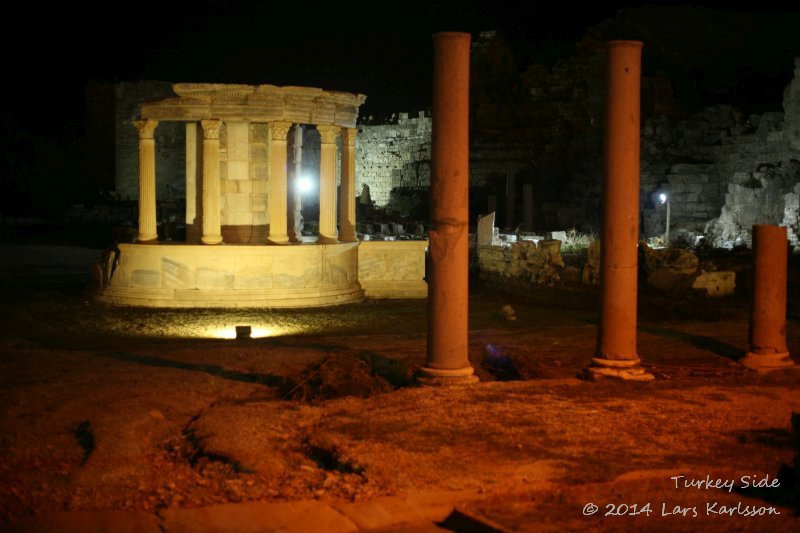 ---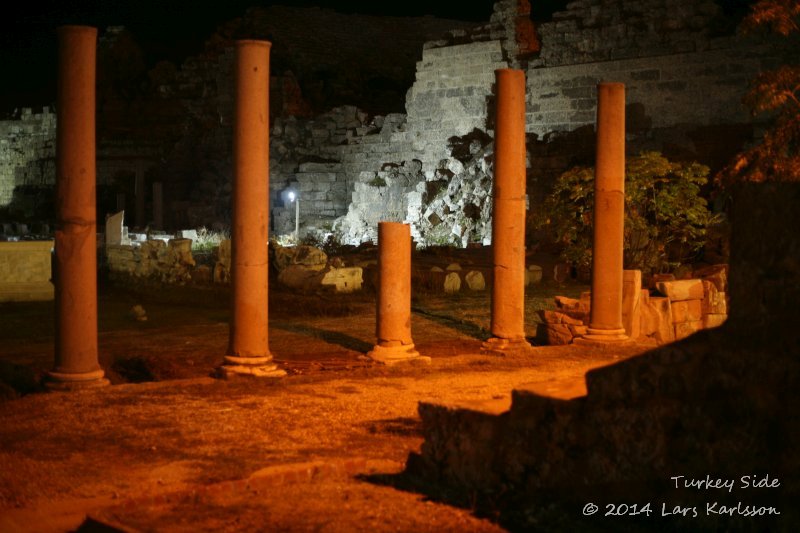 ---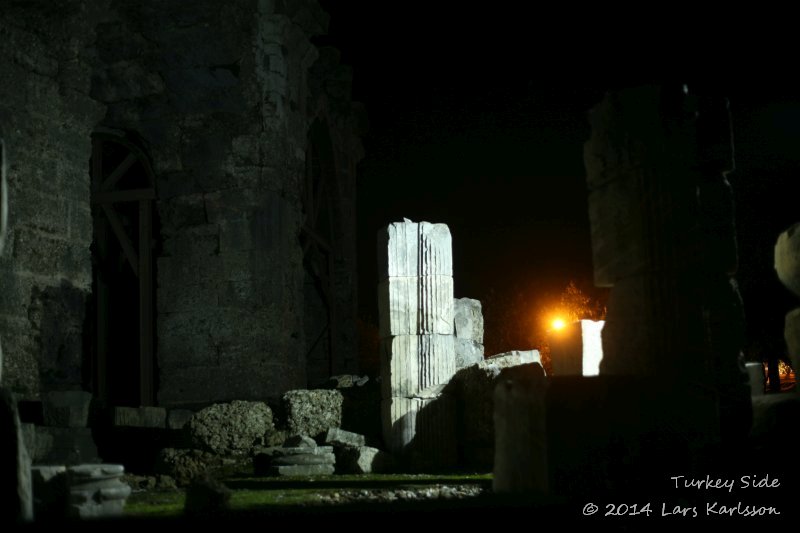 ---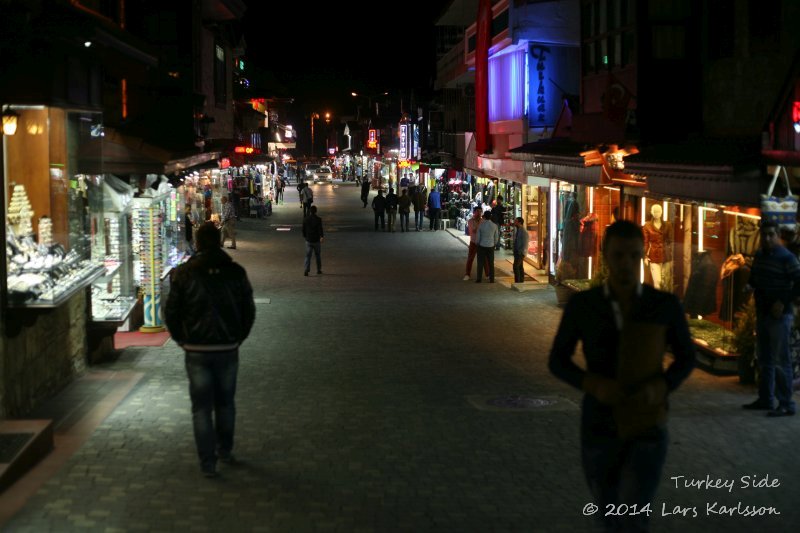 ---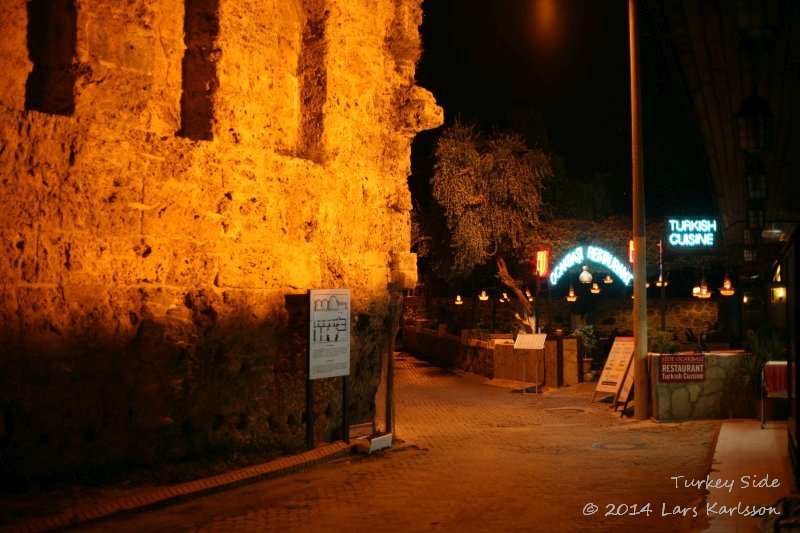 ---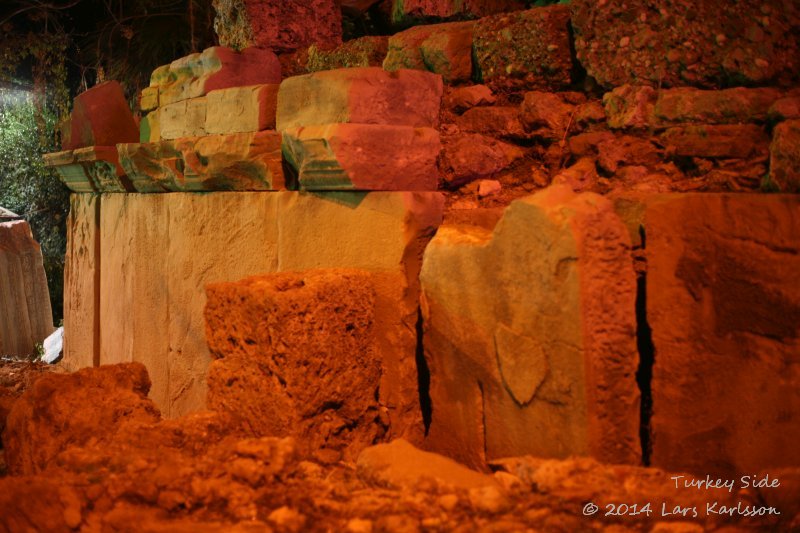 ---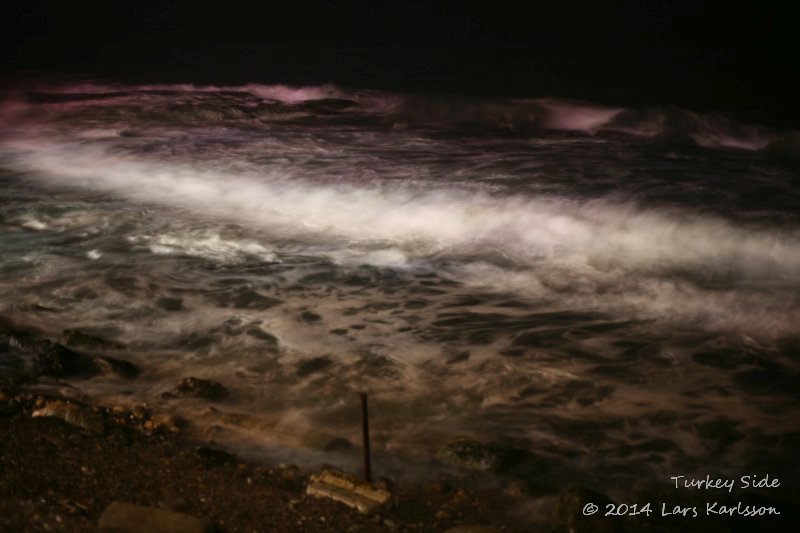 ---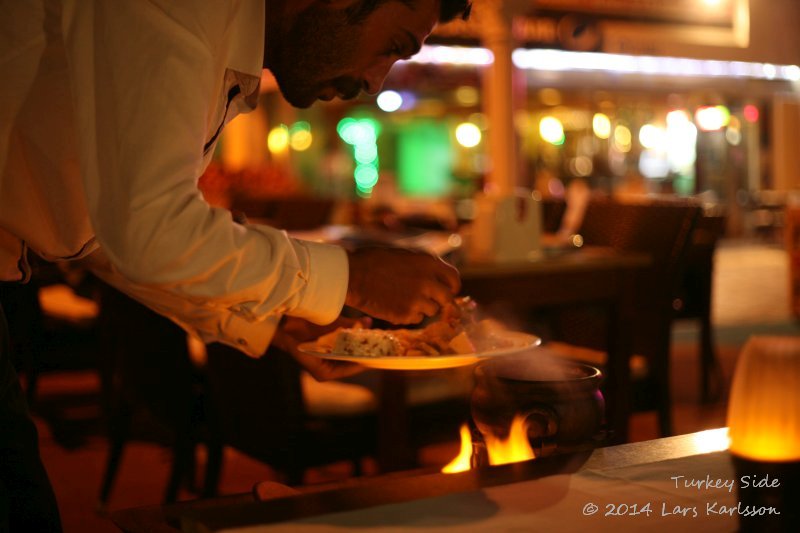 We decided to walk back to the restaurant where we had our lunch.
---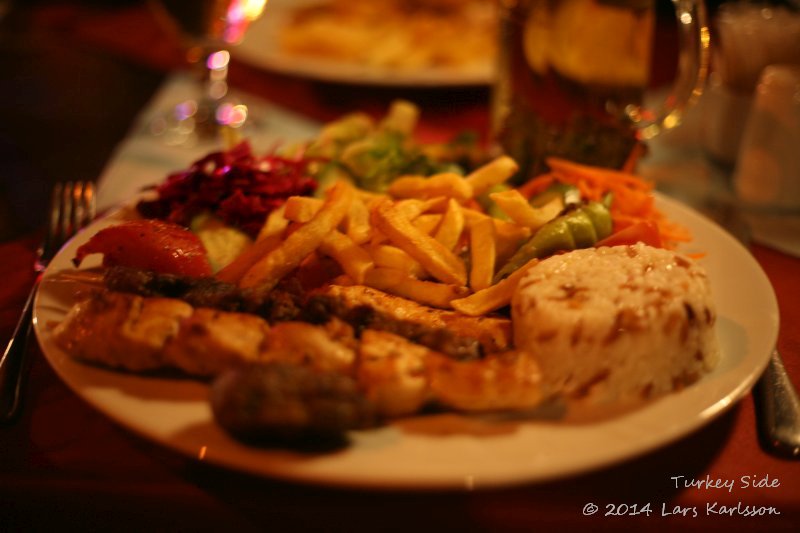 ---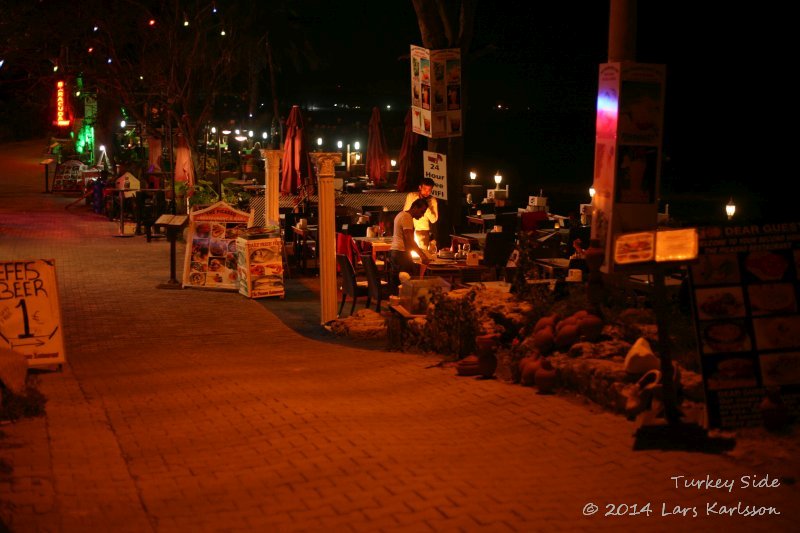 ---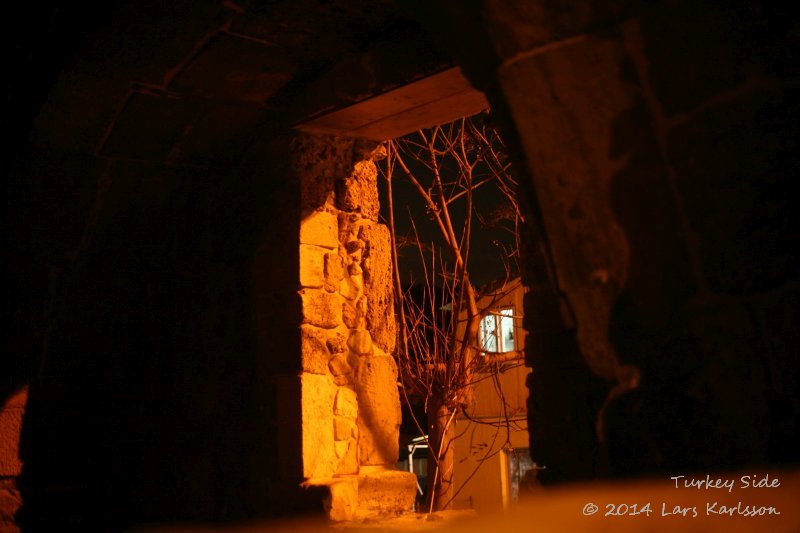 ---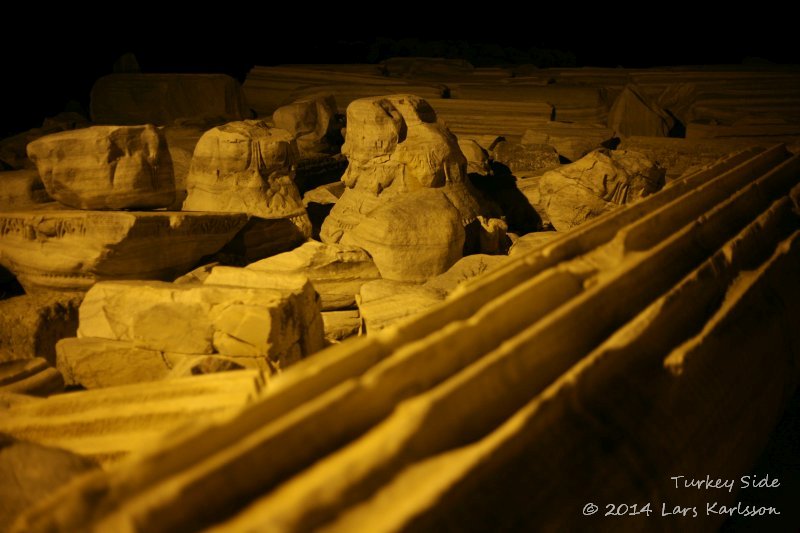 ---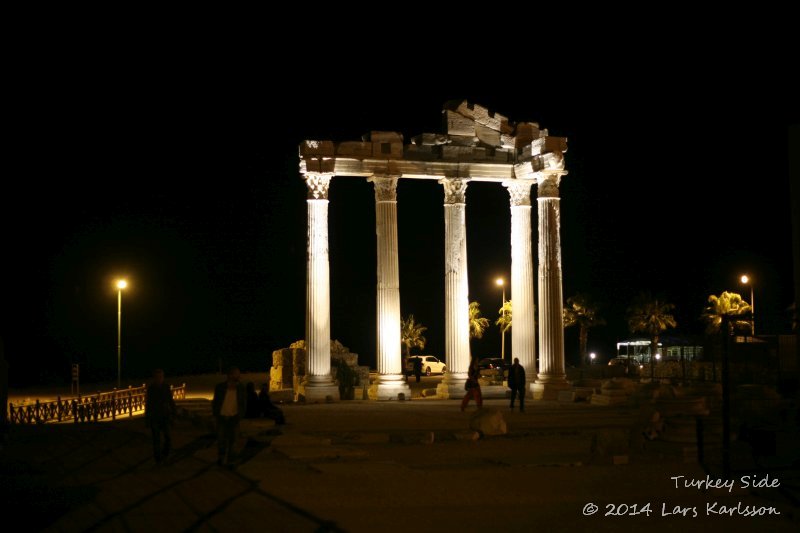 Temple of Apollo.
---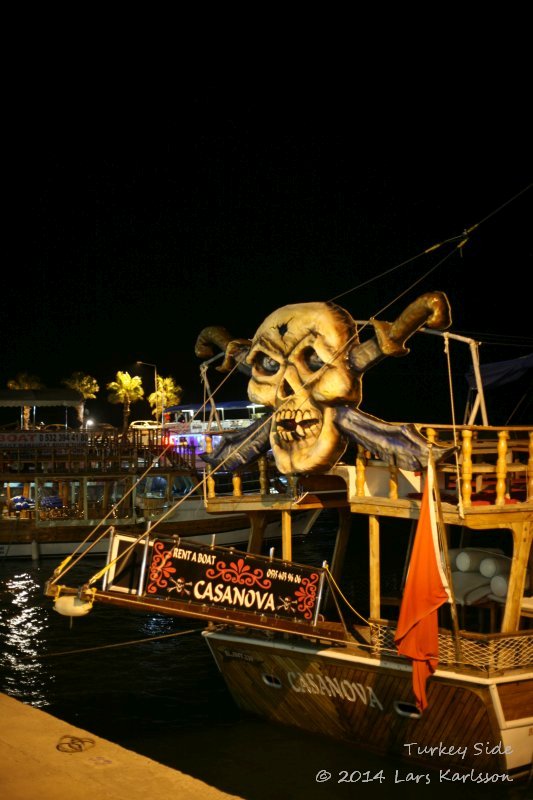 Pirate ships are popular here too, we had already seen them on our earlier visit to Turkey.
---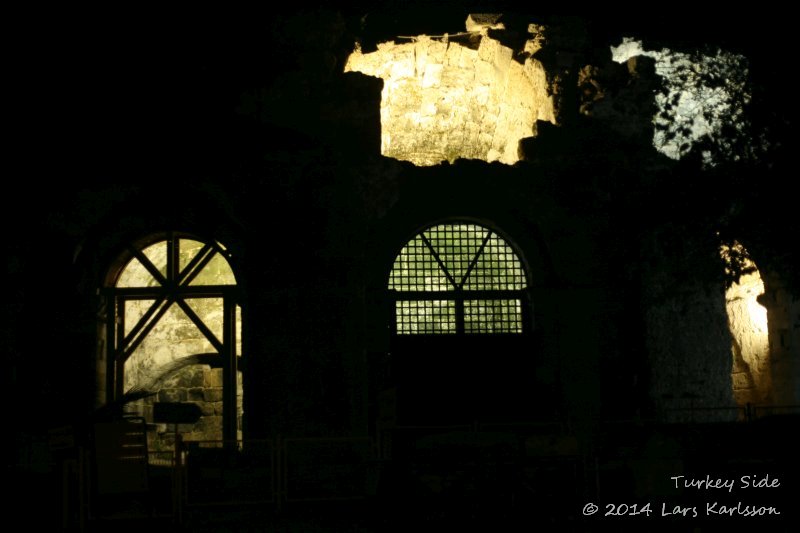 ---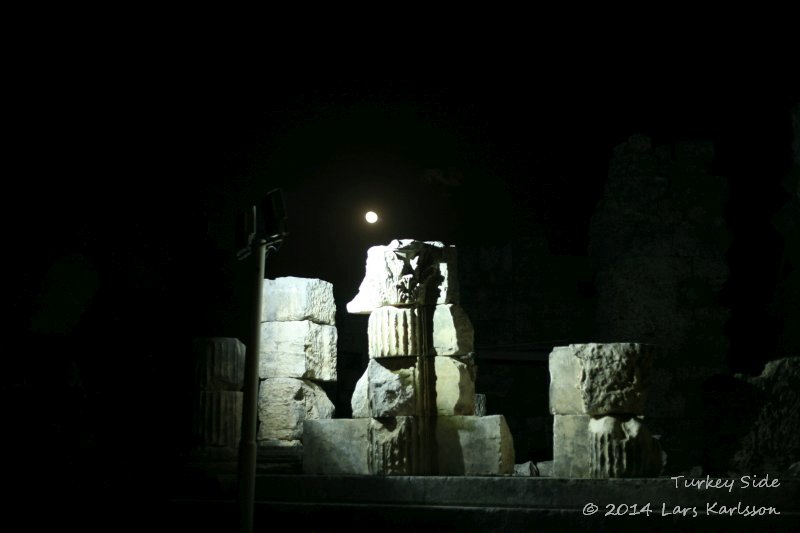 Moonshine over the ruins.
---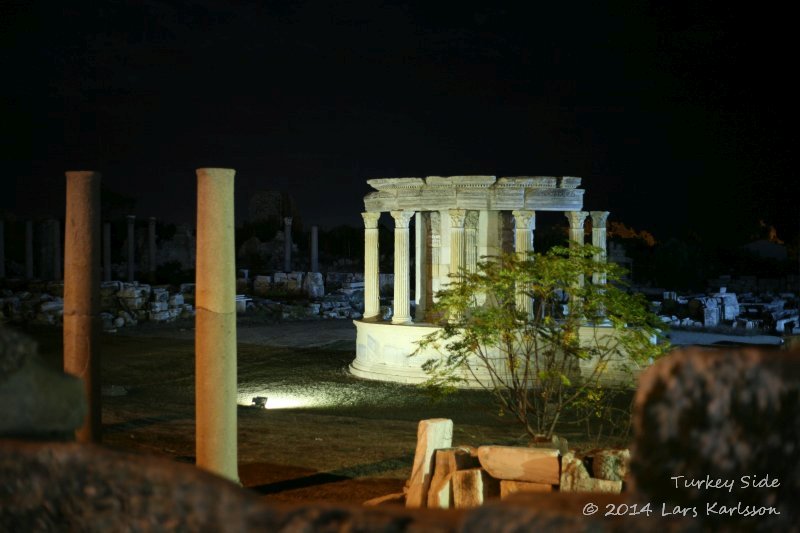 ---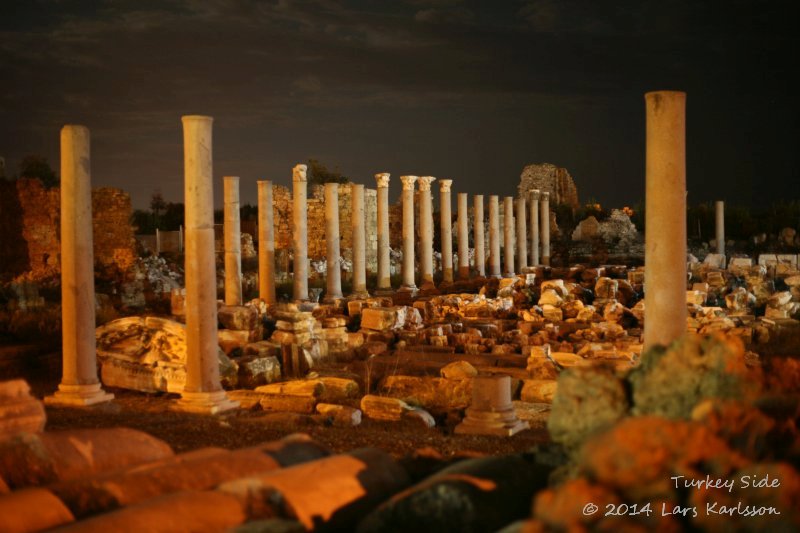 ---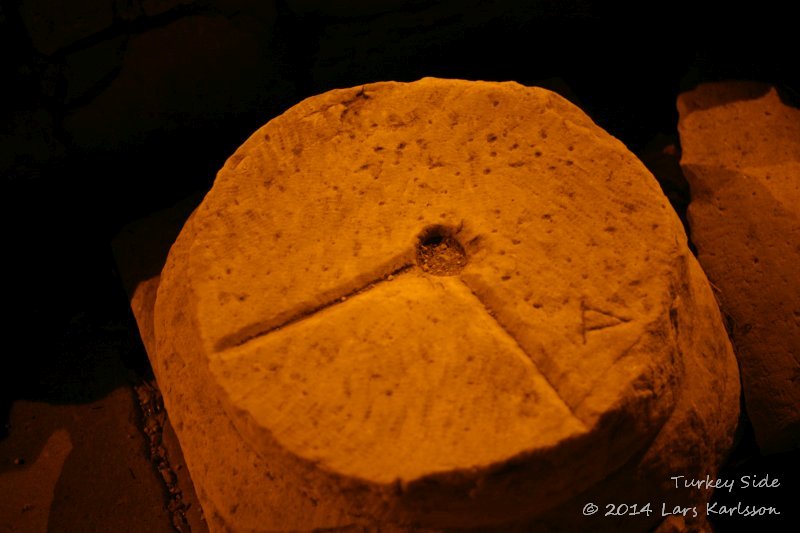 A a base from a pillar, in this carvings we think they pour some rubber like stuff. That prevented the pillars to fall down under an earthquake, it's like a shock absorber. They were clever at that time to figure out practical things, great engineers.
---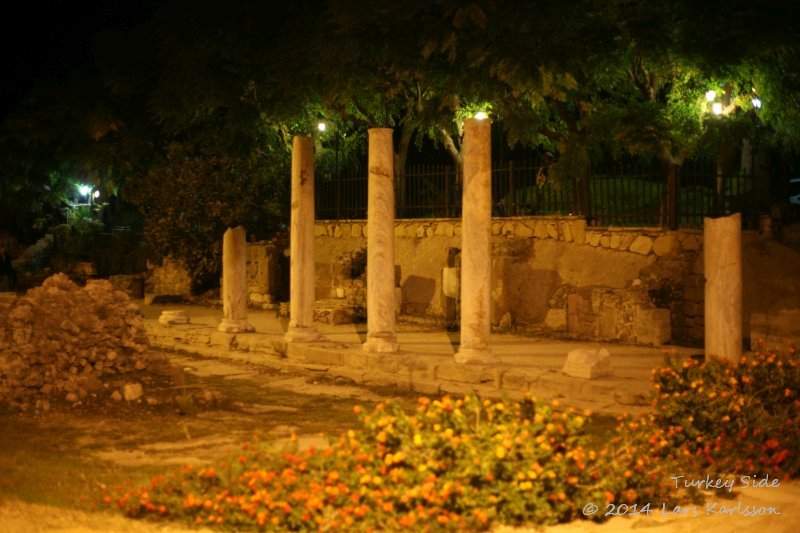 ---