My travel in Europe:
From Stockholm to
Germany and Austria by car, 1988
---
Content:
---
Part 3: From Vienna to Eastern Alps, Bad Gastein, Innsbruck, Garmisch-Partenkirchen:
Today we will drive at the Western direction from Vienna towards Bad Genstain, Innsbruck and Garmisch-Partenkirchenthe in Germany.
Google Map over Austria and Germany:
Through Austria to Germany we had more than 700 km to drive.
---
Central Eastern Alps: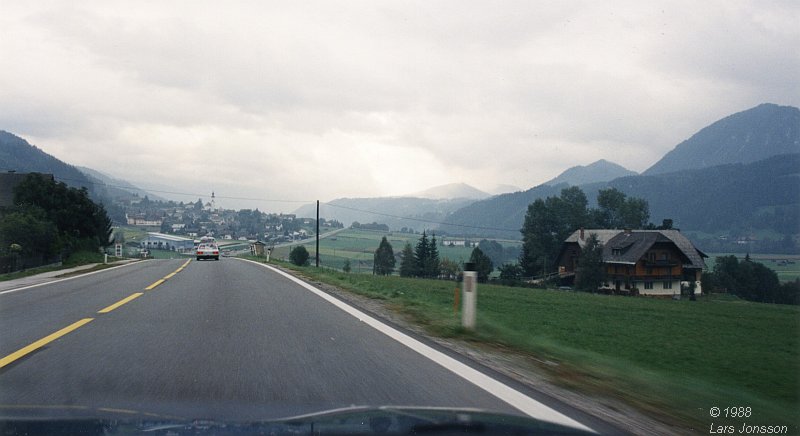 When we drive in Western direction we came soon to the Eastern Alps. Here we got our first glimpse of them.
---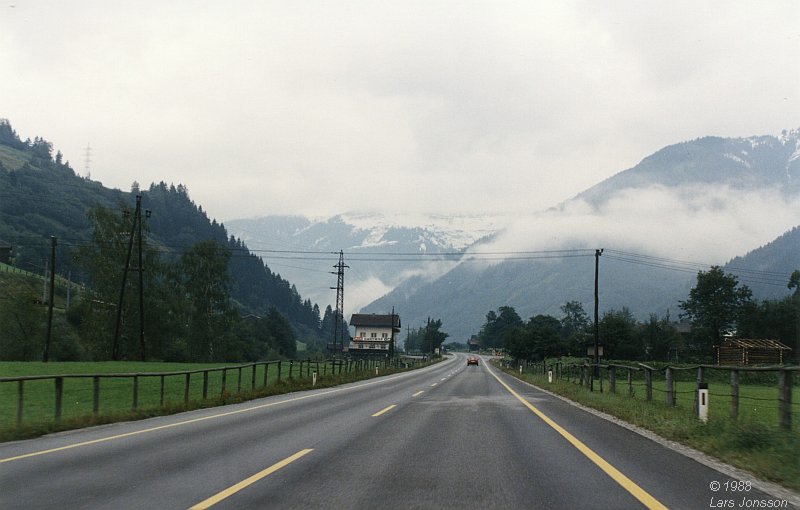 It get colder now when driving high above sea level and it still raining, it's the third day of rain.
More to read about Central Eastern Alps at Wikipedia
---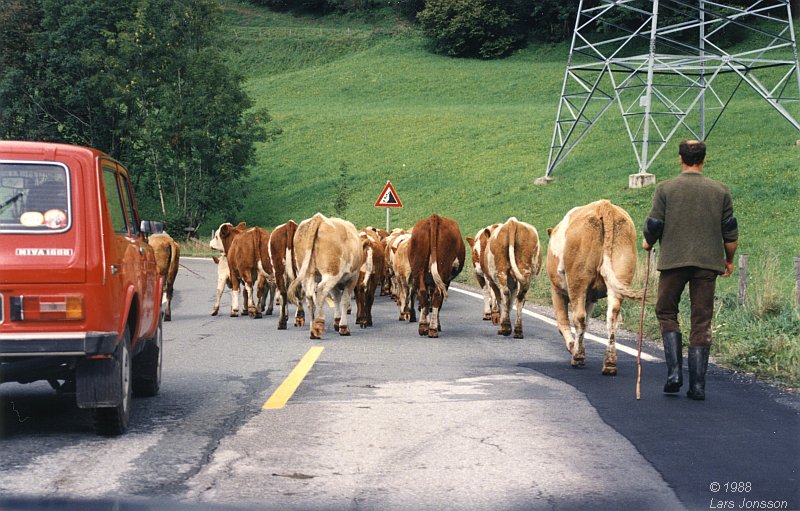 Interrupted by a cow traffic jam.
---
Bad Gastein: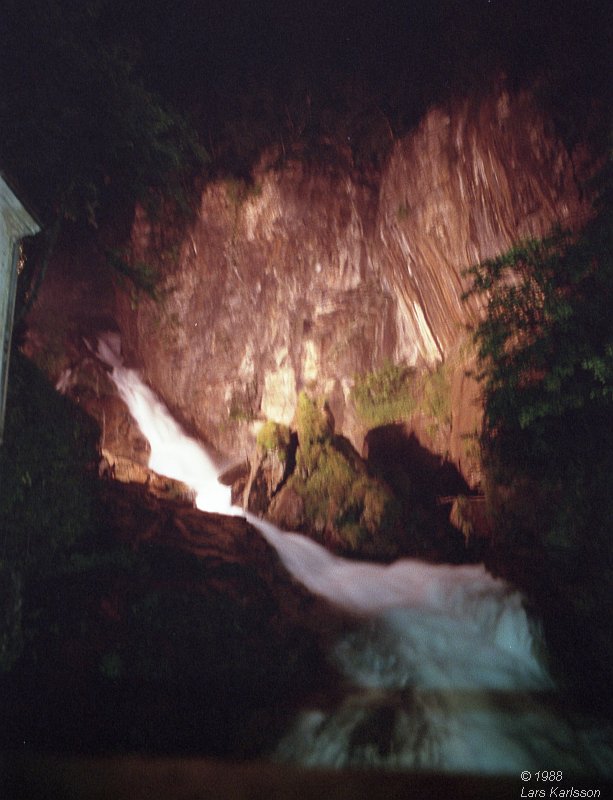 We came to Bad Gastein in the evening, got a room close to the train station. Bad Gastein is famous for this waterfall. We are standing on a bridge and looking upwards, the water comes from far up there in the mountains.
---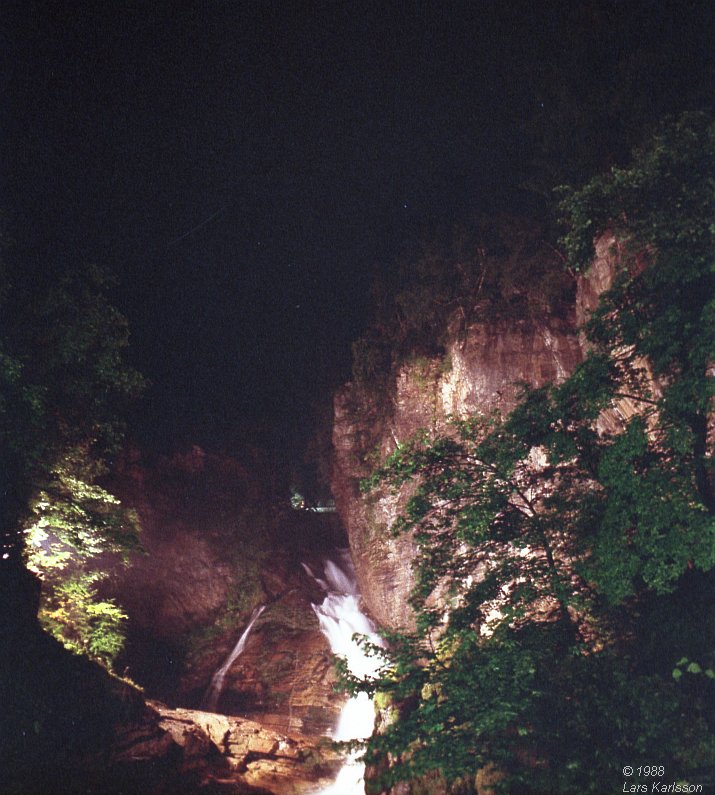 From the other side of the bridge we see how the water fall down.
---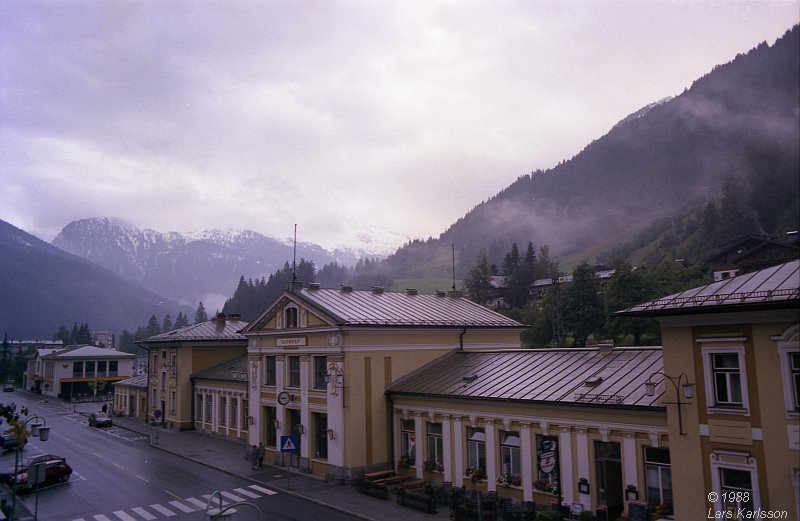 View from our balcony. Bad weather today, as we had yesterday and the day before and the ... My girlfriend Gunilla visited Bad Gastein 15 years later on a vacation, she had joined a group to take walks between the villages in the Alps. She had much better weather then what we got. I really like this village and want to come back in the future.
At Wikipedia you find more information about Bad Gastein:
---
Innsbruck: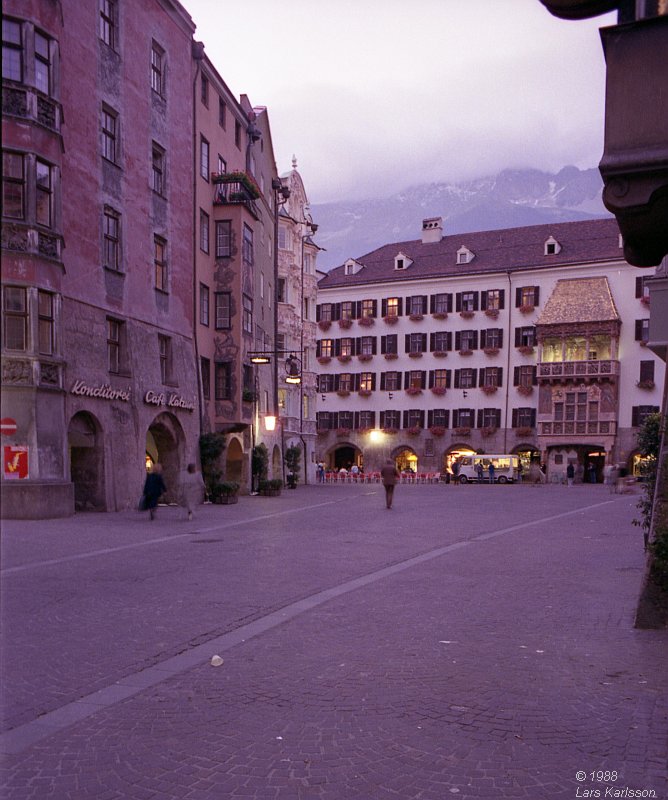 One stop we made on the way to German border. This is the old town of Innsbruck. The building in front of us is Goldenes Dachl (Golden Roof). I had totally forgotten this, I had to search the internet to find out which city it was.
At Wikipedia you find more information about Innsbruck:
At Wikipedia you find more information about Goldenes Dachl in Innsbruck:
---
Ski resorts: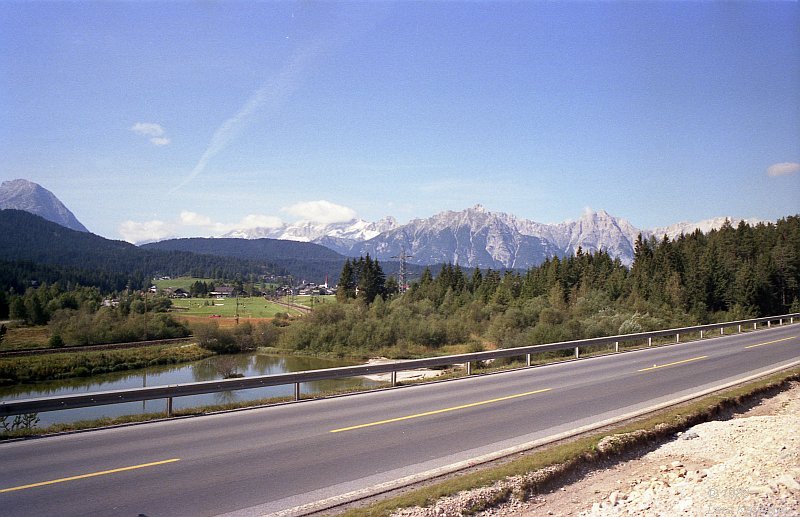 On the way to the Austria - German border we passed a lot of ski resorts. It's very beautiful and the weather is perfect, sunshine !
---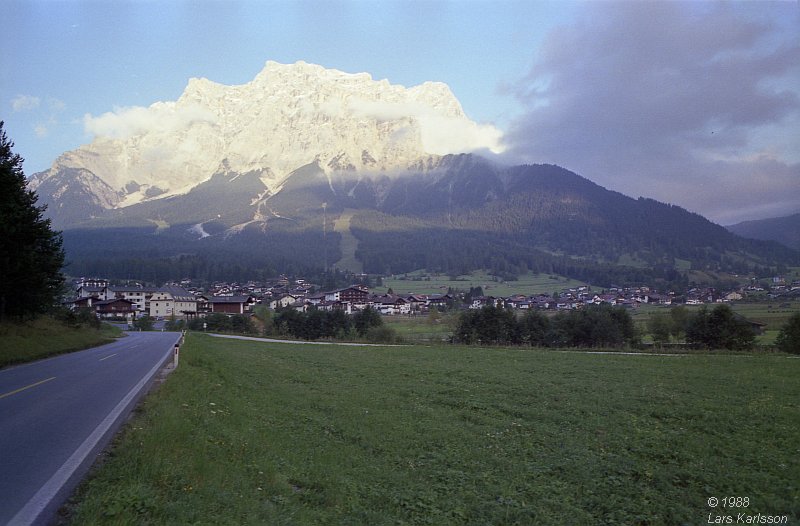 After we crossed the border Austria - Germany we get this breath taking view. This is the mountain Zugspitze, Germany's highest peak, 2962 meters above sea level. Just before we come to the city Garmisch-Partenkirchen.
At Wikipedia you find more information about Austria - Germany border:
At Wikipedia you find more information about Zugspitze:
---
---
Garmisch-Partenkirchen, Germany:
We are now back on the Romantische Strasse, the most Southern part of it that we missed earlier.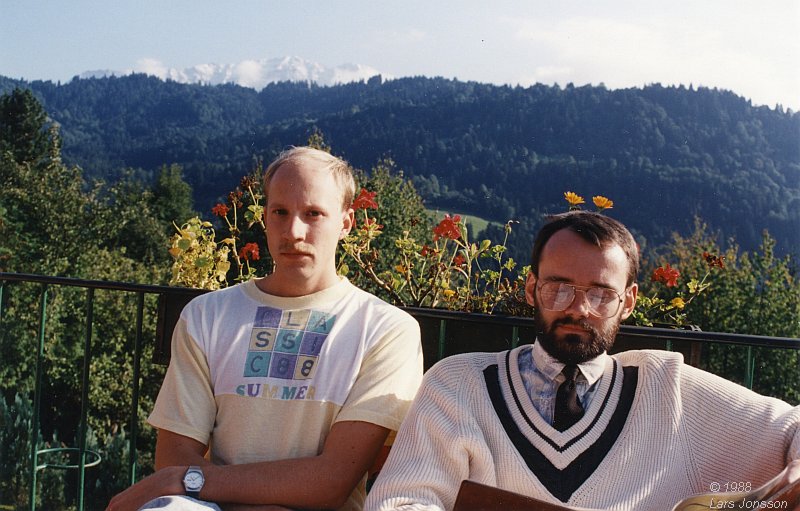 Two Lars looking for food. What a little bit of sunshine makes life easier.
---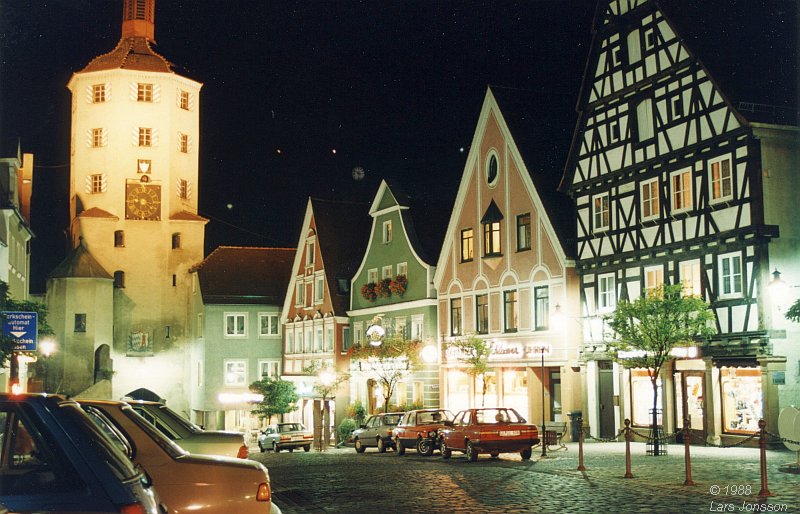 Tonight Lars J get use of his new tripod and doing some night time photographing.
---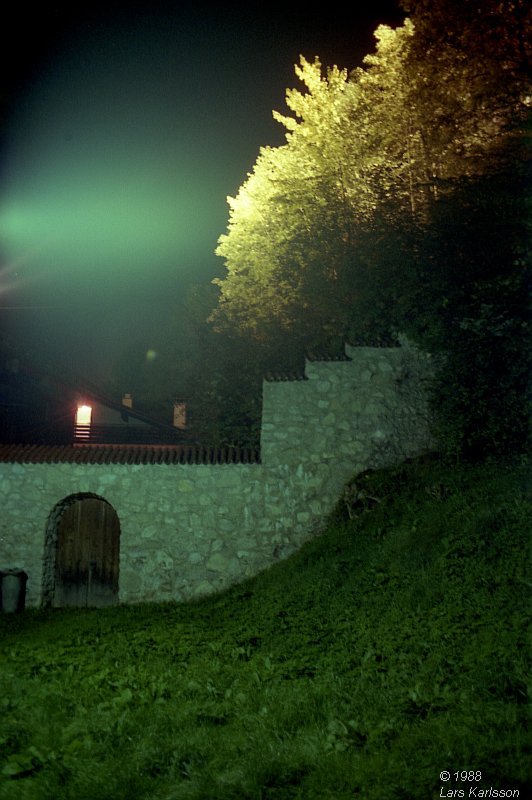 In the night a lot of exiting colors comes out.
---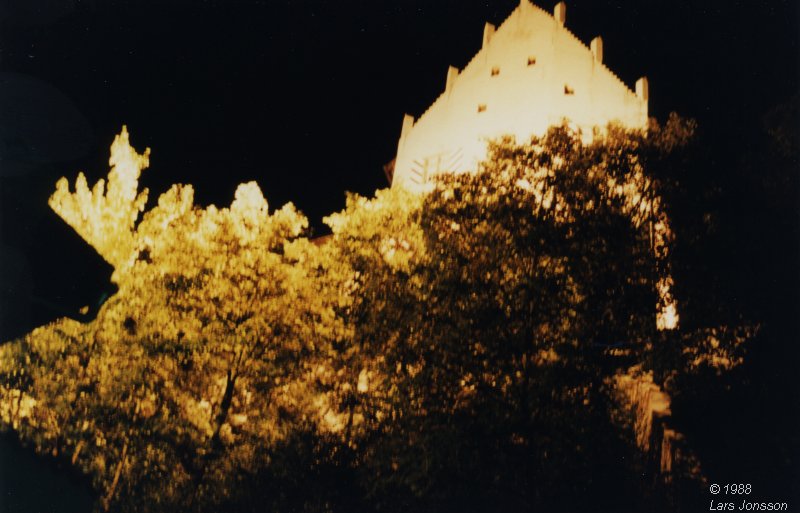 At Wikipedia you find more information about Garmisch-Partenkirchen:
---
Hohenschwangau Castle:
The closest and easiest way to come to Hohenschwangau Castle which was our next stop is to cross the border once again to Austria. Drive a short distance in Austria and then cross the border to Germany again. We also talked about to visit Liechtenstein and Switzerland, but time goes on and we have been out on the roads ten days already.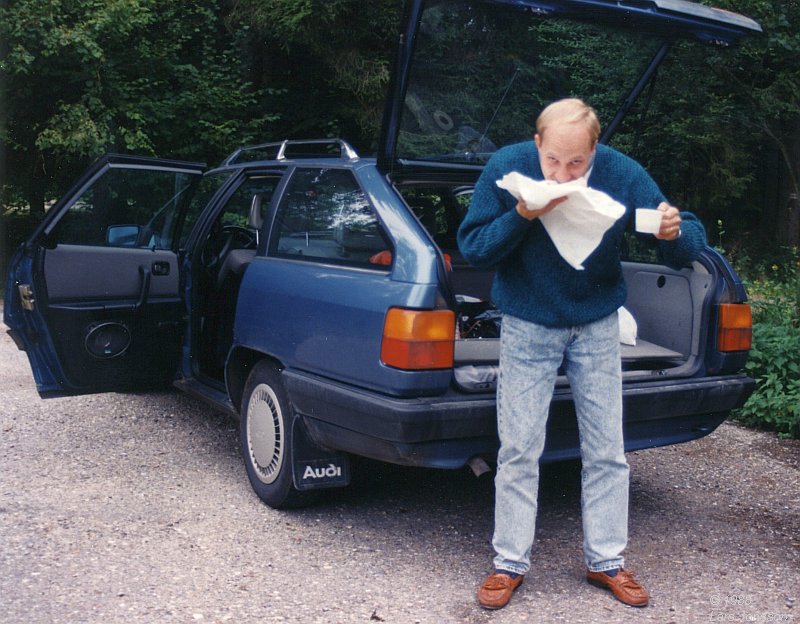 We have now stopped for a visit to Neuschwanstein Castle, we can't take the car all the way up and parked it below the hill. Lars J needed some fast food and we found a cake in the car. It's Lars J's car, almost new and it's an Audi 100 Avant. Lars J had a coffee machine installed in it.
---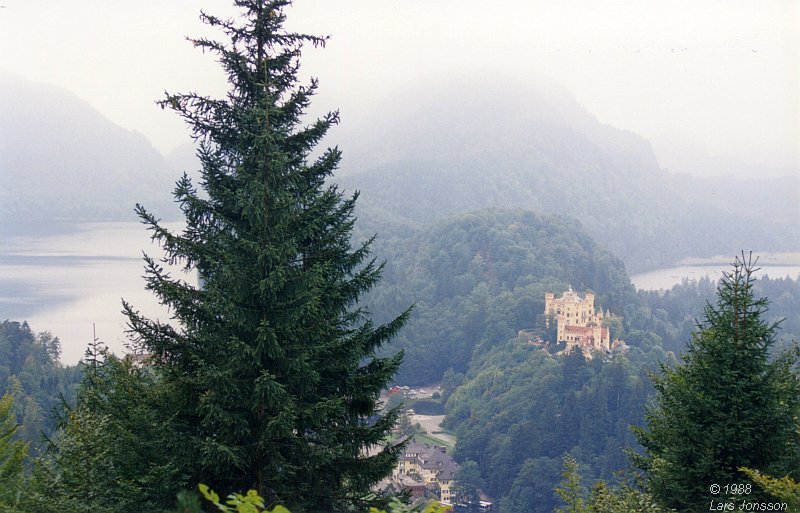 In fact there are two castles, one new and one old, this is the old. We only visited the new castle and got a view on the old yellow castle on the way up to the new castle.
---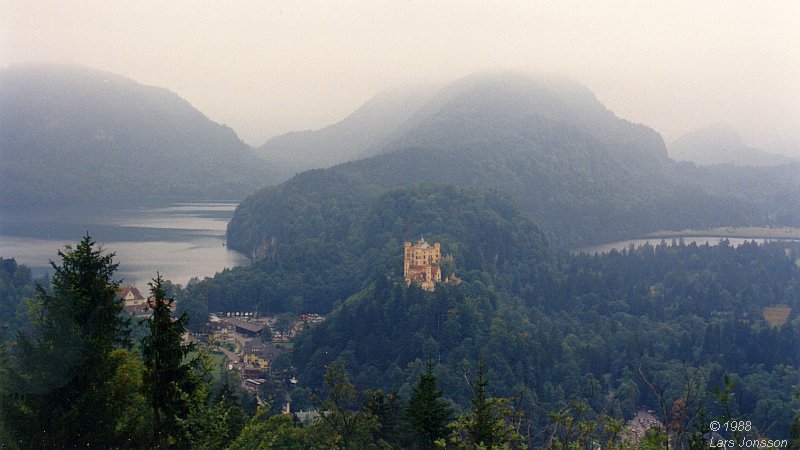 More to read about Hohenschwangau Castle at Wikipedia
---
Neuschwanstein: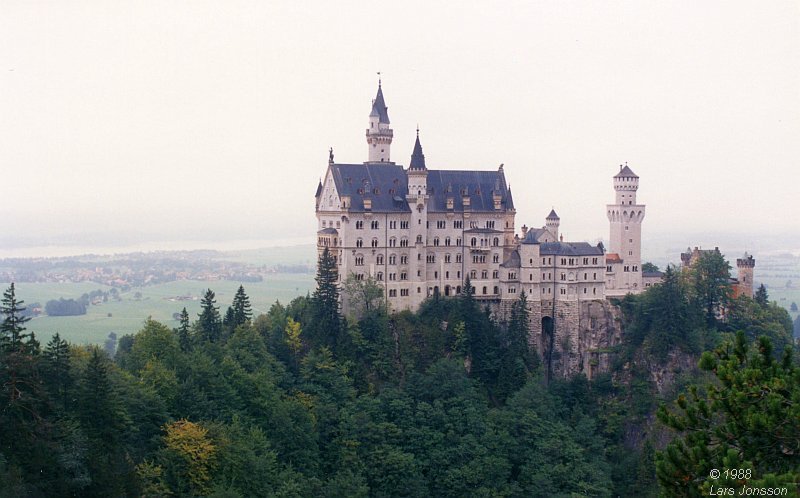 The the new Neuschwanstein castle. It was placed on the top of a very steep hill, I remember we saw horse carriages, maybe we took one up to the castle and then walked back. It was very interesting to see, it was the king Ludwig II of Bavaria who started to built this castle, he died before it was finished and then the workers disappear. They left all the tools, the tools are still there. This is a typical Disney castle, a lot of movies must have been filmed here. I can read that they had 61 million people visited it, of them we where three.
---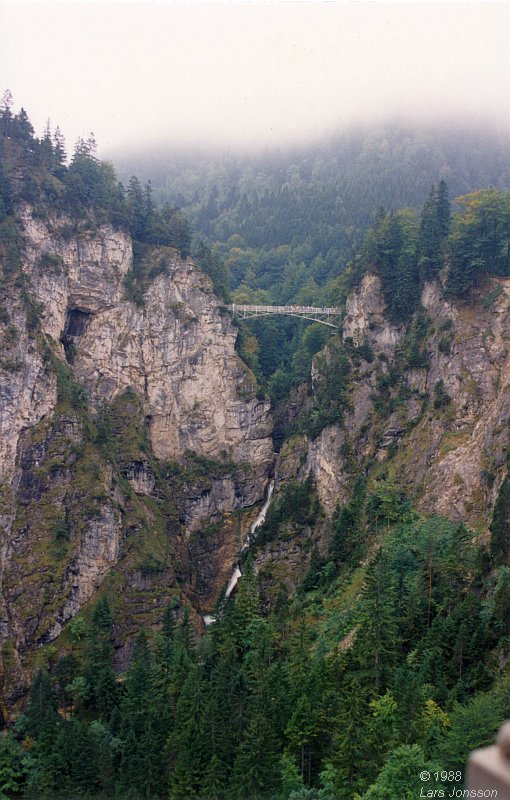 There are two narrow bridges leading to the castle, I standing on one of them.
---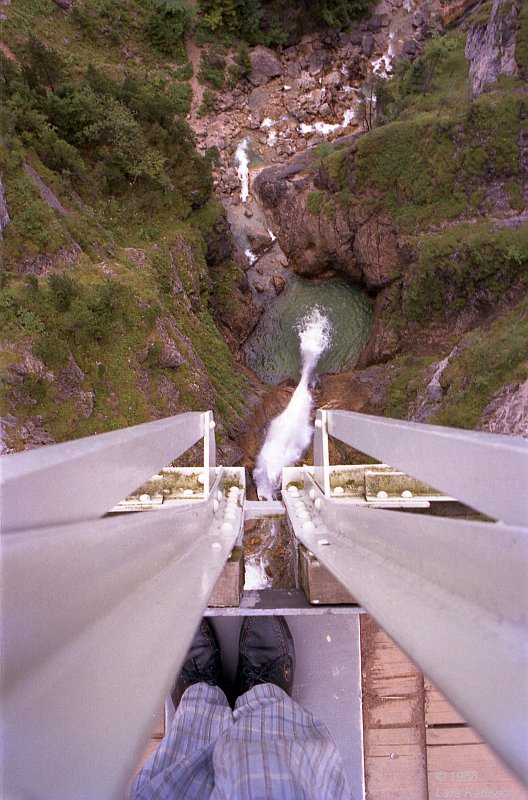 It's high, high, above the ground.
---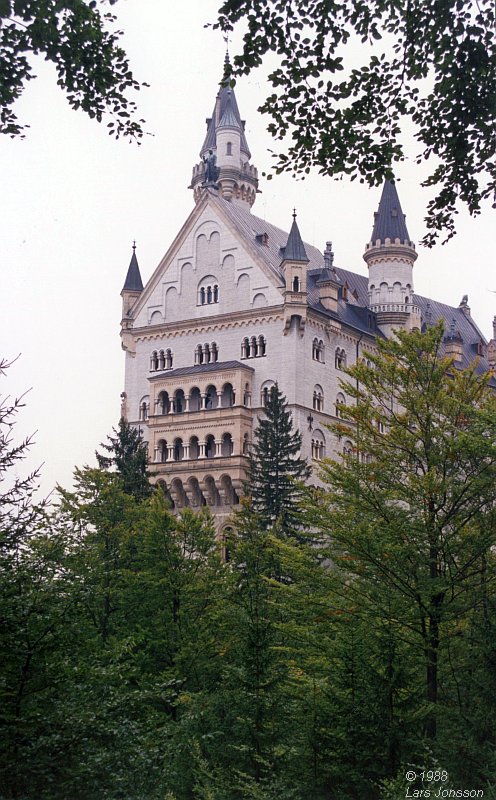 More to read about Neuschwanstein Castle at Wikipedia
---