Chrysler Crossfire

---

Content:

Note:
You use this information at your own risk! Don't blame me if something goes wrong !
2, Information and data about Chrysler Crossfire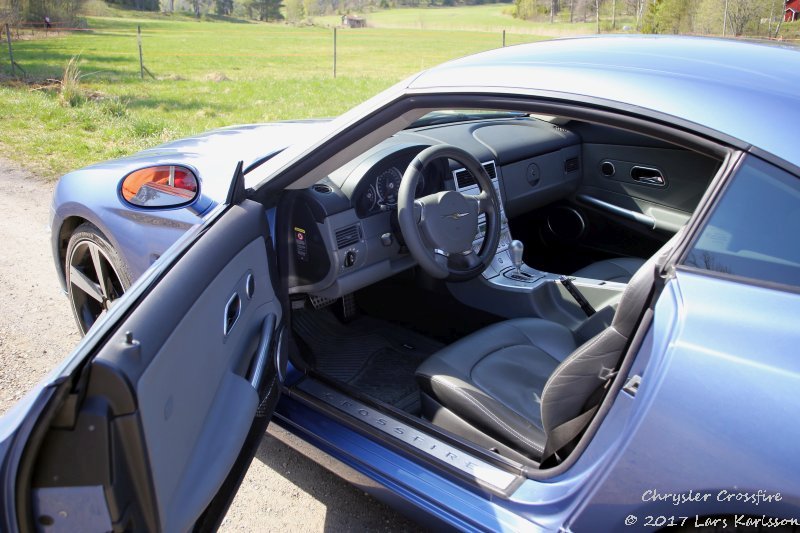 ---
V6 engine E32
The model code to this V6 engine is M112. This version is the 320 or 3.2 liter, it had been manufactured in different sizes, from 2.4 to 3.7 liters. From years 1998 to 2008.
The engine is a bit special, it has two spark plugs on each cylinder, twelve in total. Each cylinder has three valves, two intake and one outlet.
V8 engine in Crossfire?
I found some interesting readings, some Mercedes V8s fit directly to the gearbox. I have also Chryslers Hemi V8s in Crossfires, but that must be much more complicated.
I don't have any plans to replace my V6 engine, but fun to know that I could.
Electric engine in Crossfire?
Now I found a electric Crossfire project:
They have kept the gearbox, maybe necessary but add a lot of extra weight.
---
Automatic 5 speed gearbox:
Mercedes call this automatic gearbox 5G Tronic. It was introduced already 1996 and is still in use in the most powerful models which the new automatic 6-speed gearbox can not handle.
The gearbox has lock up function on the higher gears.
The gearbox don't have an oil stick from factory, you have to buy one separate!