My travels in Europe:
Norwegian cruise to the fjords
---
One week on the North Sea and Norwegian fjords, part 1:
---
Introduction:
I had always want to go to the Norwegian fjords and always thought that must be done by car. My girlfriend got me to think in other way, she had found a cruising to the Norwegian fjords by an Italian cruiser company. Long time ago I was to Trondheim in Norway, and that was a very long way to drive by car for just to visit one place. The Norwegian roads do not go straight, they have lots of curves around the fjords! So maybe a cruise is not that bad idea. We booked our tickets in 2009.
The cruise start in Denmark at the port of Copenhagen. We live in Stockholm and the only way to come down on the right day was to go by bus. It took 9 hours! But it was not that hard, the bus was very comfortable and we could also sleep for a while. After we had walked 4 hours in Copenhagen we enter the ship and here our story starts.
Map of cruise day 1, Port of Copenhagen and the cruiser Costa Mediterranea:
Port of Copenhagen:
The ship wait for us at the port of Copenhagen. Much more luxury than the ships we had cruised with from Stockholm to Balticum.
Ship Costa Mediterranea:
This first day is about the ship that we investigate what we can find here. The cruiser is an Italian and has the name Costa Mediterranea. It's not built in Italy, it's built in Helsinki, Finland by Kvaerner MasaYards.
Length 292 meters, 2680 passengers, 900 crews, built 2003, 12 decks.
Follow us here when we walk around the ship.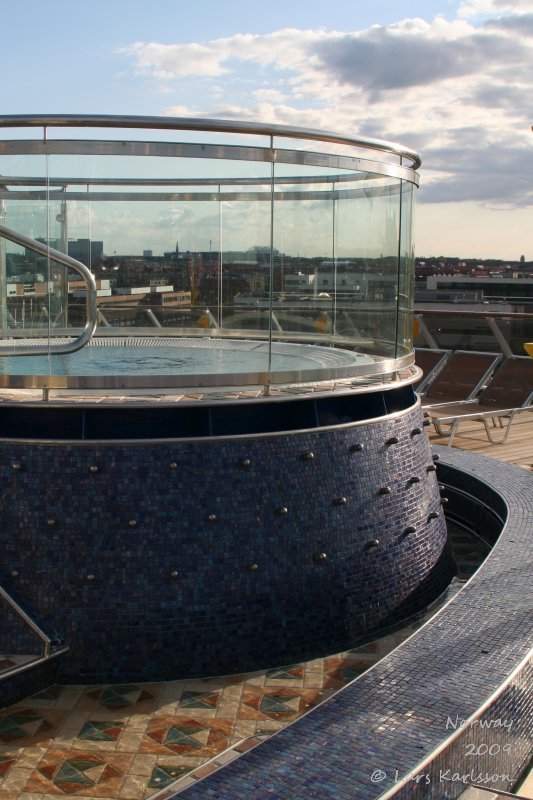 First we took a walk on the upper deck and we find pools, yes everywhere.
---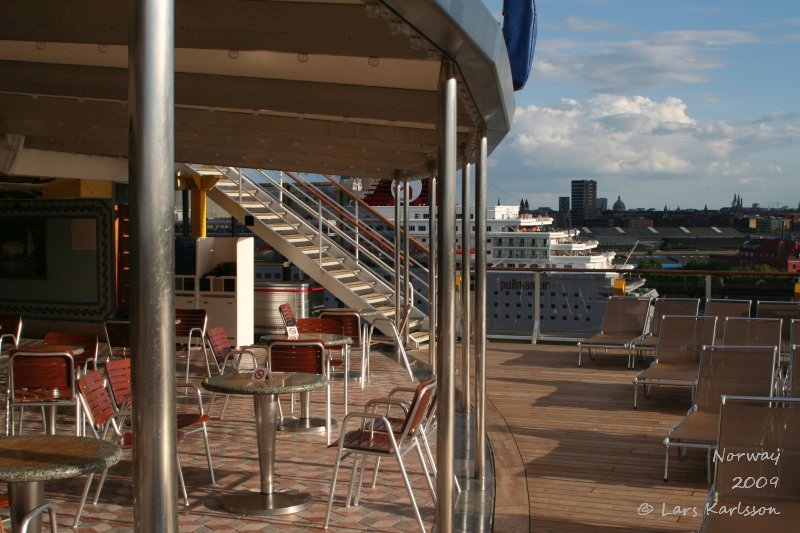 At the aft there is a bar and restaurant. There are at least one restaurant open 24/7 and food are included, breakfast, lunch and dinner. And if that's not enough you can go and eat even more for free. What you must pay extra for is the vine, beer and other drinks. We bought a bag with five vine bottles and five water bottles, that was more than enough for us.
---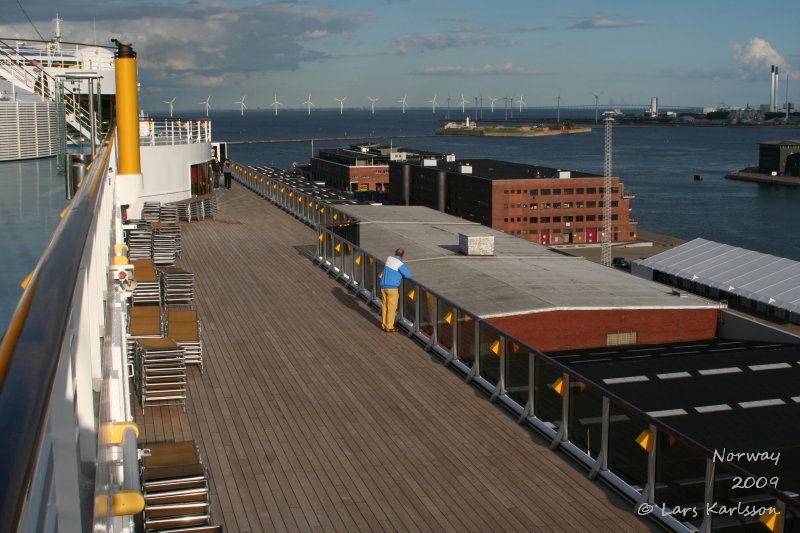 We start with a sunny day, the view over the port is outstanding.
---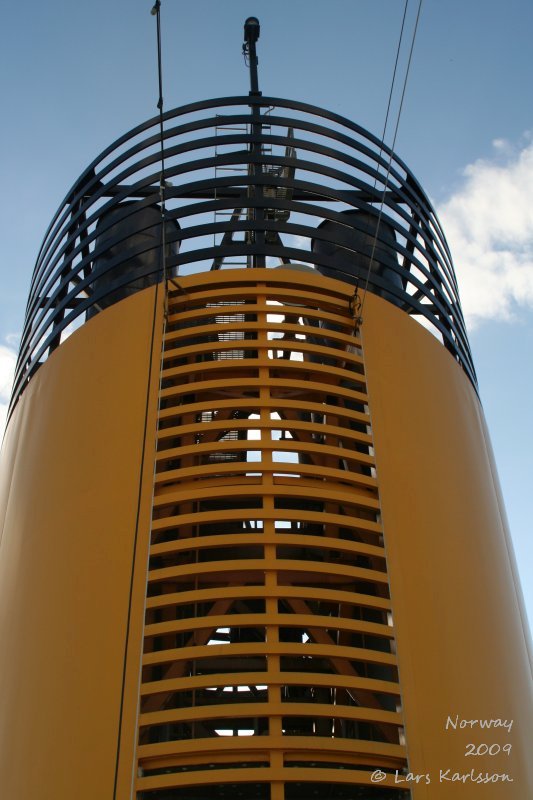 A real ship must have chimneys, but only one here, the famous Titanic had four.
---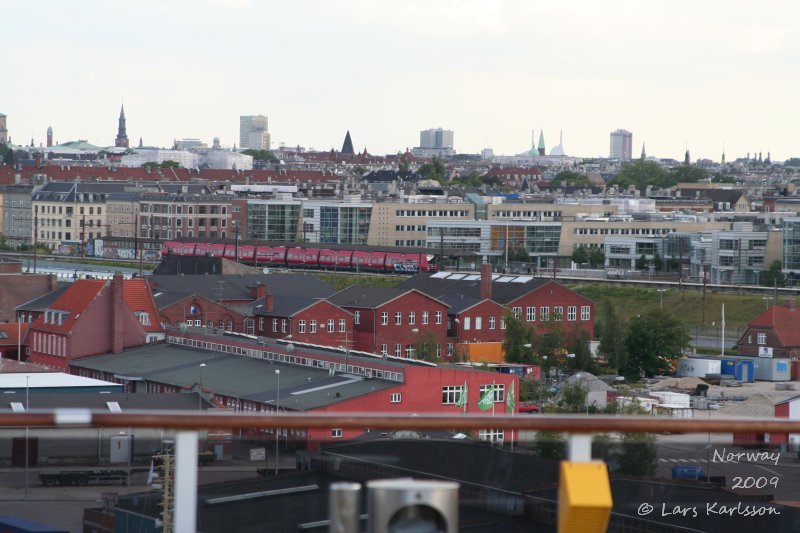 Port of Copenhagen.
---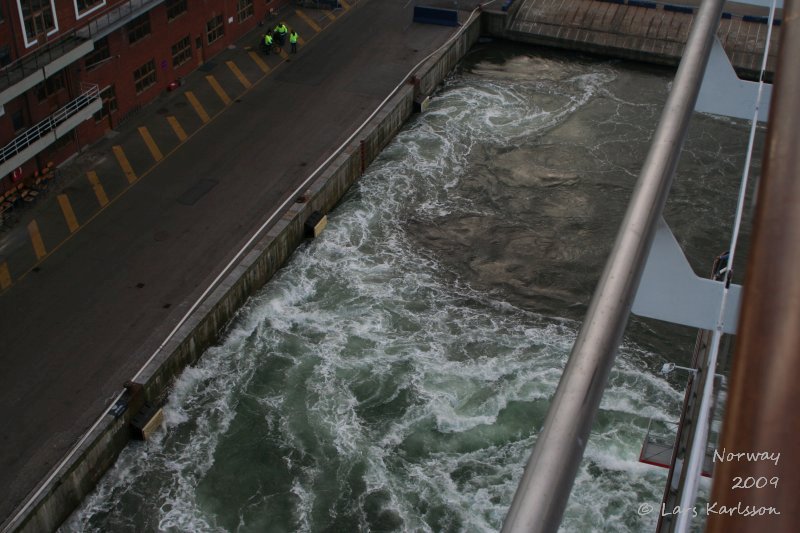 The engines have started and we are leaving the dock.
---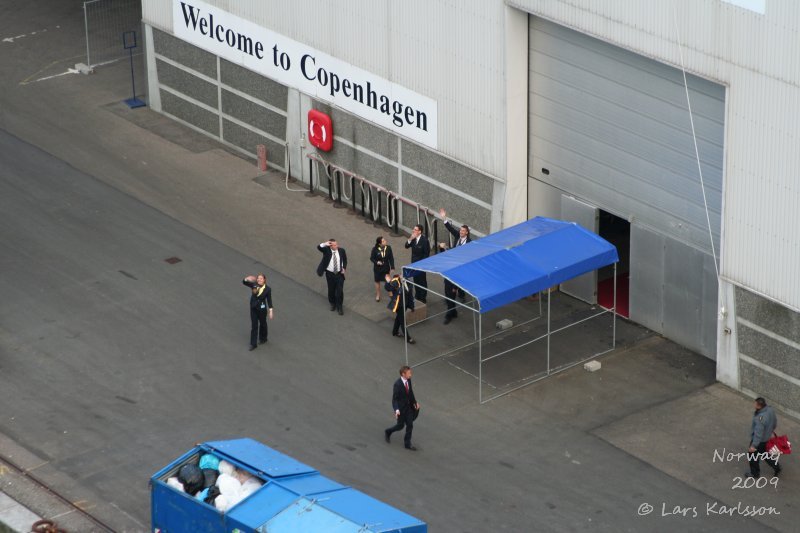 Waving as goodbye!
---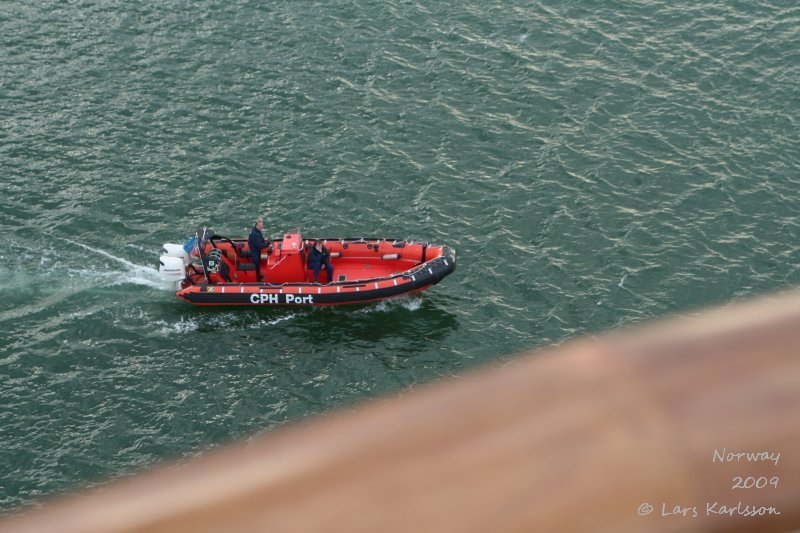 A pilot boat, or?
---
---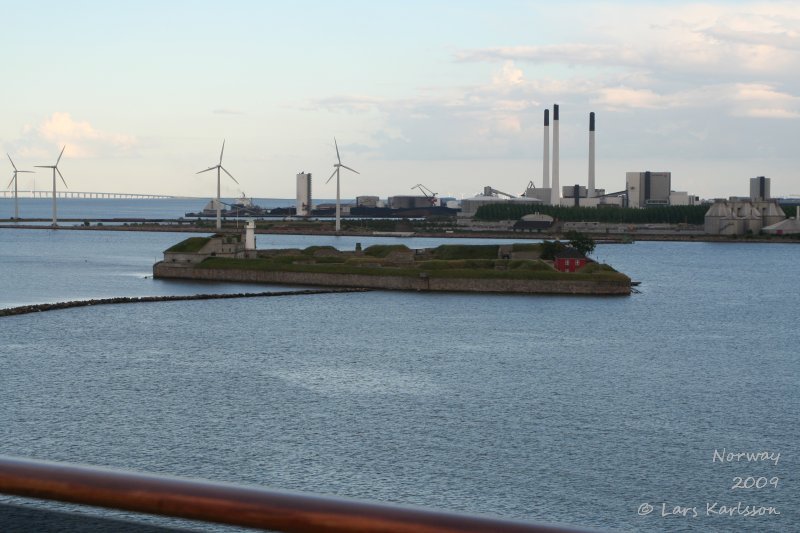 Part of the old defense of Copenhagen.
---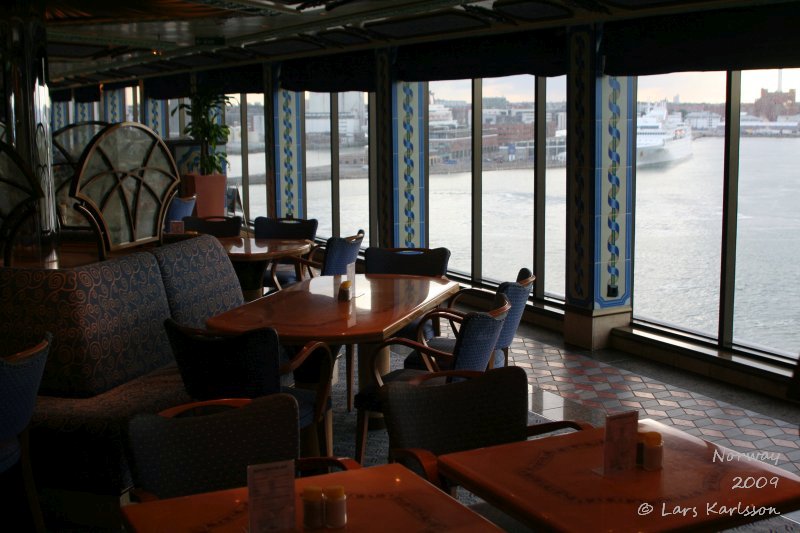 Big windows let us have a good view.
---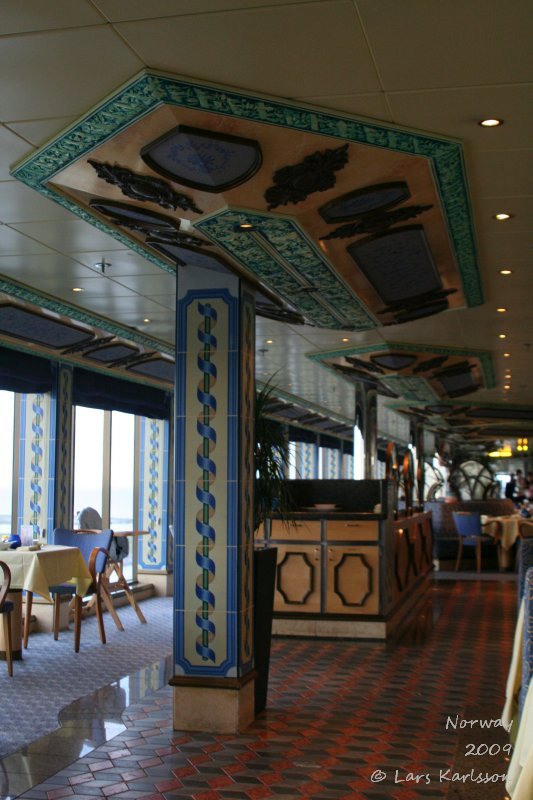 No one can miss that this is an Italian designed cruiser.
---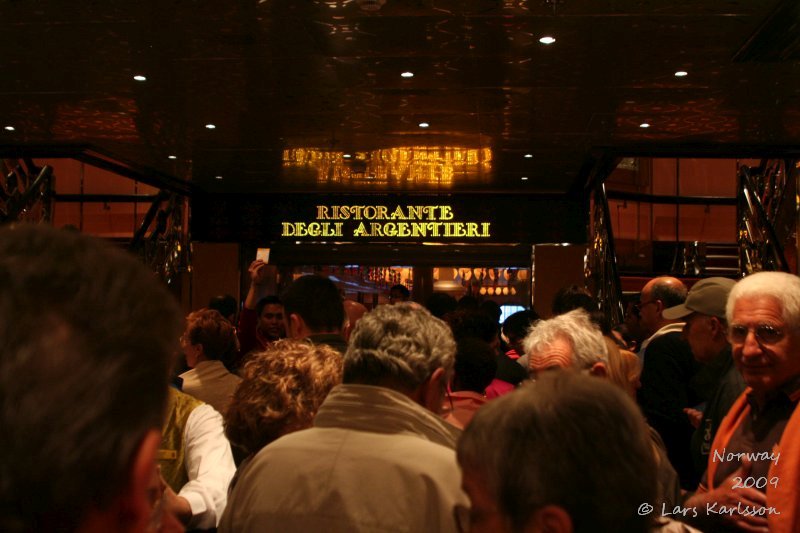 9 pm, we are waiting for our first dinner onboard. Sorry to say, I have forgotten what we got to dinner, but I remember it was very delicious. After the dinner we went for a classical concert, Duo Strauss.
---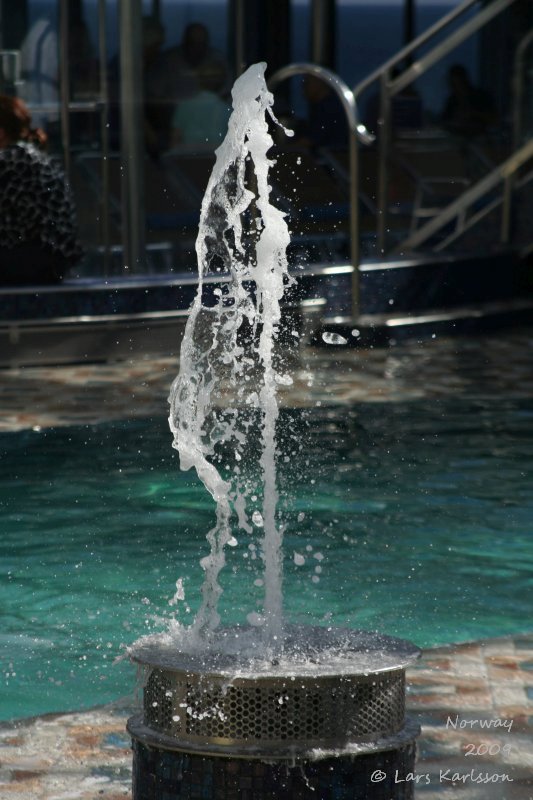 ---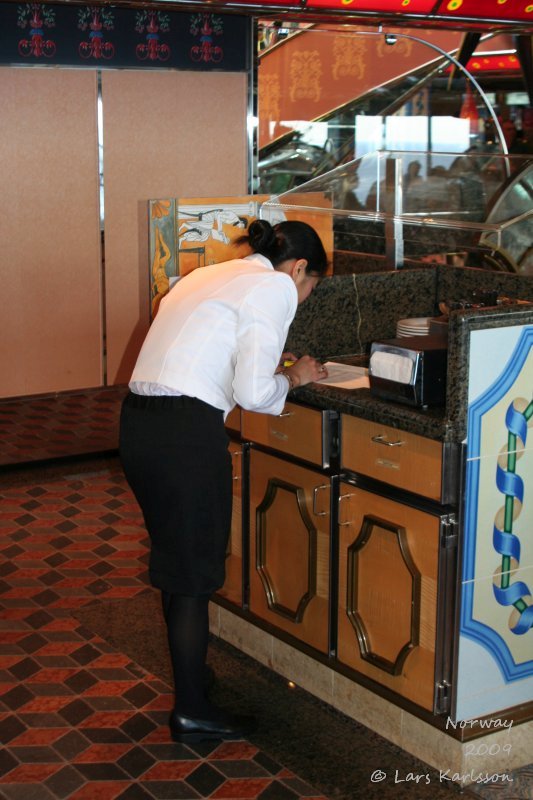 The crew prepare to serve us the lunch.
---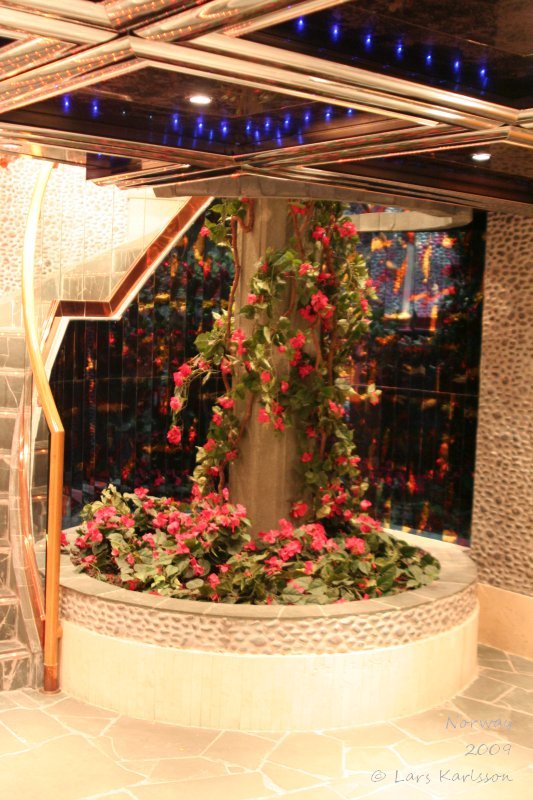 ---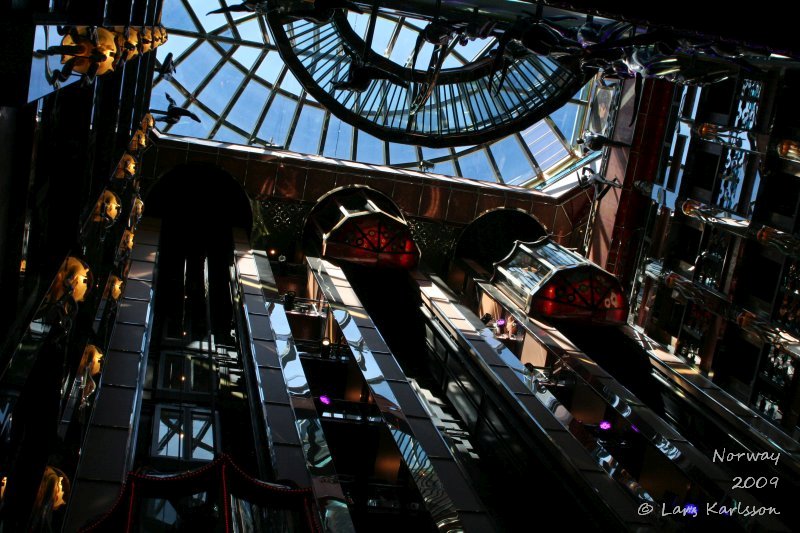 A glass roof let the light come in.
---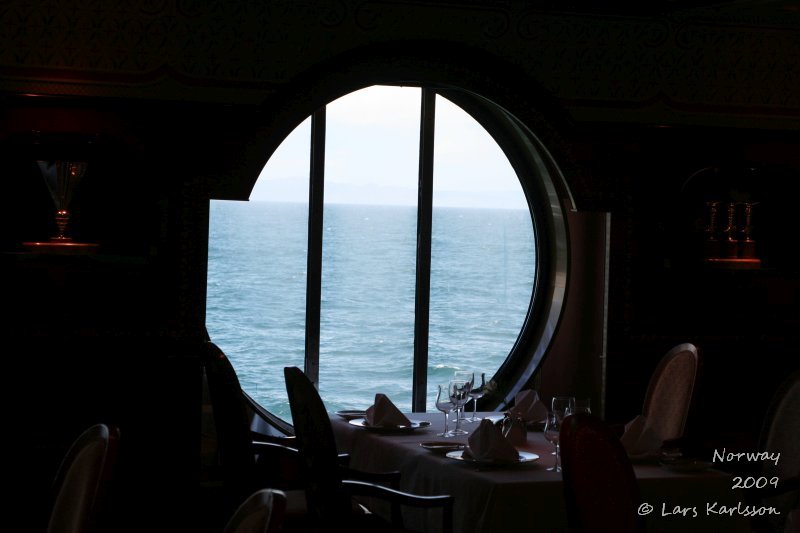 Time for lunch, we got company from two Italian ladies at our table. We can only speak Swedish and English, they could only speak Italian. Maybe we understood a bit but we like to join company with people from other countries, they have always something interesting to say.
---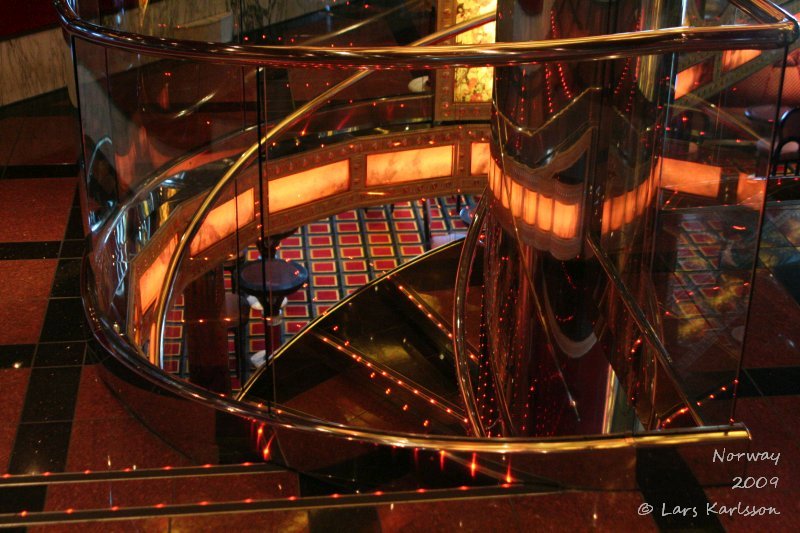 ---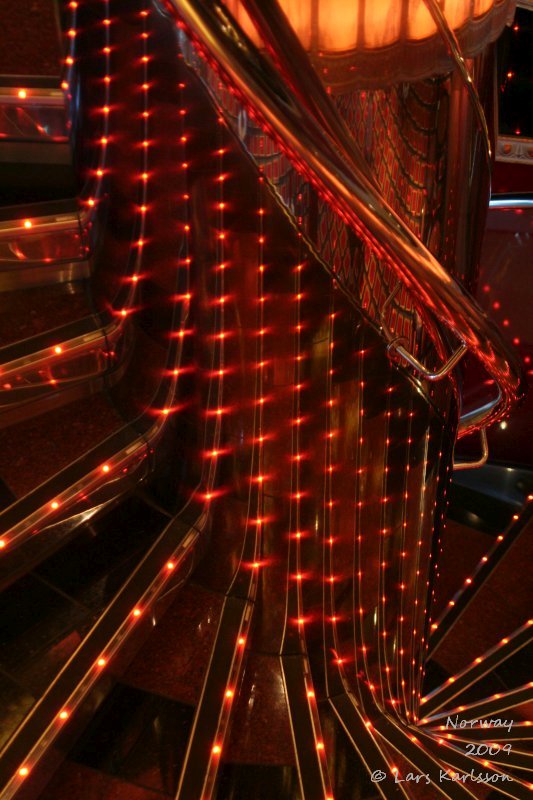 ---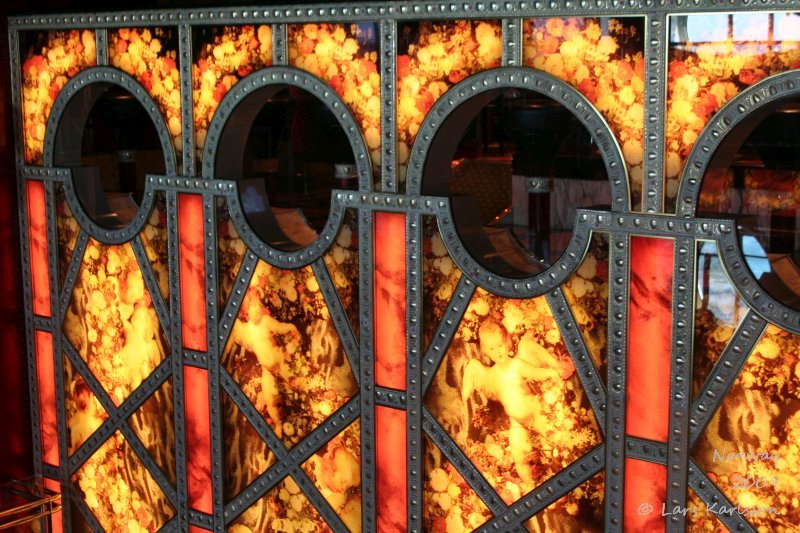 ---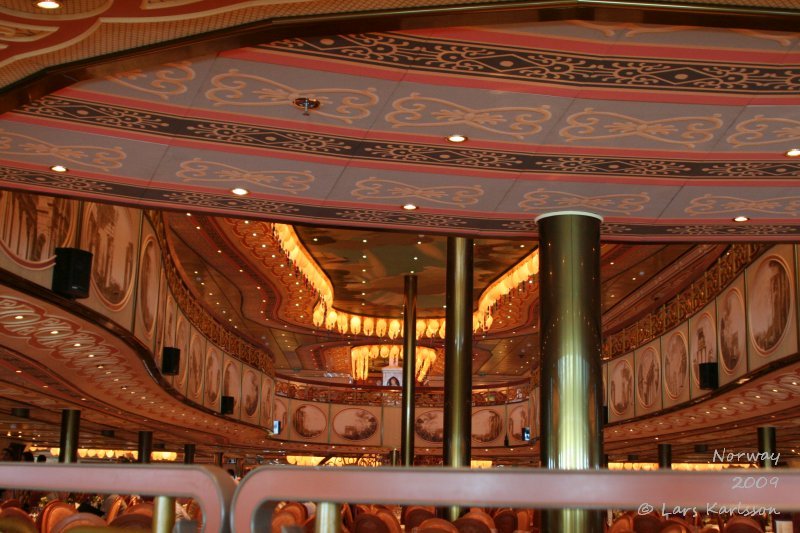 The dinning room, big and divided on two floors.
---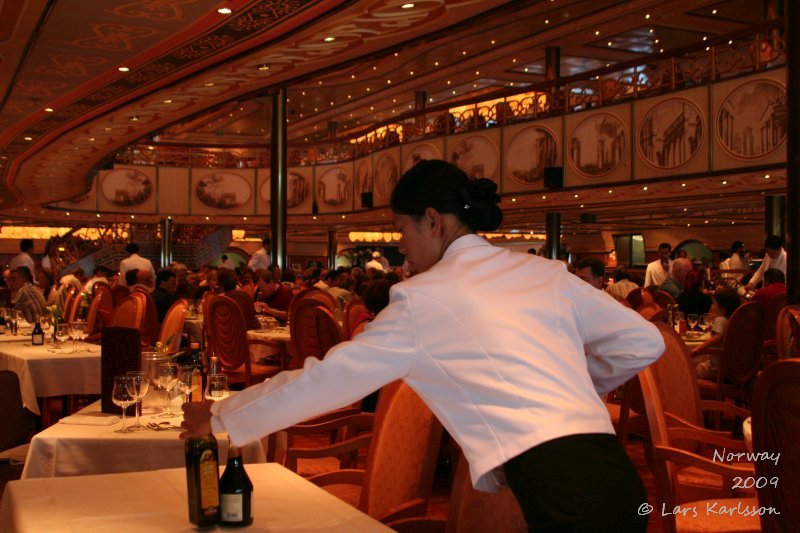 ---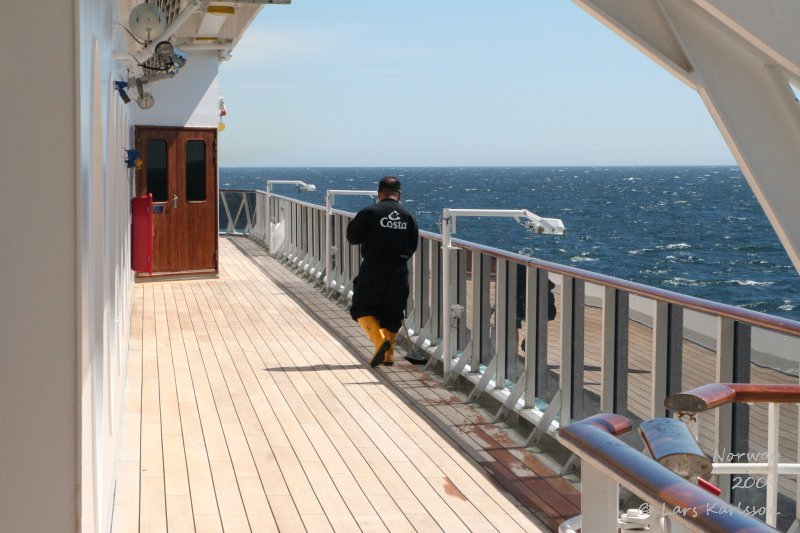 We are lucky because we have this shinny weather today, normally there is a lot of rain in Norway.
---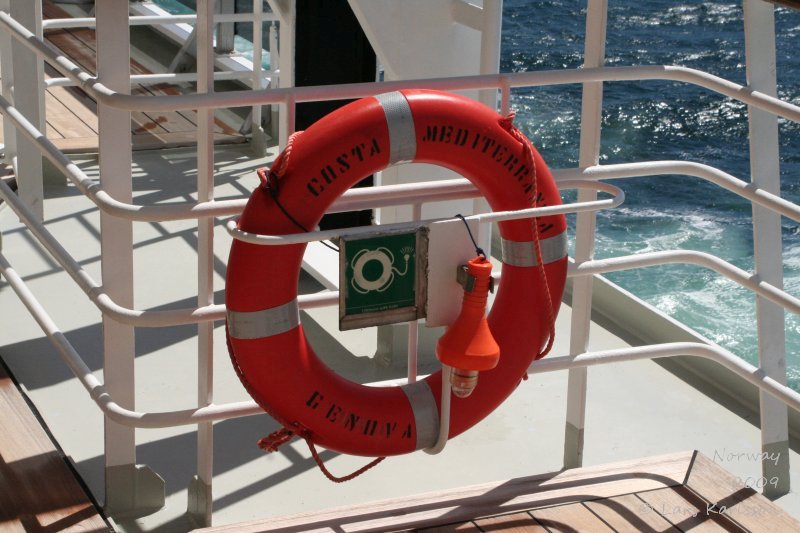 ---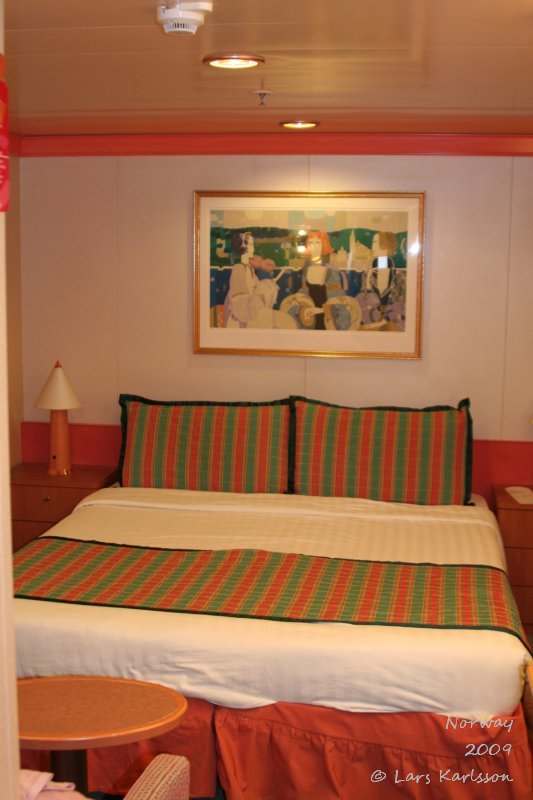 This is our cabin. We didn't stay very much here, it was so much interesting to do both under daytime and evening.
---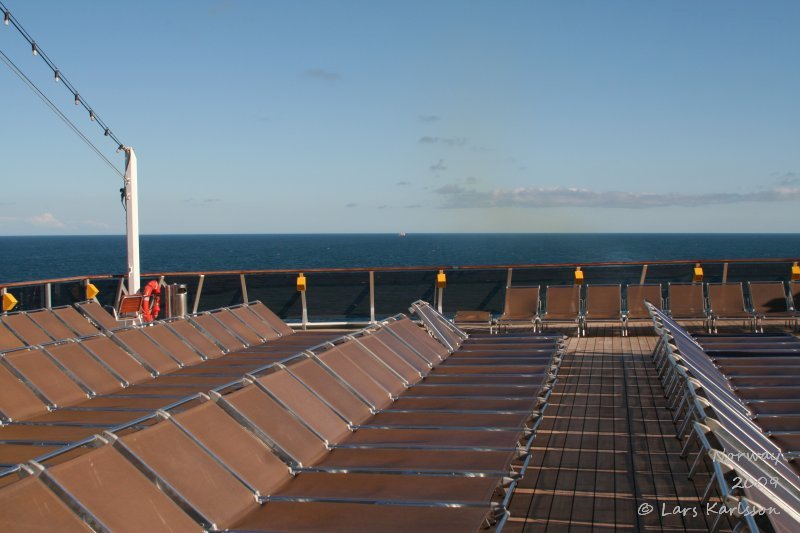 4 pm, we had a life boat drill.
---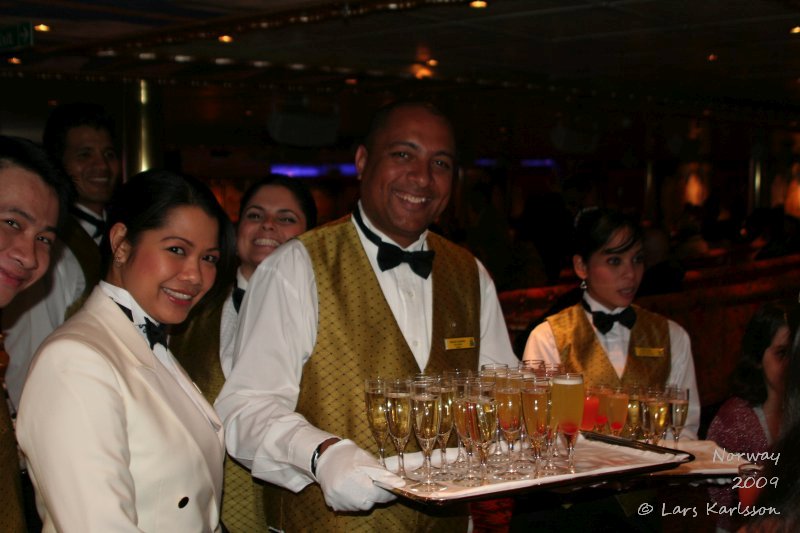 A welcome drink to be served.
---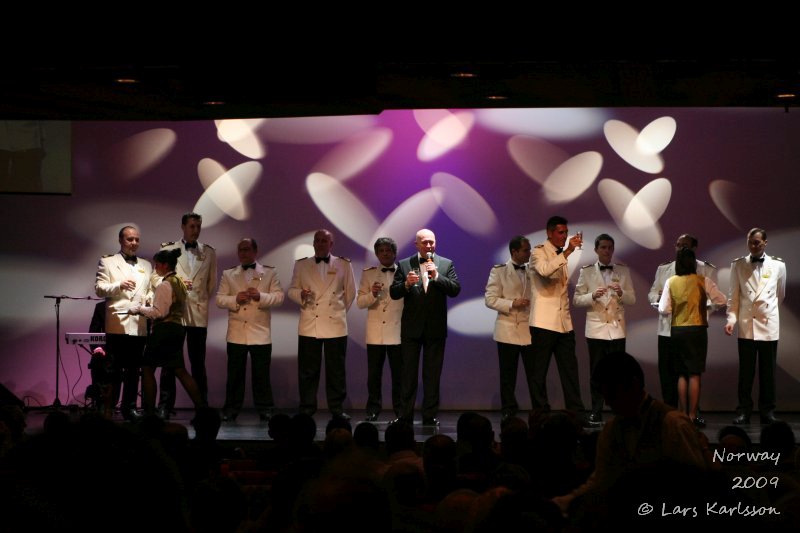 The Captain Claudio De Fenza and his crew welcome us. At this theatre we spend a lot of time in the evening and night. The shows were very entertaining.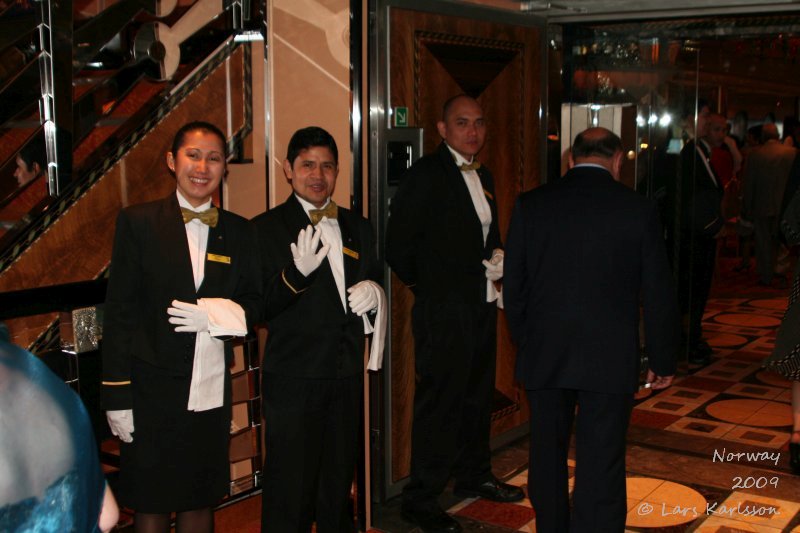 What do we do now? More eating!
---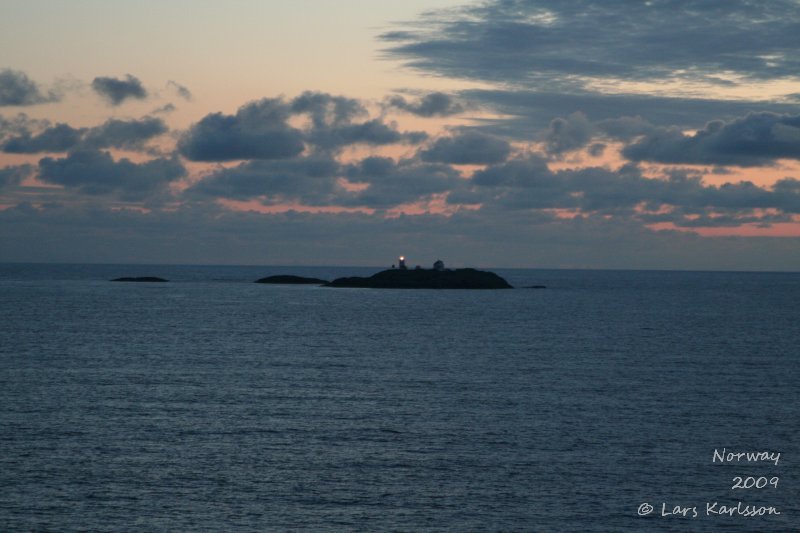 The schedule say that we are going to pass the Lista Lighthouse. Maybe that is what we see here, bit it looks a bit to small.
---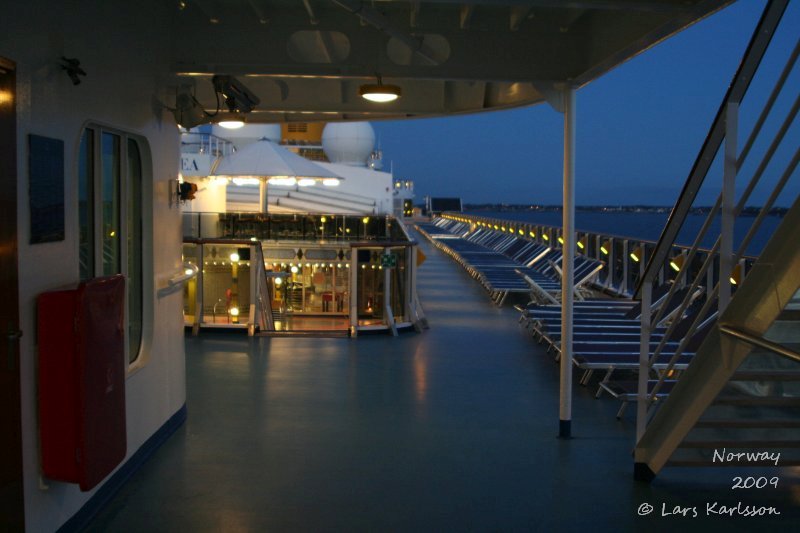 ---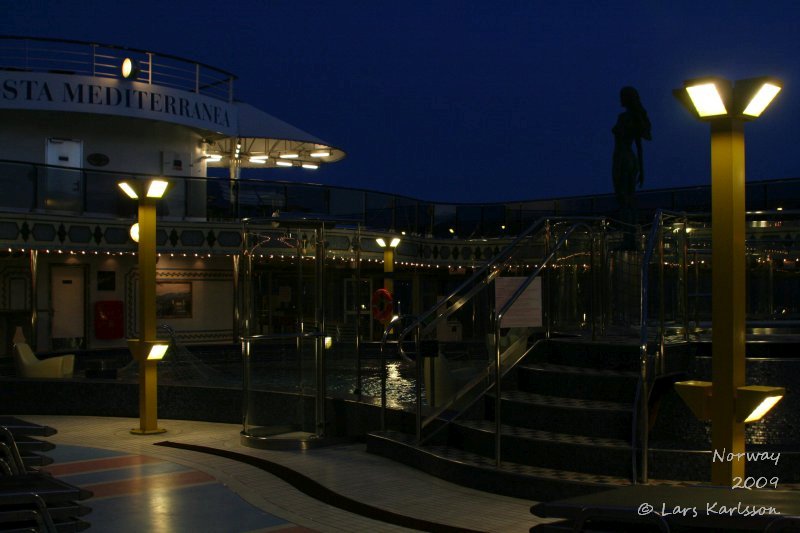 ---