Chrysler Crossfire
Wheels and Tires

---

This is one information page of my collection of what I have repaired on my Crossfire.

Note:
You should not do any repair on your car if you don't have enough experience and knowledge! You use this information at your own risk! Don't blame me if something goes wrong.

---

Content:

Note:
Even if the Chrysler Crossfire and Mercedes SLK R170 share the chassis the wheels are very different. Much smaller size on the Mercedes. You use all this information at your own risk. There are different rules in different countries how you are allowed to change the tire and wheel sizes. Take advice from a specialist before you buy / change anything !
---
Already when I bought the car it had some aftermarket wheels. Looks good but the rear wheels are of smaller size than they should be. Original dimension of the wheels in front are 18x7.5" and at rear 19x9". My rear wheels are more like 8.5". All wheels have a lot of small marks around the rim after parking accidents.
I decided to see if there where any used wheels that will fit my car. I started with the rear wheels. I wanted them to be a little bit wider than the originals to fit wider tires. Original tires at back are 255/35 19", it's common to replace them by 275/35 19". That wide tire needs a wider wheel, at least 9.5".
The wheels and tires are very important to the cars safety, don't do anything if your workshop doesn't agree !
---
1, Wheels and Tires, rear investigating:
To buy used wheels and tires:
To find used wheels and tires to the Chrysler Crossfire is difficult because they have different dimension at front and rear. I started to look for used wheels for the rear and if I'm lucky I also find them with tires that fit. After some months I found 2 wheels of size 19x9.5" with 275/30 19" tires. Not the most perfect but I will start with that to do some tests, one reason to buy cheap used wheels. You will see my calculations of tires later.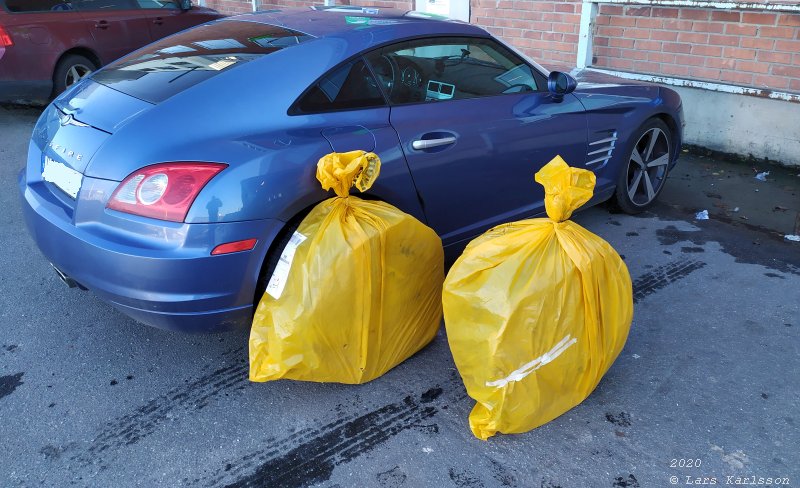 Two days after I bought them they arrived by bus transport from Northern Sweden. When I place them beside the car they look huge !
---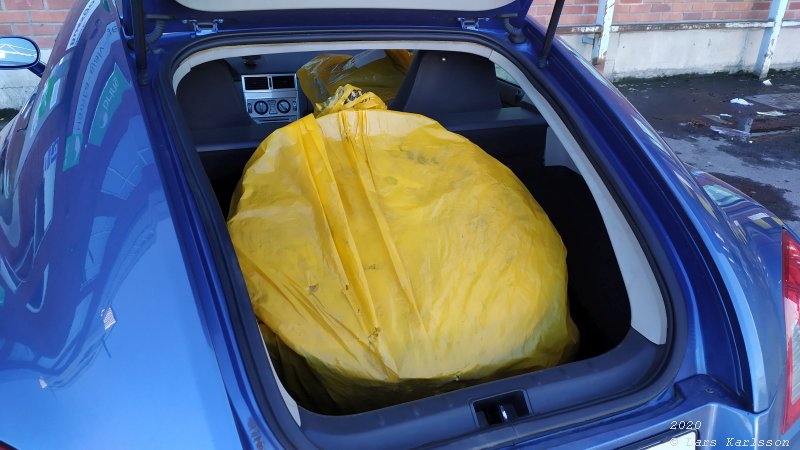 I have to place one wheel in the trunk and the other in the passenger seat to get them home.
---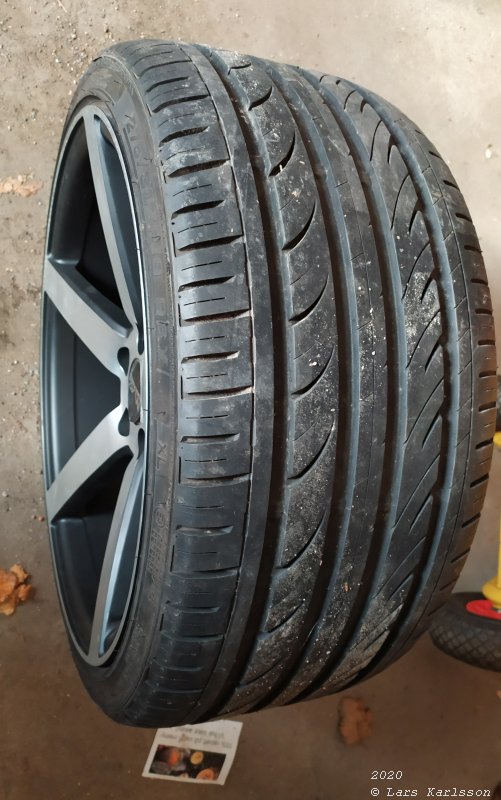 The wheels have a more concave design compare to the older ones I have, that looks good and it give more clearance for the disc caliper.
---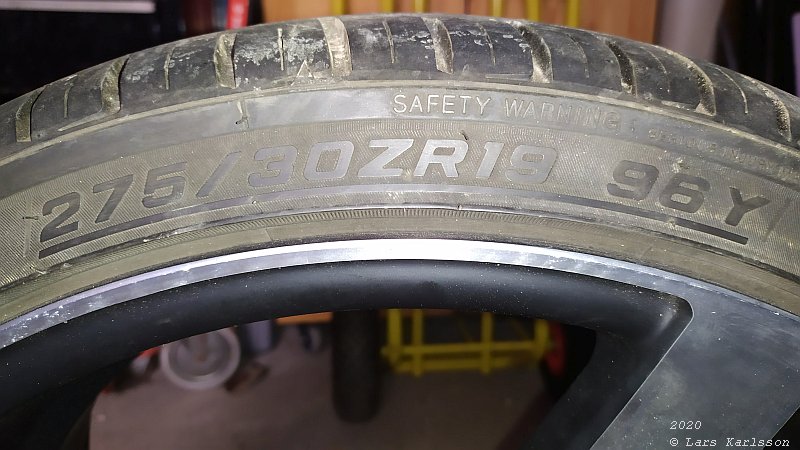 The tire has the size 275/30 19".
---
Calculation of tire size: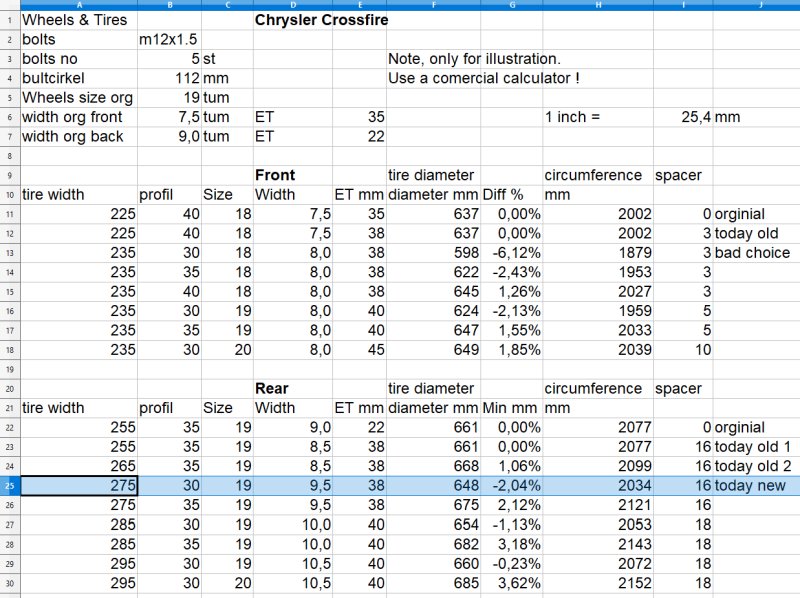 Note:
Use the above calculation as an illustration only, use a calculator from a wheel / tire shop for better accuracy.
I set up a spread sheet to calculate the sizes that I maybe can use. When I bought the car it was equipped at the rear with 255/35 19" tires (line 23) which is the normal size for the car. For a while I had 265/35 19" tires (line 24) which I found was on the limit to clear the fender.
Normally it's said that a tolerance of +/- 5% of the diameter is okay (not 4WD) but do a check for your car ! But you can not have - 5% in front and + 5% at rear at the same time. I don't want it to be that big difference, the ABS system could get failure. I narrow it down to +/- 2%. The new used wheels and tires I have bought (line 25) decrease the diameter with 2%, it had been better with 275/35 19" tires but I can buy that tire size later. I have also read at forums that 285/30 19" tires can be used, but then maybe the wheel's width must be increased to 10".
2% is comparable to the difference between a new tire and a worn one.
The ET (offset) is important, in rear of this car it's only 22 mm. I have to place a spacer between the hub and the wheel, I don't want any thicker then 15 mm and have to choose a wheel with correct ET. The new wheels has an ET of 38 mm and that will be okay. Must also have the wheel at correct place to not rubber the fender or spring. Enough distance to the brake caliper is also important.
Table of recommended tire size vs wheel size:
---
Variable bolt circle: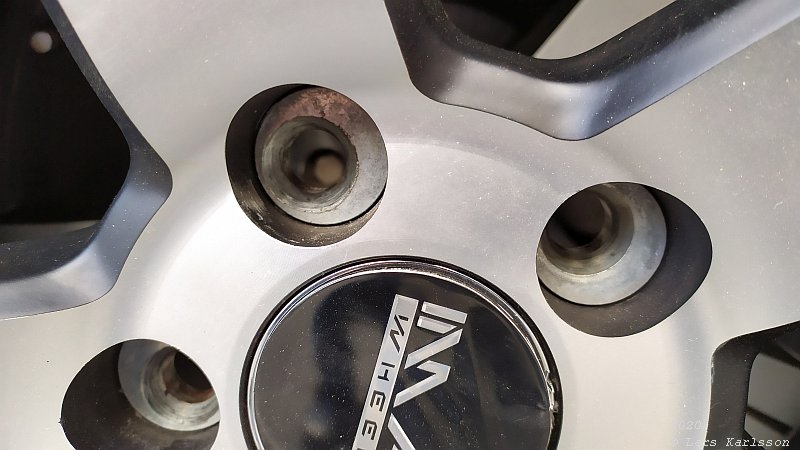 The Imaz wheels are manufactured in Sweden and is told to be of high quality. This is the model Im3. They are a bit special, they have a variable bolt circle. A bushing with splines that can be rotated for different bolt circles. A nice option, especially when I want to sell them, they will fit a lot of cars. They are now setup for the Mercedes bolt circle, 5x112, I think they can be set to: 5x105, 5x108, 5x110, 5x112, 5x114.3, 5x115, 5x118, 5x120, 5x120.65. They call it PCD-system. But I already see one problem, the bolt will not sit in the center, it looks a bit strange but even worse, is it space enough for the tool to remove the wheel bolts ?
---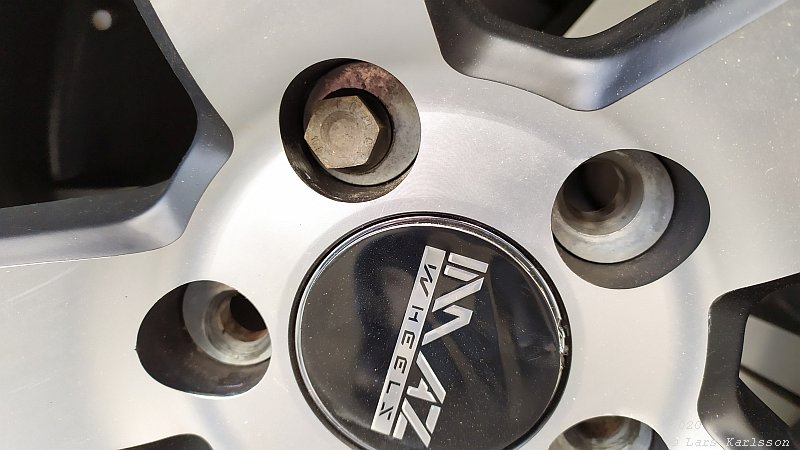 I put in a bolt for a test.
---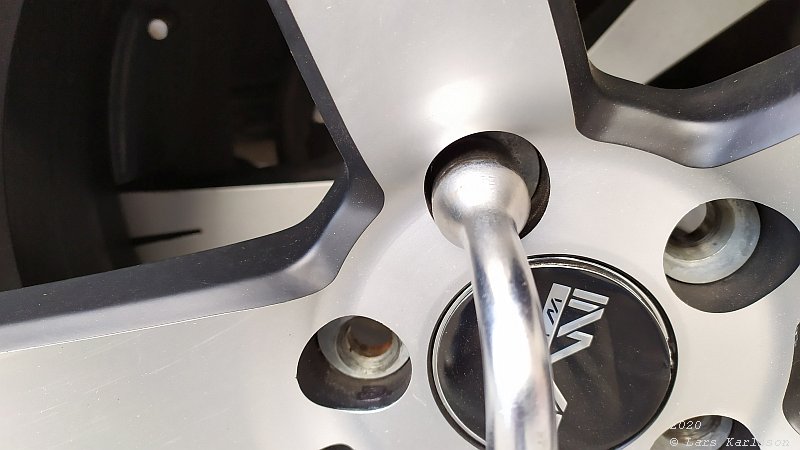 Yes it worked ! But my locking bolts are wider, maybe a problem if I want to use them.
---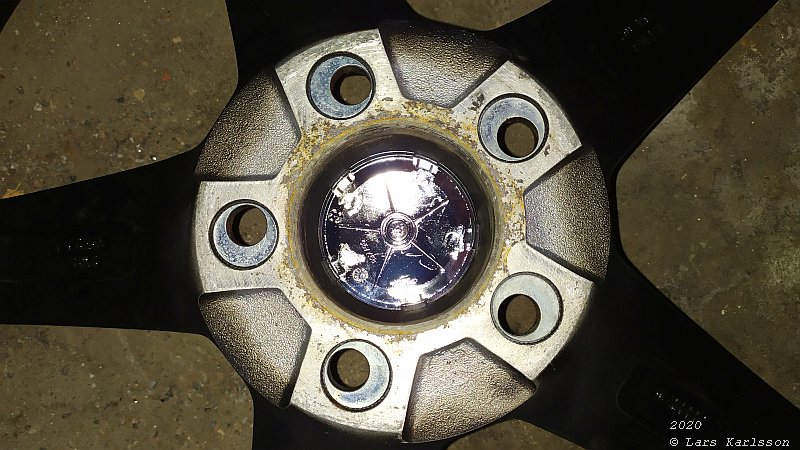 Backside of the hub with the eccentric holes. The center bore is a bit bigger compare to my older wheels, 74.1 mm.
---
Data of wheel: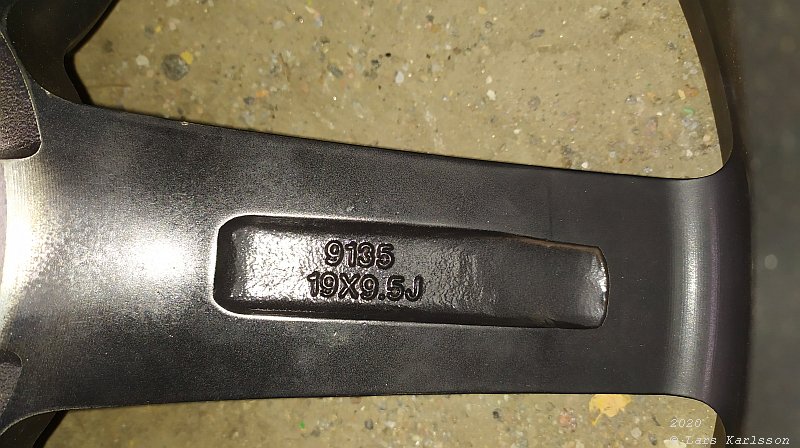 Dimension of the wheel: 19x9.5".
---
---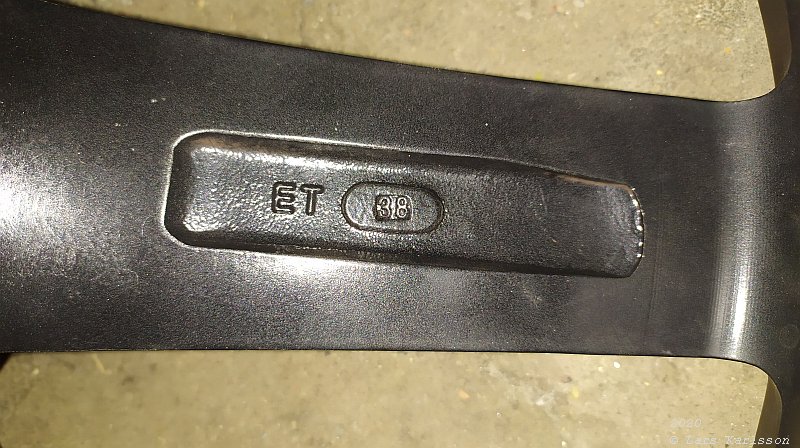 ET = 38 mm. A lot of wheels has much wider offset which had not been good in my case. On another place it says 815kg, its max load. My car weight inly 1400kg so it's a lot of extra. I will later compare the weight of the old and new wheels and tires.
---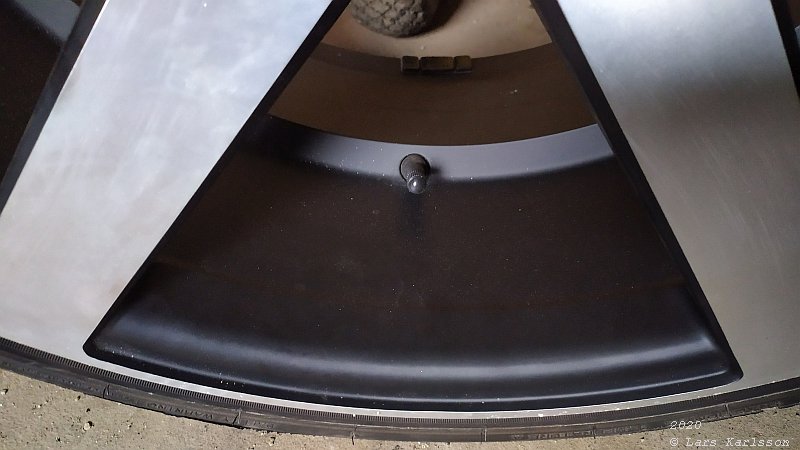 The tire air valve is placed deep inside the wheel.
---
Checking the offset: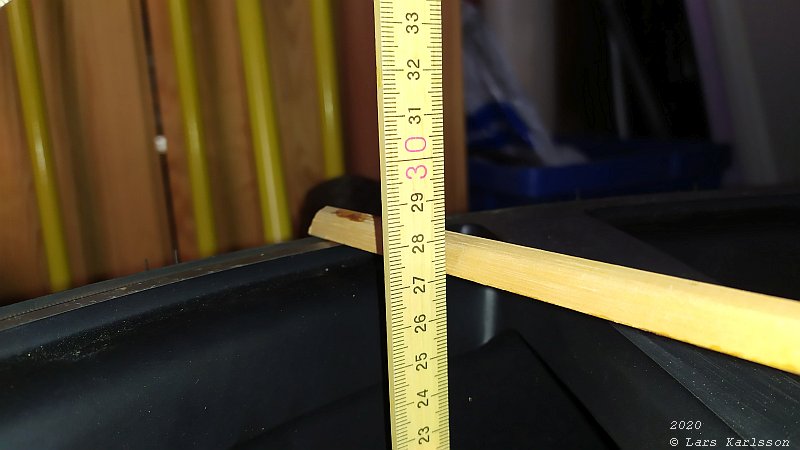 To find out the offset I do a check and measure the width of the wheel. I got it to 270 mm.
---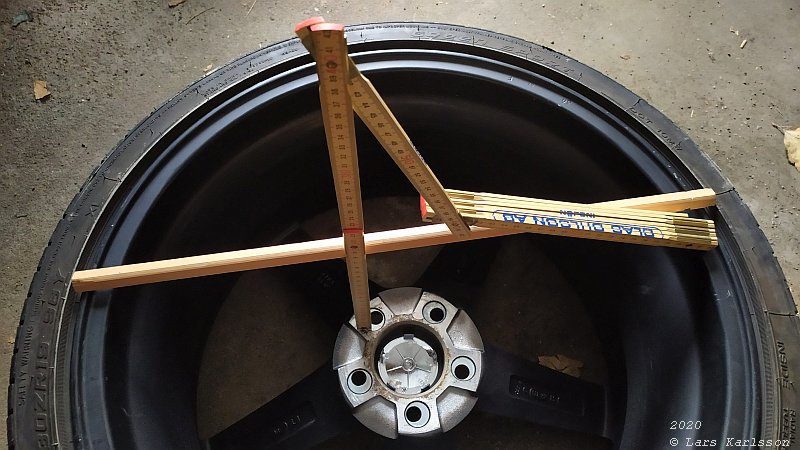 Next measurement to do is to find the distance to the hub, I measure it from the backside.
---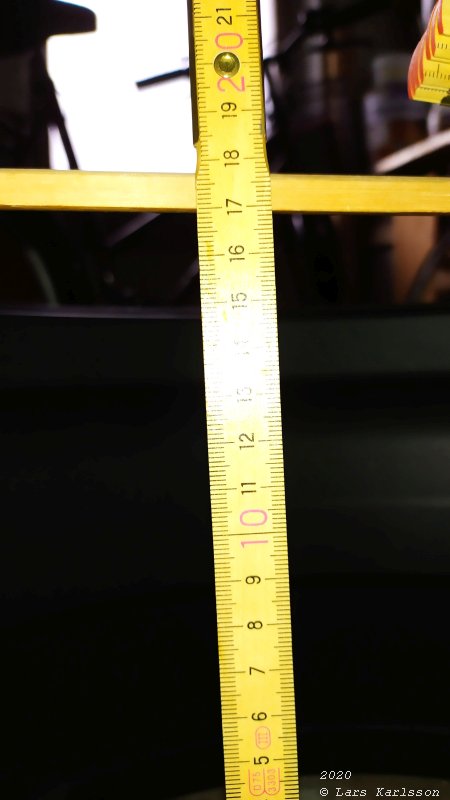 Got it to 168 mm. The center is 270/2=135 mm, and then we have the offset 168-135=33 mm. I must have done it wrong, have to do the measurement once more later. It shall match the ET 38 mm.
---
The look of the wheels on the car: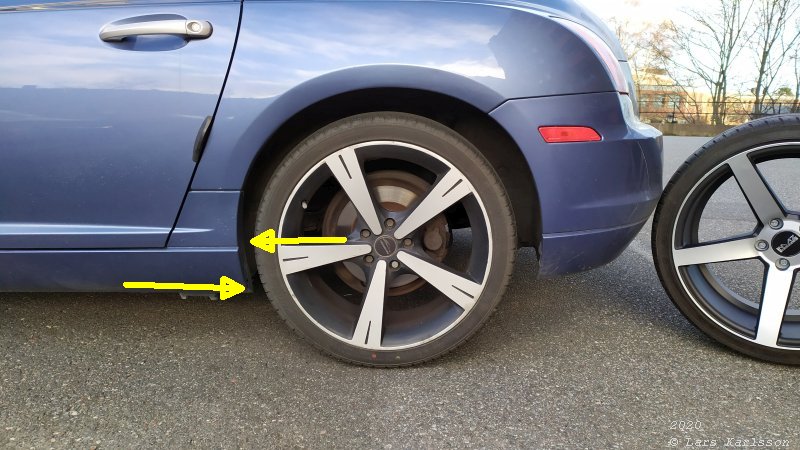 The old wheel mounted on the car. I really like the style of these wheels and that was a reason to buy new ones that had a similar design. As you see there is a lot of space around the tire, but at one critical point were the arrows points the space is very limited. When lifting the car the tire can hit the fender if it's of too big size.
---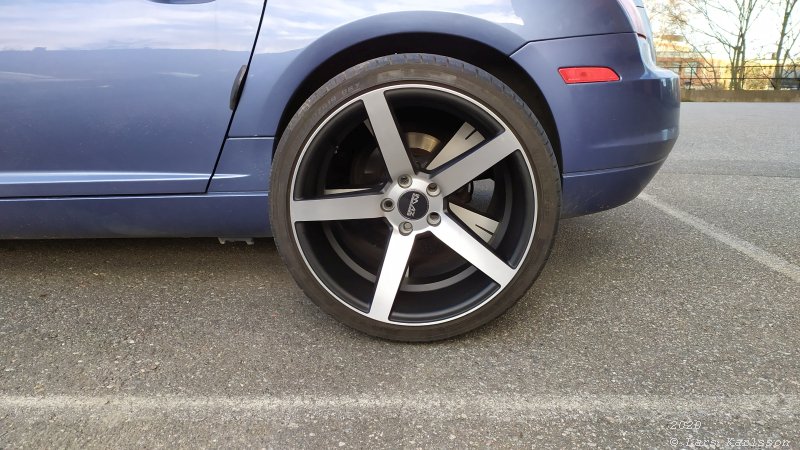 This is how it will look later. It doesn't matter if I have different wheels at front and rear for a while if it take long time to find front wheels of correct dimension. Maybe I will buy new ones, the smaller front wheels are much cheaper and I already have tires to them.
---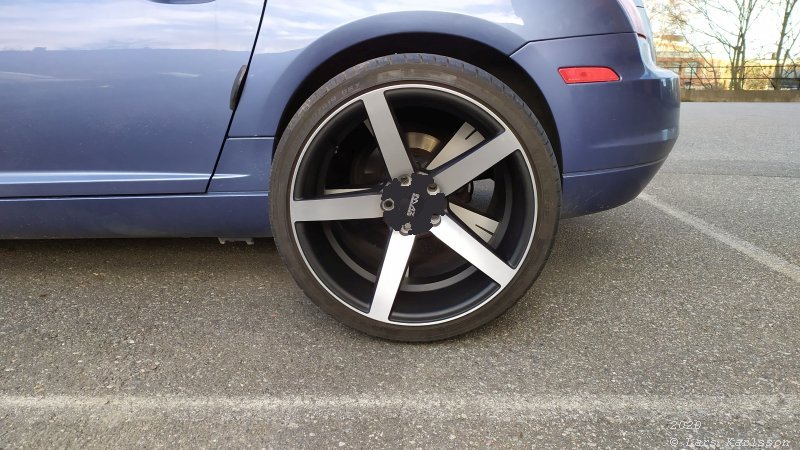 Will it look better if I paint the center of the wheel black ? I can 3D-print some black hub caps that cover the center.
---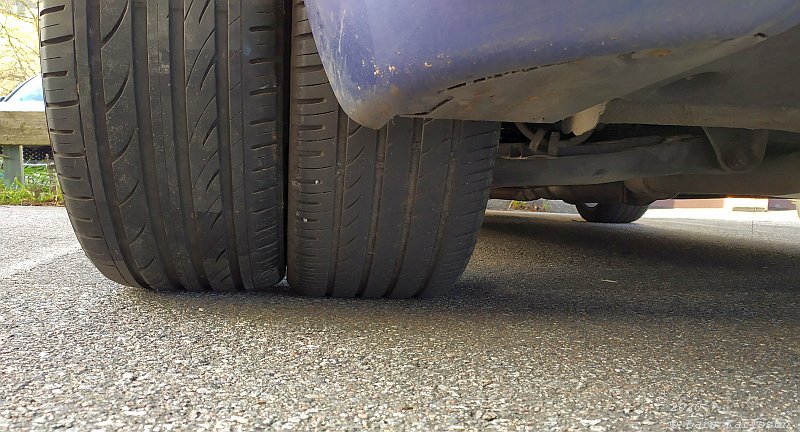 The difference, much better look with the wider tire and it should not be complicated to get it to fit. But now it's winter and maybe I let it rest to the spring, then I maybe also has wheels for the front.
---