Chrysler Crossfire
Crankshaft position sensor

---

This is one information page of my collection of what I have repaired on my Crossfire.

Note:
You should not do any repair on your car if you don't have enough experience and knowledge! You use this information at your own risk! Don't blame me if something goes wrong.

---

Content:

I believe this information must also be useful to most Mercedes C, CLK and SLK manufactured from year 1997 to maybe 2004 and if it has the 320 engine.
---
1, How to know if the crankshaft position sensor is bad:
Now it's October and it start to get cold. I was out and driving my Crossfire and thinking, it was long time ago I had to do some repair on it. I stopped the car and visit a store. When I came back and turn the engine key the engine crank but it didn't start. What ! First I thought it had something to do with the car alarm. Then I remember that I have read that the crankshaft position sensor is a common device to fail and then behave like this. Luckily enough I already one year ago ordered a new crankshaft sensor and stored it in my car if this problem will occur.
---
The Check Engine lamp: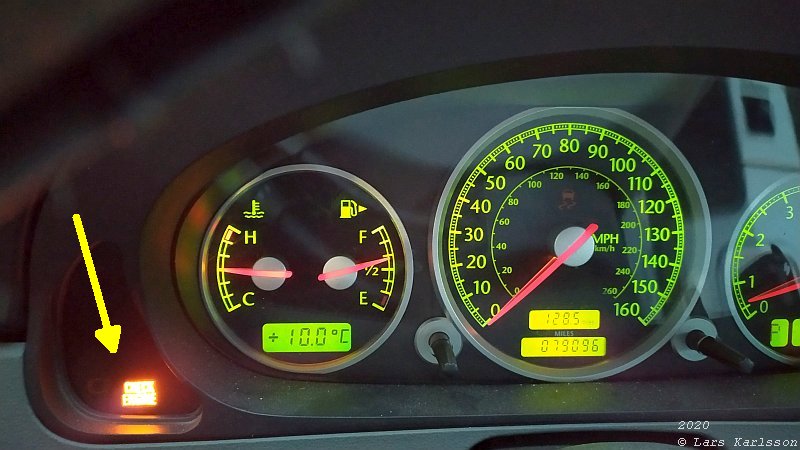 After I had turn off the ignition the "Check Engine" lamp has turned on. I let the engine cool down and after my third attempt to start the engine it started. I was only 10 km away from home and it's much easier to do some research at home about the details. When the "Check Engine" lamp is light up there should be some error code stored to read out.
My friend Christopher gave me a tip, if the tachometer doesn't show anything it's almost for sure that the crankshaft sensor is bad. It shall read about 200 rpm when cranking the engine.
---
Error code P0335: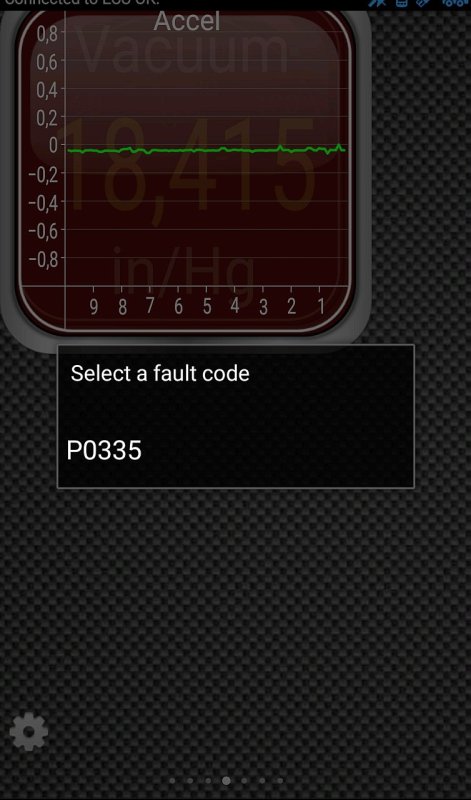 The error code P0335 say that the crankshaft sensor or its cable is bad. It could of course be something else but this is a very common problem. I have collected some information about the OBD II reader here that I have used at earlier repairs.
---
The crankshaft position sensor: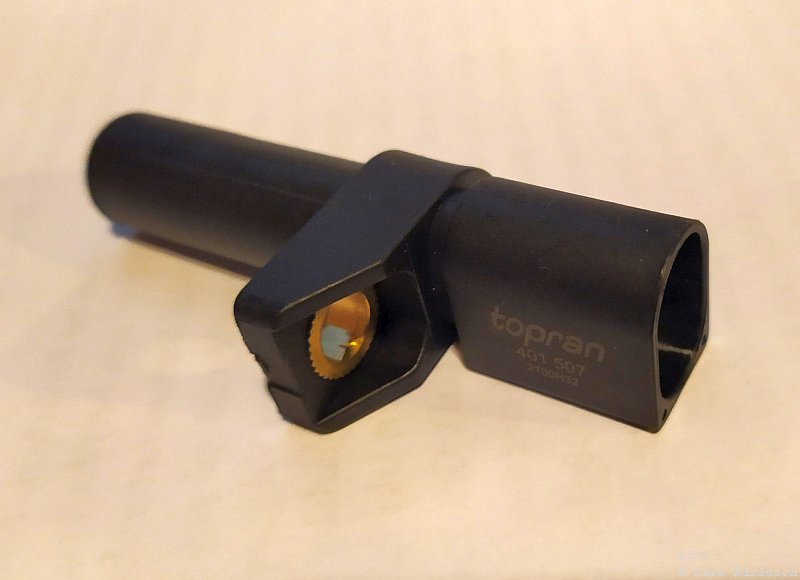 Looking in my car and found the crankshaft sensor I bought one year ago. It's not a Bosch but a Topran, I hope it will work. But how to replace it ? I have already when I worked with the car earlier noticed that it was located on the backend of the engine on the top side.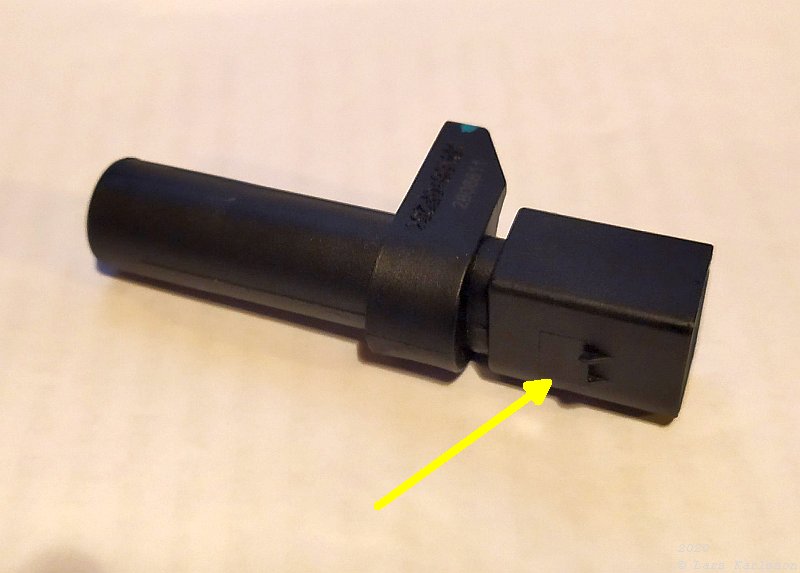 On the other side of the crankshaft sensor there is a notch that lock the connector in place.
---
Tools: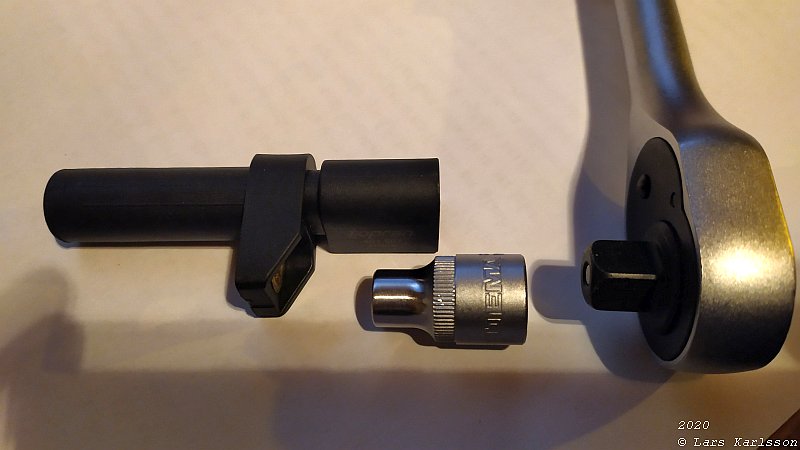 Mercedes use a lot of these inverted Torx head screws. In this case the screw that hold the sensor is of the size E8. When looking after what tools I have I found one that fit, but this is not not a 1/4" shaft, it's the bigger 3/8" size. That was bad because the space is very limited around the sensor.
---
The E8 socket: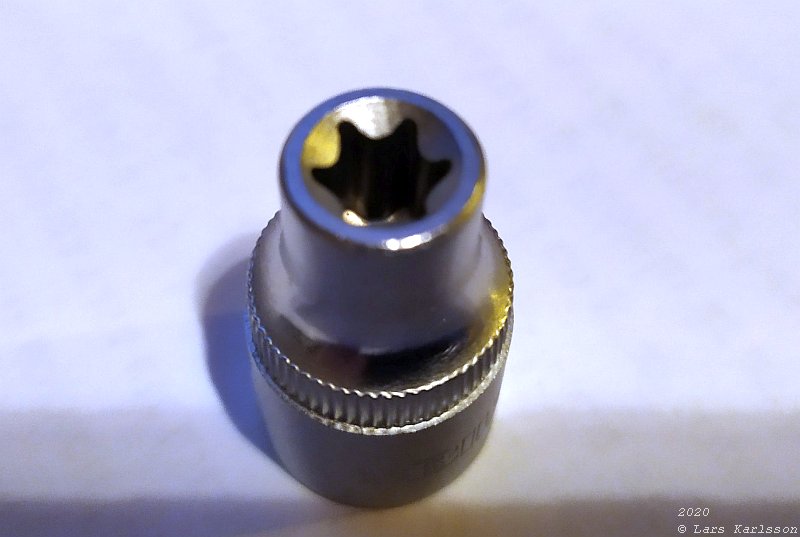 This is how the E8 inverted Torx tool looks like.
Now I need some luck, not too cold weather and that I can do this replacement with the tools I have. And of course I must also be correct about that it is this device that is wrong.
---