Car meeting at Mel's Garage May 2019
A treatment for a boring day
---
I finished my work early this day and felt it was a bit boring, need something to do. Maybe I can find some car meeting? It's early in the season and not many have started their car meetings. But I found that Mel's Garage in Enköping have car meetings on Wednesdays every week. But with not perfect weather? I called them and asked if the believe that it will come any visitors, yes the girl answer and we also have a lot of car in the hall for sale to look at. Perfect, it's a 200 km drive back and forth for me when driving on the small roads as I normally do, the beautiful roads!
Here you can find information about Mel's Garage and when they have open for visitors (only Swedish):

https://www.mels.se/garage/
(Classic car meeting at Mel's Garage, Enköping)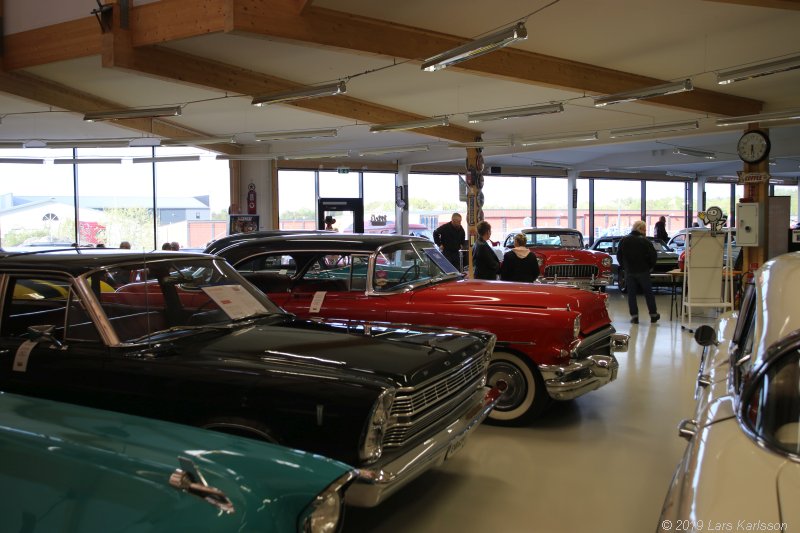 It's a cold weather today and I found most of the visitors indoors. This is the entrance hall where they have all the cars.
Today they have a visit from a car key specialist, it's for the old cars before the electronic key world.
---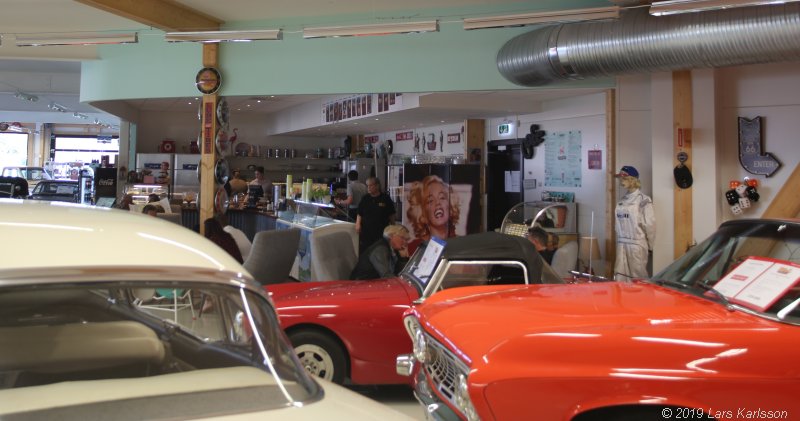 They have a bar where you can get coffee and cakes or maybe an ice cream. When the weather is better they also have an out door grill and serve hamburgers the owner told me.
---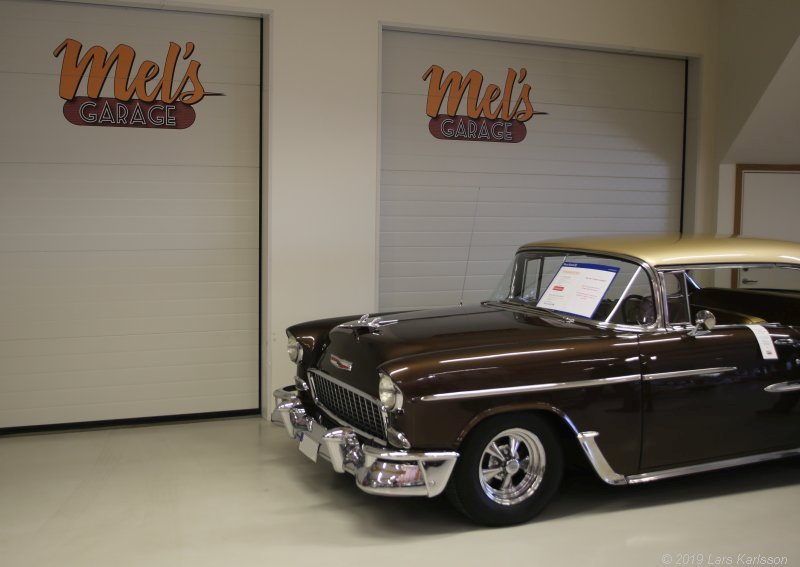 Now I was eager to have a look at the cars. This is one of the 1950s really classic cars, do you know which car it is?.
---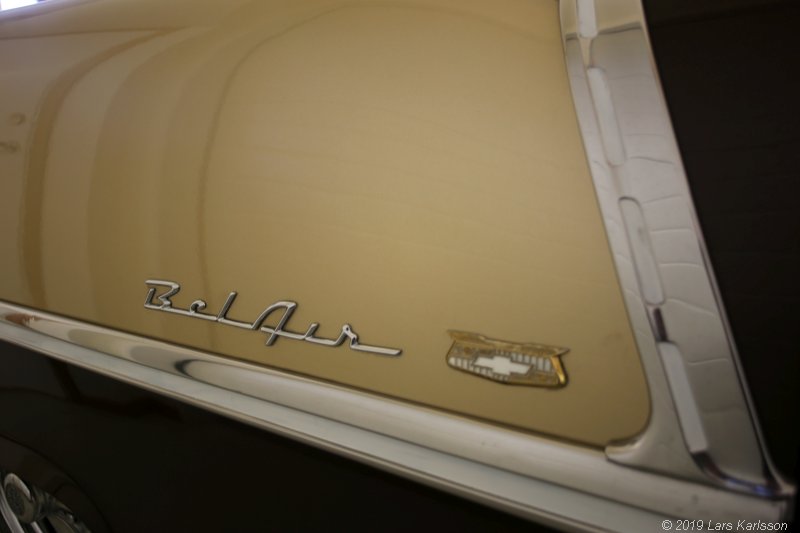 This wasn't very difficult, Chevrolet Belair, but what year?.
---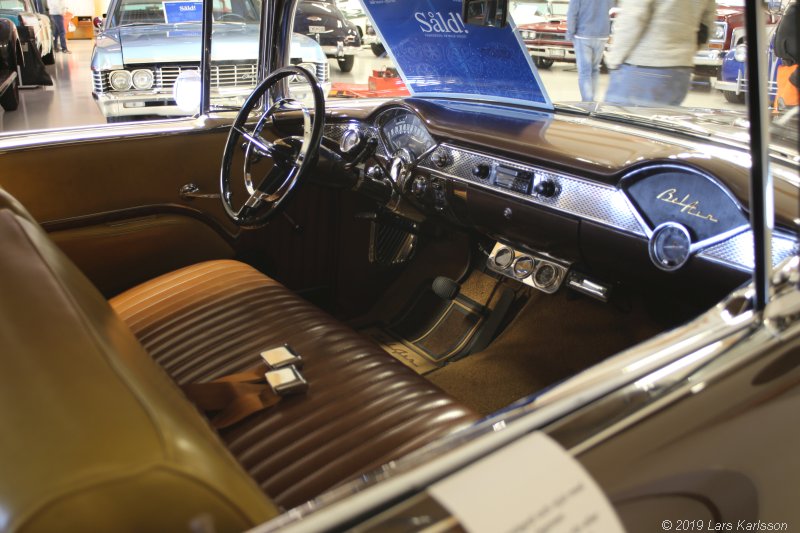 1956, or ? They know in these days how to design attractive cars.
---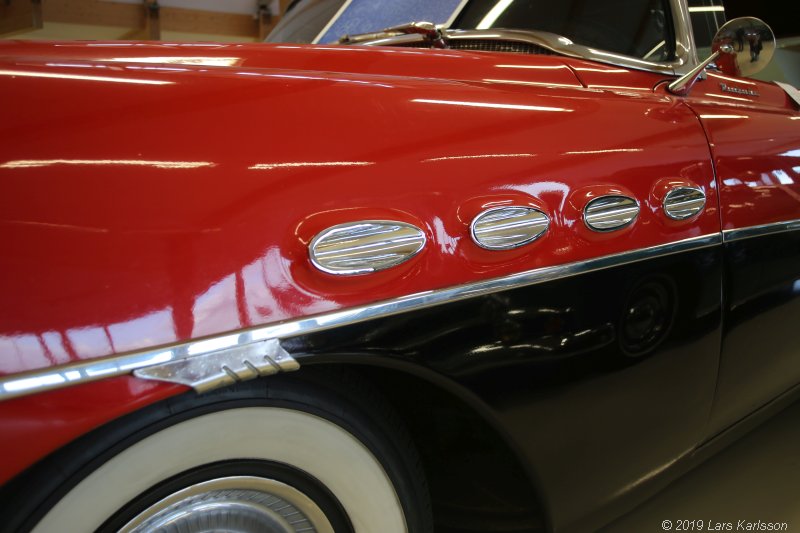 Four ports, one of the car makers has this four ports as its signature.
---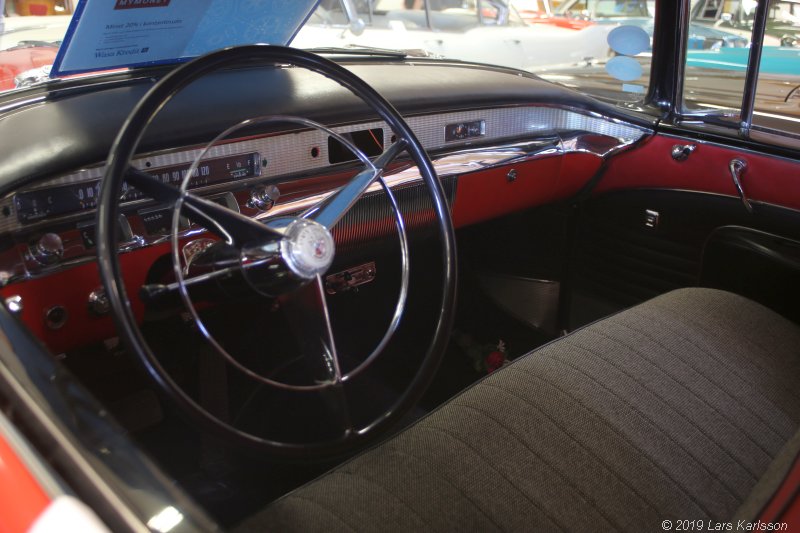 Big Steering wheel and the interior looks nice.
---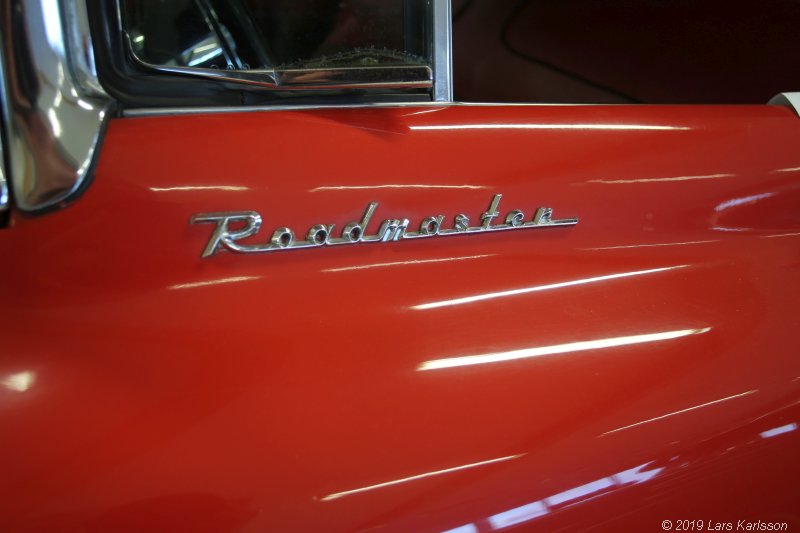 Now it get easier to find what car it is.
---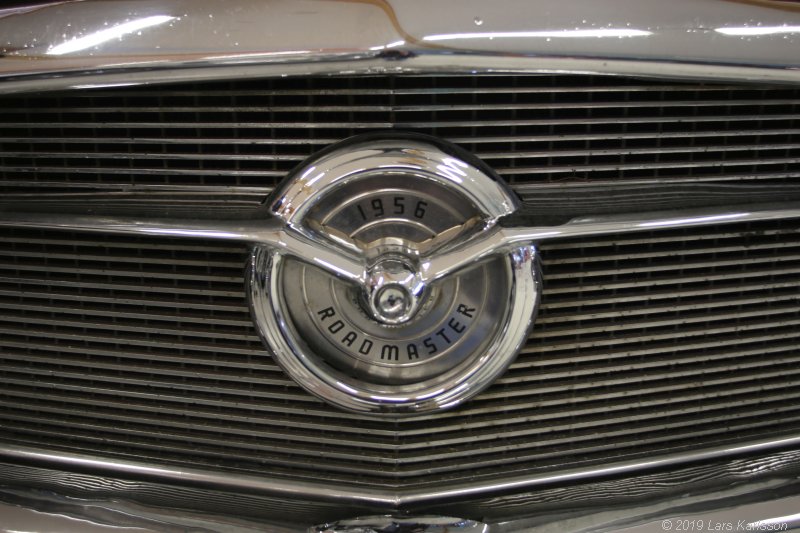 Buick Roadmaster, 1956.
---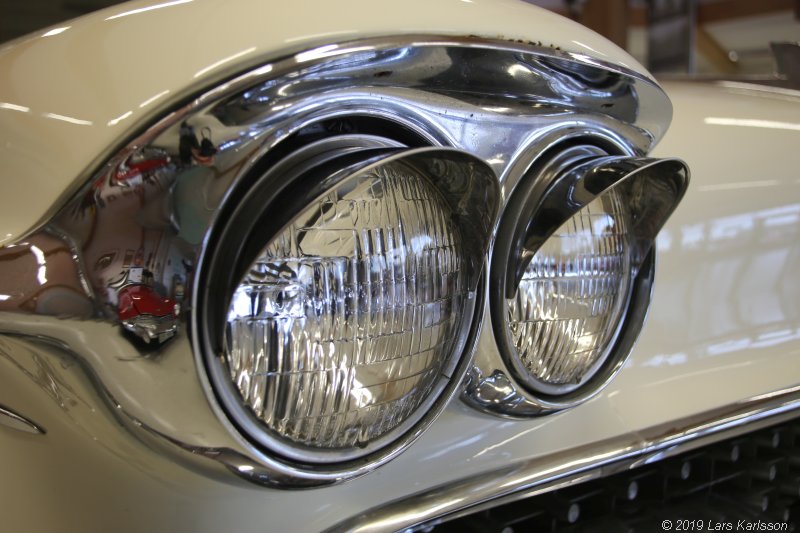 Dual headlights came on most American car's 1958.
---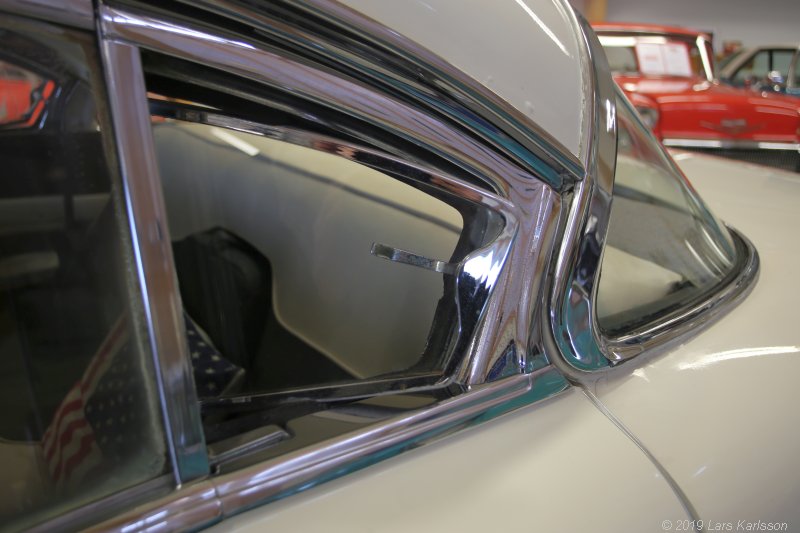 Rear ventilation window, not very common they open in this way I think. But what car was it? I forgotten but I think it was a Mercury 1958.
---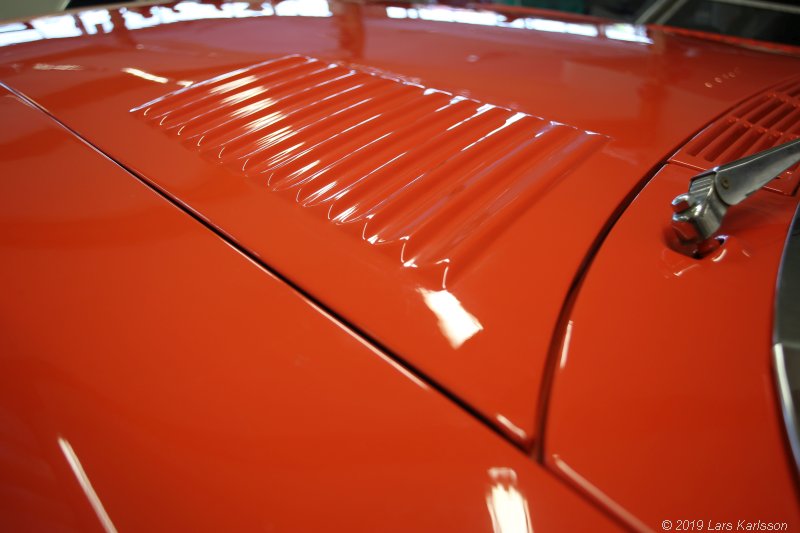 Fake ventilation ribs on the hood, common in the 1960s.
---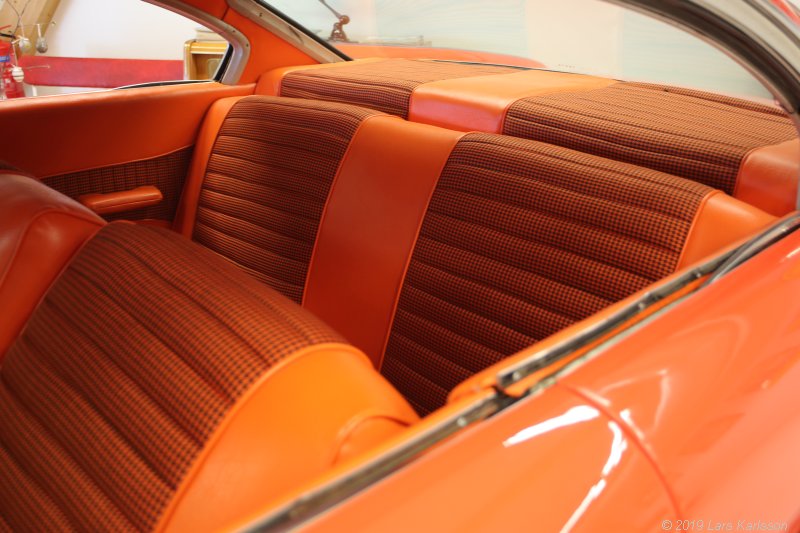 What a nice interior.
---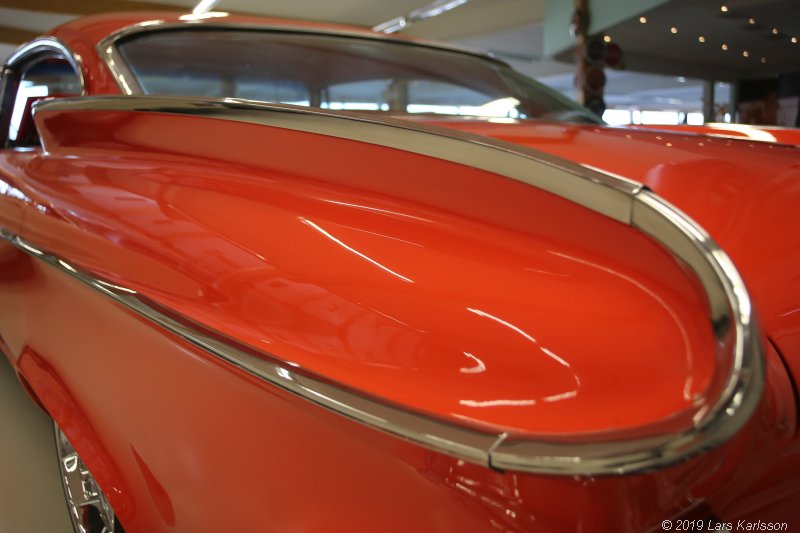 Very special designed fin, but what car has these fins, a Plymouth?
---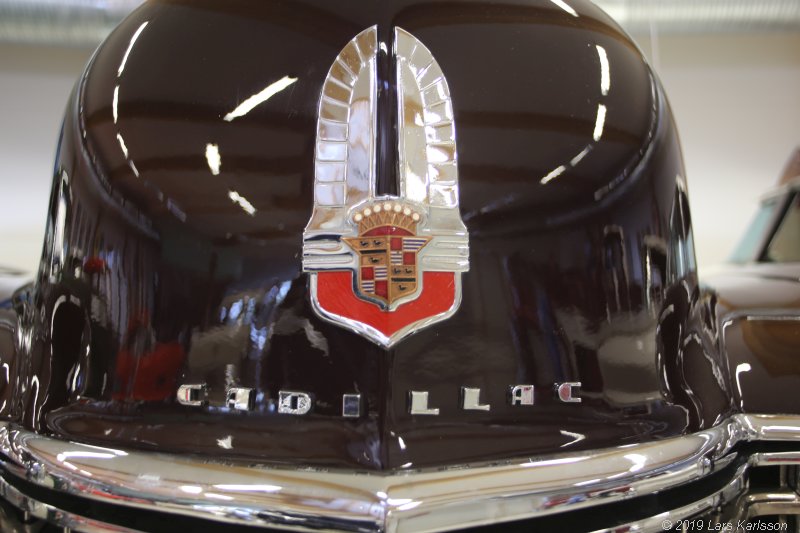 More a locomotive then a car, impressive!
---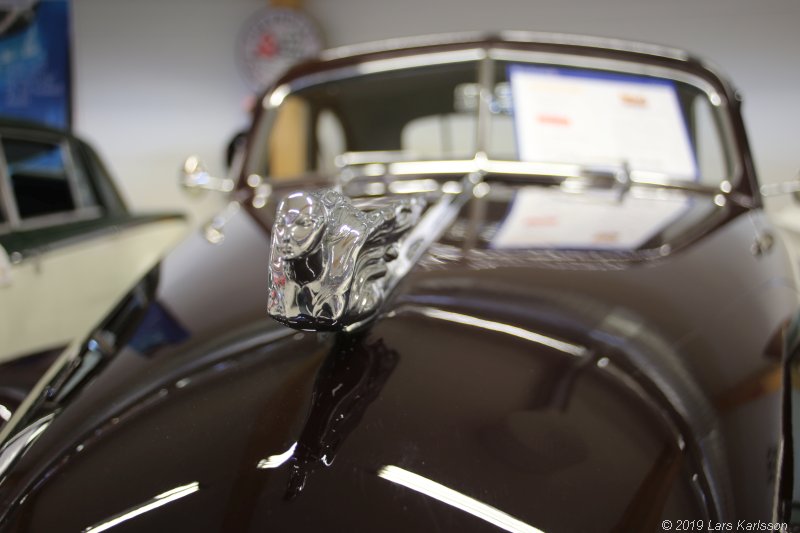 These hood ornaments are forbidden on modern cars, but what a statue.
---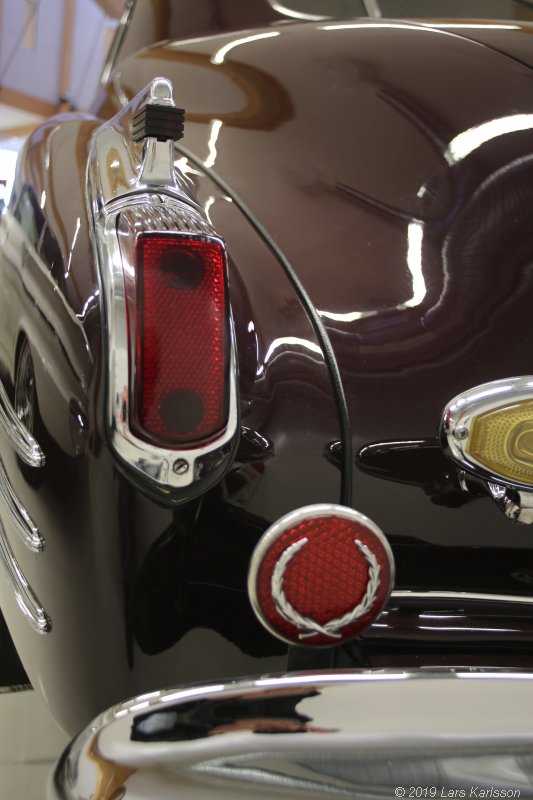 ---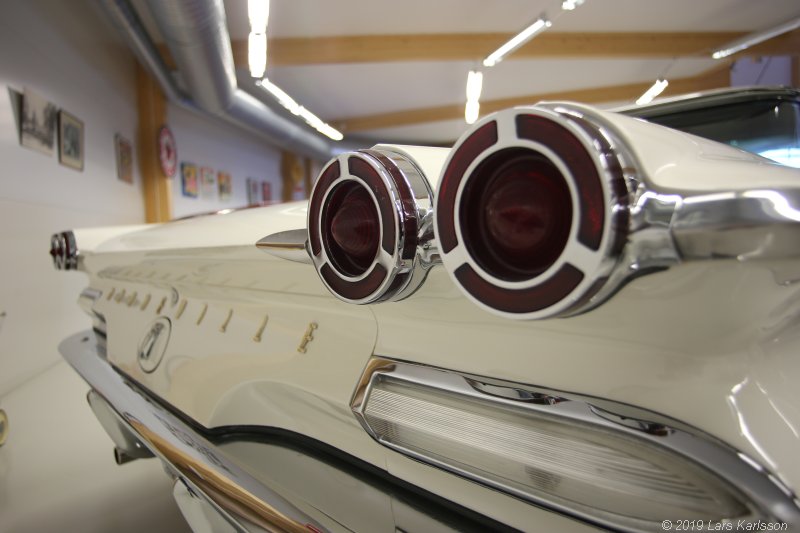 Exiting rear end of the Oldsmobile car.
---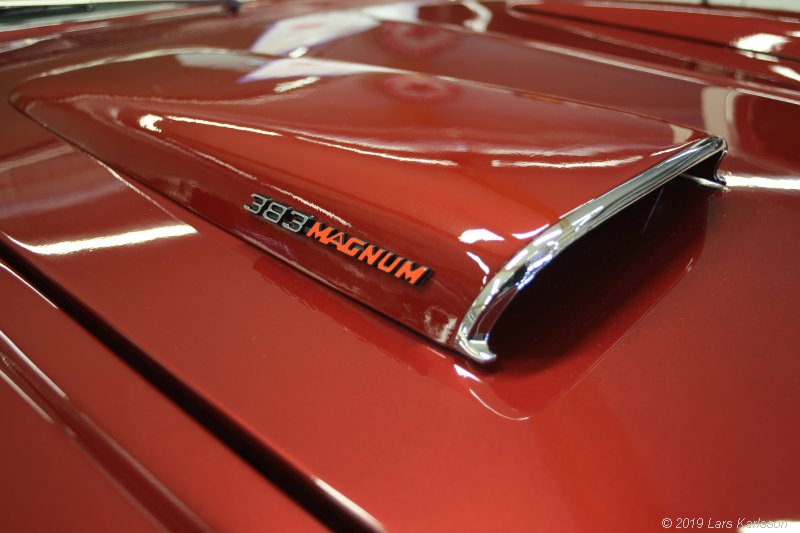 Now I have come to the more modern cars, middle 1960s to early 1970s. Muscles was what was important in these days. A 383 engine is almost 6.4 liters and deliver a lot of horse powers.
---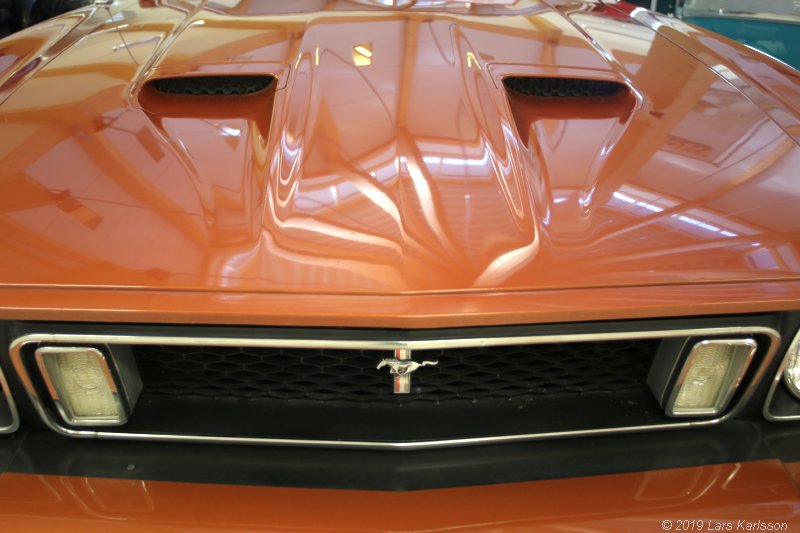 The horse is famous. This is the last classic Mustang, a 1973 years fastback model. My first car was a 1967 Mustang HT.
---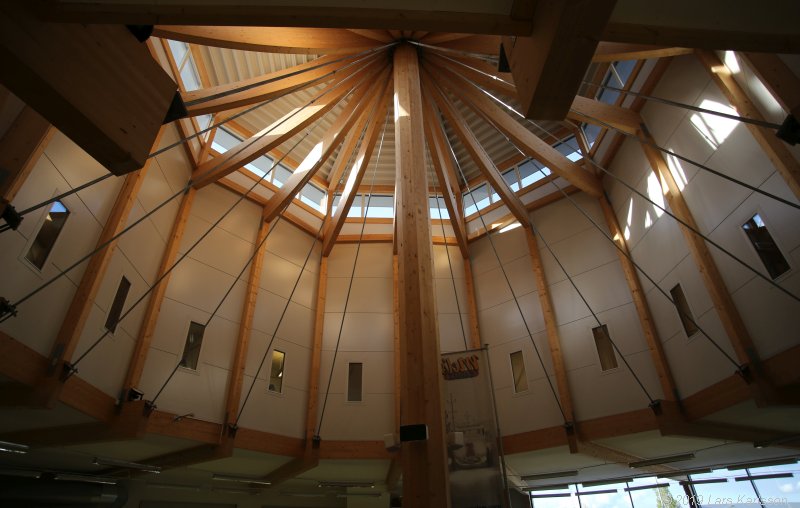 The hall where Mel's Garage is placed is very exiting. The owner told me that they moved in here from a nearby building a couple of years ago.
---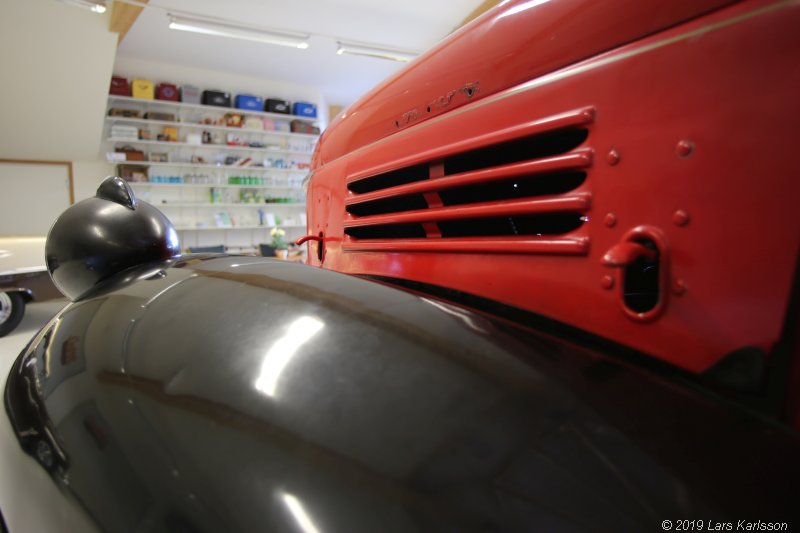 An old Plymouth truck, maybe from 1930s. My second car was a Dodge Kingsway, they normally built them in Canada as exports cars and it's a mix of Plymouth and Dodge, my Dodge was a 1959.
---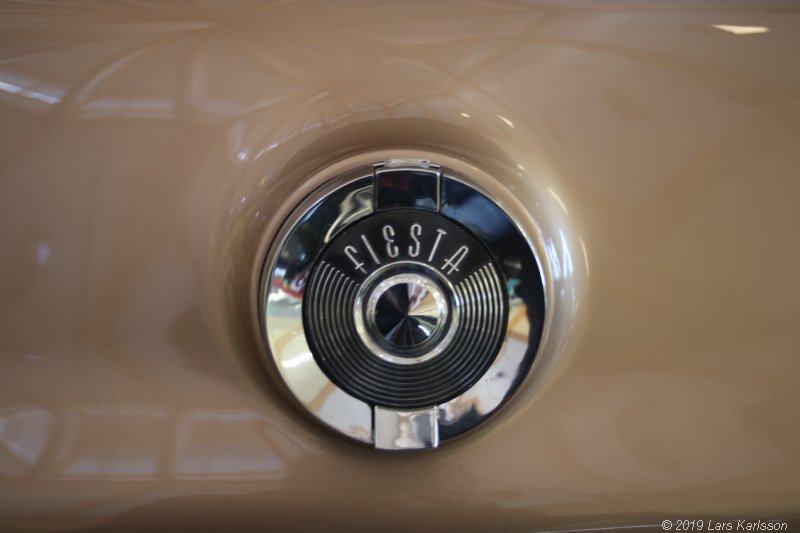 Ford nowadays Fiesta is a compact car, not this one.
---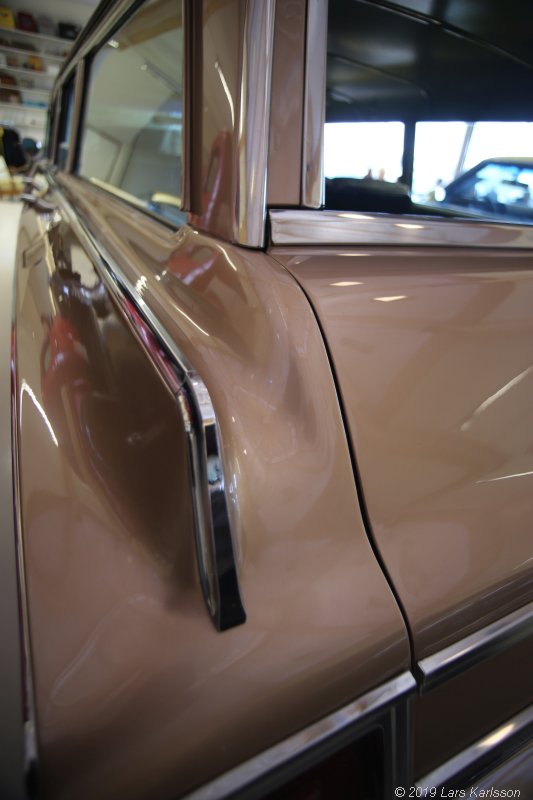 Long long long ...
---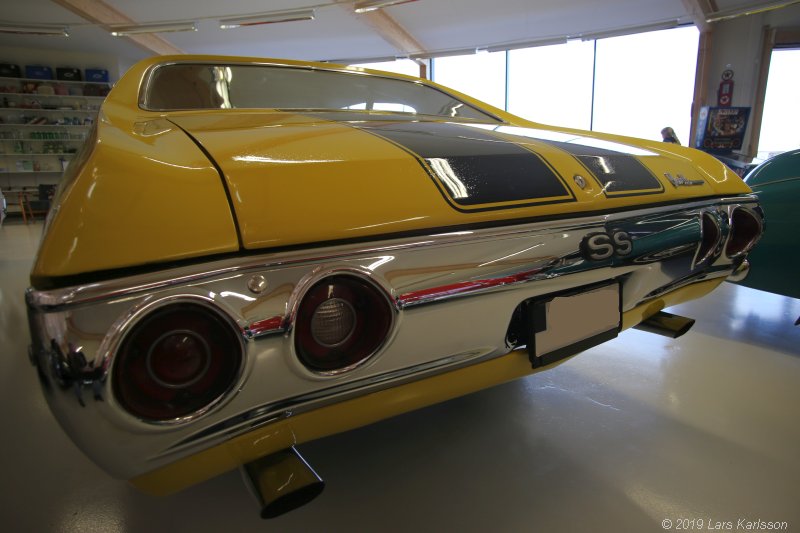 A Canadian built Chevrolet Chevelle with a big block engine, SS stands for Super Sport.
---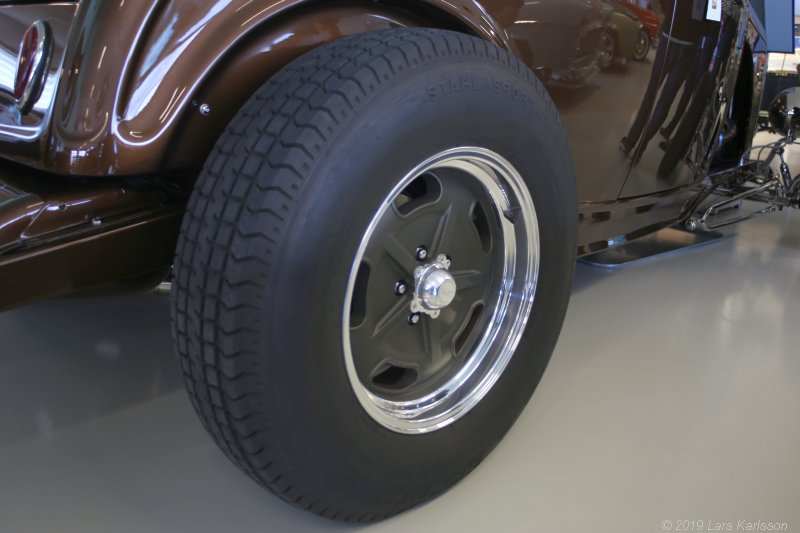 Hot Rod with classic wheels, to late to buy it, it was already sold.
---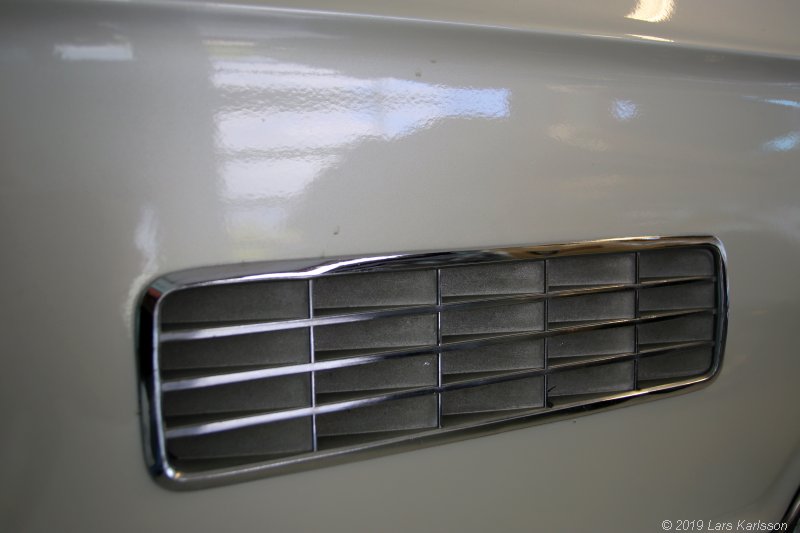 Another design of portholes.
---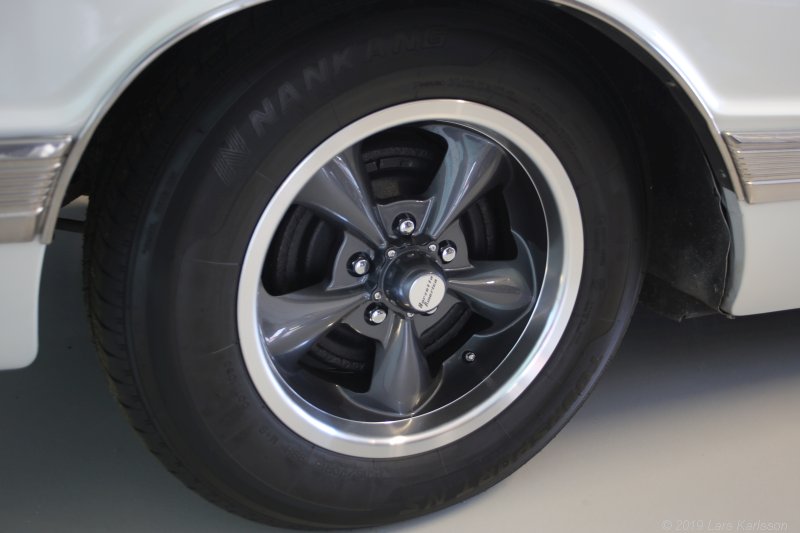 Another classic design of wheels.
---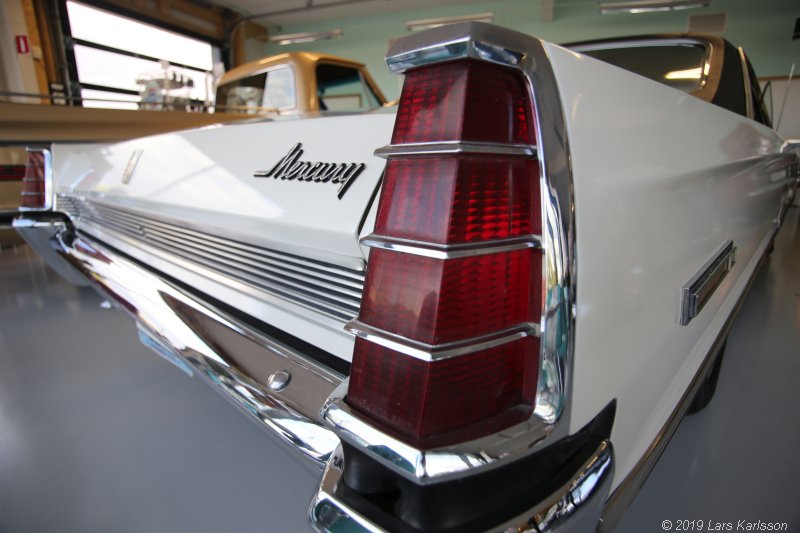 A Mercury, belongs to the Ford concern. These sharp lines belongs to the 1960s designs.
---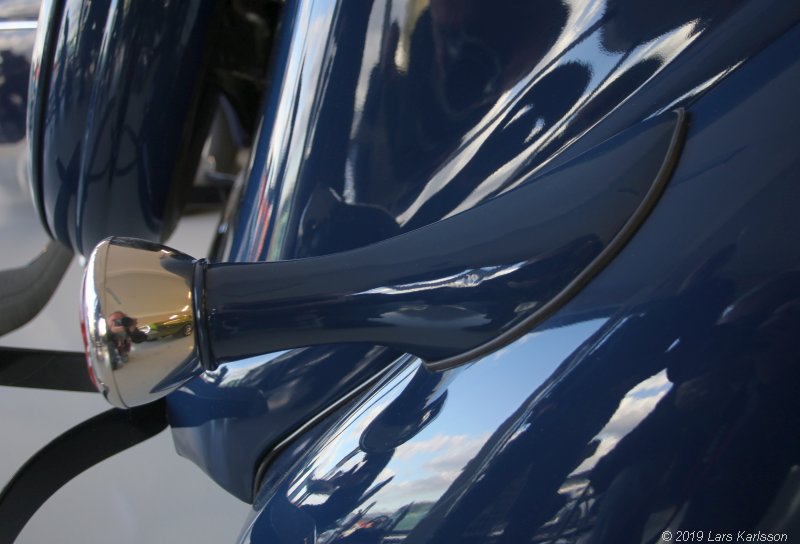 Old classic Ford, maybe from 1930s with the flat head V8, my cousin has a 1937.
---
A spacy station wagon, Ford.
This car meeting was exiting, must come back later when it's better weather.
---