The Young Ones, 1959 years Dodge Kingsway, Tyresö 1979
My second car with a lot of repairs that's needed to be done!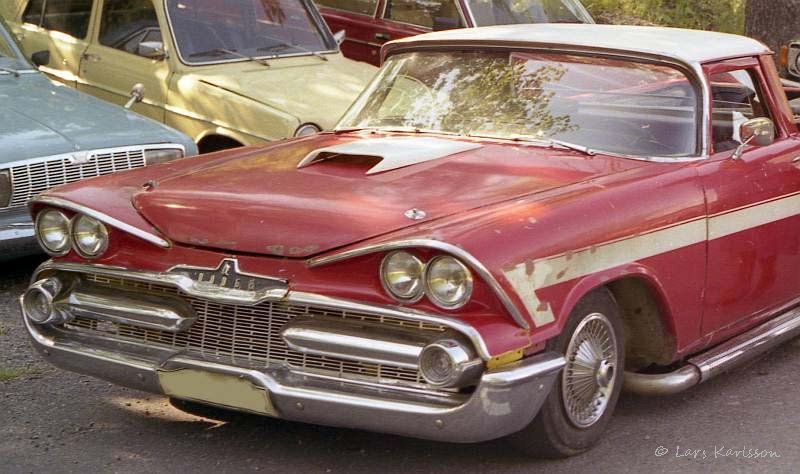 I had a lot of ideas what to do with this car, I want it to be a modern low powerful Hot Rod. It already had a more modern Chrysler 318ci V8 230 hp engine connected to side pipes. This engine some people call the Big Block, because later in middle of 1960s it came a new 318ci engine which was much lighter and smaller on the outside. The automatic gearbox was an aluminum 727 Torqueflite wire controlled, it was normally used together with Mopar's big block engines.
My first plan was to replace the engine with a more powerful but older 354ci Chrysler Hemi.
I found one with chromed valve covers and a very high 12:1 compression. It was made for marine use, I'm not sure, but I think it was estimated to give 330 hp. But I couldn't find a modern gearbox that fit to it, and the one I already had didn't fit either. The 354 Hemi was from 1956 and my automatic gearbox from 1963. Chrysler changed the bolt pattern between engine and gearbox in 1959, there was adapters but very expensive in that time.
From beginning this car was a station wagon, some earlier owner rebuilt it to a pickup and chopped it. The roof was about 2" (5 centimeter) lower. They did it maybe like this: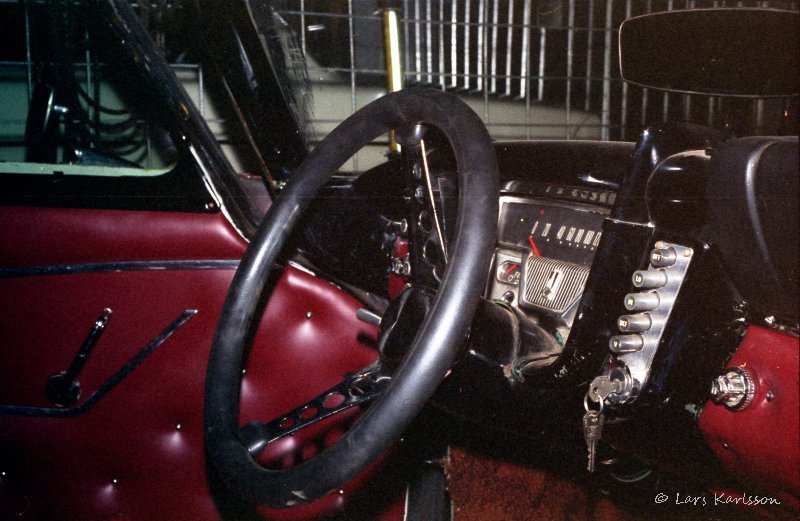 I replaced the steering wheel with a small 13" Grant, it was no power steering in this car so it was heavy to steer it ! To control the automatic gearbox Chrysler didn't use a gear shifter these years, they used push button controls instead. Similar to the ones you see here to the climate control, but on left side of the steering wheel.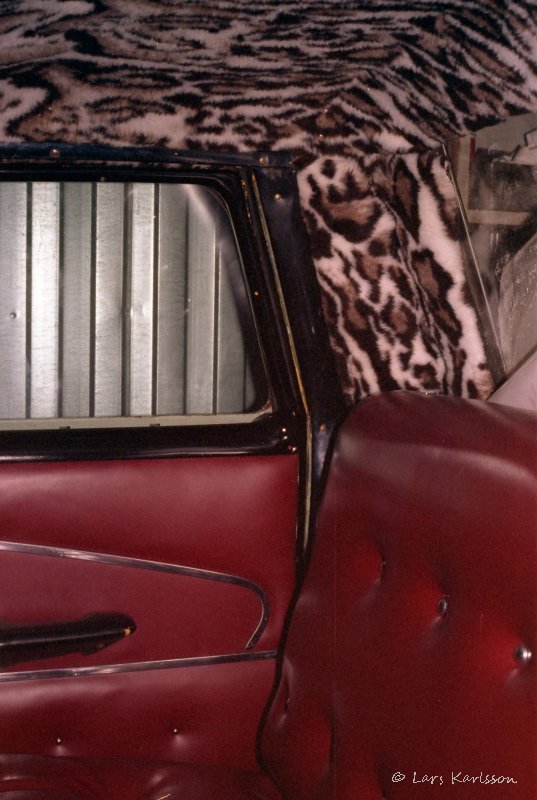 I also made a new interior in red color and a black & white leopard inner roof.
A Dodge Kingsway is little bit special, it's built in Canada and are a mix of a Dodge front and a Plymouth rear, these models was sold as export cars.
Maybe it could have been assembled by ANA in Nyköping, Sweden.
I have found my Dodge in an old magazine, the Swedish Colorod which had a report from a Hot Rod show in the 1970s. In those days the car still had its large fins which looks so much better than what you see on these photos. I tried to find new fins on junkyards, but no success. The rear window was possible to lower and open.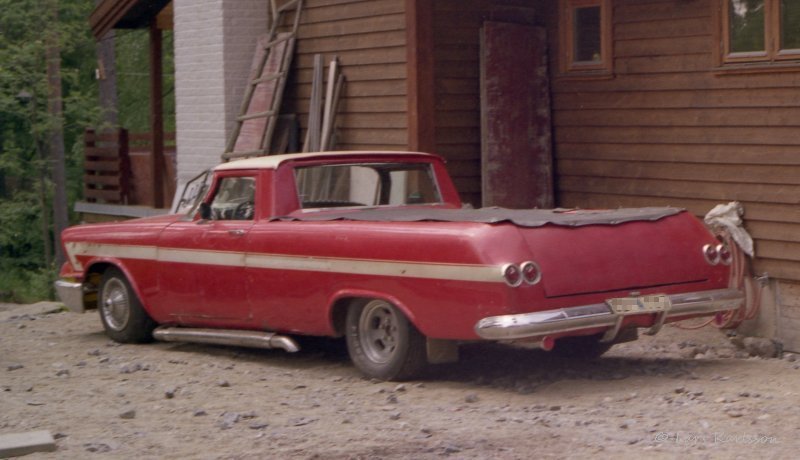 The rear bumper I found at Lelles Bildelar (Lelle's Car Parts), it came from a 1960 Chevrolet, the four tail lights must had come from a Chevrolet too. I don't know who rebuilt this car from the beginning. The DC alternator I replaced with an AC generator from a Lincoln. An anti-roll bar was mounted in front, it did good for the road handling. I also bought new wide 14x7" and 14x8" wheels to it, chromed with baby moons hubs. The 14x8" wheels was a bit to wide to fit in the rear so I later changed them to 14x7", not on the photo here but it looked really good.
I lost my garage and then it was too complicated to start the needed restoration work on the body. After a while I lost the interest and sold it, I wanted something newer. Afterwards, it was not so wise to buy this car, but I had fun times. It runs most of the time and I could used it as a normal car. I had the car between 1977 and 1980. The car was scrapped in the 1990s, there was no value in a car that was not in the original design. But as a donator car it's more valuable, especially the chromed parts. The chromed front bumper could be more valuable than the whole car in that time today.
I just wonder how it had looked if I had finished this project. Engine replaced with a 354 Hemi, restored the fins at the rear, or even better the fins from a Plymouth of 1960 model, more chrome parts at the rear to match the front, new paint.
After this I always try to find cars that don't need that much work. My dream in future is to have a house with a big garage. Then I should build a modern Hot Rod with a 1970s car as a base. Cars of model 1976 or newer could be problems to have street legal here in Sweden if they are modified to much.
About 2004 the chassis for the car got a new body, a Desoto!
Update:
Now in 2018 on a car meeting I maybe came in contact with the man who built this car in the early 1970s. We are investigating if it is the same car. Coming back later with more information.
---