My astronomy project:
Building a battery box and an astro server
---
Content:
Note:
I take no responsibility or liability for what are written here, you use the information on your own risk!
---
Page I.2: Fuse box and fuses
Now, even the fuse terminal is in place:
---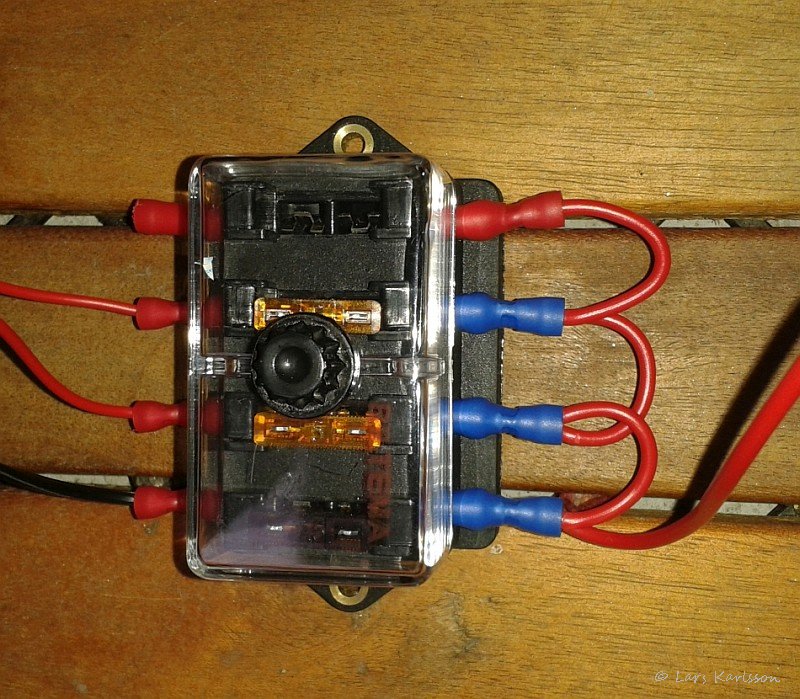 This I found at the auto parts store. A robust thing that seems to be able to cope with some rough treatment, little clumsy maybe. I chosen knife fuses that are used in cars as it provides good contact with less risk of glitches. Should a fuse brake, and you forgot to bring spare fuses there are always someone in the car one can take.
Fuse 1: 7.5 Amp, Computer, Charging
Fuse 2: 5 Amp, EQ6
Fuse 3: 5 Amp, Camera, Focus Motor
Fuse 4: Reserve for additional accessories
Best to add, if used to charge while using the equipment then must charge current have separate fuse, otherwise unpleasant things could happen!
Now it's just a box missing, has been looking but have not found anyone suitable. Shall maybe build one myself if I can't find one in a proper size.
---