A walk at Osby junkyard, 2019
Another treatment to get an interesting day
---
When I was a teenager cars was everything in my life. I read every magazine I could get and know almost all models of American cars from the 1955 to 1979. When I read these Swedish magazines in the 1970s there were ads from Osby USA bildelar, they had a lot of scrapped cars with parts for sale. But I wanted a whole car, my optimism was big in those days of what I could repair. It came that I never visited this junkyard at that time, but now 40 years later I saw we passing by Osby where they have their junkyard. We travel home after our visit in Southern of Sweden.
I also needed some small spare parts to my own Chrysler Crossfire that I hope to find here.
You find Osby in Northern Skåne which is placed in Southern of Sweden. There is a link at the bottom of this page with more information.
---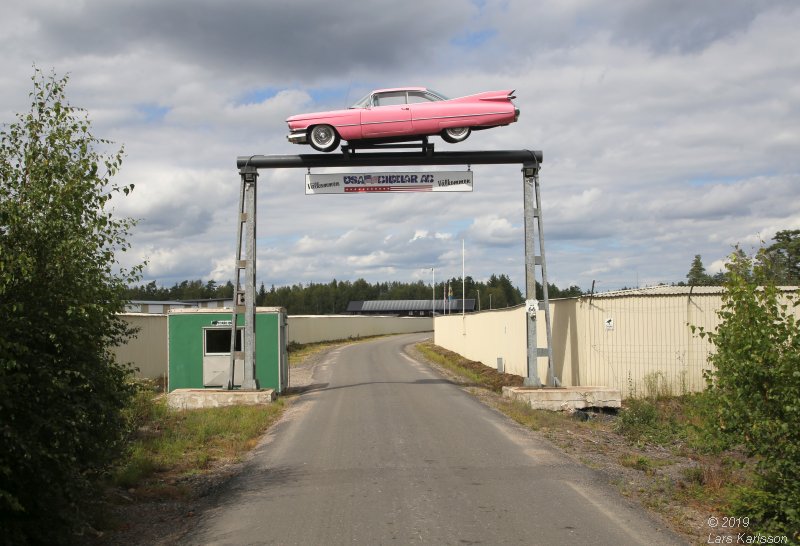 When we arrived at Osby and the junkyard we got this view, a Cadillac 1959 on top of the gate! The most famous American car of all from the 1950s.
---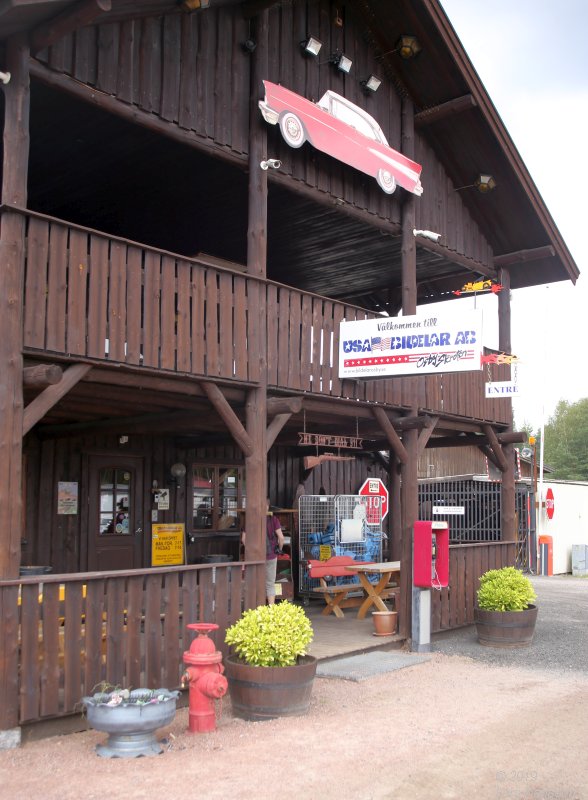 We parked the car and enter the office.
---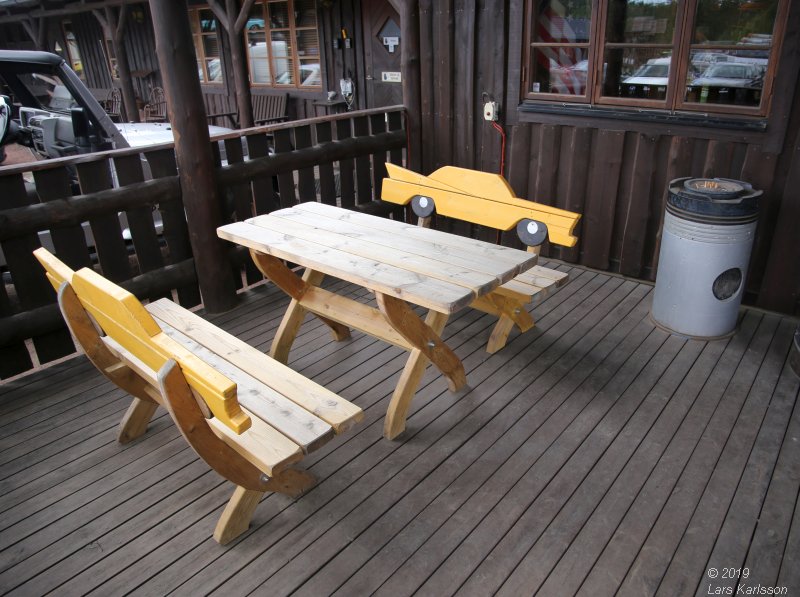 No problem to understand that they love American cars at this place.
---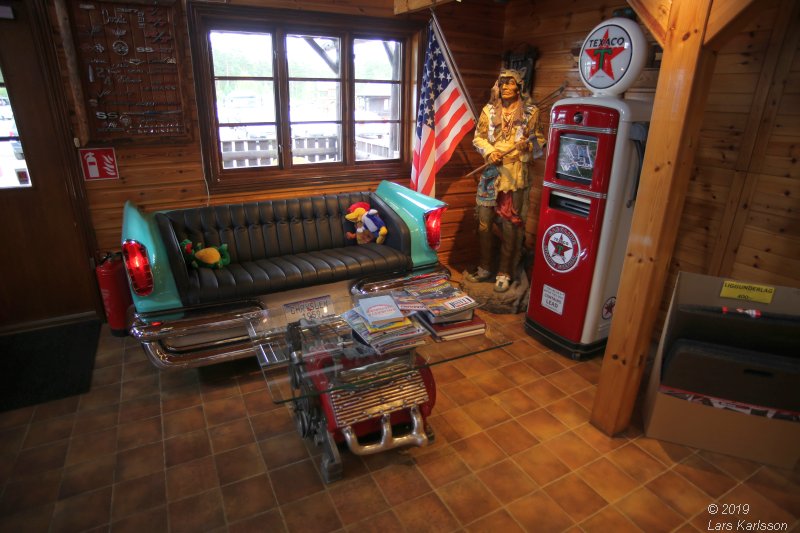 The office had two sofas, one Mustang 1965 and one Chrysler 1959. A table with a flathead Ford V8 as a stand.
---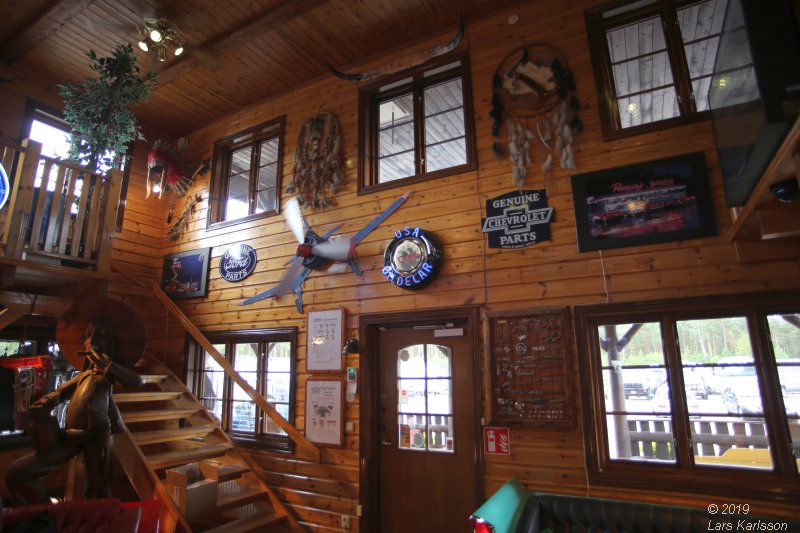 A lot of excitement things to look at.
---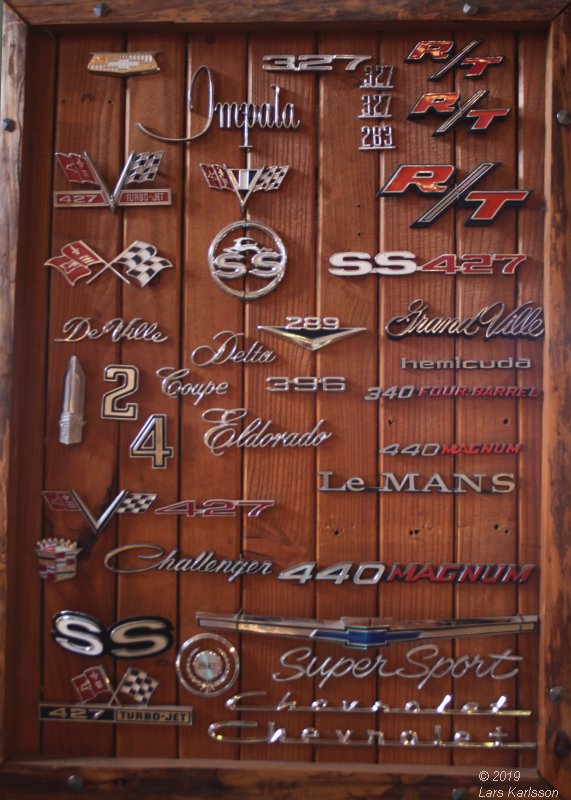 These decor trim can be very hard to find to old cars nowadays.
A lot of customers were here today, but after a while we got the chance to talk to the staff. I explain that I needed some small spare parts to my Chrysler Crossfire. They said that they had three Crossfires in store. We could take a walk outside and see if they still had the parts left that I needed. I also explained that I have seen their ads for forty years and this is my first visit. I asked if I could take some photos to have on my homepage, it was ok.
Good, now you can follow me around.
---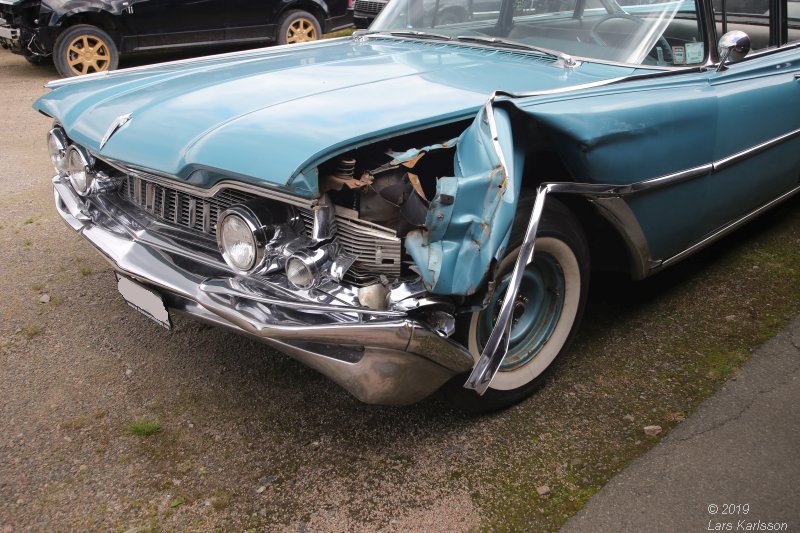 The first car I saw that got my attention was an old 1950s. Earlier I could tell direct what car it was, now I had to look at internet to find what car it is. It's a Oldsmobile 1959. It looks very fine but it's a four door. It will be an donator to other cars, like two doors HTs and cabriolets. The chrome parts are very difficult to find today, in some cases the four door and two doors cars share the same.
---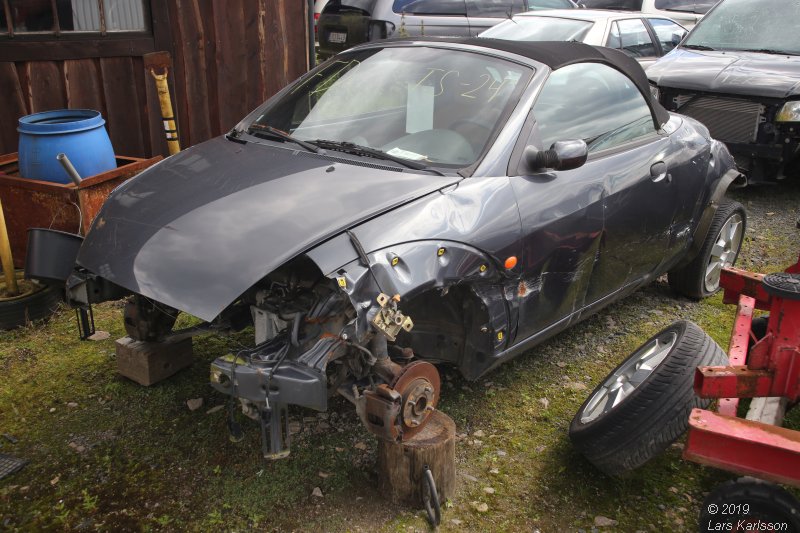 I didn't expect to find a car like this at this place, it's a Ford Ka roadster. Once I had the standard Ford Ka four seater, this only has two seats and it's a cab.
---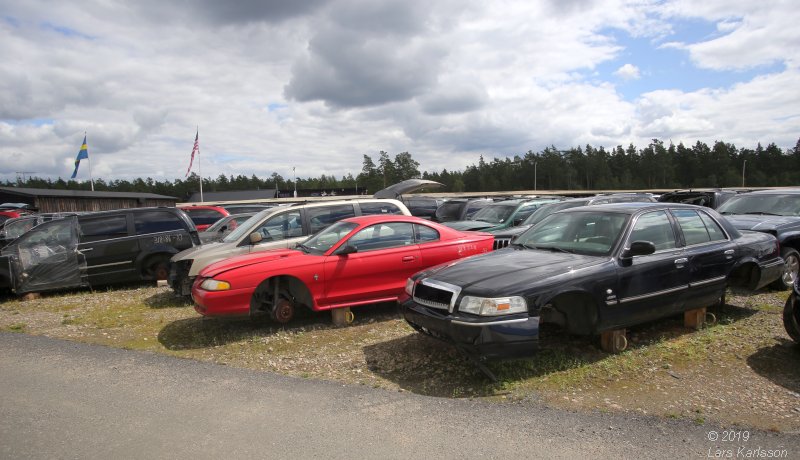 Now I had come to the Ford block area. A Mustang from the 1990s and maybe a four door Lincoln.
---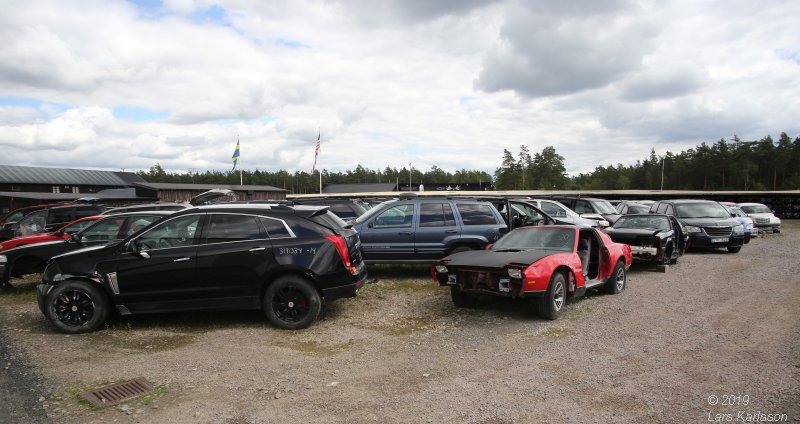 The red car is a Pontiac Firebird from the 1980s. It was manufactured from 1982 to 1992 and called generation 3.
You can get more information about Pontiac Firebird at Wikipedia:
---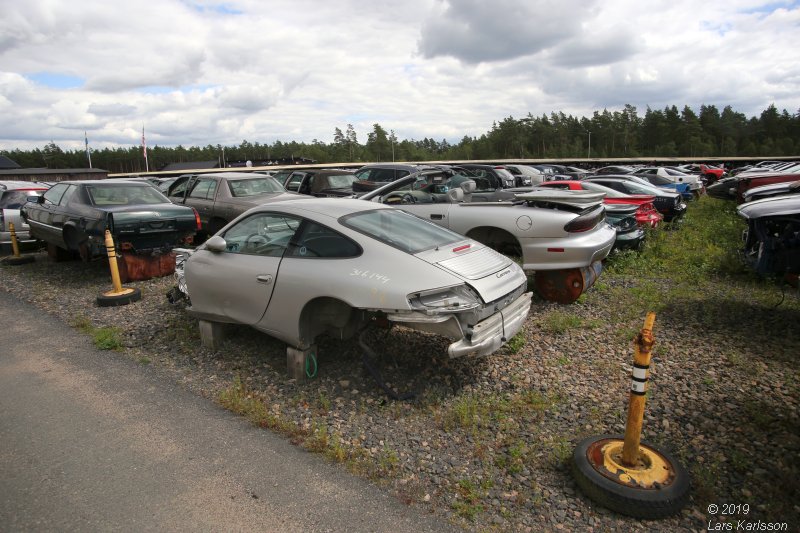 A Porsche, that's is a very exclusive sport car, strange to find it here. I don't know very much about Porsche, but I know that this model has a 6 cylinder boxer engine at the rear end.
---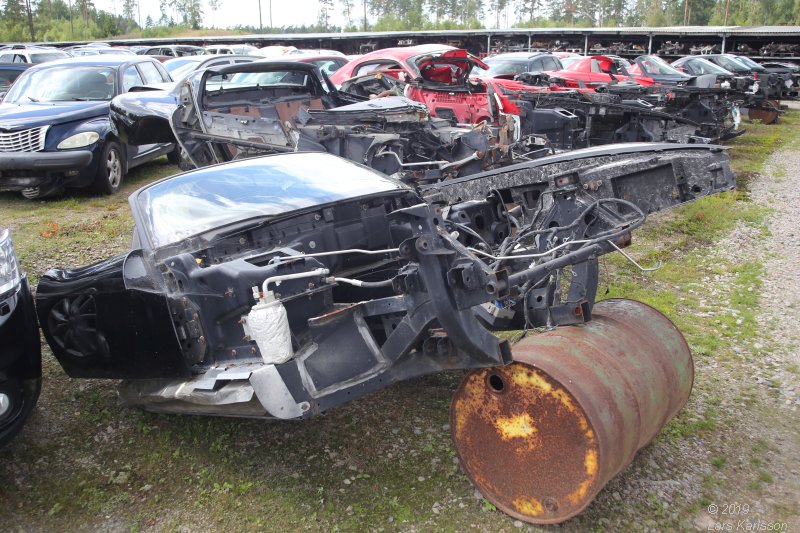 Behind at left, a Pontiac PT Cruiser, a retro designed car. The car in front of me was more difficult to recognize. But when looking around I see several Dodge Vipers, and yes, this one is a Viper too. Even a Viper in bad shape has a value of 40'000 Euros and the spare parts are expensive.
---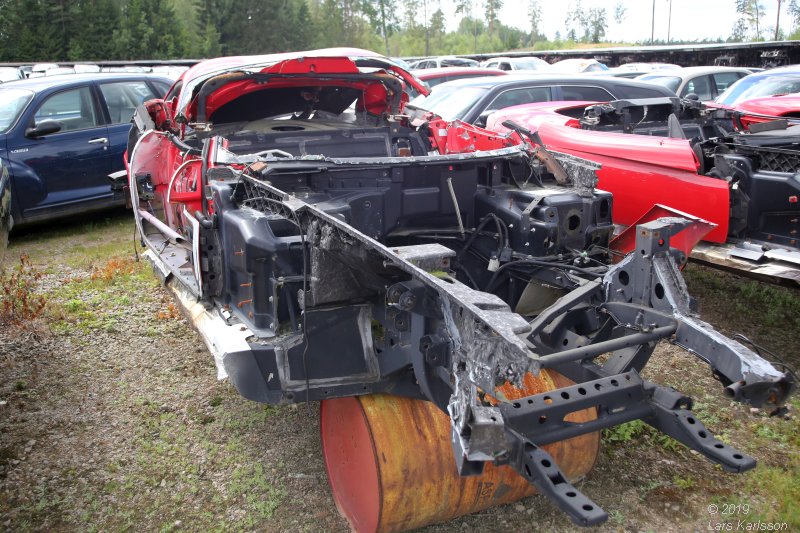 One more Viper, there are roadsters, cabrioles and coupes models of Viper. A V10 engine at 8 liter or more, lot of horse powers and torque. Six speed manual gearbox.
You can get more information about Dodge Viper at Wikipedia:
---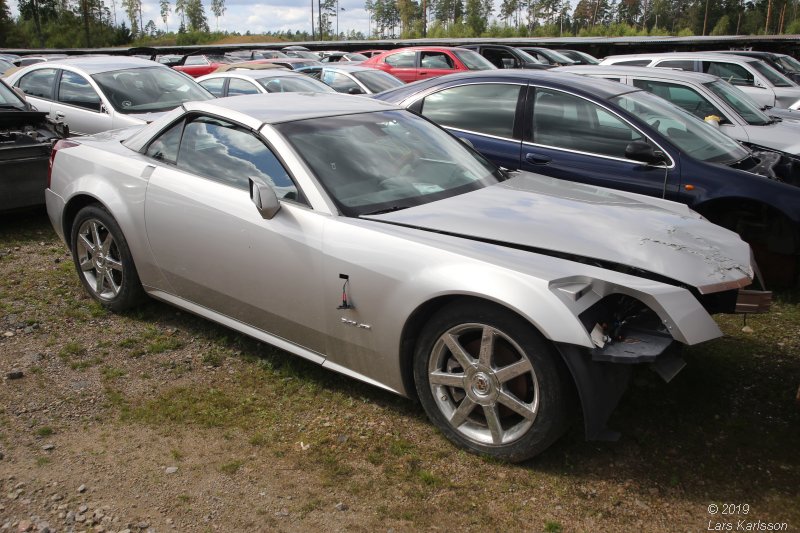 A Cadillac XLR roadster, I have just seen a few of them when I visiting car meetings, they are equipped with a V8.
You can get more information about Cadillac XLR at Wikipedia:
---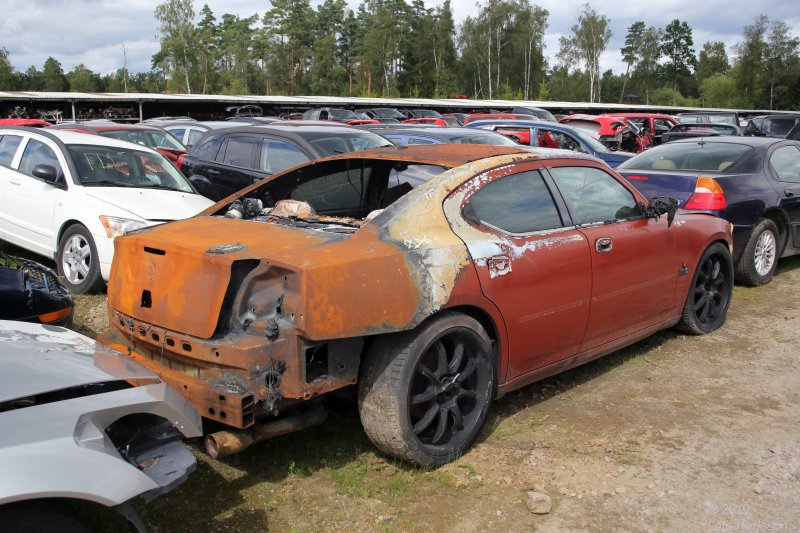 This Dodge Charger had a fire at the backend, there are many of these Chargers here. Strange, I expected to find old cars here, not new ones. But for me even a car that is ten years old is like new.
---
Now Gunilla calls me that she has found the Crossfire cars.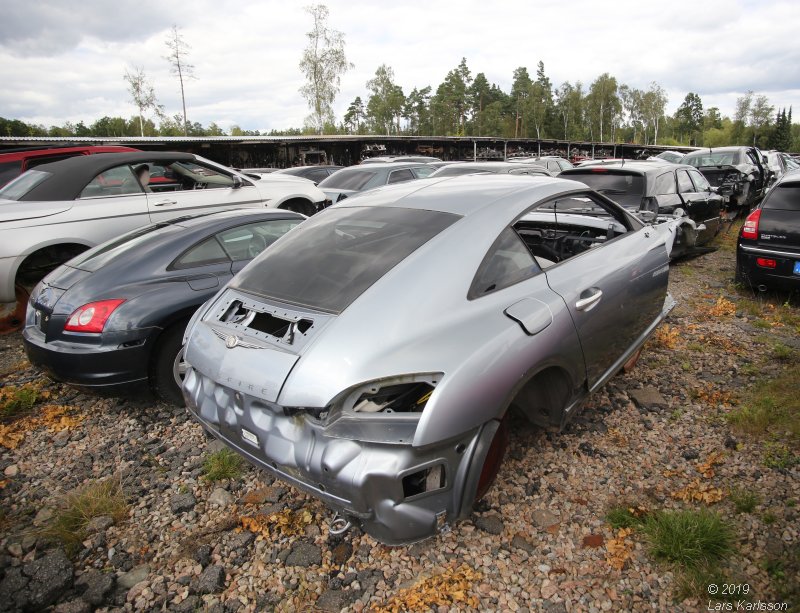 I rush over and find these two beauties. When examining the cars I found that they still had the parts I need. A couple of small screws, cooler holders and a plastic cover. Customers are not allowed to take the parts themselves, the staff must do it. We walk back to the office to get help.
You can get more information about Chrysler Crossfire at Wikipedia:
My own Chrysler Crossfire.
---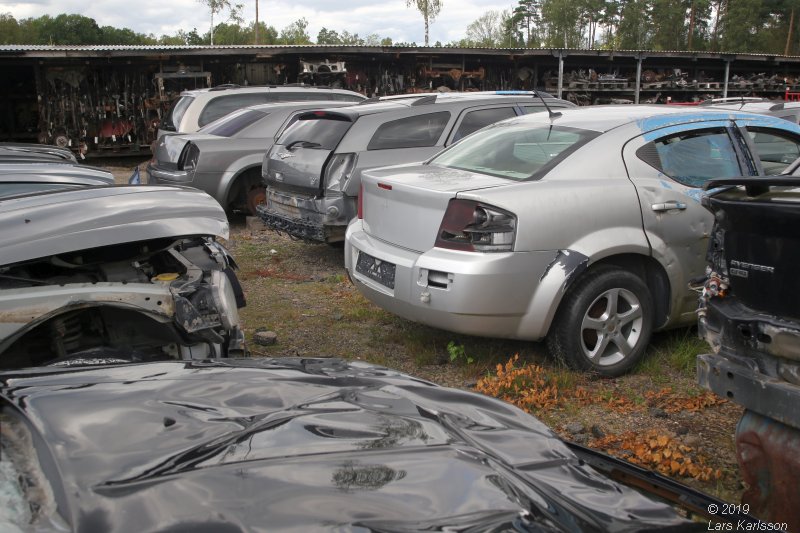 On the way back we see more Chargers, Chrysler 300s. These cars are built as my Crossfire on Mercedes bodies, but the bigger E-class chassis.
---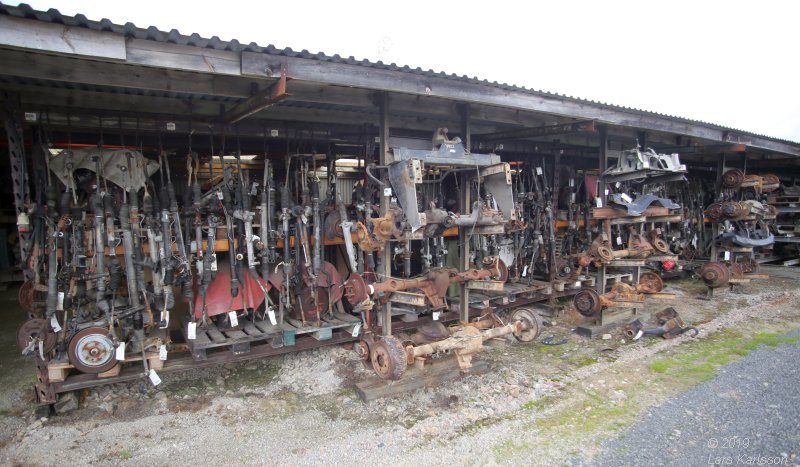 A store with rear axles, I see parts everywhere.
---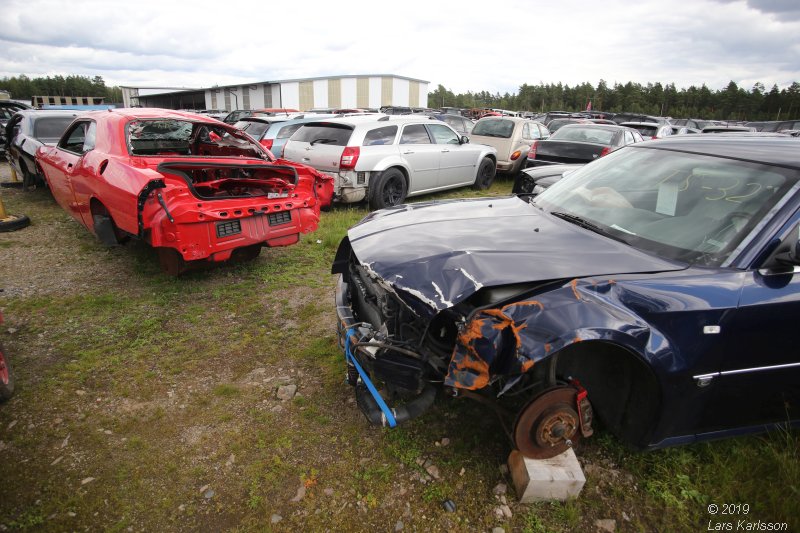 The red car is a Dodge Challenger, not many years old.
---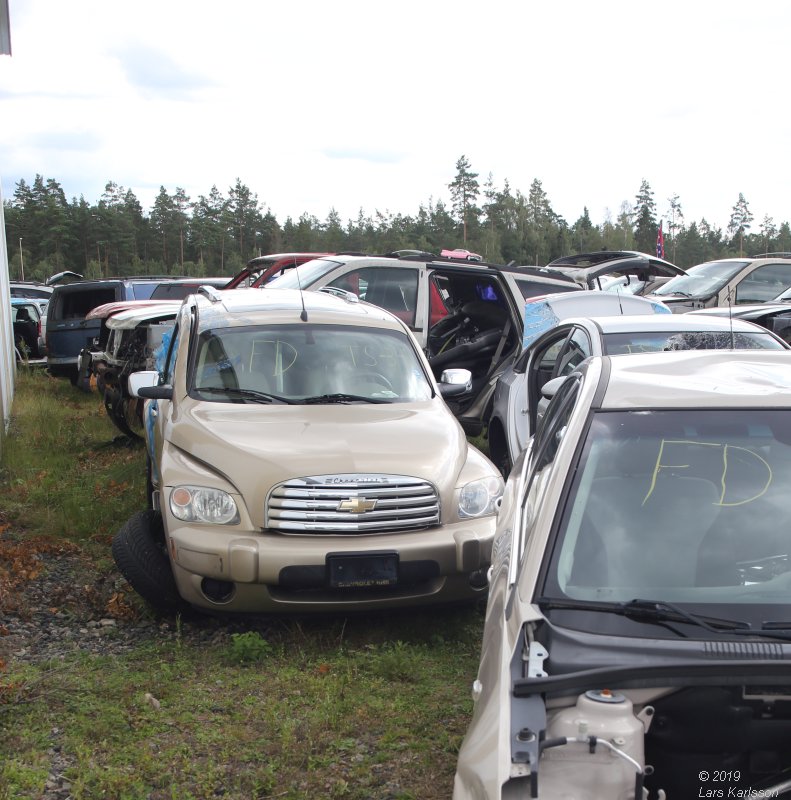 This retro styled Chevrolet is not very common in Sweden, it only have a four inline engine.
---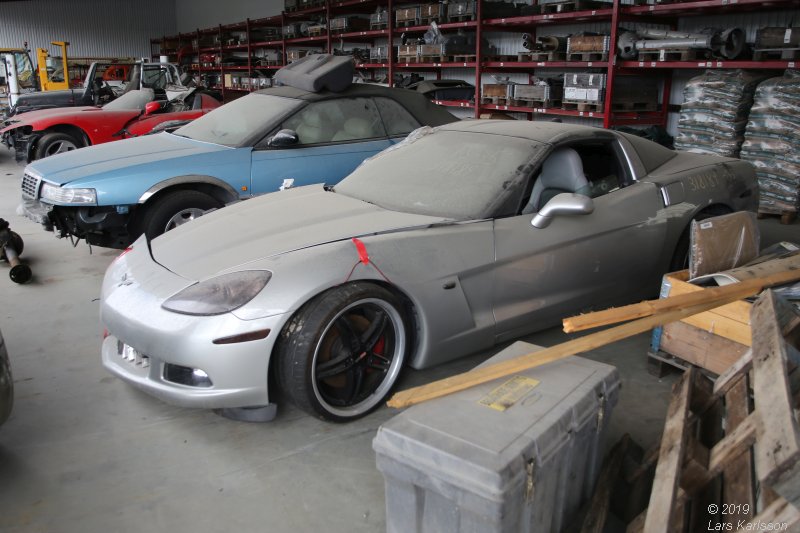 In another store I found this Chevrolet Corvette of C6 model. Behind a Cadillac cabriolet, or is it a fake cab? It was common these years (1970s to 1980s) with vinyl top roof that look like a cab.
---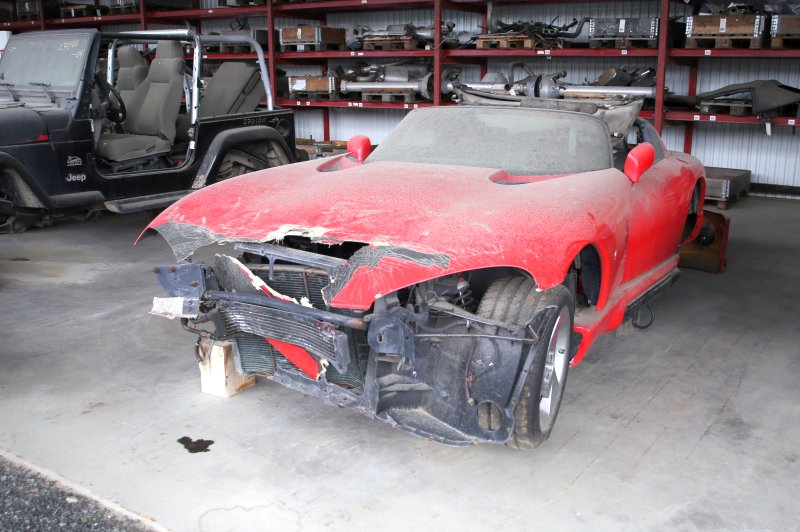 Now I found even more Vipers, when I ask they said that they have more then ten of them, gosh what a place!
---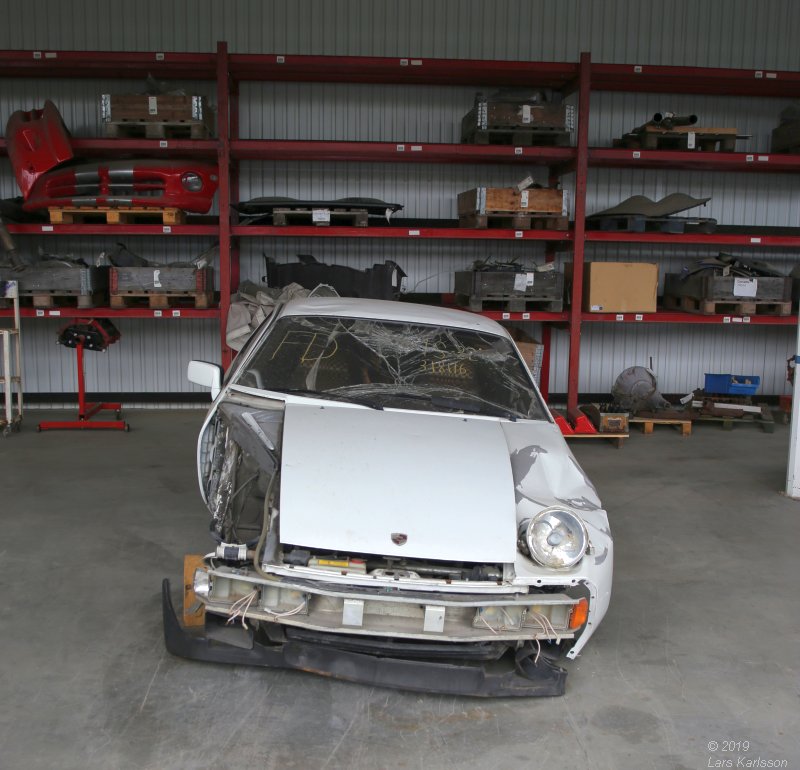 A sad looking Porsche 928, it has a V8 and a transaxle. I have read that some people replace the Porsche engine with a Chevy small block.
---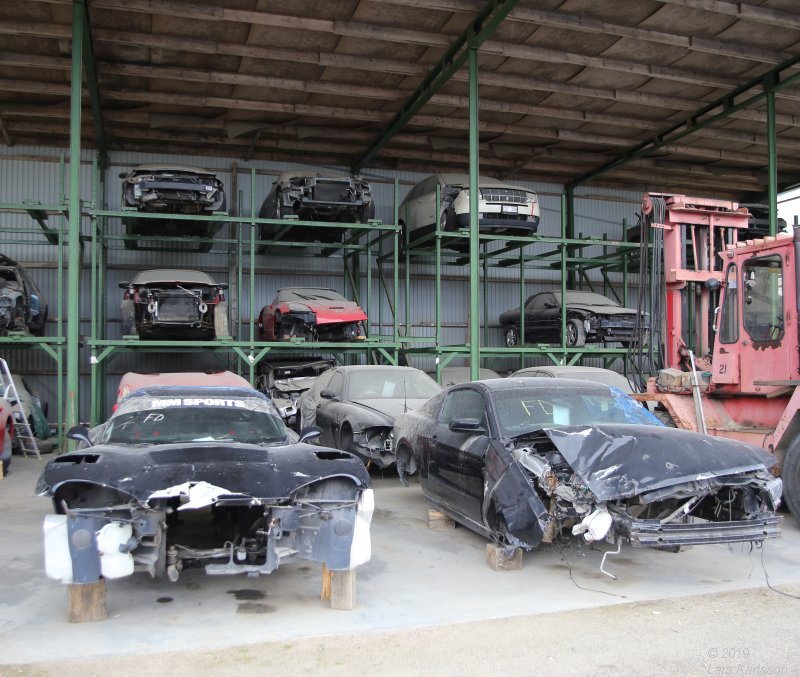 To the right, a Ford Mustang.
---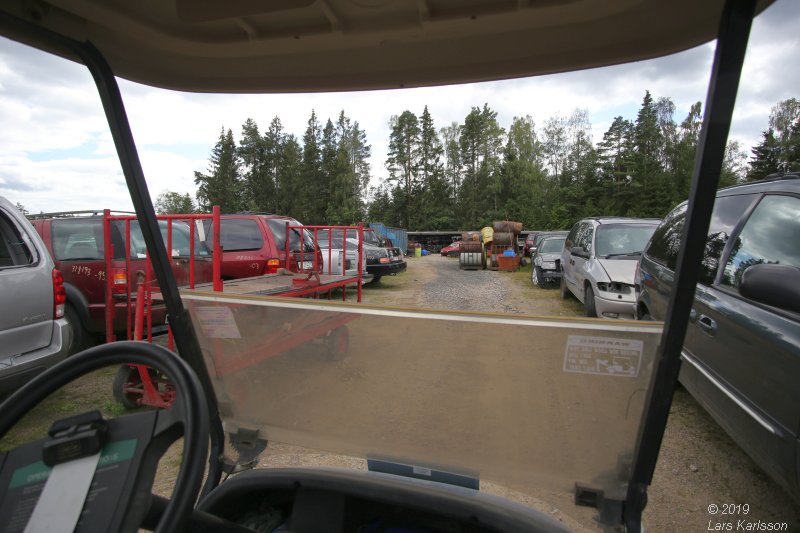 At the office I explained that I have found what I'm looking for, Benny followed me to the cars and helped me with the parts. He drives this electric truck, a golf car.
---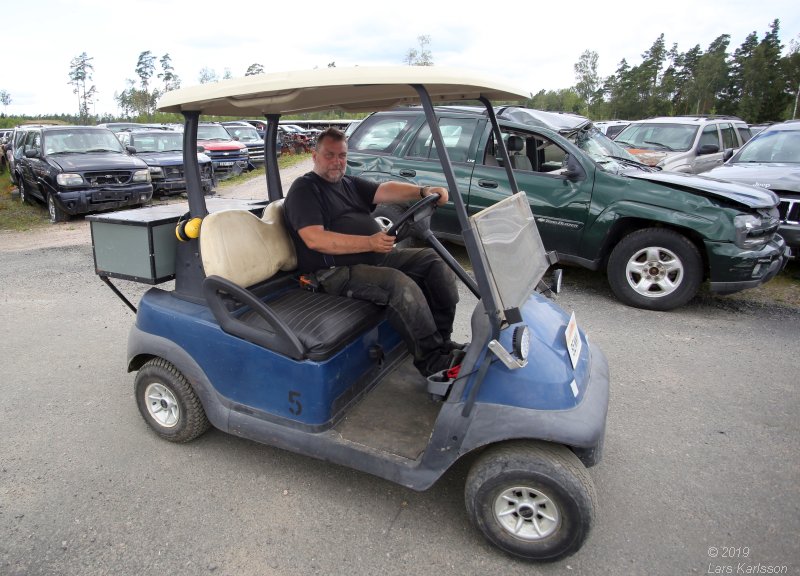 When we was finished Benny asked me if we wanted a guided tour at the Classic store. What do you expect me to answer?
YES!
Benny told me that I shall remember his name, Benny Andersson, same name as one of the member in the music group ABBA, even the car has the name Benny.
---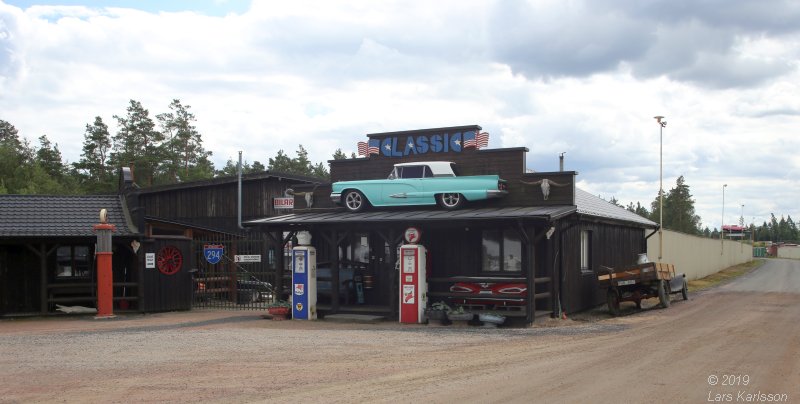 The classic cars are stored in another building. Not open every day.
---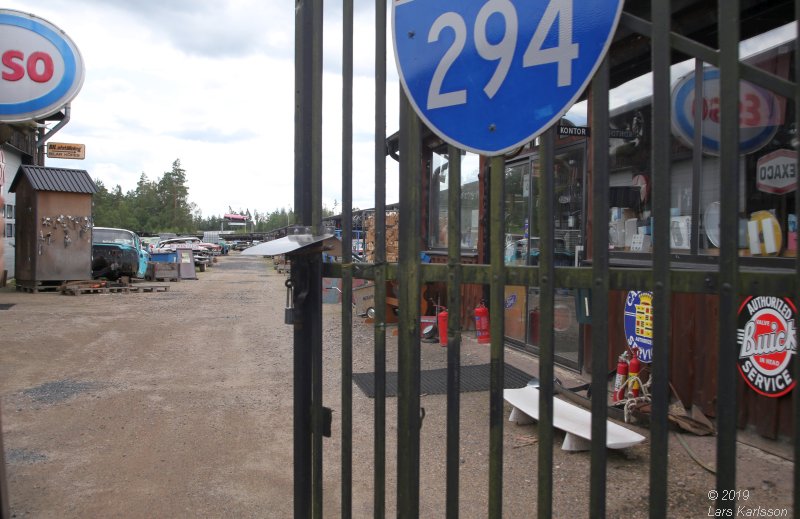 Benny opens the gate and we could already see a lot of exiting things.
---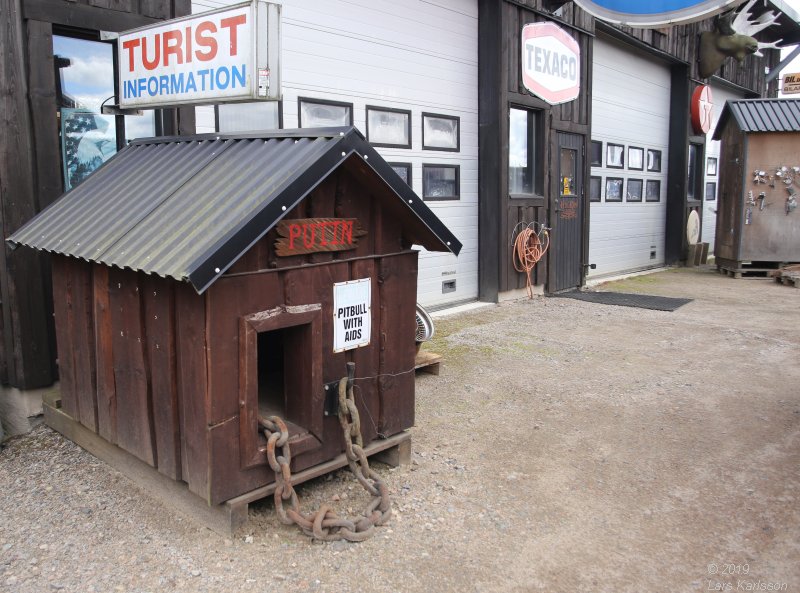 Watch out for the dog !
---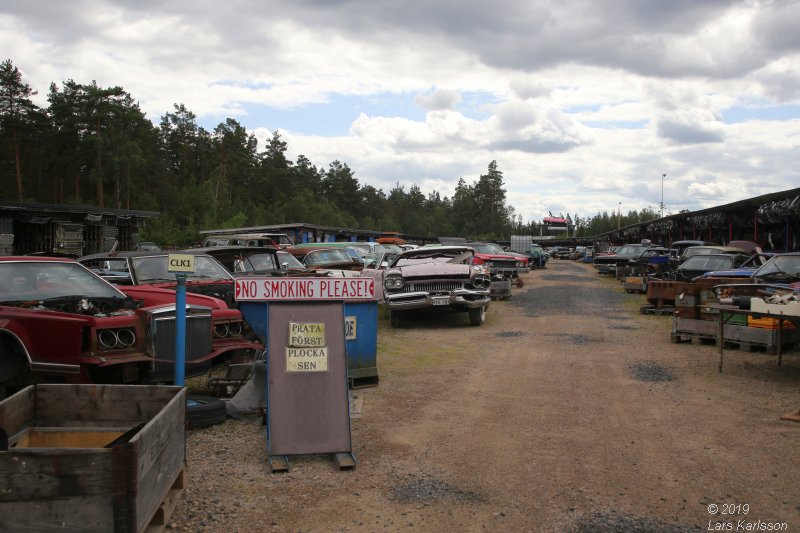 A bit strange, these are cars that I grew up with, now hey call them classic. Am I old too, or?
---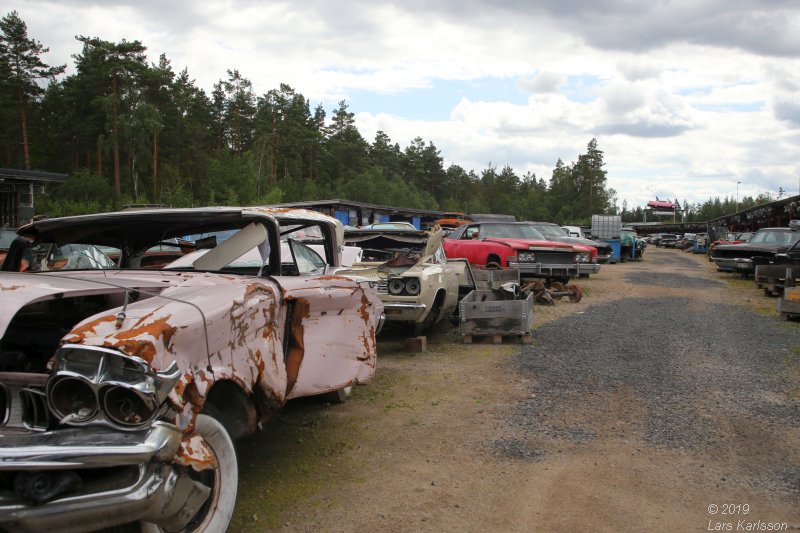 Benny tells us a lot about the cars and the history behind them, I try to remember what he said. This pink colored car are maybe a Mercury, from the late 1950s.
---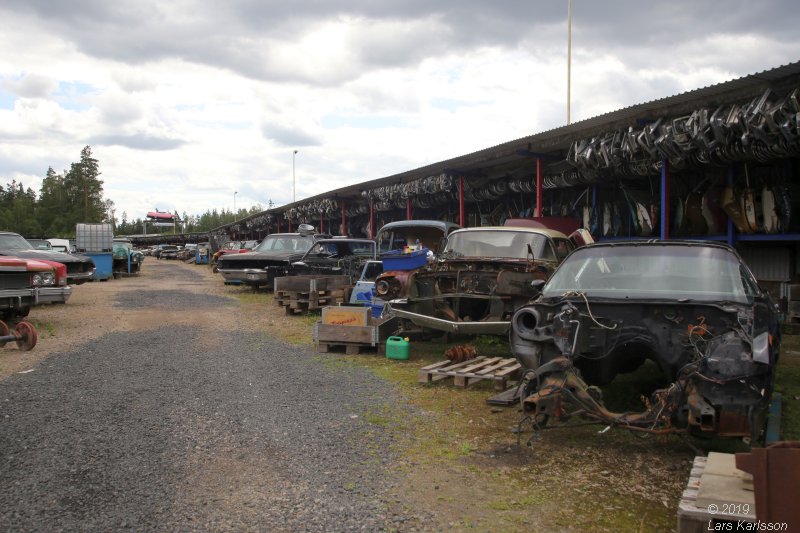 Left, a Cadillac Eldorado from the 1970s, to the right, a Mercury Cougar.
---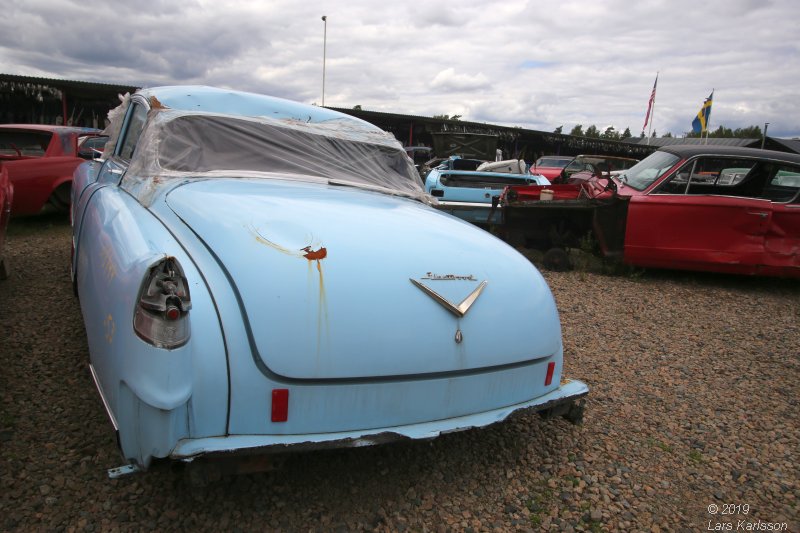 A curved Cadillac, maybe a 1956.
---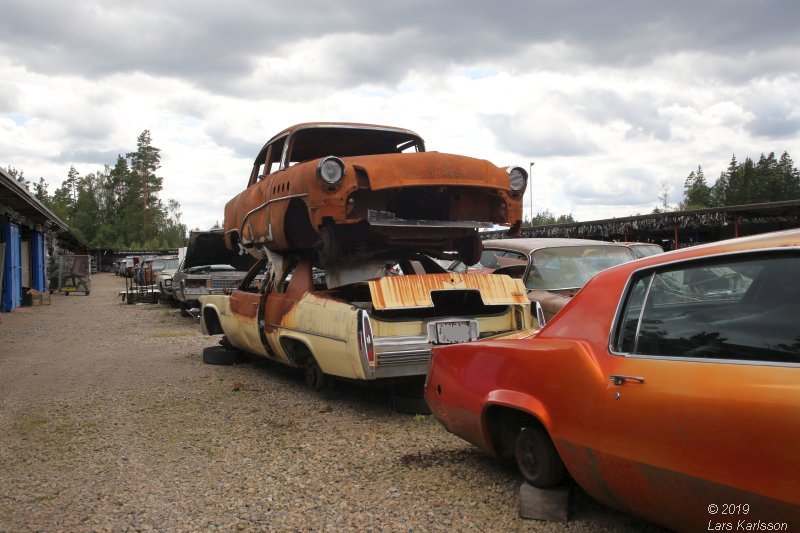 These two cars are welded together. It was a theatre who asked for it and they built it for them. The red car is an early Cadillac Eldorado with front wheel drive.
You can get more information about Cadillac Eldorado at Wikipedia:
---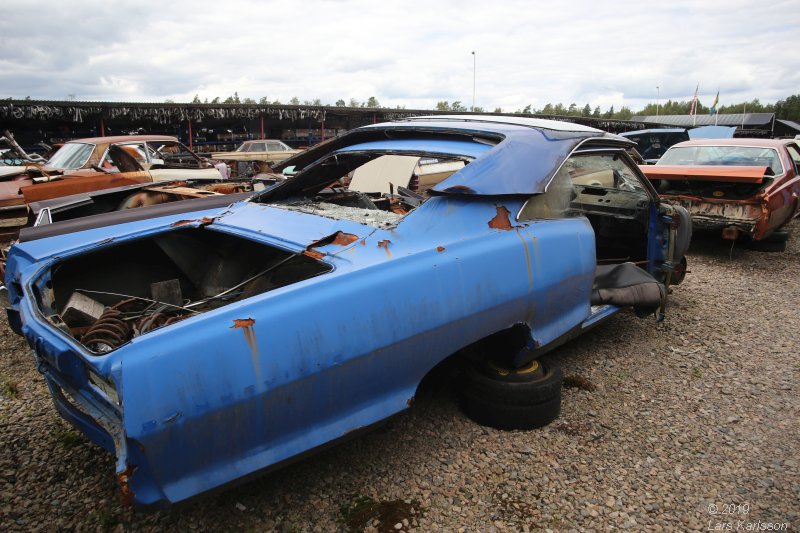 Benny told us that he has a Pontiac Bonneville, a full size car. The same model as this car.
You can get more information about Pontiac Bonneville at Wikipedia:
---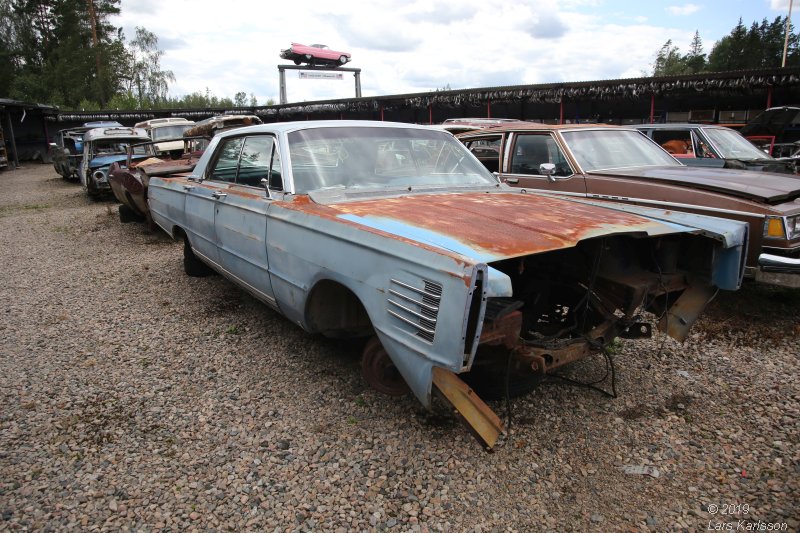 A Mercury from early 1960s, not very common to find in Sweden.
---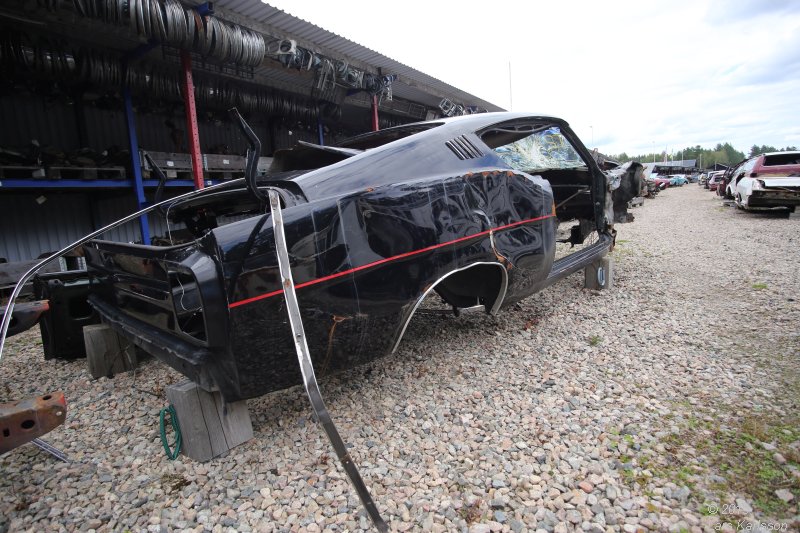 A Ford Torino, maybe a 1968, this model looks like a big brother to Ford Mustang.
You can get more information about Ford Torino at Wikipedia:
---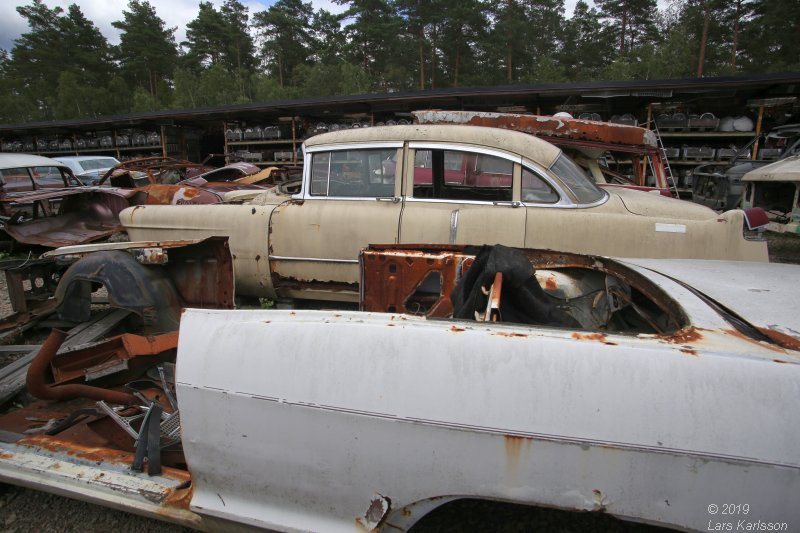 The yellow car is a Cadillac, note the tail light, the gas filler lid is hidden under. The white car in front maybe a Cadillac too. An artist had used it as a flower bench Benny told us.
---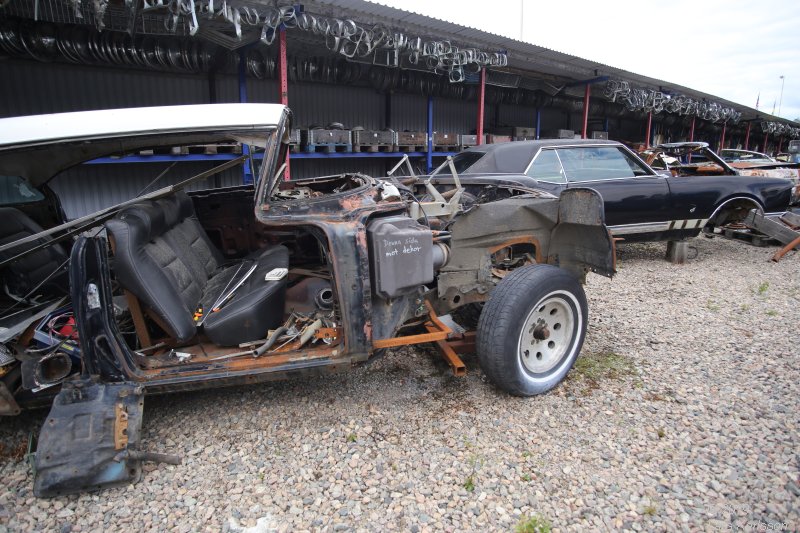 It looks like a Chevy 1957. Benny told us that this car too had been built special for a theatre. The handles were used when they moved the car around.
---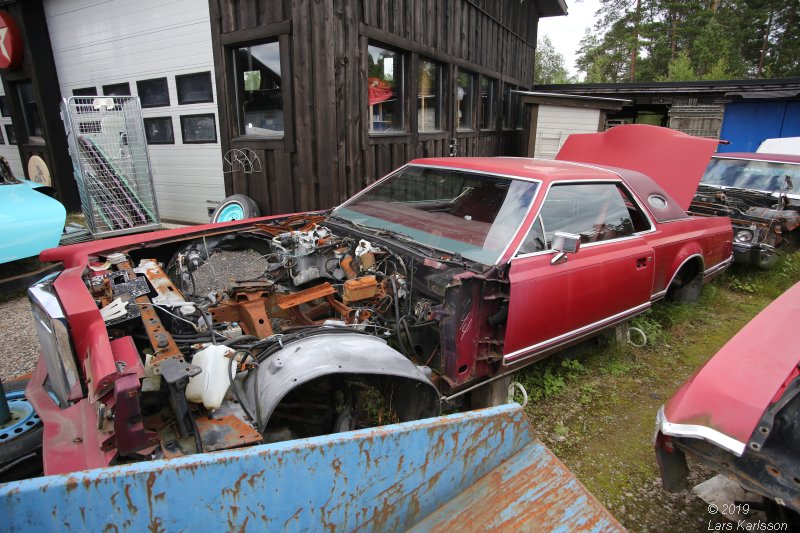 I had a Lincoln Mark IV, this is a Mark V, the last Lincoln Mark series with the real full size body. Manufactured between 1977 to 1979. The last years there were possible to get an option engine, the 400 cu instead of the big block 460 cu.
---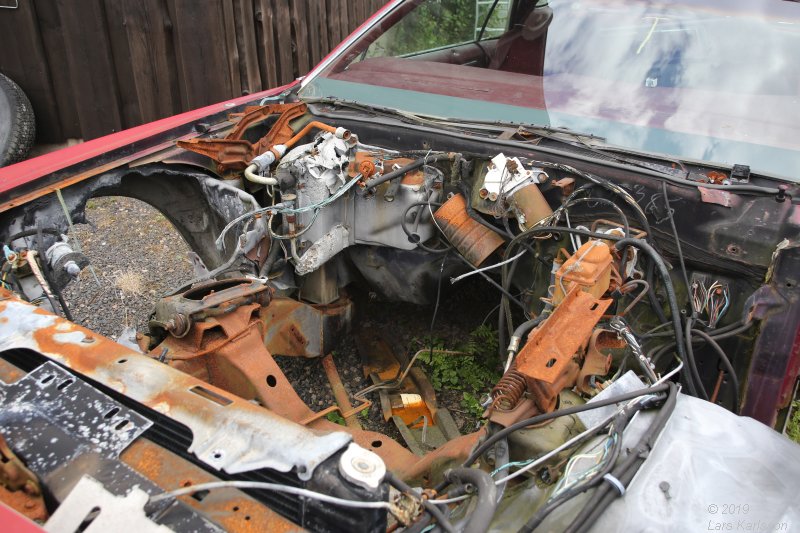 Big space for a big engine, 7.5 liter V8 !
---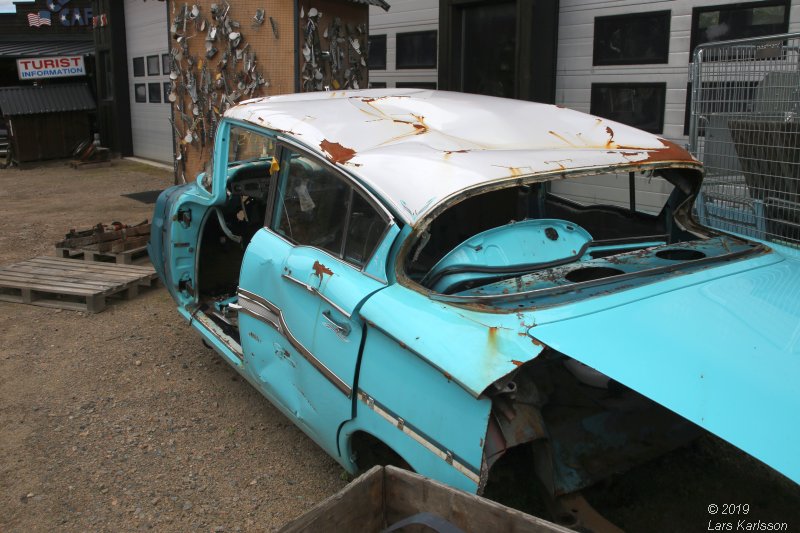 Is it a Pontiac or an Oldsmobile?
---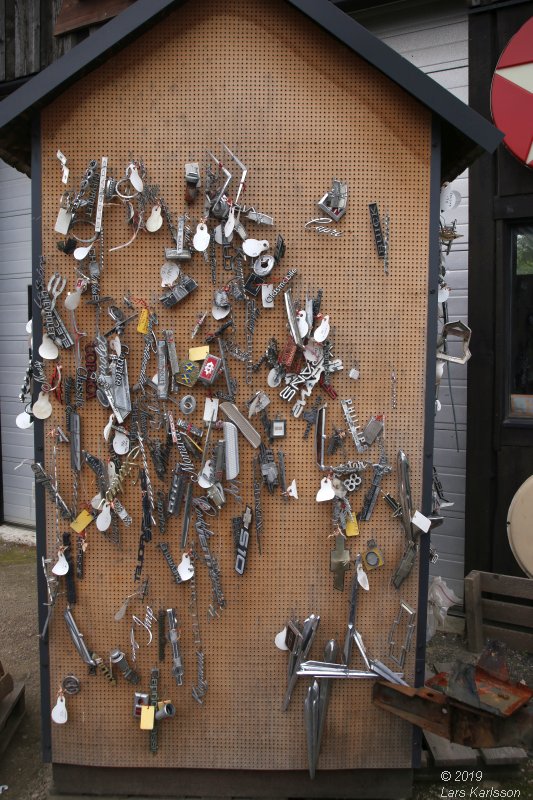 More decor trim, maybe something that fit your car.
---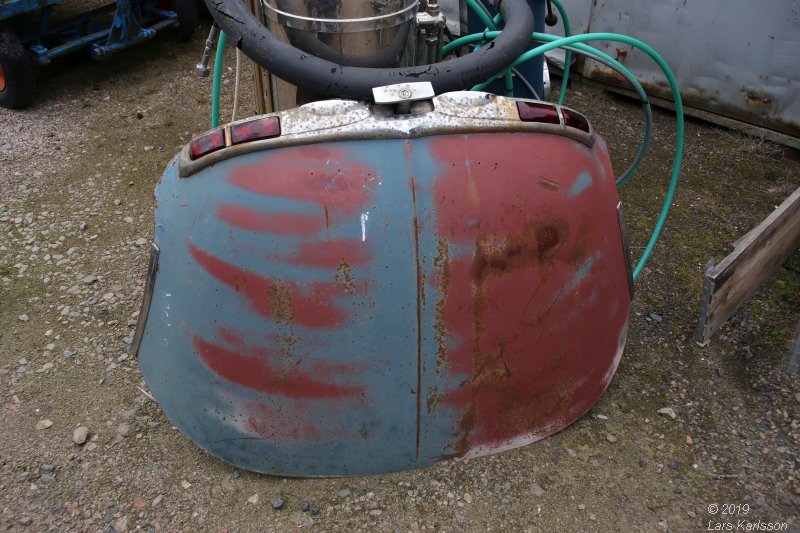 A Nash or Hudson tailgate?
---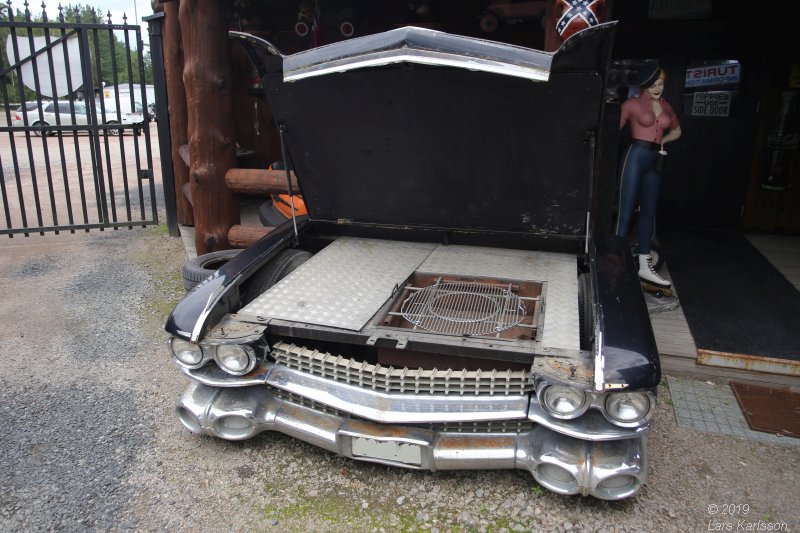 Benny tells us that when they have a party they use this grille. A Cadillac barbecued hamburger!
---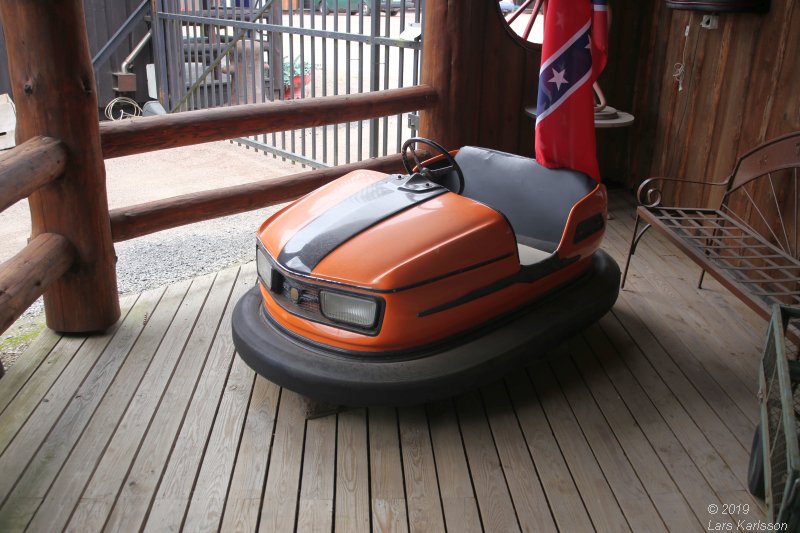 I remember these cars from the amusement park Gröna Lund in Stockholm where I live.
Now the guided tour is over and we thank Benny for his great guided tour.
---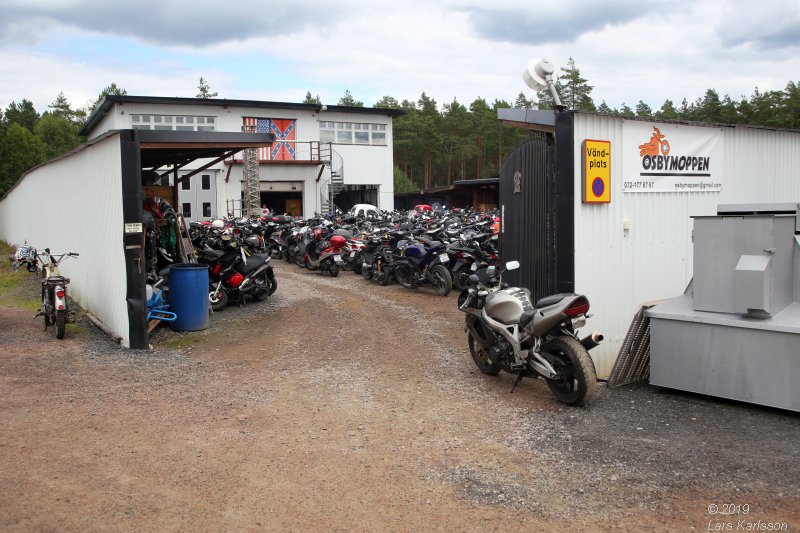 A short look into the moped store, they are very popular in Sweden these days.
Here you have more information about Osby USA bildelar (only Swedish):
Another great day in my life !
You can follow our complete story about our travel in Southern Sweden here.
The END
---