Astronomy Calculations:
Excel sheets

---

My Excel sheet collection.

This is a new page and I will add more information later how to use it.

I don't take any responsible for this, they can have errors in it! Use them at your own risk!
---
Find best focus point:
To find the correct focus point is always tricky. I have light pollution and bad seeing at my place which make it worse. Sometimes the automatic procedure in ATP which I use works fine sometimes not. I wish to have a table with my focus position relative the FWHM numbers, then do a second degree regression, a curve that fits my points. From the derivate of the second degree polynomial I can calculate the minima of FWHM (best focus).
That's what my new Excel sheet "Find Best Focus Point" is about: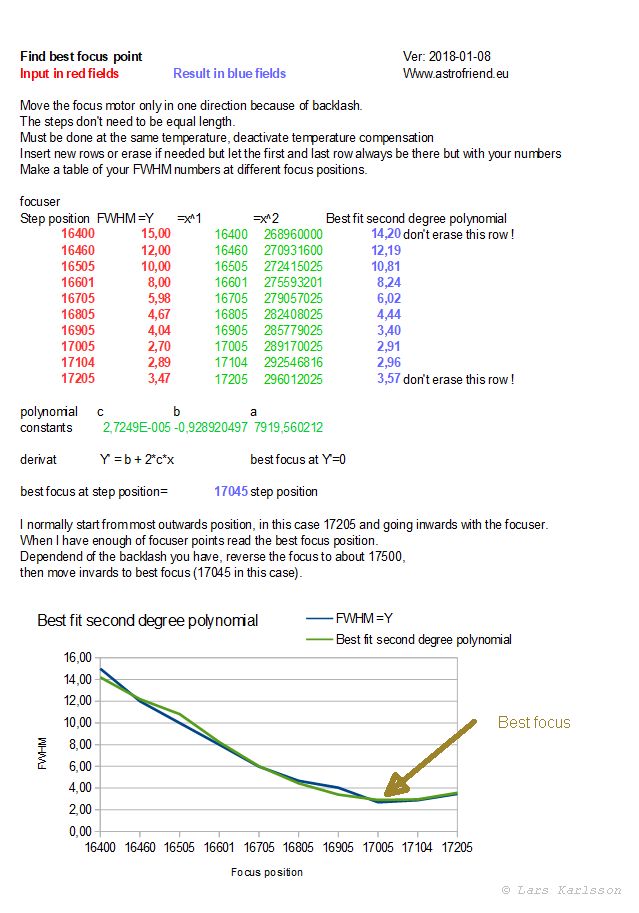 What you have to do is to fill the table with your number, it doesn't need to be FWHM, it could be HFD or signal peak, it doesn't matter as long it's related to how good the focus is. It's very important that you only drive the focus motor in one direction all the time when doing this table, gear's backlash will destroy the precision otherwise.
Why do we doing all that? Because your FWHM numbers are disturbed from noise. A fitted second degree curve will give you a better precision if it's correct done, it even find the focus point if it's between some of your focus test points.
Note:
As usual my Excel sheets are during progress, not fully tested yet. But I think it could be interesting for you to follow.
---