---
2020-07-16, Third attempt, success but weak now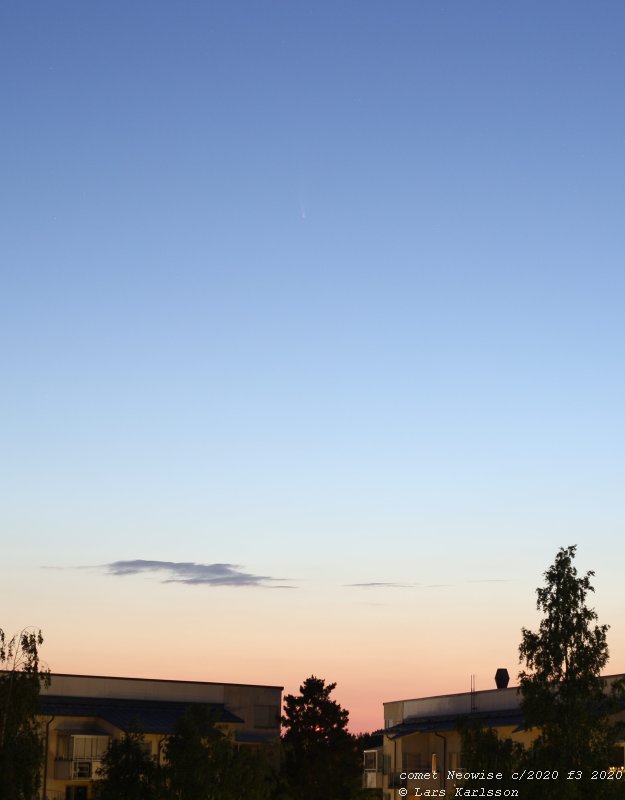 | | |
| --- | --- |
| Date : | 2020-07-16 |
| Time (UT) : | 23:28 |
| Mount : | Star Adventurer, Star Adventurer repair |
| Lens/telescope : | Canon EOS 50mm f/1.8 (f/4.0). |
| Filter : | none |
| Camera : | Canon EOS 6D |
| Exp. time : | 4 seconds at ISO400 |
| Image process tool : | IrfanView. |
| Processing : | Cropped about 50%. |
| Site : | Sweden, Stockholm, Hagsätra. Bortle class 9 |
| Comment : | We had to wait 5 days until we got our next clear sky. Now the comet was so weak that it couldn't be seen by naked eye. I changed to a shorter lens to get a wider view. The comet is almost exactly at the Northen direction, 17 degree above the horizon. |
2020-07-16, crop around the comet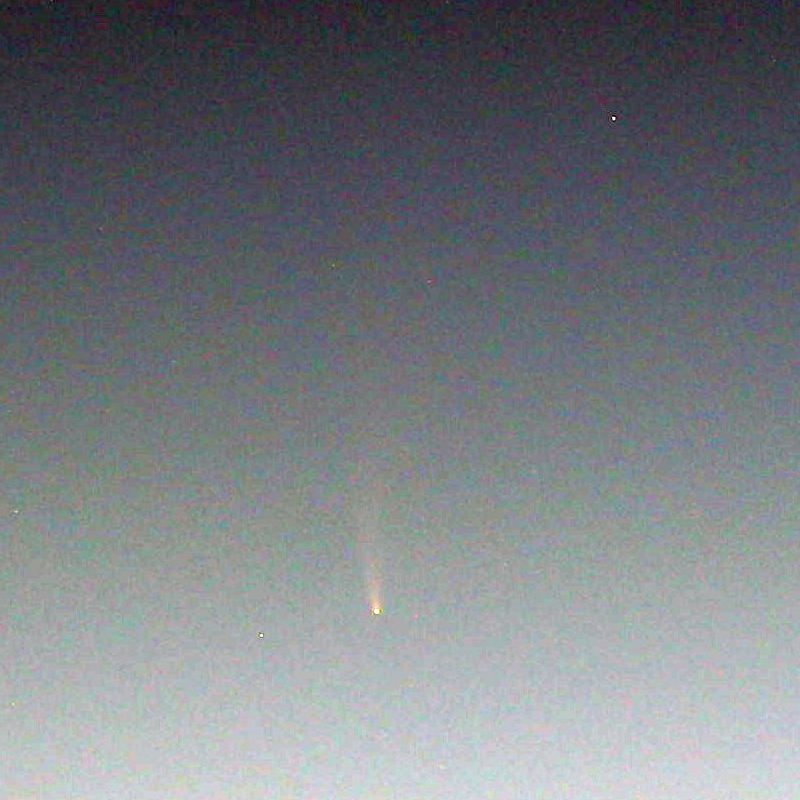 | | |
| --- | --- |
| Date : | 2020-07-11 |
| Time (UT) : | 23:00 to 23:00 |
| Image process tool : | IrfanView. |
| Processing : | Crop. |
| Site : | Sweden, Stockholm, Hagsätra. Bortle class 9 |
| Comment : | A crop around the comet from the single photo above. The bright upper right object is a 4.7 magnitude star. |
2020-07-16, A stack of photos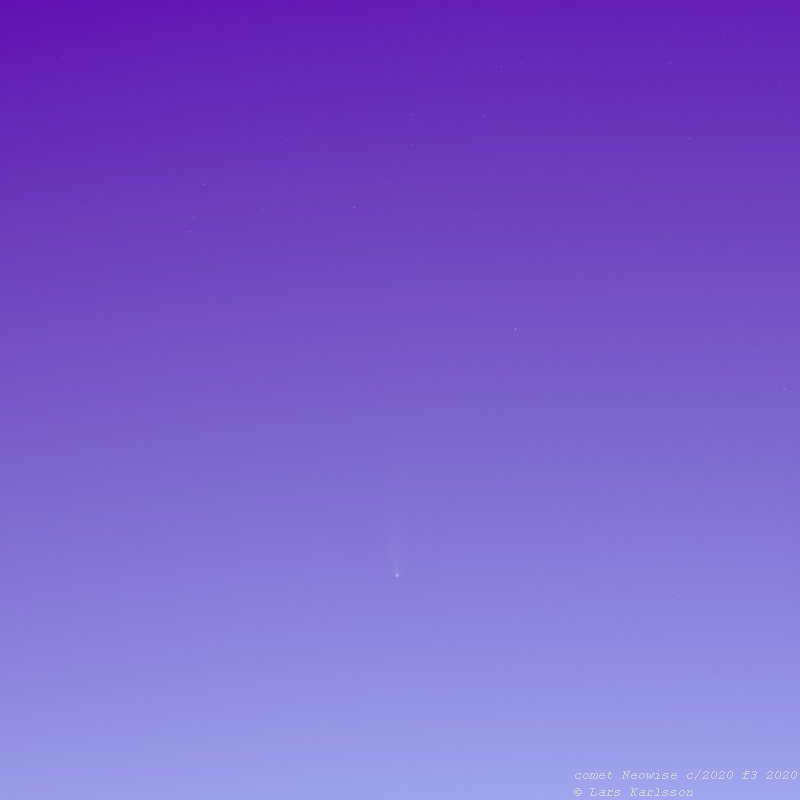 Date :
2020-07-16
Time (UT) :
23:25 to 23:29
Mount :
Star Adventurer, Star Adventurer repair
Lens/telescope :
Canon EOS 50mm f/1.8 (f/4.0).
Filter :
none
Camera :
Canon EOS 6D
Exp. time :
51x4 seconds at ISO400
Image process tool :
AstroImageJ, Fitswork, IrfanView.
Processing :
Aligne, Median stack, crop, 1:1 pixel scale.
Site :
Sweden, Stockholm, Hagsätra. Bortle class 9
Comment :
To reduce the noise in the background I used all 51 images I took and stacked them together. With that I increase the exposure time from 4 seconds to 204 seconds. That decrease the noise and I can then increase the contrast much more to see the details (which I haven't done here).

Because of the stacking process which use median stacking all stars disappear. The images are aligned at center of the comet's core. The comet move a bit between each image and the stars appear on different places after stacking and then cancel out.
---
2020-07-11, Second attempt, success !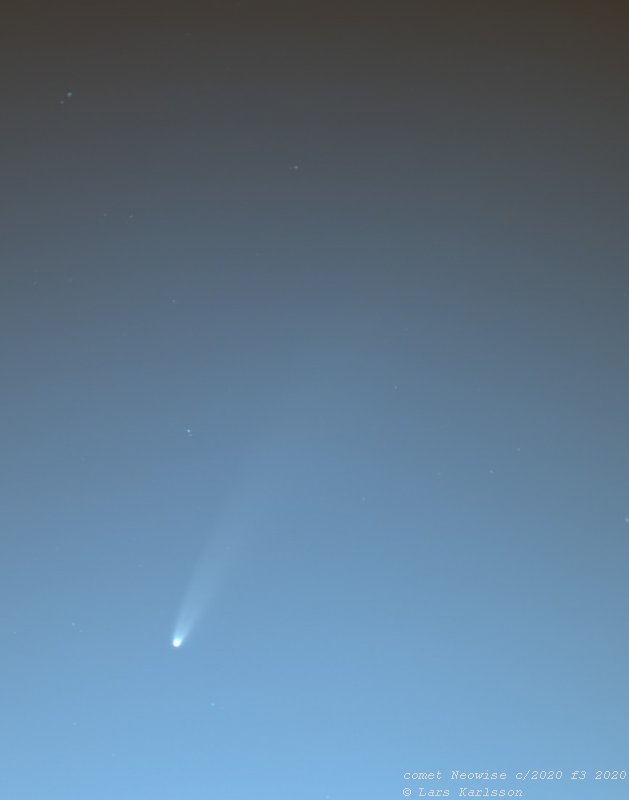 | | |
| --- | --- |
| Date : | 2020-07-16 |
| Time (UT) : | 23:28 |
| Mount : | Manfrotto tripod, manfrotto tripod project |
| Lens/telescope : | Canon EOS 300mm f/4 L (f/4.0), project lens vignetting |
| Filter : | none |
| Camera : | Canon EOS 6D |
| Exp. time : | 2x241 seconds at ISO400, of these I used 75x2=150 seconds. |
| Image process tool : | AstroImageJ with my own macros, Fitswork, IrfanView. |
| Processing : | demosaic, align rgb, no dark or bias, use dithering instead, median stack. |
| Site : | Sweden, Stockholm, Hagsätra. Bortle class 9 |
| Comment : | It surprised us how bright it was, what I have read earlier is that most people couldn't see it by naked eye. And this is from a light polluted city. I took many photos of it with small changes of focus, because it's very difficult to focus precise manually. This photo is taken from the window in the living room, very comfortable. I also tried 4 seconds exposures, but that was too long and the comet core get elongated because of its speed and that I didn't use a motor driven mount. |
Full frame of the comet
Date :
2020-07-11
Time (UT) :
23:00
Mount :
Manfrotto tripod
Lens/telescope :
Canon EOS 300mm f/4 L (f/4.0)
Filter :
none
Camera :
Canon EOS 6D
Exp. time :
1 second at ISO400
Image process tool :
AstroImageJ with my own macros, Fitswork, IrfanView.
Processing :
Nothing.
Site :
Sweden, Stockholm, Hagsätra. Bortle class 9
Comment :
This is about how it looked to us with naked eye. 13 degrees above the horizon. Looking North above the big light polluted city. The horizon is just below the bottom edge of the photo. This is the first time ever I have seen a comet during the summer (in Sweden we have our dark nights at winter), so the comet is really bright. According to some reports I have read it had a magnitude of 1.6 this night.

The field of view of the camera / lens is 6.9 x 4.5 degrees. The tail looks to be 1.5 degree long, that is three times the moon's diameter.

I also found this which could be interesting for you to look at:

---
2020-07-08, First attempt, no success but beautiful photo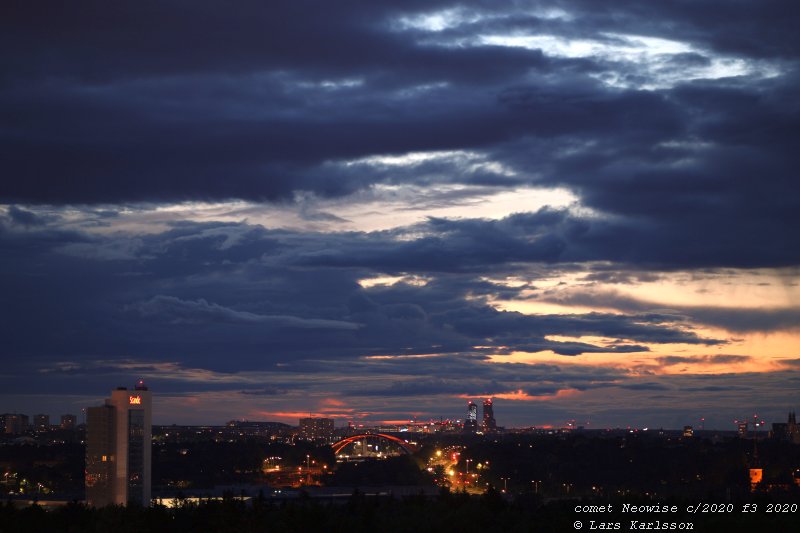 Date :
2020-07-08
Time (UT) :
22:13
Mount :
Manfrotto tripod
Lens/telescope :
Sigma APO 150mm f/2.8 (f/4.0)
Filter :
none
Camera :
Canon EOS 6D
Exp. time :
1 second at ISO200
Image process tool :
IrfanView.
Processing :
Increase the contrast a bit.
Site :
Sweden, Stockholm, Hagsätra. Bortle class 9
Comment :
First night we tried to catch the comet. Lot of clouds as usual but the comet is hiding behind the clouds to the left. 8 degrees above the horizon this night, that is very low.

Have a look here how I plan my comet observations / photographing: