Tutorial:
Photography meteor showers
---
Content:
---
2: Make a map of the sky
Maybe you can find a sky map were the meteor showers are in the newspaper or you can draw one by yourself. I will not go in details about how you can do it, but I use the free Skychart (or CdC, Cartes du Ceil) software.
If you don't have it already you can download it here:
Of course you can use other sky maps too.
Lyrids April:
In the earlier Wiki page, click on the meteor showers you want to see, in this tutorial the Lyrids. In the list to the right you find the coordinates were the meteors looks to come from, the radiant point. Right Ascension, RA= 18h 08m and Declination Dec = 32o. You find it in the constellation Lyra, RA and Dec are a coordinate system used by astronomers.
Now if you use a sky chart program, setup your location (observatory place) ant the date and time when you plan to do the observation. Some meteors showers has it maximum concentrated to one night and others last over many nights.
In the wiki page you can find which time at the night it's preferred to look at it. I normally start taken photos at 23 normal time or 00 when summer saving time (11 pm or 12 pm). Then let the camera go as many hours the batteries left or when the sky light up in the dawn.
Here you can read how I use Skychart to find comets and get ideas how to use it:
This is an example of how a sky chart could look (Stockholm Sweden), you see all objects, even them under the horizon. I have painted the yellow information on top of it, CdC print: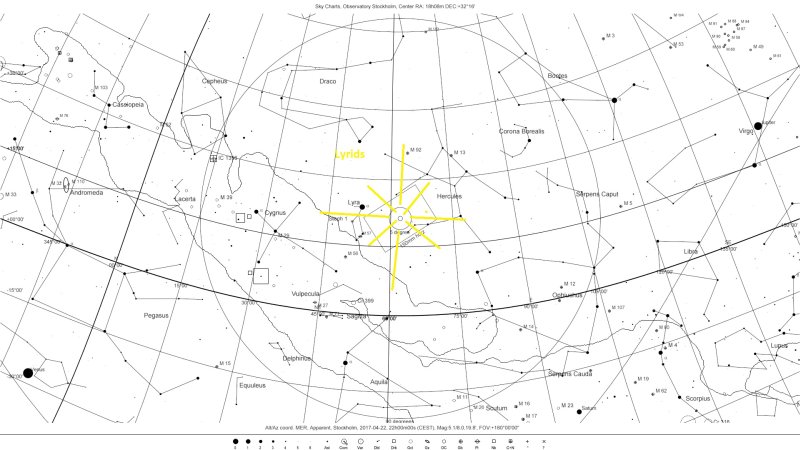 (click on the image to get a full resolution map in a new window) Credits: CdC, Skychart.
---