---
M109 2013-11-25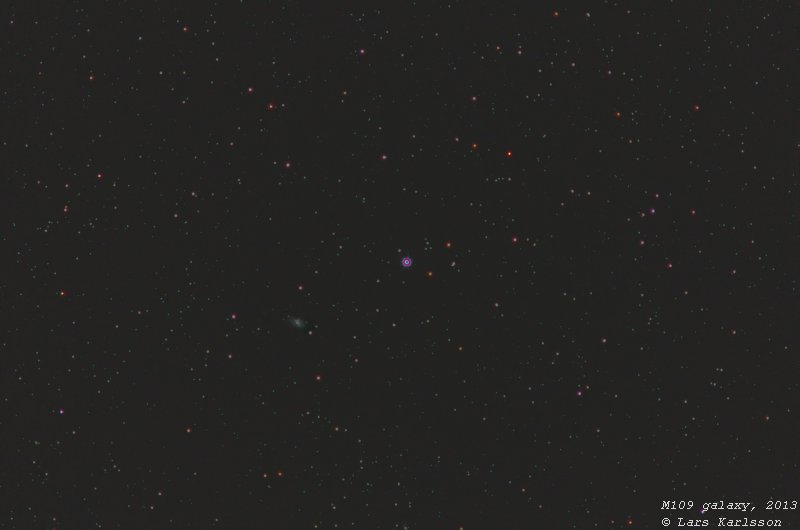 Date :
2013-11-24
Time (UT) :
23:51 to 00:05
Mount :
Skywatcher EQ6 Pro Synscan
Guide :
-
Lens/telescope :
Pentax 500mm f/4.5 (set to f/5.6)
Corrector/Barlow :
Built in
Field (FOV) :
4.1x2.7 degree, before cropping
Filter :
none
Camera :
Canon EOS 5D (Mk I)
Film/CCD :
Raw
Exp. time :
20x30 seconds at ISO1000
Image process tool :
AstroImageJ, Fitswork, Irfanview
Processing :
level, cal flat, dithering no bias dark noise filter
Weather :
clear with some clouds drifting by
Site :
Sweden, Stockholm, Hagsätra. Bortle class 9
Comment :
I had a lot of old photos on the hard disc which was unprocessed. They have got a rotation flag set that cause some of my image editors software to give up. Now after I solved that problem with this rotation flag set technique I can process them and compare with todays photos.

One of my first photos with a full frame camera, the first Canon 5D (Mk I). The lens was an early 1970s Pentax with not so good color handling which cause a lot of problem, you see the red halos around the bright stars.