Comet
Ikeya Murakami P/2010 V1
---
---
Comet Ikeya Murakami P/2010 V1, new processing in Siril: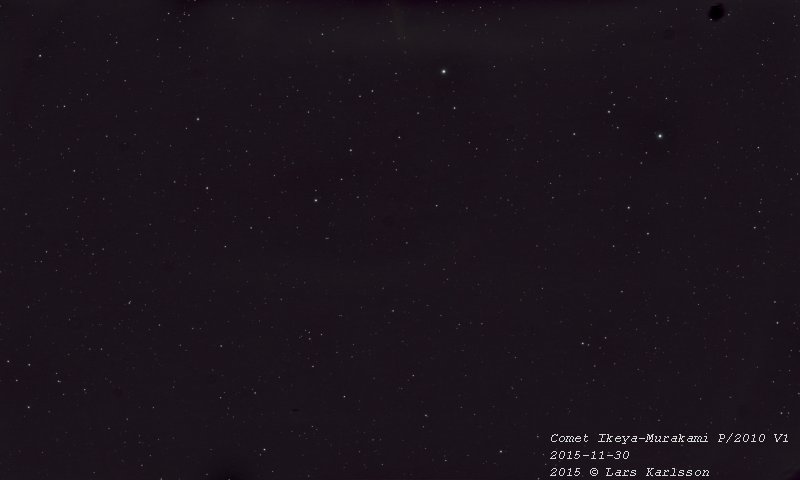 (Click on image to get one in higher resolution, open in a new window)
Date :
2015-11-30
Time (UT) :
22:34 to 23:46
Mount :
SkyWatcher EQ6 controlled by Windows server with APT, EQMOD
Guide :
Comet guided by rel guiding on a star, PHD2 and QHY5 camera
Lens/telescope :
TS130, 910mm f/7 (682mm, f/5.3)
Corrector/Barlow :
Riccardi flat field corrector 2.5" x0.75
Field (FOV) :
3x2 degree, before cropping
Filter :
none
camera :
Canon EOS 6D
Exp. time :
59x60 seconds, iso800
Image process tool :
Siril, Gimp, Irfanview
Processing :
dark and flat calibrated
Site :
Sweden, Stockholm, Hagsätra. Bortle class 9
Comment :
In a later attempt I processed the image in Siril and Gimp and flatten out the background. Maybe easier to see the comet then.

I have now learned more about the comet, when they first found it it had the name P/2010 V1. After that it broke apart in several fragment. It's a 5 year periodic comet and it came back 2015 when this photo is taken. But now as many smaller fragment. It has a new name 332P/2016 Y2, each fragment has an index, A, B, C ... When looking in the high resolution image above I can see an object that are a bit elongated, could it be the comet, I have made a mark on it. Most of the fragments you need a Hubble telescope to see them.

Find more to read about the comet here: 332P/Ikeya–Murakami, Wikipedia.
---
Comet Ikeya Murakami P/2010 V1, 2015-11-30: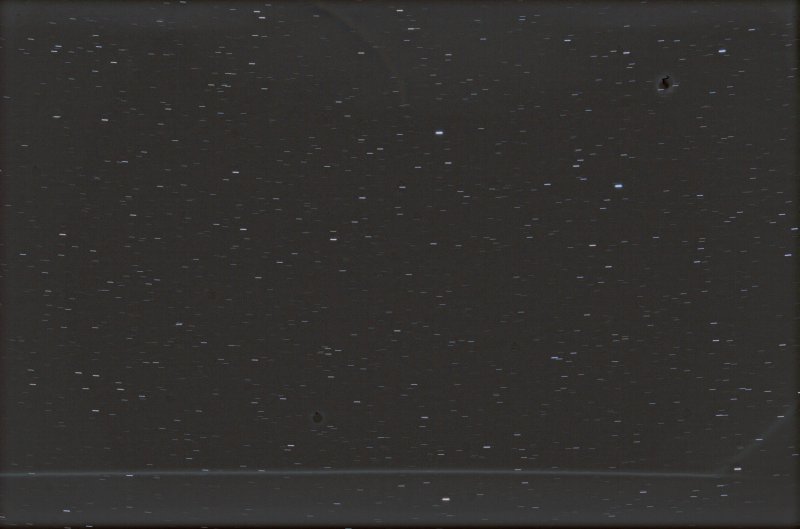 (Place the cursor over the image to get info)
| | |
| --- | --- |
| Date : | 2015-11-30 |
| Time (UT) : | 22:34 to 23:46 |
| Mount : | SkyWatcher EQ6 controlled by Windows server with APT, EQMOD |
| Guide : | Comet guided by rel guiding on a star, PHD2 and QHY5 camera |
| Lens/telescope : | TS130, 910mm f/7 (682mm, f/5.3) |
| Corrector/Barlow : | Riccardi flat field corrector 2.5" x0.75 |
| Field (FOV) : | 3x2 degree, before cropping |
| Filter : | none |
| camera : | Canon EOS 6D |
| Exp. time : | 59x60 seconds, iso800 |
| Image process tool : | AstraoImageJ, Fitswork, Irfanview |
| Processing : | dark and flat calibrated |
| Site : | Sweden, Stockholm, Hagsätra. Bortle class 9 |
| Comment : | Comet discovered 2010 and it has a 5 year periodic orbit. I had some difficulty to find positions for the comet and haven't find it on the photo yet. |
---
Comet Ikeya Murakami P/2010 V1 crop: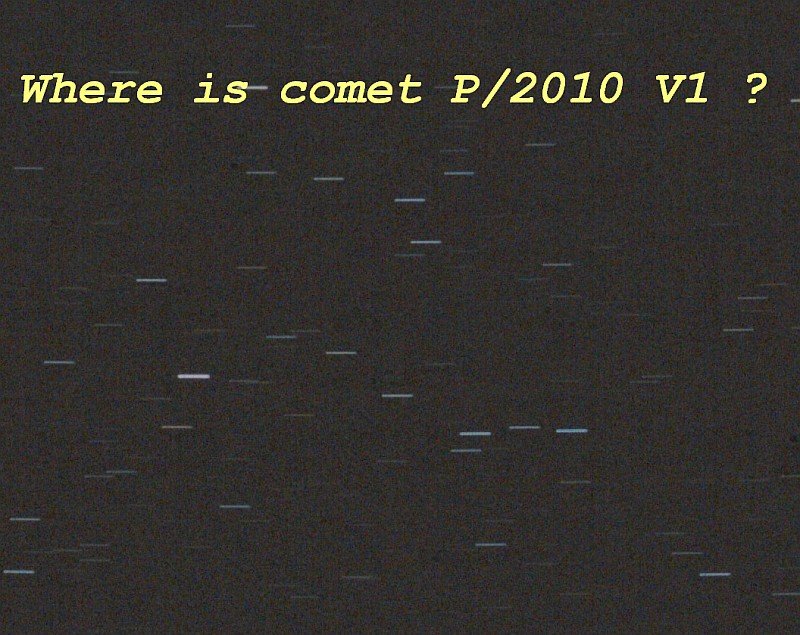 | | |
| --- | --- |
| Date : | 2015-11-30 |
| Time (UT) : | 22:34 to 23:46 |
| Comment : | A close up where I expect to find the comet |
---
Comet Ikeya Murakami, Skychart CdC, 2015-11-30: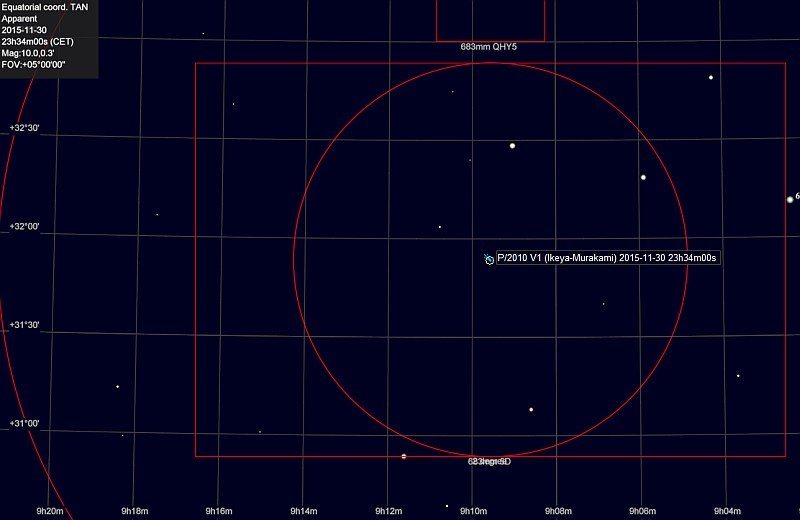 | | |
| --- | --- |
| Date : | 2015-11-30 |
| Time (UT) : | 22:34 to 23:46 |
| Image process tool : | Siril, Gimp, Irfanview |
| Comment : | From CdC I made a map over the sky where the comet is and with the date and time when I took the photo. |