---
Comet Atlas C/2017 M4, 2018-04-19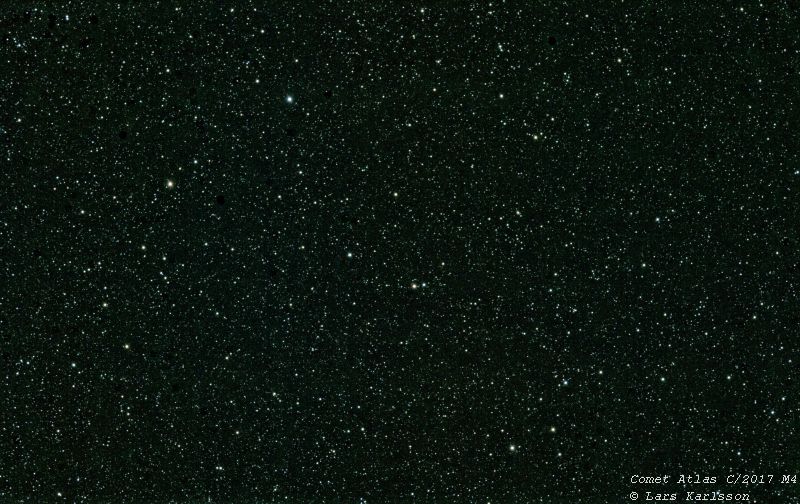 Date :
2018-04-19
Time (UT) :
23:48 to 01:04
Mount :
Skywatcher EQ6 Pro
Guide :
PHD2and QHY5 camera 400 mm f/6.3 lens
Lens/telescope :
TS130 APO f/7, 3" field flattener
Field (FOV) :
2.25x1.5 degree, before cropping
Filter :
none
Camera :
Canon EOS 6D
Exp. time :
60x60 seconds at ISO800
Image process tool :
AstroImageJ with my own macros, Fitswork, IrfanView.
Processing :
demosaic, one point aligned at center star, flat cal, no dark or bias, use dithering instead, median stack, noise filter.
Site :
Sweden, Stockholm, Hagsätra. Bortle class 9
Comment :
This comet was very weak, about magnitude 15.3 at the time when this photo was taken. A half year later it had reached the magnitude 12, but then not possible to see from my balcony. I have very high light pollution where I live so I was not sure if it will be possible to see the comet on the photo. But it looks to be a weak trace of it when zooming in, see the image below. The distance to the comet at this time was about 4 AU, (Astronomical Unit, four times the distance between Earth and Sun).
---
Comet Atlas C/2017 M4, 2018-04-19, crop around comet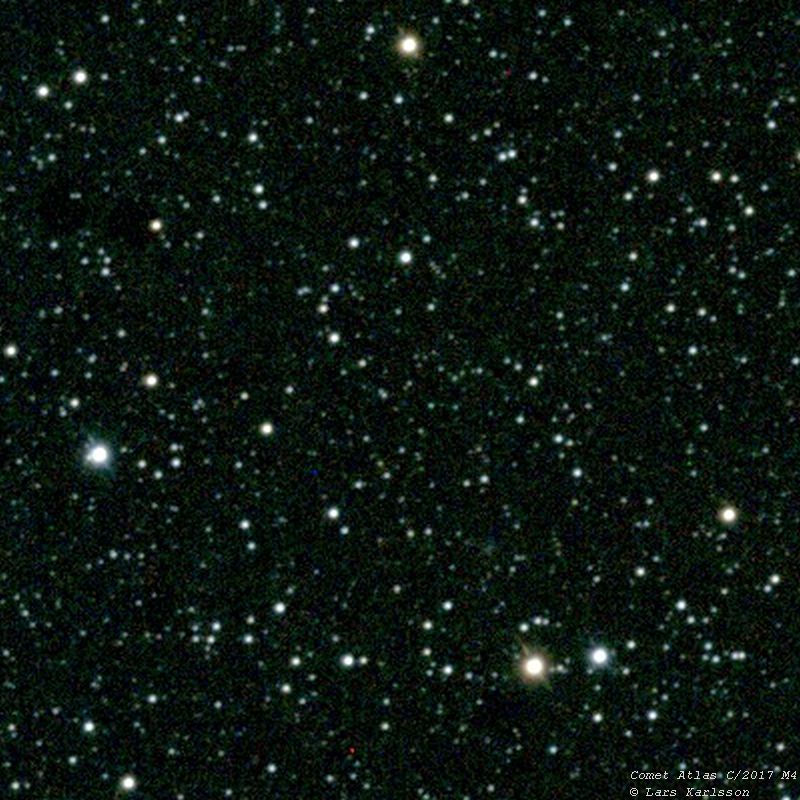 (Place the cursor over the image to get info)
Comment :
This is a crop around the comet. At this time when the photo was taken the comet was far away and weak, about magnitude 15.3.

The image is a 1:1 crop and then zoom x2 to let the comet be easier to see (but not for 100% sure the arrow point correct, it should be a bit more to the left according the orbital table).