Planetary Nebula
Messier 57, Ring Nebula
---
---
M57 2020-03-14
(click on the image to get a full resolution photo in a new window)
| | |
| --- | --- |
| Date : | 2020-03-14 |
| Time (UT) : | 00:46 to 02:46 |
| Mount : | EQ6 controlled by EQMOD |
| Guide : | PHD2 in dithering mode, Guide telescope 400 mm f/6.3, camera QHY5 |
| Lens/telescope : | TS130, 910mm f/7 |
| Corrector/Barlow : | Flat field corrector 3" x1 |
| Filter : | none |
| camera : | Canon 6D, controlled by APT software |
| Film/CCD : | Raw |
| Exp. time : | 90x60 seconds, ISO1600 |
| Image process tool : | AstroImageJ, Fitswork, IrfanView |
| Processing : | demosaic, synthetic synthetic flat calibrated, hot pixel removed by dithering, level |
| Weather : | clear with drifting clouds |
| Site : | Sweden, Stockholm, Hagsätra. Bortle class 9 |
| Comment : | My APO refractor with a focal length of 910 mm is my biggest telescope today. But on a tiny object like the M57 it doesn't deliver what I want. M57 is the little blue dot in center. The left over from a star explosion in the past. One of the most beautiful objects on the sky. |
M57 2020-03-14, crop 1:1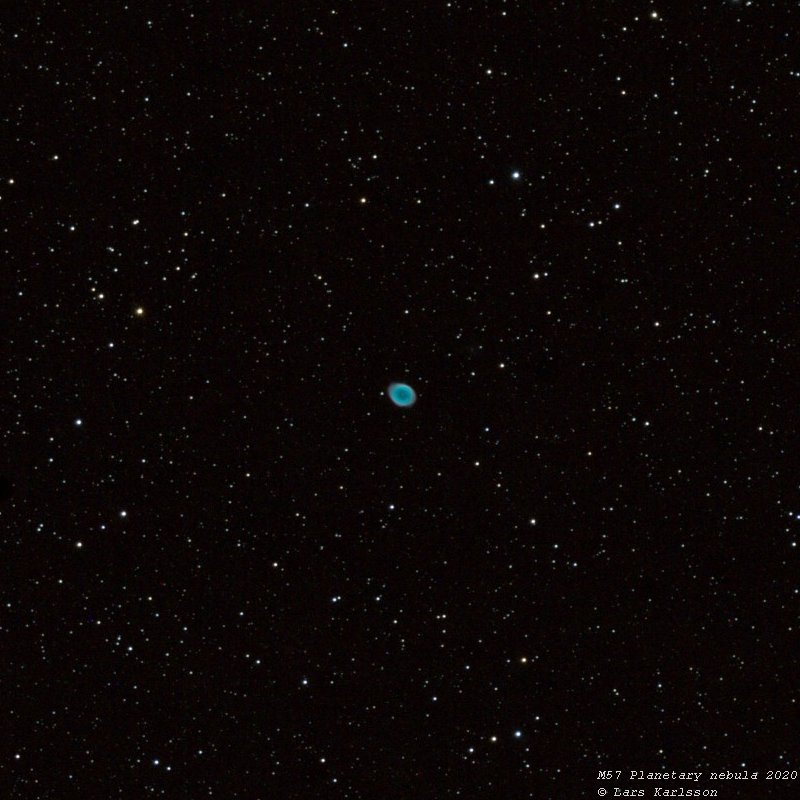 | | |
| --- | --- |
| Date : | 2020-03-14 |
| Image process tool : | AstroImageJ, Fitswork, IrfanView |
| Processing : | demosaic, synthetic flat calibrated, hot pixel removed by dithering, level, crop |
| Comment : | A 1:1 crop of the central region, still very small. I need a bigger telescope, twice the focal length and twice the opening. My camera is a color camera, I need Drizzle technique to resample the image to twice the pixel density or a mono chrome sensor.. |
M57 2020-03-14, zoom in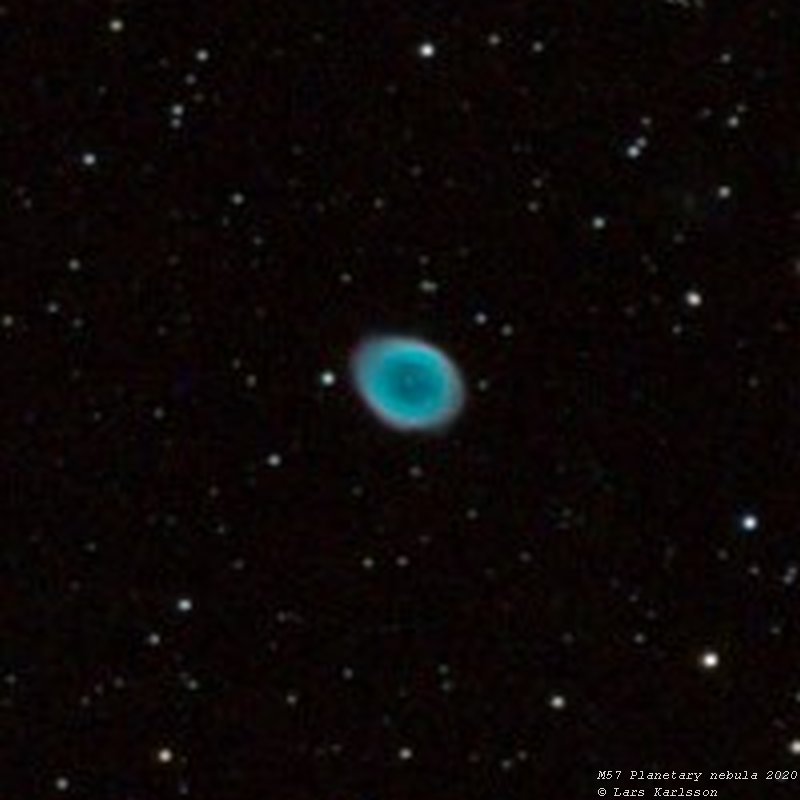 | | |
| --- | --- |
| Date : | 2020-03-14 |
| Image process tool : | AstroImageJ, Fitswork, IrfanView |
| Processing : | demosaic, synthetic flat calibrated, hot pixel removed by dithering, level, crop |
| Comment : | This is 4x zoom to simulate how M57 would look with the telescope of my dream. With that telescope also the details will be better. |
M57 2020-03-14, test of 3x Drizzle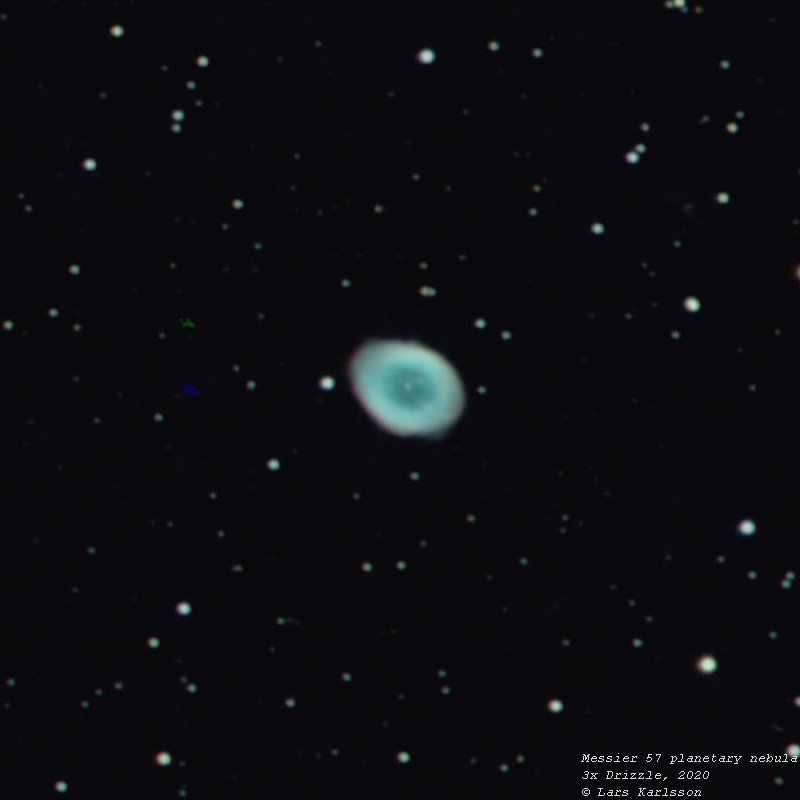 Date :
2020-03-14
Image process tool :
AstroImageJ, Gimp, IrfanView
Processing :
demosaic, synthetic flat calibrated, hot pixel removed by dithering, level, crop
Comment :
This is a test with the Drizzle technique I have started to use. This is a 3x Drizzle, it should increase the resolution from about 3" to 1", but hard to see because the seeing is worse than that. Lot of practice needed to handle this technique.

The blue and green dots is from hot pixels, it's much more difficult to handle these when using the Drizzling technique.

To combine the three gray rgb images I this time used Gimp. New to me but have a lot of useful tools. It's the new version 2.10 that can take 32-bit floating fits files.
---
M57 2015-03-22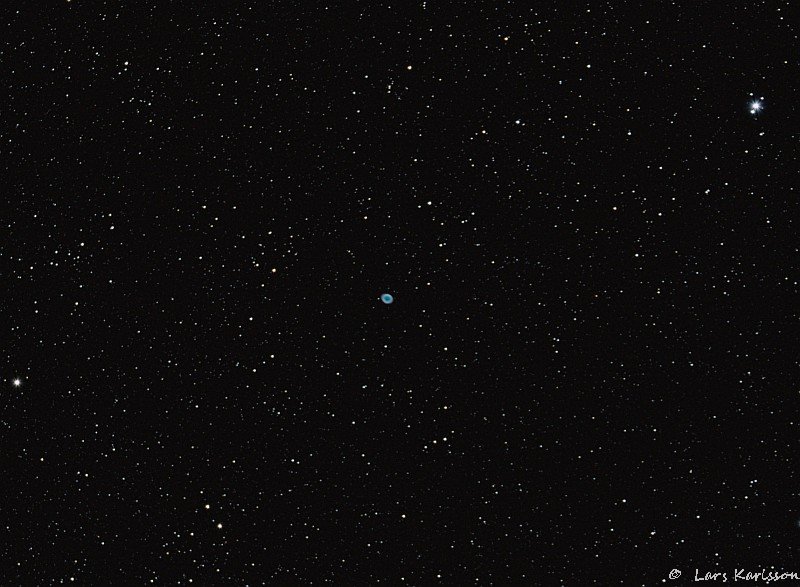 Date :
2015-03-22
Time (UT) :
00:25 to 01:24
Mount :
EQ6 Synscan and EQMOD controlled
Guide :
PHD2 guide with QHY5 camera in off-axis mode
Lens/telescope :
TS130, 910mm f/7 (682mm, f/5.3)
Corrector/Barlow :
Riccardi flat field corrector 2.5" x0.75
Filter :
none
camera :
Canon 5D
Film/CCD :
Raw
Exp. time :
30x60 seconds, ISO800
Image process tool :
Fitswork, Irfanview
Processing :
crop, resize, stretch, flatten
Weather :
clear
Site :
Stockholm, Sweden, Hagsätra. Bortle class 9
Comment :
A test photo shot from my balcony, very light polluted sky.
A planetary nebula is the left over from an old stellar explosion.
M57, Zoom in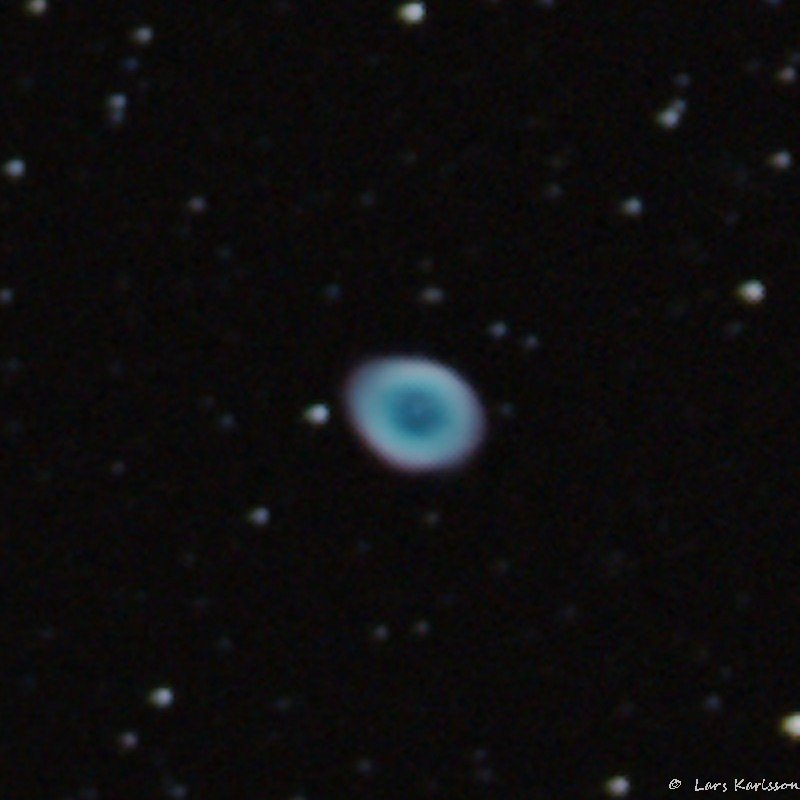 | | |
| --- | --- |
| Date : | 2015-03-22 |
| Comment : | A crop of the center, only 200x200 pixel. |