Nebula
Messier 42, Orion Nebula
---
---
M42 2021-12-24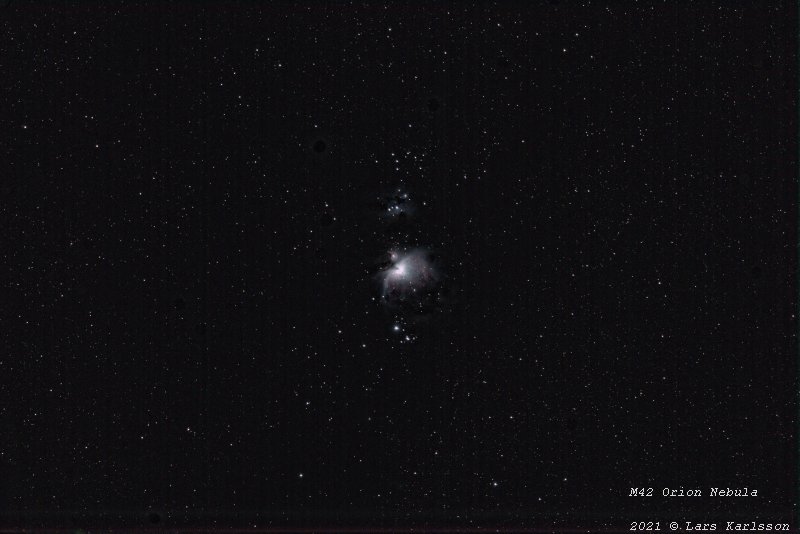 (click on the image to get one in full resolution)
| | |
| --- | --- |
| Date : | 2021-12-24 |
| Time (UT) : | 21:36 to 22:23 |
| Mount : | SkyWatcher HEQ5 controlled by Astroberry |
| Guide : | Ekos internal guider in dithering mode, QHY5 camera with 200 mm f/3.5 lens |
| Lens/telescope : | Pentax 645 ED f/4 (medium format lens) |
| Corrector/Barlow : | - |
| Filter : | none |
| camera : | Canon 6D, controlled by Astroberry software |
| Film/CCD : | Raw |
| Exp. time : | 35x30 seconds, iso1600 |
| Image process tool : | Siril, Fitswork, Irfanview |
| Processing : | crop, resize, level, cal dark, bias, flat |
| Weather : | clear |
| Site : | Sweden, Stockholm, Hagsätra. Bortle class 9 |
| Comment : | Wide angle astrophoto of the famous nebula Orion or M42. From the balcony I have a narrow free view I can use, 20 minutes and it's gone. Wide angle photos are amazing, look at all the details. |
---
M42 2020-01-20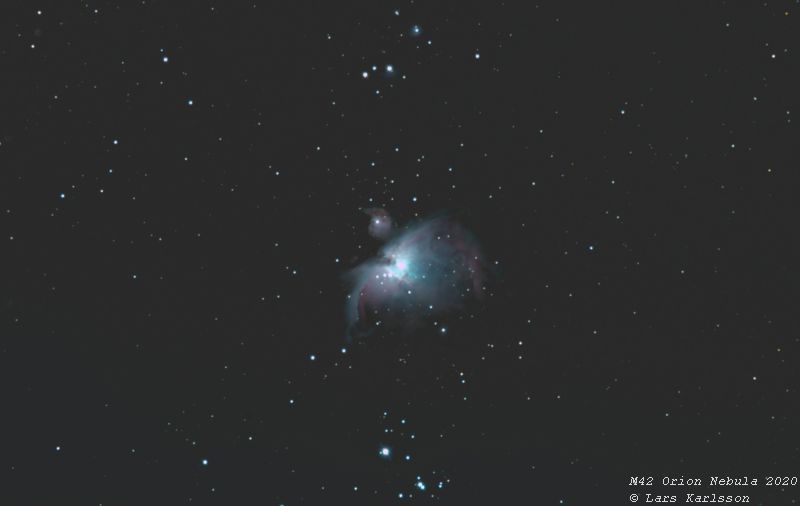 | | |
| --- | --- |
| Date : | 2020-01-20 |
| Time (UT) : | 20:21 to 20:53 |
| Mount : | EQ6 controlled by EQMOD |
| Guide : | PHD2 in dithering mode and QHY5 camera off-axis |
| Lens/telescope : | TS130, 910mm f/7 |
| Corrector/Barlow : | Field flattener 3" x1 |
| Filter : | none |
| camera : | Canon 6D, controlled by APT software |
| Film/CCD : | Raw |
| Exp. time : | 20x60 seconds, iso1600 |
| Image process tool : | AstroImageJ, Fitswork, Irfanview |
| Processing : | resize, level, cal dark&bias, noise |
| Weather : | clear |
| Site : | Sweden, Stockholm, Hagsätra. Bortle class 9 |
| Comment : | To take a photo from our balcony of Orion Nebula isn't easy, just a few hours per year we have it in correct position between the houses. And when it's there it's just above the roof of a house. The heat from the house cause a lot of turbulence in the air. Still there is a photo of it and this nebula is one of the most beautiful, and it's bright too. It's about 25 degrees above the horizon at this time. |
M45 2018-12-05, zoom in around the center of the nebula: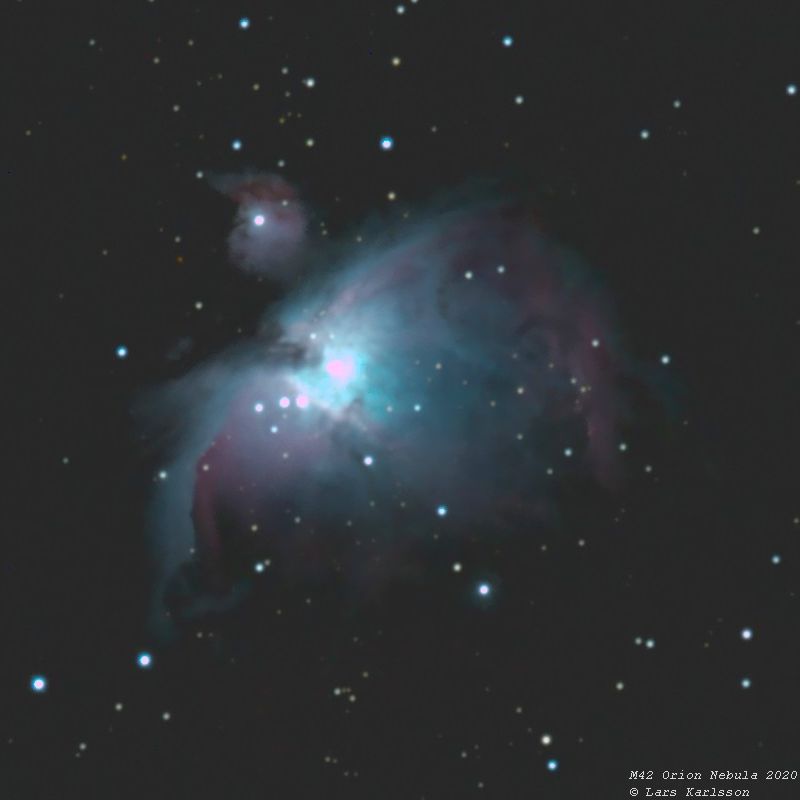 Date :
2020-01-20
Time (UT) :
20:21 to 20:53
Comment :
This is a 1:1 pixel crop of the above photo, because of the turbulence from the heat above the roof it was impossible to get the focus correct. But who cares, the nebula is there !

In the center where it's over exposed is the Trapetzium, four very bright stars. If I get the opportunity I take new photos with less exposure to get that part of the nebula correct exposed.
---
M42 2013-11-28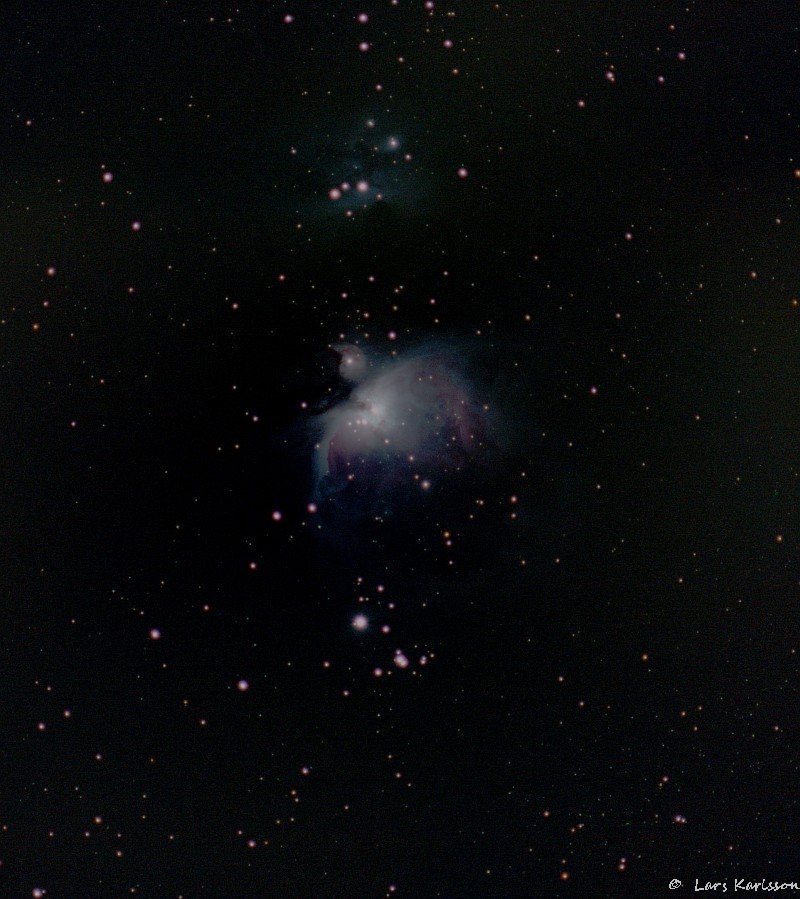 | | |
| --- | --- |
| Date : | 2013-11-28 |
| Time (UT) : | 20:00 |
| Mount : | EQ6 Pro SkyWatcher |
| Lens/telescope : | Pentax 500 mm f/4.5 |
| Corrector/Barlow : | built in lens |
| Filter : | none |
| camera : | Canon 5D (Mk I) |
| Film/CCD : | iso1000 |
| Exp. time : | 30x 15 seconds |
| Weather : | |
| Site : | Sweden, Stockholm, Hagsätra. Bortle class 9 |
| Comment : | A test with my Pentax 500 mm telephoto lens. Higher magnification but not very well color corrected. |
---
M42 1997 April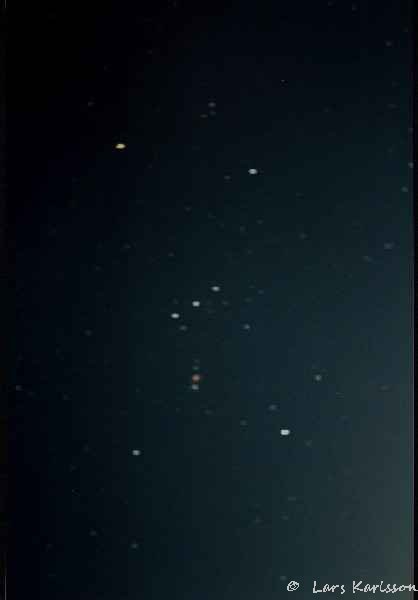 Date :
1997 April
Time (UT) :
20:00 ??
Lens/telescope :
Konica 50 mm f/1.8
Corrector/Barlow :
none
Filter :
none
camera :
Konica T3
Film/CCD :
Kodak PJM-2 640
Exp. time :
30 seconds, no motor drive
Weather :
Site :
Spain, La Palma. Bortle class 2
Comment :
Out of focus to bring out the colors of the stars.
The red star up to the left is Betelgeuse. It is a super giant M-star, 800 times the suns diameter, but it's mass is only 20 times the Sun's
---
M42 1996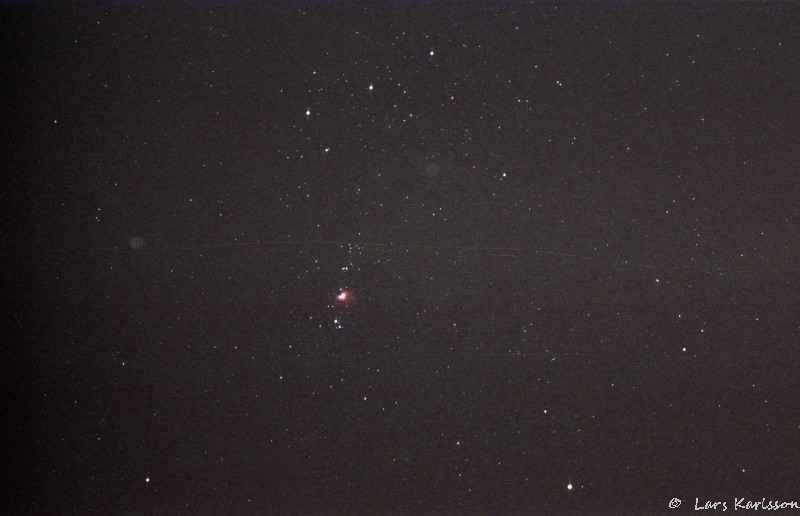 | | |
| --- | --- |
| Date : | 1996 |
| Time (UT) : | 20:00 ?? |
| Lens/telescope : | Konica 135 mm f/3.5 |
| Corrector/Barlow : | none |
| Filter : | none |
| camera : | Konica T3 with a special built finder |
| Film/CCD : | Kodak PJM-2 640 |
| Exp. time : | 30 seconds, piggy back on Celestron C8 |
| Weather : | |
| Site : | Sweden, Stockholm, Saltsjöbaden. Bortle class 6 |
| Comment : | M42 is the red veil in Orion's sword under the belt (the three stars at the top). This is the first photo ever for me on this nebula. |