Galaxy
Messier 101, Pinwheel Galaxy
---
---
M101 2023-02-27
(click on the image to get a full resolution photo in a new window)
| | |
| --- | --- |
| Date : | 2023-02-27 |
| Time (UT) : | 20:25 to 21:04 |
| Mount : | Skywatcher EQ6 Pro controlled by EQMOD and KStars Ekos/Indi |
| Guide : | Ekos internal guider in dithering mode, QHY5 camera with 200 mm f/3.5 lens |
| Lens/telescope : | Pentax 645 300 mm ED f/4, external focus motor, Pentax 645 project page |
| Corrector/Barlow : | - |
| Field (FOV) : | 6.8x4.5 degree, before cropping |
| Filter : | none |
| camera : | Canon 6D, controlled byKStars Ekos/Indi |
| Film/CCD : | Raw |
| Exp. time : | 30x60 seconds, iso1600 |
| Image process tool : | Siril, Gimp, Irfanview |
| Processing : | resize, level, cal dark&flat |
| Weather : | clear |
| Site : | Sweden, Stockholm, Hagsätra. Bortle class 9 |
| Comment : | In February there are not so many exiting objects to observe from our balcony. It's the old friend M101 who is in focus again. |
---
M101 2023-02-27 crop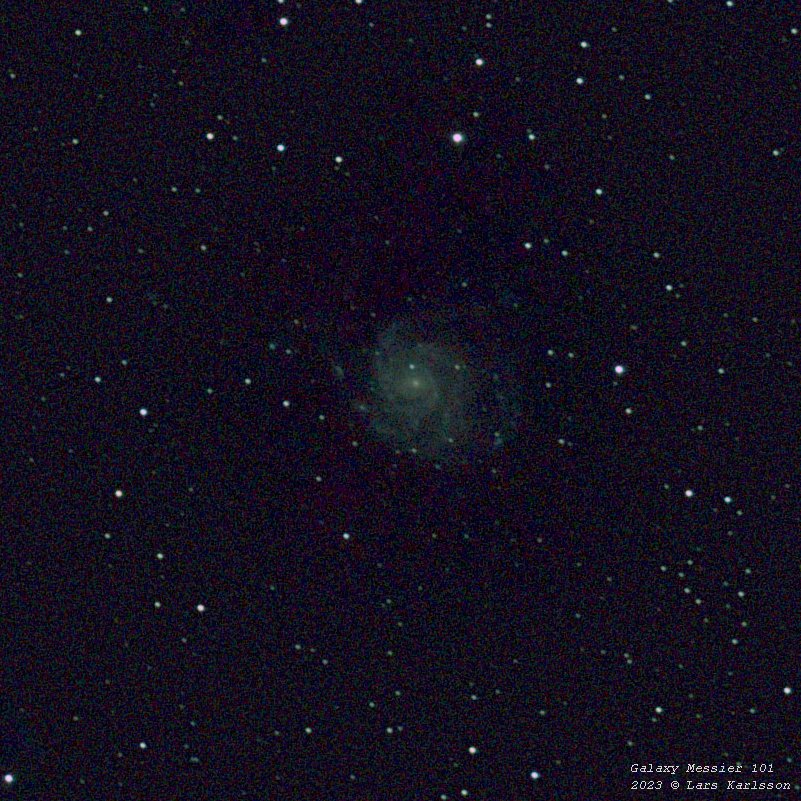 | | |
| --- | --- |
| Date : | 2023-02-27 |
| Time (UT) : | 20:25 to 21:04 |
| Comment : | What to say, I need a bigger telescope and lot of exposure times. |
---
M101 2021-02-15
(click on the image to get a full resolution photo in a new window)
Date :
2021-02-15
Time (UT) :
21:31 to 23:14
Mount :
Skywatcher EQ6 Pro controlled by EQMOD and APT
Guide :
PHD2in dithering mode and guide telescope 400 mm f/6.3 QHY5
Lens/telescope :
Pentax 645 300 mm ED f/4, external focus motor, Pentax 645 project page
Corrector/Barlow :
-
Field (FOV) :
6.8x4.5 degree, before cropping
Filter :
none
camera :
Canon 6D, controlled by APT
Film/CCD :
Raw
Exp. time :
92x30 seconds, iso800
Image process tool :
AstroImageJ, Fitswork, Irfanview
Processing :
resize, level, cal dark&bias, no flat cal
Weather :
clear
Site :
Sweden, Stockholm, Hagsätra. Bortle class 9
Comment :
This is first light with my new Pentax medium format 300 mm lens. To be that old it's relative advanced with its ED lenses and have a good reputation of quality.

The galaxy isn't easy to see. Click on the image to get a full size image of it. Look at the corners and how it focus the stars. Looks very good but at the upper left corner the stars are a bit elongated. The galaxy is the little weak blob at center. At f/4 it collect photons much quicker than my f/7 telescope. About three times, 45 minutes exposure with this lens correspond to140 minutes with the telescope.

This time I didn't flat filed correct the image. It takes some time for me to make a correct master Flat for this new lens. But this lens has very low vignetting even when used on a full frame camera, that is the idea behind to use medium format lenses.

This old lens is a wonderful set of glasses, this will be my standard lens in the future at the 300 mm range.
---
M101 2019-01-18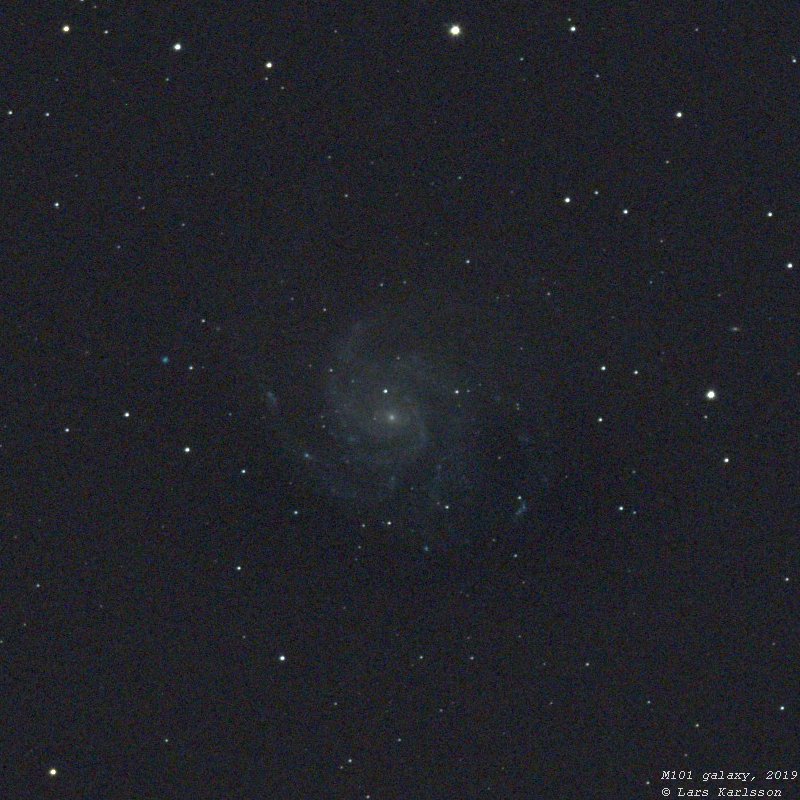 | | |
| --- | --- |
| Date : | 2019-01-18 |
| Time (UT) : | 23:38 to 00:18 |
| Mount : | Skywatcher EQ6 Pro controlled by EQMOD and APT |
| Guide : | PHD2in dithering mode and guide telescope 400 mm f/6.3 QHY5 |
| Lens/telescope : | TS130, 910mm f/7 |
| Corrector/Barlow : | Field flattener 3" x1 |
| Field (FOV) : | 2.25x1.5 degree, before cropping |
| Filter : | none |
| camera : | Canon 6D, controlled by APT |
| Film/CCD : | Raw |
| Exp. time : | 60x30 seconds, iso1600 |
| Image process tool : | AstroImageJ, Fitswork, Irfanview |
| Processing : | resize, level, cal dark&bias |
| Weather : | clear |
| Site : | Sweden, Stockholm, Hagsätra. Bortle class 9 |
| Comment : | Little bit better but still need a lot more exposure. The problem the limited free view from my balcony don't let me take enough photos. |
---
M101 2018-02-05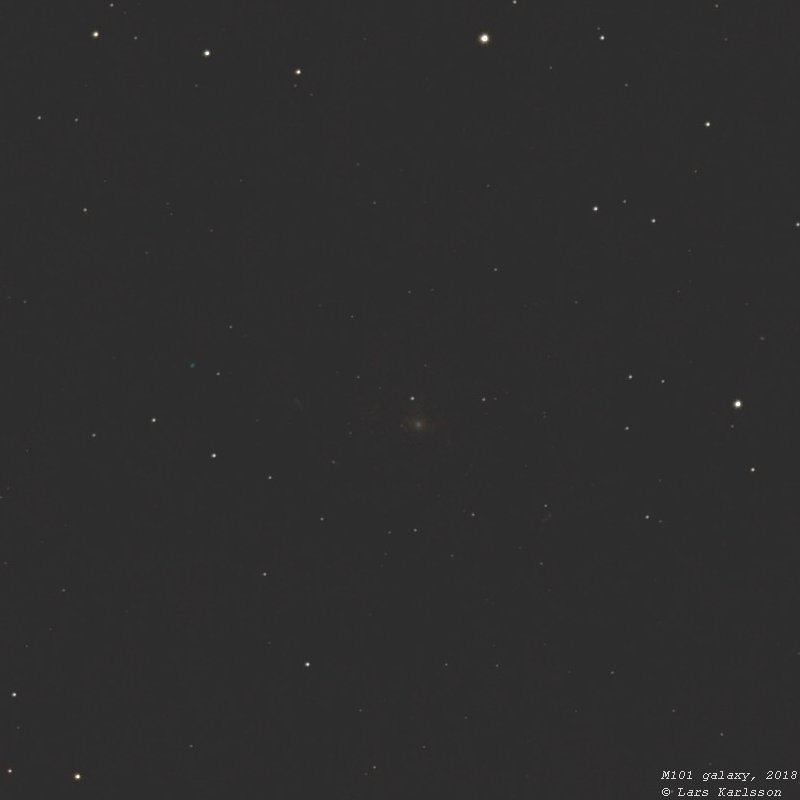 | | |
| --- | --- |
| Date : | 2018-02-05 |
| Time (UT) : | 21:29 to 22:25 |
| Mount : | EQ6 controlled by EQMOD |
| Guide : | PHD2 in dithering mode and QHY5 camera, guide telescope 400 mm f/6.3 |
| Lens/telescope : | TS130, 910mm f/7 |
| Corrector/Barlow : | Field flattener 3" x1 |
| Field (FOV) : | 2.25x1.5 degree, before cropping |
| Filter : | none |
| camera : | Canon 6D |
| Film/CCD : | Raw |
| Exp. time : | 57x30 seconds, iso800 |
| Image process tool : | AstroImageJ, Fitswork, Irfanview |
| Processing : | resize, level, cal dark&bias |
| Weather : | clear |
| Site : | Sweden, Stockholm, Hagsätra. Bortle class 9 |
| Comment : | This photo has to much noise because it's only a 7.8 magnitude galaxy. More exposure next time needed. |
---
M101 2018-01-06, new setup with longer focal length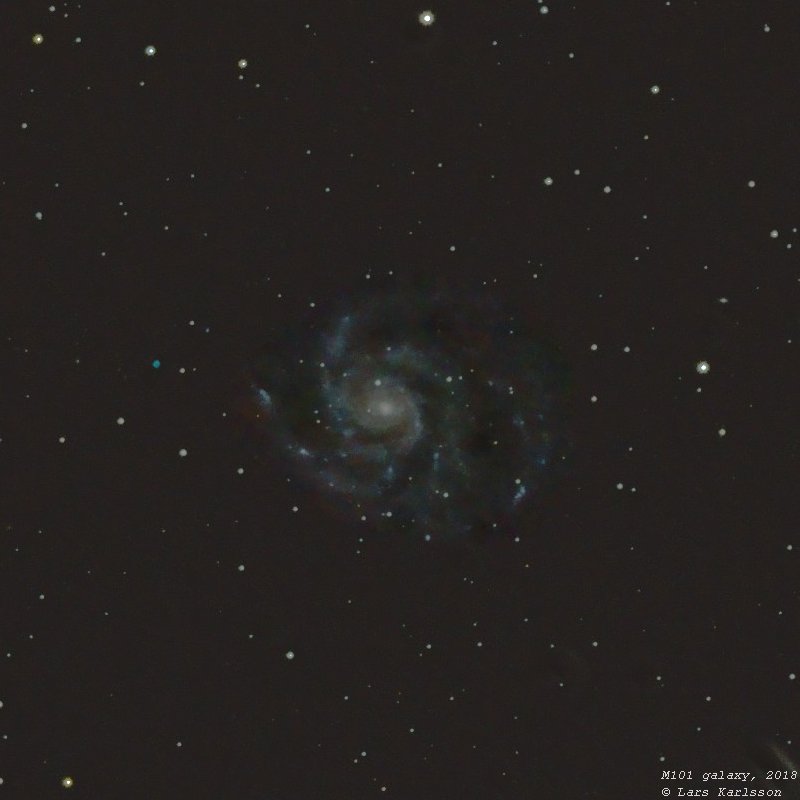 | | |
| --- | --- |
| Date : | 2018-01-07 |
| Time (UT) : | 00:33 to 01:40 |
| Mount : | Skywatcher EQ6 Pro controlled by EQMOD and APT |
| Guide : | PHD2in dithering mode and guide telescope 400 mm f/6.3 QHY5 |
| Lens/telescope : | TS130, 910mm f/7 |
| Corrector/Barlow : | Field flattener 3" x1 |
| Field (FOV) : | 2.25x1.5 degree, before cropping |
| Filter : | none |
| camera : | Canon 6D |
| Film/CCD : | Raw |
| Exp. time : | 46x60 seconds, iso800 |
| Image process tool : | AstroImageJ, Fitswork, Irfanview |
| Processing : | resize, level, cal dark&bias |
| Weather : | clear |
| Site : | Sweden, Stockholm, Hagsätra. Bortle class 9 |
| Comment : | This photo has to much noise because it's only a 7.8 magnitude galaxy. More exposure next time needed. |
---
M101 2015-12-08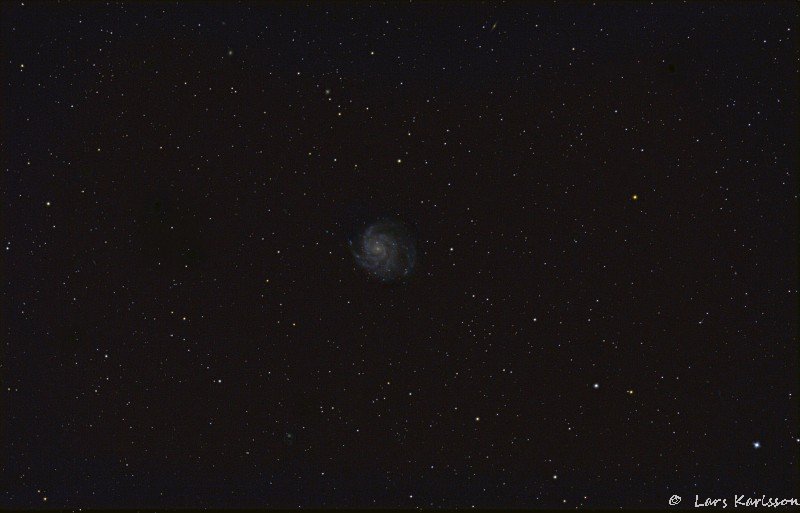 | | |
| --- | --- |
| Date : | 2015-12-08 |
| Time (UT) : | 00:17 to 01:25 |
| Mount : | Skywatcher EQ6 Pro controlled by EQMOD and APT |
| Guide : | PHD2in dithering mode and off axis guide QHY5 |
| Lens/telescope : | TS130, 910mm f/7 (682mm, f/5.3) |
| Corrector/Barlow : | Riccardi flat field corrector 2.5" x0.75 |
| Field (FOV) : | 3x2 degree, before cropping |
| Filter : | none |
| camera : | Canon 6D |
| Film/CCD : | Raw |
| Exp. time : | 31x120 seconds, iso800 |
| Image process tool : | DSS, Fitswork, Irfanview |
| Processing : | resize, level, cal dark&bias flat |
| Weather : | clear |
| Site : | Sweden, Stockholm, Hagsätra. Bortle class 9 |
| Comment : | This photo has to much noise because it's only a 7.8 magnitude galaxy. More exposure next time needed. |
M101 close up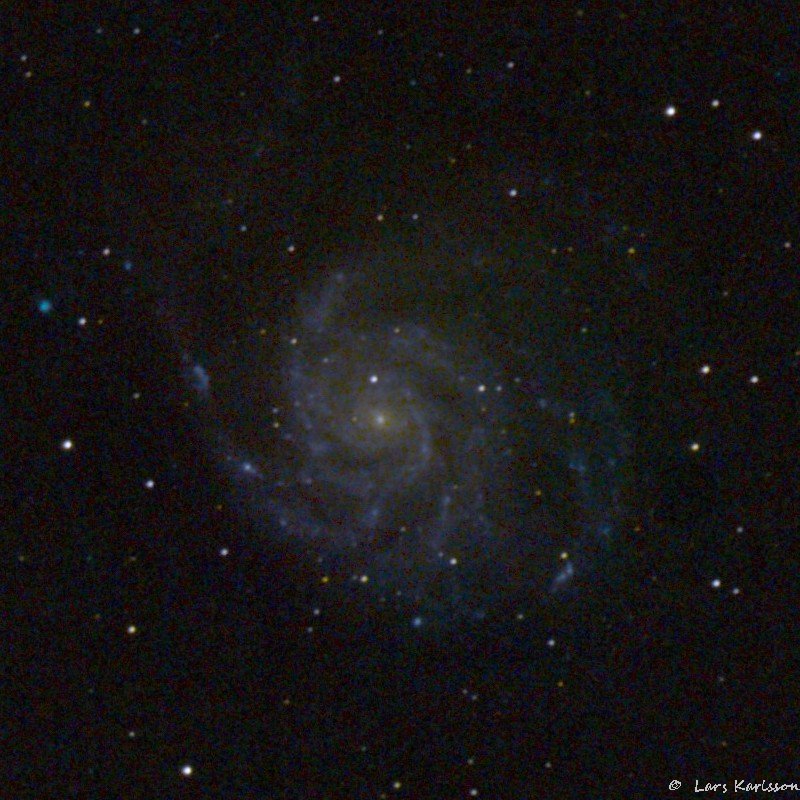 | | |
| --- | --- |
| Object : | M101 |
| Comment : | Here is a zoom in on the M101, FOV about 25'x25'. |