My travels in Sweden:
Lappland tour in Northern Sweden, 2002
---
Content:
---
Our own Lappland tour, 2002
So did I found someone that would follow me on a Lappland tour? Yes and it's a little nice story. One evening in May when I was in city to meet some friends at the pub. My friends didn't come until much later and I looking around if there was someone else I could talk to. There on the floor stood an alone cute girl, so I go over to her and talked to her. After we had talked about 10 minutes she told me: "I come from Lappträsk", What? I did say. After some minutes I told her that I had a dream to take a long travel to Northern Sweden by car.
Two months later we was on our way to Lappland in Northern Sweden. Her name is Rosie and I still have some contact with her. I asked her if we should write down our travel story from Lappland here on the web page. She said of course we should do it and here you have our travel story from Lappland written by both of us.
Here at Google map you can follow our first three days:
---
Day 1, Stockholm, Vira Bruk, Forsmark, Losjö
I and Rosie who joined me on this tour lives in Stockholm. She is born in a small village called Lappträsk (in English translated to something like "Lapp swamp") very far North in Sweden. My friends said to me, she kidding with you, there can not be a place called Lappträsk.
I drive over to her place and pick her up. I said:"But what Rosie, have you brought eight big bags!", "I must have some clothes with me" Rosie said. Even the electric fly killer came along. Little bit shocked, but Ok, I put the extra spare tire I had brought in the trunk to the backseat. Then we started to drive, at that time I had an old rusty Ford Sierra, but the exciting model XR4x4 with four wheel drive and a V6 engine, almost 200'000 km on the odometer.
My old Ford Sierra:
---
Vira Bruk: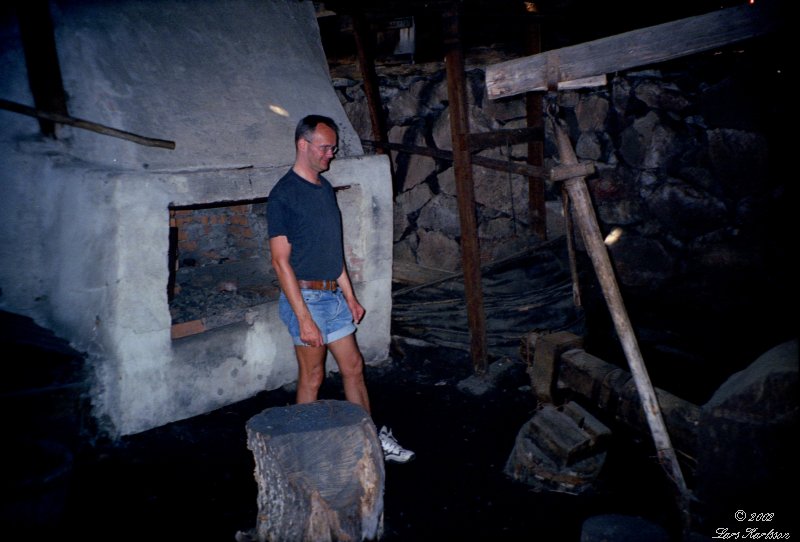 My grandfather Gustaf was a blacksmith and here we visit Vira Bruk, an environment where blacksmiths worked. I study the interesting details and try to understand how my grandfather worked. Rosie like the ironwork in the shop and shall visit this place in the future.
More information about Vira Bruk from Wikipedia:
After this we did a short stop at Forsmark Bruk and later we stayed over night in Losjö at a couple of friends to Rosie.
---
Day 2, Strömsbruk, Timrå, Lögdö, Indal, Utanede, Järkvissle
Strömsbruk: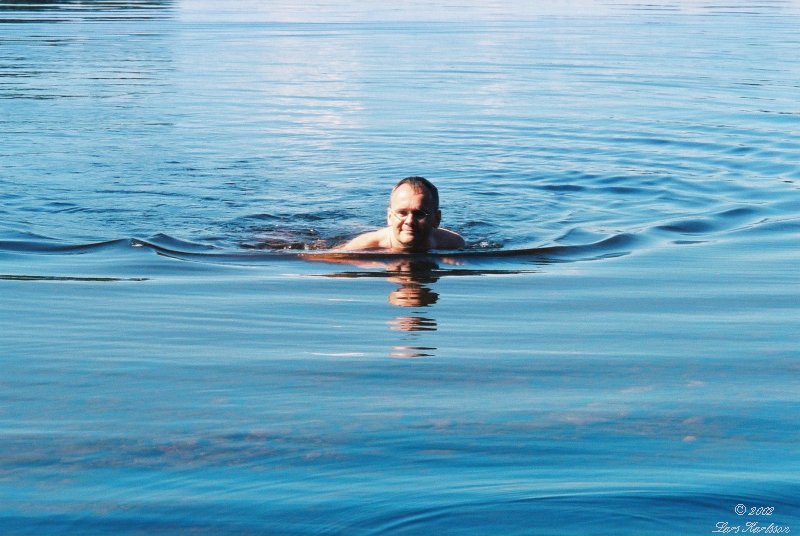 This summer was very hot and almost no rain. We stopped at Strömsbruk to take a bath in a lake. The water was a bit cold I remember even today when writing this down. It's very beautiful here and Rosie enjoyed the sun, it's in the middle of August.
Next stop is Timrå where Rosie meet her brother. Before we left Timrå we had a dinner here at the restaurant "Tres Amigos".
---
Lögdö Bruk: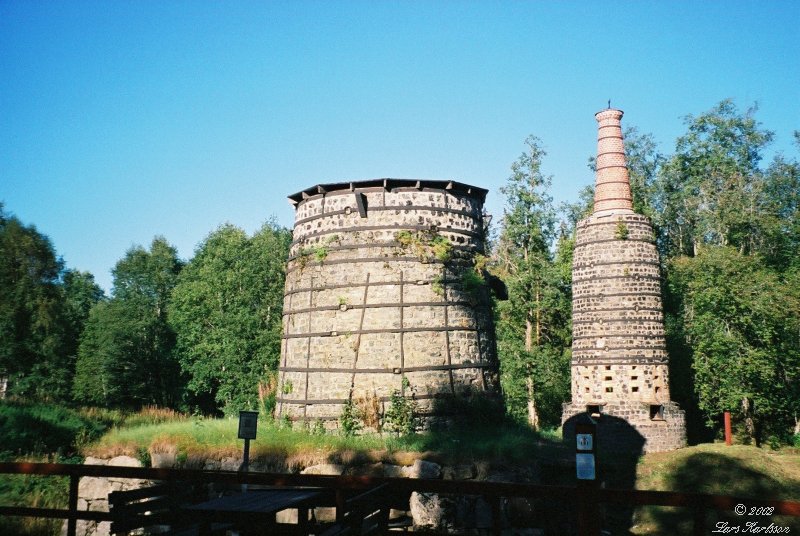 Now we hade come close to Sundsvall where I have relatives. My mother grew up in Sundsvall.
What we see here is what's left of the Lögdö Bruk, built by Erich Theet, 1685 to 1778. What's even more interesting for me is that my grandmother grandfather grandfather Hans Henriksson worked here at the end of the 18th century.
More information about Lögdö Bruk from Wikipedia (sorry, only Swedish):
After this we go for Indal and meet my relatives Klas and Lisa, first time I meet them and it was very nice to talk to them. Klas told me about Hulda who emigrated to USA in the beginning of the 20th century.
---
Utanede and King Chulalongkorn Memorial Building: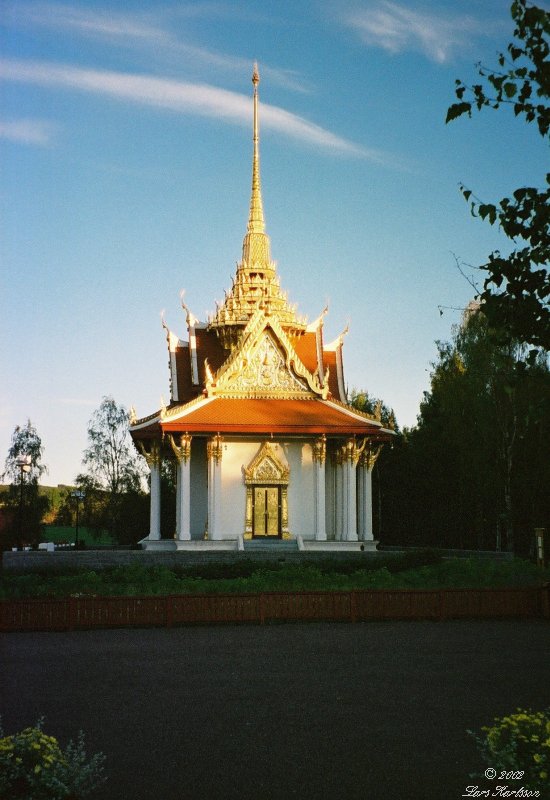 This is not what you expect to find when traveling in Northern Sweden. Built 1998 as a memory from the visit of the King Chulalongkorn of Thailand 1897. He was very much taken by the beautiful up here.
---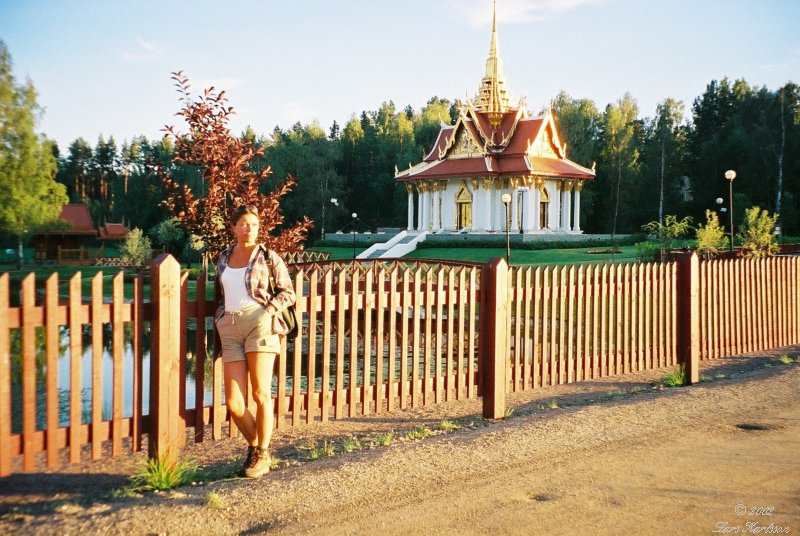 It started to be late and we need to find somewhere to stay, at that time the internet when out on travel was not so developed. We had maps, travel guides and booklets to look at.
More information about King Chulalongkorn Memorial Building at Wikipedia:
---
Day 3, Bispgården, Lunde, Veda, Holmbacka
Järkvissle: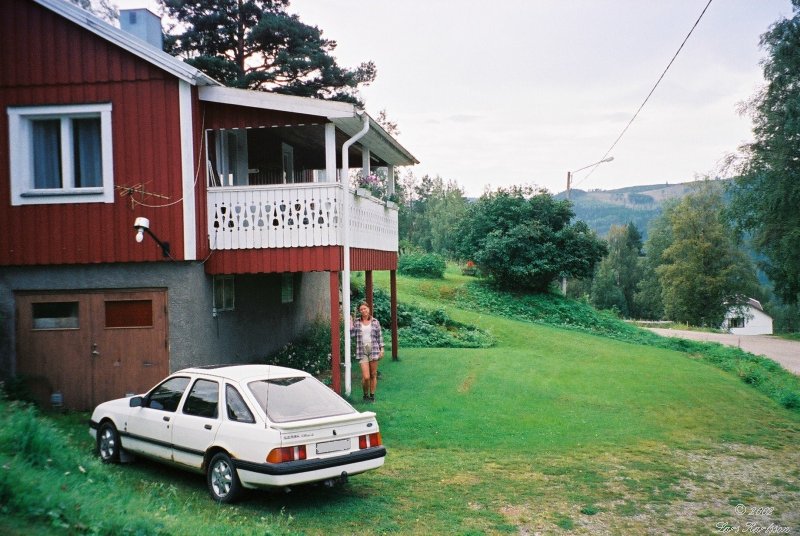 At last we found a B&B at Järkvissle. A whole house for ourselves. Owned by farmers with cows, calves and bulls. View over Indalsälven through the windows. Amazing mountains and beautiful scenery but it was too cold to eat the breakfast at the terrace.
---
Bispgården - Döda fallet: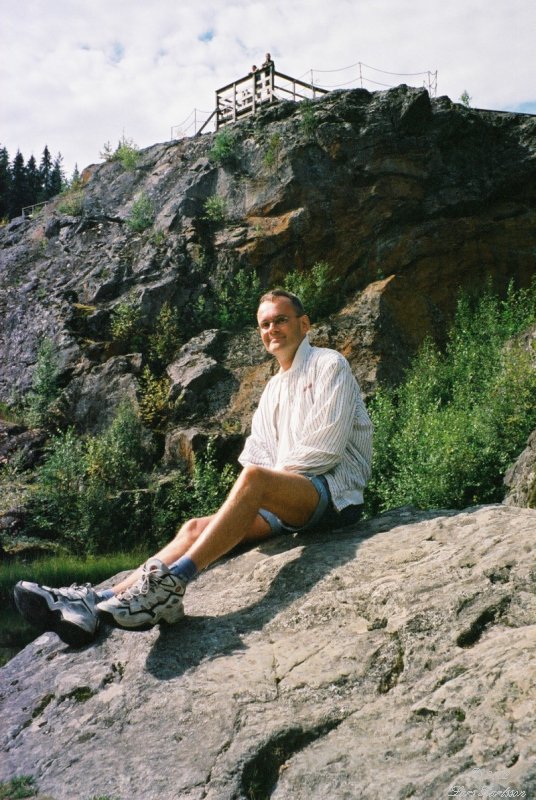 This is really exciting, a whole river that has been emptied by mistake. It was Magnus Huss that did it 1796 when he was trying to bypass the channel.
---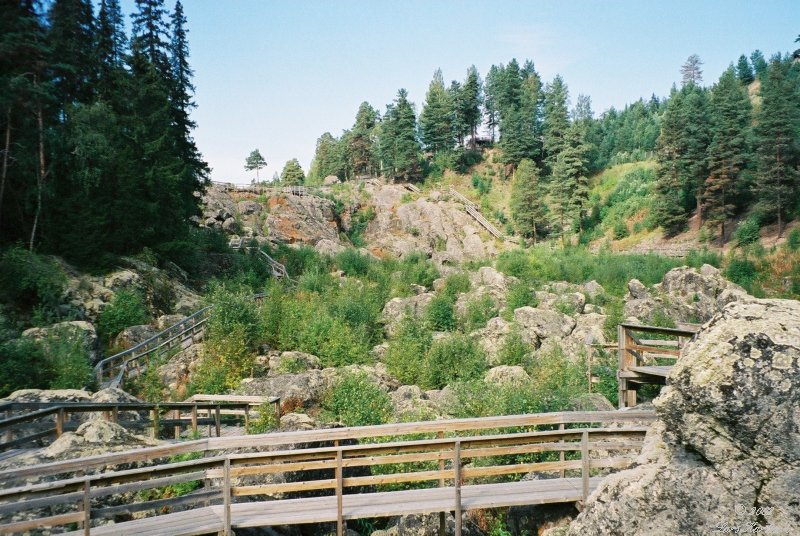 The total fall height of 35 meters. Today the Döda Fallet (dead river) is an amazing environment to wandered around.
More information about Döda fallet at Wikipedia:
---
---
Lunde - Sandöbron: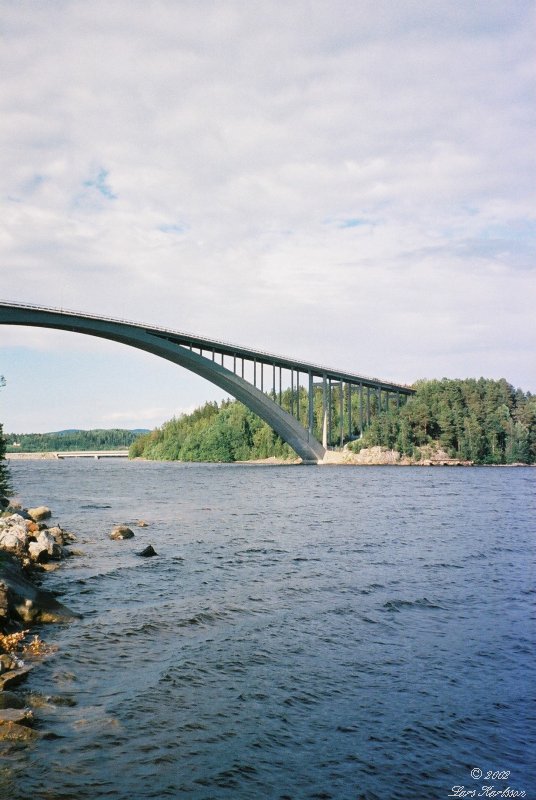 A stop at Lunde for something to eat and then at a short distance a beautiful view over the bridge Sandöbron. Here was all the bridge-bound traffic before the High Coast Bridge was built.
It was in Lunde the Ådalen uprising was 1931. The Swedish military force then killed a number of people demonstrators. Not so nice part of Swedish history.
More information about Ådalen shootings at Wikipedia:
---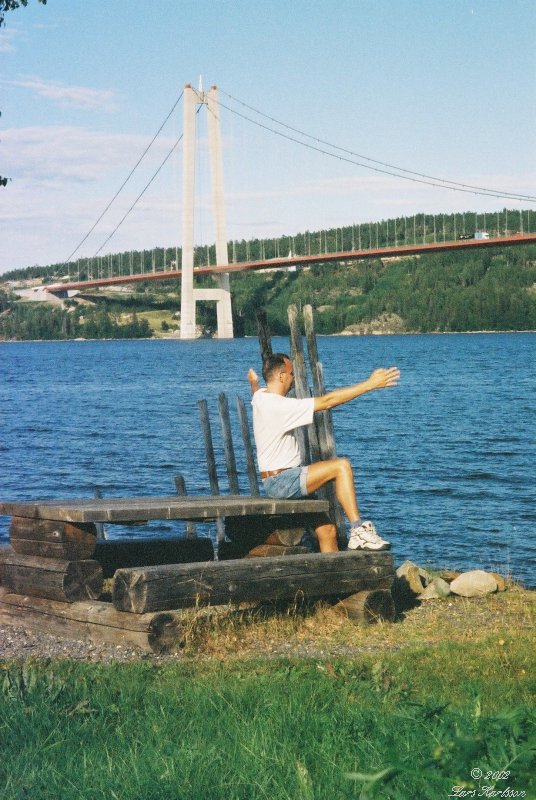 The bridge is this long, 1867 meters !
---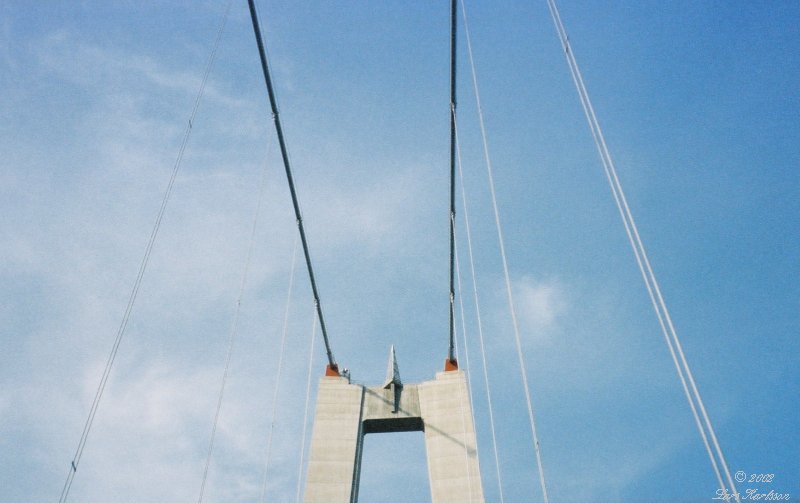 Through the sun roof we see the 203 meters high tower.
---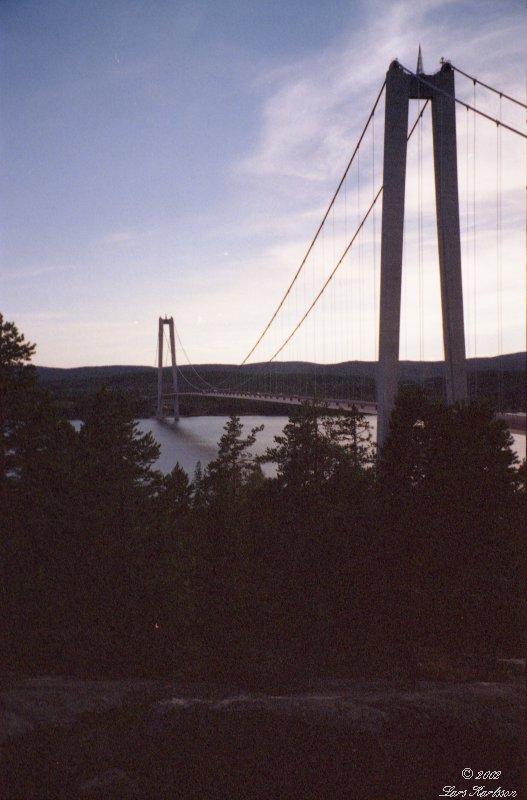 A view from the Northern side of the bridge.
More information about Höga Kusten Bridge at Wikipedia:
Holmbacka:
Overnight stay at the Jacobsson family B&B just north of Gräsmyr in Ångermanland. Wizex played at the homestead farm in Gräsmyr. Rosie became lyrical about Sven Zetterberg & Wolves who played blues in radio channel P4 in the evening. The Jacobsson family tips us about the nearby moose farm, we visit it the following day.
---